This is a sponsored post written by me on behalf of Shaw's Supermarket. All opinions are 100% mine.
Stop eating boring sandwiches! You can make lunchtime more exciting with these Turkey BLT Waffle Sandwiches... They're perfect for kids' school lunches, but adults will love them, too!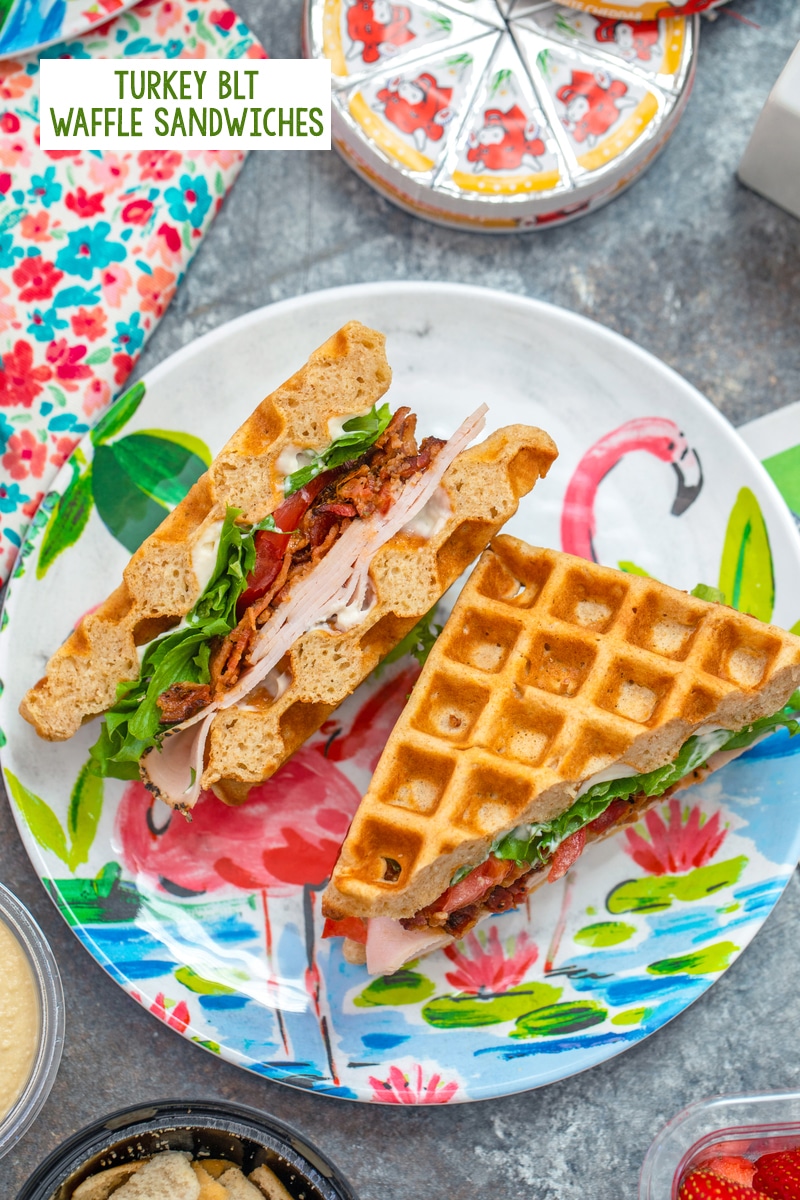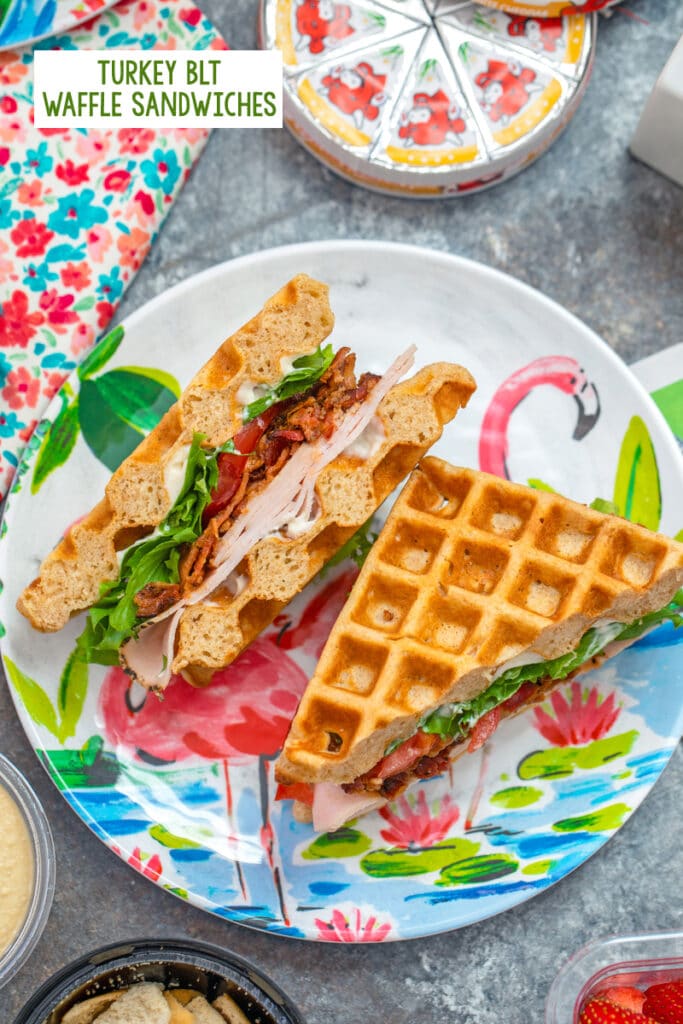 Happy back to school season! Whatever that means for you this year. One thing is for sure... Whether your kids are going back to school or will be doing remote learning from home, they'll still need to eat lunch! And I'm happy to be working with Shaw's Supermarket today to give you some fun ideas for back to school lunches.
One of the best things about the ideas I'm sharing? Adults will love them, too! I don't have kids, but my husband has been working from home the past several months and I've been trying to get creative with the lunches I make for us during the week.
This school year, it will be super easy for you to create delicious and healthy lunches by shopping at Shaw's. You'll find the highest quality, freshly sliced deli meats and cheeses in New England, plus individually-sized healthy snack packs and delicious chocolate chip cookies. Hooray!
Shaw's also offers Grocery Delivery and Pick Up for convenient ways to shop!
After I served my husband the lunch spread I'm featuring here, he said it was the BEST lunch he's had in a long time and could I please make it for him more often (lol!). I'm hopeful that your kids and loved ones will feel the exact same way.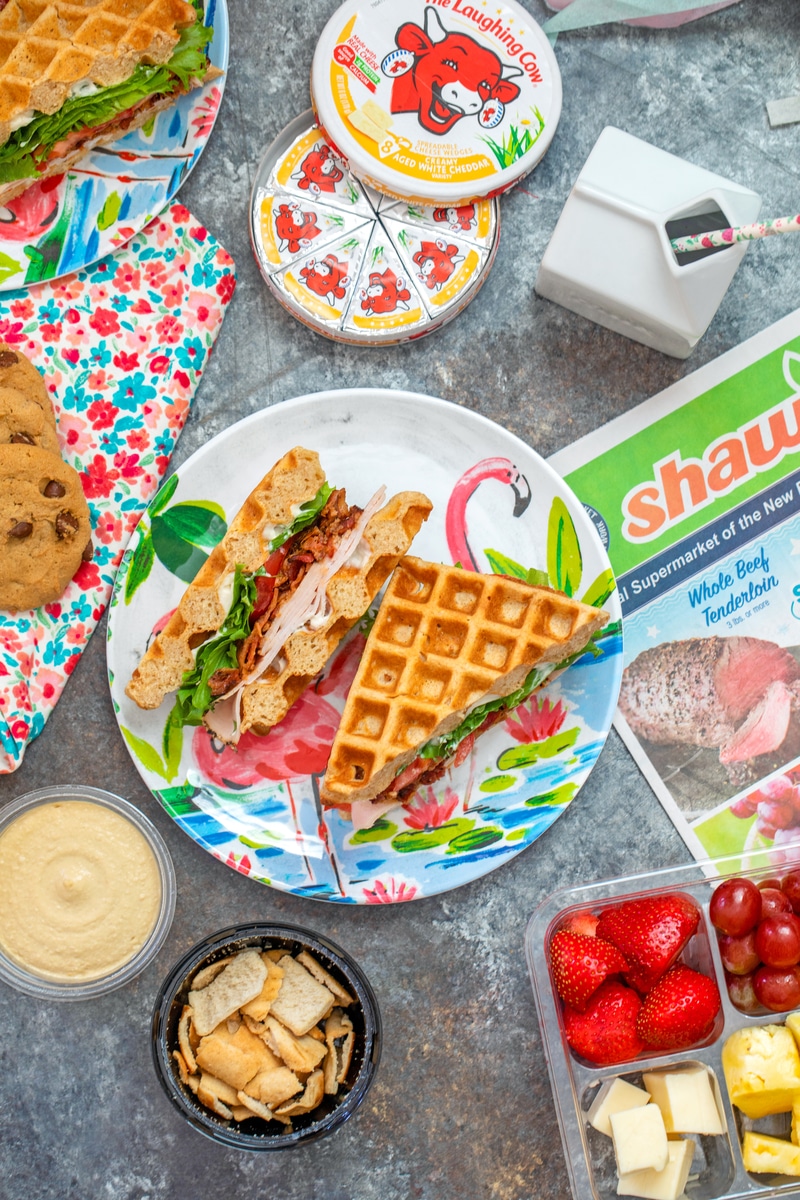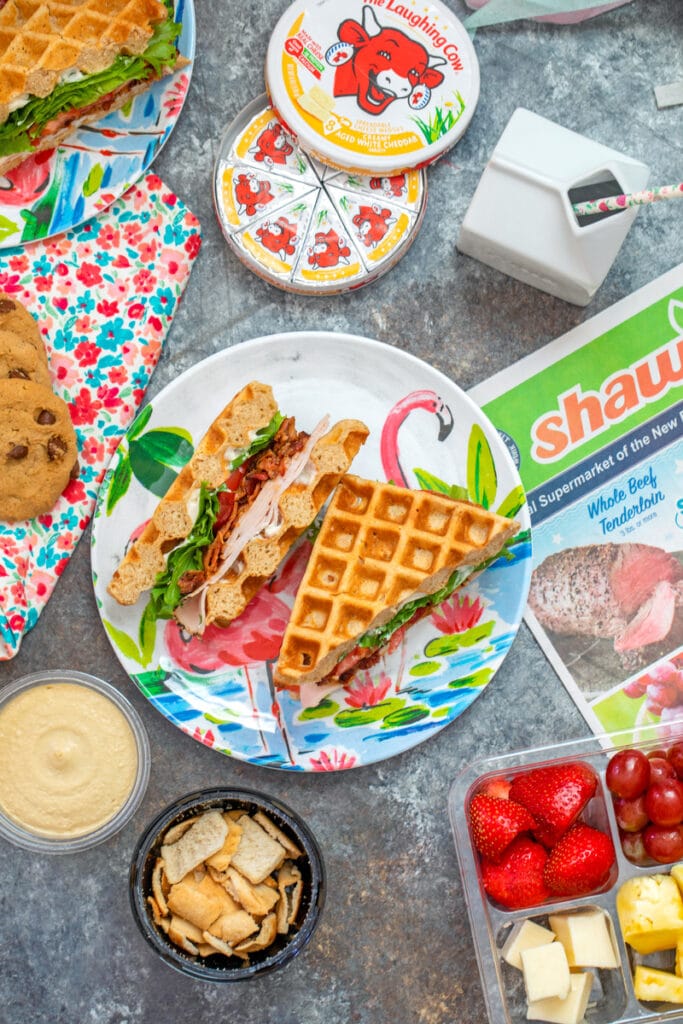 Tips for Making the Best School Lunches
Making fun school lunches doesn't have to be a ton of work. Especially when you have a supermarket like Shaw's to shop at regularly. Here are some of my favorite tips for jazzing up lunches:
Scope out your supermarket deli section: The deli section is a goldmine for school lunch ideas and Shaw's stores have high-quality, freshly sliced deli meats and cheeses that will elevate your school lunches. I purchase deli meats and cheeses every week and try to switch up the kinds of sandwiches I make to keep things interesting (roast beef, turkey, ham, salami, all kinds of cheeses, etc.).
Switch up the sandwich bread: There are so many different types of "carbs" you can use as sandwich bread. Traditional sliced bread is delicious, but can get boring quickly. Try using pita bread, naan, or english muffins for sandwiches. Or my favorite... Waffles! Be sure to check out my turkey BLT waffle sandwich recipe below for a super fun sandwich idea.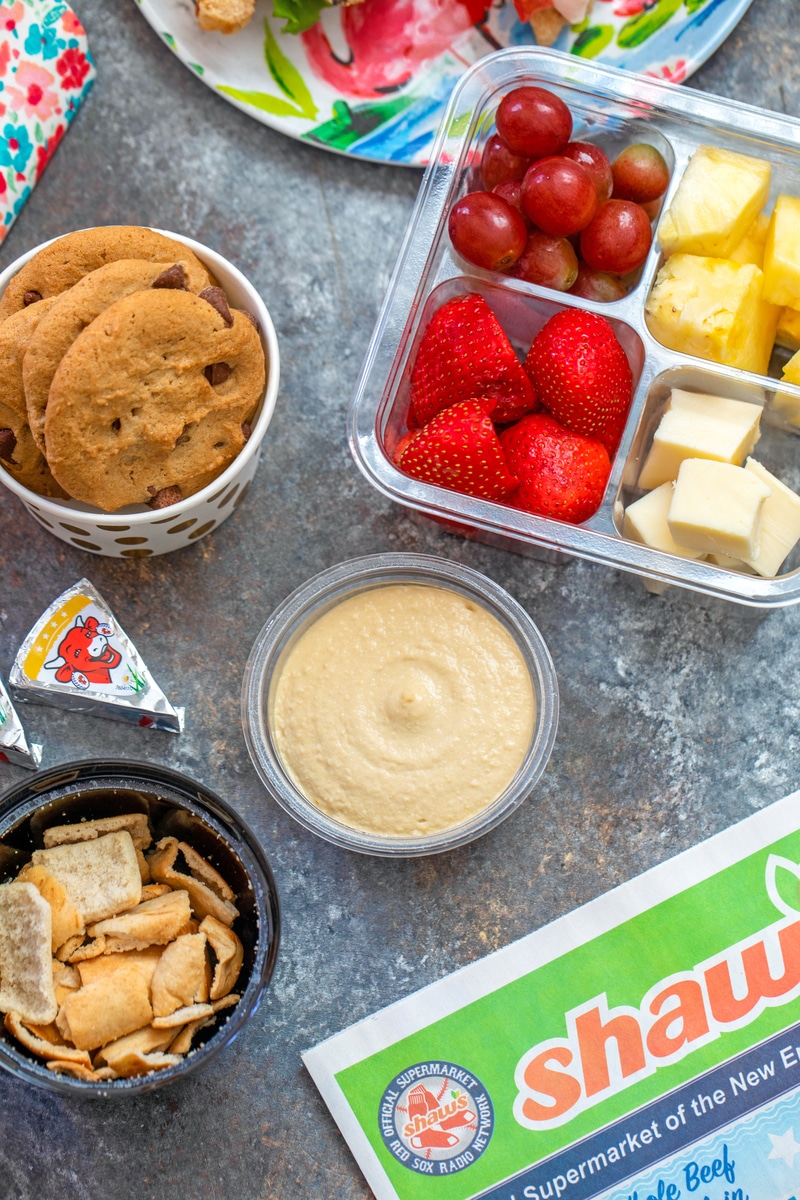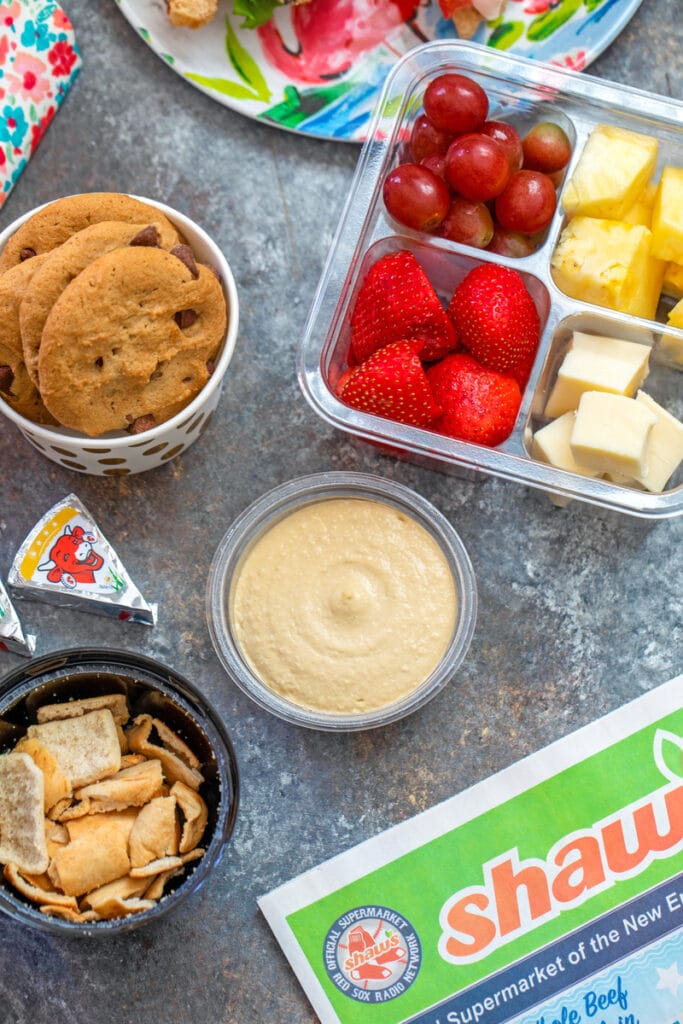 Get snack-y: A sandwich may make the lunch, but who doesn't love the fun snacks that go along with lunch? Serve different snacks each day to keep things from getting boring. Shaw's stores have Fresh-Cut snack packs (with fruits, veggies, nuts, cheeses, etc.) that are delicious and make packing lunches easy. They also have a great selection of individually-sized snack packs (with hummus and pita chips, guacamole and tortilla chips, etc.), convenient for creating healthy lunches.
Use fun plates, utensils, napkins, etc.: Sometimes all it takes to make a lunch more exciting is a fun plate (I love my flamingo plates!) or a fancy cloth napkin. If your kids are going to school, be sure to get them a lunch box or bag that adds a little pizazz to their day.
Include something sweet: You've gotta end your meal with something sweet and Shaw's has the most delicious chocolate chip cookies!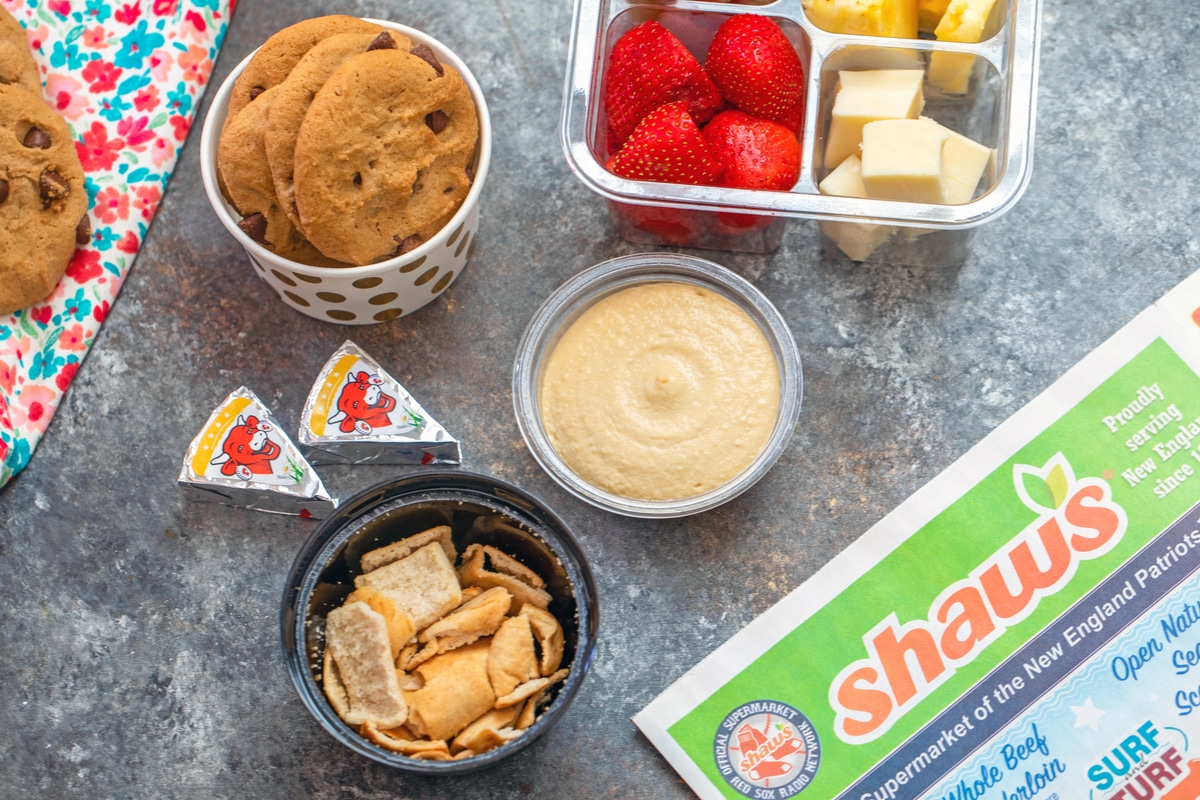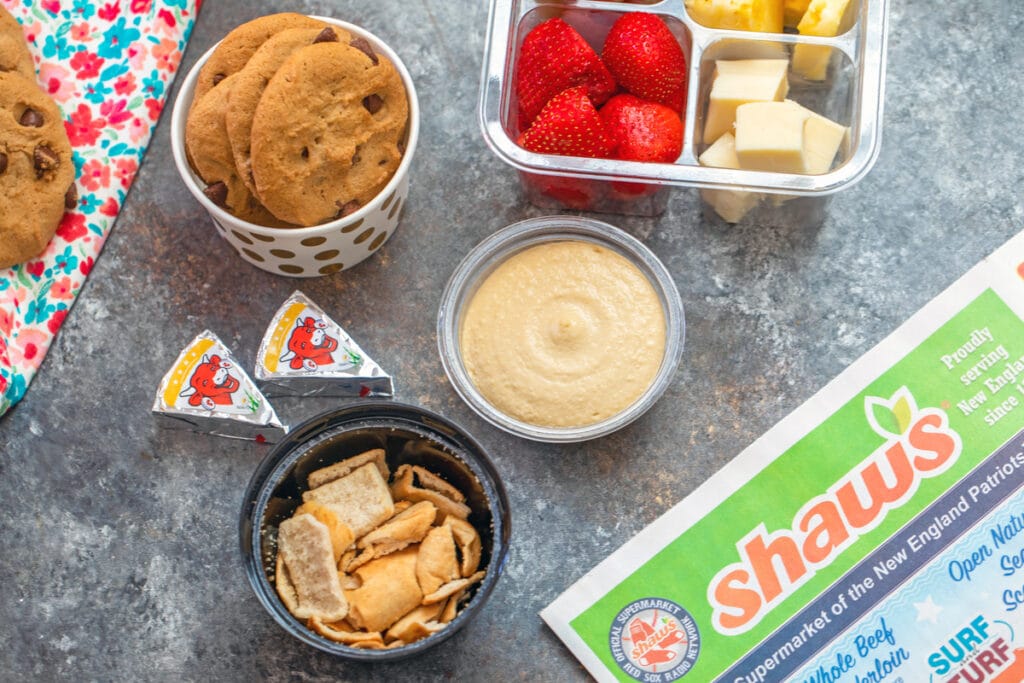 Now, can we talk about the sandwich I made to go along with this fabulous back to school lunch?
How to Make a Turkey BLT Waffle Sandwich
Waffles are the perfect brunch food, but they also make for incredibly delicious sandwiches. I made my waffles with half whole wheat flour to make them a bit healthier... But I promise your kids will never know!
The recipe I include below makes four waffles (enough for two large sandwiches), but you can easily double or triple it and freeze a big batch of waffles. Then, making waffle sandwiches becomes just as easy as making a sandwich on regular bread.
Depending on how old your kids are and how big their appetites are, half of one of these turkey BLT waffle sandwiches may very well be enough for them. They're BIG sandwiches!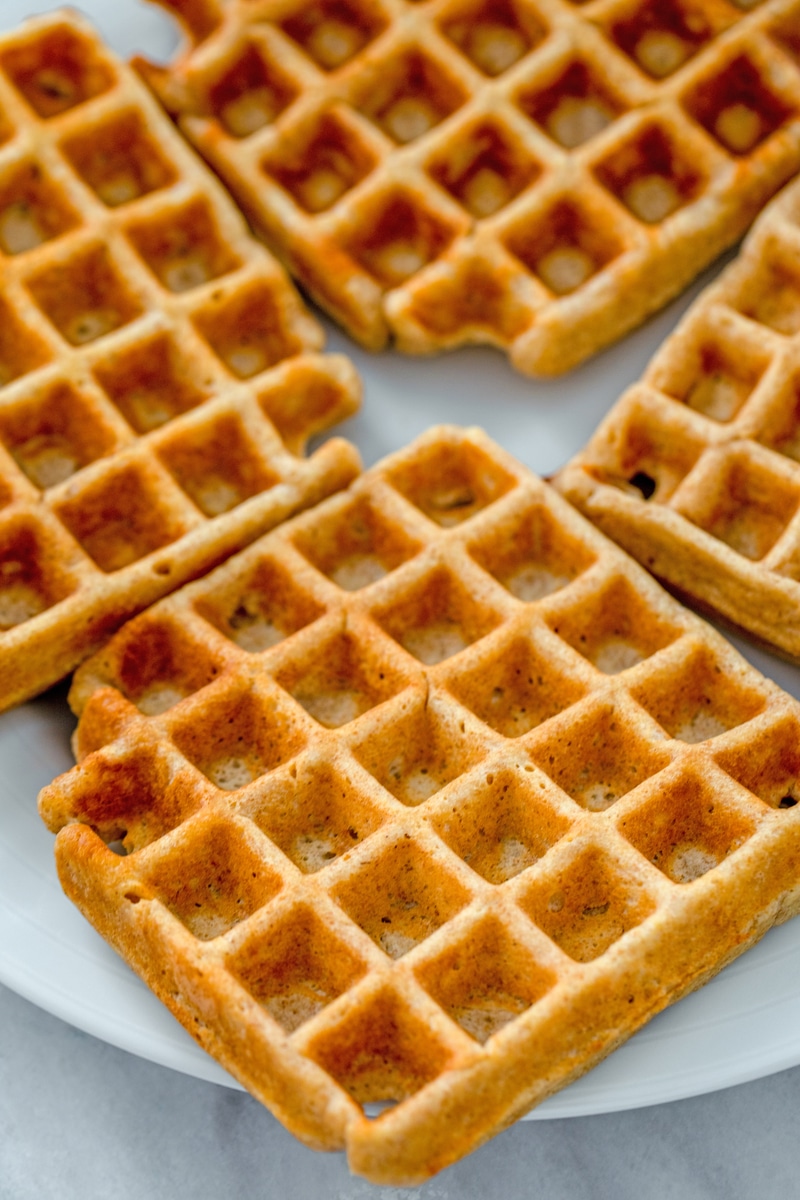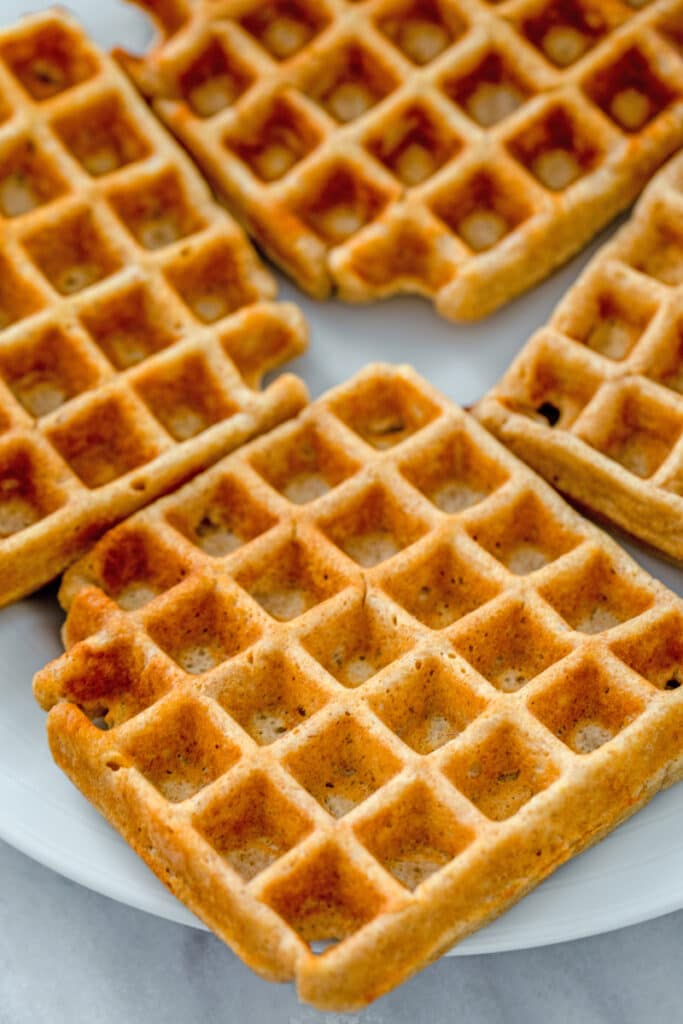 Really, any deli meats, cheeses, and/or vegetables work as fillings for waffle sandwiches (as does good old peanut butter and jelly or Nutella and fluff!). But I'm a sucker for a BLT, especially one that also involves deli turkey.
I used black pepper turkey here, along with bacon from Shaw's deli department and fresh tomatoes and lettuce from their produce department. I spread a light layer of mayo on the waffles.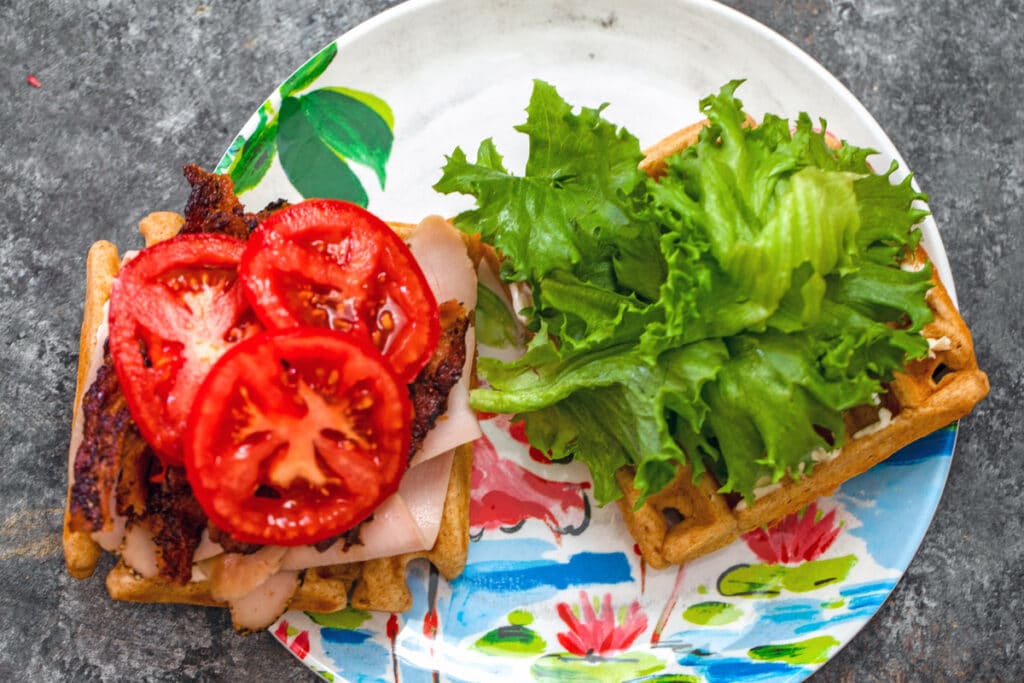 Slice the sandwich up and serve it along with some healthy snacks and sweets.
I'm in love with this well-rounded healthy lunch that is pretty much the opposite of boring. The waffle sandwich may be the star, but your loved ones will enjoy every bit of it from the sandwich to the snacks to the cookies.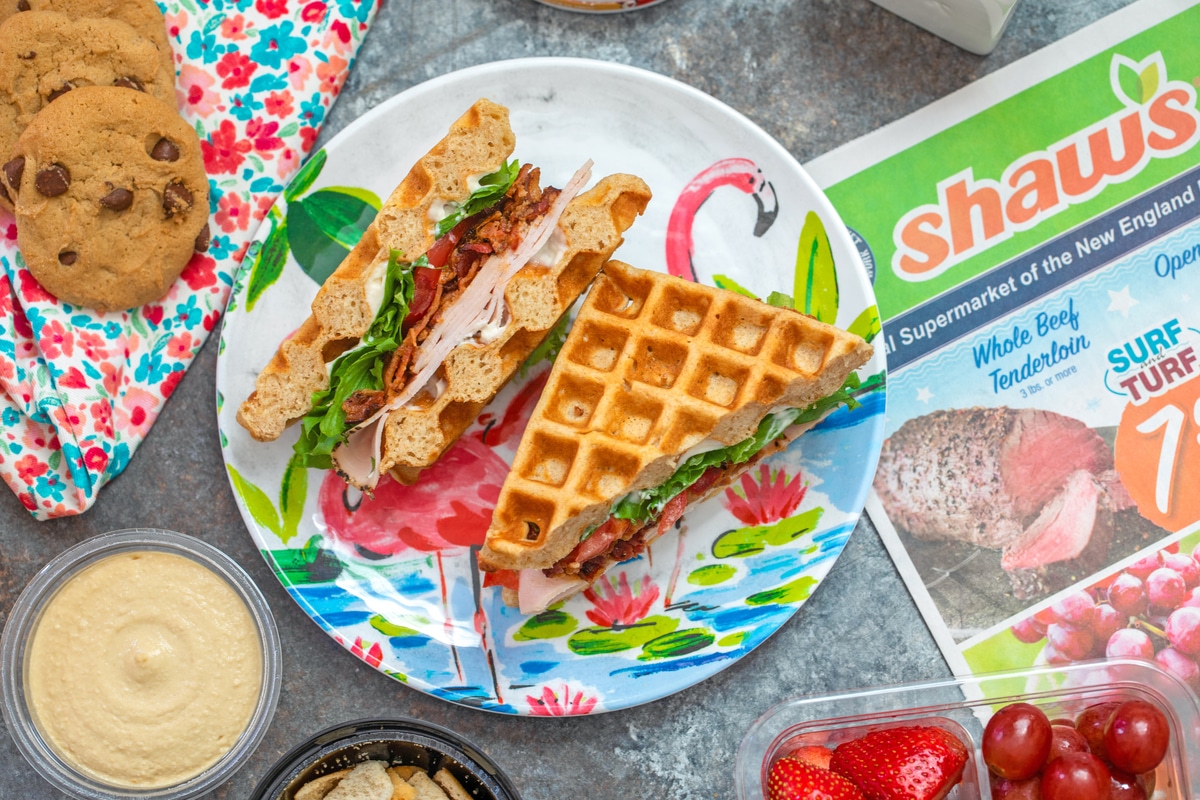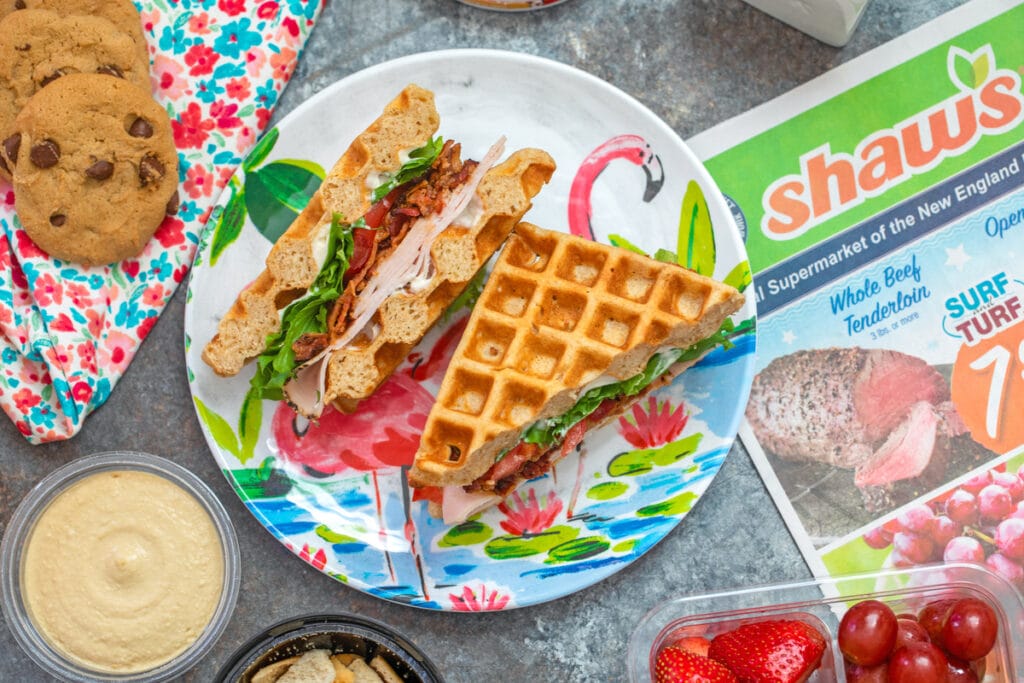 One of my favorite things at Shaw's are these little snack packs. They have all kinds with fruit, veggies, cheese... Some even have little containers of dip to dip fruits and veggies in.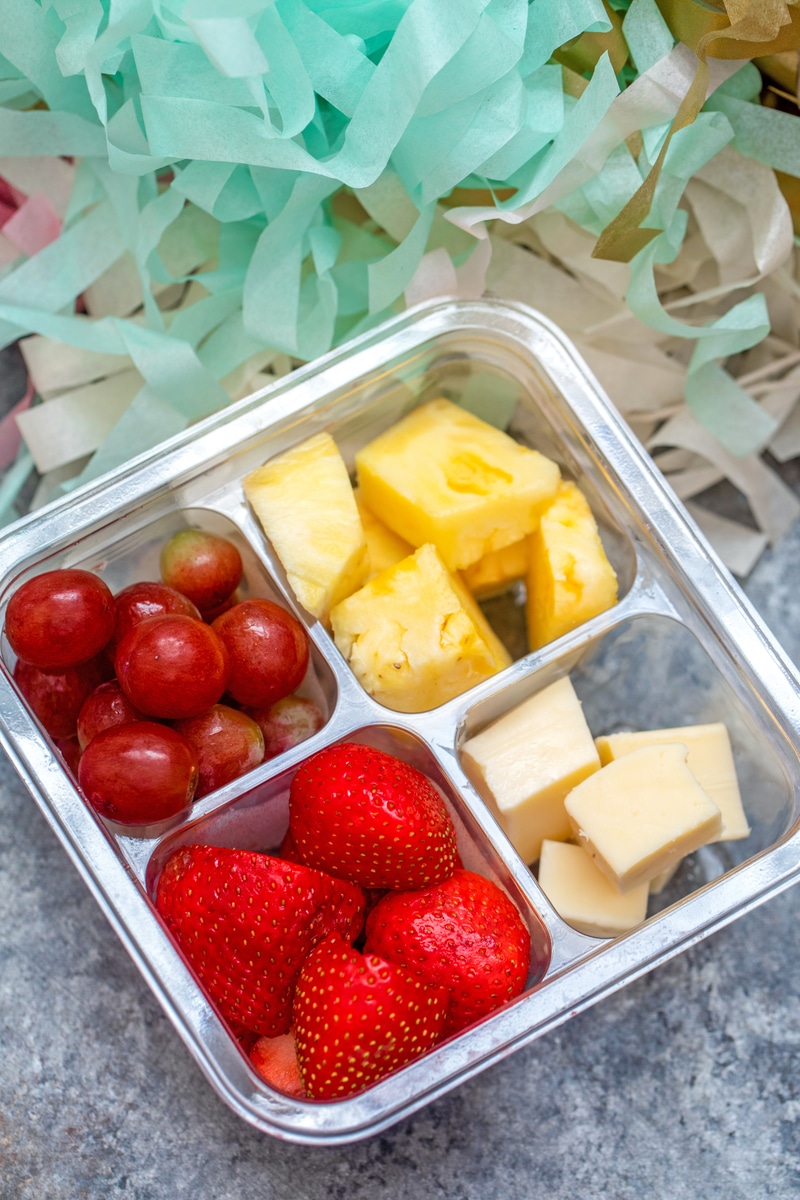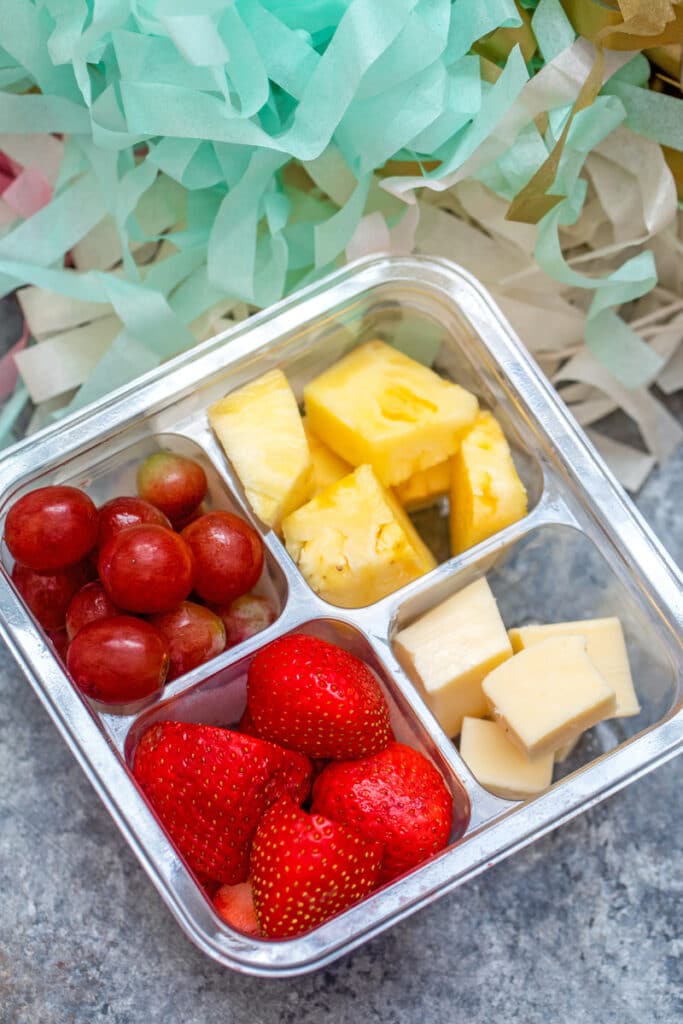 Oh, and Laughing Cow Cheese? It's been one of my favorites since I was a kid! And since it's rare I make a sandwich without cheese and this turkey BLT waffle sandwich doesn't have any... You know I'm serving cheese on the side!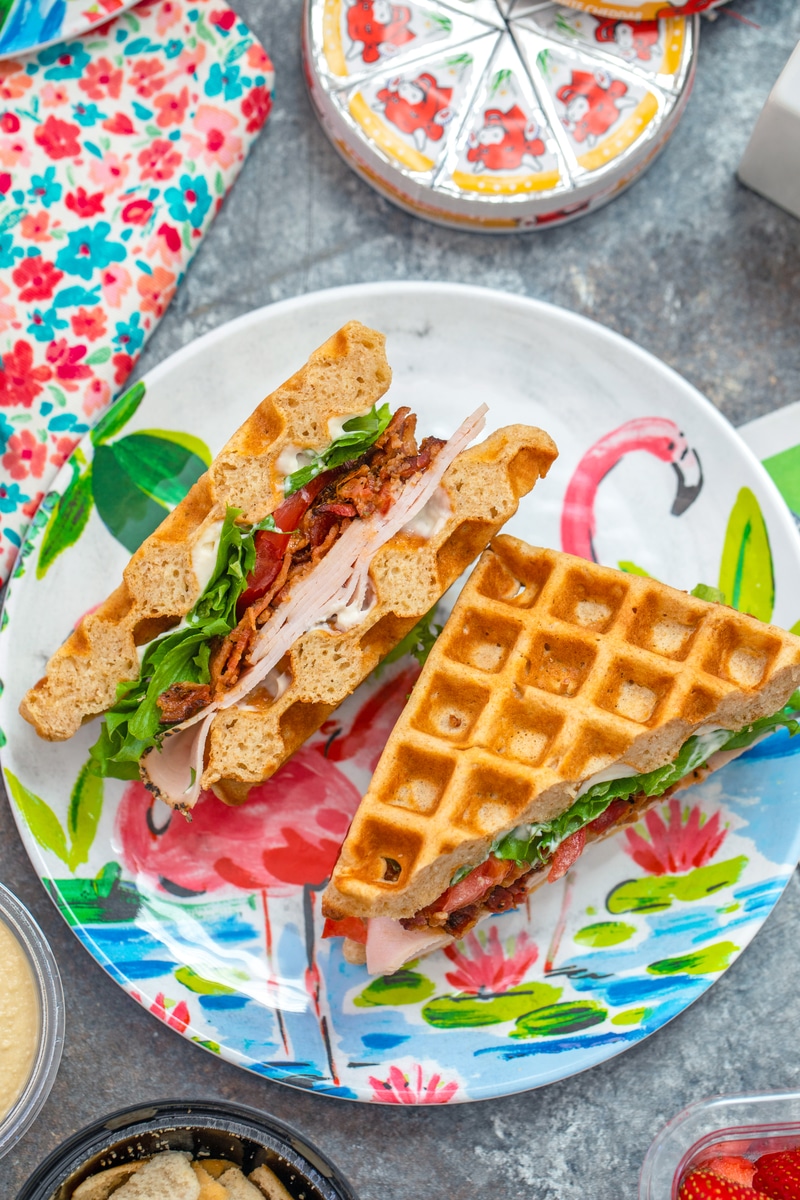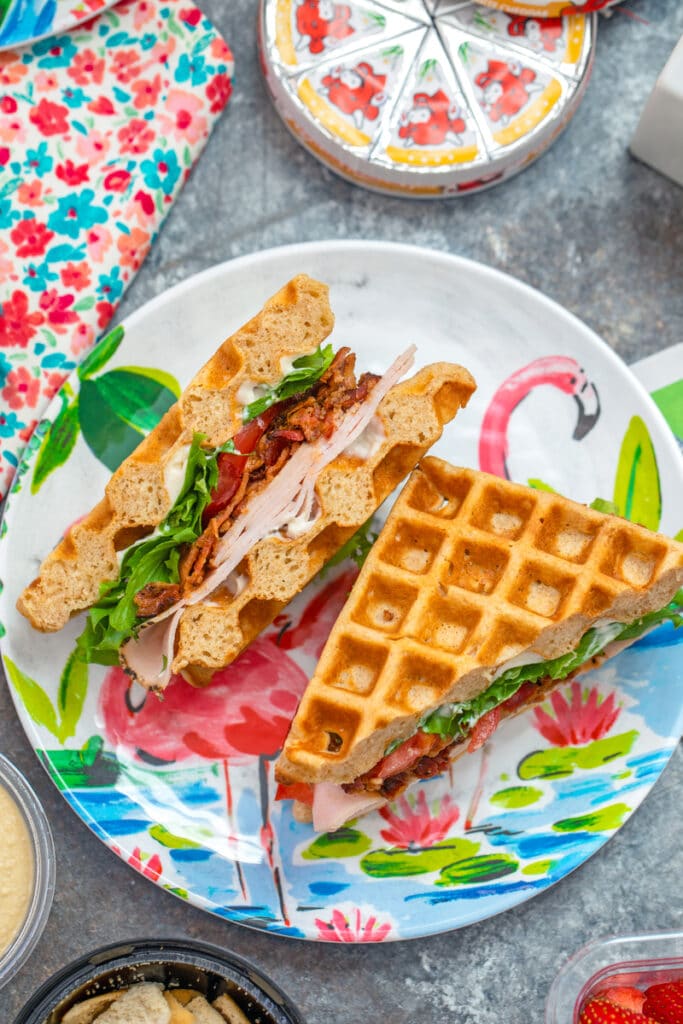 If you make a lunch like this for your kids, there's a chance they may even say, "thank you!" OK, maybe I wouldn't go that far, but at least you know you'll be making them very happy!
Good luck with back to school season; I hope all of your school years get off to a positive start!
What are you planning to make for back to school lunches this year?
If you're in the New England area, be sure to head to Shaw's Supermarket to check out their awesome deli, fresh produce, and bakery offerings for all your school lunch needs!
You can also find convenient and delicious back to school lunch essentials for back to school lunches at the Albertsons Companies family of stores, including Albertsons, Safeway, ACME Markets, Jewel-Osco, Vons, Randalls, Star Market, and Tom Thumb.
📖 Recipe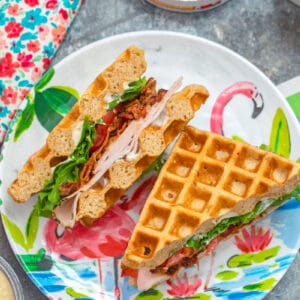 Turkey BLT Waffle Sandwich
Stop eating boring sandwiches! You can make lunchtime more exciting with these Turkey BLT Waffle Sandwiches... They're perfect for kids' school lunches, but adults will love them, too!
Print
Pin
Rate
Ingredients
½

cup

whole wheat flour

½

cup

all-purpose flour

1

Tbsp

granulated sugar

1 ¼

tsp

baking powder

¼

tsp

salt

1

large egg,

room temperature

1

cup

buttermilk

(can substitute with whole milk)

4

Tbsp

unsalted butter,

melted and slightly cooled

1

tsp

vanilla extract

2

Tbsp

mayonnaise

6

slices

deli turkey

6

slices

crispy bacon

1

tomato,

thinly sliced

4

leaves lettuce

(I like bibb or romaine)
Instructions
Pre-heat waffle maker to medium-high heat.

In a large bowl, whisk together both flours, sugar baking powder, and salt.


In a separate medium bowl, whisk together buttermilk, melted butter, and vanilla.

Pour wet ingredients into bowl with dry ingredients and whisk until just combined, taking care not to over-mix.

Spray waffle iron with baking spray. Cook according to your waffle maker's instructions (I pour about ⅓ cup of batter into each well of waffle maker cook with the lid closed for about 5-6 minutes, until waffles are golden brown and crispy). Let waffles cool before making sandwiches.

Spread ½ Tbsp mayonnaise onto each waffles (you can use more or less depending on your mayo preferences).

Break bacon strips in half and divide them between two waffles. Top with deli turkey, tomatoes, lettuce and sandwich together with remaining waffles. Slice and serve!
Notes
Note that these waffle sandwiches are large and if you're serving them with snacks and sweets, a half a sandwich is probably enough for lunch.
You can double or triple waffle recipe and freeze any leftovers. To freeze, let waffles cool completely and then place them in a single layer on a parchment paper-lined baking sheet. Keep in freezer until waffles are frozen and then place them in individual bags (this prevents waffles from freezing together or to bags). 
Share a Photo of Your Finished Recipe!
Mention @wearenotmartha and share a photo if you've made the recipe!