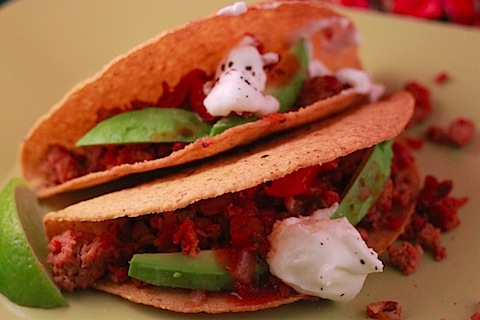 Nearly every Tuesday without fail, I've noticed a Facebook friend of mine will update his status to say "It's Taco Tuesday!". And every Tuesday without fail, I crave tacos. Now, I don't know if he actually has tacos every Tuesday, but something tells me he does. And this week I needed to participate in the festivities and make my own tacos. Even if it was a Wednesday.
As I was reading the newest edition of Real Simple, I saw a recipe for Turkey-Chorizo Tacos. I'm a huge (HUGE) fan of Portuguese meats so I almost immediately hopped in my car to head to the grocery store to get the few ingredients needed for this recipe. For my birthdays growing up, my mom would make us a birthday dinner. Nearly every year I'd request she make linguica with rice. I really don't need fancy things so long as they taste delicious! And since my birthday is in August, she would grill loads of linguica and I would eat it for days. That's actually probably a lie. It don't think it lasted for days. My feelings for chorizo are equal to those of linguica. And toss either of the two into a taco and I'll be "that girl" sitting in the corner by herself gnawing on said taco.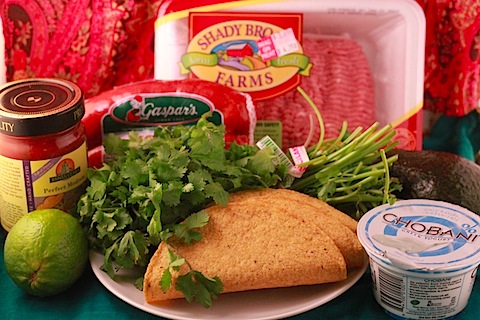 Turkey Chorizo Tacos (makes 8 tacos)
Real Simple
Print this Recipe!
• 1 chopped onion
• 4 ounces chopped Spanish chorizo
• Canola oil
• 1/2 pound ground turkey
• salt and pepper to taste
• Corn tortillas
• plain Greek yogurt (or sour cream, whichever you prefer)
• Avocado
• Salsa of your choice
• Cilantro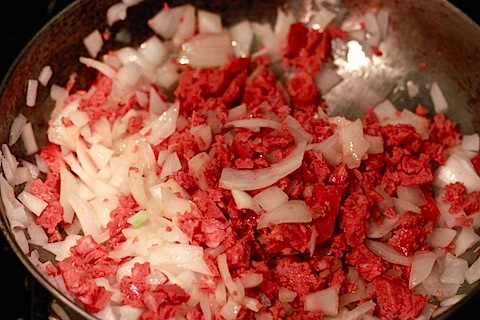 Begin by heating canola oil in a large skillet. Add onion and chorizo until slightly browned.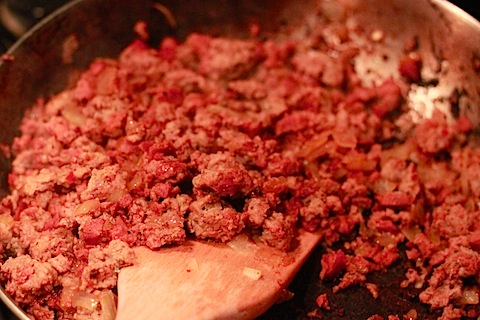 Incorporate turkey and season with salt and pepper. Continue to cook until turkey has cooked through.
Split the mixture up and serve in warmed tortillas. Top with avocado, salsa, cilantro, and sour cream or Greek yogurt. Plain Greek yogurt always trumps sour cream, in my book.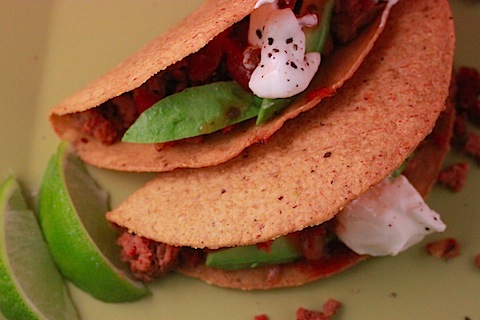 For a meal that I whipped up in about 15-20 minutes, this was phenomenal. The chorizo has so much salty and spicy flavor so you don't need to use any additional seasonings. Or that little bag of taco seasoning that comes in taco kits, hehe. This is the real unpackaged deal. Plus, the crunchy whole wheat taco shell and smooth avocado provided a nice balance texture-wise. It was kind of my perfect quick weeknight dinner. Salty, crunchy, and spicy! I think I've said this before but my mom calls me "Crunchy" sometimes since 9 times out of 10 when I'm on the phone with her I'm munching on chips, carrots, or anything else that makes obnoxious crunch sounds over the phone. Nearly every phone conversation I have with my sister one of us winds up yelling "WHAT ARE YOU EATING!?" whenever there's a slight "crunch" coming through the line. The funny thing is… I ate one of these tacos while on the phone with my sister tonight and she didn't even realize it. Ohhh, weird family fun 😉
I have a ton of design work going on this week so making a speedy dinner was really the only option. And will probably remain my only option for the next few weeks. All I've eaten for dinner this week is salads that I've whipped up quickly so it's such a bonus to be able to whip up dinners that actually taste special! Even though the leftovers from these tacos will probably wind up on a salad for tomorrow's lunch.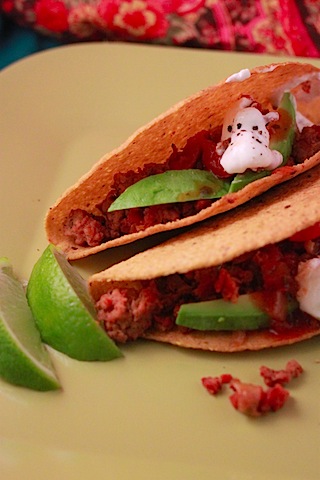 What's your go-to quick dinner when you're having a crazy week?
[Chels]