These Bite-Size Chocolate Chip Cookies take just 20 minutes to make and will never make you feel guilty about eating more than one... Mini cookies will change your life!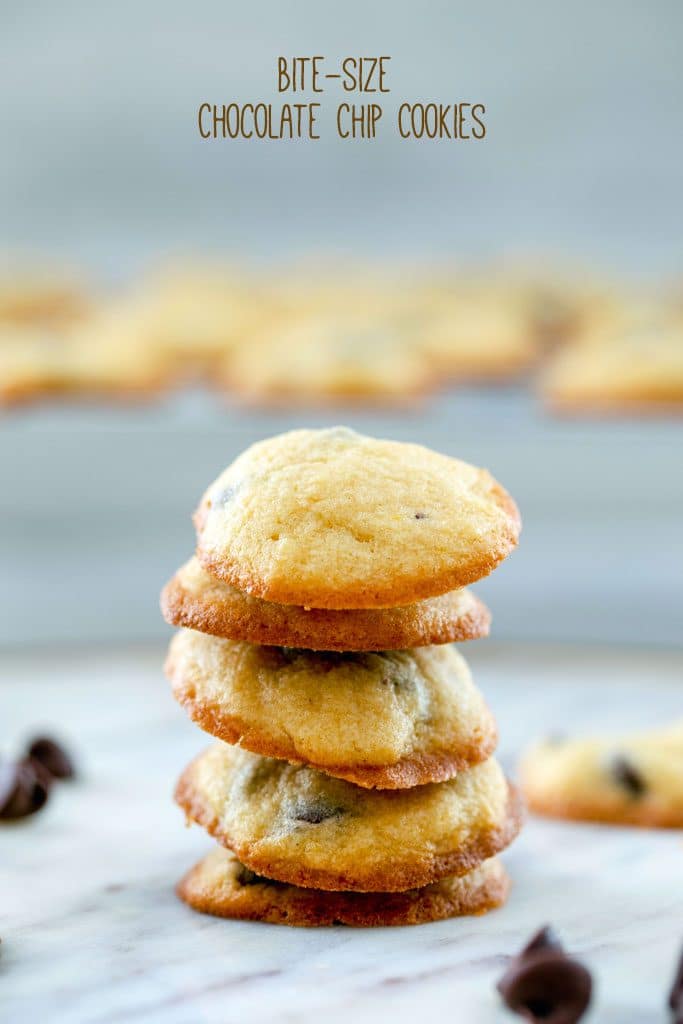 (This recipe for Bite-Size Chocolate Chip Cookies was originally published in May 2011, but was updated with new photos in 2018).
I have major food envy. Whenever I see someone thoroughly enjoying their snack, meal, or dessert, I almost instantly begin to crave whatever it is they have. For instance, today, when I was leaving the cafe area of the gym I work at, a few co-workers were all splitting a warm chocolate chip cookie and gushing over it. And just like that, I wanted one for myself. I turned around to look in the glass case and saw a stack of chocolate chip cookies that were calling my name. I was thisclose to buying one when I remembered I had a meeting at my other job tonight and we were asked to bring food. So, naturally, the second I got home and walked in the door, I whipped up a batch of mini chocolate chip cookies. Well, after I watched the last episode of Oprah (SAD!).
I actually wasn't even going to blog about these, because hello, they're chocolate chip cookies. But then I thought, yeah, HELLO... they're chocolate chip cookies. And we've had this blog for 3.5 years now and we don't even have a basic chocolate chip recipe! That's almost illegal. Plus, these are so simple and classic. And mini. Or bite-size. Which means you can eat a whole bunch of them. Duh. And for that reason mini cookies > regular size cookies. Case closed.
BITE-SIZE CHOCOLATE CHIP COOKIES
A couple warnings about these mini cookies: 1) You will not be able to resist the cookie dough. It is so freaking good. So don't even try to resist it. Just give in and indulge a little bit. 2) These cookies come together SO quickly, in ONE bowl that you'll be tempted to make them all the time. Again, just give in. Since they're mini chocolate chip cookies, you can just have a couple and not feel like you're overindulging. And share with friends. They'll love you. 3) When you're scooping the batter onto your cookie sheet, you'll feel like it's SUCH a small amount of batter. ½ teaspoon feels like nothing. That's because these cookies are super mini. Don't worry if some are a little bit bigger or all are not the perfect size. The recipe makes so many (well over 100) that you're totally excused if they're not all exactly perfect.
Got it? Good.
Did I mention, this is the fastest cookie recipe I've ever made? Plus, they only need to bake for about 5 minutes.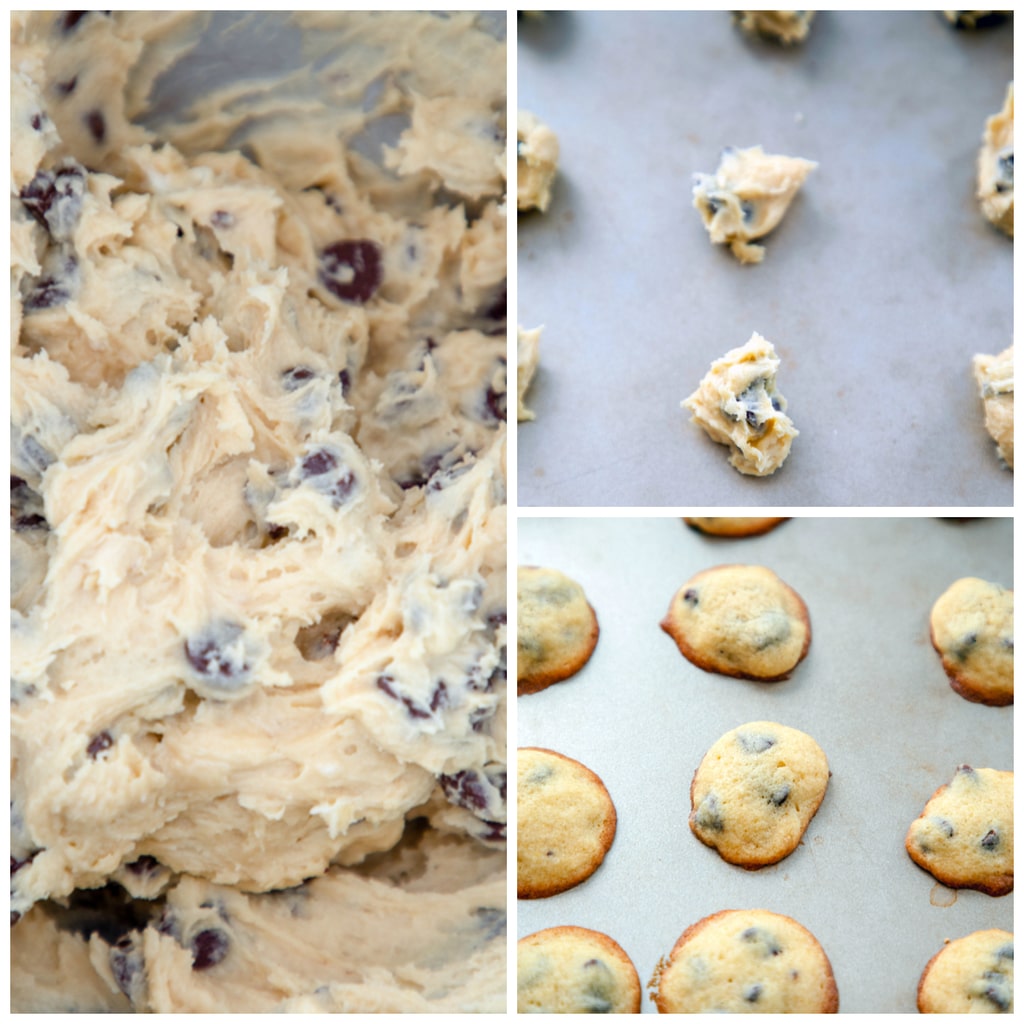 Remember those little bags of bite-size chocolate chip cookies you used to get as a kid? These are kind of like those, but SO much better. I remember those being super crunchy, while these are definitely softer and more melt in your mouth-like. But isn't there something to be said about going into the cookie jar over and over and not feeling guilty about it? It's tough to do that with full-size cookies, but with mini cookies, you can keep reaching in!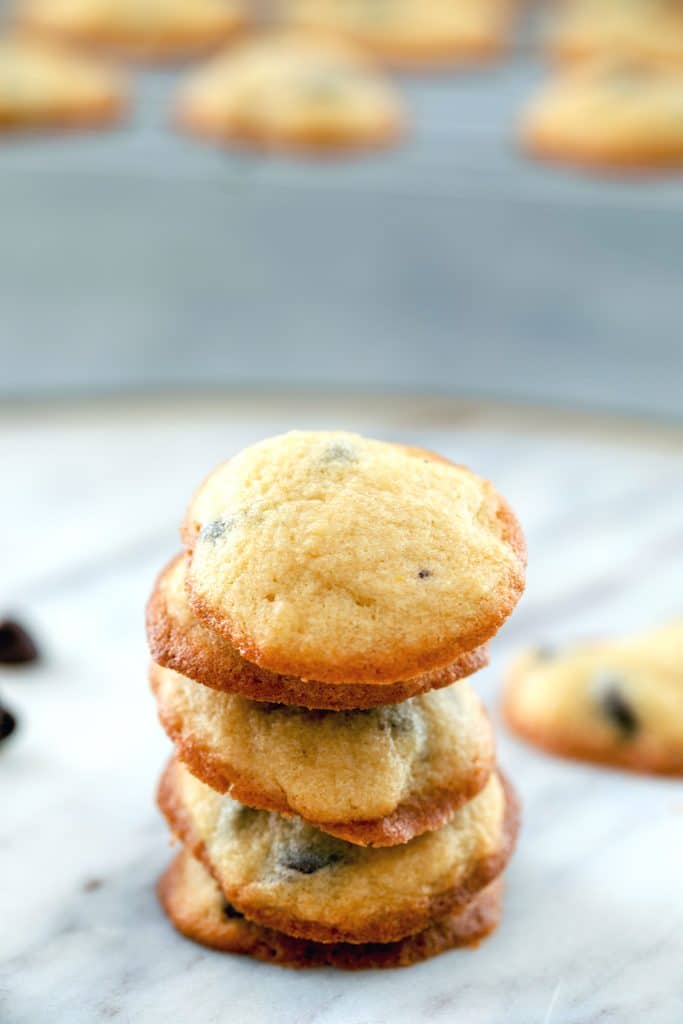 And, of course, all of the mini chocolate chip cookies were devoured in no time at all at the meeting, too. Woop! Even people who "weren't in the mood" for dessert ended up saying, "OK, I'll have just one..." It's tough to say no to mini desserts!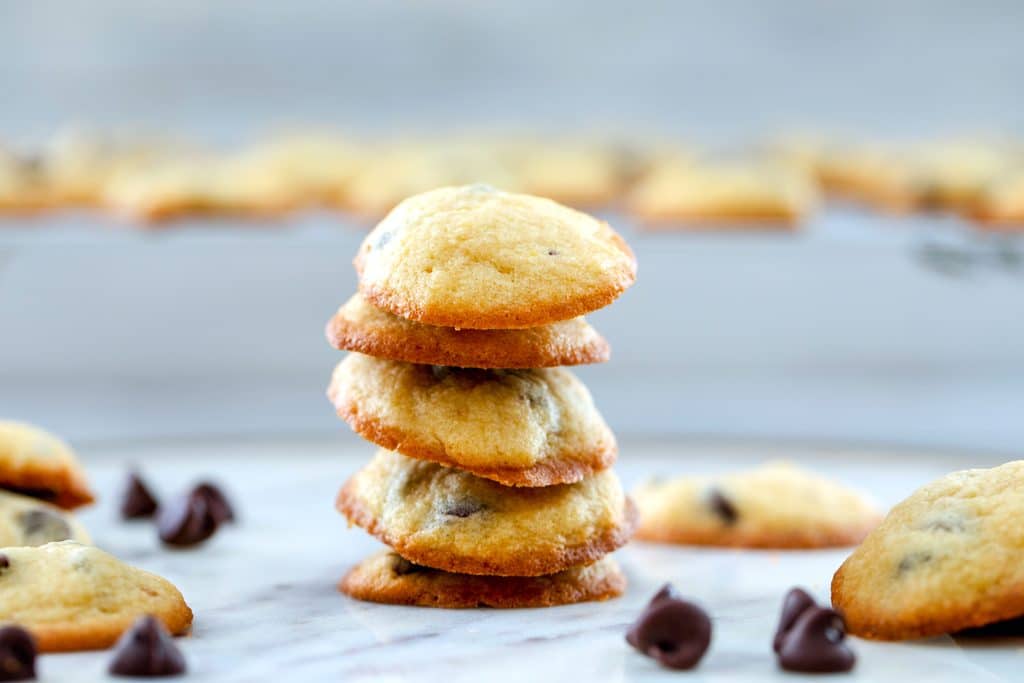 So there you have it, friends. We are not Martha officially offers a classic chocolate chip cookie recipe. 3.5 years later! Even though I guess it's not totally classic in that it's mini. Classic with a twist?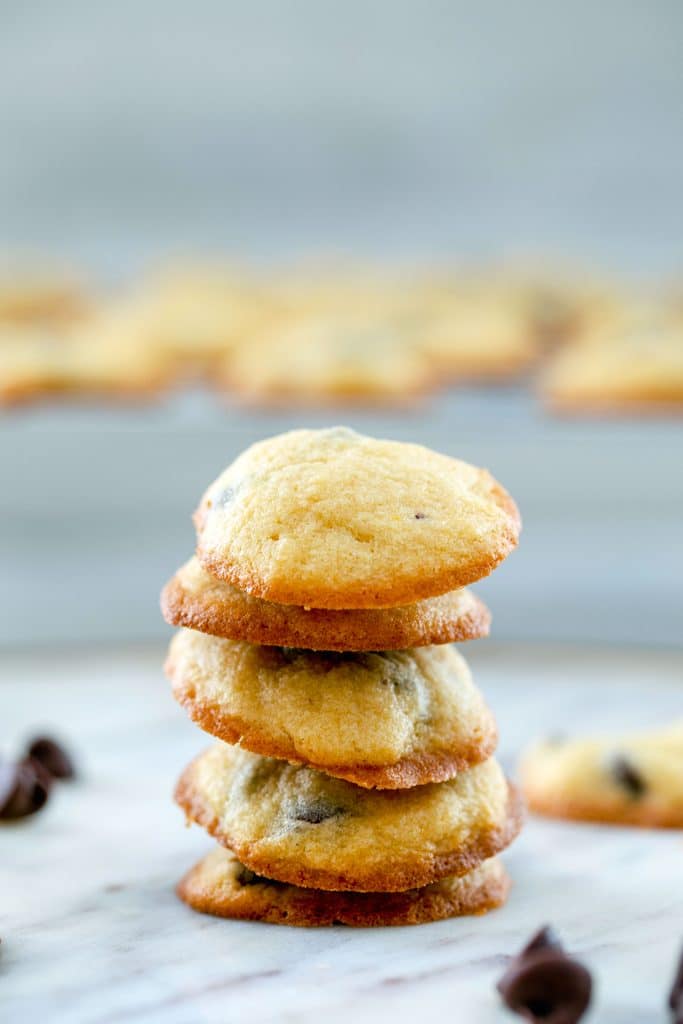 And since we're on the topic of classics, that brings me to Oprah. As everyone in the entire world knows, today was her final episode. 4pm will never be the same in my life. My DVR will be lost as to what it should do with itself every afternoon.
She is an absolute idol so I figured I'd share two of my most favorite quotes from Oprah:
Surround yourself with only people who will lift you higher. I've lived by this line hardcore for the past handful of years. More than I thought I ever would. I realized that regardless of the history of a friendship or relationship, it's just so important to get rid of negative energy and negative people in your life. It's pretty fantastic to live a life surrounded by people who are positive enough to bring you up versus pulling you down and stressing you out.
Use your life to serve the world. Oprah actually used this line in her last episode today and it gave me the chills. It doesn't really need an explanation. It just moved me! We can all be better and we can all do better.
For the past 25 years, all of Oprah's stories about how each and every one of us ultimately has control over our lives and our destinies have always touched me. I honestly believe, every mention and bit of advice she gave on building strong foundations, a sense of pride and integrity, and maintaining friendships with the good people, has stuck with me and helped me keep and grow such long-lasting relationships in my life. I look at my family and my friends and am thankful to have had the same people in my life, for my entire life. It's like they're all my Gails 🙂
What was the best piece of classic advice you received from either the Queen of daytime or from anyone in general? I find that a handful of powerful words is one of the best ways to motivate myself. Or if I'm just having a rough day, hearing the right combination of words can make me snap out of it.
And the advice I'll leave you with no is to make these bite-size chocolate chip cookies... And share the love with your friends and family!
If you like this mini cookie recipe, try these Fruity Pebbles Cookies or these Banana Split Cookies. I also love these Mini Fruit Pizzas from Life Made Sweeter!
📖 Recipe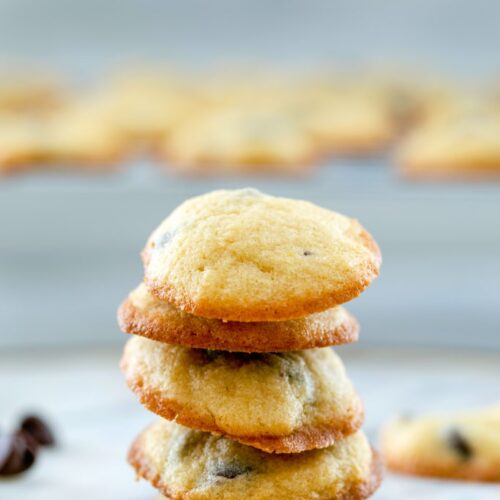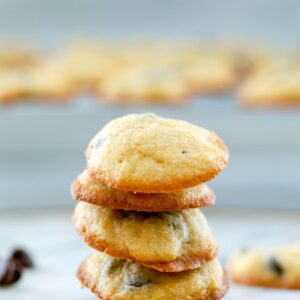 Bite-Size Chocolate Chips Cookies
These Bite-Size Chocolate Chip Cookies take just 20 minutes to make and will never make you feel guilty about eating more than one... Mini cookies will change your life!
Print
Pin
Rate
Ingredients
1 ¼

sticks (10 Tbsp)

unsalted butter,

room temperature

⅔

cup

packed light brown sugar

½

tsp

salt

½

tsp

baking soda

1

large egg

1

tsp

vanilla extract

1

cup

all-purpose flour

1

cup

semisweet chocolate chips
Instructions
Pre-heat oven to 400 degrees.

In the bowl of an electric mixer or in a large bowl with a hand mixer, beat together butter, brown sugar, salt, and baking soda, until fluffy, about 2-3 minutes.

Beat in egg and vanilla. Add flour and mix at low speed until just combined, taking care not to over-mix.

Fold chocolate chips into batter.

Drop ½ teaspoons of dough about an 1.5 inches apart onto un-greased cookie sheets.

Bake for about 5 minutes, until cookies are just starting to turn golden. Transfer cookies to baking racks to cool completely.
Share a Photo of Your Finished Recipe!
Mention @wearenotmartha and share a photo if you've made the recipe!