Fruity Pebbles Cookies are packed with rainbow colored cereal and are a delightful treat for kids and grownups alike!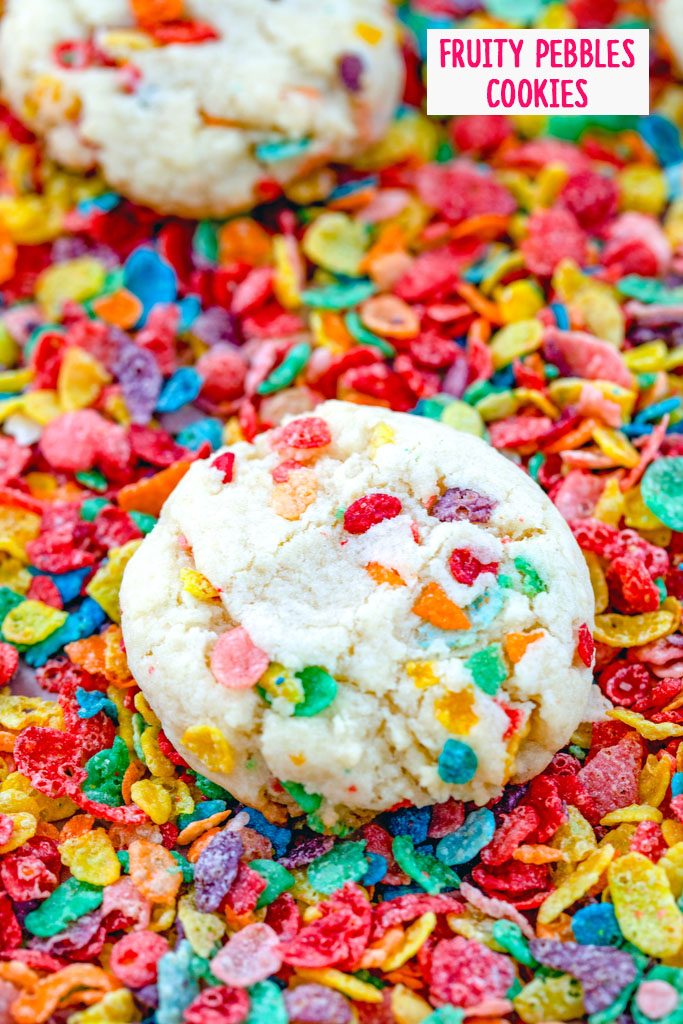 (This recipe for Fruity Pebbles Cookies was originally published in July 2013, but has been updated with new photos and content in 2019).
Happy summer! Well, unofficial start of summer anyway. Well, unofficial start of summer during which I also require a jacket… and umbrella. But I really cannot complain as we just had the most gorgeous Memorial Day weekend ever with the sun shining and LOTS of heat (just the way I like it).
It was a little sneak peek of what's to come and I suppose I can handle a little chilly weather and rain midweek if I can look forward to lots more gorgeous summer weekends coming up. I'm so happy about that thought, I feel like I should be throwing confetti.
But instead I'll throw Fruity Pebbles. Because they're more environmentally friendly. Just kidding, they're probably not since all that sugar would likely send the birds into full-on diabetic shock.
And you don't want to clean up all that cereal anyway (especially if you already have an ant issue), so put these Fruity Pebbles in cookies instead. Sure, you could also put them in a bowl of milk, but that's boring. Fruity Pebbles cookies are anything but boring.
Fruity Pebbles Cookies Recipe
I first made these Fruity Pebbles cookies back in 2013 and I can't believe I waited so long to make them again. They're perfect for when you're not in the mood for the typical chocolate chip or oatmeal cookies and are hoping for something a little bit more fun. A little bit fruitier.
Kids will love them! And while many adults may not typically "make" themselves a bowl of Fruity Pebbles cereal (I always make fun of my husband when he says he's going to "make" a bowl of cereal), eating a Fruity Pebbles cookie or two for dessert is totally acceptable for people of all ages.
The cookies are pretty simple to bake and simply require making a typical cookie batter with a healthy dose of Fruity Pebbles cereal folded in (yes, I said "healthy"). Lots of vanilla, too.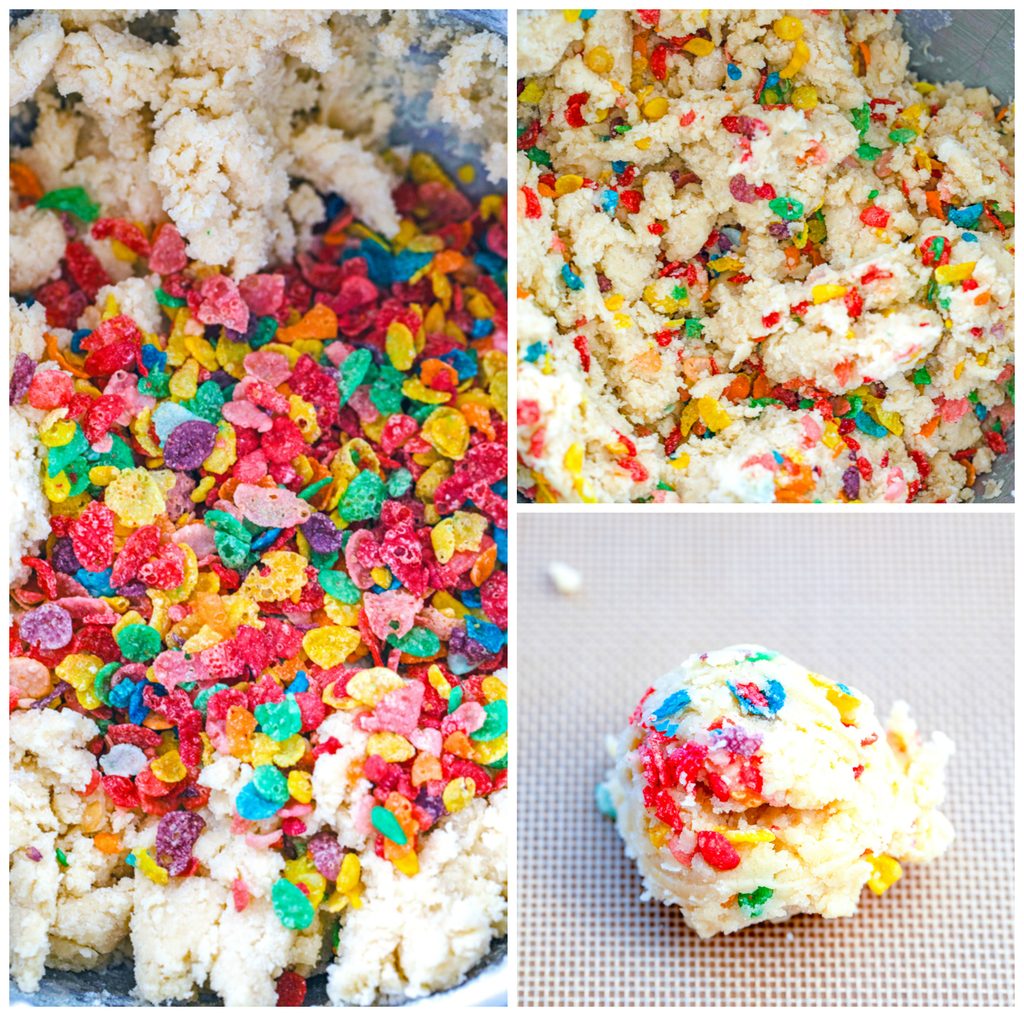 Fruity Pebbles actually smell really delicious while baking. They instantly put me in a cheery mood.
But the best part was taking these Fruity Pebbles cookies out of the oven!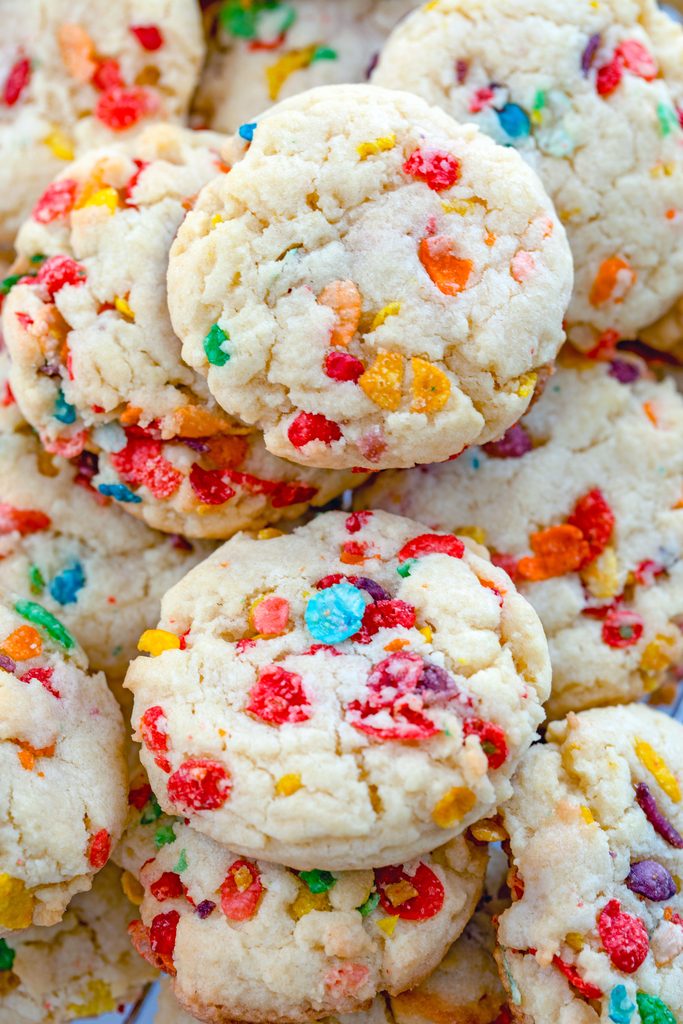 Did you know that I never had Fruity Pebbles as a cereal growing up? I generally wasn't allowed to have sugary cereal and when we were allowed as  a super special treat (for dessert; never breakfast), I'd always go for Cinnamon Toast Crunch or Lucky Charms.
But now, as an adult, I absolutely love baking with it. Because it's the prettiest cereal in all the land. I still don't eat it for breakfast, but if I have any leftover after baking up some treats, I'll sometimes have a bowl of it for dessert. And it just makes me so happy.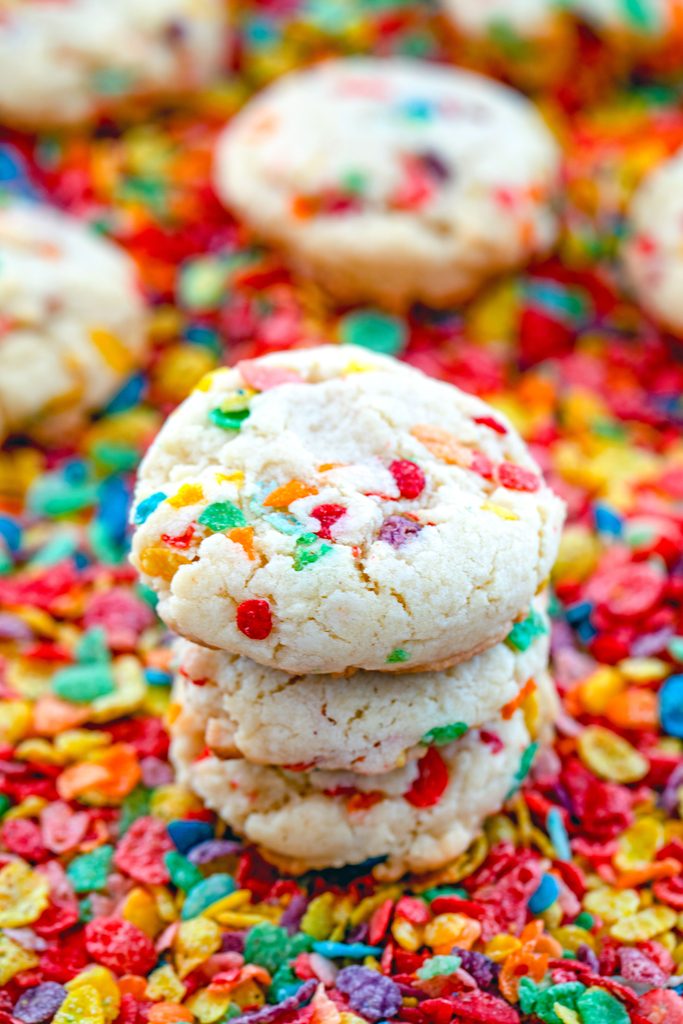 But Fruity Pebbles cookies make me way happier than any bowl of cereal ever could.
It's not necessarily a summery cereal, but there's something about those bright cheery colors that screams sunshine and summer fun to me. These cookies at a pool party? Yes! These cookies at any summer event? Yes! But let's be honest; these cookies are even enough to get anyone through a long dark winter.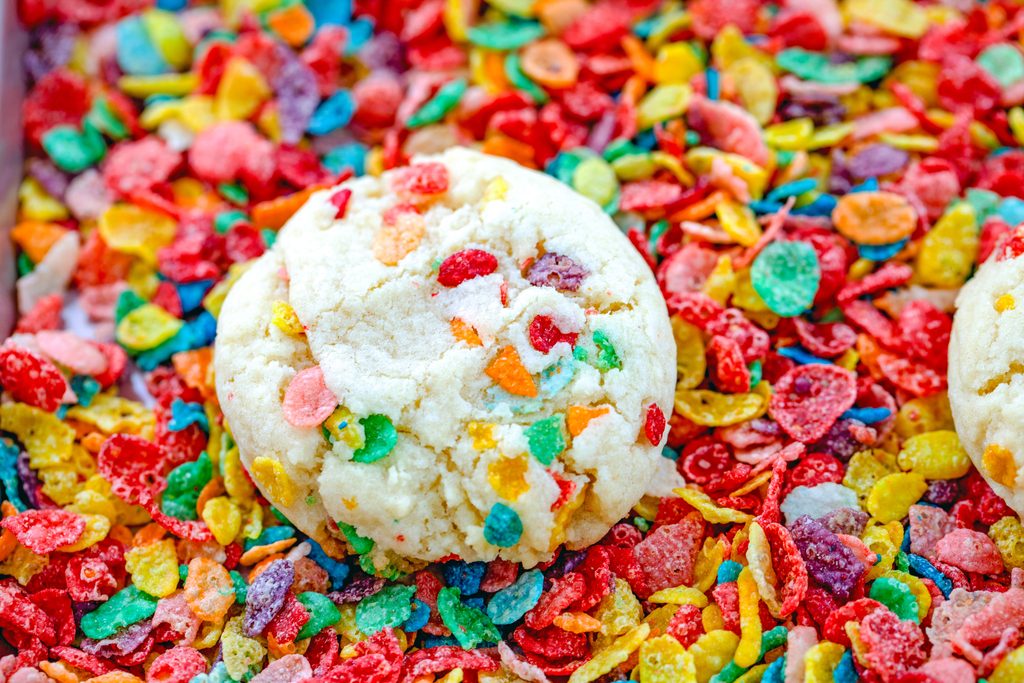 No matter how old you are, now is the perfect time for a Fruity Pebbles cookie.
If you love these Fruity Pebbles cookies, be sure to check out my Fruity Pebbles Doughnuts and my Fruity Pebbles Greek Yogurt Popsicles. I'm also dying over these Fruity Pebbles Macarons from Studio DIY!
What treat should I make with Fruity Pebbles next?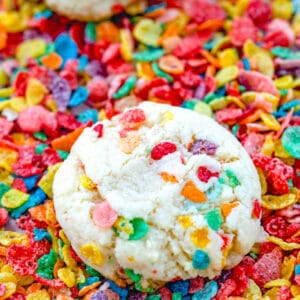 Print Recipe
Fruity Pebbles Cookies
Fruity Pebbles Cookies are packed with rainbow colored Fruity Pebbles cereal and are a tasty treat for kids and grownups alike!
Servings:
3
dozen cookies
Ingredients
1

cup (2 sticks)

unsalted butter,

room temperature

3/4

cup

granulated sugar

3/4

cup

packed light brown sugar

2

large eggs

1 1/2

tsp

vanilla

3

cups

all-purpose flour

2 1/2

tsp

baking powder

1/4

tsp

salt

1 1/4

cups

Fruity Pebbles cereal
Instructions
Pre-heat oven to 350 degrees and line a cookie sheet with parchment paper or a Silpat.

In the bowl of a stand mixer (or a large bowl with a hand mixer), cream together the butter and sugars until light and fluffy

Add eggs and vanilla and beat until smooth.

In a separate medium bowl, whisk together flour, baking powder and salt.

With mixer on low, gradually mix in the flour mixture until just combined (taking care not to over-mix).

With a wooden spoon, gently stir in the Fruity Pebbles cereal.

Chill dough in refrigerator for about 15 minutes.

Drop dough by rounded tablespoon on prepared baking sheets.

Bake for about 10-12 minutes until just golden around edges. Let cool on baking sheet for 5 minutes before moving to wire racks to cool completely.