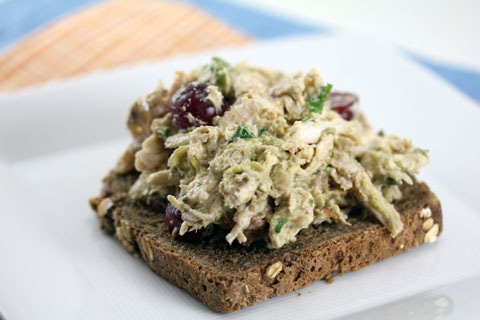 You knew this recipe was coming. In fact, you may see it as a cop out. But, I mean, one can only eat so many sandwiches with Avocado Egg Salad and Spinach before one needs to switch it up. And trust me, I've been eating a lot of those. So, I decided to play off the recipe and create a chicken salad of a similar nature. I'm in super duper busy mode at work and am needing to turn to some easier options if I want to get food in my mouth at some point throughout the day/night. And trust me, I do.
It's not a chicken salad if grapes aren't involved. Seriously. Once upon a time, I thought this was so weird, but now I absolutely cannot enjoy chicken salad if it doesn't have grapes in it. I was a bit worried that the grapes and avocado may be a weird combo, but they weren't. In case you were wondering. I actually quite enjoyed the pair together.
The measurements of ingredients in this recipe are so "whatever." Basically take some chicken and add the rest of the ingredients in quantities that make you happy. Want it super creamy? Add more yogurt and avocado. Want it spicier? Add more cayenne and some other spices, too. Obsessed with grapes in chicken salad? Add a whole pound full. I won't tell.
Avocado Chicken Salad (serves 4-6):
Print this recipe!
1 rotisserie chicken (or other cooked chicken), about 3 C
2 avocados
1/4 C Greek yogurt
1 bunch grapes
1/4 t cayenne pepper
1 small bunch parsley, chopped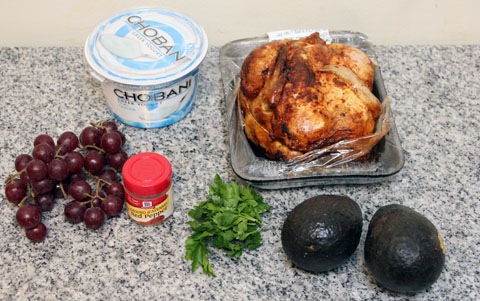 Start by shredding your chicken into a big bowl. I'm pretty obsessed with rotisserie chickens (from Market Basket!) because they're super inexpensive, amazingly delicious, and the easiest thing in the world to enjoy. I love making a batch of chicken salad to last the week without having to cook a thing. I don't think I'm a lazy person, but when I get busy, my kitchen sadly gets abandoned.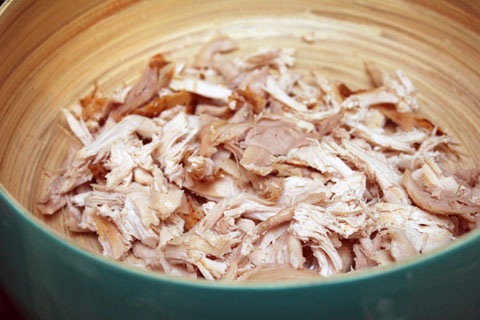 Chop your grapes in half. Unless you like them whole. And then, by all means, keep them so.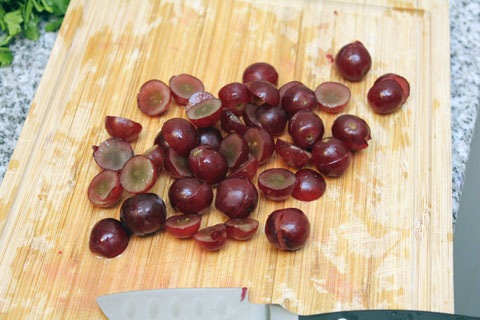 In a separate bowl, mash your avocado. You can add some lemon, too, if you want. This will keep it from browning and give it a delightful spring-like touch.
Mix the avocado into the chicken, along with the yogurt, as well.
Sir in the grapes, cayenne powder, and parsley. Chill for a bit.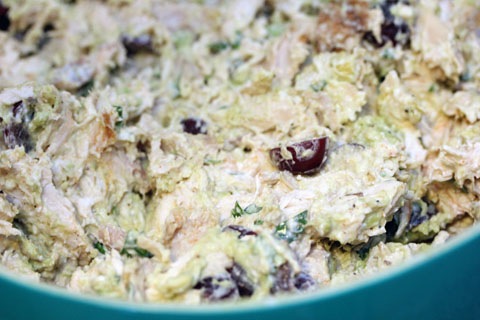 Taste and then add anything else your heart desire. Spinach? I didn't have any spinach, but if I did, I might add some in, just like I did the egg salad. The more green the better!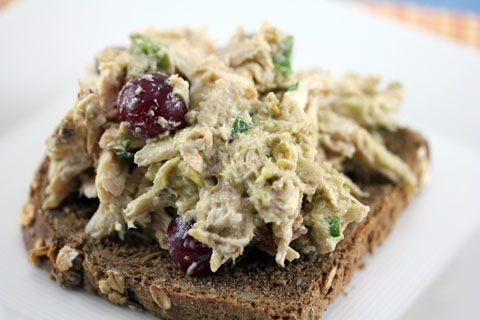 I like to toast up a piece of really nice bread and enjoy an open-face sandwich with my chicken salad. But I also like to eat it right out of the bowl. If you love avocado and chicken, this will really make you happy. It's super creamy and flavorful. And obviously the grapes add a perfectly wonderful crunch!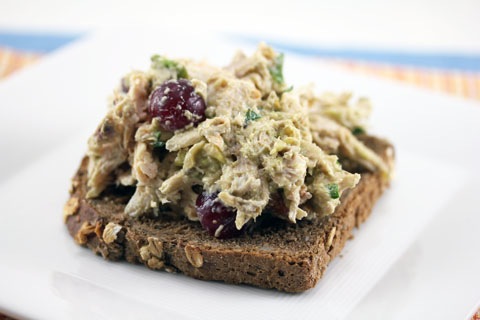 I'm pretty psyched for another easy meal option I can take to work for lunch. Not to mention, it's another healthy one. And one that I didn't need to turn the stove or oven on for. I always get bonus points for that.
No, it's not the prettiest sandwich, but my belly really doesn't care about a little green tint. It just loves avocado!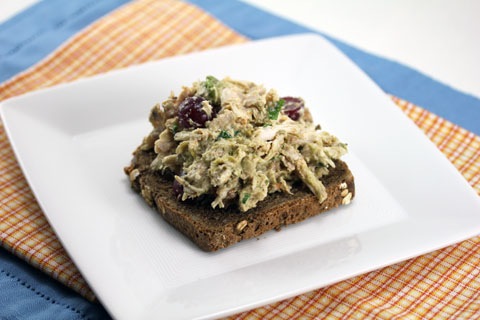 Thank goodness for quick, healthy, and most importantly, satisfying foods that can work as both lunch and dinner. Now, if only there was such an easy option for getting enough sleep…
What's your ideal chicken salad?
[Sues]
Pin It