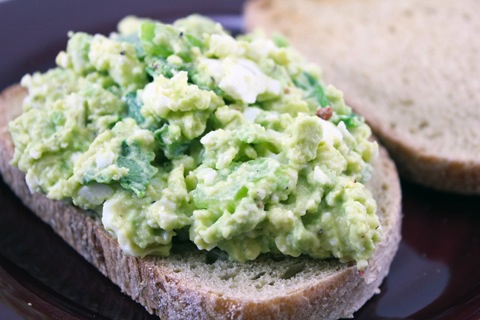 Clearly, I was put on this Earth to show you that you can eat all your favorite foods and still be healthy as can be. All you have to do is throw some vegetables in (fact: I am not a dietitian, so if this proves false for you, please don't sue me). Egg salad is one of my very favorite foods on this wonderful Earth. It can be a little tricky, though, when ordering out, you know? If you're not at a trusted establishment, you can't always have faith in their egg salad. And while good egg salad can be like heaven on a plate, there are few things worse than bad egg salad. We'll avoid that topic for the purposes of this post.
Plus, egg salad isn't usually the healthiest thing. Especially when you're never really sure just what restaurants are putting into it (heaven forbid they use Miracle Whip!). So when I got a craving for egg salad the other day, I decided to turn it green and pack a nutritional punch with it, sans any mayo at all. This recipe is essentially like combining egg salad and guacamole. And could there really be anything better than that? I think not.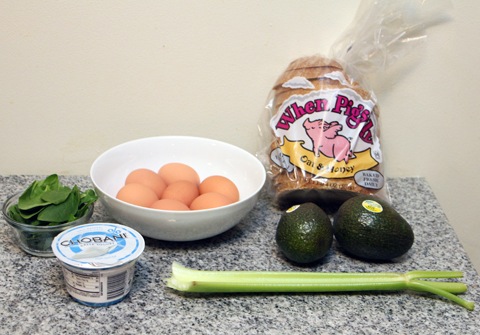 Of course, you'll want to start by hardboiling your eggs. Otherwise, let's face it, your egg salad isn't going to be too tasty. If you're never sure how to tell when your eggs are done boiling, follow Simply Recipe's amazing guide! Once your eggs are ready (I hardboiled mine in the morning before I went to work and popped them in the fridge for the day), peel them.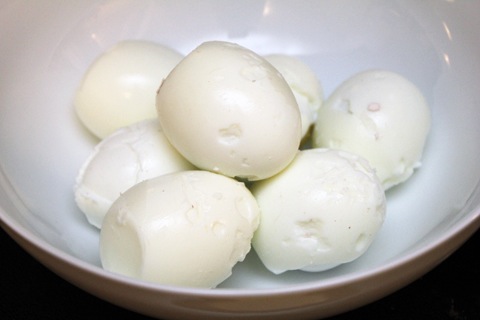 And mash them up with the Greek yogurt (Chobani, of course!). Sprinkle some salt and pepper on top, too.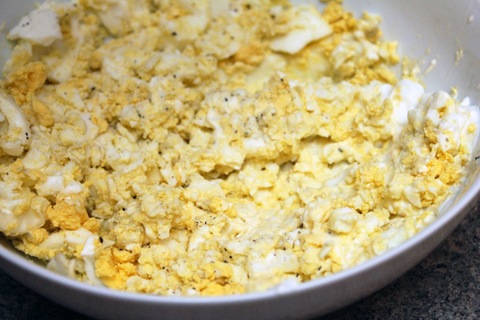 Now, peel and pit your avocados.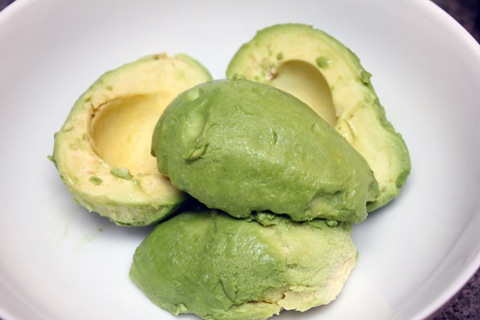 And mash those up, too. Just like a guacamole. Add a little salt and pepper to this, too, if you'd like.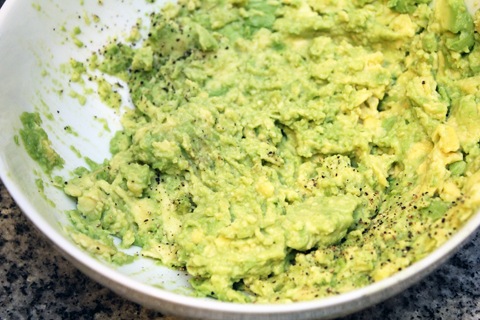 Now, all you do is combine the egg with the guac! And mix in the cup of spinach and the celery, too.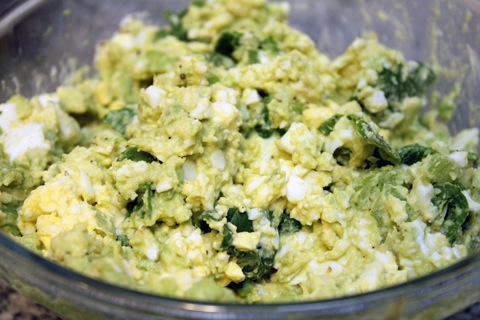 I wasn't sure what kinds of spices I would be using when I first started making this salad, but I decided it only needed a few hot pepper flashes to kick it up a bit.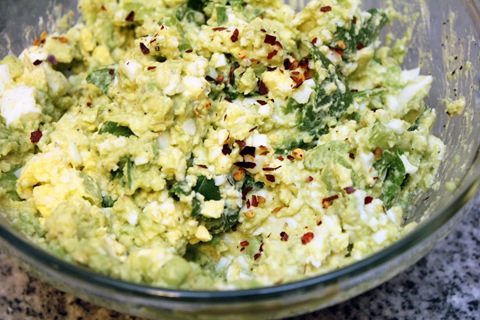 Of course, you could eat this avocado spinach egg salad right out of the bowl. But I opted to put it on some nice toasted crusty bread. When Pigs Fly is one of my favorites. And lucky for me, there's one right in my hood.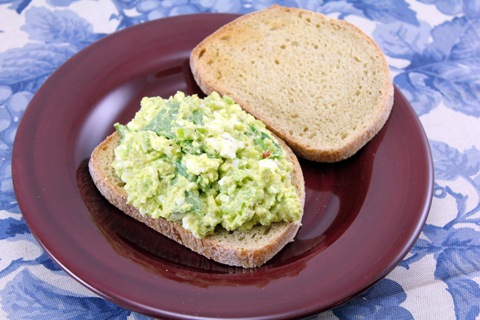 I'm telling you, if you like egg salad and avocado, there's no reason you won't like this! In fact, you might even decide that you never want to make egg salad the "normal" way again. Because what's the point? You might even want to serve this with a bag of tortilla chips and eat it like it's an eggy guacamole. Does that sound gross? Because I really don't care.
I think the spinach is a nice added touch, too. A little bit of crunch and roughage and some extra nutrition to boot.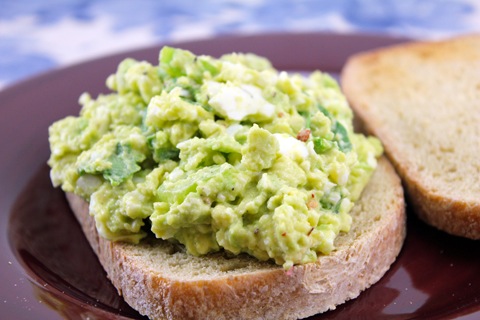 Chris claimed not to like egg salad the other day. But then he asked to take this to lunch the next day. Oh, and it wasn't so long ago that boy didn't like avocados, either. If I told him I'd be making him avocado spinach egg salad when I first met him, he may not have dated me in the first place. Thank goodness I didn't come up with this recipe until we were a little bit further into our relationship (and I had a ring on my finger!). Now, I'm pretty sure he'd eat anything I whipped up in the kitchen.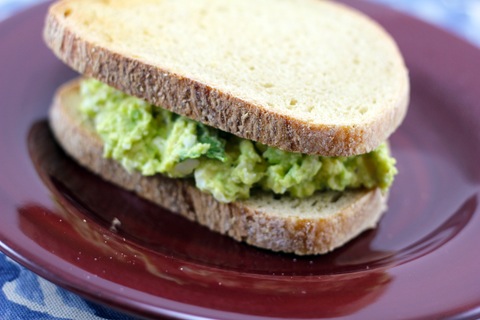 I'll probably be making this many, many more times. It's super quick and keeps me happy for multiple meals. And is packed with protein and other fun nutrients. Who said you needed to serve ham with green eggs?
Are you an egg salad fan? And furthermore, do you like Miracle Whip? I was always a Hellmann's girl… Until I tasted this recipe! Now I'm a Greek yogurt/avocado girl!
[Sues]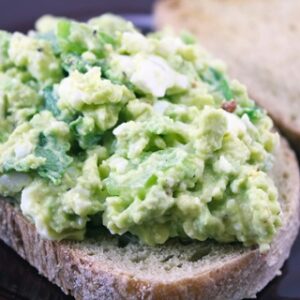 Avocado Egg Salad with Spinach
Love egg salad, but wishing for a healthier version? This healthy avocado egg salad is packed with protein and nutrition from eggs, avocado, and spinach. Enjoy it on a whole grain bread for the perfect sandwich!
Servings
:
5
-6 sandwiches
Ingredients
7

eggs

hard-boiled

4

oz.

plain Greek yogurt

2

avocados

peeled and pitted

1

stalk celery

chopped

1

cup

baby spinach

Hot pepper flakes to taste

Good bread

toasted if you want
Instructions
Peel hard-boiled eggs and mash them up in a large bowl with the Greek yogurt. Season with salt and pepper.

In a separate medium-sized bowl, mash avocado.

Add mashed avocado to bowl with mashed egg and stir together with chopped celery and baby spinach.

Sprinkle with hot pepper flakes.

Make sandwiches with avocado egg salad using nice crusty bread.