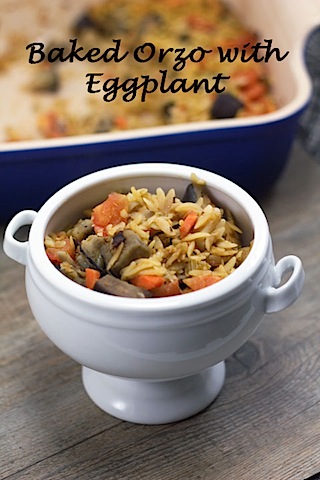 Hallelujah to this week being almost over! Though, to be honest, I've been so busy lately that my days absolutely fly by. Which means my weeks fly by, too. Which also means my weekends do. I need a big giant pause button. There's nothing quite like having a fun-packed weekend, except that it's over before you can breathe out a little sigh and say, "man, I love life." That's exactly how I felt this past weekend.
On Saturday, we celebrated my fabulous mom's birthday, which was on Monday. In true Anderson family fashion, we all gathered together for a celebratory dinner. It was an extra exciting event as it was also the first dinner party at my sister and Adam's brand new house. Which is conveniently about 2 miles from our apartment. Which, in the suburbs, may as well be 2 blocks. Which was the distance between us in the city. Needless to say, I'm so happy to still be so close by to them.
I whipped up this Baked Orzo with Eggplant dish before heading over since my sister mentioned my mom saw it on the fabulous Smitten Kitchen's website and liked the sound of it. We decided to make a sort of Mediterranean-inspired meal and actually cooking together was half of the fun of the evening. Like it always is. That's just what it means to be in my family.
Baked Orzo Eggplant:
Adapted from Smitten Kitchen
Print this recipe!
1 large eggplant (about 1 1/4 lb.)
1/4-1/2 C olive oil
2 carrots, peeled and diced
2 celery stalks, diced
1 medium onion, diced
4 garlic cloves, minced
8 oz. risotto
1 t tomato paste
1 1/2 C vegetable stock
2 T fresh oregano, chopped
2 T grated lemon zest
4 oz. firm mozzarella cheese
1/2 C grated parmesan
3 medium tomatoes, diced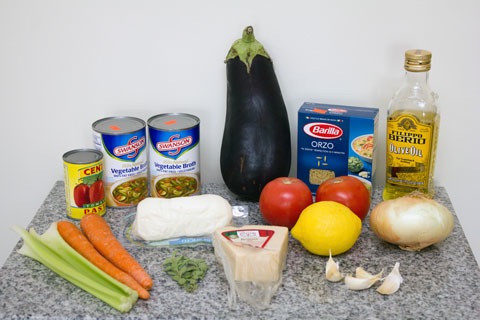 Start by dicing up your eggplant and sprinkling it generously with salt. Let sit in a colander for about 30 minutes. You can continue on with the rest of the recipe while waiting (the chopping will keep you busy!).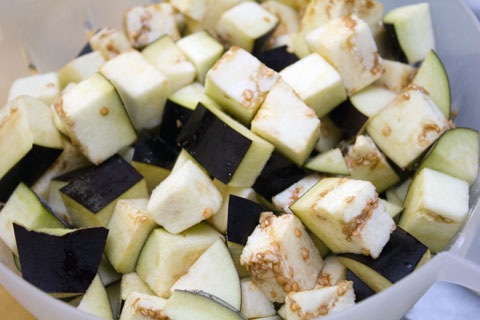 Honestly, Chef'n saved my day with this one. Sometimes I forget about my VeggiChop
for a while, but then I remember and all is right with the world again. It makes chopping onions a breeze (and I use my GarlicZoom
for the garlic!).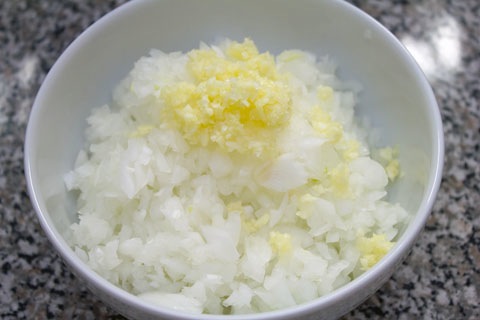 And even did a fab job chopping my carrots and celery. I absolutely hate chopping carrots, so this was wonderful to me.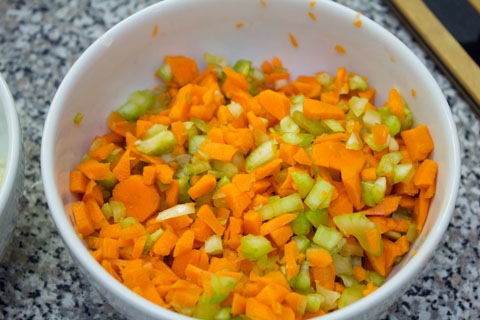 Once 30 minutes has gone by, rinse your eggplant and pat it dry.
Pre-heat your oven to 350 degrees now if you're planning to bake this right away. Heat a large skillet over medium heat. This is the first time I got to use my All-Clad 13-Inch French Skillet
and I'm in absolute love! It was a serious dream.
Add 1/4 C olive oil and once oil is shimmering, you can add the eggplant.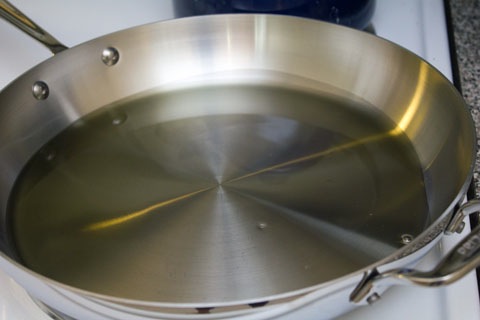 Fry the eggplant for about 8 minutes, stirring occasionally.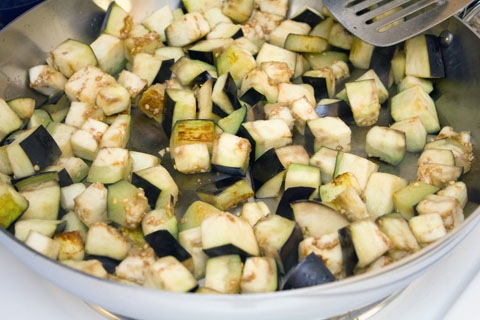 Remove eggplant from pan with slotted spoon to paper towel lined plate.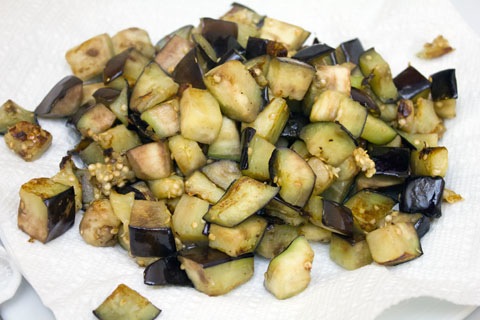 Add carrots and celery to skillet and cook for about 3 minutes. If you find yourself needing a little more oil, add it here. I did.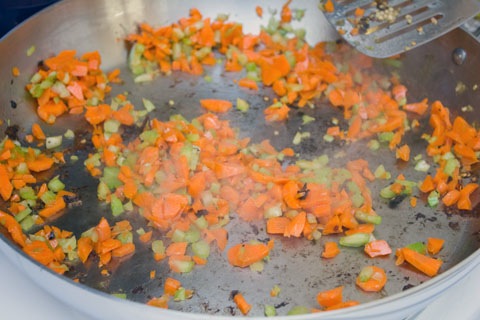 Now throw in garlic and onion and cook for another 5.
Stir in orzo and tomato paste and cook for 2 minutes.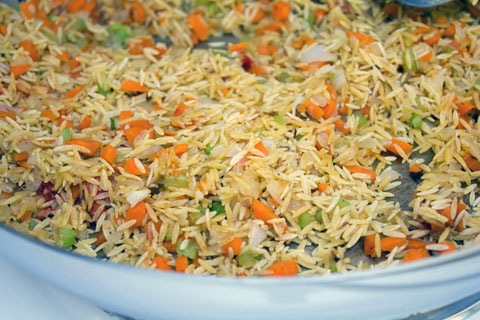 Take the skillet off the heat and toss in the oregano, mozzarella, parmesan, tomatoes, eggplant, lemon zest, and some salt and pepper. Also, pour in the vegetable stock. Stir well.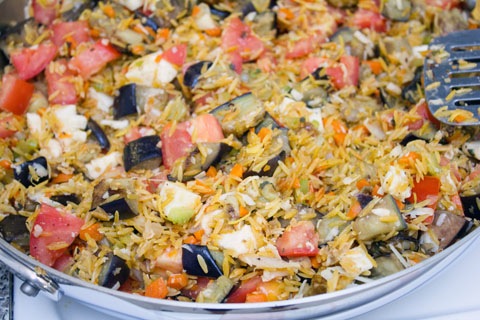 Put mixture in an 8×11 baking dish, cover in foil, and put it in the oven at 350 degrees for about 40 minutes, 20 with the foil covering the dish and 20 without.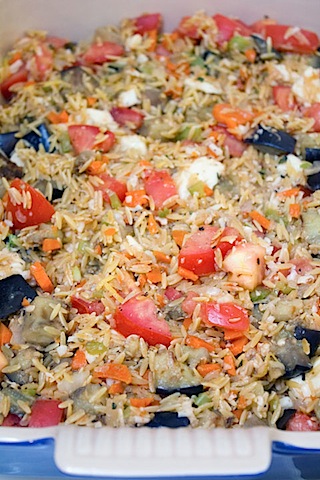 I ended up popping my dish in the fridge and baking it later when I got to my sister's. I just had to add about 5-10 minutes to the baking time.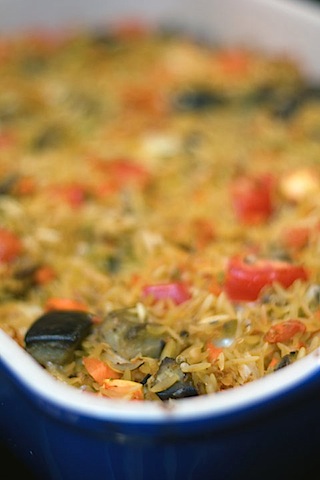 The eggplant orzo dish ended up being quite delightful. Really, I think this was meant to be served as a main entree (Smitten says it serves 4), but we ate it as a side dish (and got many more servings out of it).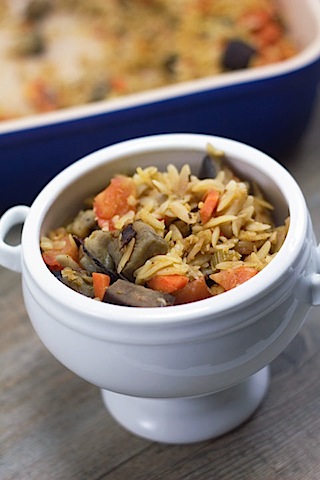 I don't cook with eggplant nearly enough so I was glad to have a specific recipe to make and not just boring old eggplant parmesan (which, to be honest, is not boring at all, but just… not very unique).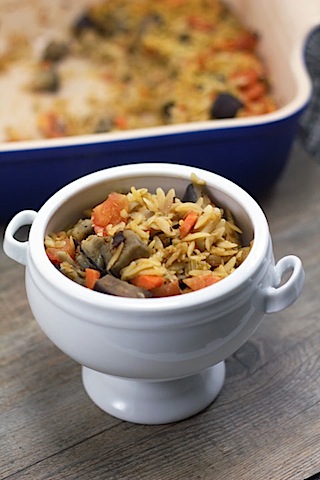 Whether you're vegetarian or just like to load up on vegetables from time to time, this is perfect. I actually kind of think sausage would go well in it, too. Maybe chicken sausage? You could even toss in tofu.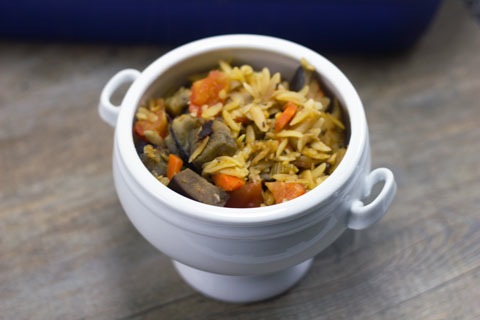 Not to say it wasn't just lovely as is. Because it is.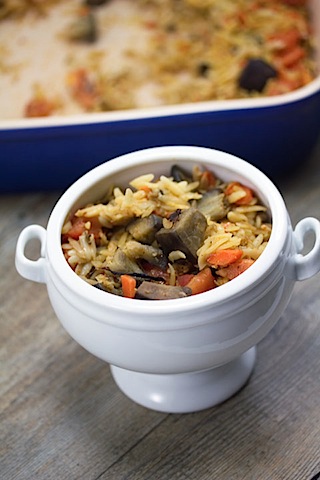 One of my favorite things about this dish? It's the kind of dish you make on a Sunday evening and then have leftovers with all week long.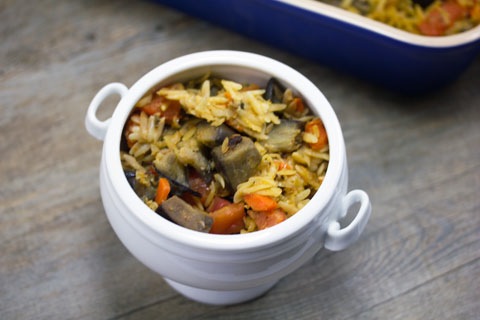 So, what did we serve with the Baked Orzo with Eggplant? My sister and I made a Grilled Mediterranean Hake. Hake is a white fish kind of like haddock. The adventure of the evening is that we had our first go with fresh artichokes. We started to get a little bit nervous when we realized how we needed to prepare them and neither of us had done it before.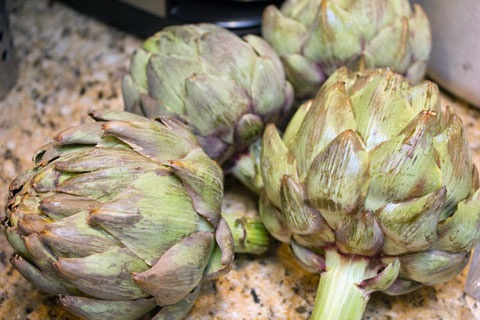 So, we did what any normal person in 2012 does. We watched a ton of YouTube videos. All were different and relatively confusing, but we finally found some success with Alton Brown. That man is a genius.
And after much chopping and choke-scooping…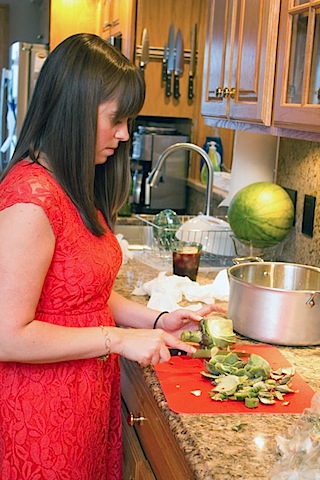 We ended up with some pretty beautiful artichokes.
We sprinkled them with salt and steamed for about 8 minutes.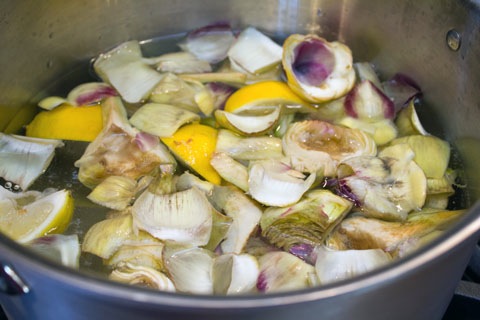 While we chopped the rest of the vegetables involved.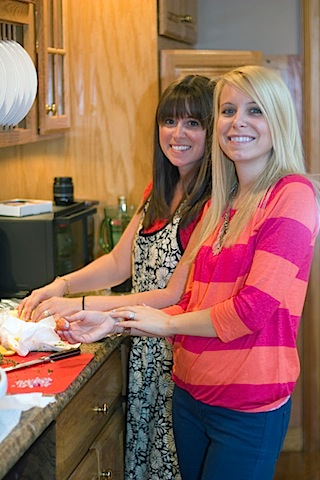 Into a pan they went with oil, shallots, garlic, tomatoes, and capers to be tossed for 5 minutes.
The hake was beautiful and was simply prepared with salt and pepper, red pepper flakes, thyme, and lemon.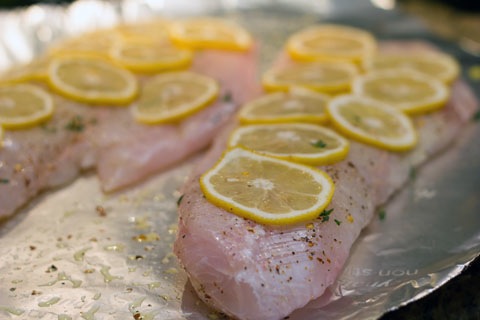 Adam grilled it up perfectly and we were more than happy to dig in. The dish was light, simple, and wonderful. OK, maybe the artichokes weren't simple… and we may have had a few tough ones, but for the most part, they were pretty awesome. Artichoke prep is something we'll definitely have to do again. Fresh artichokes are so much better than jarred, canned, or frozen.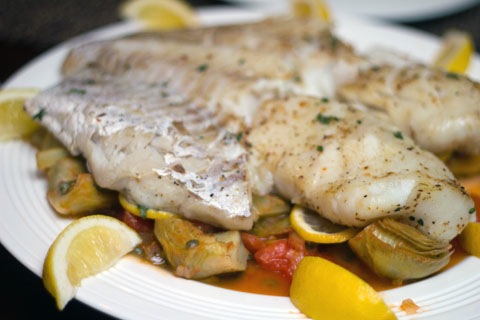 Oh, and I almost forgot about the appetizer. Also Mediterranean inspired, we made Grilled Watermelon and Halloumi with Basil Mint Oil. Both the watermelon and the halloumi were grilled and these bites were heavenly.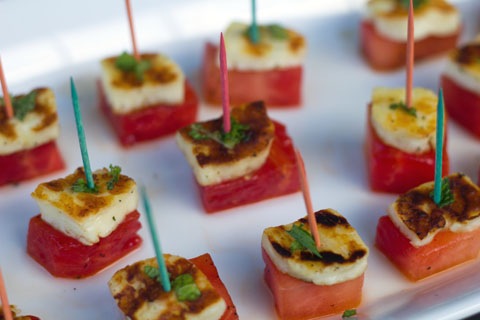 And we enjoyed the app on Beth and Adam's new deck… in the dog days of summer 🙂
The birthday girl and her daughters!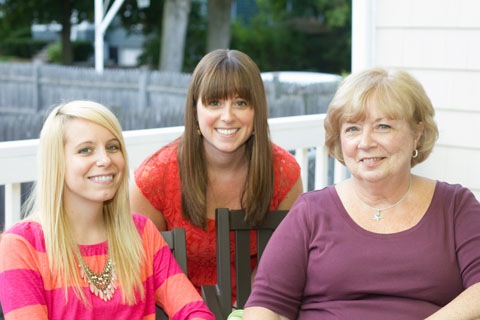 The men of the family. Clearly we're all around each other so much, we're starting to match…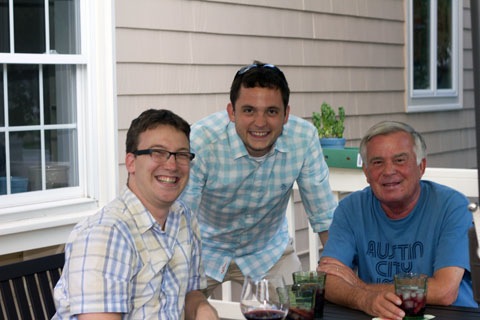 Happy homeowners! Their house is absolutely beautiful and you know Chris and I will be over lots and lots in the coming days. Hopefully they'll still want to come to our place for a Dateline evening now and then!
Happy newlyweds. How long can you be newlyweds for? A year? I'm milking it for all it's worth.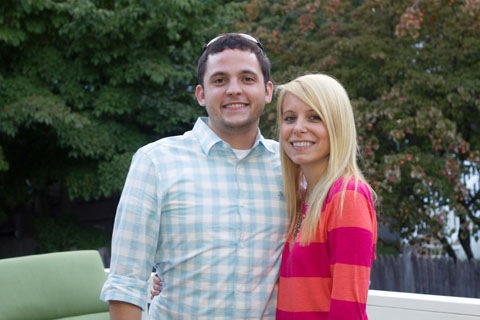 And the "newlyweds" of 35 years. That works, right?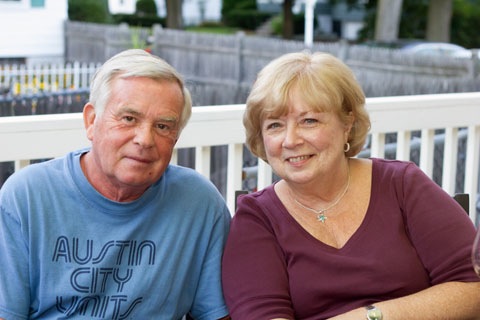 Of course, we ended the evening with a cake. Another fabulous recipe from Smitten Kitchen that Beth made.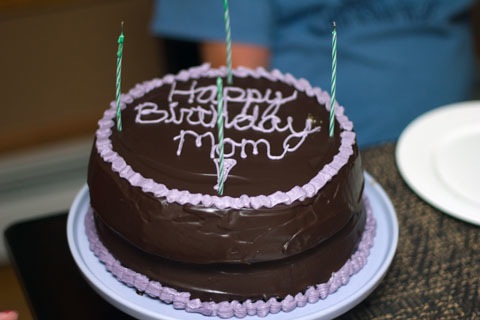 Happy Birthday, Mama! I know I say she's the best mom all the time, but she really is. Don't be jealous 🙂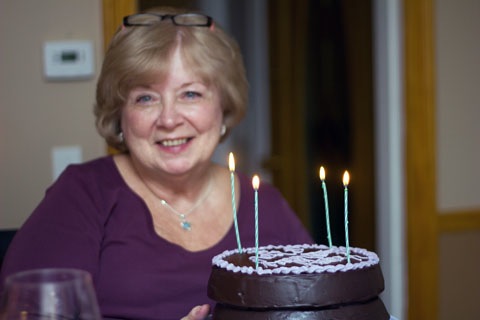 I'm so lucky to have such an amazing family. There's nothing I enjoy more than spending a day cooking and chatting with them. In our super busy lives, birthdays are a nice excuse to get together for some quality time. And now, let's do this Thursday and Friday. We've got two days to get through and then it's off to celebrate Katie's bachelorette party!
Do you cook with your family?
[Sues]