Chels and I decided to head to the WBUR Public Radio Kitchen meet-up at the last minute on Thursday and I since I was working a full day, I needed to make something quick and easy. At first, I thought the recipes I found for BLT Bites were a bit odd-sounding. But after giving one a chance and tweaking it a bit, I was thrilled!
I don't dislike mayonnaise, but the thought of popping a tomato full of it in my mouth, turned me off a bit. So, when I found a recipe that used a mixture with sour cream as well, I decided to use it.
BLT Bites (makes about 40):
About 1 lb. thick-cut bacon
About 40 plum tomatoes
¾ C shredded lettuce or arugula
½ C sour cream
½ C mayonnaise (I used light)
Salt and pepper
Chives, chopped finely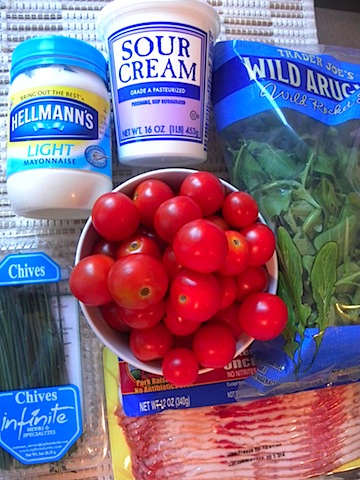 First, you should probably get started on the bacon since it can take a while. I used bacon from Trader Joe's, but it made me really miss Oscar Mayer. From some reason, no bacon cooks up quite like Oscar Mayer does.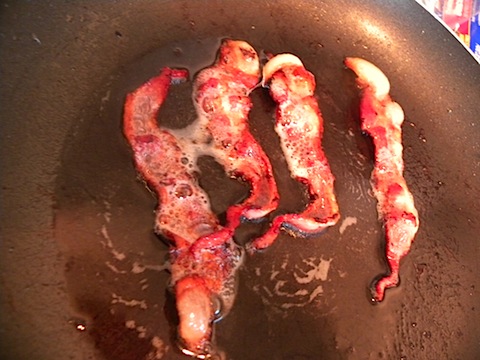 As the bacon got crispy, I took it out of the frying pan and set it on paper towels in order to soak up some of the extra grease.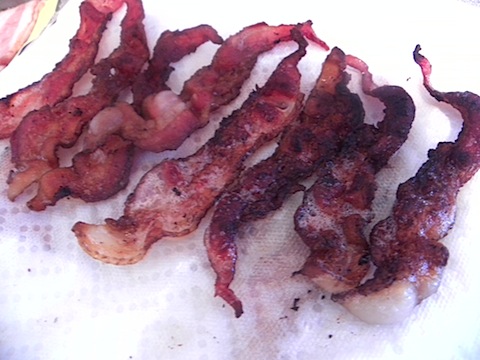 While the bacon was cooking, I got started on the tomatoes. This was definitely the toughest part of the recipe, but mostly because it was a bit tedious. First I cut the top off of each tomato. I also cut a tiny slice off the bottom, simply to allow the tomatoes to stand up better, so they wouldn't roll all over the place.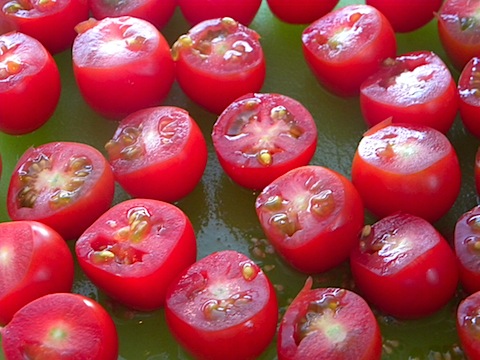 Then, using a little teaspoon, I scooped out the center of the tomato. This was easier than I thought it would be, but still a bit tedious for 40 tomatoes! Sprinkle them with salt and pepper too.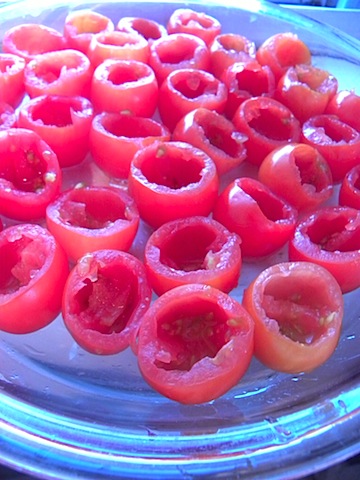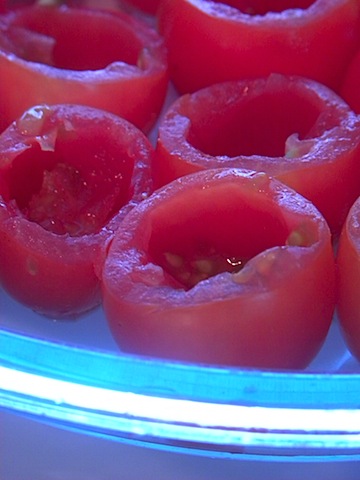 In a bowl, combine the sour cream and mayonnaise. Then fill the tomatoes. I used the teaspoon to fill the tomatoes too. I didn't put a whole lot of the mixture in them because I didn't want it to be overwhelming. If it looks like a lot, it's because I didn't push it down all the way.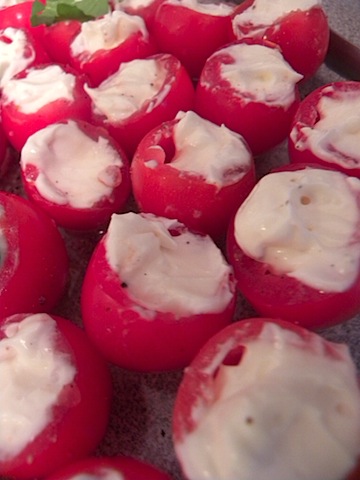 The recipe called for shredded lettuce, but I decided to bring it up a level with some arugula. Either works, but I love the extra kick arugula gives! I just put a few pieces on top of the tomato.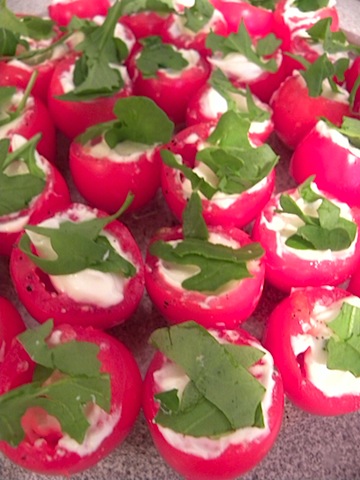 Then crumble the bacon and top the tomatoes with that. I just kept adding bacon until there was none left (OK, I might have had a piece myself, too. Oops).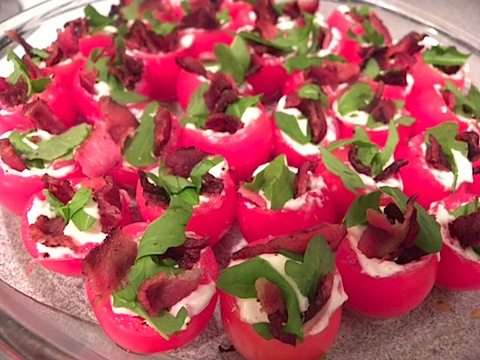 I stuck them in the fridge for about an hour. Then took them out and sprinkled with the chives and brought them to the meet-up!
I'm actually pretty excited by how these turned out! They're great one-bite appetizers and super simple to make. I actually felt like I was eating a little mini-BLT with each one. I didn't even miss the bread!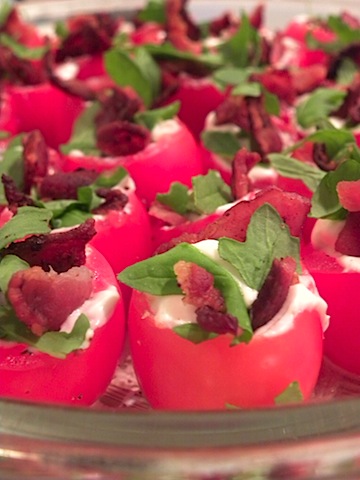 Plus, they're perfect for the BLT lover who's trying to watch their carbs 🙂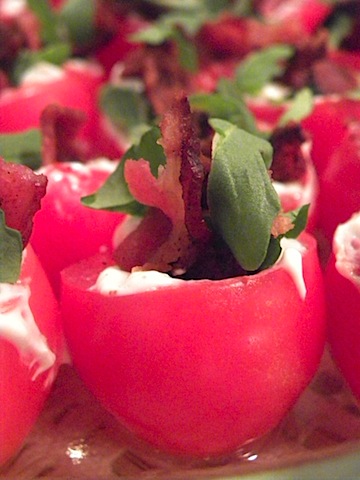 Use light mayo and sour cream and turkey bacon and they're actually not so bad for you. Also, the organic tomatoes I got from Trader Joe's were SO good! A little more expensive than the others, but they were the only ones that worked in terms of size. I could eat a whole container in one sitting (even sans bacon!).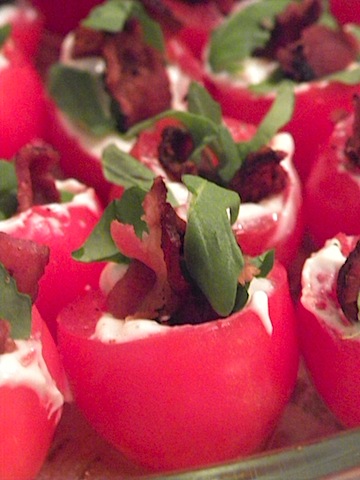 I love little, easy-to-make appetizers like this. And since most everyone loves a good BLT, this is sure to make people happy. And they're super pretty-looking too!
[Sues]