A couple weeks ago when I went to Treats on Washington, out of the corner of my eye, I saw that they had blueberry and white chocolate chip cookies. It's safe to say I haven't been able to get the idea of this cookie out of my head ever since. Typically, when I crave chocolate or something "desserty", it involves fruit or white chocolate so the sound of this cookie sounded splendid.
As I was looking around the world wide web for recipes, I found that so many called for dried blueberries. Which I happened to have already, but I wanted to use fresh, since I had those, too. Plus, I just love they way they burst in the oven and make baked goods looks so purdy 😉 Thanks to Google, I ended up finding a recipe from The Casual Carnivore for blueberry, lemon, and white chocolate cookies. And at the end of the recipe she suggests turning the cookies into ice cream sandwiches. Say, whaaat? Sold.
Blueberry, Lemon, and White Chocolate Chunk Cookies, Makes 24 cookies
Adapted from The Casual Carnivore
Print this recipe!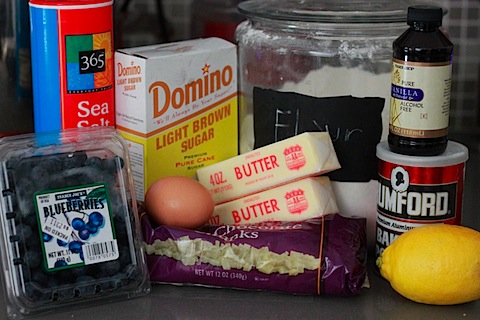 • 1.5 sticks unsalted butter, softened
• 1 cup light brown sugar
• 1 egg, room temperature
• zest from 1 lemon
• 2 cups all purpose flour
• 1 teaspoon baking powder
• 1/8 teaspoon salt
• 1 cup white chocolate chunks
• 1 cup fresh blueberries, washed and towel dried
Preheat your oven to 375 degrees.
First, in the bowl of an electric mixer, cream together your butter and brown sugar.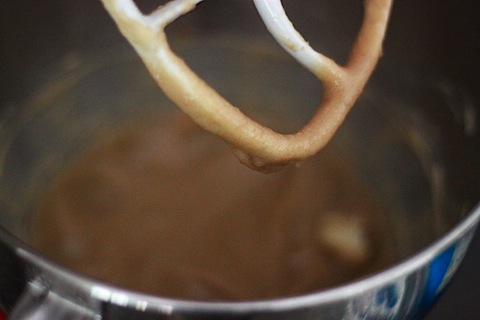 Next, add the egg, lemon zest, and vanilla.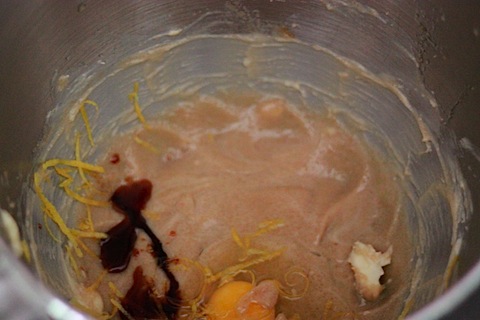 In a separate bowl add mix the flour, salt, and baking powder. In batches, slowly begin adding the mixture into the electric mixer, until incorporated with the butter mixture.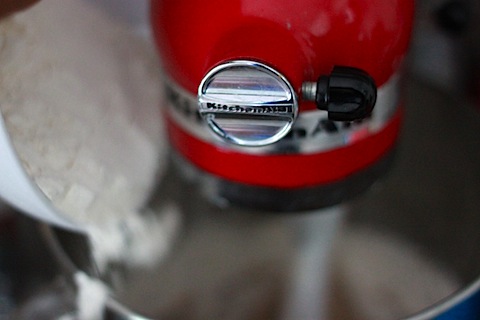 Now, gently mix the white chocolate chunks in.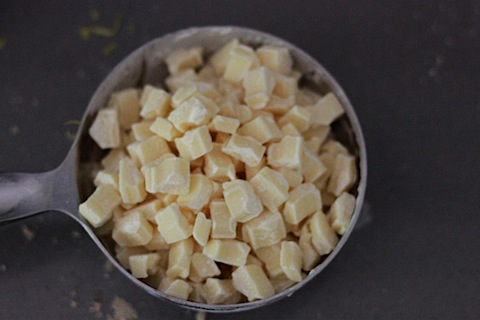 Mix slowly.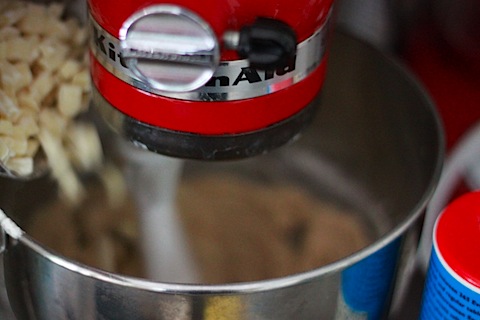 Detach the bowl from the stand and gently mix the blueberries in.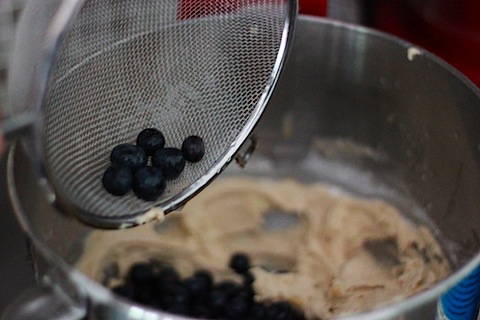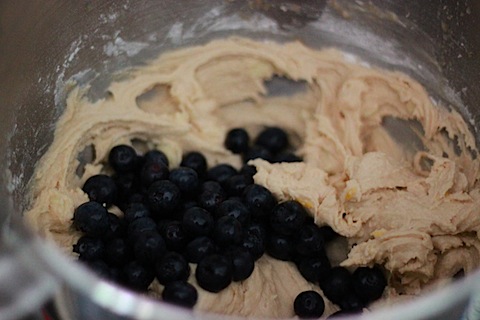 Yes, this batter tasted as good as it looked 😉 The lemon zest is necessary!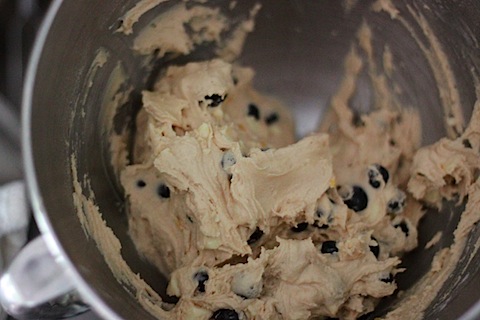 Using an ice cream scoop, drop balls of the dough onto an ungreased cookie sheet, making sure to leave about 1-inch between each.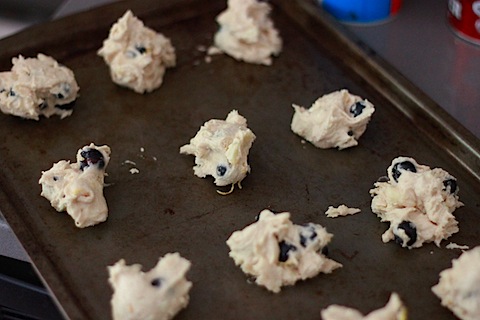 Bake for 11-13 minutes, until the edges have started to brown.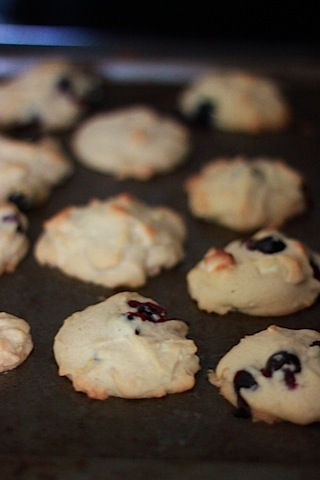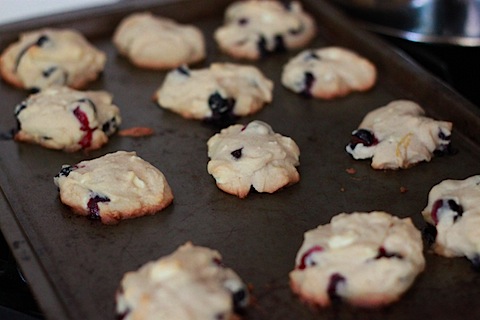 Transfer all of the cookies to wire racks and let them cool. I obviously have the patience of a teething toddler and ate a couple while they were piping hot. Which I do recommend because the blueberries are still nice and warm and when you get a mouthful of that plus the melted white chocolate chunks, Oh.My.Goodness.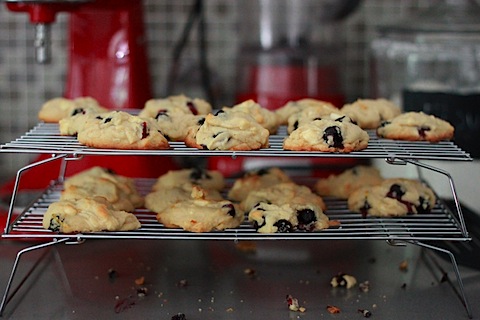 However, if you're making ice cream sandwiches out of them, I do suggest letting them cool almost completely because the ice cream melts so quickly if the cookies are still hot (duh?). Naturally, I decided to fill the cookies with Batch's Vanilla Bean ice cream. Because last week it changed my life and now I feel like it will be a permanent fixture in my freezer.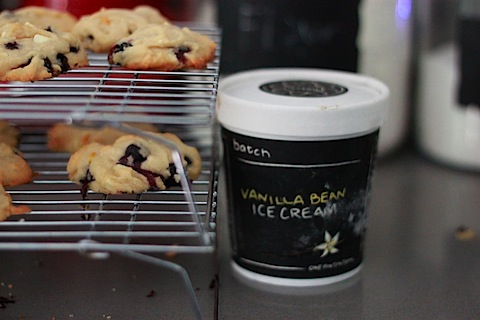 Simply scoop the ice cream…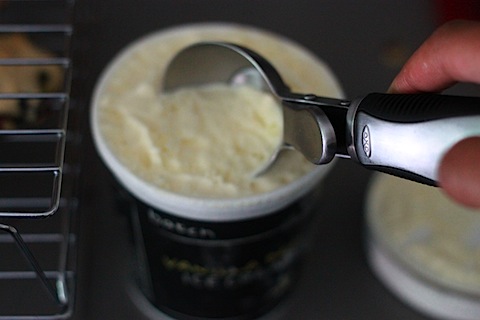 Place it on the bottom side of one cookie…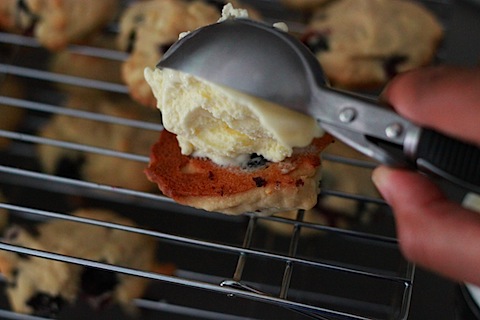 And top it with another cookie to make a sandwich.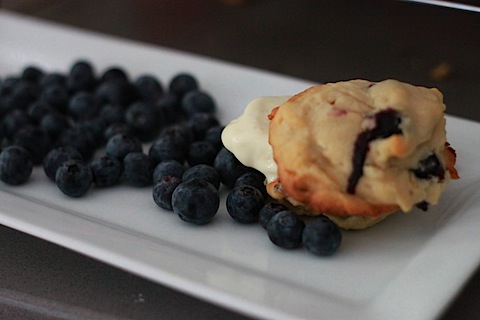 Yup. This really happened.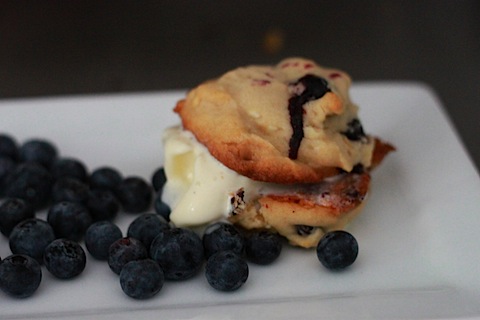 My second favorite part about these cookies (first being they blew my mind) is they are insanely quick to make. I literally got home from work at 3:15ish and had to be showered, dressed, and out the door by 4:45 for dinner and a movie with friends. And lovely little me decided to successfully cram a baking session in there 😉
I'm also thinking these would be the best dessert to bring to a July 4th cookout as they are quite festive!
[Chels]