When I want dessert, I want dessert. Chocolate. Cookies. Ice Cream. Cake. All sans fruit, please. Don't get me wrong; I'm a huge lover of fruit, I just like to keep it away from my desserts. Usually. Of course, fruit, and especially citrus, is so light and summery and sometimes I can't resist making a fruity dessert. And occasionally, I actually fall in love with a fruity dessert. Like these glazed lemon cookies.
From this year on, I think I'll have to make these at the advent of every spring. And maybe even in the dead of winter when I'm desperately craving some spring. If I close my eyes tightly enough…
Glazed Lemon Cookies (makes about 24 cookies):
Adapted from Martha Stewart
Print this recipe!
• 2 C all-purpose flour
• 1/2 t baking soda
1/2 t salt
• 1 T finely grated lemon zest
• 1/2 C (1 stick) butter
• 1 C sugar
• 1 large egg
• 1 t pure vanilla extract
• 2 T fresh lemon juice
• Lemon glaze (see below for recipe)        
(Pre-heat oven to 350 degrees)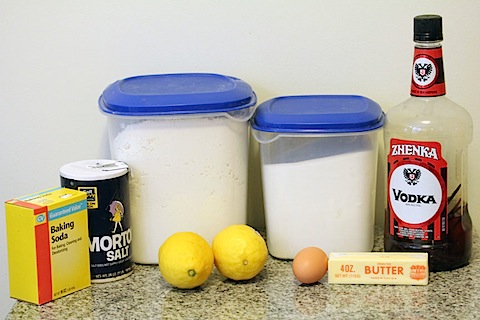 In a medium bowl, whisk together the flour, baking soda, salt, and lemon zest.
In a separate large bowl, beat the butter and sugar with an electric mixer, until light and fluffy.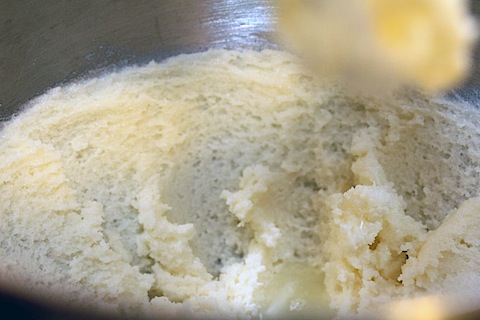 Add in the egg, vanilla, and lemon juice and beat until combined.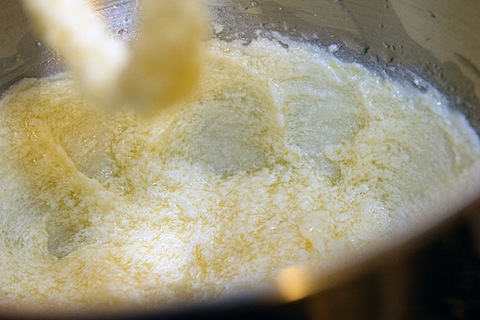 Then, with the mixer on low, slowly beat in the flour.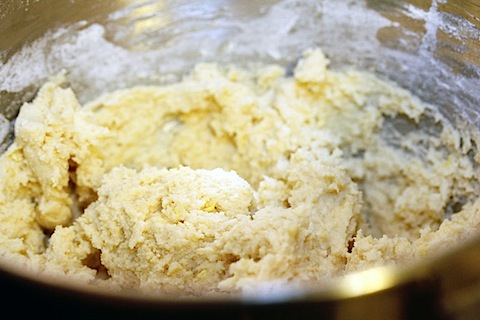 On a cookie sheet, drop dough by the teaspoon about 1 inch apart. You'll probably need 2 baking sheets.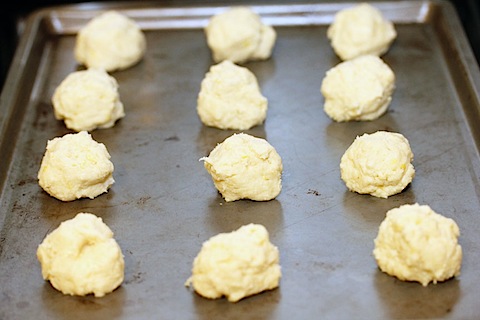 Bake the cookies at 350 degrees for about 15-20 minutes, until edges are golden. Let cool for a couple minutes on the cookie sheets before transferring to wire racks to cool completely.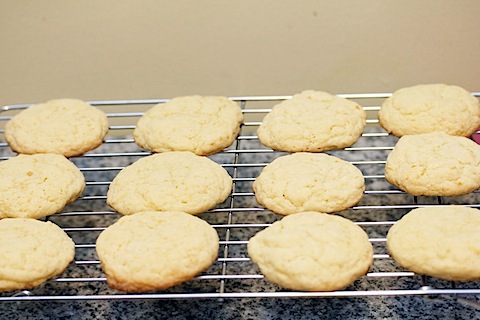 Now, on to the lemon glaze! And though the cookies really are fantastic on their own (trust me, I ate 3 while they were cooling), the glaze makes them about a million times better. And it's also the easiest thing ever, involving 3 ingredients.
Lemon Glaze:
Print this recipe!
• 2 C confectioners' sugar
• 2 T finely grated lemon zest
• 1/3 C fresh lemon juice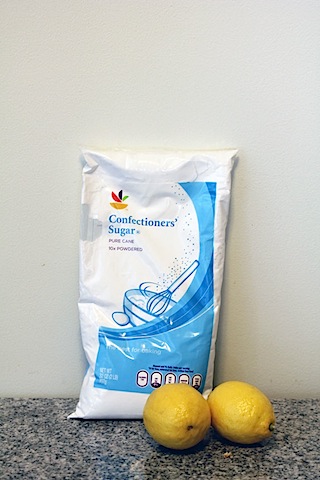 So, all you have to do is whisk 2 cups of confectioners' sugar, 2 tablespoons of finely grated lemon zest, and 1/3 cup lemon juice, until smooth.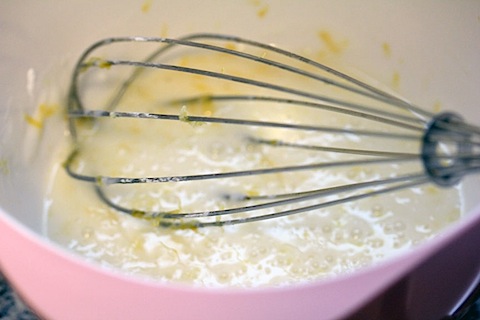 Some day I want to publish a book called "The Aftermath." And it will be packed with photos of messy cooking scenes. I'm confiding in you with my ultra amazing idea, so don't copy my idea, please 🙂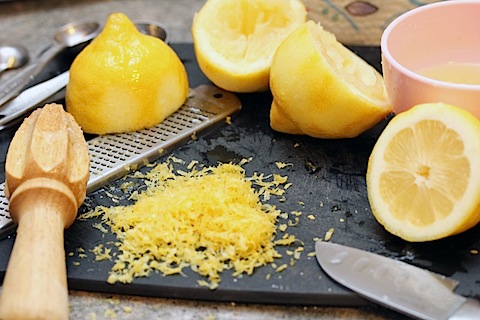 When the cookies are completely cooled spread them with lemon glaze. As much or as little as you want. I had A LOT of glaze left over… but that could have something to do with the fact that I ate a few cookies before they were glazed. They didn't stand a chance.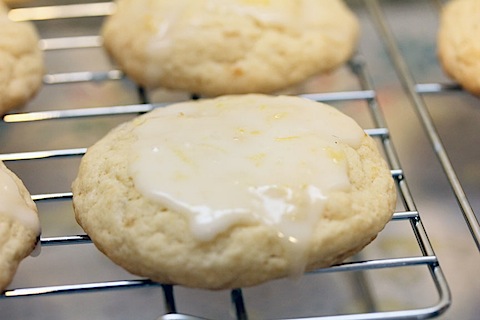 And then let the cookies rest of an hour so the glaze hardens. Sticking them in the fridge will speed up the process a bit.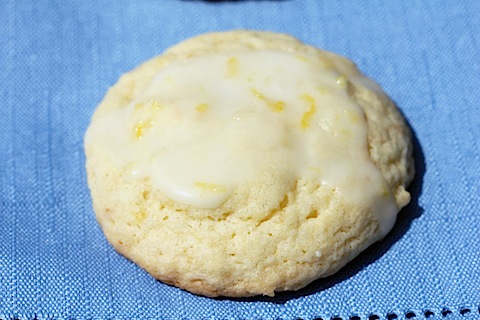 And then bite into a light, refreshing glazed lemon cookies. These are totally the kind of cookies you could eat 10 of, no problem. They're soft, but with a little bit of crisp around the edges.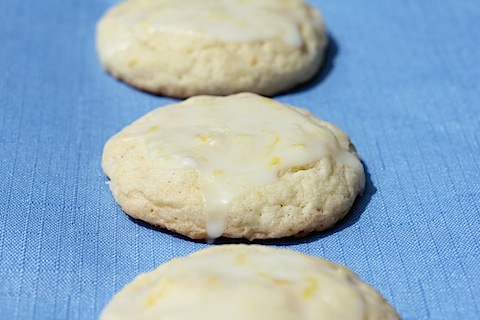 And they're incredibly tangy and lemony without being too pucker your lips sour.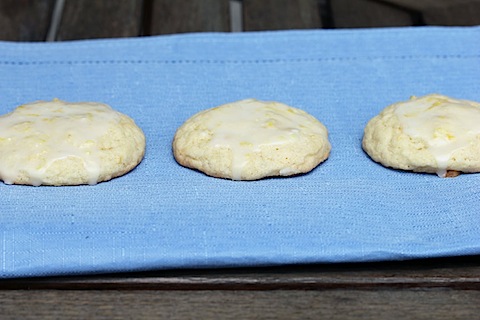 You should definitely add these cookies to your must-make cookie list. You do have one of those, don't you? They're quick and super simple, but totally tasty.
Now, I wonder how these cookies would taste with some chocolate chips involved. Just kidding. Kind of. (Seriously though, white chocolate? Now, that could be awesome).
Are you a fruity dessert person or do you prefer your fruit more as a snack than as a dessert?
Also, let us know if you're going to be at BlogHer Food in Atlanta in a couple weeks!! We'll be there and can't wait to meet new blogger friends as well as familiar faces 🙂 Whether you're going or not, follow us on Twitter @wearenotmartha for lots of updates!
[Sues]