This Bourbon S'mores Milkshake combines all of your favorite components of s'mores along with chocolate ice cream and bourbon for the ultimate treat in a glass.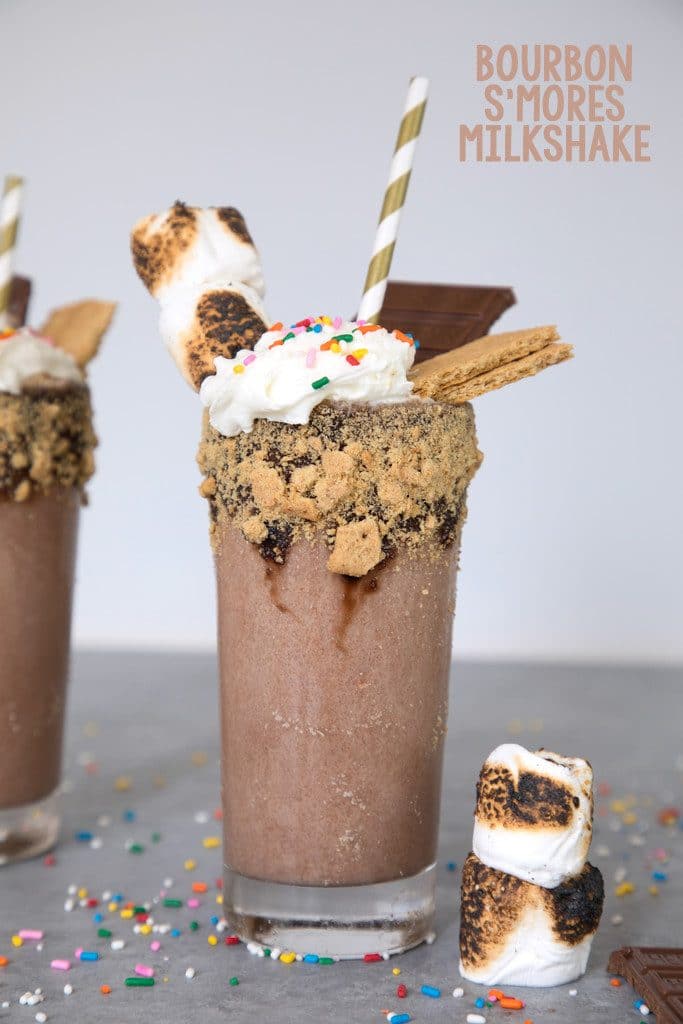 I'm just settling in for the first episode of season 84024 of the Bachelor franchise. Yes, I continue to watch. Hate on me as much as you want, but I will not be stopped. It's my simple Monday night pleasure and you're not taking that away from me.
Now, if I calculated how many hours I've spent on the Bachelor in my life (including Bachelor, Bachelorette, Bachelor in Paradise, Bachelor Pad... And um, the soon to be Bachelor Winter Games), I might have a straight up panic attack.
But the thing is, when I watch any of those Bachelor variations, I'm not just sitting on my couch staring at beautiful people searching for true love and crying over missed opportunities. I'm getting other stuff done, whether that's writing and photo editing, work, or at the very least, puppy snuggles. That's partly why I love the show so much... I can multi-task and still keep track of what's going on.
Plus, I'm so deep in now, there's no way I can stop.
No matter where you stand on the Bachelor issue, you're probably ready to kill me for my nonstop chatter. Which means you totally need this s'mores milkshake. It's not just any s'mores milkshake... It's a Bourbon S'mores Milkshake. Sooo, now do you forgive me for my Bachelor babble?
Bourbon S'mores Milkshake Recipe
Like most milkshakes, this bourbon milkshake is incredibly simple to make. Other than toasting the marshmallows and creating an epically sweet garnish, you just toss everything in your blender. Easy!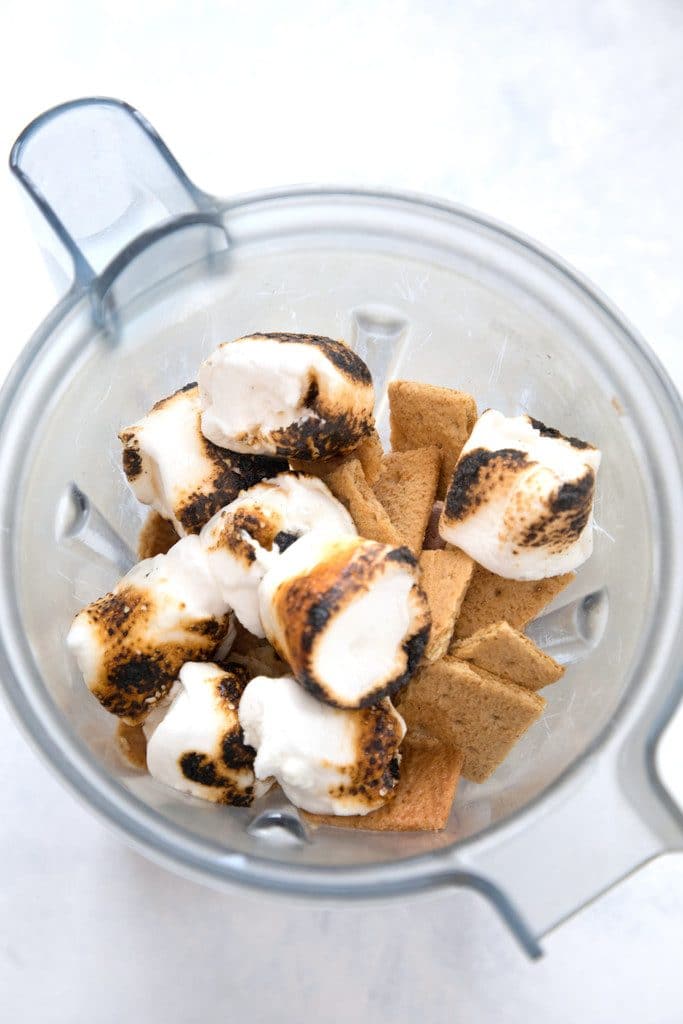 Obviously the "garnish" is the most important thing on this s'mores milkshake. And it's pretty imperative that you toast the marshmallows. But don't worry if you're not at a campfire or it's cold and rainy (again! please stop it with this weather, Mother Nature).
I legit toasted my marshmallows over my gas stove. I'm not super into camping, so standing in my kitchen over my stove is actually more my speed. Plus... rain.
But seriously, that means you can make this milkshake at any time of year; winter, spring, summer or fall... (sorry, I just finished Lauren Graham's book (affiliate link) and now I desperately want to watch Gilmore Girls).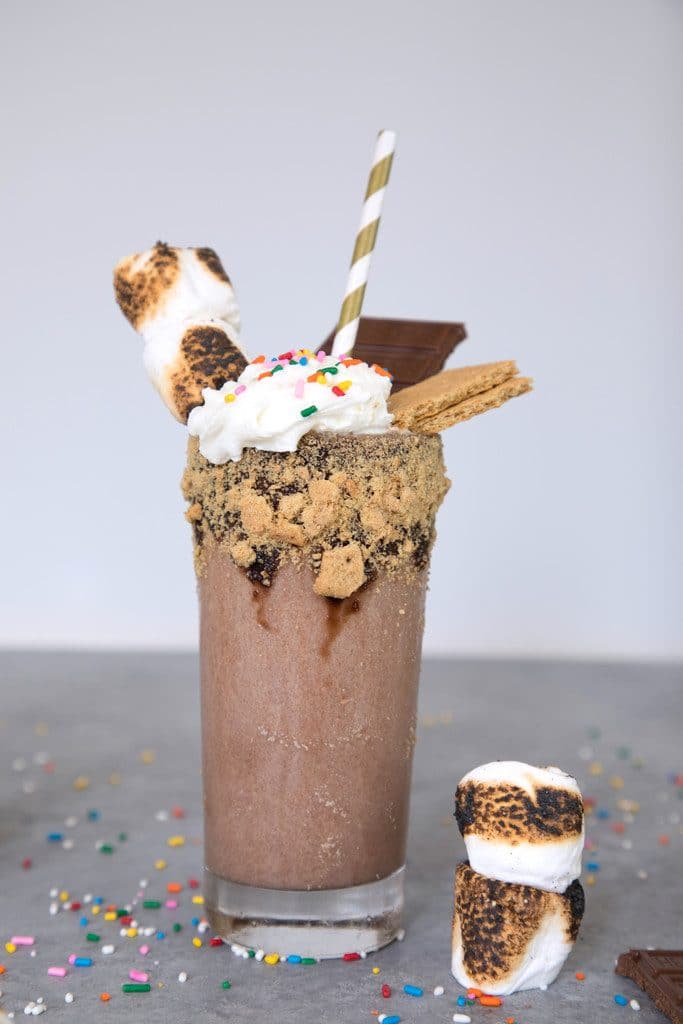 If you're not into the whole bourbon milkshake thing, you can obviously leave the bourbon out. But it won't really be the same.
And it might not give you the kick you need to get through another 2-hour episode of the Bachelor. Not that I'm condoning drinking in order to get through life challenges. Ahem, vodka could also work in here.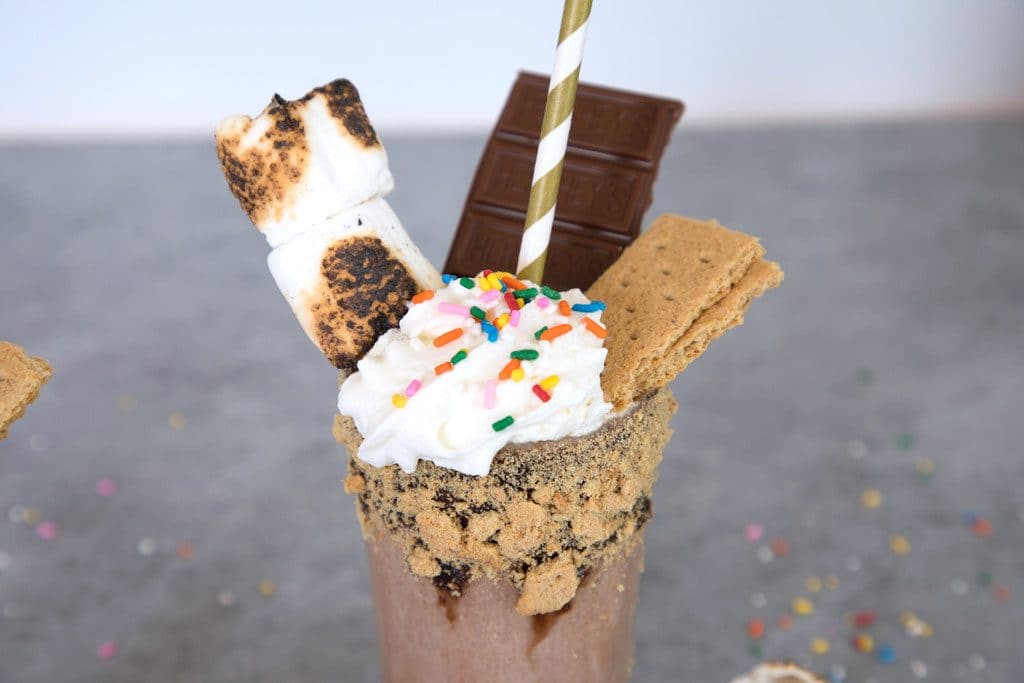 You can also feel free to make it with vanilla ice cream instead of chocolate ice cream, so long as you drizzle a little chocolate syrup in. Don't let me down.
Yes, I know these s'mores milkshakes aren't exactly going to land in the healthy food category, but it's Monday and you need to treat yourself.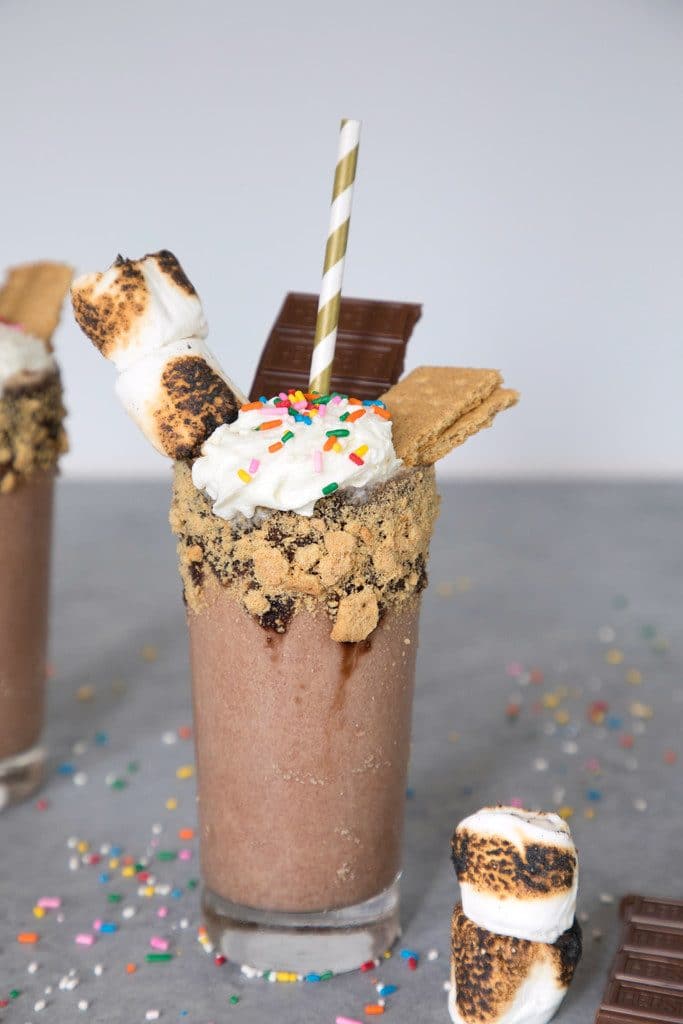 If you need me, I'll be sitting on my couch, sipping on one of these while cuddling with my dog and watching the Bachelorette.
I'm also continuing to plan that ultimate campfire and s'mores bars with 14 different colored marshmallows. Just don't judge me if that campfire happens to be in front of my stove instead of in the great outdoors.
If you're looking for more boozy milkshakes, check out my Chocolate Cinnamon Toast Crunch Stout Milkshake or my Banana Split Vodka Milkshake. For a bit of a tamer milkshake, try my Matcha Milkshake.
Do you enjoy alcoholic milkshakes?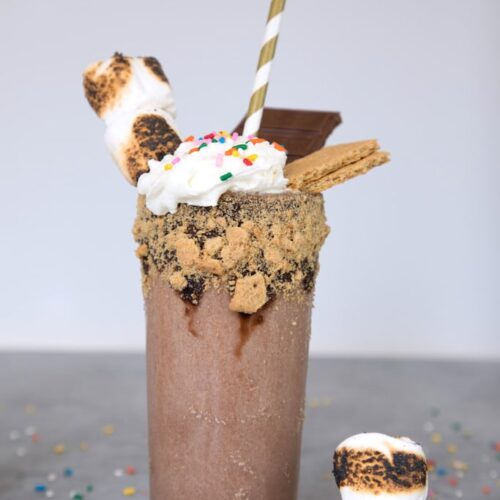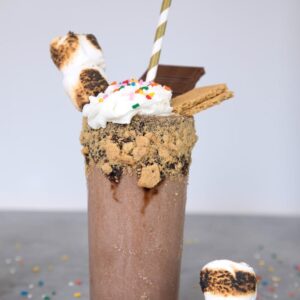 Bourbon S'mores Milkshake
This Bourbon S'mores Milkshake combines all of your favorite components of s'mores along with chocolate ice cream and bourbon for the ultimate treat in a glass.
Print
Pin
Rate
Ingredients
Chocolate syrup, for rimming glasses

8

sheets graham crackers,

divided

3

cups

chocolate ice cream

1 ¼

cups

skim milk

3

oz.

bourbon

14

toasted marshmallows

Whipped cream, for topping

Rainbow sprinkles
Instructions
Using a pastry brush, brush the rims of two glasses with chocolate syrup. Crush 2 sheets of graham crackers and place them on a small plate. Roll glasses in graham cracker crumbs.

Place chocolate ice cream, milk, bourbon, 4 sheets of graham crackers, and ten marshmallows in a blender and blend on high speed until combined. Divide milkshake between two glasses.

Top with whipped cream and rainbow sprinkles. Put marshmallows on skewers as garnish and add a sheet of graham crackers into each milkshake.
Share a Photo of Your Finished Recipe!
Mention @wearenotmartha and share a photo if you've made the recipe!