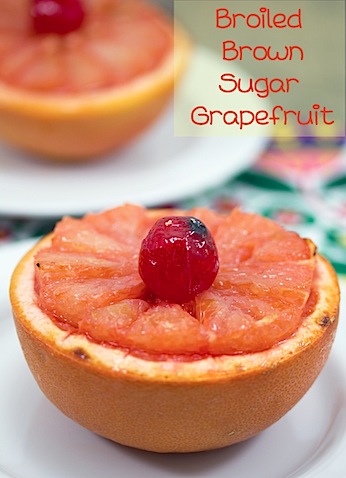 Sometimes the simplest things make us the happiest. And broiled grapefruit is one food that will absolutely always make me feel comforted. It might have something to do with the fact that my parents used to always make it for me. Or the fact that it's fruit with sugar on top (strawberries topped with sugar also have this effect on me). Or the fact that it involves a maraschino cherry. When are maraschino cherries ever appropriate unless you're making a Shirley Temple, which frankly, you probably don't make ever? But I think it also has something to do with putting fruit in the oven. Whether it's baked apples or peach crumble, there's just something about baking and broiling fruit.
I haven't had broiled grapefruit in ages, but I started thinking about it after I purchased a jar of maraschino cherries a couple weeks ago. I meant to top my Banana Split Vodka Milkshake with a cherry and actually went to a couple grocery stores to find a jar (what is with all these green cherries??). And then I completely forgot to use them when I made the milkshake. I'm not big on these red orbs of artificial flavor... Unless they're on broiled grapefruit. With brown sugar. So I made exactly that. And now I want to make it for every meal. Half out of laziness and half out of pure joy for my rediscovery of this treat.
Broiled Brown Sugar Grapefruit (serves 2):
Print this recipe!
1 grapefruit (pink grapefruit or whatever your favorite is!)
2 T light brown sugar
2 maraschino cherries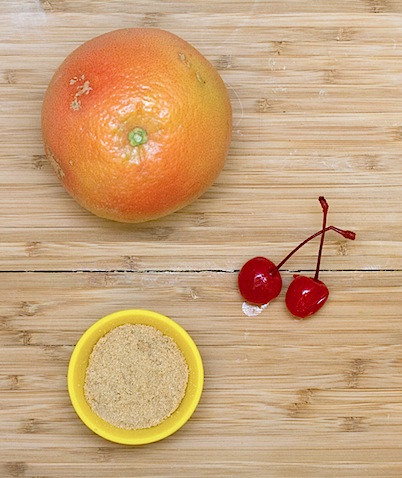 Seeing that this only involves three ingredients, I'm not even sure I would call it a recipe, but just humor me. The last few weeks have been beyond crazy and these are the kinds of "recipes" I've been making. They're quick and totally simple and 100% comforting. I could eat broiled grapefruit for dinner and probably be perfectly happy.
All you have to do is cut the grapefruit in half. And cut along the skin of the grapefruit around the entire thing. And cut each triangular section, along the membrane.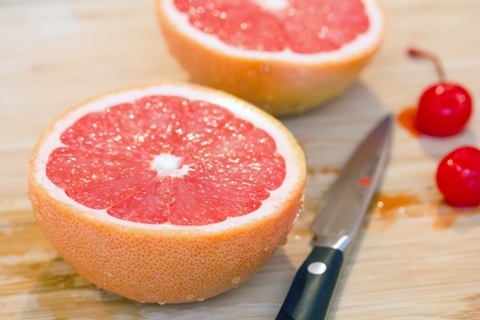 Now sprinkle halves with about 1 T of brown sugar on each.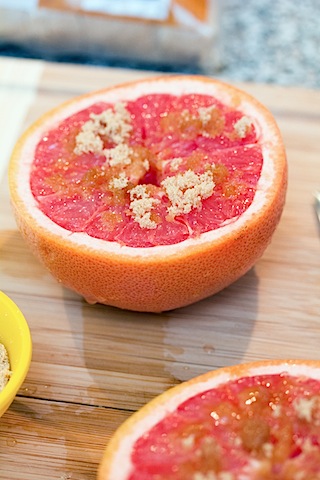 And top with a cherry.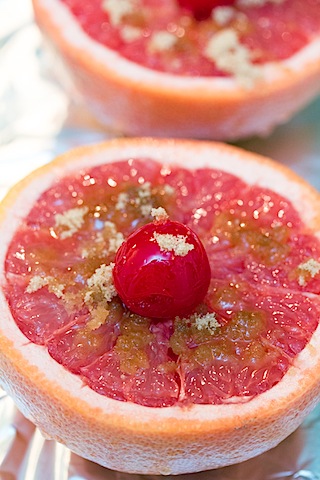 My theory about the maraschino cherry is that it has to be broiled along with the grapefruit. I promise they'll taste a whole lot better this way.
Now, place the grapefruit under the broiler for about 8 minutes. Until the sugar has caramelized, the grapefruit is the color you want, and your maraschino cherry hasn't yet lit on fire.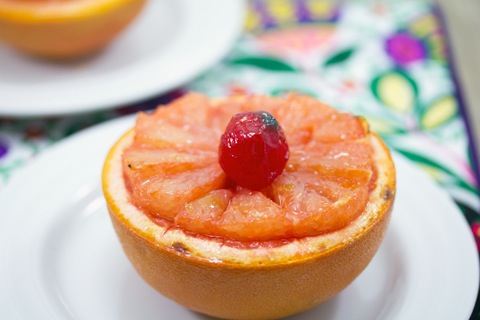 SO easy that I'm almost embarrassed to be posting about this. But not really. Because it's one of my favorite "dishes." And it's one recipe everyone should have in their back pocket for when they need a little comfort but not a ton of guilt.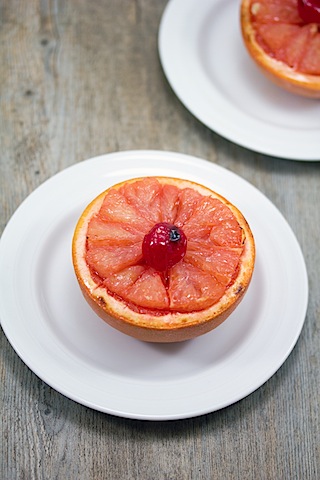 You should never feel guilt over a little brown sugar. Or a maraschino cherry.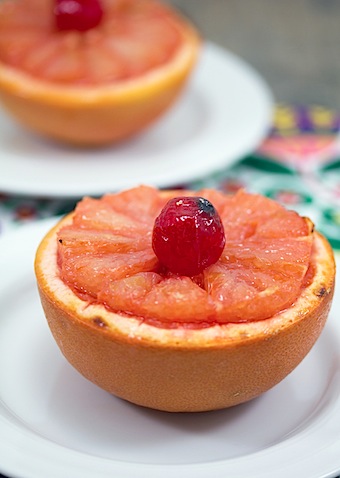 Not a grapefruit fan? Try it topped with some brown sugar and broiled and I think you might change your mind. Actually, scratch that. First just try a pink grapefruit and you might realize grapefruits aren't what you once thought they were. But then try it with brown sugar. Because oh my God, yes.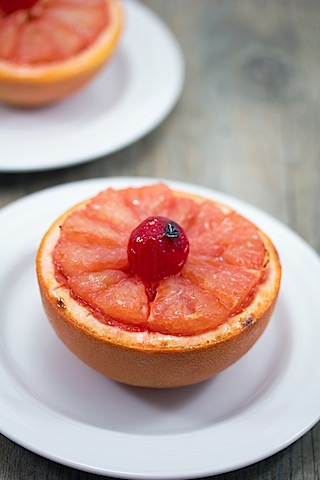 And then go to bed happy without a lick of guilt for not making a "traditional" dinner. You deserve a break. And some sleep. And the vitamin C you'll get from the grapefruit. And zzzzzz...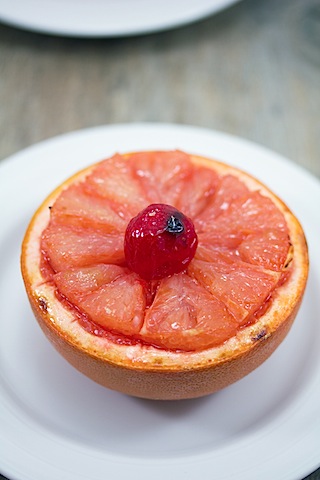 Yup, you really need sleep. Or maybe that's just me. Is it really only Monday?
I hope your week has gotten off to a fabulous start! And happy Valentine's Day week!! If you need me, I'll be in the corner eating broiled grapefruit and praying for Friday 🙂
Are you a fan of broiled grapefruit?
[Sues]