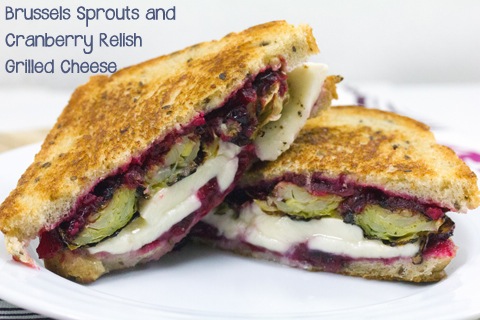 "Eat your brussels sprouts!" Doesn't that just sound like something an old school mom would yell at her kids as they're sitting at the kitchen table trying desperately to hide their brussels sprouts in their napkins? I don't remember my parents giving me brussels sprouts very often when I was a kid. And I'm counting that as a good thing in that now that I'm an adult, I have no preconceived judgements against or childhood fears for them. But something tells me the brussels sprouts the old school mom was trying to get her kids to eat weren't roasted brussels sprouts. Had they been, I bet the kid would have eaten them without being told.
Brussels sprouts have definitely jumped on the trend train in recent years. Not so much as pumpkin (I don't see there being brussels sprouts beers or coffees any time soon… though I could be quite wrong!), but still, people are cooking them and going wild over them. I got sucked in a few years back and now there's no turning back. Now I'm doing all sorts of crazy things like putting them in grilled cheese. I know. But I promise, it's good! I opted to use mozzarella cheese because I wanted something a bit mild that wouldn't wash out the flavor of the sprouts. But I also made a cranberry relish to add a little extra fall flavor. If you have Thanksgiving leftovers, you can certainly use them for this!
Brussels Sprouts and Cranberry Relish Grilled Cheese (serves 2):
Print this recipe!
3 T olive oil (I used Colavita Roasted Garlic Cooking Oil)
1/8 C chopped onion
1 t minced garlic
1/2 T minced ginger
1 C fresh cranberries
1/2 C sugar
1/2 C water
8 brussels sprouts, stems cut off and halved
Salt and pepper
2 slices good bread
1 T butter
6 slices fresh mozzarella cheese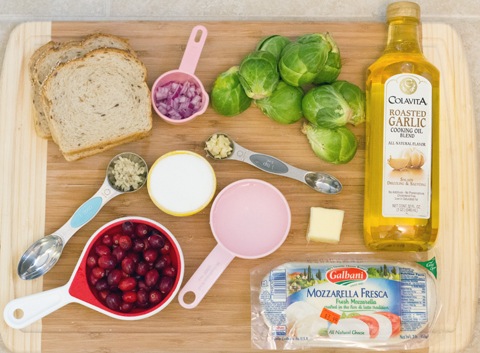 First things first, I would get your cranberry relish going.
Start by heating 1 T olive oil in a medium saucepan over medium-low heat. Add onion, garlic, and ginger and cook until shallots and garlic are softened and fragrant.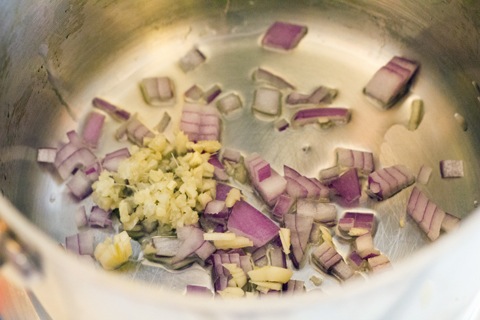 I used Colavita Roasted Garlic Cooking Oil Blend for this, for a little extra garlic bang. It definitely made my kitchen smell heavenly and gave the grilled cheese some great garlic undertones.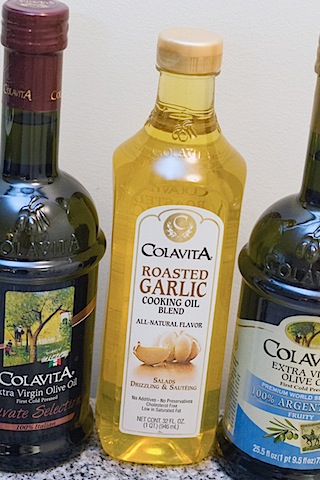 Colavita recently sent us a selection of their extra virgin olive oils and Roasted Garlic Cooking Oil and I'm loving them all so far! You can use any kind of olive oil to sauté the onions, garlic, and ginger in this sandwich. But one of my favorite things in life is to sample olive oils and try new, interesting varieties.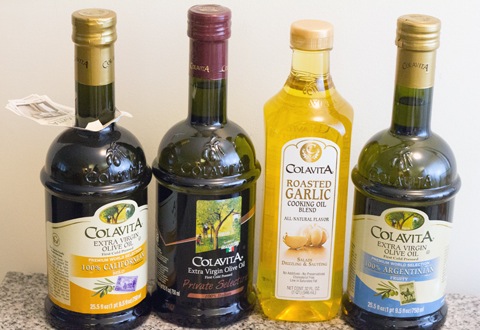 Add cranberries, sugar, and water to the pot and bring to a boil.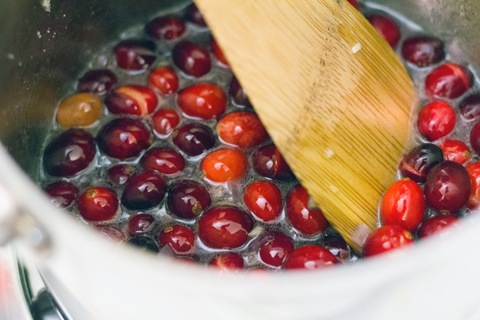 Then reduce the heat and simmer for about 15 minutes, making sure to stir quite often. Berries will start bursting and mixture will be nice and thickened.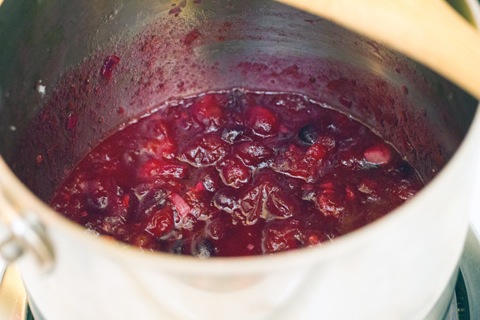 Once the sauce appears to be more of a relish, remove from heat.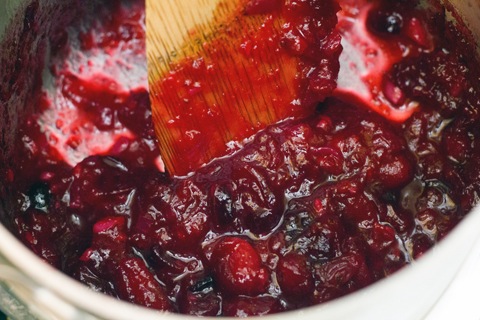 Let cool completely.
Now it's time to get roasting! Pre-heat oven to 450 degrees. In a medium bowl, combine brussels sprouts with remaining 2 T olive oil and lots of salt and pepper.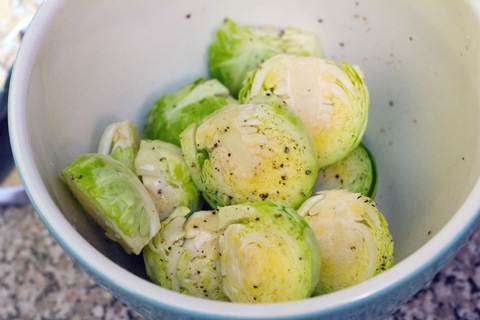 Lay brussels sprouts out cut side down on a foil-covered baking sheet.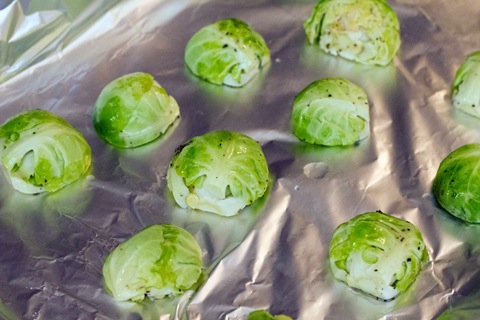 And bake for about 25-30 minutes, until nice and crispy. Or however you like them.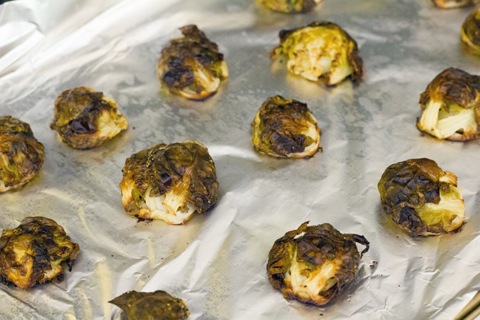 Now it's time to build your sammy. Sorry, I'm not Rachael Ray. But seriously, spread butter on one side of each slice of bread and place on a skillet over media, heat, butter-side down.
Spread a thin layer of cranberry relish on top of each slice of bread.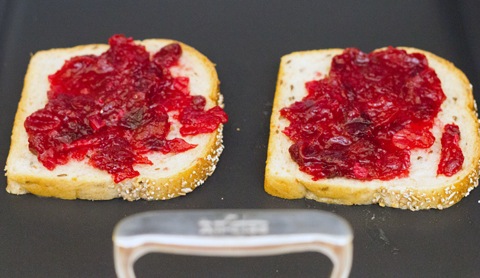 On top of one slice, layer roasted brussels sprouts (as many as you can fit!). On the other, layer mozzarella cheese.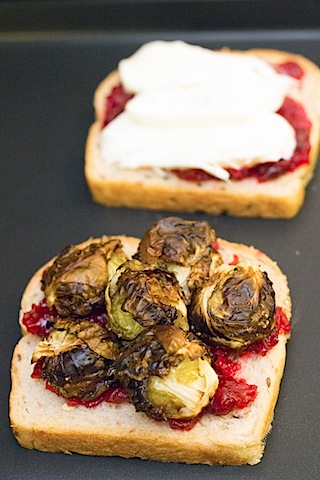 Put bread slices together and grill on each side for a couple minutes until the bread is browned and the cheese is melty.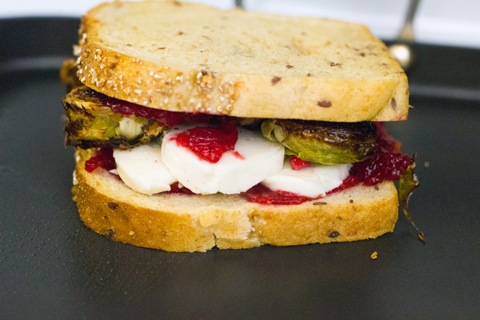 Slice in half and you're good to go!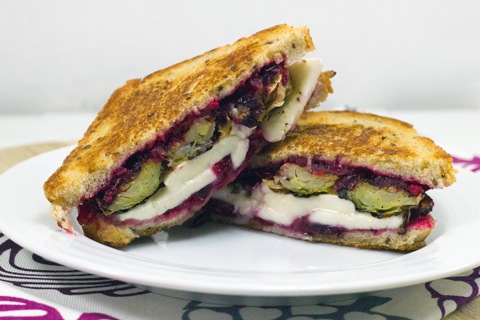 If you're not a fan of brussels sprouts, you may be thinking what I did here is an insult to grilled cheese across the world.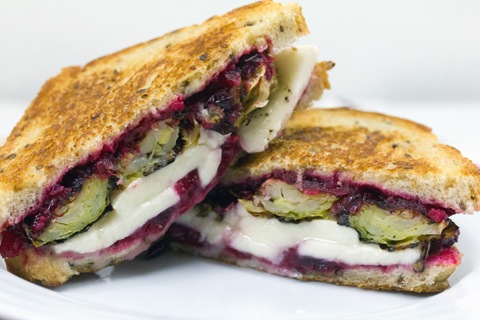 I'm pretty sure that's what Chris thought. He was excited when I told him I was making grilled cheese and then totally let down when I told him I was packing it full of brussels sprouts.
But guess what? He ate the entire thing. And admitted he loved it. I'm telling you, roasted brussels sprouts are the way to go!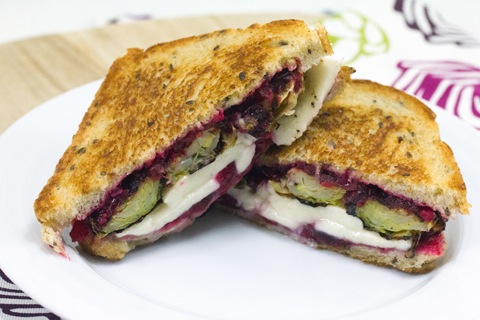 I'd like to gather up all the brussels sprouts haters in the world and make them eat a bowl of roasted brussels sprouts or a brussels sprouts grilled cheese. And then see what they have to say.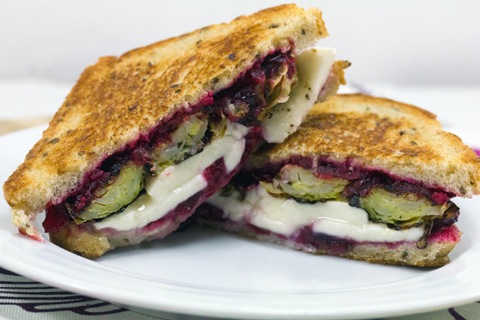 I was also a big fan of the cranberry relish on this sandwich. I love super sweet and tart cranberry sauce, but this one had more of a savory bite from the onions, garlic, and garlic oil. But it also had a nice spicy bite from the ginger.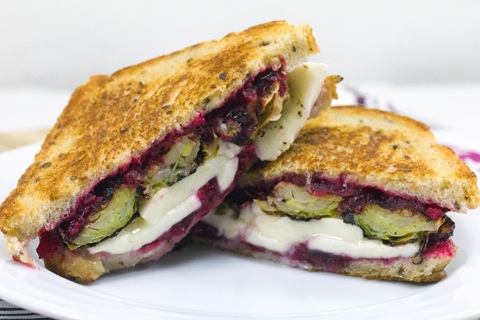 Everything just worked well together the way the best things in life do.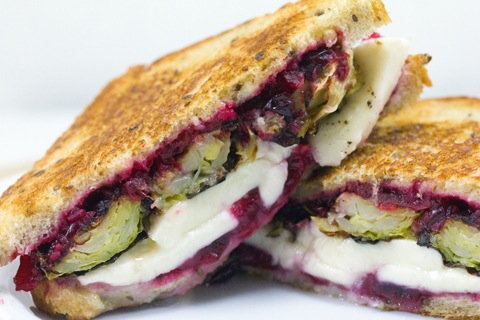 And now I have a new favorite grilled cheese that allows me to get some of my greens in, too! And get that Thanksgiving feeling just a little bit longer.
Would you do brussels sprouts in a grilled cheese or is that a big no-no to you?
[Sues]