Brussels sprouts grilled cheese? Yup! This Brussels Sprouts and Cranberry Relish Grilled Cheese is the perfect solution to Thanksgiving leftovers. But it's also incredibly easy to make from scratch for whenever the craving hits!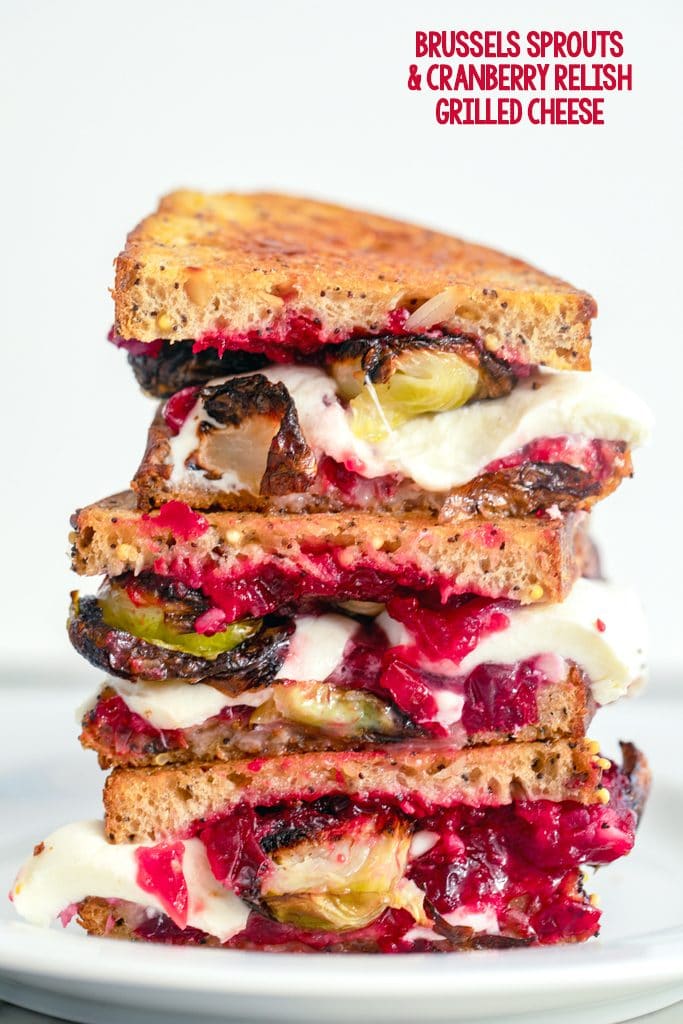 (This recipe for brussels sprouts grilled cheese was originally published in November 2012, but has been updated with new photos and content in 2018).
Who's sick of Thanksgiving food yet?? Not me!! For the first time in my life, I didn't actually have Thanksgiving dinner on Thanksgiving Day. Chris and I went out for Italian food last night and had a nice, super quiet dinner together.
BUT we are celebrating with my family on Sunday, at which point I'm sure I'll eat more than my fair share of turkey and stuffing and sweet potatoes and cranberry sauce. And then? I'll make leftover turkey dinner sandwiches (my favorite!).
And then? I'll make this Brussels Sprouts and Cranberry Relish Grilled Cheese. Because you know the brussels sprouts are the last side to go.
While many people still aren't crazy about them, brussels sprouts have definitely jumped on the trend train in recent years. Not as much as pumpkin (I don't see there being brussels sprouts beers or coffees any time soon… though I could be quite wrong!), but still, tons of people are going wild over them.
I got sucked in a few years back and now there's no turning back. Now I'm doing all sorts of crazy things like putting them in grilled cheese. I know. But I promise, it's good! Really, really good.
How to Make a Brussels Sprouts and Cranberry Relish Grilled Cheese
This grilled cheese sandwich is the perfect thing to make with your Thanksgiving dinner leftovers. You easily can use your leftover cranberry sauce and brussels sprouts in the recipe, but I also know you might crave this when you don't have any leftovers (I know I do!).
So, I'm also giving you the directions for making it totally from scratch. Thanksgiving leftovers only last so long, but brussels sprouts and cranberry sauce are in style all season long. And grilled cheese? That's appropriate any hour of any day of the year!
I opted to use mozzarella cheese in this grilled cheese because I wanted something on the mild side that wouldn't wash out the flavor of the sprouts.
The brussels sprouts are simply roasted with some salt and pepper and the cranberry relish is a simple cranberry sauce made with onions, garlic, and ginger. But like I said, the cranberry sauce you served at Thanksgiving dinner will work perfectly fine. And if there's a little extra jazz mixed in with those Thanksgiving brussels sprouts, that's totally fine, too.
If you're making this Thanksgiving grilled cheese from scratch, you'll want to start by making the cranberry relish, which is a simple quick small-batch cranberry sauce made with onion, ginger, and garlic.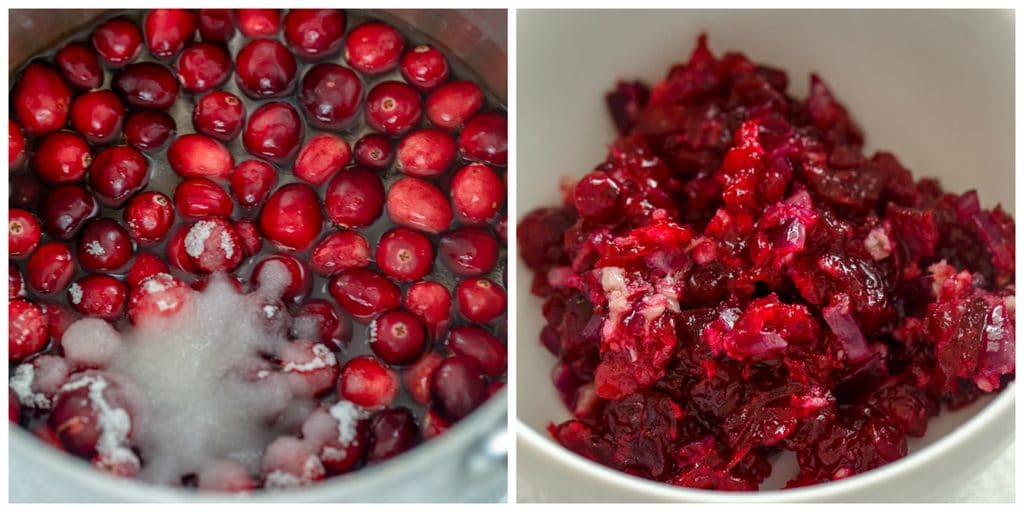 While the cranberry relish is cooking and cooling, you can roast the brussels sprouts.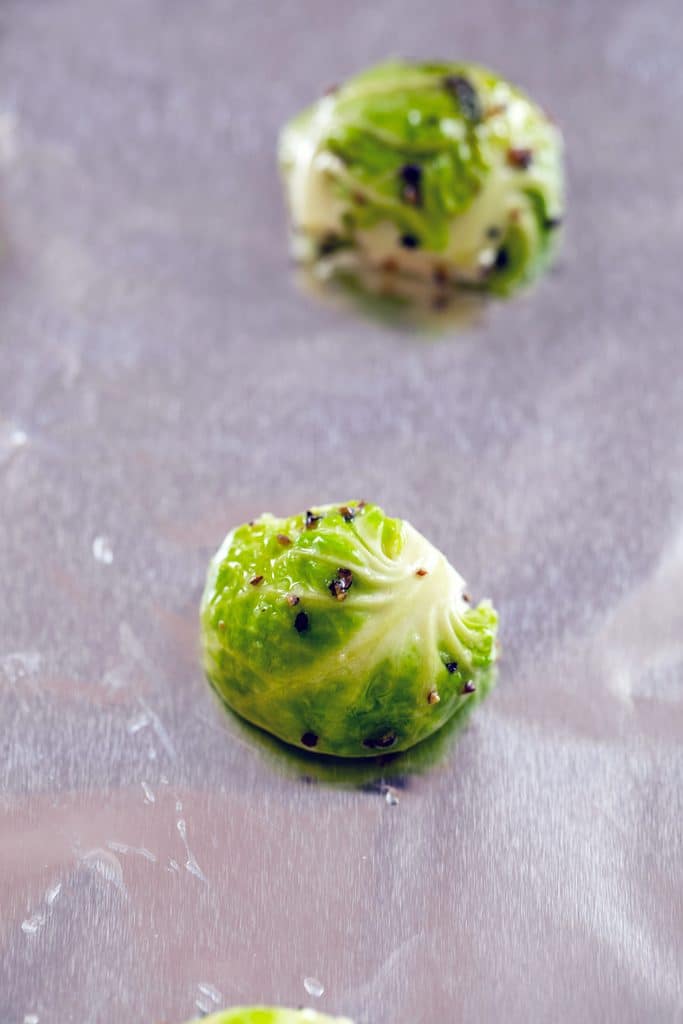 And then get layering all the ingredients on your bread. The cranberry relish goes on both sides and then the brussels sprouts top one of the slices and fresh mozzarella cheese the other.
To be fair, it makes more sense to place the cheese over the brussels sprouts so you can close the sandwich easier, without having ingredients falling out all over the place.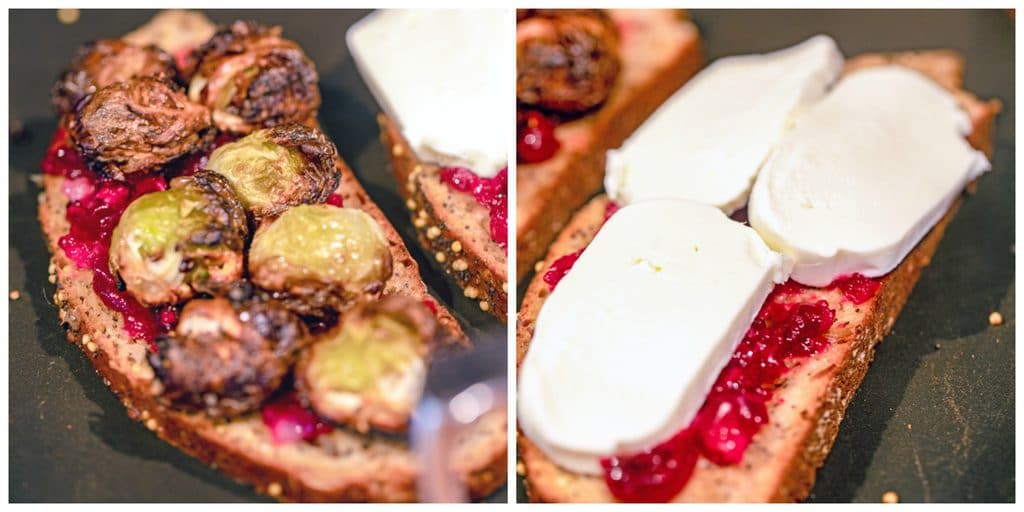 Once the bread slices are together, let the Thanksgiving leftovers grilled cheese sandwiches cook on your griddle or pan until the bread gets browned and the cheese gets melty.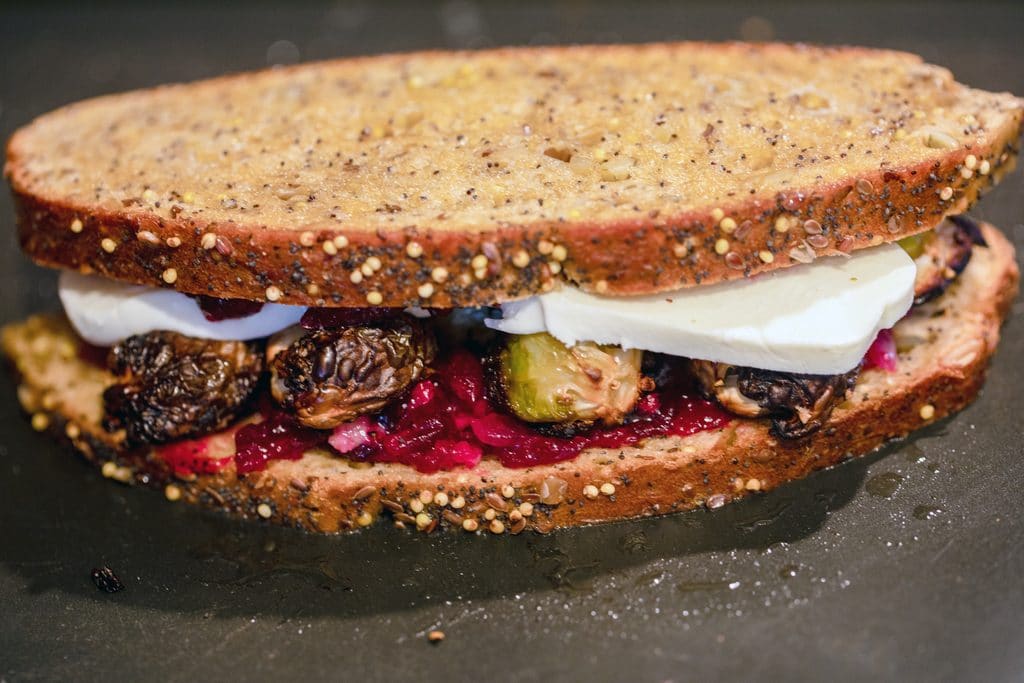 Then you're ready to slice and serve! And suddenly, you'll see Thanksgiving leftovers in a whole new light. Same with brussels sprouts, in general.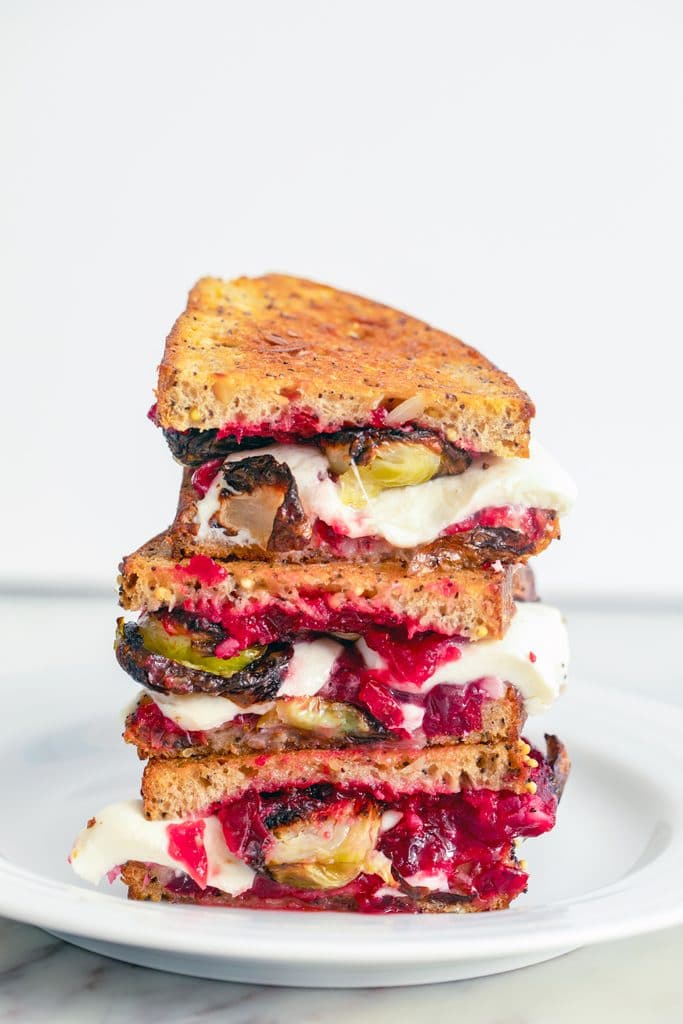 If you're not a fan of brussels sprouts, you may be thinking what I did here is an insult to grilled cheese across the world. I'm pretty sure that's what Chris thought. He was so excited when I told him I was making grilled cheese and then totally let down when I told him I was packing it full of brussels sprouts. Sorry, honey!
But guess what? He ate the entire thing. And admitted he loved it. I'm telling you, roasted brussels sprouts are the way to go!
If you have a true brussels sprouts hater, you can add bacon. My work here is done.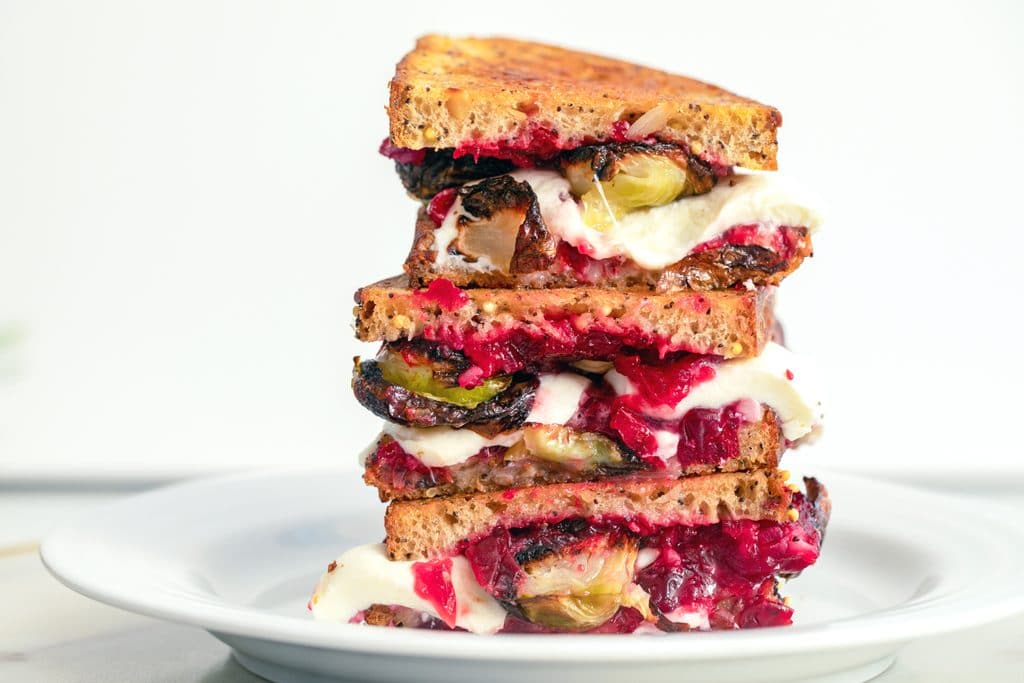 I'd really love to gather up all the brussels sprouts haters in the world and make them eat a bowl of roasted brussels sprouts or a brussels sprouts grilled cheese. And then see what they have to say.
They'd have to come in with an open mind and agree to give me their honest feelings.
But let's not discount the cranberry relish on this brussels sprouts grilled cheese sandwich. I love super sweet and tart cranberry sauce, but this one had more of a savory bite from the onions and garlic, along with a nice spicy bite from the ginger.
I can see this relish being a delicious addition to all kinds of fall appetizers and sides.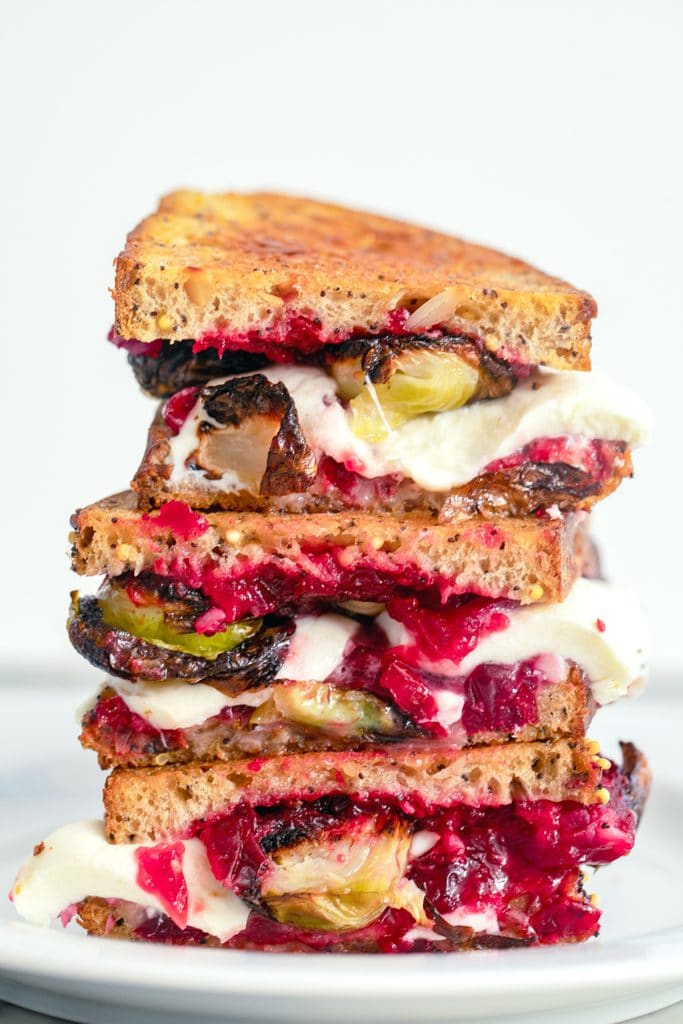 Everything just worked so well together in this sandwich... The way the best things in life do. I truly believe that Thanksgiving leftovers make some of the most delicious meals!
And now I have a new favorite grilled cheese that allows me to get some of my greens in, too.
And get that happy Thanksgiving feeling just a little bit longer. I hope you all had the most wonderful Thanksgiving and are gearing up for a fun holiday season!
Would you love brussels sprouts in a grilled cheese or is that a big no-no to you?
If you're looking for more ways to enjoy delicious brussels sprouts, check out my recipes for Beer Battered Fried Brussels Sprouts or Brussels Sprouts Bacon Caesar Salad. I can't wait to make these Spicy Pork Brussels Bowls from SkinnyTaste!
📖 Recipe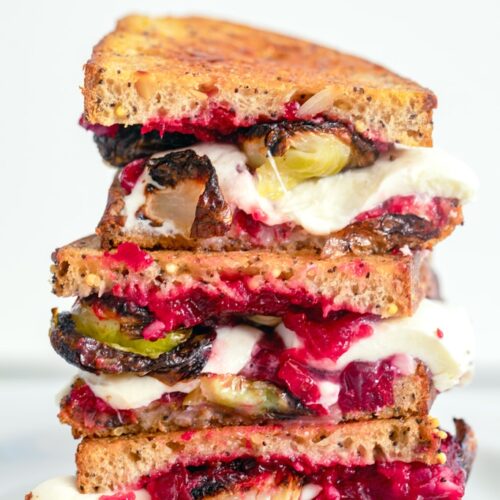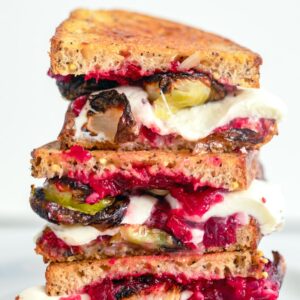 Brussels Sprouts and Cranberry Relish Grilled Cheese
Brussels sprouts grilled cheese? Yup! This Brussels Sprouts and Cranberry Relish Grilled Cheese is the perfect solution to Thanksgiving leftovers. But it's also incredibly easy to make from scratch for whenever the craving hits!
Print
Pin
Rate
Ingredients
2

Tbsp

olive oil,

divided

¼

cup

diced onion

½

Tbsp

minced ginger

1

tsp

minced garlic

1

cup

fresh cranberries

¼

cup

granulated sugar

½

cup

water

8

brussels sprouts,

stems cut off and halved

Salt and pepper

2

slices

good bread

1

Tbsp

unsalted butter

6

slices

fresh mozzarella cheese
Instructions
Pre-heat oven to 450 degrees.

Heat 1 Tbsp olive oil in a medium saucepan over medium-low heat. Add onion, ginger, and garlic and cook until onion and garlic are softened and fragrant.

Add cranberries, sugar, and water to the pot and bring to a boil.

Reduce the heat to low and simmer for about 15 minutes, continuing to stir. Berries will start bursting and mixture will get thick. Remove from heat and spoon relish into a bowl to cool.

While cranberry relish is cooking, prepare brussels sprouts. In a medium bowl, combine brussels sprouts with remaining 1 T olive oil and salt and pepper. Lay brussels sprouts out cut side down on a foil-covered baking sheet. Bake for about 25 minutes, until nice and crispy.

Spread butter on one side of each slice of bread and place on a griddle or skillet over medium-low heat, butter-side down.

Spread a thin layer of cranberry relish on top of each slice of bread. On top of two slices, layer roasted brussels sprouts and then add mozzarella cheese. Put bread slices together and grill on each side for a couple minutes until the bread is browned and the cheese is melty.

Slice sandwich in half and enjoy!
Notes
If you are using Thanksgiving leftovers for this grilled cheese, skip to step 5 and use your already made cranberry sauce and brussels sprouts.
Share a Photo of Your Finished Recipe!
Mention @wearenotmartha and share a photo if you've made the recipe!