No matter your feelings on brussels sprouts, it's impossible not to love these Beer Batter Fried Brussels Sprouts. Served with a blue cheese yogurt dip, you won't be able to stop eating these sprouts!
(This recipe for Beer Batter Fried Brussels Sprouts was originally posted in February 2013, but the post has been updated with new photos and content)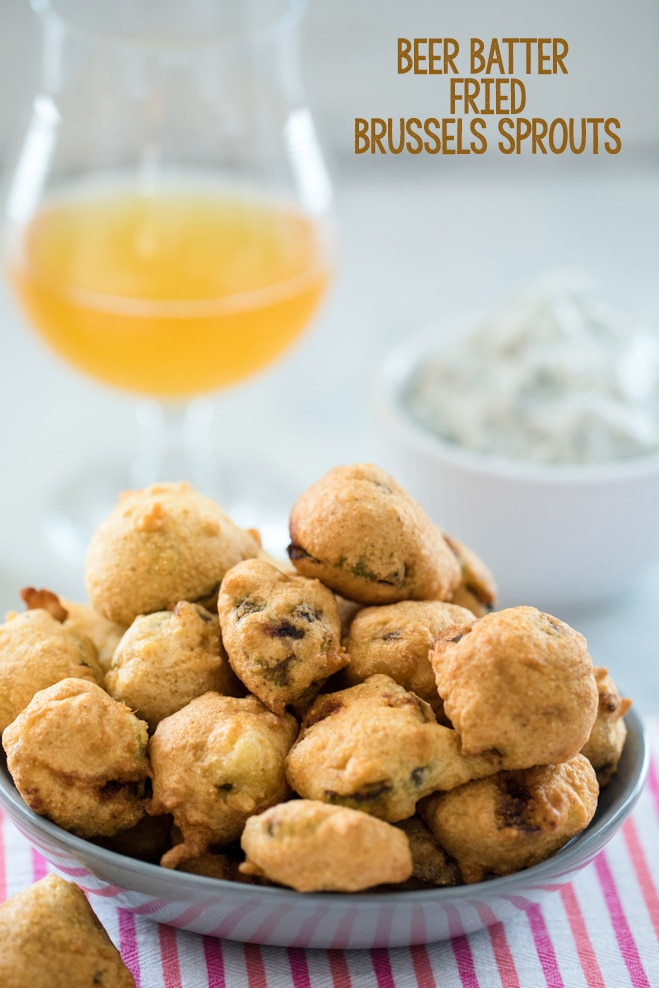 I know we're coming up on the end of brussels sprouts season, but I just couldn't resist re-making these delightful little fried brussels sprouts and sharing them with y'all. In any event, if you're in the Northeast right now, there's probably either snow on the ground or snow currently falling from the sky, so we're likely still very much in brussels sprouts mode. OK, maybe with a little bit of asparagus sprinkled in for some hope of spring, right? Please, Mother Nature, let spring come soon.
Anyway, remember when brussels sprouts were one of the most hated foods in America? I feel like we've come such a long way over the last several years with brussels sprouts becoming something of a fad. It brings me so much joy to see America going crazy for a food that's really good for us (you'll never see me dissing the kale fad!). But that doesn't mean I'm not still going to take the delectable little vessels of nutrition and dunk them in some beer and flour and a vat of hot oil for a bit. Because everybody knows that if you like brussels sprouts, you'll love fried brussels sprouts. Especially when said fried nutrition morsels (can that be a thing?) are dipped into a blue cheese yogurt dip. And if you hate brussels sprouts? Well, you need to try these because I think they will change your mind. You've probably heard that before, but this time it's really true!
In a way, it feels almost criminal to cover these little green lovelies in a thick batter and fry them. Look at how beautiful they are. But I'm still doing it anyway.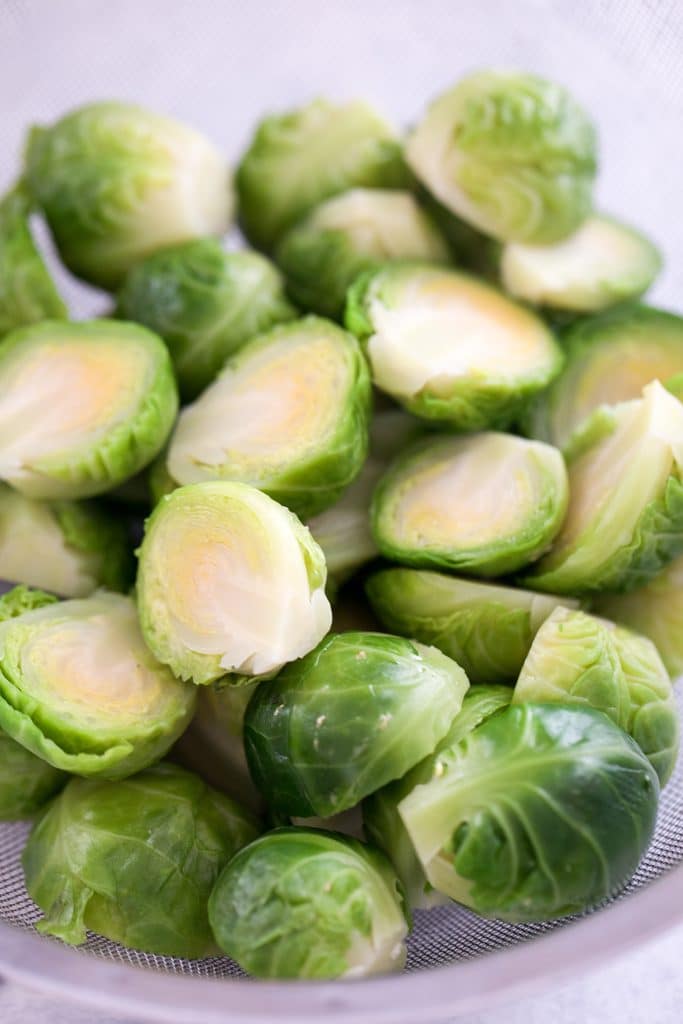 I've made these a couple times with different kinds of beer and I feel that you really can't go wrong. The first time, I used a super hoppy beer, which was delicious. But this time I used a wheat beer, 21st Amendment's Hell or High Watermelon to be exact and it also felt perfect, especially as we're coming into spring. Also, if you haven't tried this beer yet, you need to do so ASAP! It's my husband's all-time favorite and a really nice refreshing session-type beer since it's lower alcohol. It's supposed to be seasonal, but we buy it all winter long.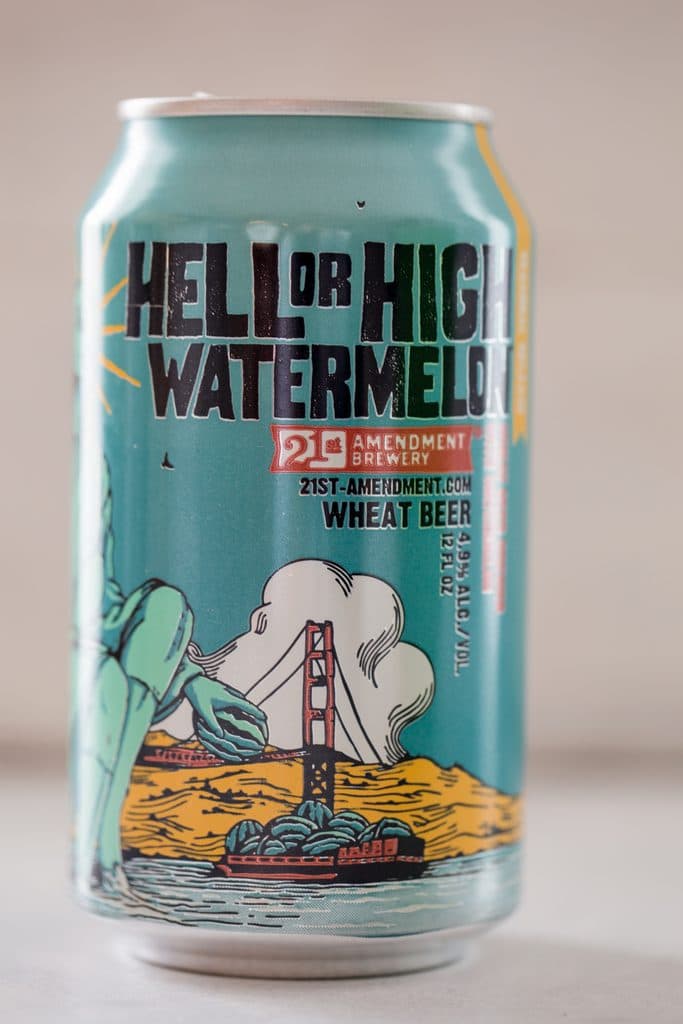 If you're afraid of frying, please don't be! It's actually quite easy and really, the only downside for me is that my kitchen smells like oil for a day (here are some tips for getting rid of the smell). I also admit frying has gotten easier for me since I moved into my house. The first time I made these fried brussels sprouts, I did it in my little apartment and my smoke detectors went off like 12 times. Which is bad enough when you live in a house, but extra bad when you have neighbors on the other side of the wall. Just make sure your oil temperature doesn't go above 400 degrees and you should be fine!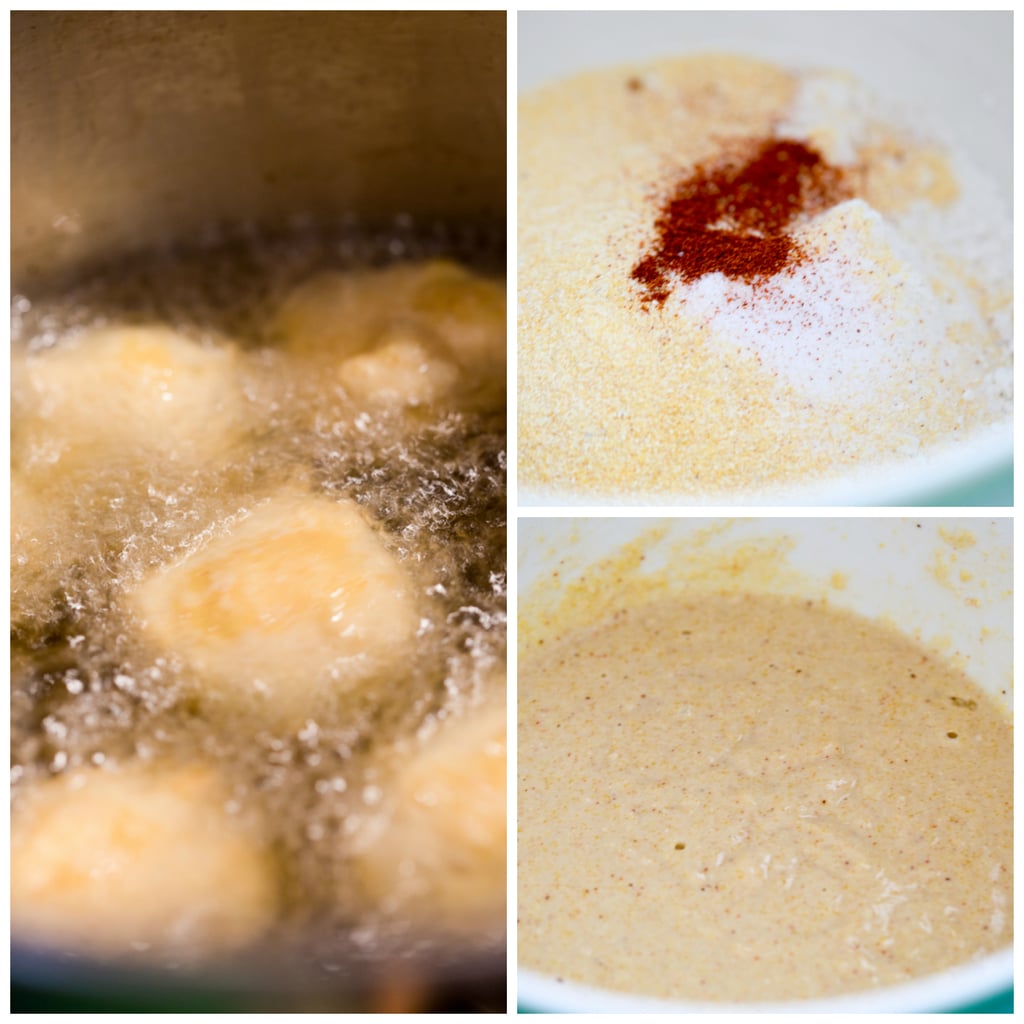 Once you get over the idea of frying being scary, these are the easiest things in the world to make. Blanch the sprouts, mix up the batter, and dip and fry the sprouts. For the blue cheese yogurt dip, just put all the ingredients in a bowl and stir.
And serve the beer batter fried brussels sprouts along with the dip and the remaining beer from your can or bottle. If you didn't finish it off while you were frying the sprouts, of course. I certainly won't blame you if you did. Especially if your smoke detectors went off more than once during the process.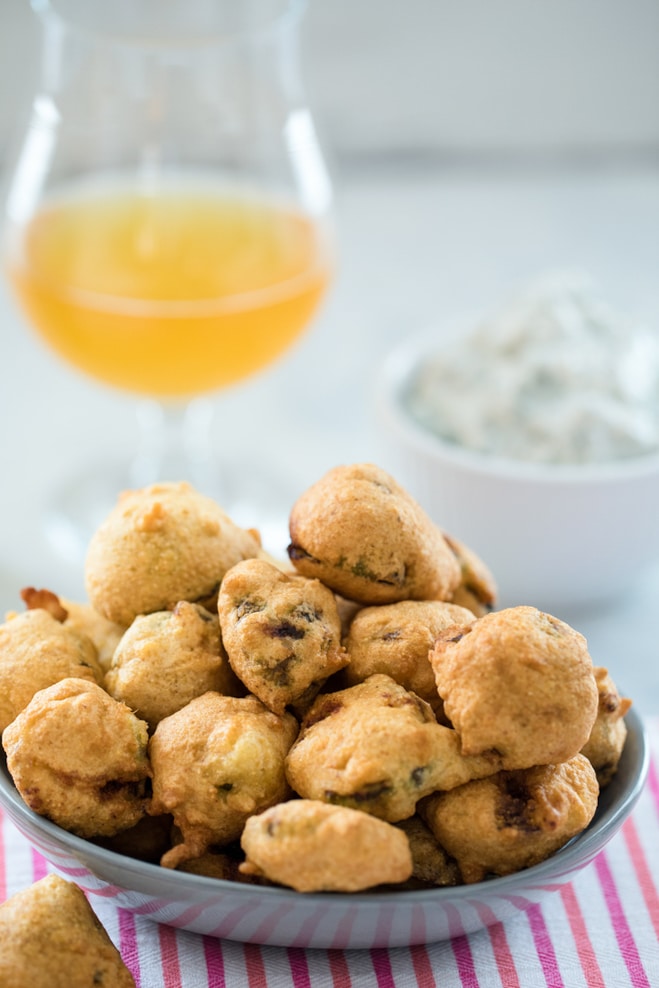 Hello, little bites of heaven. These totally hit the spot and were the perfect little appetizer. Even though I definitely ate them as a meal. I legit just couldn't stop. I loved them on their own, but dipping them in the blue cheese yogurt brought them to whole new levels.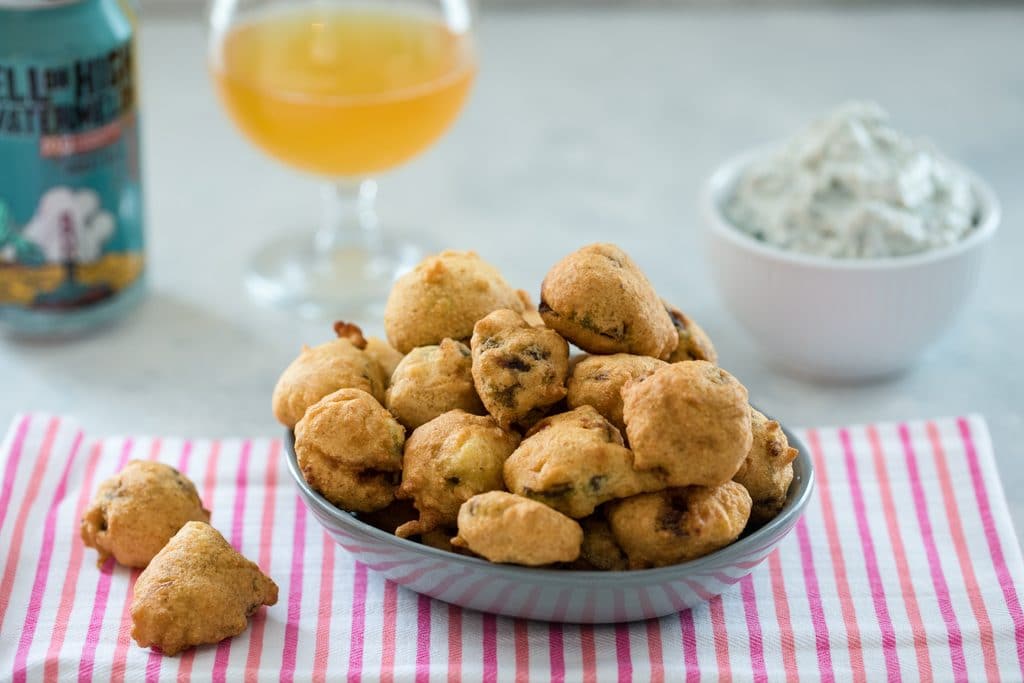 Not only does frying brussels sprouts mean you get to enjoy a delicious beer breaded coating, but it also gets rid of some of the bitterness that sprouts can be known for. Which is why I think you could even convince a lifelong brussels sprout hater to eat a few of these bad boys.
And for you brussels sprouts lovers, don't worry; those beautiful green layers are still nestled within the coating.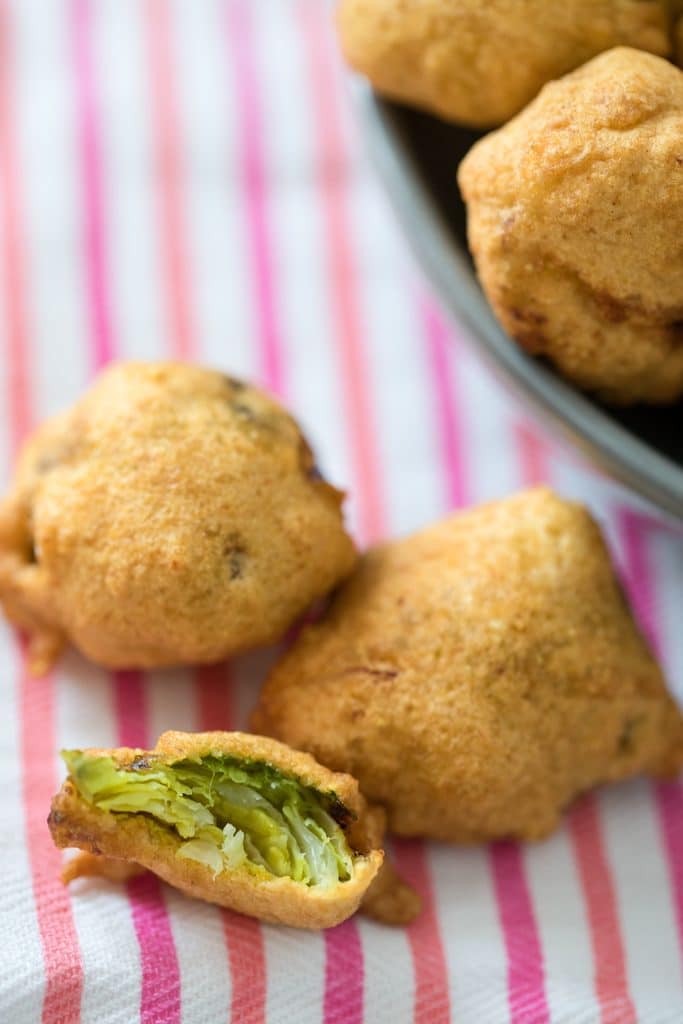 Next time I make these, I'm totally adding bacon into the batter. Or the yogurt dip. If all else fails, bacon has always been known to convert a brussels sprout hater or two.
Do you love or hate brussels sprouts? Would you try them fried?
📖 Recipe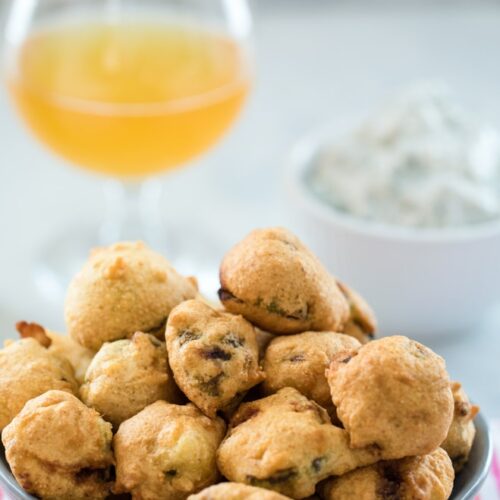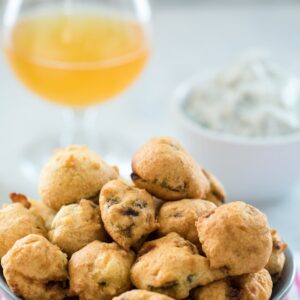 Beer Batter Fried Brussels Sprouts
No matter your feelings on brussels sprouts, it's impossible not to love these Beer Batter Fried Brussels Sprouts. Served with a blue cheese yogurt dip, you won't be able to stop eating these sprouts!
Print
Pin
Rate
Ingredients
1

lb.

brussels sprouts; cleaned, trimmed, and halved

Canola oil

1

cup

all-purpose flour

½

cup

cornmeal

½

tsp

coarse salt

¼

tsp

cayenne

1

egg

egg,

lightly beaten

1

cup

cold beer
Blue Cheese Yogurt Dip
1

cup

Greek yogurt

(I like 2%)

4 oz.

blue cheese, crumbled

¼

tsp

cayenne

1

tsp

lemon juice

2

tsp

chopped parsley
Instructions
Bring a large pot of lightly salted water to a boil. Add halved brussels sprouts and let cook for 7 minutes. Drain sprouts and wrap them in a clean kitchen towel to dry as much as possible.

Pour canola oil in a deep pot so it's about 2" deep and heat to between 365-400 degrees.

While oil is heating, m

ix flour, cornmeal, salt, and cayenne in a large bowl.

Stir in egg and beer.

When oil is hot, work in batches to dunk sprouts in batter and carefully drop in the oil. Let fry for about 4 minutes, until they're golden brown. You'll likely have to adjust burner level to keep oil temperature in the right range. When sprouts are golden, remove from oil and place in a paper towel-lined bowl. Continue until all sprouts are fried.
Blue Cheese Yogurt Dip
In a medium bowl, mix together all of the ingredients. Keep chilled until ready to enjoy.
Notes
Tips for getting the crispiest fried sprouts:
Dry sprouts as much as possible after blanching. Water remaining on sprouts may keep them from getting crispy.
Make sure beer is chilled. Room temperature beer may result in a less crispy coating.
Keep oil between 365 degrees and 400 degrees. If oil temperature drops below this, sprouts will not crisp up as they should.
Share a Photo of Your Finished Recipe!
Mention @wearenotmartha and share a photo if you've made the recipe!