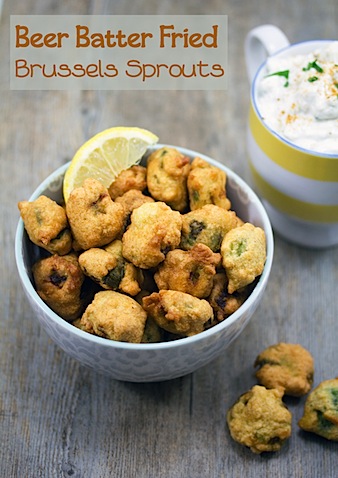 Aren't you so proud of our nation for finally ending our hatred against the innocent little brussels sprout? I am. But that doesn't mean I'm not still going to take the delectable little vessels of nutrition and dunk them in some beer and flour and a vat of hot oil for a bit. Because everybody knows that if you like brussels sprouts, you'll love fried brussels sprouts. With blue cheese yogurt dip. And if you hate brussels sprouts? Well, you need to try these because I think they can change your mind.
I had fried brussels sprouts a couple weeks ago while I was at a client meeting at Local 149. I saw Meghan's recommendation of them and knew they had to be consumed. And I loved them so much I went home and made my own. And now I'm probably going to get evicted from my apartment because I set off all of my smoke detectors at 8:00 p.m. and took 15 minutes to turn the obnoxiously loud things off. I almost just went and hid under my bed, the sound was so obnoxious. I swear, someone was hiding in the walls laughing at me as I stood on a stool waving towels around the detectors, even though there was barely any smoke. And like those trick birthday candles you just can't blow out, I'm pretty sure these are trick smoke detectors that don't turn off. Also, I got quite the workout and my arms still hurt. But these brussels sprouts were totally worth it. And now I know not to let oil heat to over 400 degrees. Phew.
The only thing better than fried brussels sprouts are fried brussels sprouts in a beer batter. I'm really doing everything I can here to get you to eat sprouts! Is it working?
Beer Batter Fried Brussels Sprouts:
Print this recipe!
1 lb. brussels sprouts
1 C flour
1/2 C cornmeal
1/2 t coarse salt
1/4 t cayenne
2 eggs, beaten
1 C beer
3 C canola oil
Blue cheese yogurt dip (see recipe below)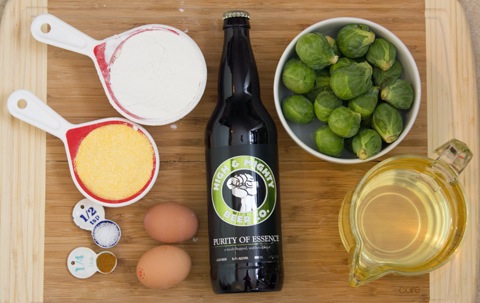 You need to blanch your brussels sprouts before frying so that they're nice and tender. I cooked mine in boiling water for about 7 minutes before draining and drying the best I could.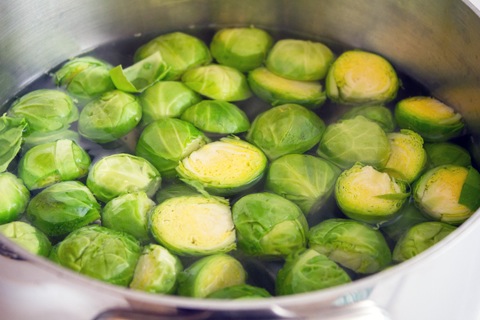 Next time I might consider roasting as you'll be left with perfectly dry sprouts (water and oil do not mix… in case you haven't heard the saying!).
Pour canola oil in a fairly deep pot on the stove and bring to a temperature somewhere between 350-400 degrees. If it goes above 400 degrees, your smoke detectors will go off. If they're working. If you haven't tested in a while, this is a good way.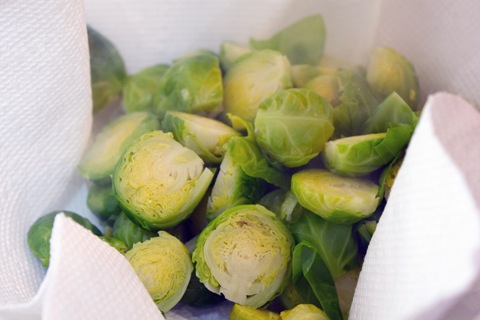 Mix flour, cornmeal, salt, and cayenne, in a large bowl.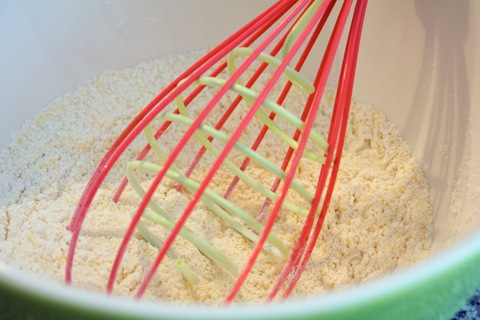 Stir in beaten eggs and beer, too, until well combined. I think lagers work particularly well for this.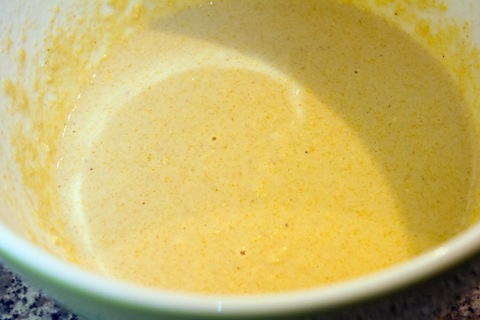 I used High & Might's Purity of Essence because it's one of my faves and knew the hoppiness would give flavor I wanted in my brussels sprouts.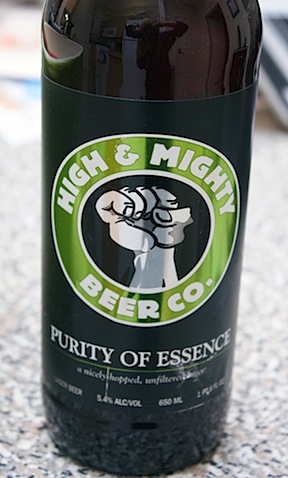 When your oil has come to temperature and sprouts are dry, dunk them in the batter.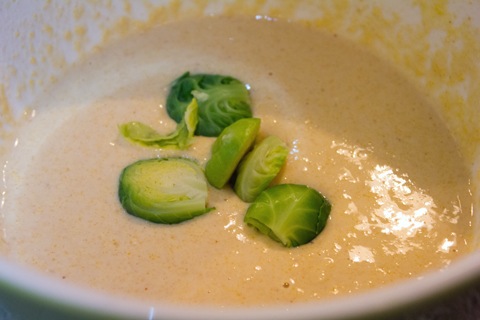 And then in small batches, drop them into the oil.
They look kind of like doughnuts… But they're not!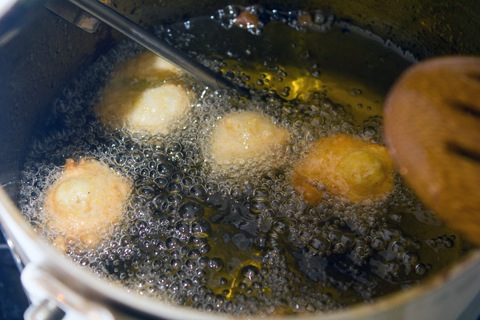 Let them cook for about 3 minutes, until a nice golden brown. And then move to a separate paper towel-lined bowl.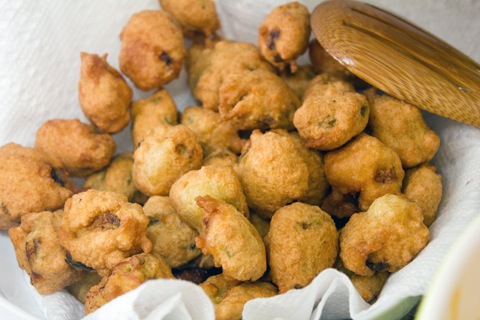 If you are a good multi-tasker, you can make the blue cheese yogurt dip now. But you could always make it ahead if you prefer. It's easy!
Blue Cheese Yogurt Dip:
Print this recipe!
1 C plain yogurt
4 oz. blue cheese, crumbled
1/4 t cayenne
1 t lemon juice
2 t chopped parsley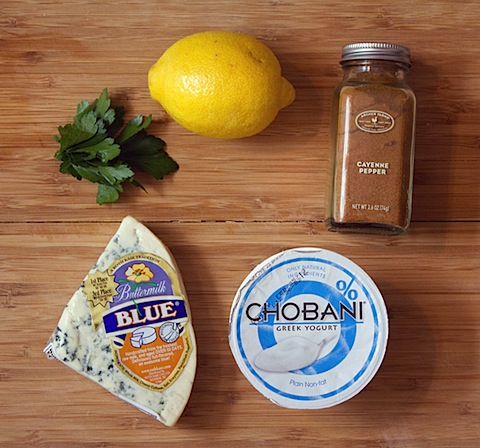 Mix all the ingredients in a bowl on the side.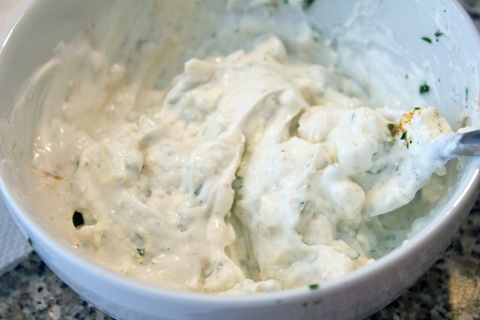 Told ya it was easy.
And serve the fried brussels sprouts along with the blue cheese dip and some more beer. Because you did have some left over from that batter. Right?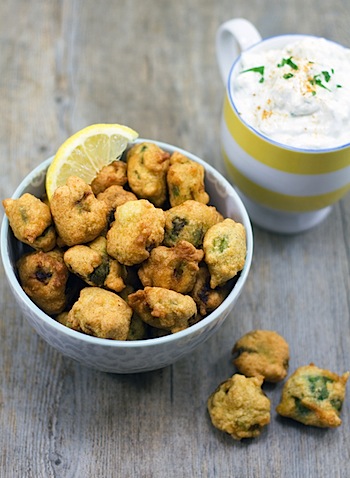 Hello, little bites of heaven.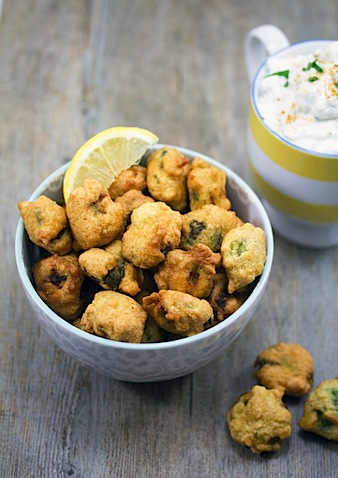 These totally hit the spot and were the perfect little appetizer. Even though I ate them as a meal.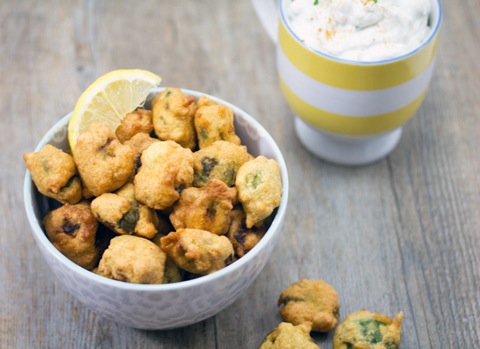 Not only does frying brussels sprouts add a delicious beer breaded coating, but it also gets rid of some of the bitterness of the sprout. Which is why I think you could even convince a lifelong brussels sprout hater to eat a few.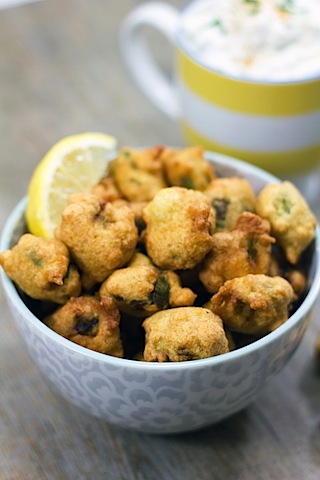 Especially when dunked in the blue cheese yogurt sauce, which I wanted to drink out of that mug.
I restrained myself, but the dip really went perfectly with the sprouts. Especially with a little more lemon squeezed over the top.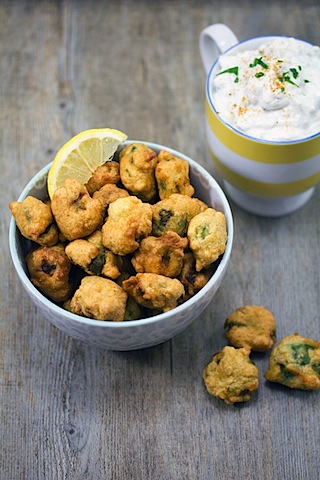 I don't think this is quite what the Earth had in mind for brussels sprouts, but that's OK. At least I haven't attempted to fry butter yet. I draw the line there.
This is one of those weeks where every day feels at least one day later than it is. Hello, Friday? Allegedly, there's going to be quite the snowstorm adventure on Friday in Boston. Which will make my commute pretty interesting. Usually I'm a snow fan, but not when I really have places to be. I guess it's time to finally break out my Sorels
! And maybe a sled, too? Something tells me that would be more efficient than the MBTA.
Even if you're not a lover of brussels sprouts, would you try fried sprouts?
[Sues]