You can never go wrong with a peanut butter sandwich, but lunchtime will be a whole lot more delicious with Caramelized Banana and Peanut Butter Sandwiches instead!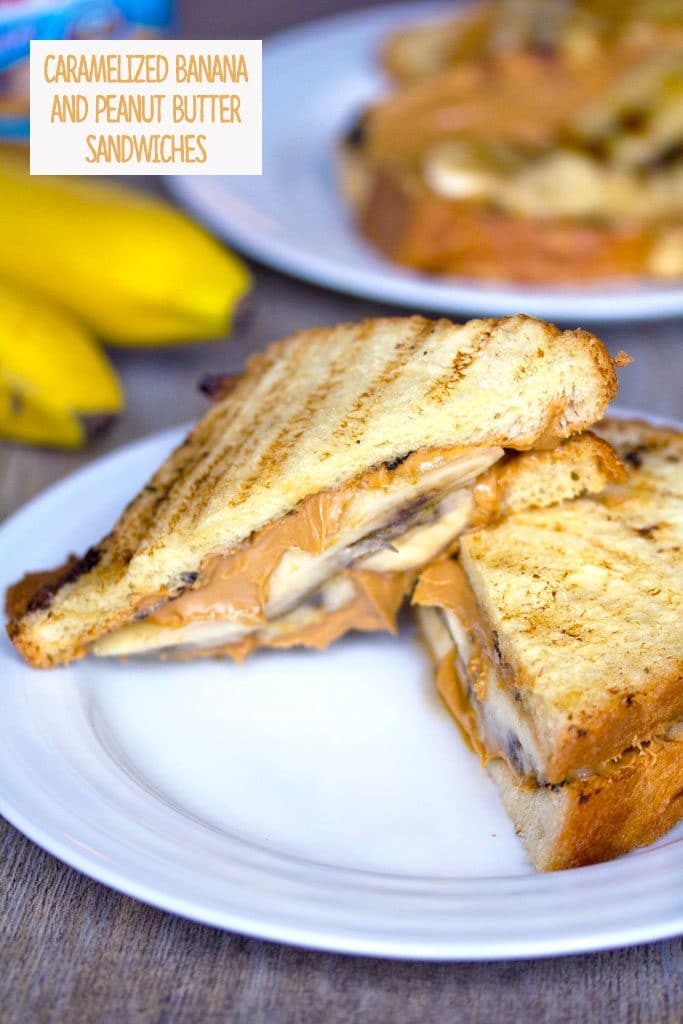 Oh, hi there. It's been a little while. I just returned from a absofabulawesome trip to California and I'd be lying if I didn't say I wasn't a little sad to be back in cold snowy Boston (it was 70 degrees in San Fran and wine country every day we were there). And I haven't quite come to terms with the fact that I have to go back to work tomorrow. Which means I have to be up at 6:00 a.m., which is going to feel like 3 a.m. to my poor west coast accustomed body. But trust me, I am not complaining because the trip was pretty perfect and well, I'm sure I'll be writing a blog post or two about it. Especially about my dinner at French Laundry (and the fact that they invited me and Chris into the kitchen after our meal!!!). But for now, I'm going to talk about sandwiches. And peanut butter sandwiches at that.
I actually had quite a few posts planned for when I was away, but then things got super busy at work and I didn't end up having time to schedule them. So, I decided to just go off and enjoy my vacation and get posting when I returned! Back in college, one of my all-too-often meals was grilled peanut butter and banana sandwiches. I started thinking about them a couple weeks ago and then started craving them. So simple, but so comforting and perfect for when you want something easy or lunch or dinner. Or when you just get home from a super indulgent awesome vacation and just want something easy and satisfying.
CARAMELIZED BANANA AND PEANUT BUTTER SANDWICHES RECIPE
Let's face it, there's nothing difficult about a banana and peanut butter sandwich. I decided to caramelize the bananas in this version for a little extra kick, but if you're feeling lazy (like I am nine times out of ten), just slice them up, obvi. Dinner will be on the table in no time at all. But even caramelizing the bananas doesn't add too much time or difficulty... And it really does make a delicious difference!
Simply slice the bananas in half lengthwise and brush them with a melted butter and brown sugar mixture. And then caramelize in a grill pan (or regular pan) over medium heat for a minute or two on each side, until golden.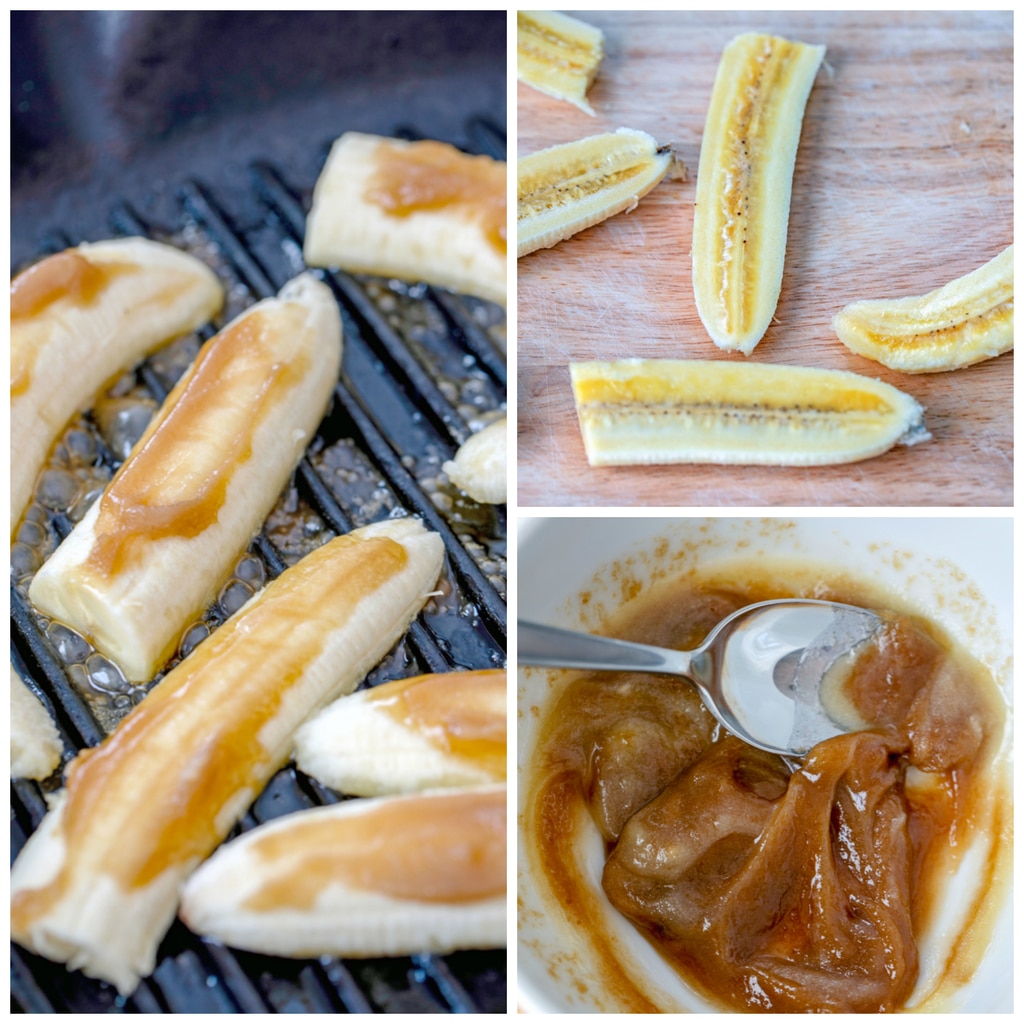 Try your hardest not to gobble the caramelized bananas up right away. You need them for the banana and peanut butter sandwich! But they sure are pretty.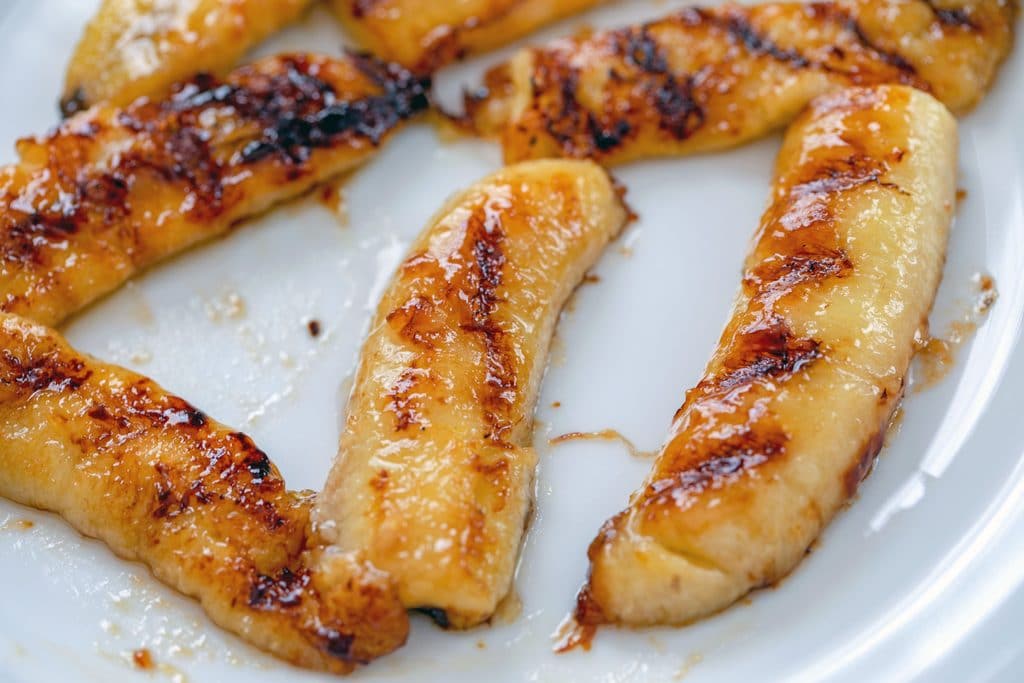 I put my bread slices on the grill for 2 minute per side to get a nice toasty-ness on them. And then slathered on the peanut butter and layered up the caramelized bananas. Don't forget to drizzle on some honey for some extra sweetness. This isn't absolutely necessary, but I LOVE honey on peanut butter sandwiches.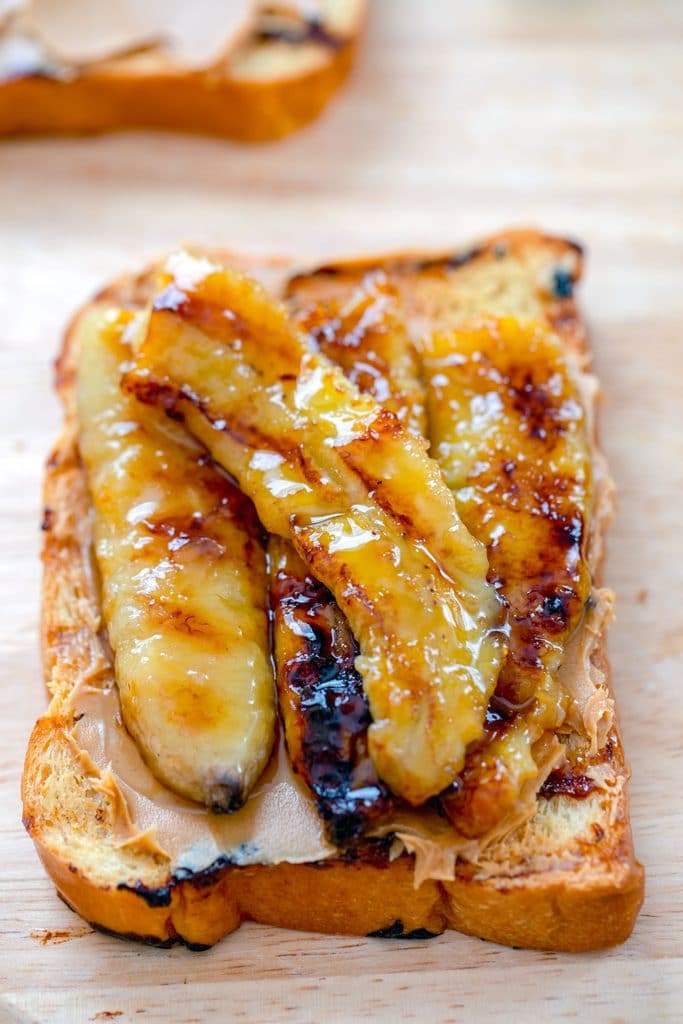 Slice that banana and peanut butter sandwich up and dinner is served. Or lunch. This is obviously a bit more appropriate for lunch, but like I mentioned, it's perfect for a ridiculously easy and delicious dinner. But maybeeee you should serve a veggie or two on the side. Just sayin'.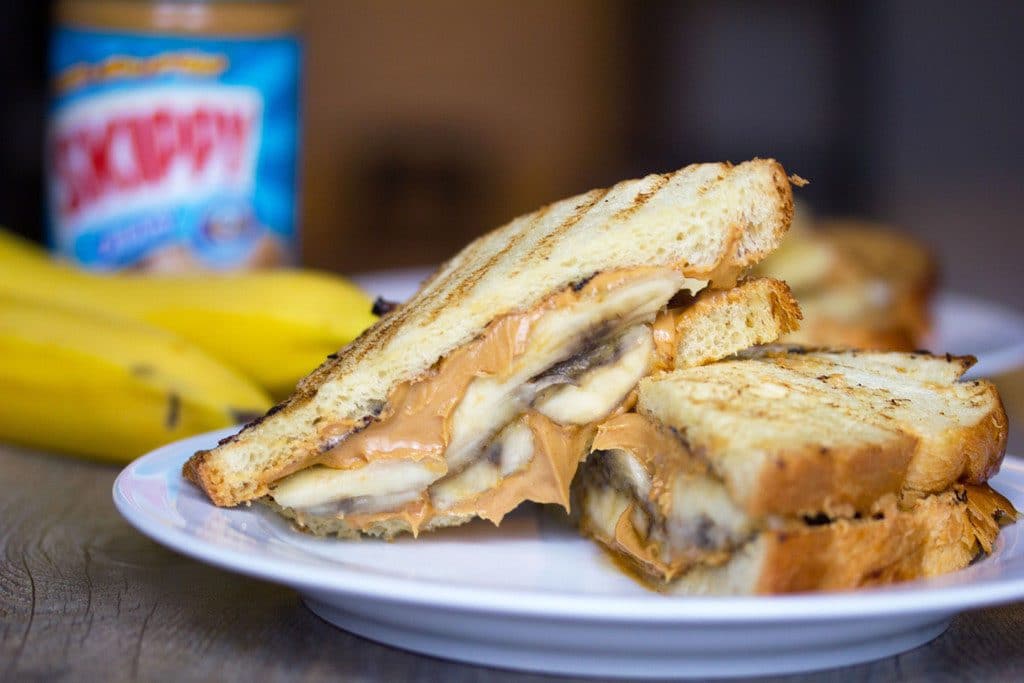 I love when the peanut butter gets all warm and melty. Omg yum. I kind of feel like I need to make this caramelized banana and peanut butter sandwich every day for lunch just to see how long it takes me to get sick of it. I'm pretty sure the answer to that would be NEVER. And if I did, I'd just add a little jelly or fluff or something. Can you even imagine fluff?? Things are getting out of control.
Can we just keep telling ourselves that bananas make this sandwich healthier? OK and more sugary, too.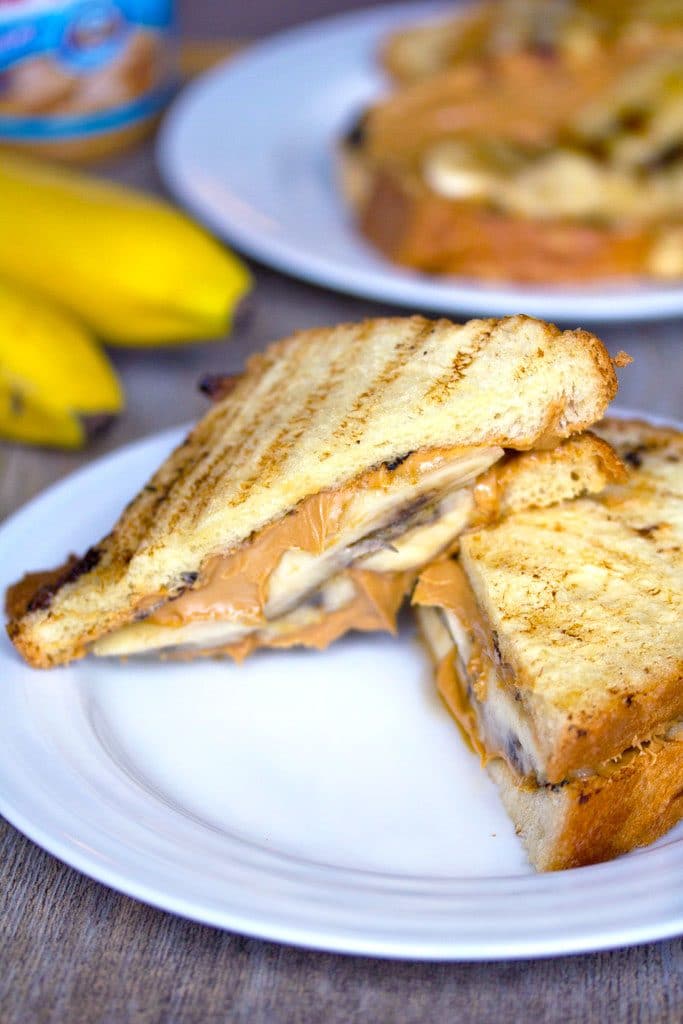 When I woke up on the morning we were leaving California, I swore I'd never eat again. Like ever, ever again. Then I realized that was totally unreasonable and that I'd probably just eat vegetables and fruits and drink green juices. But then I started this post and this sandwich looks pretty darn perfect to me. And then Chris brought me home buffalo wings for dinner and I ate them. So, there goes that.
I'm in bed now because I KNOW I have to get to sleep even though my body doesn't want to. If I had a fresh loaf of bread and bananas in my kitchen right now, I would actually get out of bed to make a banana and peanut butter sandwich again. As it is, I'm considering eating a scoop of peanut butter off a spoon (can you tell I haven't been to the grocery store since I've been back?). But I just brushed my teeth and I. need. to. go. to. sleep.
Tomorrow. There's always time for more food tomorrow.
What are your favorite peanut butter sandwich add-ons?
If you're looking for more great sandwich recipes, check out my Buffalo Chicken Grilled Cheese or my Open-Faced Prosciutto and Plum Sandwiches.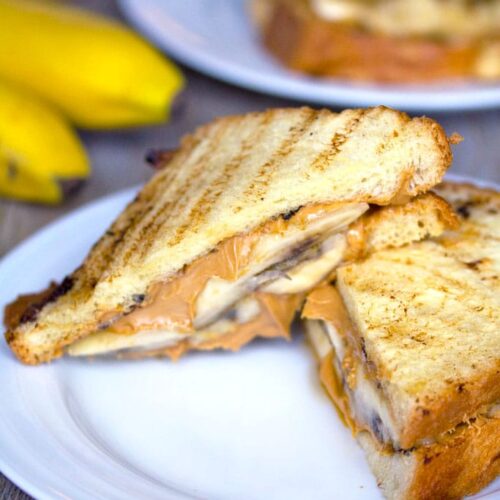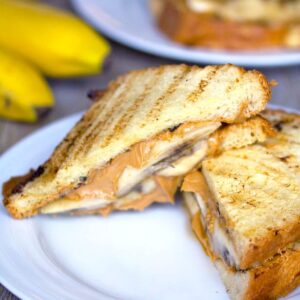 Caramelized Banana and Peanut Butter Sandwiches
You can never go wrong with a peanut butter sandwich, but lunchtime will be a whole lot more delicious with Caramelized Banana and Peanut Butter Sandwiches instead!
Print
Pin
Rate
Ingredients
2

medium bananas

2

Tbsp

unsalted butter,

melted

2

Tbsp

brown sugar

4

slices

bread

(I like brioche or challah)

4

Tbsp

peanut butter

1

tsp

honey
Instructions
Cut bananas in half and slice them lengthwise.

In a small bowl, mix together melted butter and brown sugar.

Slather the mixture all over the bananas and place the bananas on a grill pan (or regular pan if you don't have one) over medium heat.

Cook until the bananas are golden brown, 1-2 minutes and then flip to caramelize the other side, about 1 additional minute. Remove bananas to a plate.

Place bread slices on the grill for 2 minute per side to give them a nice toasty-ness.

Slather the peanut butter on all of the bread slices and layer the banana over the top of two slices. Drizzle the honey on top of the banana, sandwich together with the remaining bread slices, and cut in half.
Share a Photo of Your Finished Recipe!
Mention @wearenotmartha and share a photo if you've made the recipe!