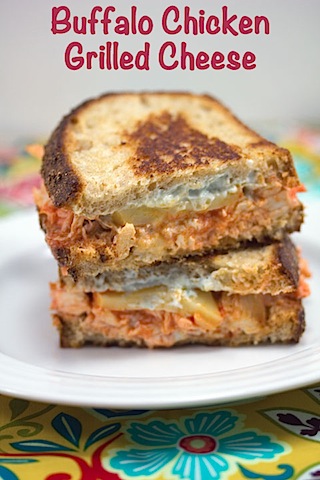 I'm pretty sure I could never marry someone who didn't like spicy food. It would be an absolute disaster. I almost cried in the grocery store the other day because I saw that Frank's RedHot had a buffalo wing sauce… AND a "spicy" buffalo wing sauce. WAIT. Isn't all Frank'sRedHot supposed to be spicy?? It has "HOT" right there in the name for goodness sake. And isn't all buffalo sauce supposed to be spicy?? At least a little bit?? I would have understood if it was labeled as "extra spicy," perhaps, but "spicy buffalo sauce" just sounds redundant to me. But maybe I've just lived a very sheltered life.
Lucky for me, my husband likes SPICY. In fact, he likes food about 10 times spicier than even I can handle. And I can handle a lot. It makes me all emotional when I think about how I met and married my perfect spice match and how life is so much easier since I don't have to make us two different meals or sacrifice my love of spicy for his fear. I'm already nervous for the day we have children and they say, "ew, that's spicy!" to everything. Does anyone know any young children who love spicy food? Is it bad if I force-feed my children until they enjoy it? I digress.
Buffalo wings are one of the best foods of all time, but once you have your favorite recipe for them (my parents'), it's tough to get too creative. So, you crave the flavor, but want to do something a little different. Enter buffalo chicken grilled cheese. I combined my favorite things about buffalo wings- the chicken, hot sauce, blue cheese, and celery– and eliminated the worst– the chicken bones. Life may never be the same. AND if you can't get into spicy, just buy Frank's RedHot buffalo wing sauce (not the spicy one!). I'm sure that would work just as well here.
Buffalo Chicken Grilled Cheese (makes 2):
Print this recipe!
2 C shredded chicken (to make it easy, use a rotisserie chicken)
1/4-1/2 C hot sauce (I love Frank's RedHot and especially their Xtra Hot)
6 oz. light cream cheese
1/3 C crumbled blue cheese
1/4 C chopped celery
4 slices good crusty bread
6 small slices of your choice of cheese (I used Cabot's Hot Buffalo Wing Cheddar)
1 T butter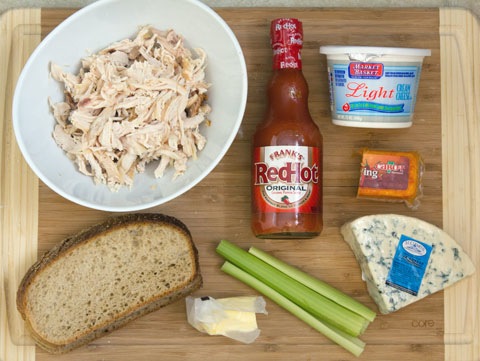 There's absolutely nothing difficult about making this and it's the perfect "I don't feel like cooking tonight, but can't spend any more money on takeout and am not in the mood for any of it anyway" meal. Which is the kind of meal I need basically every night when I get home from work.
I used a rotisserie chicken that I had just picked up at Market Basket (seriously get one EVERY time I go) and shredded it up into a bowl. I mixed in the Frank's RedHot. You can do this ahead of time and pop in the fridge to chill.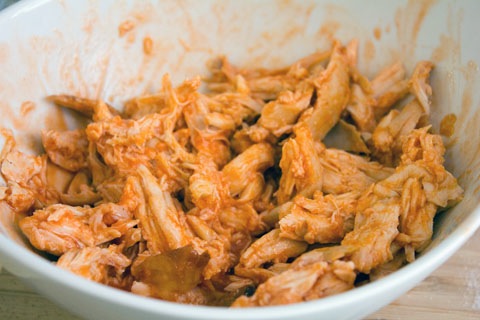 Mix together the cream cheese, blue cheese, and celery in a separate bowl and put in the fridge to chill.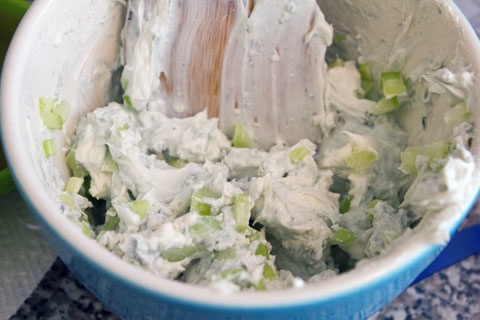 Butter one side of each of your slices of bread.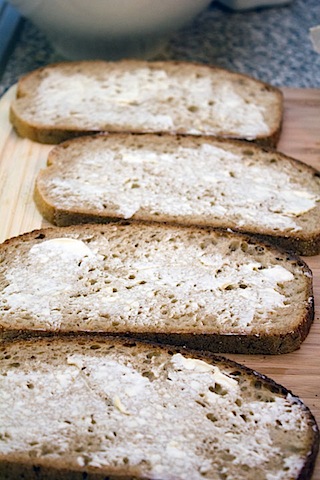 On a medium-hot griddle or frying pan, place your bread slices butter-side down.
Generously slather cream cheese/blue cheese mixture on top of each slice.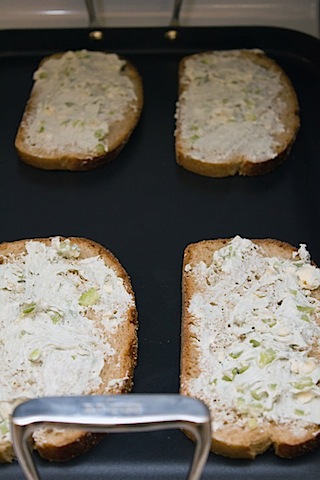 On two of the bread slices, pile on some buffalo chicken and layer a few slices of cheese on top of it. You can use any kind of cheese, but I love that Cabot's Hot Buffalo Wing Cheddar adds an extra buffalo zing. The more the better!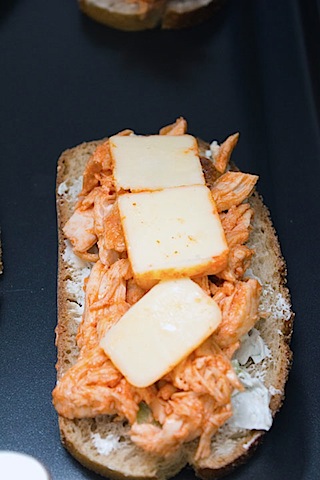 Now place chicken-less bread slices on top of chicken bread slice and press down.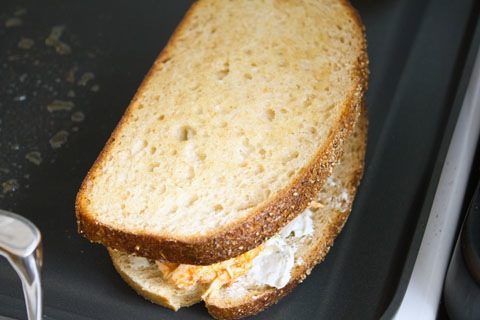 Cook for a couple minutes on each side, until bread gets nice and toasty and cheese gets melty.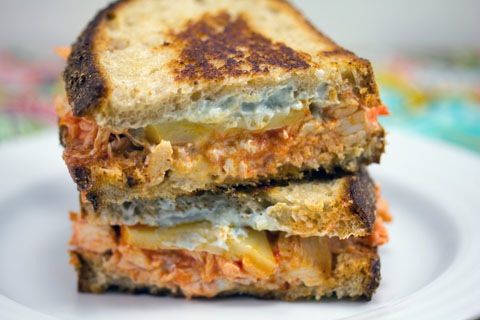 And serve!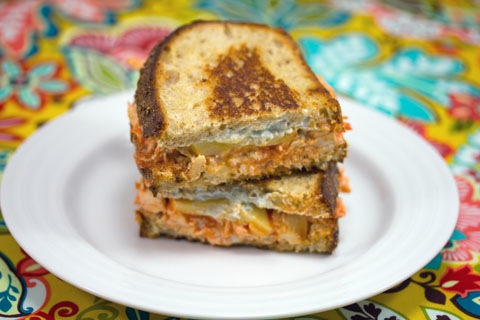 I'm pretty sure you will be obsessed with this sandwich. It combines everything awesome about buffalo wings in between two buttery slices of bread. Judging from Chris's reaction, he put this grilled cheese near the top of his favorite things I've made list.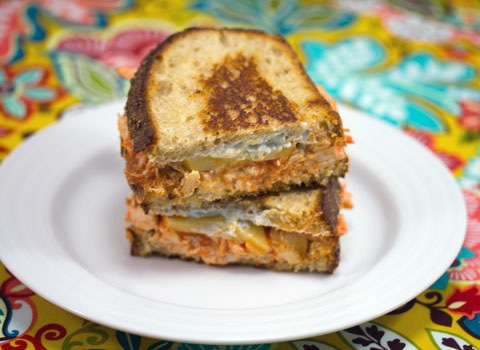 When I first told him what I was making, he was mad that I was only making him one. Seriously. After he ate his sandwich, I asked if he wanted me to make him another and he claimed he was 100% satisfied and happy. Sure, the typical grilled cheese may be wimpy, but this is certainly not your typical grilled cheese. You can quote me on that one.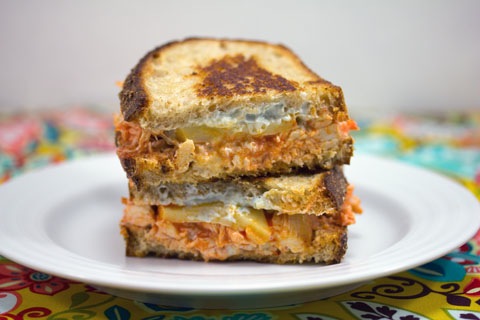 If you're sick of making buffalo wings for your football watching party every weekend, I think this is the perfect substitute. You could even cut the sandwiches into smaller bites to a delightful appetizer.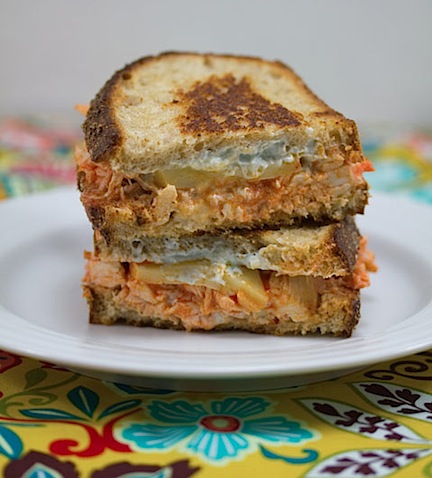 Of course, this grilled cheese is quite the messy affair, but that's half the fun of it. Have you ever been able to eat a serving of buffalo wings without an extra stack of napkins on standby? I think not. This sandwich isn't quite that bad. It's just ooey-gooey and everything a good grilled cheese sandwich should be.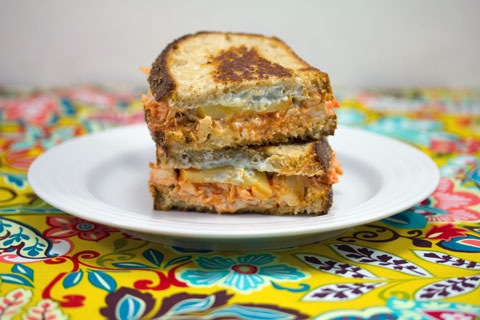 My only regret is that I didn't make extras and pack them as lunches to bring to work for the week. Because this could make every single one of my days infinitely times better than average.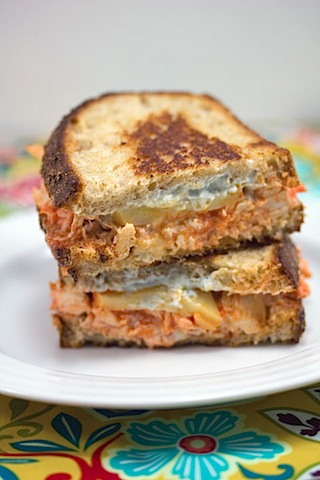 You can rest assured that for as long as We are not Martha exists, I'll be creating new grilled cheeses. Sometimes I feel like every standalone meal I enjoy could be made into the perfect grilled cheese. My one struggle is Thai food and determining what kind of cheese to match it with. Because I'm seriously craving some hot Thai beef basil in between two slices of crusty bread.
Which of your favorite meals would you want to turn into a grilled cheese?
[Sues]