You know you love caramelized onions, but have you ever tried caramelized mushrooms? This easy recipe makes mushrooms taste like candy... And they're the perfect topping for steak or side dish for any meal!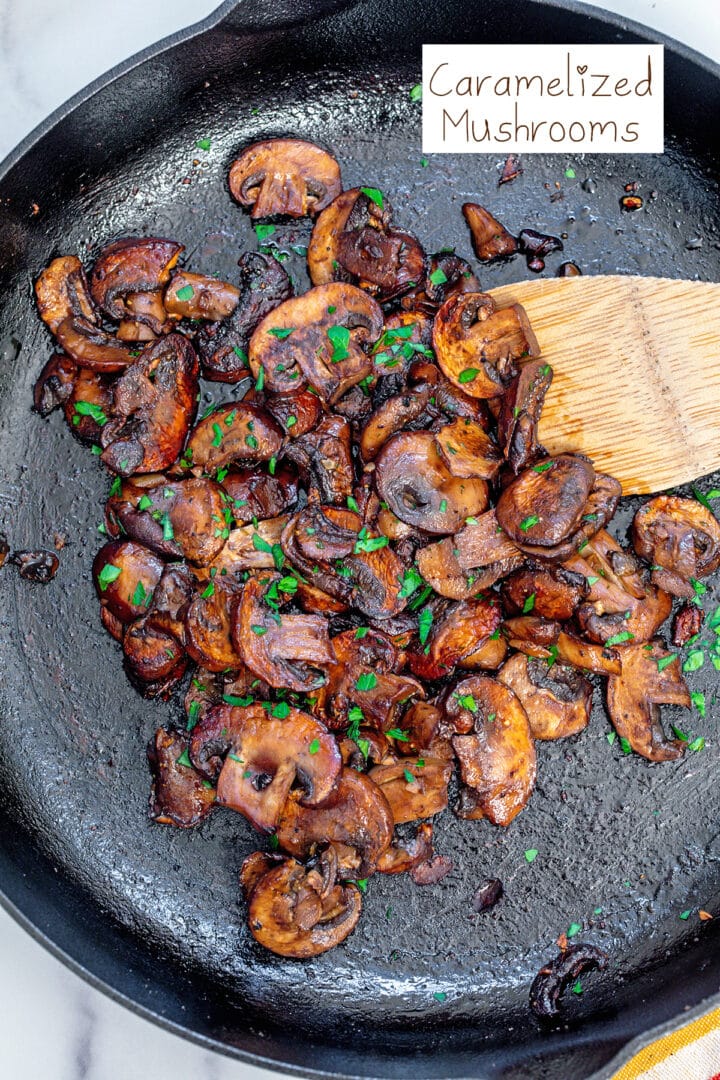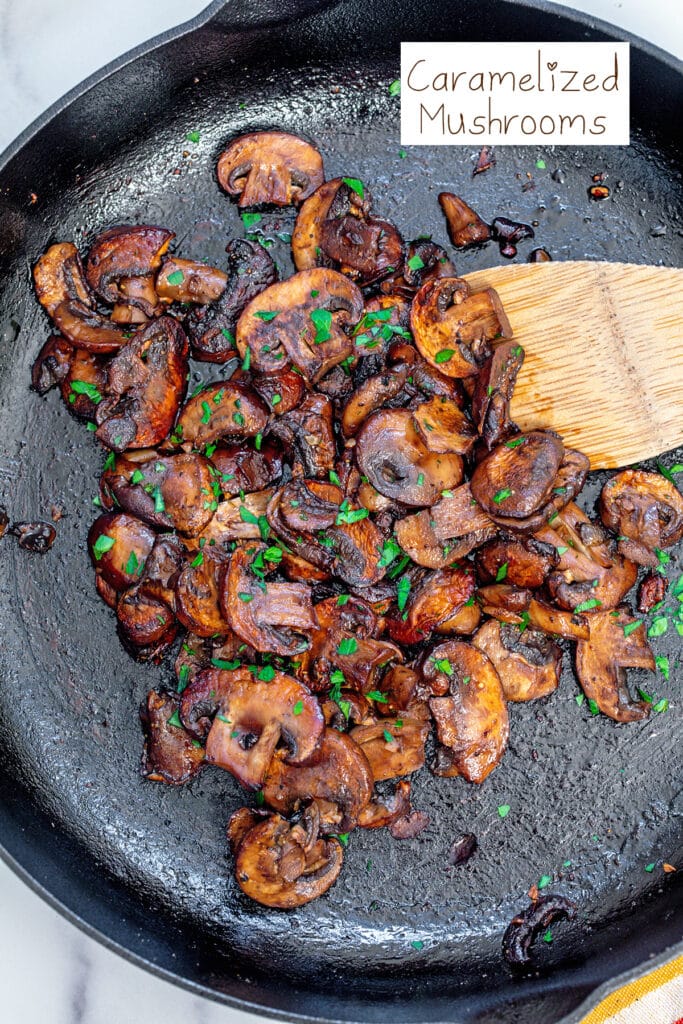 Jump to:
Does anyone else feel like the older they get, the more they like mushrooms? As a kid, I couldn't stand them. But now, I think they're absolutely delightful and will add them to everything I can. In any form.
But if forced to choose, I would ask for my mushrooms to be caramelized. Every single time, whether they're going to top my steak or I'm going to sit on the couch and eat them out of a bowl like candy. Yes, like candy!
Whether you love mushrooms or are pretty "meh" about them, you need to try these caramelized mushrooms. I swear, when they're prepared like this, you could even turn the biggest mushroom hater into a lover!
❤️ Why you'll love this recipe
There's seriously something so delicious about caramelized mushrooms. When cooked slowly in some butter, the water steams off the mushrooms and the natural sugars shine through and the umami flavor really comes out.
I know it sounds crazy, but I liken them to candy. The mushrooms are so sweet and delicious with a little bit of smokiness to them. If you regularly make sautéed mushrooms, I think you'll like this cooking method even more! (though I'm also a huge fan of this broccoli soup with sautéed mushrooms!)
Mushrooms have tons of health benefits, including decreasing the risk of cancer and helping to lower cholesterol. They're also a great source of Vitamin D and help support a healthy immune system (source). And this is such a great way to get more of them into your diet!
They're also incredibly easy to make and basically come out perfectly every single time.
🗒 Ingredients
You just need a handful of simple ingredients for these caramelized mushrooms. However, there is plenty you can do to jazz them up and make them your own... I have a bunch of ideas below.
To make my simple caramelized mushrooms recipe, here's everything you need (please see the recipe card at the bottom of this post for ingredient amounts and full recipe instructions):
Mushrooms: I like using sliced baby bella, but you can caramelize any variety of mushroom
Unsalted butter: I don't think this recipe needs salt and I don't add any, but you can certainly use salted butter if you choose
Brown sugar: Because mushrooms don't have a whole lot of natural sugars, I add a little brown sugar to bring out the caramelization even more. You can skip if you're looking to cut out sugar, but it really does boost the flavor!
Minced fresh garlic
Black pepper
Parsley
🍄 How to make caramelized mushrooms
The process for caramelizing mushrooms is quite easy. It's very similar to making caramelized onions except it takes much less cooking time!
Similarly to caramelized onions, you start off with what looks like a lot of sliced mushrooms... And end up with far fewer. But that's OK because every morsel is so incredibly delicious.
To start, heat a large skillet over medium heat and add butter. I highly recommend using either a cast iron skillet or a stainless steel skillet.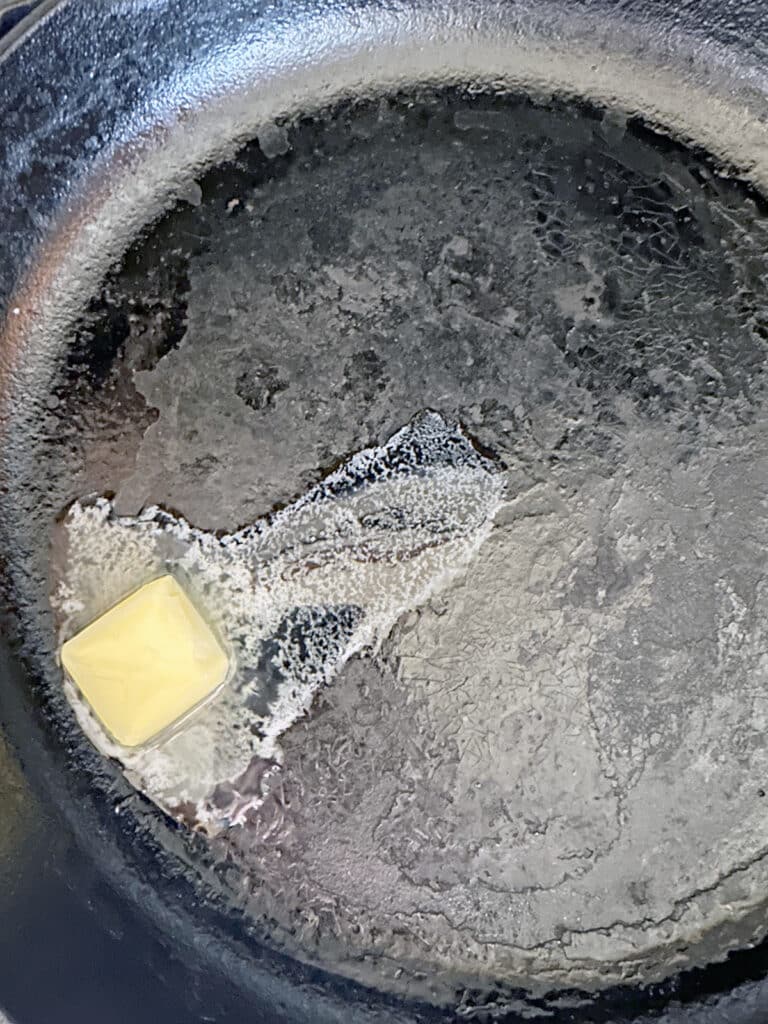 Once the butter is melted, add mushrooms to the hot pan in single layer.
Let mushrooms cook without stirring them for 5 minutes.
Then give them a stir and cook for another 3 minutes.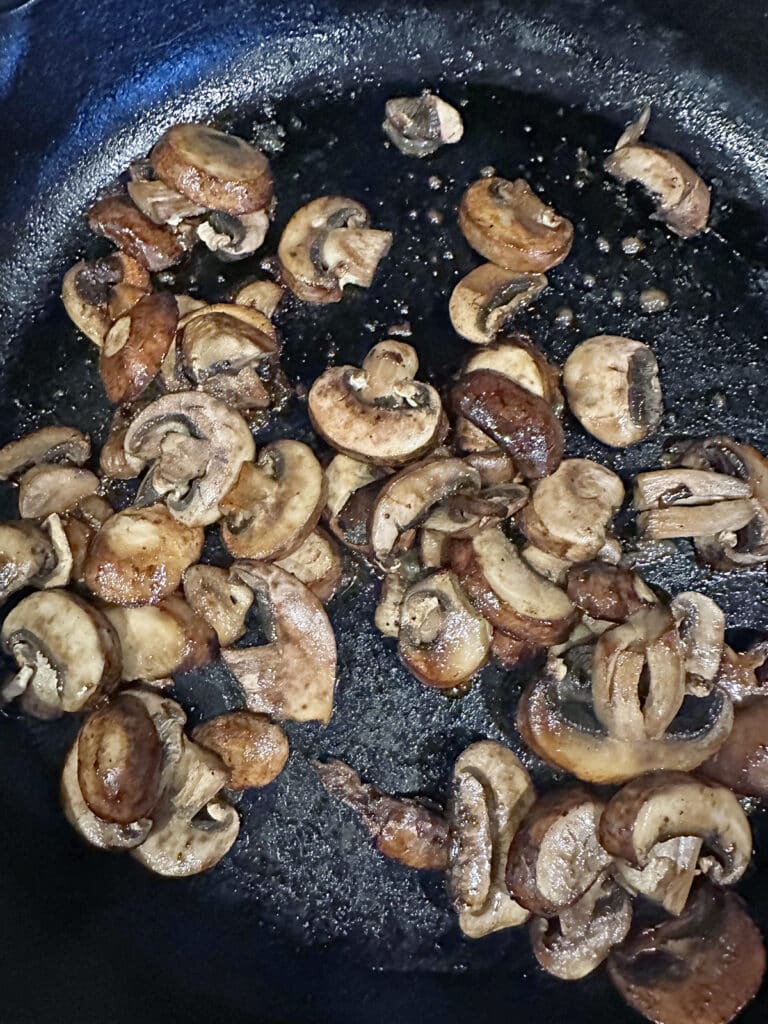 Add brown sugar, stir well, and let cook for another 2 minutes, until golden brown.
Add garlic and pepper and cook for one more minute.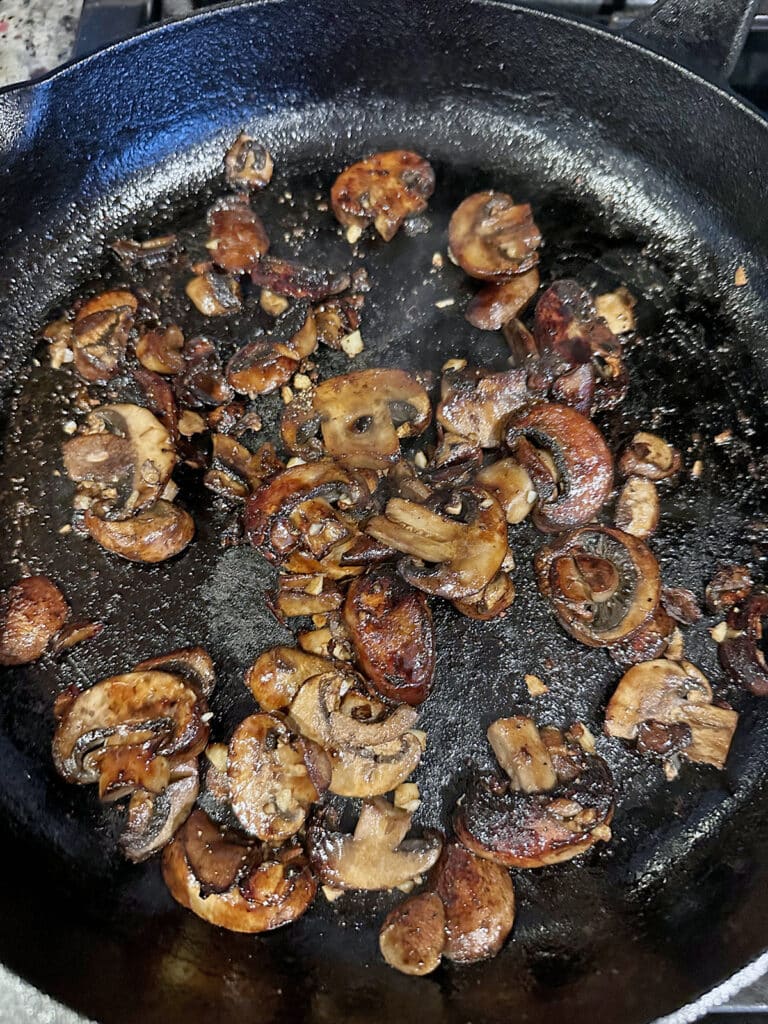 And the caramelization process is complete. I told you mushrooms caramelize a lot faster than onions!
I like to sprinkle on some chopped fresh parsley and give them another good stir before serving.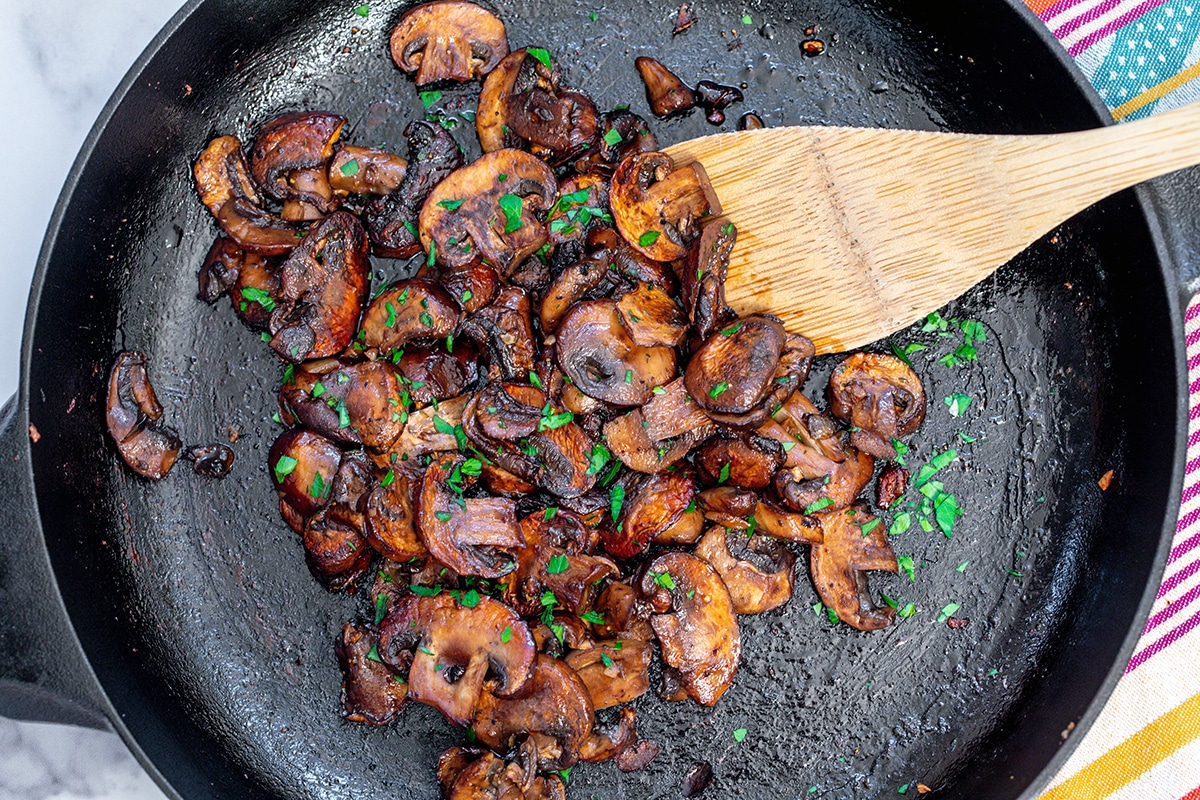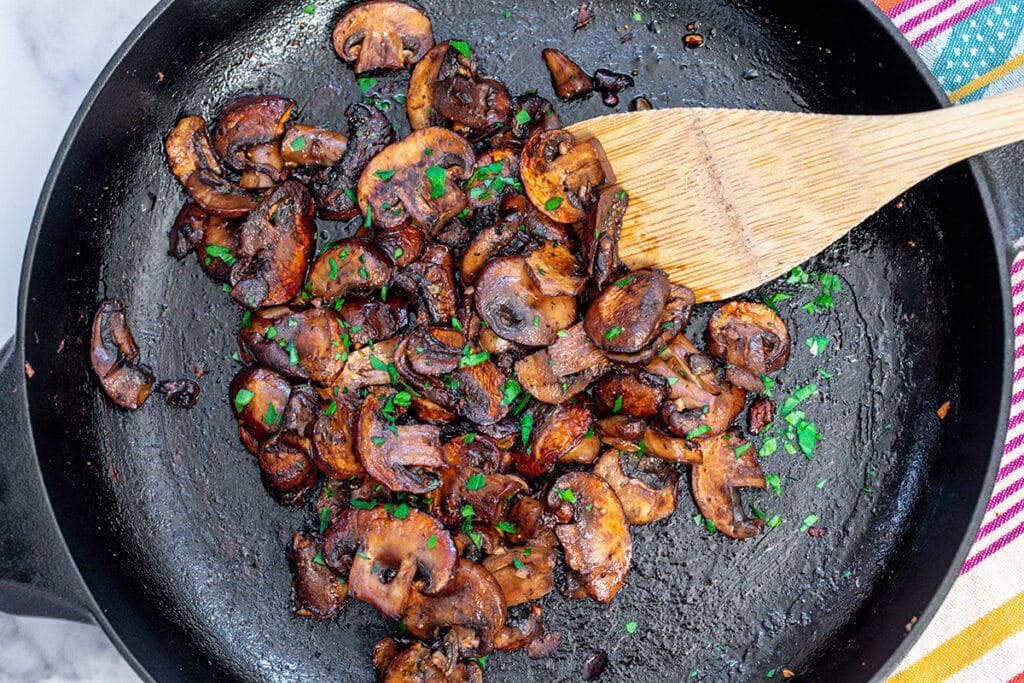 And then try not to eat all of them before you're ready to bring them to the table. Or just make them as a snack and eat them to your heart's content!
🍽️ How to serve caramelized mushrooms
There are lots of different ways to serve caramelized mushrooms and they go with so many different foods! Here are some of my favorite ways to serve them:
Use them to top steak: I make these mushrooms nearly every time I make a NY strip steak or filet mignon now. They are so delicious atop any steak and make a great replacement for sauce or gravy.
Use them to top any protein: But aside from steak, these also go well with any meat, including chicken breasts, pork chops, pork tenderloin and more!
Add to veggie sides: If you're looking to add even more nutrition and deliciousness to a vegetable side dish, just add caramelized mushrooms. They go great with green beans, sautéed peppers, zucchini, asparagus, and so much more.
Mix with caramelized onions for a more robust side dish: These mushrooms go really well with caramelized onions and make for a great extremely versatile side dish when combined. I like using sweet onions (Vidalia), but yellow onions work well, too.
Add to salad: They also make a great addition to all kinds of salads. I especially like adding them to kale salad and any salad with grains, like farro, quinoa, or barley.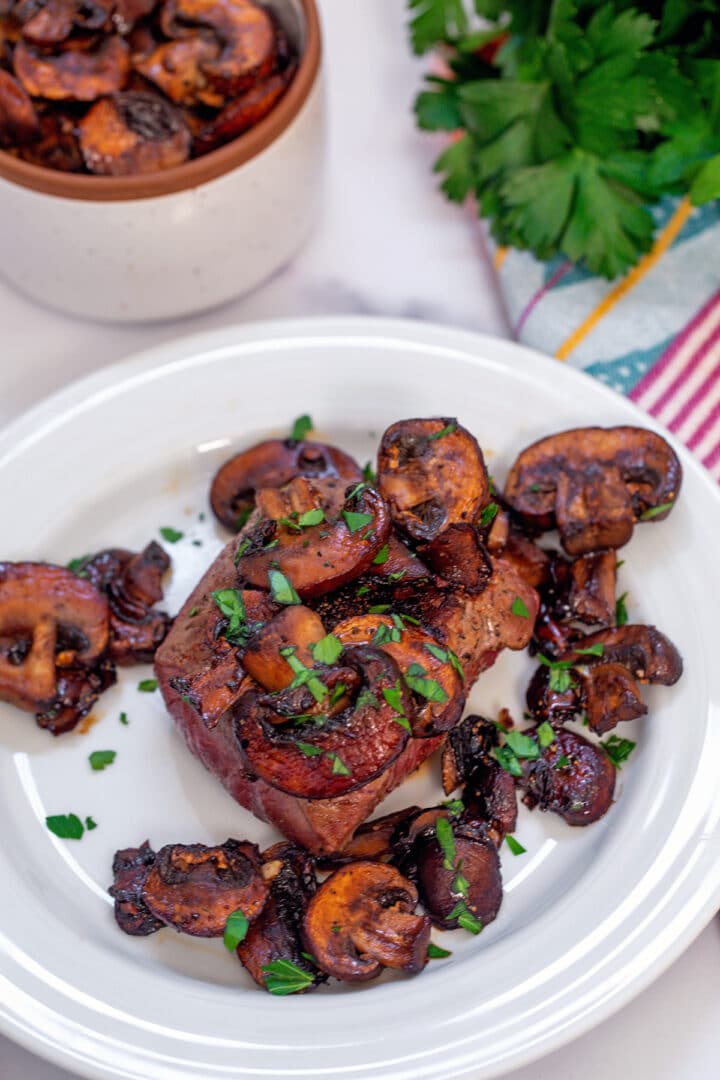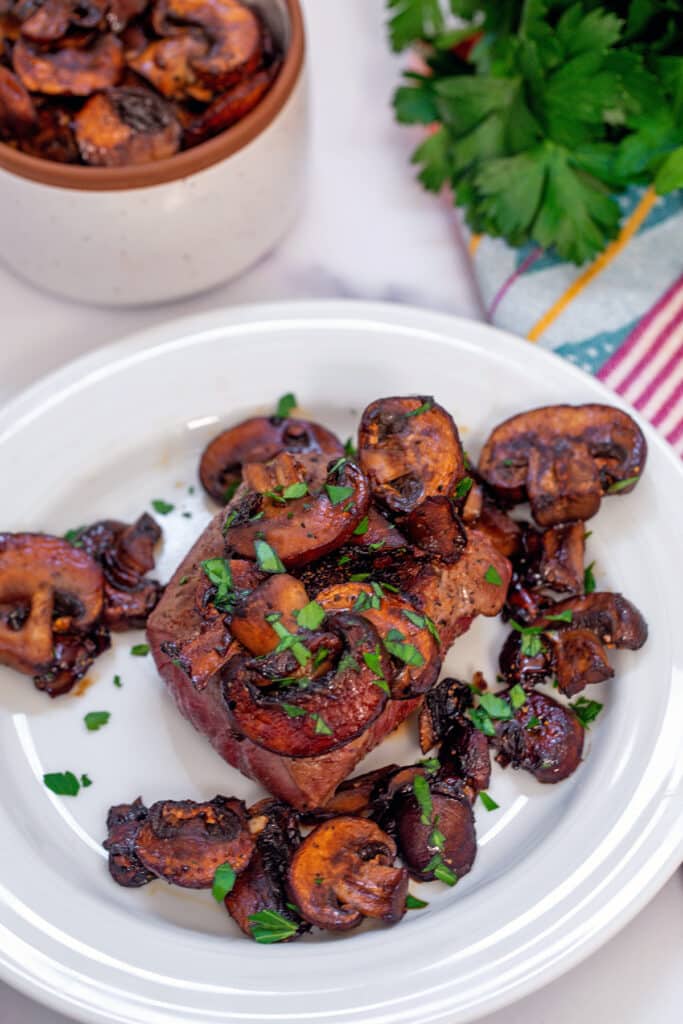 ❓ Best type of mushrooms to use
You can really caramelize any type of mushroom! I often prefer to use baby bella (or white button mushrooms) because they come sliced and go perfectly with pretty much everything.
But you can use portobello mushrooms, oyster, porcini, shiitake, or really any mushroom you choose! Just note that the thicker the mushroom is sliced, the longer it may take to caramelize.
⏲️ How to store
If you don't eat all of these in one sitting, they're easy to store for later. Simply put the mushrooms in an airtight container and store in the fridge.
When stored properly, the mushrooms should keep for about 5 days.
I prefer re-heating them over low heat in a skillet. They can heated in the microwave in a pinch, but this can sometimes give them a rubbery consistency.
💡 Other additions to recipe
There are so many ingredients you can add to this dish to make the mushrooms your own and give them whole new flavor profiles. Here are some ideas:
Red pepper flakes
Balsamic vinegar
Garlic powder
Fresh herbs of your choice (thyme, rosemary, and oregano are all great!)
A splash of sherry or other cooking wine
Soy sauce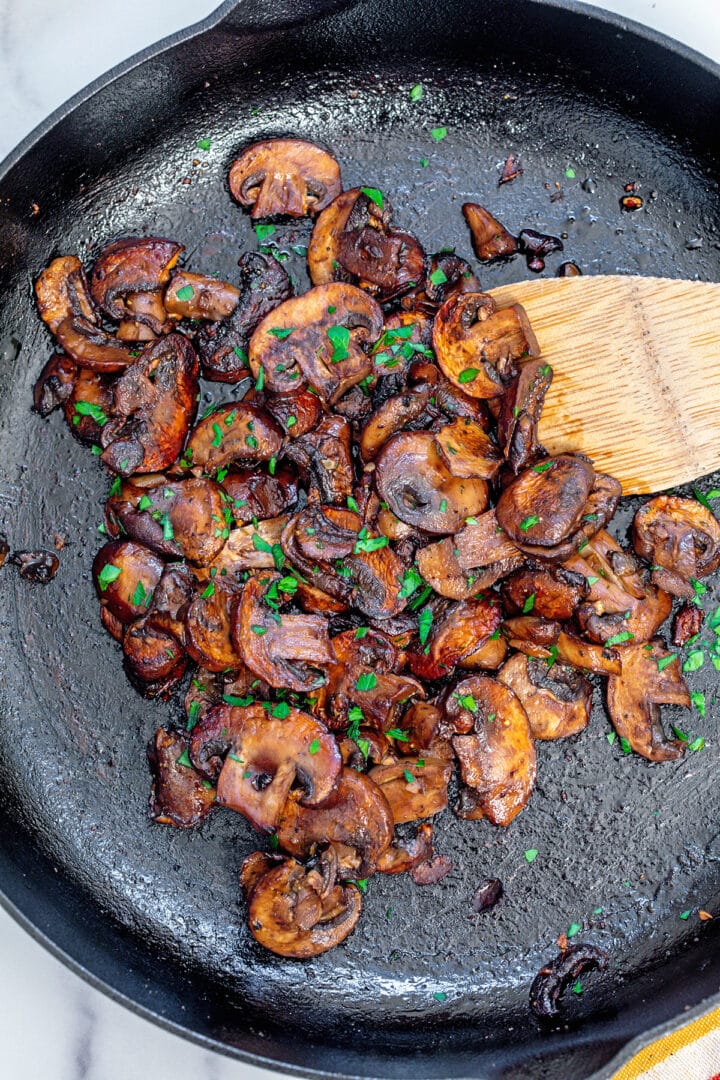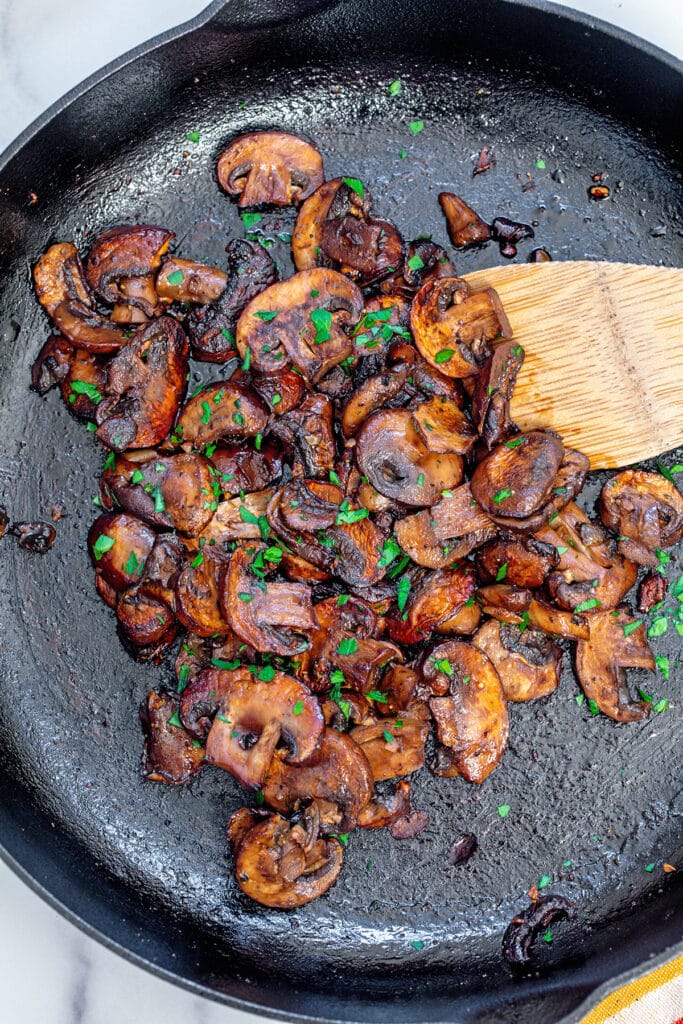 I hope this easy dish is as life-changing for you as it is for me! And if you have any self-proclaimed mushroom haters in your life, I hope you can completely change their mind with a batch of caramelized mushrooms. I promise it will work!
How to do you like preparing mushrooms?
📖 Recipe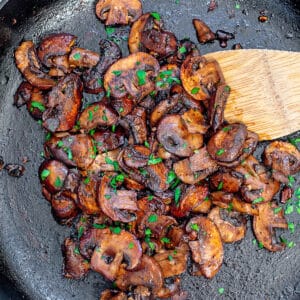 Ingredients
8

oz.

cleaned and sliced mushrooms

(I often use baby bella, but any mushroom variety works)

1

Tbsp

unsalted butter

1

Tbsp

brown sugar

½

Tbsp

minced garlic

¼

tsp

black pepper

½

Tbsp

chopped parsley,

for garnish
Instructions
Heat a large skillet (preferably stainless steel or cast iron) over medium heat and add butter. Once melted, add mushrooms to skillet in single layer.

Let the mushrooms cook without stirring them for 5 minutes. Stir and cook for another 3 minutes.

Add brown sugar, stir well, and let cook for 2 minutes.

Add garlic and pepper and cook for one more minute. Toss with chopped parsley and serve.
Share a Photo of Your Finished Recipe!
Mention @wearenotmartha and share a photo if you've made the recipe!