Need a detox after weeks of holiday eating? Nah, me neither. But just because I love nothing more than to indulge in cupcakes and cookies and eggnog desserts, doesn't mean I don't like my veggies, too. In fact, I've never had anything against vegetables. I just think they can be a bit boring sometimes. So, rather than simply eat up the huge bushels of broccoli I had in the fridge (why the heck did I buy so much in the first place?), I wanted to do something a bit more fun with them. Yes, I just used the word "fun" to talk about broccoli! Every recipe I looked up for broccoli was "stir fry" or "broccoli and pasta." Ugh, boring. Until finally I started seeing a few broccoli soups.
Seriously, this soup took about 10 minutes to make. I'm not lying. It was incredibly easy and perfect for a busy week night. I combined a few recipes because I wanted to keep the nutrition of the soup, but also wanted to add some creaminess. The obvious solution for me is Greek yogurt. Greek yogurt is pretty much ALWAYS the answer. Especially Chobani. Yum.
Broccoli Soup with Sauteed Mushrooms (serves 4):
• 2.5 lb. broccoli, florets only
• 1 t olive oil
• 4 oz. mushrooms, sliced
• Handful of fresh parsley, chopped
• 2 t lemon juice
• 1 T red pepper flakes
• 2 cloves garlic, peeled
• 4 oz. plain Greek yogurt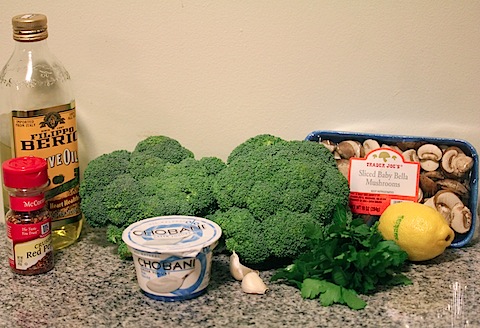 Bring a large pot of salted water to a boil and cook broccoli florets until they start to soften, but are still bright green (about 5 minutes).
In the meantime, heat the olive oil in a pan and throw in the mushrooms, garlic cloves, and red pepper flakes. Season with salt, pepper, and lemon juice.
Add the parsley and toss.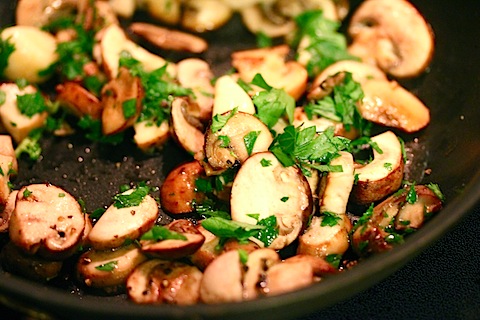 Now, all you have to do is remove the broccoli from the water (but save water) and put it in a food processor (or blender). Puree the broccoli, adding a little of the water to the puree as you go. Here, I also added the Greek yogurt for an extra bit of creaminess and continued pureeing. Taste. If you want it thinned out a bit, add more water. You can add more yogurt, too. Whatever you want! Season with salt and pepper.
Serve topped with mushrooms and parsley.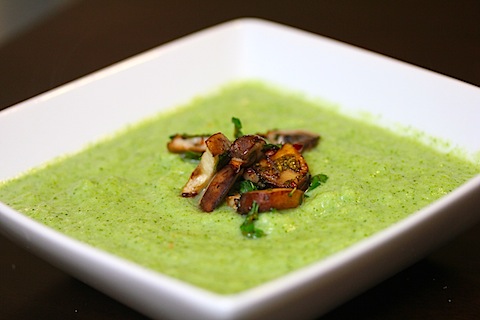 Since it's pretty certain that I will not be satisfied with only a bowl of soup, I knew I needed to have a little something on the side. And generally carbs make me the happiest. What? If I'm getting my veggies in, a few carbs will do no harm. Luckily, I had some leftover flatbread dough in my fridge. I also just received some pesto from the amazing Pestos with Panache by Lauren.
I had been DYING to try the Fabulous Fig and Gorgonzola pesto. Doesn't just the name make you drool?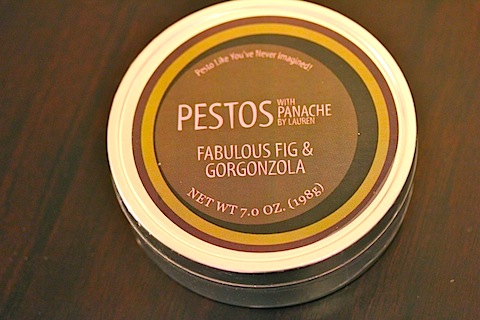 So, I decided to simply roll out the dough, spread the pesto on top, and bake it for about 10 minutes at 450 degrees.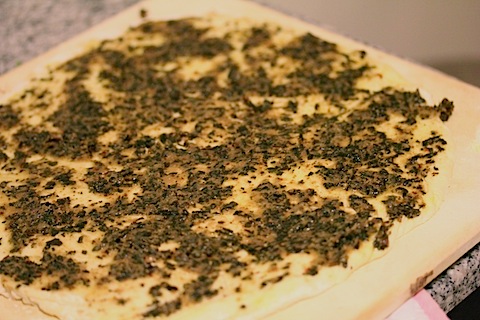 Then dig in to a giant bowl of beautifully-colored broccoli soup. I thoroughly enjoyed the soup, but I'm telling you, it basically tastes like a big bowl of broccoli. So healthy, but it definitely needs some major seasoning. Salt, pepper, and I'd add in some more hot peppers for flavor's sake.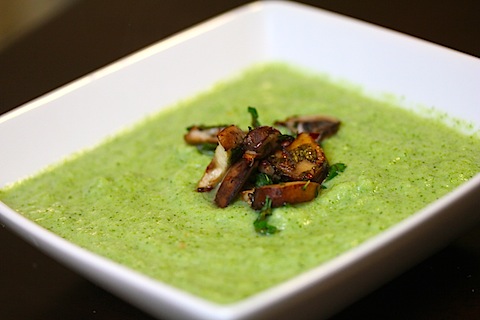 But I do love broccoli, so this really did hit the spot. Next time? I might actually puree some sauteed garlic up with the broccoli. That could give it the perfect kick. The soup was warm when I served it, but I bet it would be good cold, too.
And the bread! I wasn't sure how the pesto would do in the oven and while it did brown up quite a bit, it was delicious. Perfect for dipping. I think I want to spread the fig and gorgonzola pesto on everything. Welcome to my life, Pestos with Panache! Please stay for a while.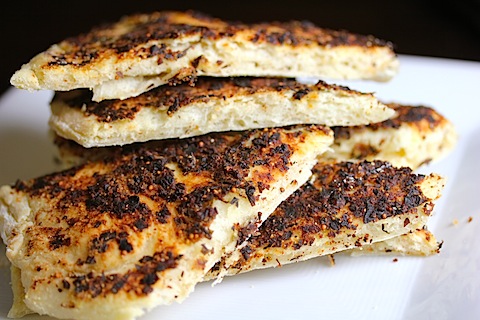 I'm fairly obsessed with the color of this broccoli soup. The mushrooms on top were a perfect touch, but for an even greater pack of flavor, you could mix them in.
Phew, could this broccoli soup help me get off the sugar kick I'm currently on? Nope, probably not. In fact, I'm super disappointed the holidays are over and I have no more excuses for making holiday baked goods. Well, I guess there's always New Year's, right?? Yup, definitely making some baked goods to celebrate the coming of 2011.
How do you make your vegetables more fun?
P.S. Thank you SO much for all the engagement congrats and wedding-planning advice. I'm so excited to get started 🙂
[Sues]