This healthy Broccoli Soup with Sauteed Mushrooms is packed with flavor and nutrients and made creamy with a little bit of Greek yogurt. See? Healthy eating isn't so bad, after all!
(This recipe for Broccoli Soup with Sauteed Mushrooms was originally posted in December 2010, but has been updated with new photos and content.)
Sooo, have you guys started your healthy eating kick yet? I have not. Oops? What have I accomplished so far in 2018? Well, if you want to know the truth, I have watched the entire Vanderpump Rules series. To be fair, I actually started it in December in a quite leisurely fashion, but then I got my husband sucked in (muhaha) and when he binge watches TV, he binge watches TV. I prefer to take my time and savor my shows, but if I'm watching with him, we go all in and power through. And so, we did. And now I can't decide if my life has been changed for the better or for the worse now that I have people like Jax and Kristen and Stassi in it. Also, Britney!! What the heck are you doing??
In any event, I clearly need a detox. I know it's only mid-ish January, but when you feed your body with Vanderpump Rules for weeks at a time, you need some vegetables and healthy food to balance things out ASAP. I first made this broccoli soup years ago, but I went back and refined it a bit and made it even better. The thing is, when you search the internet (does saying it like that make me sound 95 years old??), there are a ton of broccoli soups, but a lot of them involve cream and/or cheese and are not actually healthy broccoli soups. And if I'm going to be eating soup made with broccoli, I want it to be a healthy broccoli soup. Otherwise, I'll just order a pizza and have a side of broccoli, thank you very much.
Not only is this broccoli soup pretty darn healthy, but it also takes about 10 minutes to make. I'm not lying. That means you have no excuse not to make this on a busy weeknight. You could probably even whip it up in between Vanderpump Rules episodes... Unless you're watching on Hulu and the episodes don't have commercial breaks in between them. In that case, just wait until you're done with the series. NBD.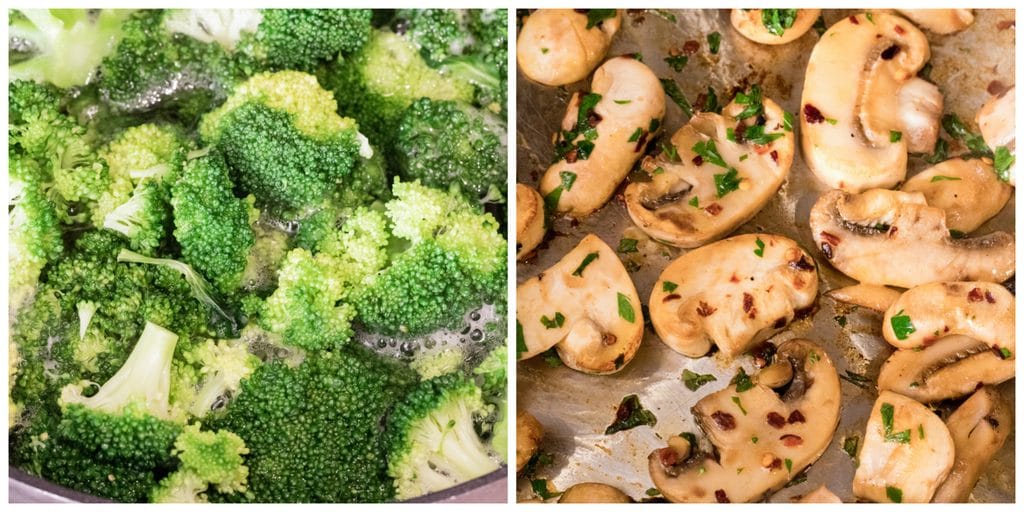 Pretty sure Chris was a little skeptical about me serving him a big bowl of healthy green soup for dinner (though he does happily drink green smoothies several times a week!), but then was pleasantly surprised. I'll admit I added in more red pepper flakes than specified here to make it extra spicy for him. I also sprinkled a little bit of parmesan cheese on top. Totally optional, but I pretty much never turn down cheese.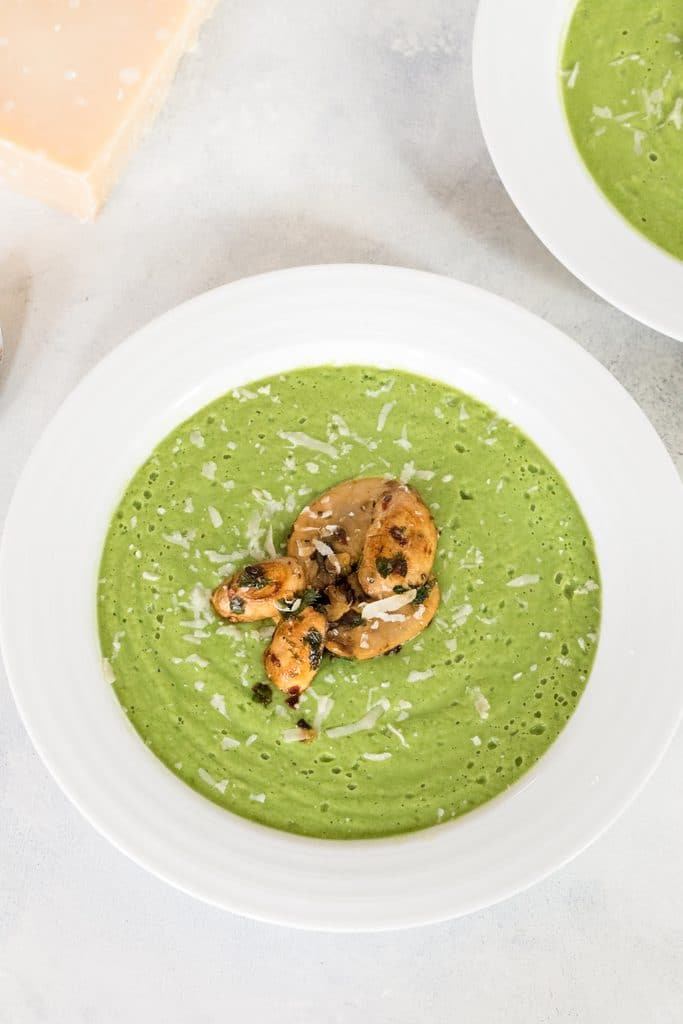 I've made this a few times now and while the sauteed mushrooms are delightful, if you're feeling lazy, you can skip them. And if you're feeling ambitious, you can make caramelized mushrooms instead!
If you opt out of the mushrooms, you can feel free to top the soup with a little bit of crumbled feta cheese instead. If you're not on a cheese-free diet, which omg I don't think I could ever do.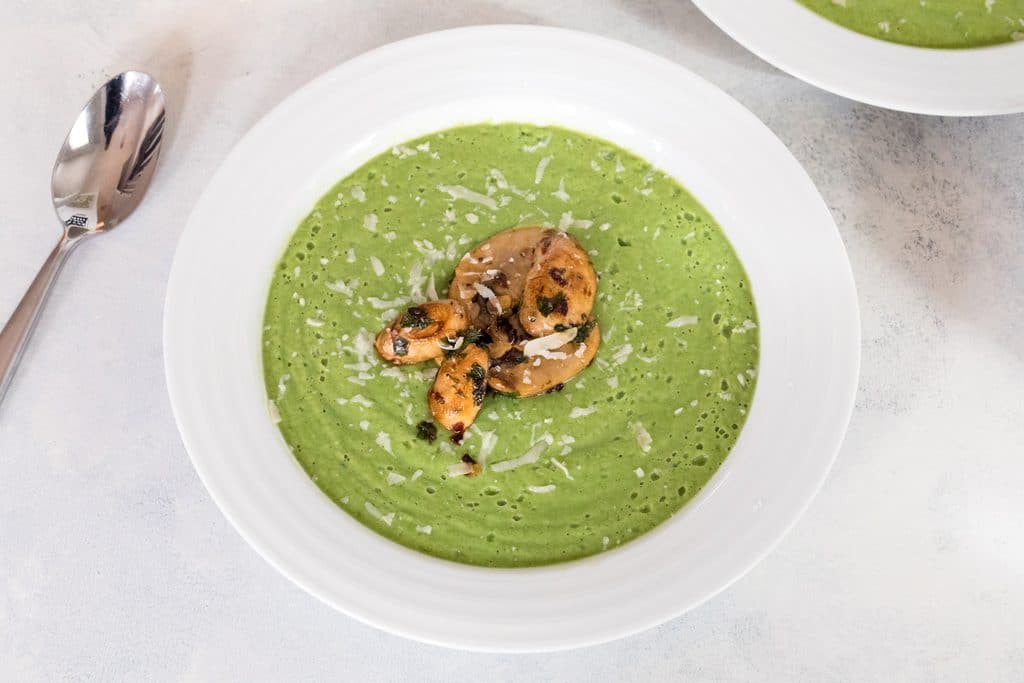 When it comes to healthy eating for me, I'm all about adding in healthy foods instead of eliminating non healthy ones. I figure I'll try my best to fill up on the healthy and then treat myself with whatever I choose. Elimination doesn't work well for me. Especially if it's cheese. Don't take my cheese away unless you want me to be miserable.
But give me healthiness like this broccoli soup and I'll gobble it up with a little bit of parmesan or feta and then be too full to chow down on an entire block of cheddar. It's science.
Really though, this soup has been pleasantly surprising me, too. It's creamy and incredibly flavorful with lots of depth... And healthy! Because if you're eating broccoli soup, it should be healthy.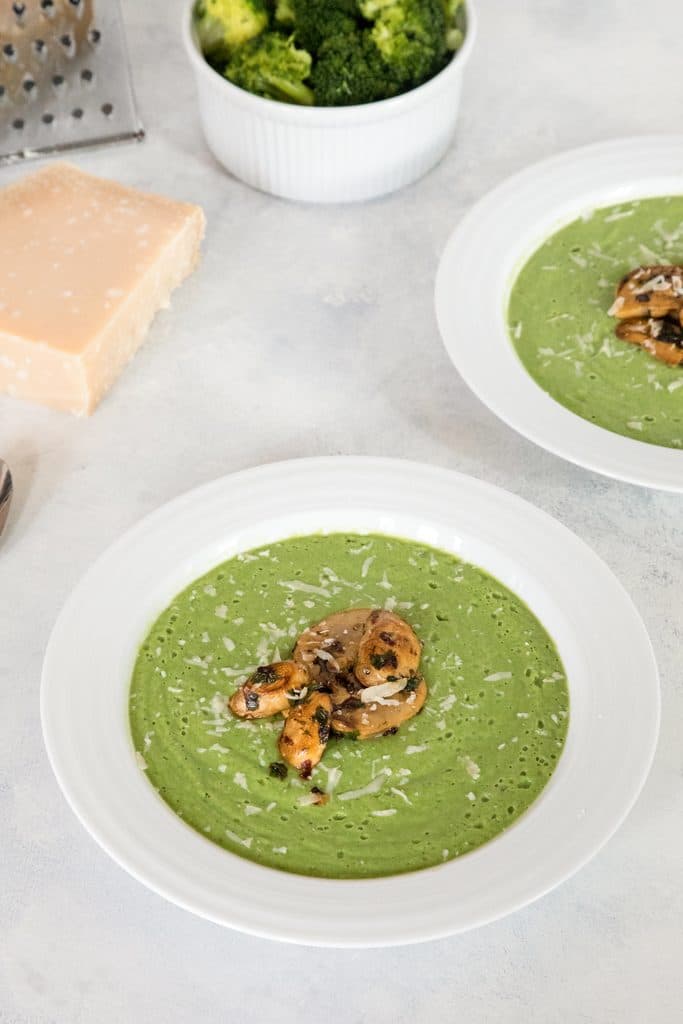 When you can have a meal this vibrantly green NATURALLY, you know it's going to be both delicious and healthy. Take advantage of that. And then go back to filling up on trashy television. And maybe a cookie or two.
Have you been getting in some healthy eating in 2018?
📖 Recipe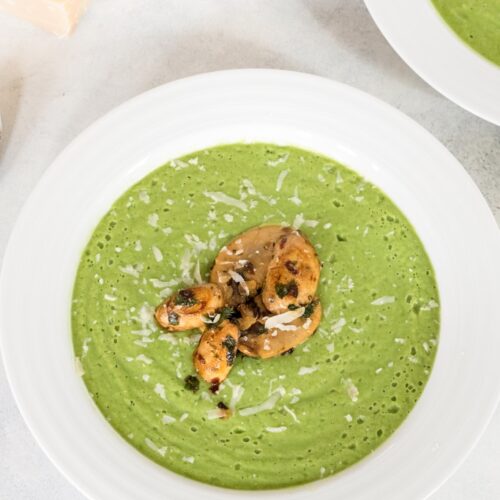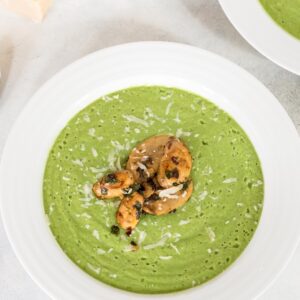 Broccoli Soup with Sauteed Mushrooms
This healthy Broccoli Soup with Sauteed Mushrooms is packed with flavor and nutrients and made creamy with a little bit of Greek yogurt.
Print
Pin
Rate
Ingredients
1

lb

broccoli florets

(about 2 large heads)

½

cup

vegetable or chicken broth

4

oz.

2% Greek yogurt

3

tsp

minced garlic, divided

4

tsp

freshly squeezed lemon juice, divided

1

tsp

red hot pepper flakes, divided

Salt

Pepper

1

Tbsp

olive oil

4

oz.

sliced mushrooms

1

Tbsp

finely chopped parsley

Finely grated parmesan cheese,

optional for topping
Instructions
Bring a large pot of salted water to a boil and cook broccoli florets until they start to soften, but are still bright green (about 4-5 minutes). Drain broccoli, but be sure to reserve about ¾ cup of the water.

Put broccoli in a blender along with ¾ cup of reserved water, vegetable or chicken broth, Greek yogurt, 2 tsp minced garlic, 2 tsp lemon juice, ½ tsp red pepper flakes, ½ tsp salt, and ¼ tsp pepper and puree until smooth.

Heat olive oil in a medium saucepan over medium heat and add mushrooms, remaining 1 tsp minced garlic, remaining 2 tsp lemon juice, and remaining ½ tsp red pepper flakes. Cook for about 4 minutes. Season with about ¼ tsp salt and ¼ tsp pepper.

Add parsley and toss.

Serve broccoli soup in bowls and top with sautéed mushrooms. Sprinkle a little parmesan cheese on top, if desired.
Share a Photo of Your Finished Recipe!
Mention @wearenotmartha and share a photo if you've made the recipe!