There's an old saying that says, "Real Men Don't Eat Quiche." A saying that I grew up totally confused about. Why wouldn't a man love a quiche? I mean, men love eggs, right? And since you can put basically any ingredient in a quiche, what's not to love? Eggs, bacon, and cheese? In pie form with a crust? Sounds like heaven on Earth to any man or woman.
To this day, I hate that saying. So, I didn't even tell Chris about it when I made the quiche. After all, my dad eats quiche and I've never met a man who turned down a delicious slice. OK, I guess I can see why men might not go out to lunch and order a slice of the quiche-of-the-day over a pastrami sandwich, but I still say real men eat quiche. And if I ever met a man who refused a piece of quiche due to that saying, I'd feel horribly bad for him.
Quiche will most likely always hold a special place in my heart. When I was in college, every time I went home to visit my parents, my mom sent me back to school with at least 3 delicious quiches. I'd pop 2 in the freezer and keep one in the fridge, eating it all week long. It was the perfect meal for me since they generally included lots of protein and veggies and were easy to heat up and eat. My mom still makes me quiches on occasion, but I also like experimenting with my own these days.
I've been saying I want to bake with pears more for about 2 years now and for some reason I just never do. So, when I saw Closet Cooking's quiche recipe involving caramelized pears, I decided it would be perfect. Especially considering it also included pancetta and gorgonzola cheese. I made some changes, like doubling the amount of pancetta involved. Also, if you have the time, I highly suggest you also make the walnut butter pie crust as it definitely made this quiche even better. Trust me on this.
Caramelized Pear, Pancetta, and Gorgonzola Quiche:
• ½ C pancetta, diced
• 1 large shallot, diced
• 1 T butter
• 1 T brown sugar
• 2 pears, cored and sliced into bite sized pieces
• 4 eggs (lightly beaten)
• 1 C half and half
• 1 t thyme
• ¾ C gorgonzola cheese, crumbled
• 1 walnut butter pie crust, pre-baked (see recipe below)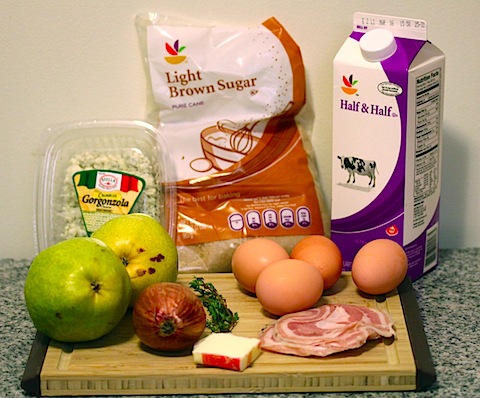 Walnut Butter Pie Crust:
• 1 C all-purpose flour
• ¼ C ground walnuts, toasted
• ½ t salt
• ½ t sugar
• 8 T (1 stick) unsalted butter, cold and cut into ½-inch cubes
• 4-5 T cold water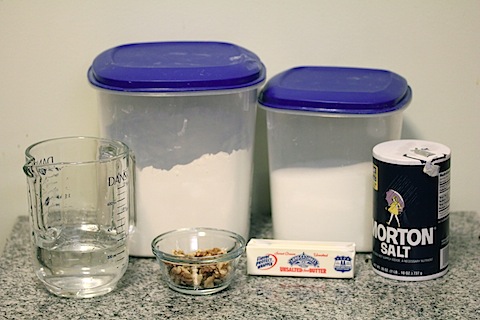 First, I got started on the crust. Now, you can definitely use a store-bought crust to make this recipe totally quick and easy, but this walnut one is exceptional! And I found it quite easy to make. I have to admit I used to have a fear of pie crust, but after making Martha Stewart's pate brisee a few times, my pie crust-making confidence is so much higher. The more you do it, the easier it gets. So, don't be discouraged if you have a tough time your first time. The second time will be better. And trust me, I'm still not nearly as good as I want to be. There will be lots more pie and quiche making in my future!
Make sure your walnuts are toasted before you grind them up.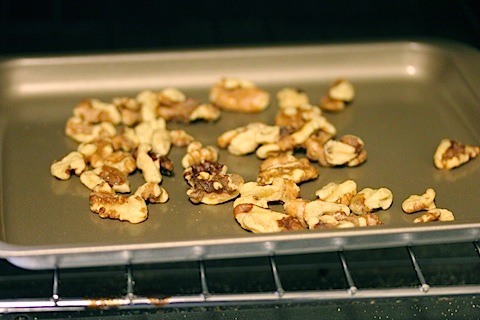 I decided to grind them in my little Cuisinart Mini-Mate Grinder/Chopper.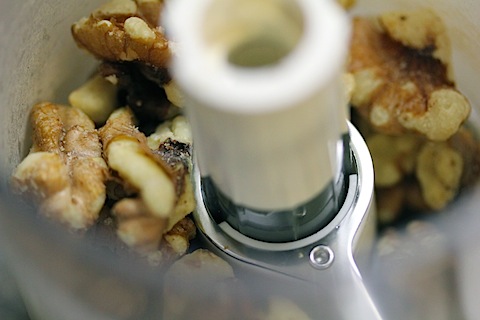 This thing works like a charm!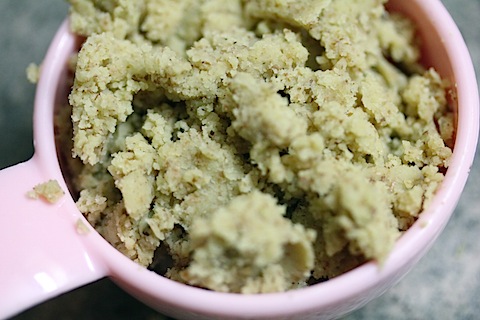 Put the flour, ground walnuts, salt, and sugar in a food processor to mix together.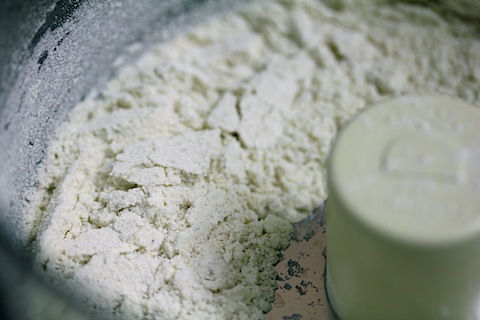 Chop your cold butter into ½ inch cubes.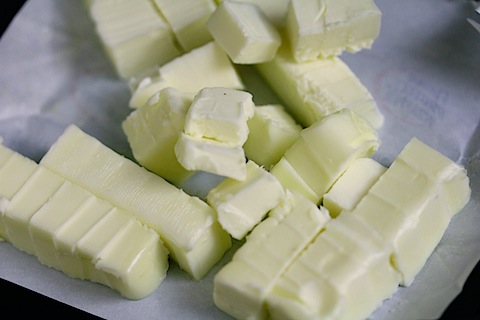 Add the butter to the flour mixture and pulse until it resembles a course meal, about 8 times.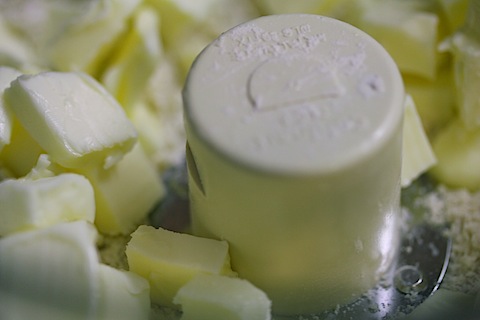 Now, add a tablespoon of water at a time, pulsing after each addition. See how the dough feels after 4 tablespoons and add a 5th if you need it to clump together more. I added all 5 tablespoons.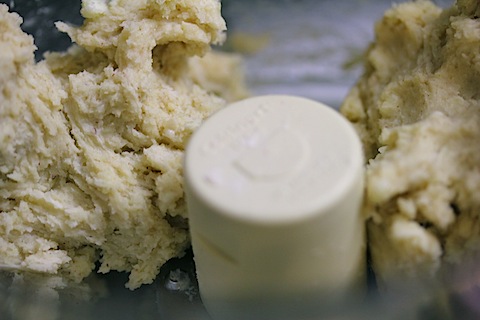 Put the dough on clean surface and shape it into a disc.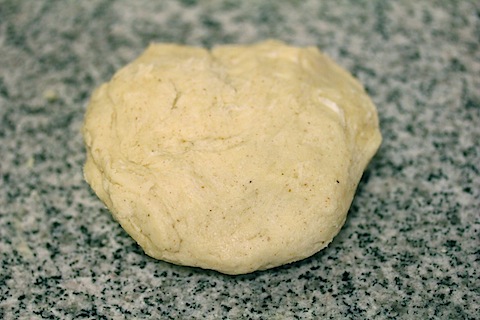 Then wrap it in plastic wrap and refrigerate it for about an hour.
Now you're ready to lightly flour a surface and roll the dough out into a 12 inch circle (about ⅛ inch thick).
Put the dough in a 9-inch diameter spring form pan, making the dough go up the edges of the pan.
I only had a 9.5-inch spring form pan, so my dough didn't go all the way up and was kind of messy-looking. I told you, I'm not even close to perfecting the whole pie crust thing!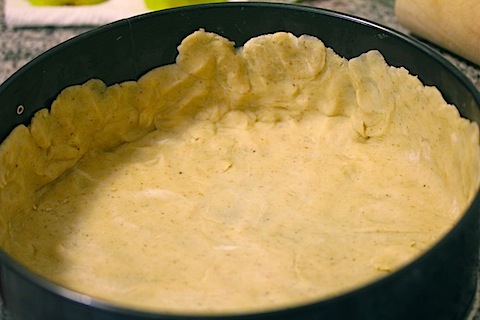 Put a piece of parchment paper in the bottom of the dough and fill with something that will hold it down (and can go in the oven). I used marbles, but really need to get some ceramic pie weights. You can also use rice or beans that you already have in your pantry.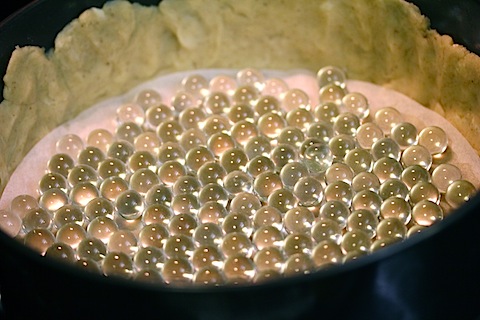 Bake the pie crust at 350 degrees for about 15 minutes.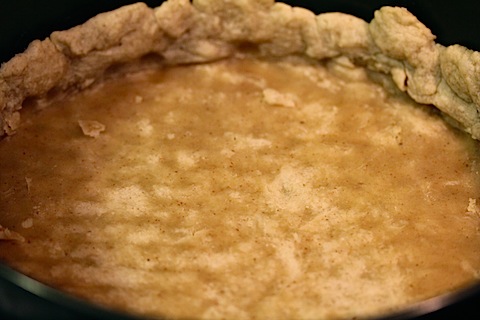 Then, remove the parchment paper and weights, use a fork to poke some holes in the bottom of the crust, and bake another 10 minutes, until light golden brown.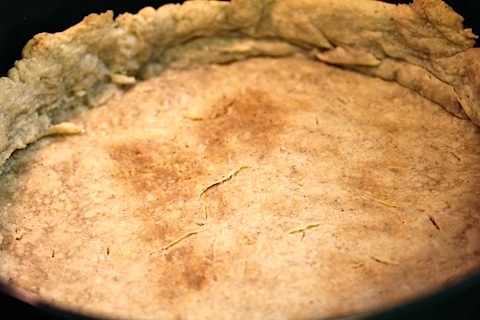 Now, get going on your quiche filling!
Chop up your pancetta, shallots, and thyme.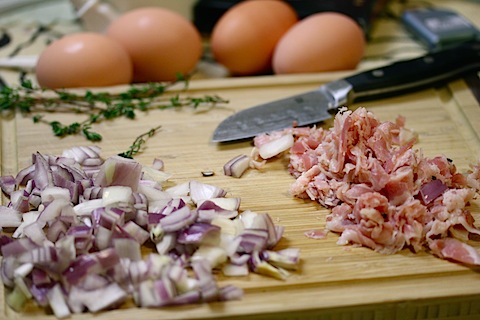 Cook the pancetta and shallot in a pan. At first, I wanted to add some olive oil, but then I realized once the pancetta started cooking, it released tons of its own oils.
Plus, then you'll be adding the butter to the pancetta and shallots and letting it melt.
Then add the sugar and let it cook until bubbly, about 3 minutes.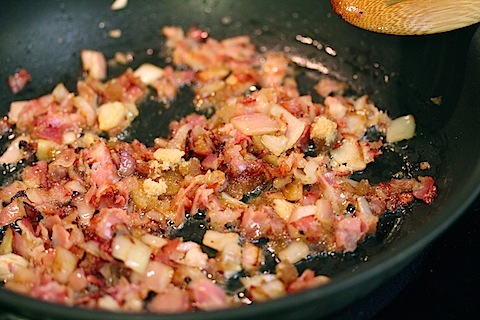 Chop up your pears into bite-sized pieces.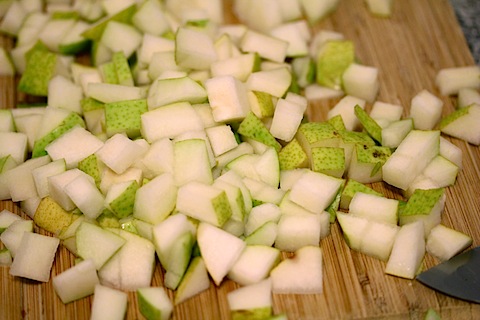 And add them to the pancetta/shallot and saute them until they're tender, about 3-5 minutes.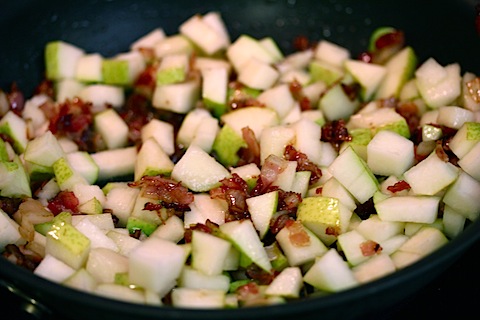 Lightly beat your eggs in a bowl.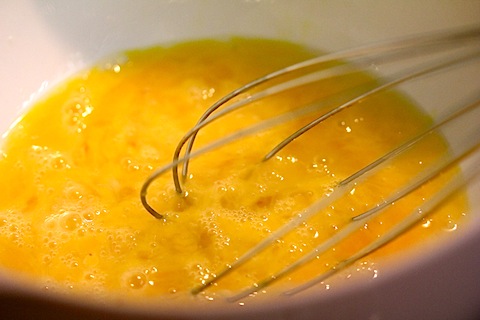 Then add the pear mixture, half and half, thyme, and gorgonzola to the eggs and mix together.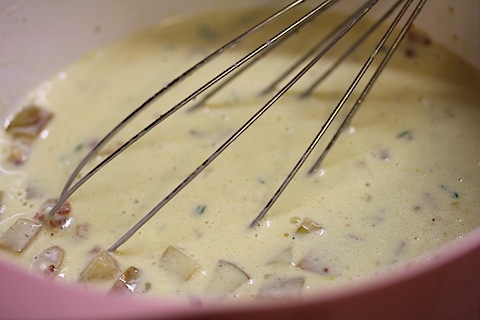 Pour the mixture into the pre-baked pie crust.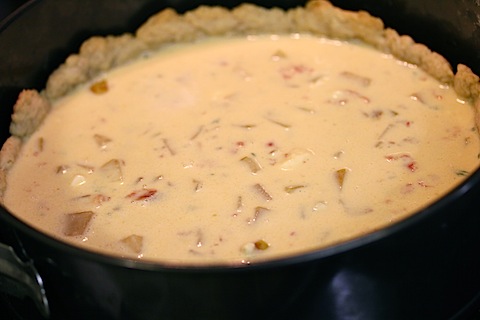 Bake the quiche at 375 degrees for about 25-45 minutes. Keep peeking to see if it's set in the center and golden brown on top. Mine took about 37 minutes.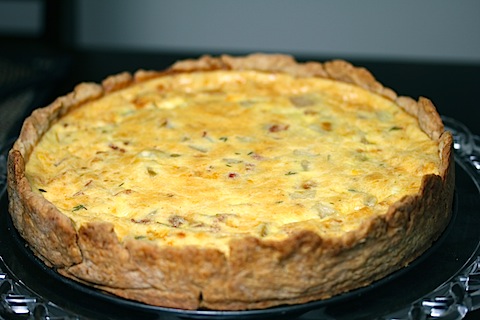 I added a little extra gorgonzola on top.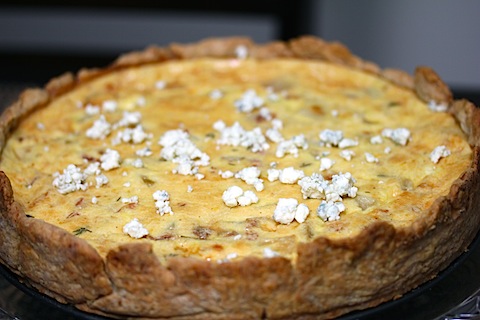 And cut a couple of nice, hearty slices. And oooh! I don't care if you're male or female, you will love this quiche. The sweetness of the caramelized pears with the sharpness of the gorgonzola worked perfectly. And, of course, the pancetta added some extra flavor and saltiness that I loved. But if you're vegetarian, it's certainly not necessary.
The walnut butter crust will most likely be my new go-to crust for quiches. It had a whole new depth from the traditional pie crust and as a bit lighter and more crumbly (a good thing in my mind).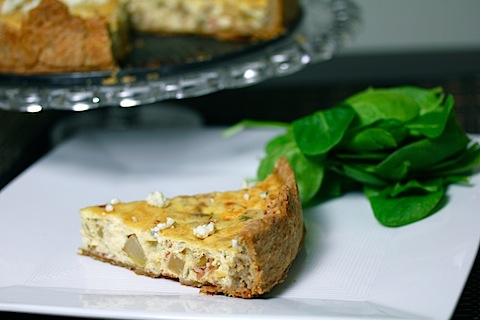 I served the quiche with a simple spinach salad. And I'll admit, Chris and I couldn't stop ourselves from eating two pieces each. And leftovers the next night. But this quiche would be equally as pleasant as a brunch. Or a lunch. Or a midnight snack.
Men with fears of quiche? Turn this one down and I'll be shocked.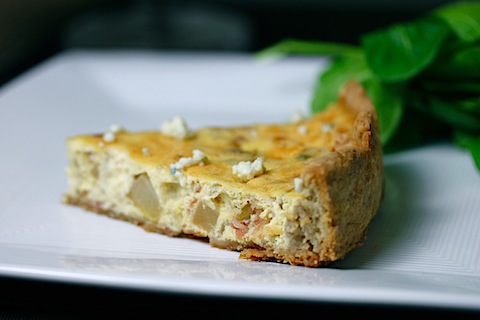 And now that I've started cooking with pears, I can't seem to stop. I made an pear, apple, cranberry crisp to take to dinner at my sister's on Saturday night and it was also delicious. I want to add pears to everything and just love that they can go with both the sweet and the savory.
But I'm also already plotting my next great quiche experiment.
What's your favorite recipe including pears?
[Sues]