Back in college, clafoutis was one of my favorite desserts to make. I made a mean blueberry one from Chris Kimball (my Cook's Illustrated/America's Test Kitchen idol. Love the man). Like everyone else, I'm a bit obsessed with Julia Child at the moment and when I saw her recipe for cherry clafoutis, I realized how long it had been since I made one. Not that I don't trust Julia (um, I do, more than anything!), but my America's Test Kitchen clafoutis always came out so perfectly, I couldn't break myself away from that recipe. Except I couldn't for the life of me find it. So, here is the recipe I concocted for my own cherry clafoutis. Simply Recipes gave me the idea to add almond extract, which I think added a nice touch, though I didn't want it to overpower the cherries.
Cherry Clafoutis:
2 C fresh cherries, pitted
3 eggs
1 C sugar
2 T brown sugar
1/2 C all-purpose flour
Pinch salt
1 C milk
1 t almond extract
2 t vanilla extract
Powdered sugar for dusting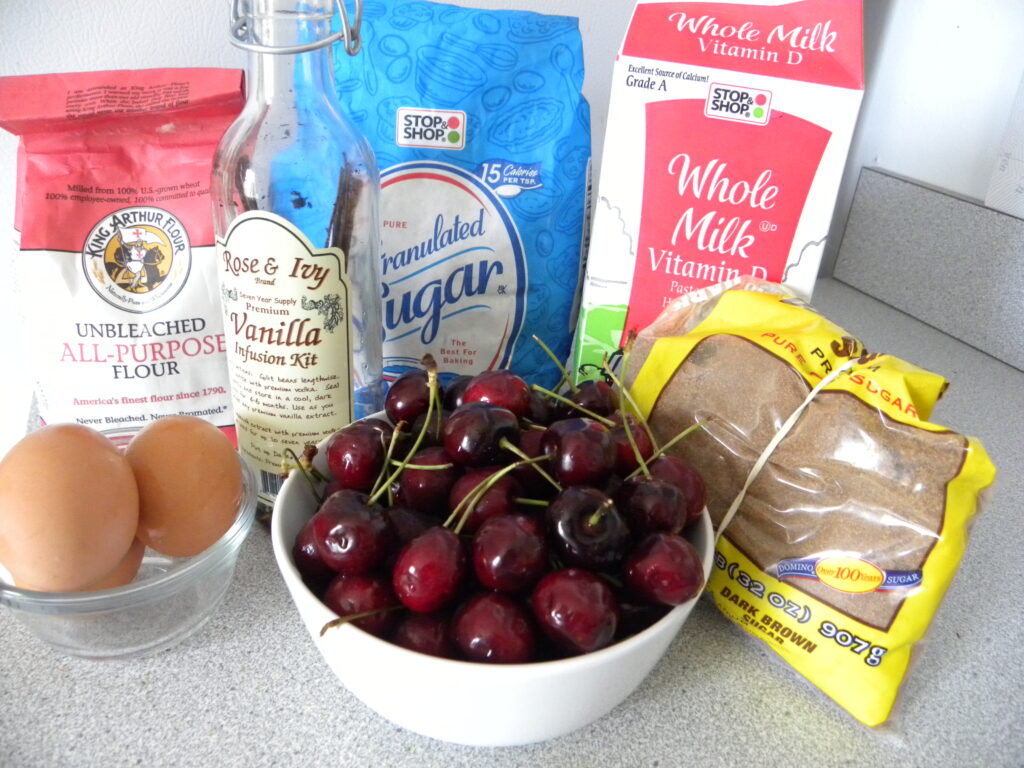 Pitting the cherries was not quite as fun as I expected it to be. OK, so I didn't exactly thing it would be fun per say, but ugh, it was kind of a pain. I did it with a toothpick, but since then reader Kelli D. suggested using a straw and I wish I would have tried that! Luckily the cherries didn't have to be beautiful-looking since they were just going in the clafoutis.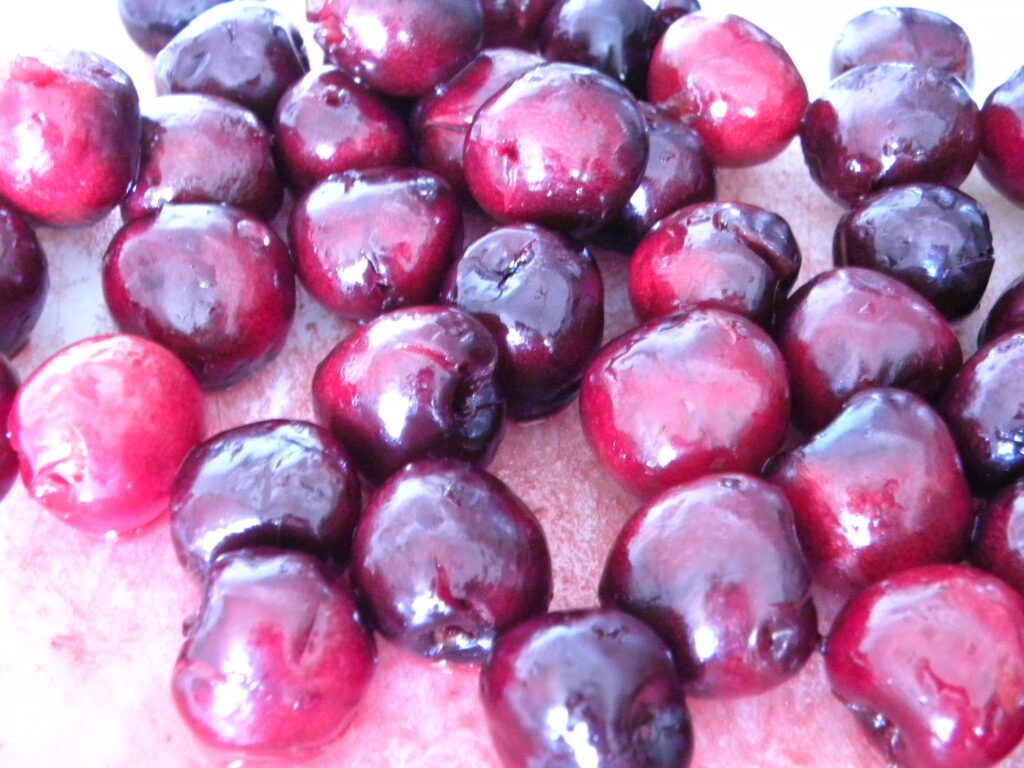 After I pittied two cups of cherries and had my kitchen looking like the scene of a murder (and I the guilty culprit), I finally got started on the rest of it. I whisked my eggs, sugar, salt, and flour together until they were smooth.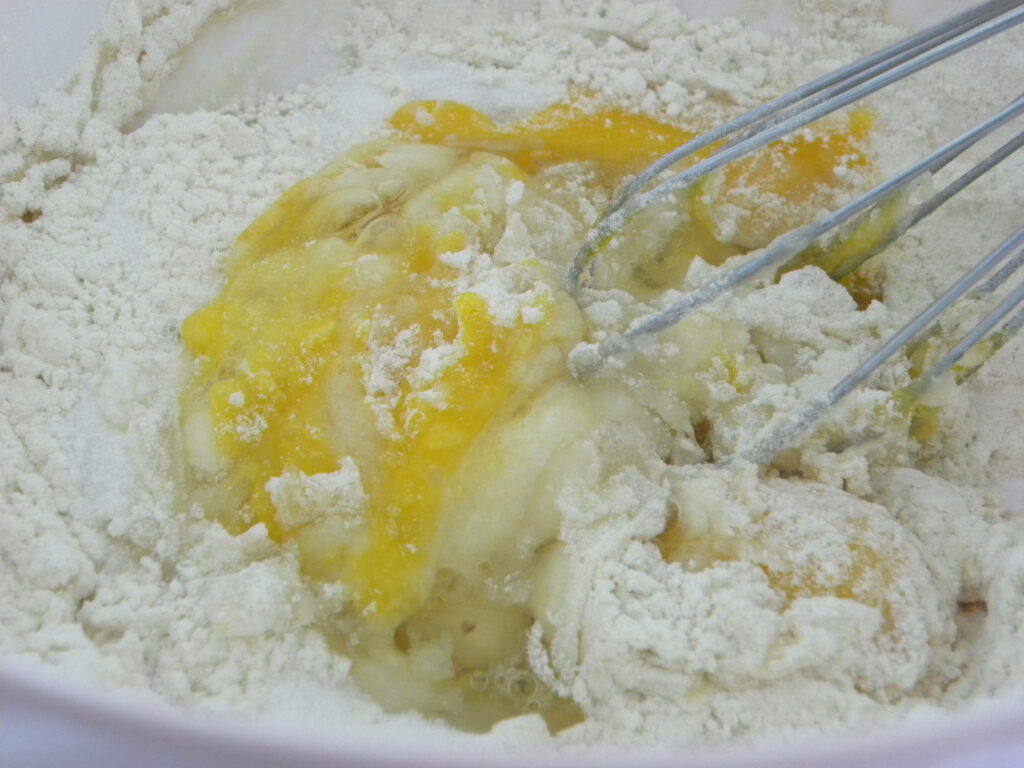 Then I placed my cherries on the bottom of my buttered and lightly floured pie dish.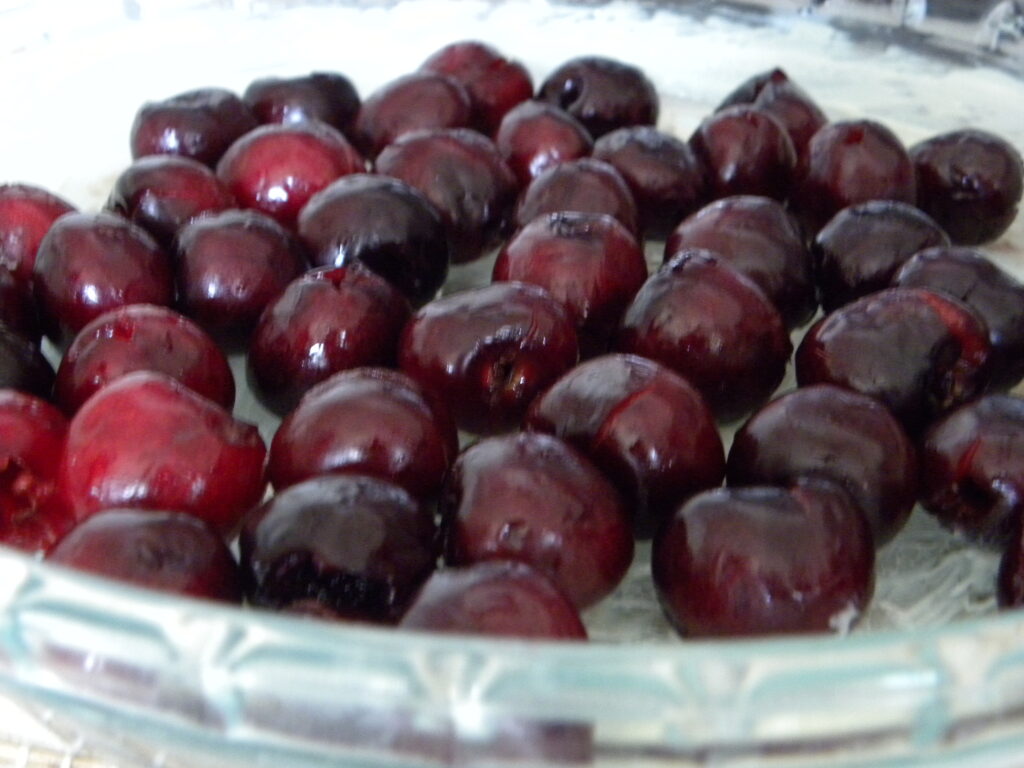 And spent a little bit of time being obsessed with my Nikon P90.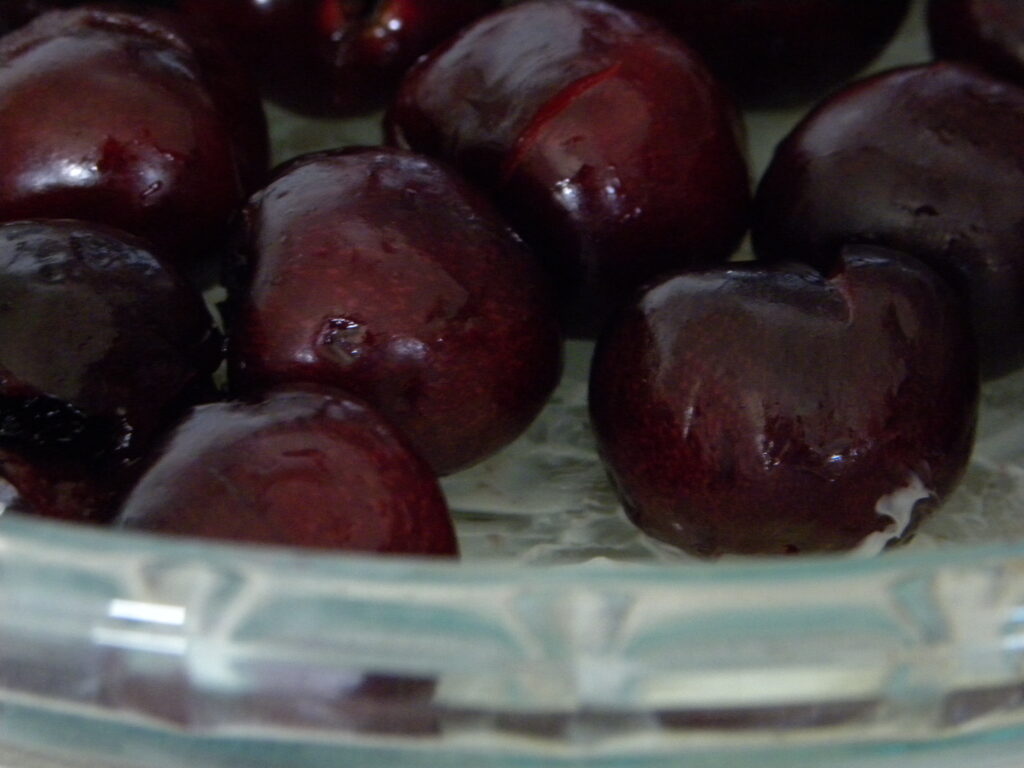 Then I poured the batter over that. And popped the dish in the 350 degree oven for about 50 minutes. And then I suddenly remember why I made these all the time in college. If it wasn't for that cherry pitting activity, that clafoutis took about 5 minutes to prepare. Most perfect dessert ever? Yes, I think so.
However, when I took it out of the oven, I started kicking myself for not searching for Chris Kimball's recipe a bit harder. It was, well, it was kinf of ugly.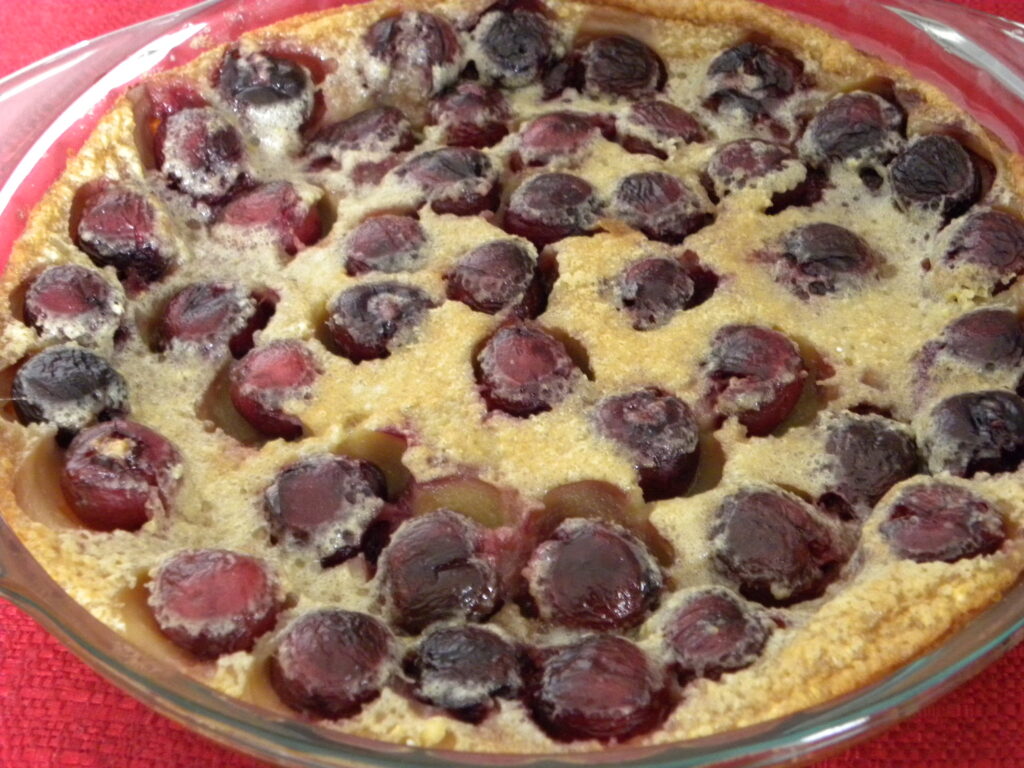 But after scouring the Internet for other clafoutis, I realized that they're just not the most beautiful dessert in the world. Well, it's beautiful in it's own way, cracks and all, mostly because it tastes so good.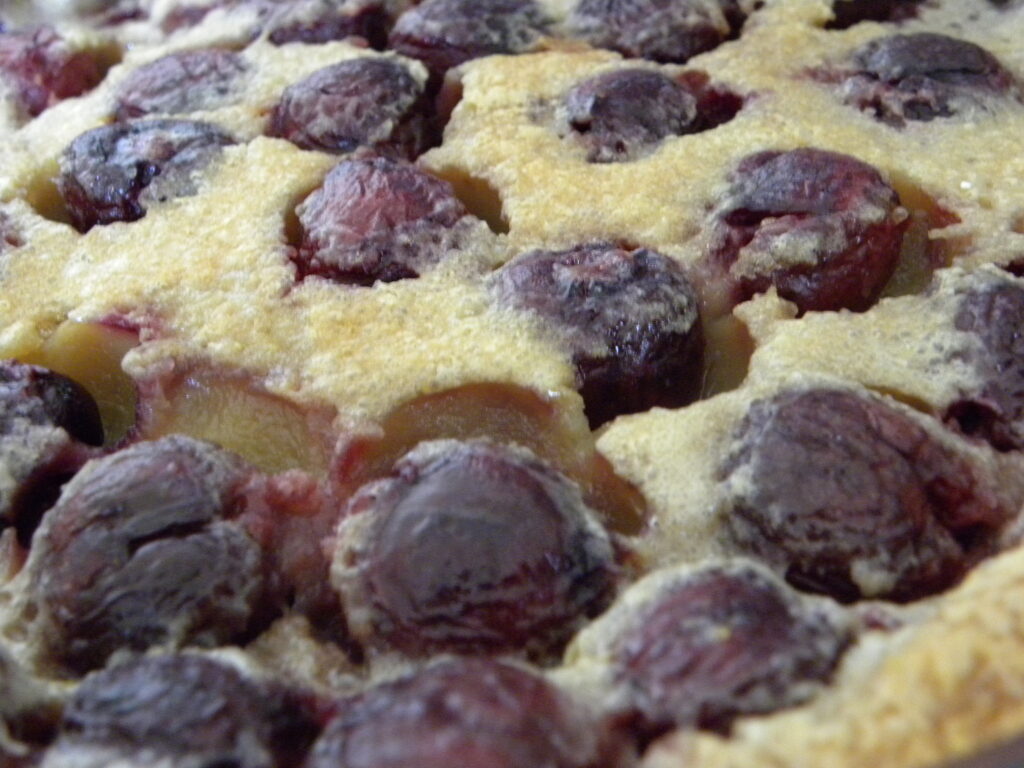 And it's certainly not anything a little powdered sugar sprinkled on top can't fix.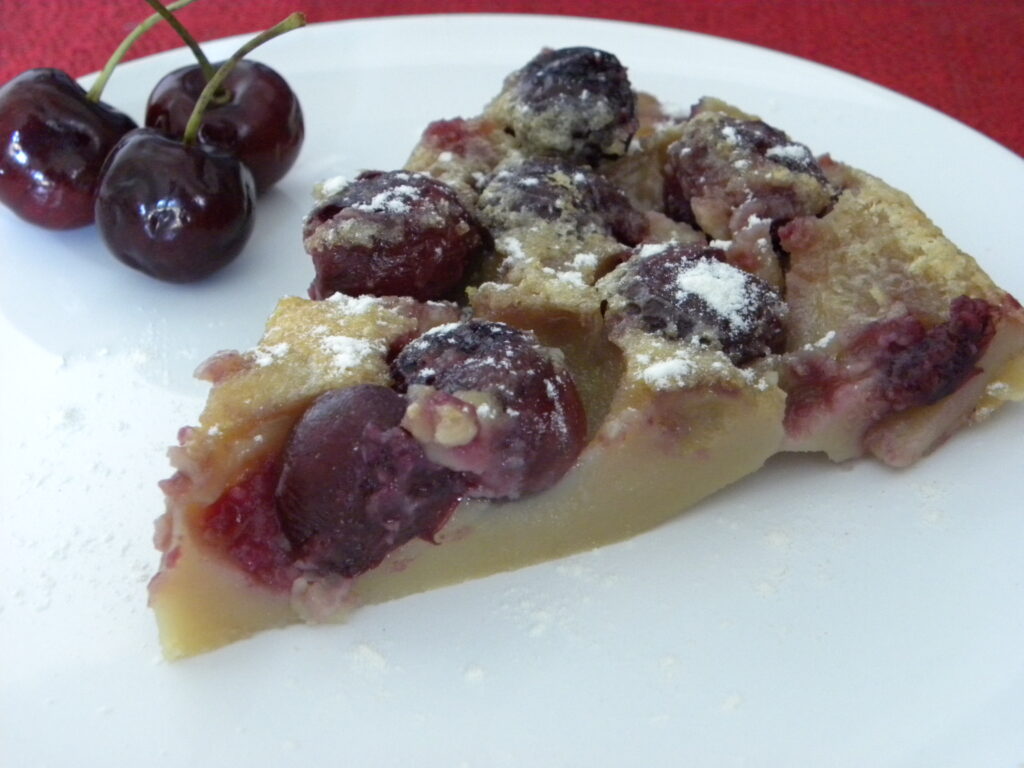 Also? I learned something new. If you're not making it with cherries, it's not clafoutis. It's actually called flognarde. So I had really been making blueberry flognarde all those years.
Actually, I learned two new things. It's suggested that you keep the pitts in the cherries for the best flavor. Not quite sure how I feel about that, but it sure would have saved some time. Oh, and one more thing. I used to call it "clafouti" but then I learned that in France, they use the "s," so obviously I added that in.
If you've never tried clafoutis, try it. It's a delicious custardy dessert and it's seriously hard not to enjoy it. Plus, if you're the kind of person who finds yourself eating dessert for breakfast, you might not feel quite so horrible about it if it's clafoutis.
And then, lo and behold, I found my beloved Chris Kimball recipe. I actually came pretty close to duplicating it. Check out the process he went through to make the clafoutis and then you'll see why I love him so dearly. And here is the Julia Child recipe. The only real reason I didn't make it is because I didn't feel like getting my blender out and I didn't want to bake the batter, add the cherries, and then finish baking it, because I knew my old way worked so well. But I would like to try it sometime.
And in honor of my French dessert I have to tell you that you really need to go see the Julie and Julia movie. I read the book and wasn't crazy about it, but the movie was SO much better. Also, read Julia Child's My Life in France. You won't regret it.
[Sues]