If you've never made clafoutis before, start with this cherry clafoutis to learn how deliciously easy it is! A cross between a cake and a custard, clafoutis makes a dreamy dessert, but can also be served for breakfast.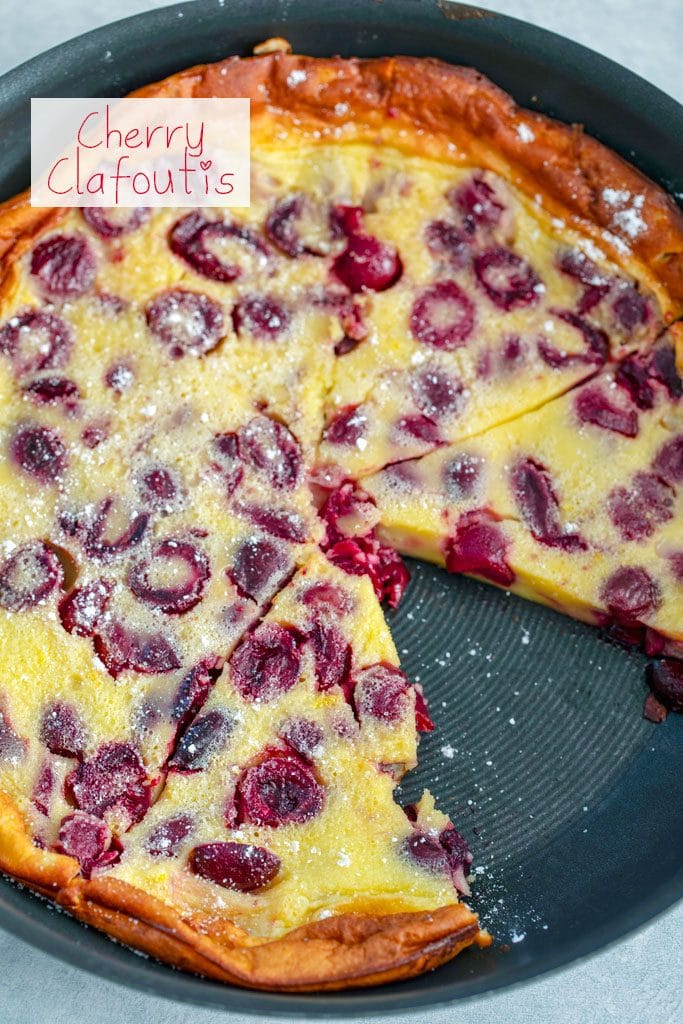 (This recipe for Cherry Clafoutis was originally published in August 209, but was updated with new photos and content in 2018).
Back in college, clafoutis was one of my favorite desserts to make. I made a mean blueberry one from Chris Kimball (my former Cook's Illustrated/America's Test Kitchen now Milk Street idol. Love the man).
From there, I started branching out to all different kinds of clafoutis with various fruits and various baking methods. In the meantime, Cook's Illustrated updated their cherry clafoutis recipe (a lovely reader alerted me to this a couple years ago) and so, I decided to update this post with the results of my new clafoutis making attempt.
Verdict? Success! If you love cooking and baking, I highly recommend a subscription to Cook's Illustrated's online resources. But if you're still a little iffy about taking the plunge, follow them on social media and you'll get access to various recipes as they post.
They also have this awesome cherry clafoutis making video that will help you understand their method and reasoning behind it.
What is Clafoutis?
First thing first. What the heck is a clafoutis, right? Clafoutis (also spelled clafouti) is a baked French dessert with a flan-like batter, often made with fruit. It's almost like a cross between a cake and a custard, but I also liken it to a German pancake in the way it poufs up a bit at the edges.
The word "clafoutis" comes from the verb clafir, which means "to fill." Generally, you arrange fruit in a pan and then fill the pan with the batter, though in this variation, I filled the pan with batter and then set the fruit in it.
You can use any fruit for a clafoutis (like I mentioned, my first clafoutis was blueberry), but cherry is the most traditional kind. Apparently, some French will even argue that if you're not making your clafoutis with cherries, then you can't actually call it a clafoutis and instead must call it "flognarde." But there seems to be some debate on that one.
Anyway, believe it or not, the French generally make their cherry clafoutis with whole cherries with the pits still in them. That doesn't sound very fun to eat, does it? The first time I made cherry clafoutis, I pitted the cherries, but still put them in whole.
This time, I pitted and halved them and I think it made for a much more enjoyable clafoutis!
Cherry Clafoutis Recipe
One update Cook's Illustrated made to their cherry clafoutis recipe is to roast the cherries before adding them to the custard. This helps dry them out a bit and also elevates the flavor.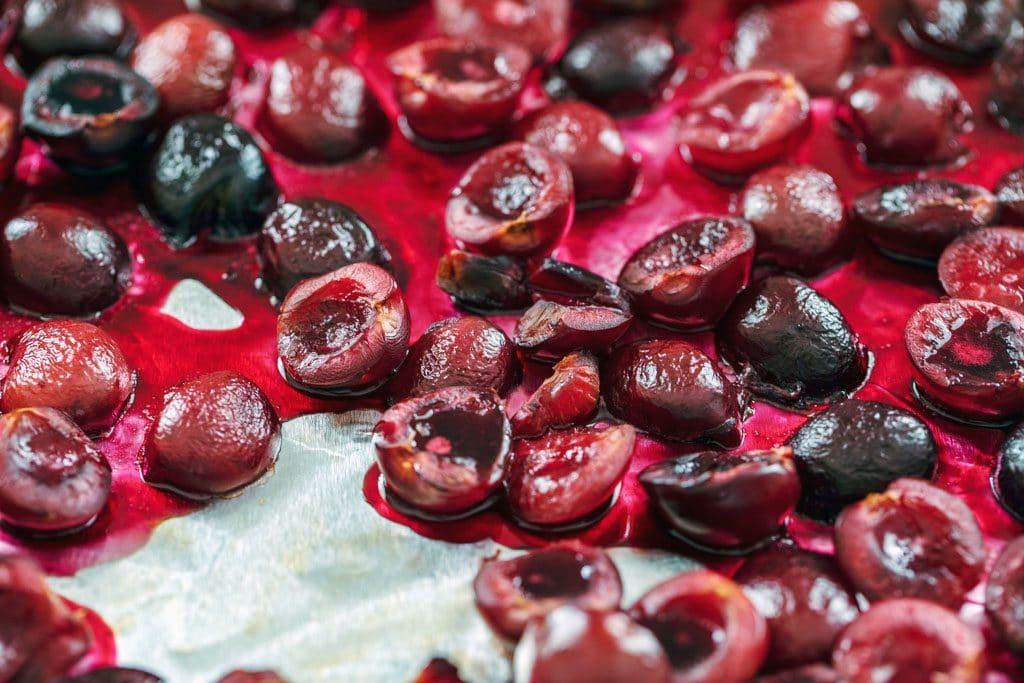 I used to really hate pitting cherries, but now I find it kind of therapeutic. That might have something to do with the fact that I employ the "pit one, eat one" method. Ha!
OK, I try to save most of the ones I pit, but sometimes it's hard to resist. Cherries are so delicious and fresh cherry season does not last long enough!
Aside from pitting the cherries, the clafoutis making process is pretty easy and basically entails making a batter with eggs, sugar, dairy, and a bit of flour.
If you watched the ATK video then you'll learn what I did... The reason the French often keep cherry pits in is for the flavor, so ATK recommends adding just a dash of cinnamon in with the cherries for that extra pizazz.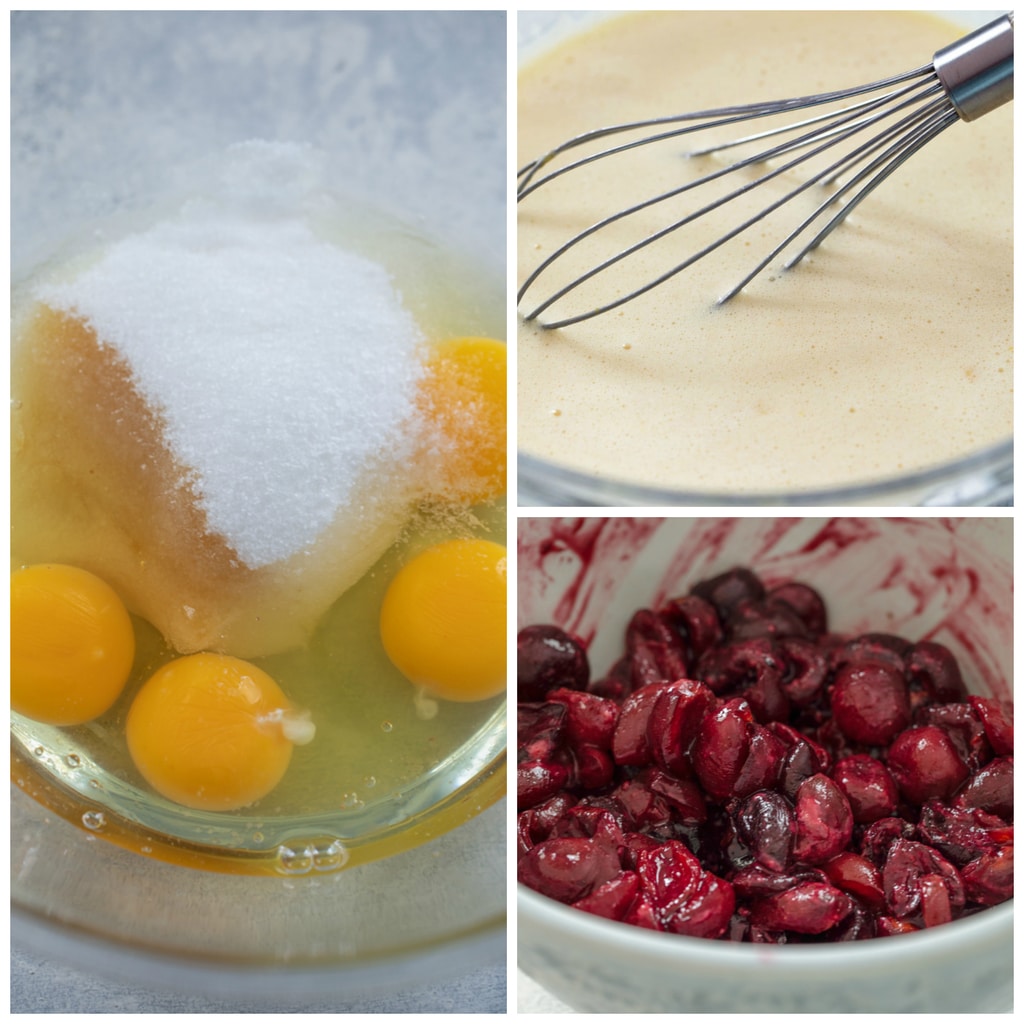 You'll want to make sure your skillet is nice and hot before melting butter in it and then pouring in the bater and scattering around the cherries.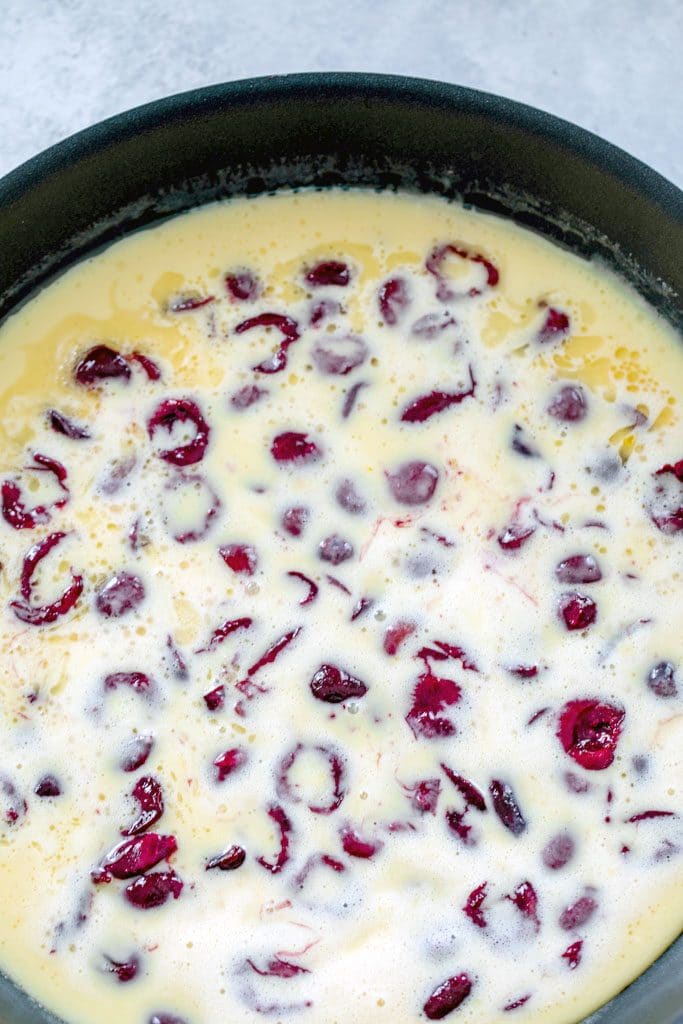 Then you just need to bake it and let it cool a bit.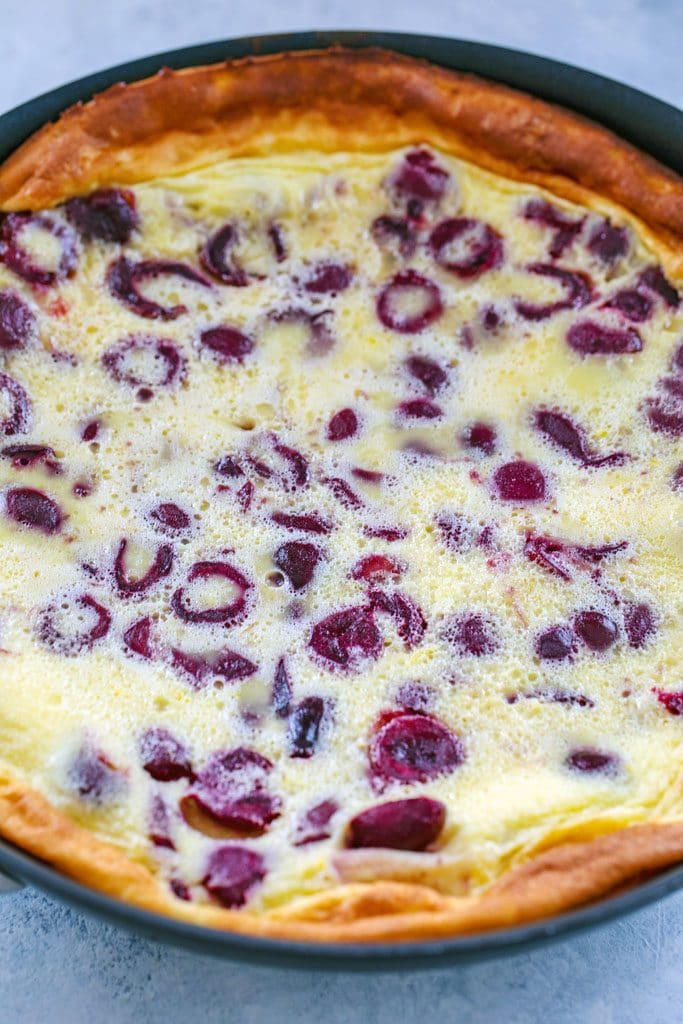 Don't forget to sprinkle the clafoutis with sugar. ATK recommends sprinkling it with granulated sugar for texture, but I prefer confectioners' sugar for the look.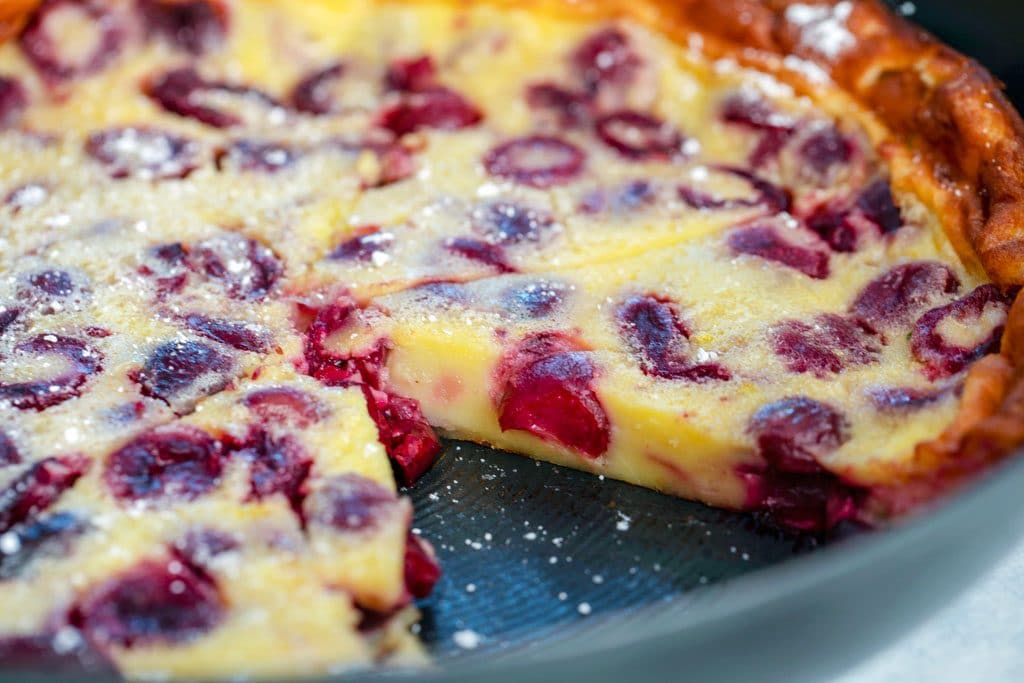 If it wasn't for that cherry pitting activity, this cherry clafoutis literally took about 5 minutes to prepare. Most perfect dessert ever? Yes, I think so.
Also? I know I joke a lot about eating desserts for breakfast, but from everything I read, clafoutis is often thought of as an acceptable breakfast. When you think about an egg, dairy, and fruit-based clafoutis versus a bowl of sugary cereal, I would have to agree that clafoutis is a very sensible breakfast!
Plus, it's totally satisfying and will probably be some motivation for getting out of bed in the morning.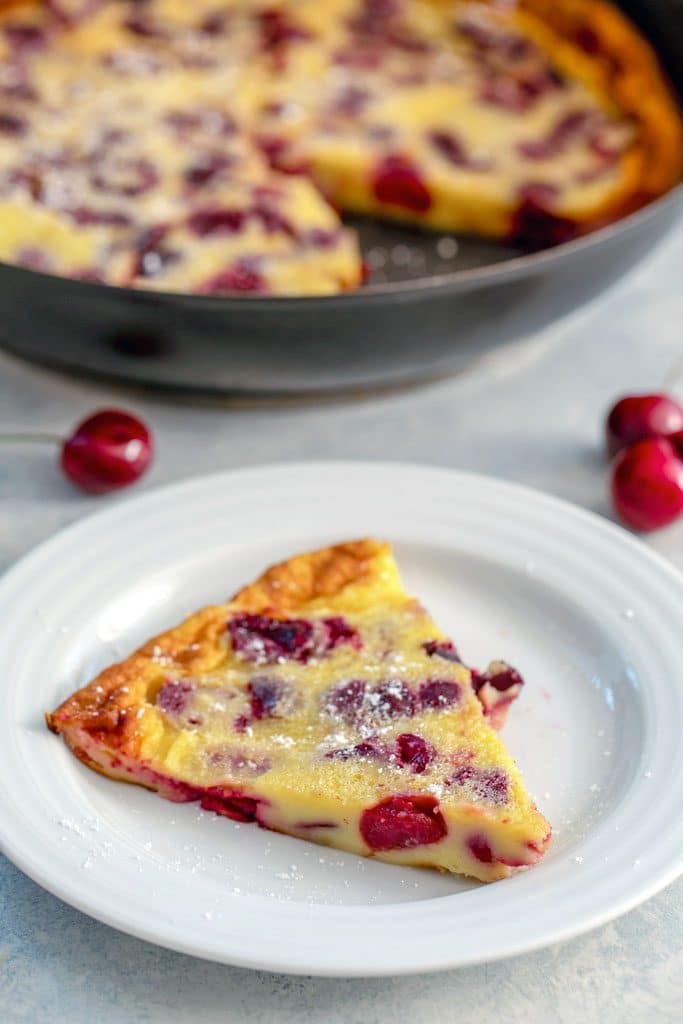 To me, clafoutis is really not the most beautiful dessert around. Which is a bit of a shame because cherries are so pretty.
But the taste more than makes up for it. Plus, my philosophy in life is "powdered sugar heals all."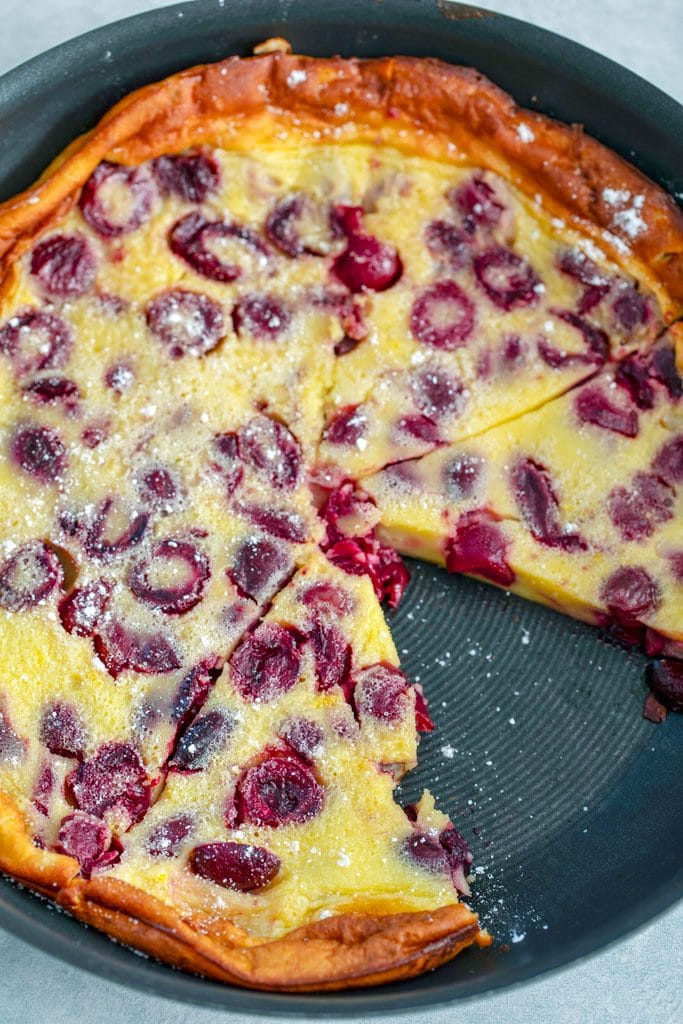 If you've never tried clafoutis, try it. It's a delicious custardy dessert and it's seriously hard not to enjoy. It's perfect for serving to a crowd, especially if you're having a French-themed dinner party. It's incredibly easy to make, but also quite impressive!
I had to laugh a little bit because I originally posted about this cherry clafoutis back in 2009 when the movie Julie and Julia was just coming to theaters (Julia Child also has an excellent clafoutis recipe). Now, I'm updating these photos in 2018 and that movie feels so incredibly old. It's just crazy how time flies...
But there are some things that never go out of style. And clafoutis is definitely one of those things!
Have you ever made a clafoutis?
For more cherry recipes, check out my Roasted Beet and Cherry Salad or my Cherry Lime Margarita. I also love this Raspberry Clafoutis from Chef Sous Chef!
📖 Recipe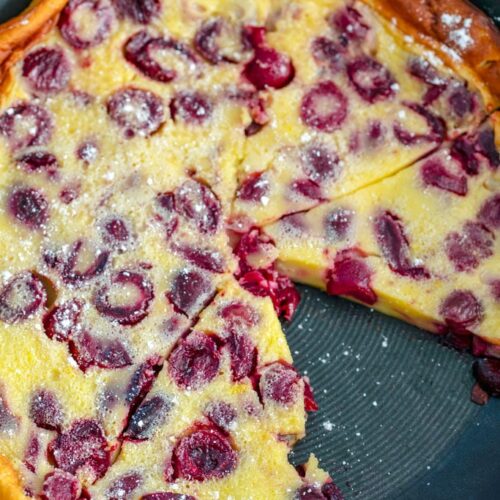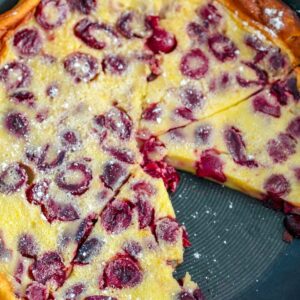 Cherry Clafoutis
If you've never made clafoutis before, start with this cherry clafoutis to learn how deliciously easy it is! A cross between a cake and a custard, clafoutis makes a dreamy dessert, but can also be served for breakfast.
Print
Pin
Rate
Ingredients
1 ½

lbs

fresh sweet cherries,

pitted and halved

1

tsp

lemon juice

½

cup plus 2 tsp

all-purpose flour,

divided

⅛

tsp

cinnamon

4

large eggs

⅔

cup

granulated sugar

2 ½

tsp

vanilla extract

¼

tsp

salt

1

cup

heavy cream

⅔

cup

whole milk

1

Tbsp

unsalted butter

Confectioners' sugar,

for sprinkling (can also use granulated sugar for texture)
Instructions
Pre-heat oven to 425 degrees.

Place cherries on a foil-lined baking sheet and put in the upper rack of the oven for 15 minutes, until cherries are starting to shrivel. On the lower rack of the oven, place a 12-inch oven-proof skillet, so it can heat up while you prepare the clafoutis.

Place roasted cherries in a medium bowl and sprinkle with lemon juice. Let cool for about 5 minutes. Combine cinnamon and 2 tsp flour together and toss mixture over the cherries.

While cherries are roasting, in a large bowl, combine eggs, sugar, vanilla extract, and salt and whisk until sugar is mostly dissolved. Add ½ cup flour and whisk until well combined.

Add heavy cream and whole milk to the bowl and whisk until smooth.

Remove skillet from oven and melt butter in it, making sure to coat entire skillet. Pour custard mixture into skillet and sprinkle cherries all around.

Place skillet back in oven for 18-22 minutes until clafoutis is browning and has an internal temperature of 195 degrees.

Let clafoutis rest for about 25 minutes before sprinkling with confectioners' or granulated sugar (confectioners' is prettier, but granulated has a better texture).
Share a Photo of Your Finished Recipe!
Mention @wearenotmartha and share a photo if you've made the recipe!