This Cherry Margarita mixes fresh cherries and lime for a very summery combo... Just add tequila and blend to enjoy a refreshing frosty summer drink!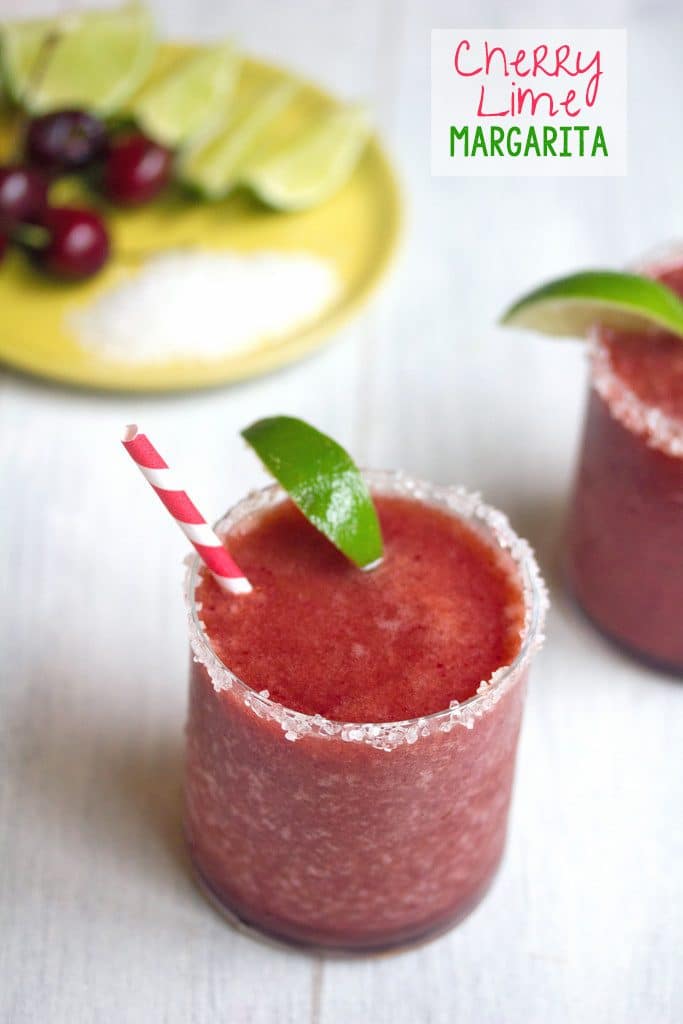 Chris and I went out to dinner the other night and had seriously the most sexist waiter ever. It was so ridiculous. First, the second I sat down and opened the drink menu, he said to me, "you'd probably like that one; it's a really girly drink." It was a blueberry vodka lemonade. Thanks? Most of my friends wouldn't refer to me as a "girly" drinker and I probably most often order drinks with bourbon/whiskey when out. Then we placed our appetizer order... Which was a cheese plate and oysters because I mean, does it even get any better than that? And he immediately looked at Chris and said "wow, I'm surprised you didn't get the meatballs. Guys always want those." Um? Like is the cheese plate not an acceptable "man" appetizer? Because the last time I checked, cheese does not discriminate. Nor do oysters. Also, I order meatballs out way more often than Chris. Le sigh. Finally, when he brought the bill, he handed me my leftovers (eggplant parm, which he didn't seem to have any issues with) and said, "for you." And then handed Chris the check and said "and this is for you!"
Geez. Well, Mr. Waiter Man, this drink is for you. It's girly in that it's a pretty color. But I think it's also manly, too, in that it's made with tequila. The lime I guess is pretty neutral. The simple syrup? Hmmm that's a tough call. But you know what? It doesn't really matter because this drink was just plain delicious and you will enjoy it no matter if you're a man or a woman! Unless you don't like cherries. Then, stay away. Also, really?
CHERRY LIME MARGARITA RECIPE
I am obsessed with cherries and have been wanting to make a nice icy drink with them for a while. Limes are an obvious match for the fruit, so I combined the two into a frosty Cherry Lime Margarita. It takes about 2 seconds to whip up… Once you're done pitting the cherries!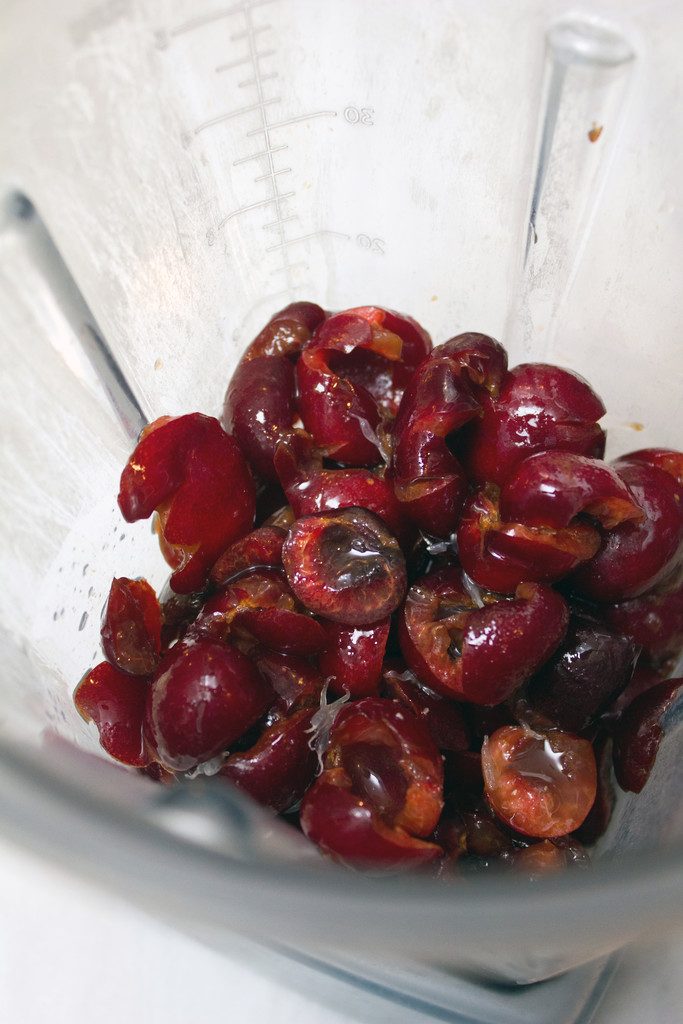 All you do is put everything into the blender: About 30 pitted cherries, ¼ cup freshly squeezed lime juice, 2 Tbsp simple syrup, 3 oz.tequila, and 2 oz. triple sec, plus 2 cups of ice. And blend away!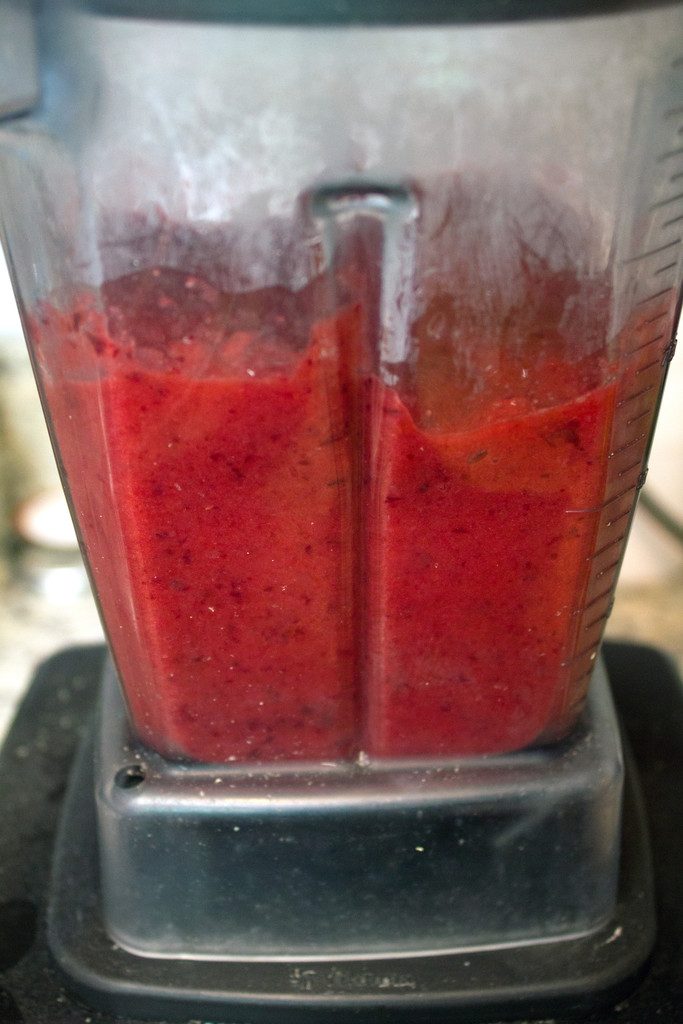 I highly recommend you also salt the rims of your glasses. Because that's what you do for margaritas! If you aren't a fan of the salt, you can always drink it with a straw… Or use sugar. It's just too pretty to resist!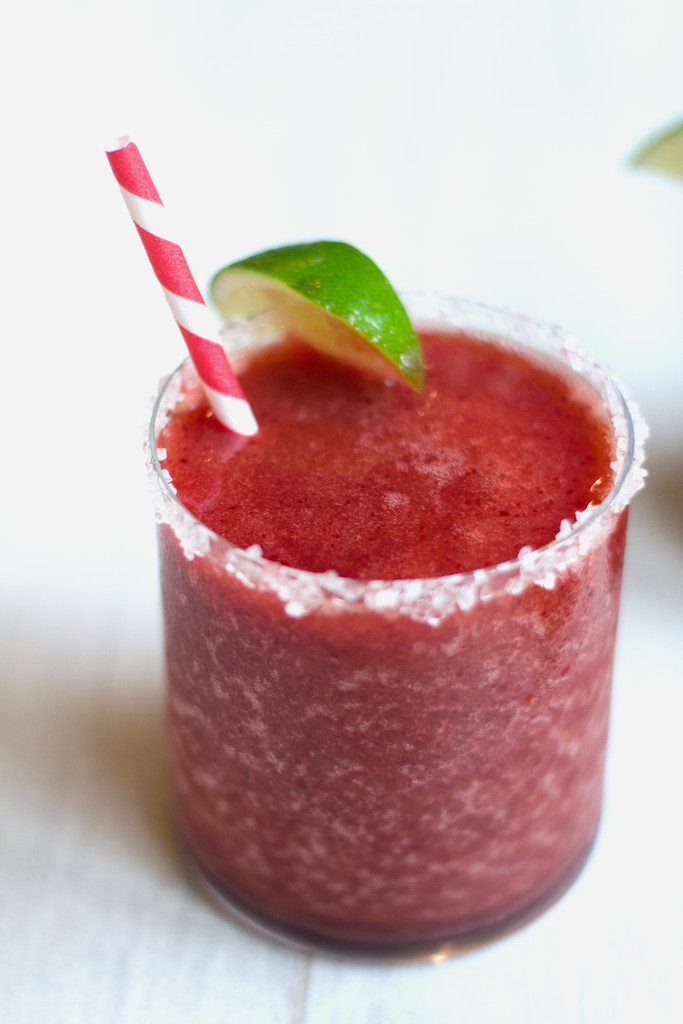 If you're making your own simple syrup for this drink (and you should! It's so easy!), all you need to do is combine 1 cup water and 1 cup sugar in a medium-sized saucepan at high heat. Bring the mixture to a boil and then lower the heat and let simmer for about 10 minutes, until syrup thickens. Remove syrup to jar or bowl and let cool to room temperature. My personal recommendation is to always have a mason jar or two of simple syrup in your fridge ready to go for times like these!
And by "times like these," I mean Cocktail Fridays. Happy Cocktail Friday, by the way!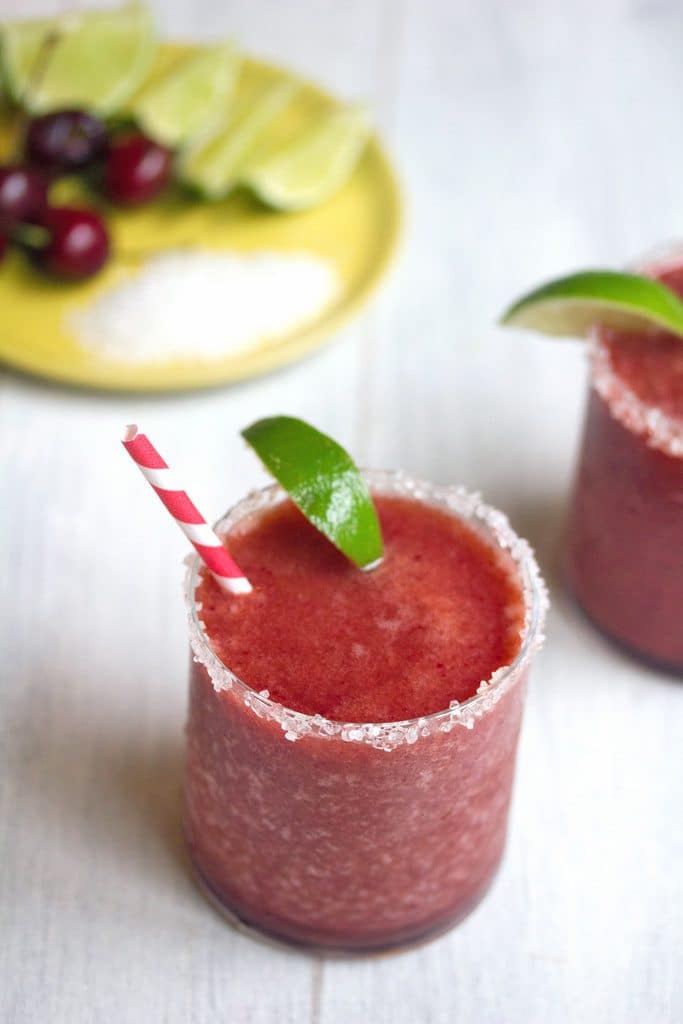 If you're a New Englander like me, it's likely you spent many years seeing commercials for the fast food place, Sonic, despite the fact that there wasn't one even semi-close to us. I always thought it must be the best place in the world, in part due to the cherry limeade everyone was obsessed with.
Well, we finally got Sonics in New England and I live super close to one now. I've only been twice and the food definitely didn't live up to the commercial hype… But that Cherry Limeade is pretty delicious. And these Cherry Lime Margaritas remind me of that a little bit. But frostier (which obviously means better). Oh, and WITH tequila! So, this one most definitely wins.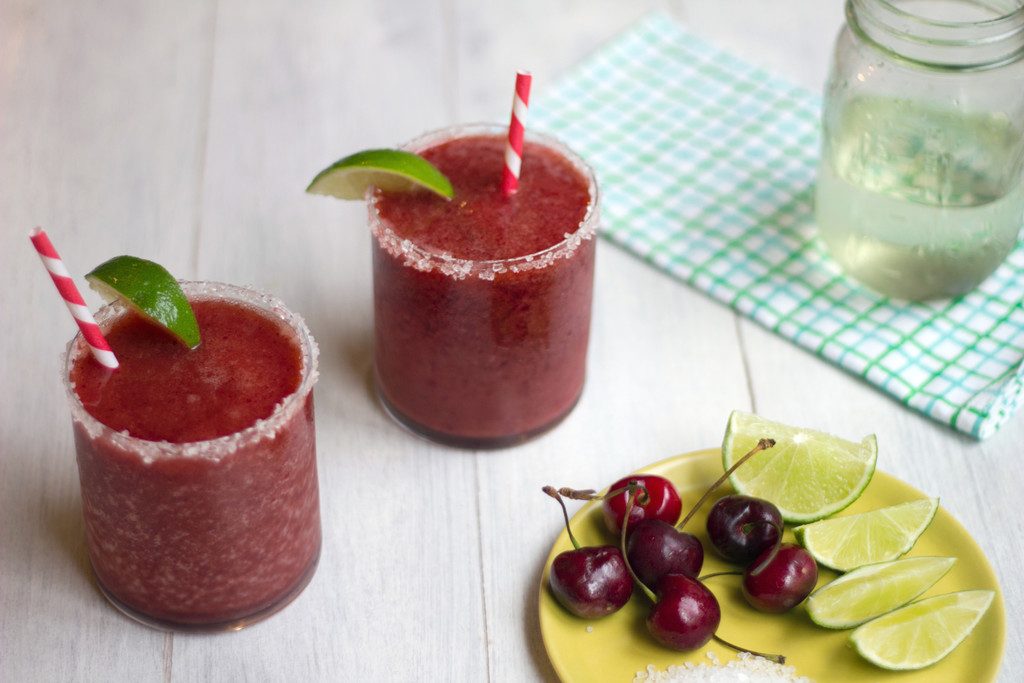 Of course, you could make a cherry margarita without tequila for the kids, but right now, it's Friday, you've had a long week, and I'm sure you need to relax. So go ahead and add the tequila!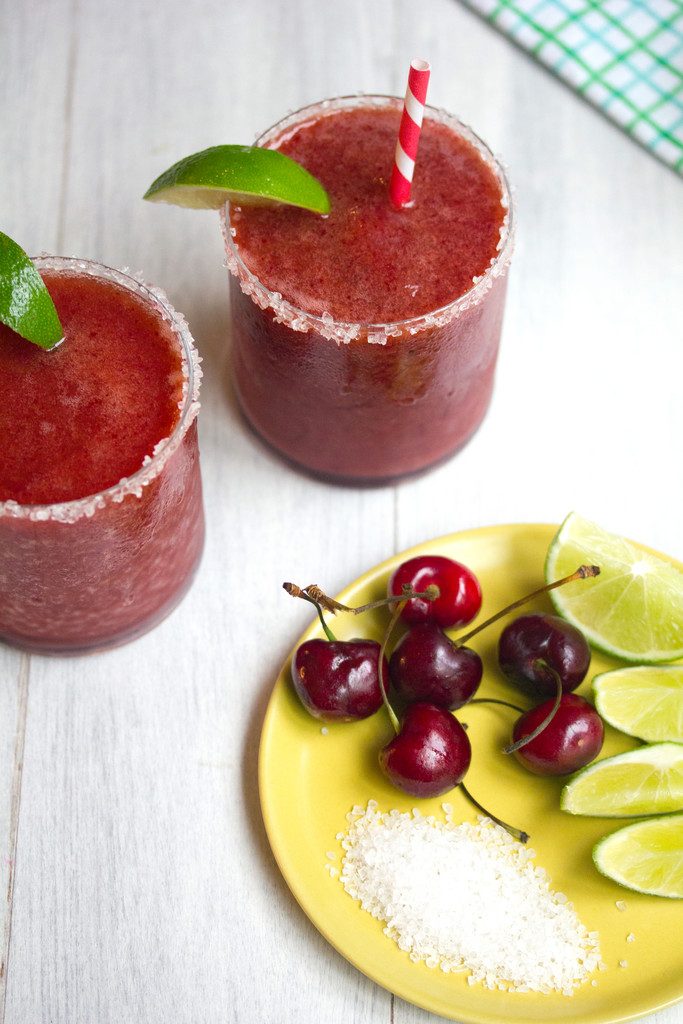 This plate is making me think this margarita should be re-created into some kind of cherry margarita tequila shot. Shot of tequila, bite of cherry, squeeze of lime, and lick of salt? I'm way too old for that.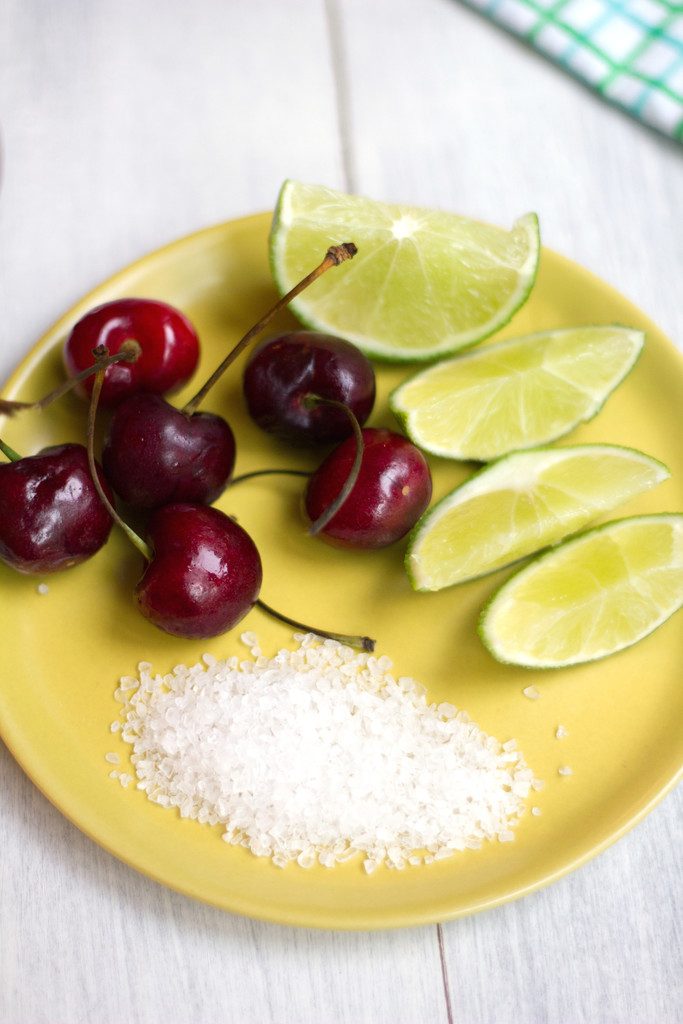 Or maybe too girly?? Nah, that can't be right. I hope you manly men out there won't let the pretty color of this cocktail deter you. In fact, I hope it makes you want this cherry margarita even more.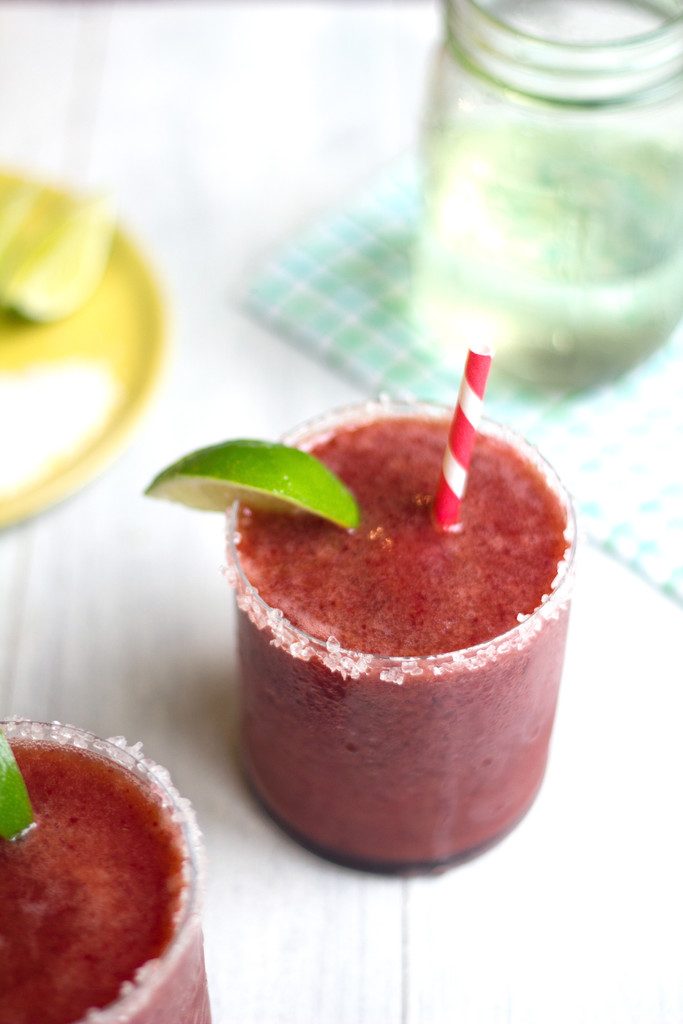 This is the way summer should be. Cherry Margaritas on Fridays. Preferably because you have the day off and you're sitting on the beach. But after work will suffice, too.
Happy Cocktail Friday and happy weekend!
What will you be sipping on this weekend?
If you like this cherry lime margarita, you may also love my recipe for Cherry Rum and Coke! If you want to put those fresh cherries in a dessert, try my Cherry Clafoutis. I also really want to try this Cherry Sorbet from Chef not Required!
📖 Recipe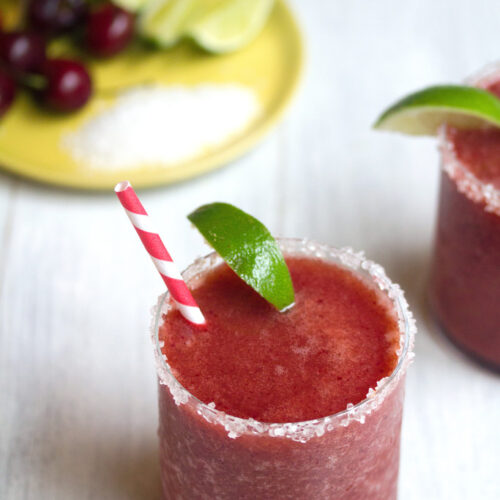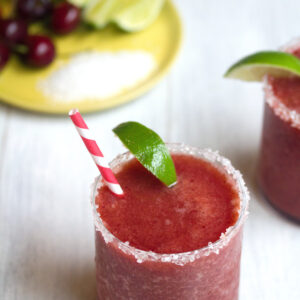 Cherry Lime Margarita
Cherry and lime are the perfect fruity flavor combination... Add tequila and blend to enjoy a refreshing frosty summer drink!
Print
Pin
Rate
Ingredients
Salt for rim

optional

2

Tbsp

simple syrup,

plus more for glass rims (recipe below)

1 ½

cupa

pitted cherries

(about 30 cherries)

¼

cup

freshly squeezed lime juice

3

oz.

tequila

2

oz.

triple sec or cointreau

2

cups

ice
Simple Syrup:
1

cup

water

1

cup

granulated sugar
Instructions
On a small plate, spread salt. Using a small pastry brush, brush simple syrup around rim of glass. Place the moistened rim of the glass in salt to coat. Set aside.

Combine pitted cherries, freshly squeezed lime juice, simple syrup, tequila, and triple sec in a blender and top with ice. Blend on high until completely smooth.

Serve in the two salt-rimmed glasses.
Simple Sugar
Combine water and sugar in a medium-sized saucepan over high heat. Bring to a boil.

Lower heat and let simmer for about 10 minutes, until syrup thickens.

Remove syrup to jar or bowl and let cool to room temperature. Store in airtight container in the fridge.
Share a Photo of Your Finished Recipe!
Mention @wearenotmartha and share a photo if you've made the recipe!