Is there anything better than a Cherry Coke? Yes, there is! A Cherry Coke AND Rum. This summer cocktail is incredibly easy to make and utilizes fresh cherries for a homemade rum and cherry coke.
(This recipe for Cherry Rum and Coke was originally posted in June 2011, but was updated with new photos in 2018).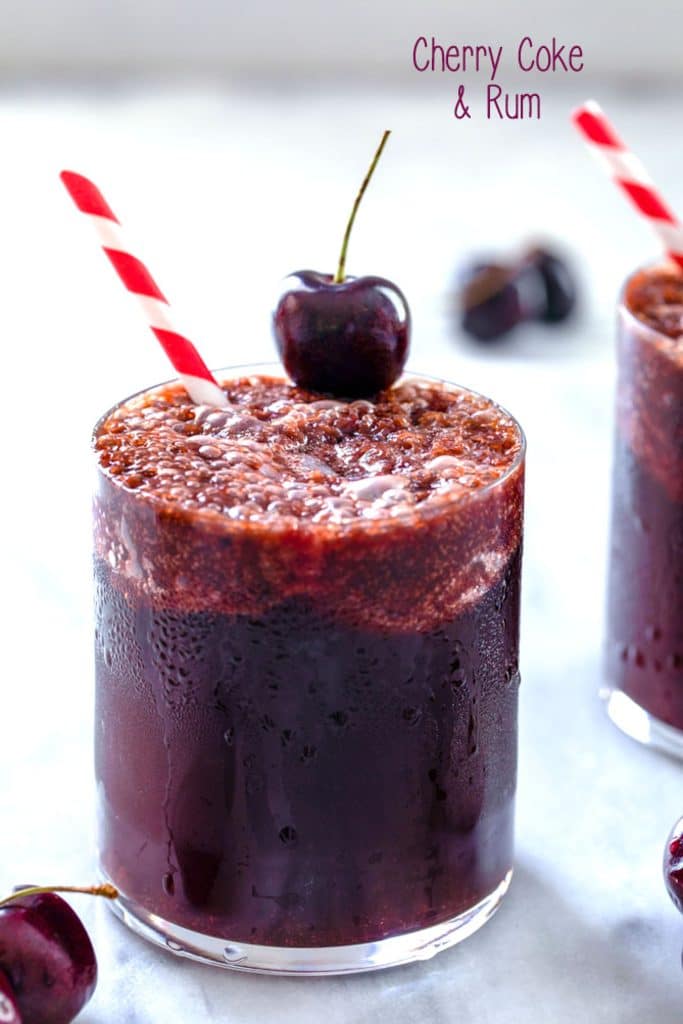 Most of my memories in life can be equated with music or food. Sometimes both. Oftentimes, music reminds me of certain foods and foods remind me of music. So, whenever I drink Cherry Coke, I think about when I was a kid dancing around the living room with my sister and dad singing the song "Cherry Coke." I kind of figured everyone knew the song (my sister and I still sing it to this day), but upon googling the lyrics, I realized it's not a very popular song. At all. Somewhere in the depths of my memory, I remembered that a group called "Bob's Diner" sang it and when I googled that, I got more results (though not many). Anyway, it goes a little something like this, "Sitting in Bob's Diner/Give me some Cherry Coke and you're mine/Cherry Coke baby/You're sweeter than wine. Cherry Coke baby..."
My point is, the entire time I was making this drink for Cocktail Friday, I was singing "Cherry Coke" to myself. And I'm pretty sure I will for the rest of my life. Though I also admit I hummed a little Rascal Flatts to myself as I carried this drink out to the deck, "I miss Mayberry/Sitting on the porch drinking ice-cold cherry Coke..." Cherry Coke is just one of those evocative drinks, I guess.
This Cherry Coke and Rum isn't a complicated drink. In fact, it's one of the simplest ever. We never have soda in our fridge but we bought some Diet Coke when Chris's mom was visiting and the idea of Cherry Coke quickly popped into my head. I went with rum because doesn't rum and Coke just make sense? Though I'm pretty sure I haven't had a rum and Coke since college. The rum definitely does help this Cherry Coke become "sweeter than wine."
CHERRY COKE AND RUM RECIPE
This recipe is super quick and easy and mainly requires pitting the cherries, turning them into a puree, and mixing them with rum.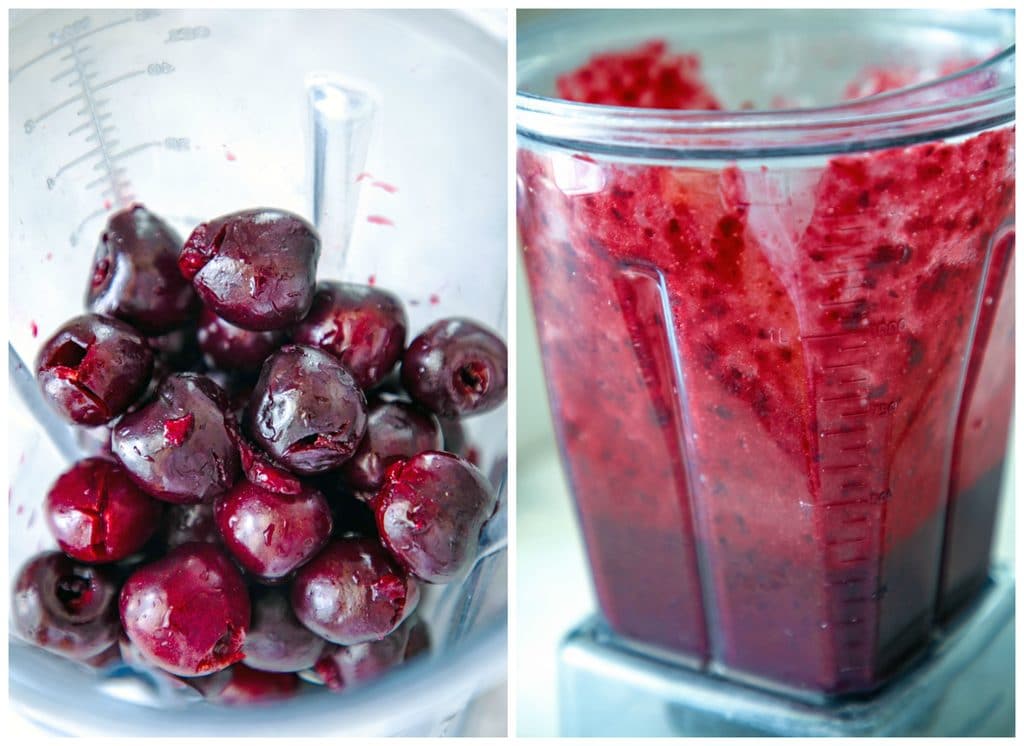 Once you have your cherry puree and rum mixed, pour it into ice-filled glasses and then fill the rest of the way with Coke. Or Diet Coke. Or really, the cola of your choice.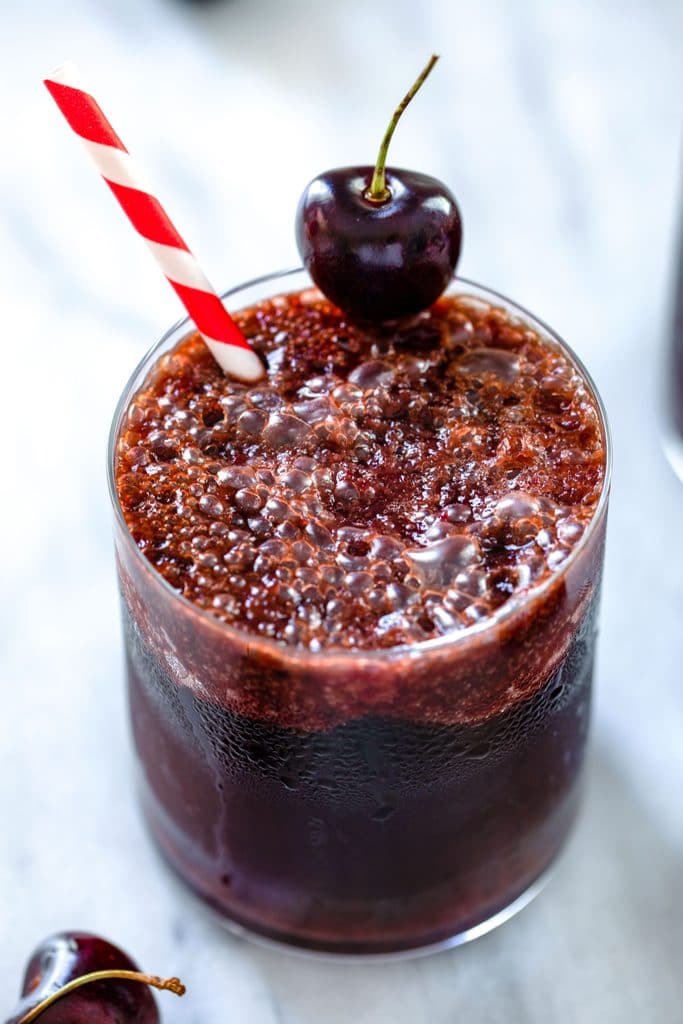 And this is delicious. Not overly sweet (I used Diet Coke), but very flavorful. The flavors of summer. And childhood. Minus the rum. Really, I promise. I was a goody-two-shoes growing up and definitely didn't drink rum. But now I'm all about the rum (to be fair, I really don't think I've actually had a rum and Coke since college, but now I'm back in the game).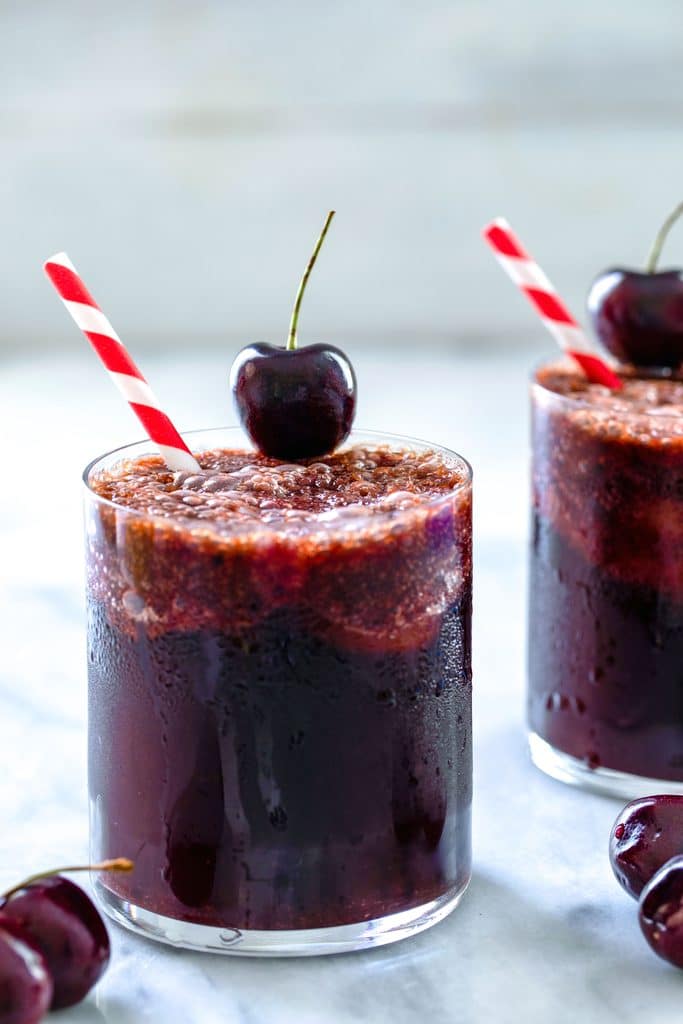 I'm really treasuring my Cocktail Fridays when I can have them. And I won't lie, sometimes cocktail Friday happens in the middle of the week and sometimes it's just with wine or beer or water. It gives Chris and I a time to just sit outside and chat without the distraction of the computer, television, or kitchen (what? the kitchen distracts me ALL the time).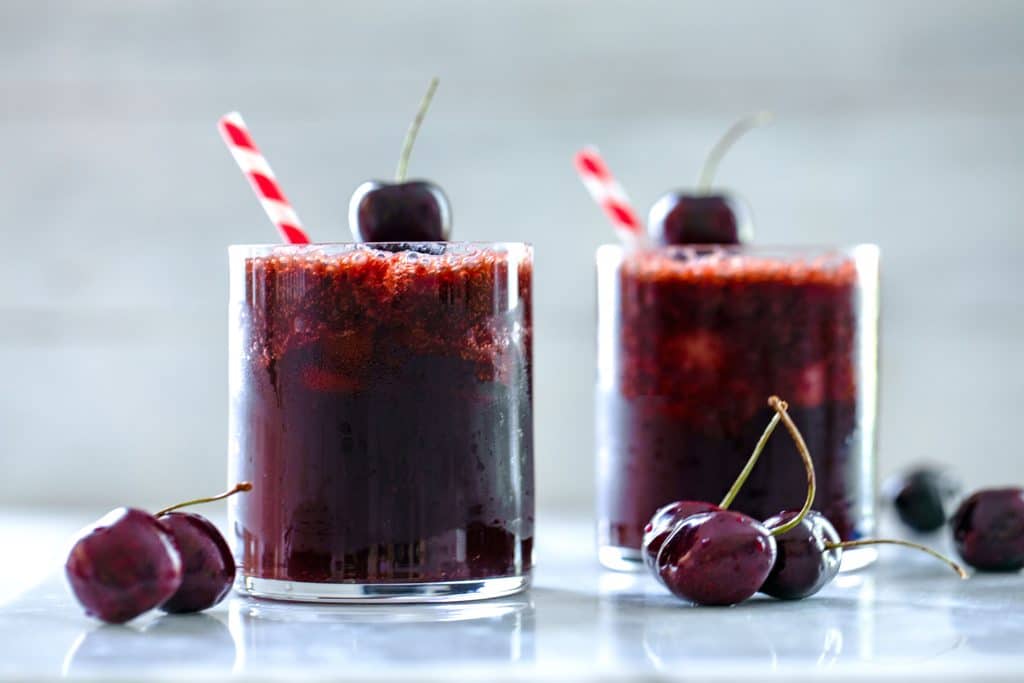 Can I tell you how excited I am that it's finally cherry season again? I can't resist buying cherries whenever I spot them at the grocery store. And even though they always seem to be on sale, they're still ridiculously expensive. Especially when it's only at the register that you realize you're purchasing 2.5 pounds. Oops. Worse things have happened.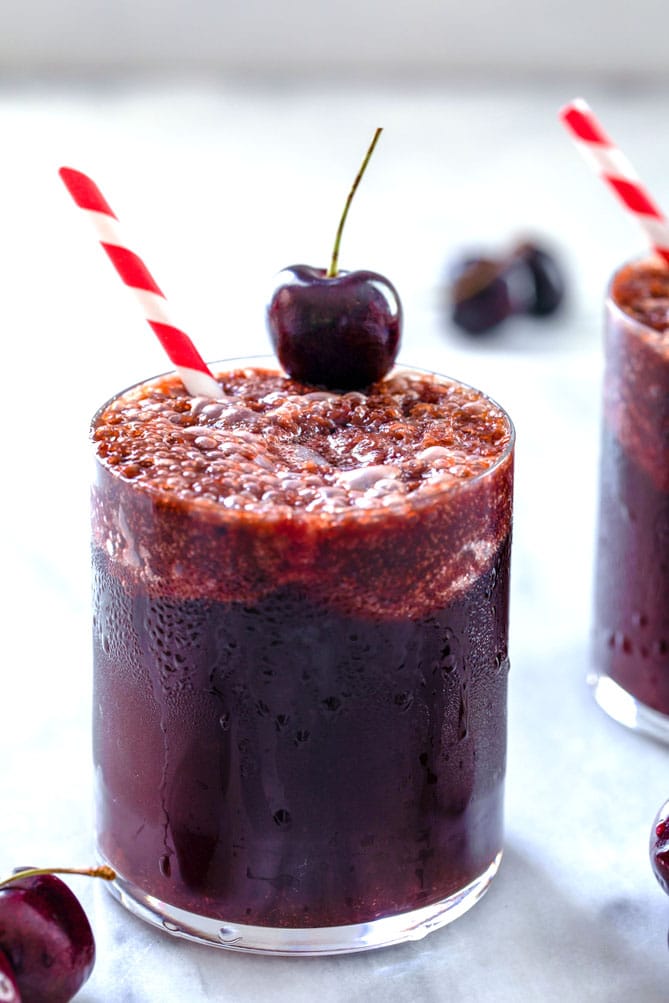 Happy Cocktail Friday, to everyone!! I'm really looking forward to a low-key weekend that involves a BBQ my dad is throwing (which means lots of good food and drinks) and hanging out with my mom. I wish the weather was going to be a bit more fantastic, but I won't complain. It's the weekend, after all!
I hope your weekend involves all kinds of fabulous things like rum and cherry coke!
Do you have any foods you often find yourself breaking into song around?
For other great cherry recipes, check out this Cherry Clafoutis or this Grilled Guacamole with Cherries and Habanero. I also love this Cherry Chocolate Milkshake from Lemons + Zest!
📖 Recipe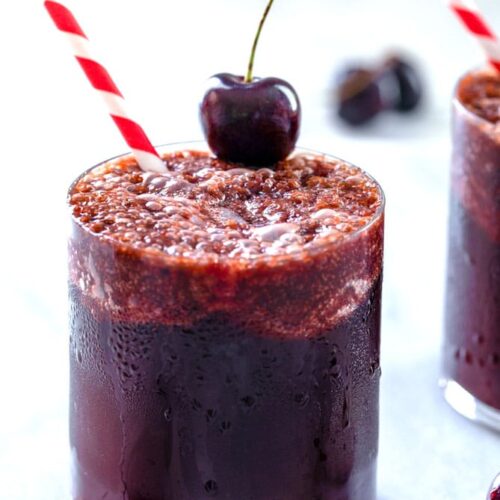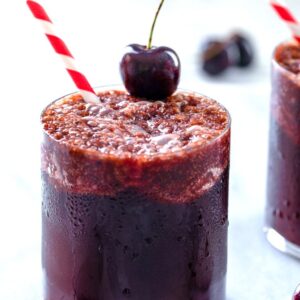 Cherry Coke and Rum
Is there anything better than a Cherry Coke? Yes, there is! A Cherry Coke AND Rum. This summer cocktail is incredibly easy to make and utilizes fresh cherries for a homemade rum and cherry coke.
Print
Pin
Rate
Ingredients
1 ½

cups

cherries,

pitted

6

oz.

rum

2

cans (24 oz.)

Coke

(Diet Coke if you prefer)
Instructions
Put the pitted cherries in a blander and blend until smooth. Add rum and process until combined.

Divide cherry/rum mixture between four ice-filled glasses, filling them each halfway. Fill each glass the rest of the way with Coke or Diet Coke.
Share a Photo of Your Finished Recipe!
Mention @wearenotmartha and share a photo if you've made the recipe!