Most of my memories in life can be equated with music or food. Sometimes both. Oftentimes, music reminds me of certain foods and foods remind me of music. So, whenever I drink Cherry Coke, I think about when I was a kid dancing around the living room with my sister and dad singing "Cherry Coke." I kind of figured everyone knew the song (my sister and I still sing it to this day), but upon googling the lyrics, I realized it's not a very popular song. At all. Somewhere in the depths of my memory, I remembered that a group called "Bob's Diner" sang it and when I googled that, I got more results (though not many). Anyway, it goes a little something like this, "Sitting in Bob's Diner/Give me some Cherry Coke and you're mine/Cherry Coke baby/You're sweeter than wine. Cherry Coke baby…"
My point is, the entire time I was making this drink for Cocktail Friday, I was singing "Cherry Coke" to myself. And I'm pretty sure I will for the rest of my life. Though I also admit I hummed a little Rascal Flatts to myself as I carried this drink out to the deck, "I miss Mayberry/Sitting on the porch drinking ice-cold cherry Coke…" Cherry Coke is just one of those evocative drinks, I guess.
This Cherry Coke and Rum isn't a complicated drink. In fact, it's one of the simplest ever. We never have soda in our fridge but we bought some Diet Coke when Chris's mom was visiting and the idea of Cherry Coke quickly popped into my head. I went with rum because doesn't rum and Coke just make sense? Though I'm pretty sure I haven't had a rum and Coke since college. The rum definitely does help this Cherry Coke become "sweeter than wine."
Cherry Rum and Coke (makes 2 drinks):
Print this recipe!
• 6 oz. silver rum
• 1.5 C cherries, pitted and halved
• 1 can Coke (diet, if you please)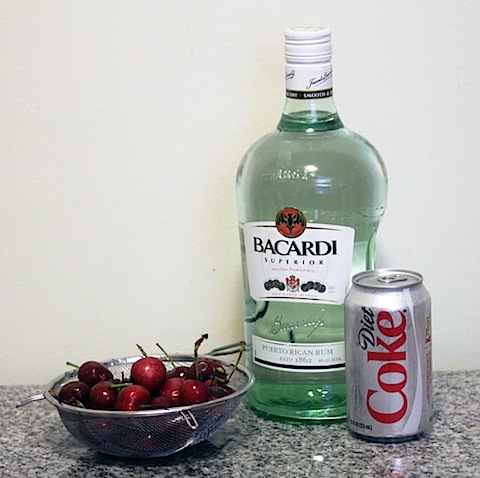 Can I tell you how excited I am that it's finally cherry season again? I can't resist buying cherries whenever I spot them at the grocery store. And even though they always seem to be on sale, they're still ridiculously expensive. Especially when it's only at the register that you realize you're purchasing 2.5 pounds. Oops. Worse things have happened.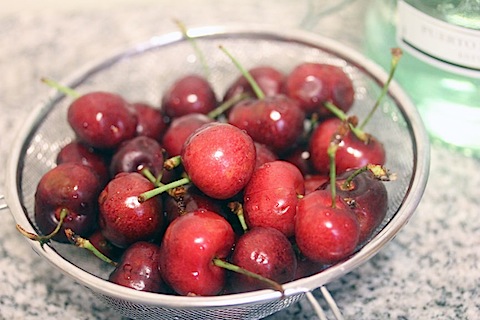 Put the pitted and halved cherries in a blender. Add in the rum.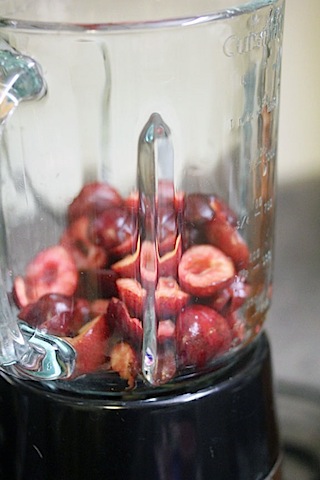 Blend away until the cherries are nice and pureed.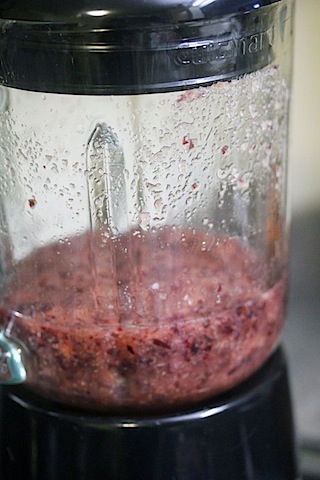 Pour in a glass and top off with as much Coke as needed.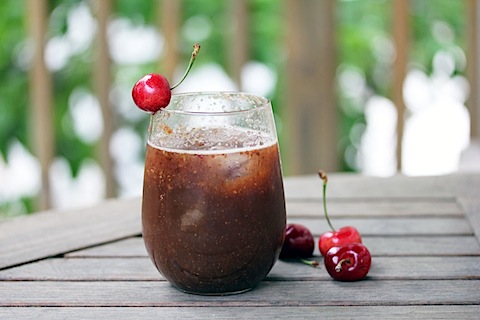 It's not the most beautiful drink in the world, but what did you expect cherry coke to look like? 🙂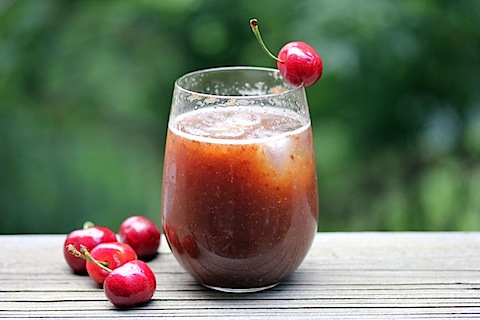 And it was delicious. Not overly sweet (though you could easily add a simple sugar if you want it sweeter… or use regular Coke), but very flavorful. The flavors of summer. And childhood. Minus the rum. Really, I promise. I was a goody-two-shoes growing up and definitely didn't drink.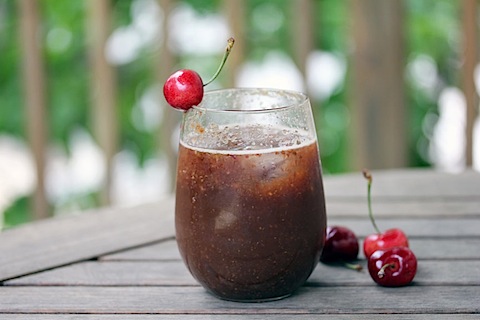 I'm really treasuring my Cocktail Fridays when I can have them. And I won't lie, sometimes cocktail Friday happens in the middle of the week and sometimes it's just with wine or beer or water. It gives Chris and I a time to just sit outside and chat without the distraction of the computer, television, or kitchen (what? the kitchen distracts me ALL the time).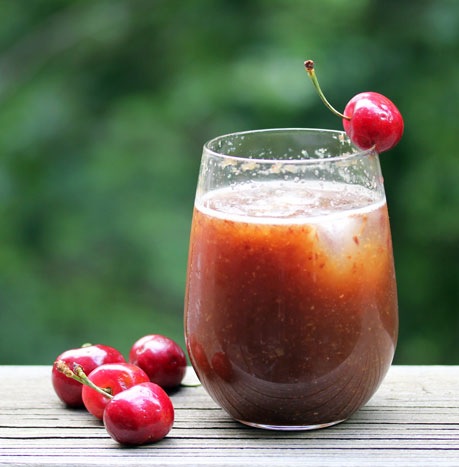 Happy Cocktail Friday, to everyone!! I'm really looking forward to a low-key weekend that involves a BBQ my dad is throwing (which means lots of good food and drinks) and hanging out with my mom. I wish the weather was going to be a bit more fantastic, but I won't complain. It's the weekend, after all!
Oh, and I'm also kind of celebrating the fact that it's only 364 days until I marry my best friend 🙂 I can't believe it's less than a year until my wedding with Chris. I have a feeling it's going to fly!
Do you have any foods you often find yourself breaking into song around?
[Sues]