These Chicken, Avocado, and Corn Burritos are topped with feta sauce and make for a fresh and flavorful weeknight dinner that's incredibly quick and easy!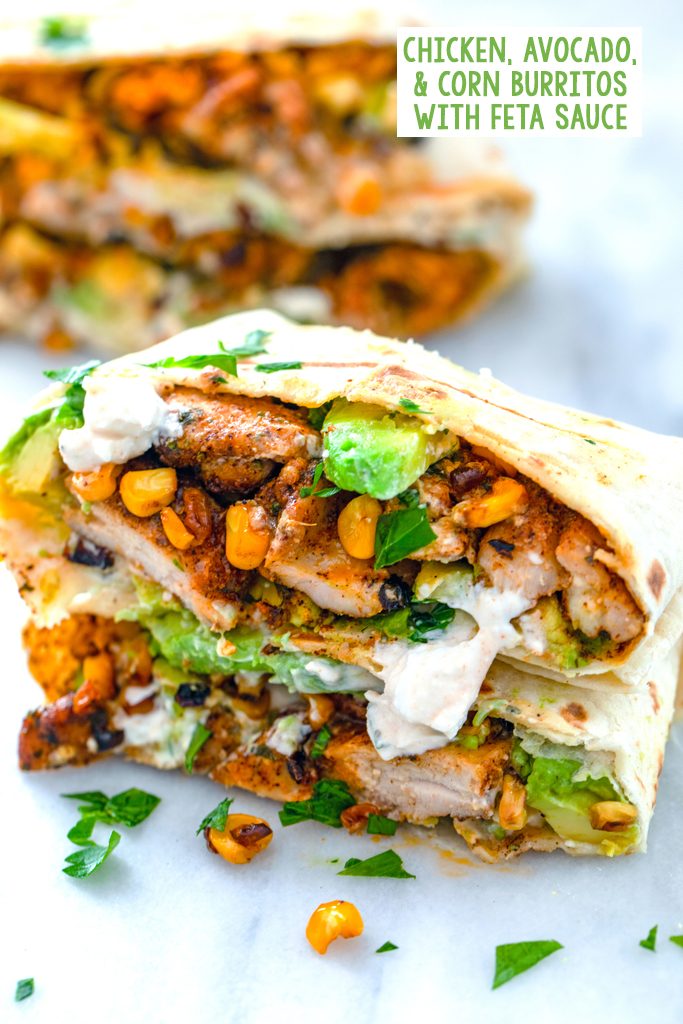 I always imagine I'm going to return home from vacation feeling all rejuvenated and motivated and ready to go. But in reality, I come home, open my fridge, realize it's completely empty, and immediately pick up the phone to order a pizza in an effort to avoid the grocery store at all costs.
I shove my suitcases in the corner of the bedroom and pray that they unpack themselves. And I only remove items from my toiletry bag as I require them. Post-vacation motivation is a myth.
I require a nice slow ease back into "real life" to prevent disrupting those vacation mode feelings.
However, one can't live on takeout forever and sooner or later I need to face the fact that my life isn't all lobster rolls and rosé (if only!). So, I'm diving back into real life looking for some quick and easy (but still delicious!) dinners.
In addition to just returning from vacation, it's also that tricky time of year when half the country is still in full-on summer mode and the other half has already begun the hustle and bustle of the new school year, which means you're probably all in need of some easy weeknight recipes that are also incredibly tasty crowd-pleasers, too.
These chicken avocado burritos are it! Bonus points for the fact that they allow you to continue getting your fill of summer corn while you can (but you can also use frozen corn if you don't currently have access to fresh) and load in plenty of avocado (it only costs extra because you still have to buy it from the grocery store... But it's worth it).
Ingredients for Chicken Avocado Burritos
This burrito recipe is incredibly easy and also a little bit different than the average burrito. I opted to use some of my favorite ingredients for them, making them not super traditional Mexican burritos, but instead pretty eclectic ones involving chicken, avocado, corn, and feta sauce.
If the ingredient list looks lengthy, I promise it's just because I used a lot of spices in both the chicken and the feta sauce. If you don't have some of them or want to substitute any of them for something else, go for it. There's so much going on here that these chicken avocado burritos will still be delicious.
Here's what you need for the burritos:
Corn (I use 2 ears of fresh, but you can substitute with 1 ½ cups of frozen or canned)
Butter
Chicken thighs (you can use breasts if you prefer)
Spices: chili powder, dried parsley, garlic powder, paprika, cumin, and salt
Olive oil
Flour tortillas (you can substitute with corn if you prefer)
Avocados
Parsley
Ingredients for Feta Sauce
This feta sauce isn't totally necessary to the chicken avocado burritos, but it is pretty fantastic and I highly recommend it. If you're short on time, you can always use a bottled dressing instead. I recommend something creamy!
Here's what you need for the dressing:
Greek yogurt
Feta cheese
Parsley
Spices: paprika, salt, and pepper
Heavy cream
How to Make Chicken, Avocado, and Corn Burritos
If you have been reading here for a while, you likely know that I absolutely love summer corn, but I'm not a huge fan of eating corn on the cob. Instead, I like to cut the kernels off the cobs and cook them with a little bit of butter in my grill pan. I love when it's nice and golden! If you don't have a grill pan, you can use a skillet instead.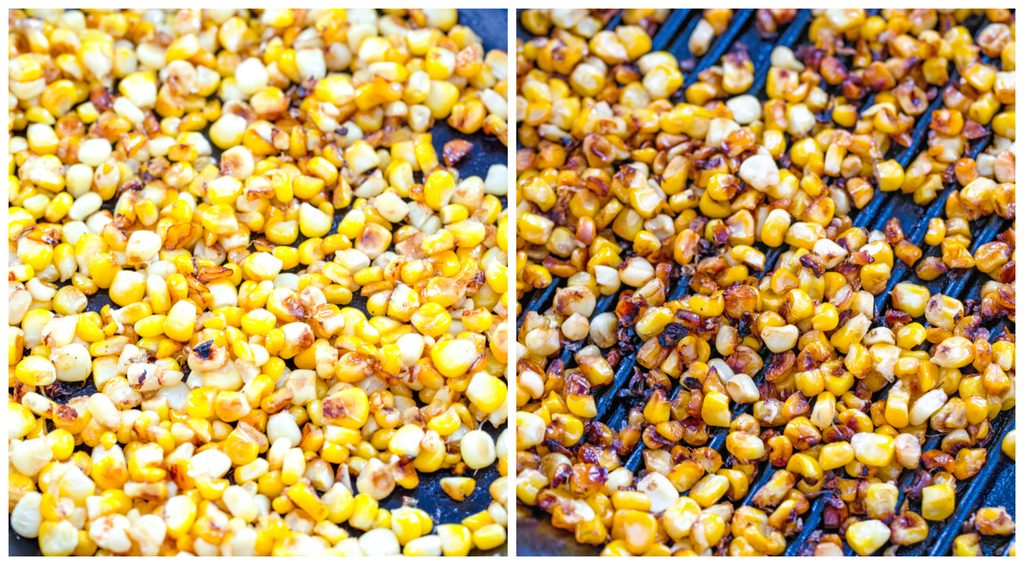 Toss the chicken in chili powder, garlic powder, paprika, cumin, and salt and then cook that, too (you can use the same skillet/grill pan you cooked the corn in if you want). I used chicken thighs here (cut into chunks), but you can use chicken breasts if you prefer.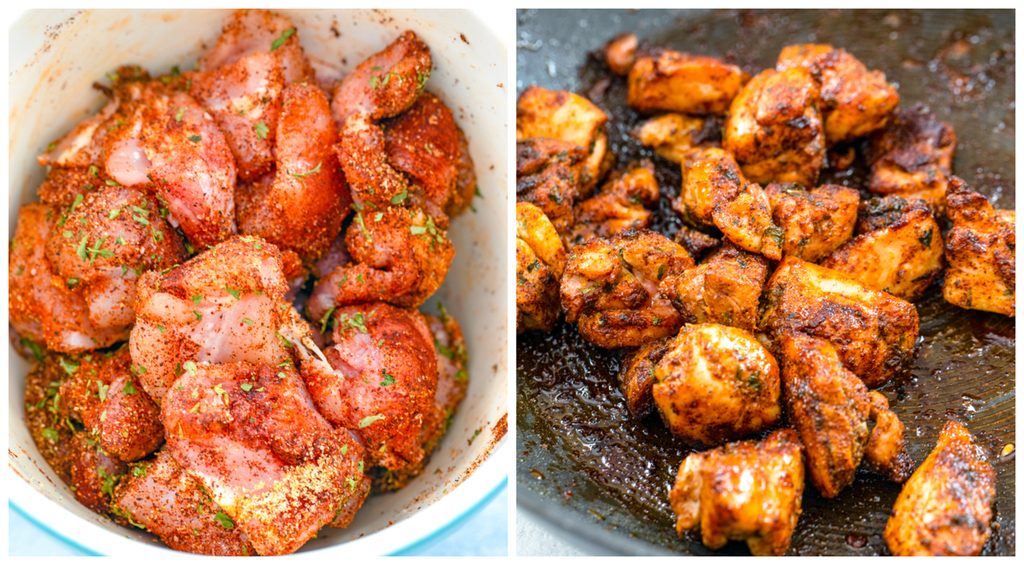 When you're ready to assemble your chicken and avocado burritos, simple lay the flour tortilla on a flat surface and top with grilled corn, chicken, sliced avocado, feta sauce (see below for instructions), and extra chopped parsley.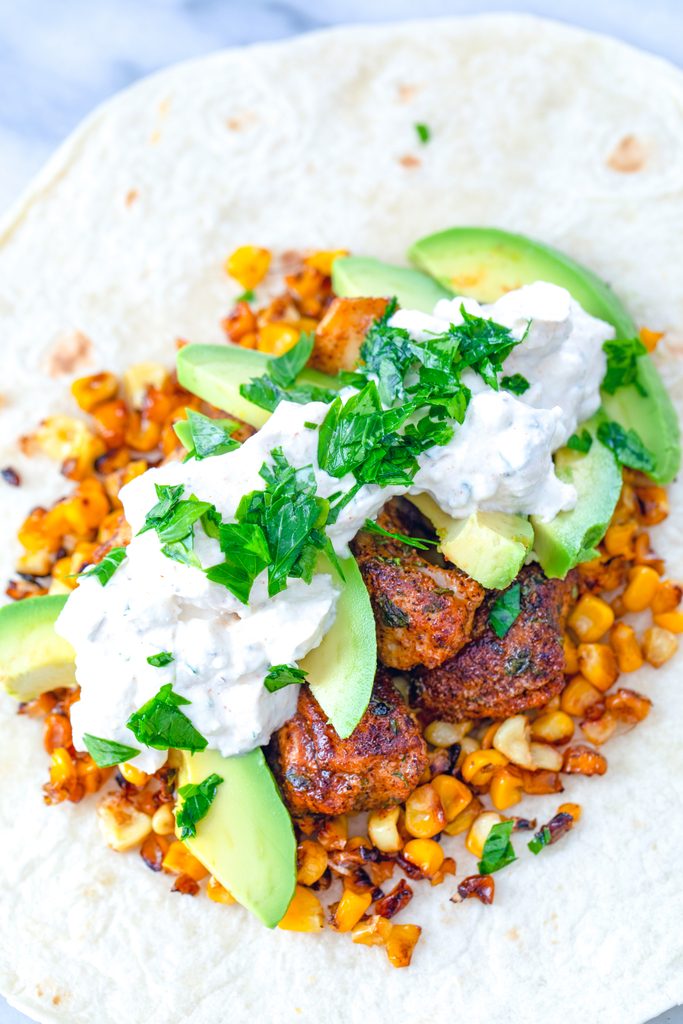 Fold in the sides and top and bottom of the burrito and then add them back into the grill pan/skillet (again, you can use the same one you used for the corn and chicken after gently wiping it out) and let cook for a couple minutes until the burritos are just browning (or until the perfect grill marks appear!).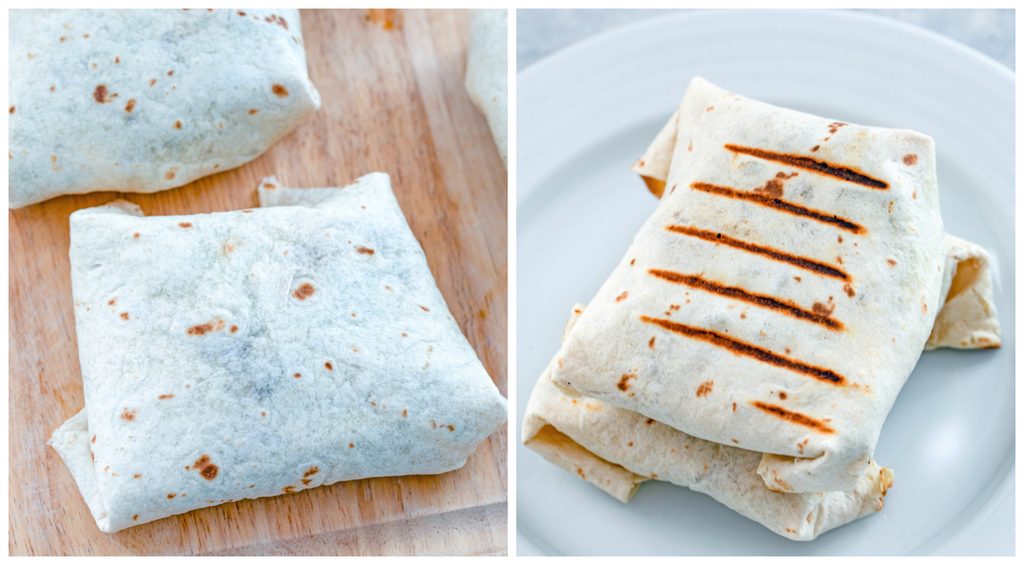 How to Make Feta Sauce
I recommend making the feta sauce while your chicken is cooking. It really just consists of adding everything to a bowl and stirring. So easy and so delicious!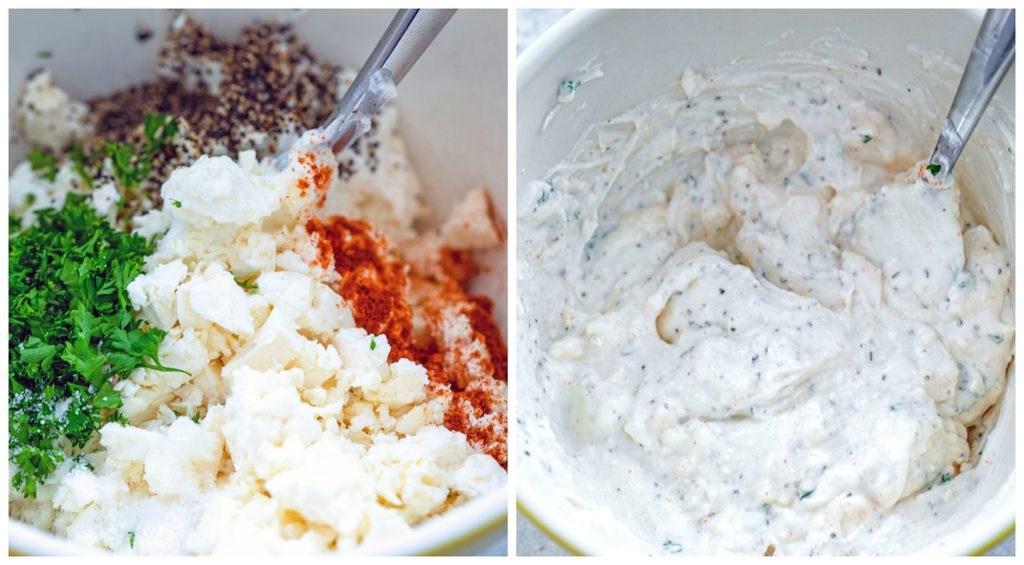 Once your burritos are browned to perfection, you're ready to dig in. But first, marvel at all that deliciousness packed inside one little chicken avocado burrito.
Oh, and top with some more feta sauce, too, if you want. And you probably will want.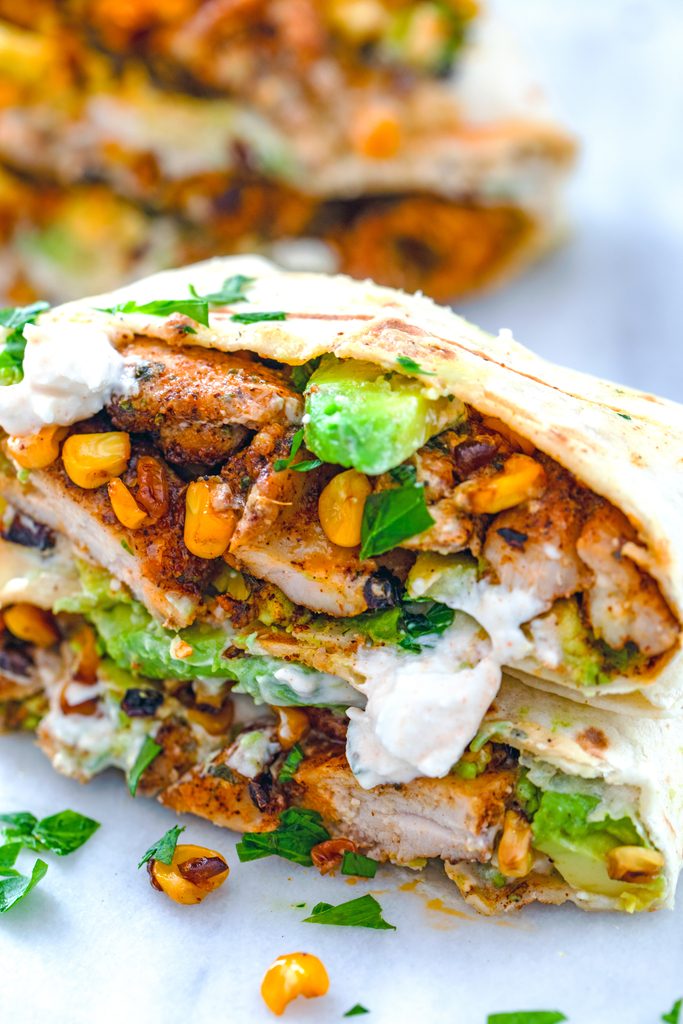 Believe it or not, I have never been a big burrito person. Give me a taco or a chimichanga or an enchilada any day of the week, but burritos have just never really done it for me. In general, they just always seem dry to me, packed with boring rice and under-seasoned meat and too much tortilla.
These chicken avocado burritos are basically the opposite of all things I dislike about burritos. They're packed with flavor and thanks to tender chicken, lots of avocado, plenty of feta sauce, and a crisped up tortilla, they're not dry at all.
My kinda burrito heaven!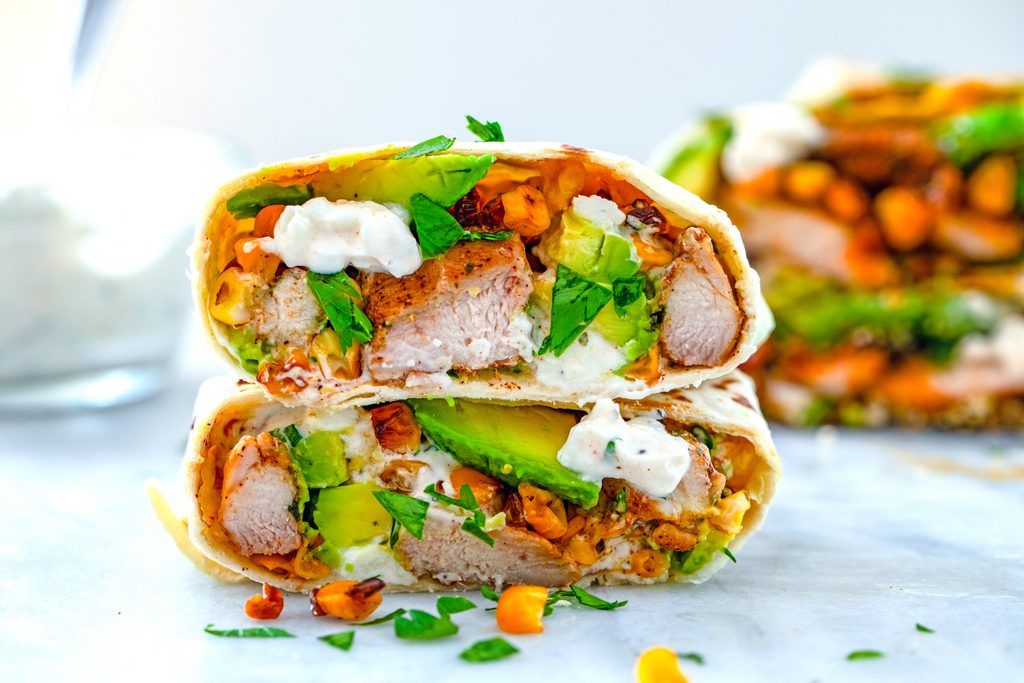 And that corn... that grilled corn! That corn is one reason I'm getting sad that summer is coming to an end. You can certainly use frozen corn for these chicken, avocado, and corn burritos (and when you grill it, it's actually pretty darn delicious!), but it just doesn't feel the same as fresh.
Honestly, I'm not really sure what my favorite part about these burritos is... there's something about all the ingredients coming together and working so well with each other. But man, I'd put that feta sauce on anything and everything. And as you can see, I definitely didn't scrimp on the avocado here either.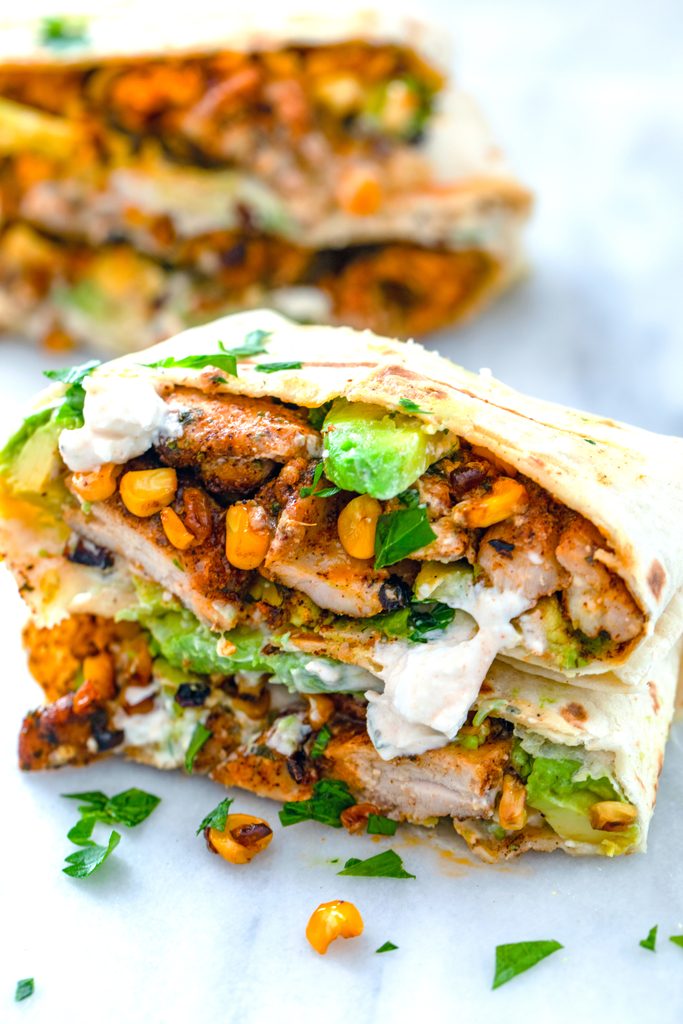 I'm excited to have another quick and easy weeknight dinner to add to the repertoire. Whether you or your kids are heading back to school or you're just looking for some help easing out of summer gracefully, these chicken, avocado, and corn burritos will certainly help!
What are your favorite burrito fillings?
If you're looking for more easy weeknight dinners, be sure to check out my Baked Chicken Chimichangas (so easy and a huge crowd pleaser!) or my Creamy Fajita Skillet. I also can't wait to start my busy mornings with these Breakfast Burritos from Dinner at the Zoo!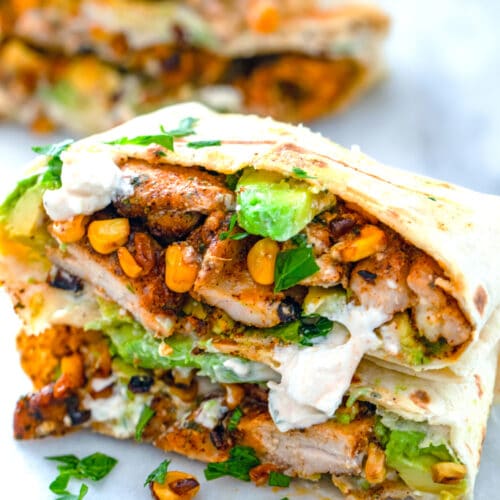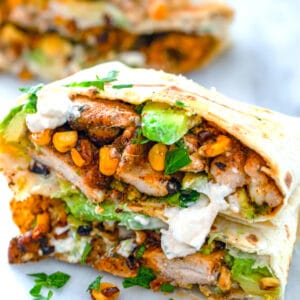 Chicken Avocado Burritos with Corn and Feta Sauce
These Chicken, Avocado, and Corn Burritos are topped with feta sauce and make for a fresh and flavorful weeknight dinner that's incredibly quick and easy!
Print
Pin
Rate
Ingredients
2

ears

corn,

shucked and kernels removed (about 1 ½ cups kernels) (you can also use frozen corn that's been thawed)

1

Tbsp

unsalted butter

1

lb.

skinless, boneless chicken thighs,

cut into 1-inch chunks (can also use chicken breasts)

1 ½

tsp

chili powder

1 ½

tsp

dried parsley

1

tsp

garlic powder

½

tsp

paprika

½

tsp

cumin

½

tsp

salt

1

Tbsp

olive oil

4

10-inch flour tortillas

1 ½

avocados,

peeled, pitted, and sliced

Feta sauce

(recipe below)

1

Tbsp

chopped parsley
Feta Sauce
1

cup

Greek yogurt

¾

cup

crumbled feta cheese

1

Tbsp

chopped parsley

1

Tbsp

lemon juice

½

tsp

paprika

½

tsp

salt

½

tsp

pepper

¼

cup

heavy cream
Instructions
Melt butter in a large skillet or grill pan over medium heat. Once melted, add corn kernels and let sit for about 4 minutes before stirring. Let sit for another 4 minutes and stir again. Repeat a couple more times until the corn is nicely browned. Remove corn to a separate bowl. Gently wipe and keep skillet/grill pan out for later use.

In a medium bowl, toss chicken with chili powder, dried parsley, garlic powder, paprika, cumin, and salt to coat well.

Heat a skillet/grill pan to medium heat and add olive oil. Add chicken to skillet and cook until chicken is fully cooked, 3-4 minutes. Remove from heat.

Lay a tortilla on a flat surface and top with about ¼ cup grilled corn, ¼ of the chicken, 4-5 slices of avocado, a scoop of feta sauce, and chopped parsley. Fold the sides and ends of the tortilla over the filling and roll up.

Once again wipe out the skillet/grill pan used for the chicken. Place burritos seam-side down in pan over medium heat and cook for about 2-3 minutes until lightly browned. Flip and cook on the other side for another 2 minutes. Serve burritos with additional feta sauce.
Feta Sauce
In a medium bowl, stir all ingredients together until well combined. Keep in fridge until ready to use.
Share a Photo of Your Finished Recipe!
Mention @wearenotmartha and share a photo if you've made the recipe!