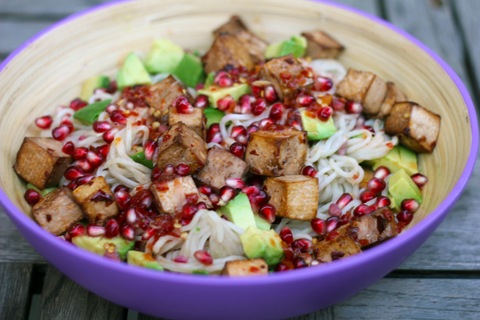 Sometimes you just need to take all your favorite flavors and mix them together, no matter how unconventional the combination may be. Not that this combination is weird, per say, it's just not one I see very often. Which is a shame. Because I want to eat it all the time! Plus, it's pretty. Anyway, I wanted to make an Asian-style noodle salad, but was also (as usual) craving both pomegranate and avocado. And then I figured, if it's going to be Asian-style, I need it to be spicy! So, I built what is pretty much my idea of the perfect noodle salad. And included tofu for some extra protein and all that other good stuff.
I was pretty excited to discover Nasoya's Tofu Plus. It's fortified with B2, B6, B12, D, and calcium. Plus the packaging is pretty and I'm a total sucker for that kind of thing.
Chili Lime Tofu with Avocado and Pomegranate Noodles:
Print this recipe!
¼ C soy sauce
½ C lime juice
1.5 T chili sauce
1 T sesame oil
14 oz. extra firm tofu
9 oz. Chinese style noodles (I used Nasoya)
2 avocados, peeled and chopped
Arils from 1 pomegranate
(pre-heat oven to 400 degrees)
Dressing:
¼ C lime juice
1 T chili sauce
1 t finely grated ginger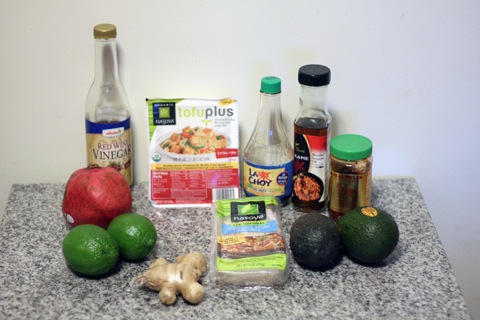 Start by draining the tofu and squeezing out excess water using a dish towel or paper towels. Then cut the tofu into bite-sized cubes.
Mix together a simple marinade for the tofu. In a small bowl, mix soy sauce, lime juice, chili sauce, and sesame oil. You can either place the tofu in a shallow dish with the marinade or a Ziplock bag. I opted for a bag so I could easily cover all the tofu. Let the tofu marinade for about 2-4 hours in the fridge.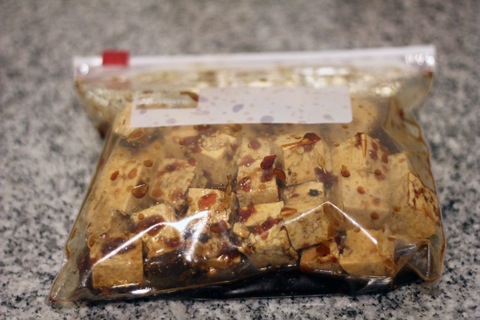 And then remove it from the bowl or bag with a slotted spoon and place it on a baking sheet. Bake at 400 degrees for about 10 minutes. Then flip over and bake for another 10 minutes.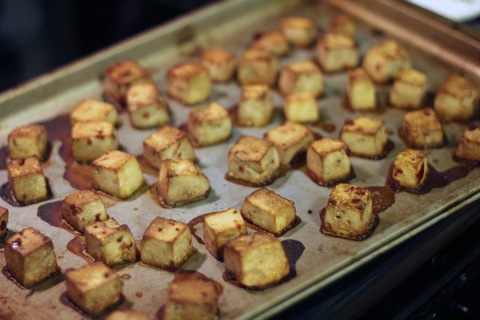 While the tofu is cooking, boil your noodles. And prepare you avocado and pomegranate. When your noodles are cooked, rinse them well (they're REALLY sticky). Then simply mix the tofu, avocado, pomegranate, and noodles together.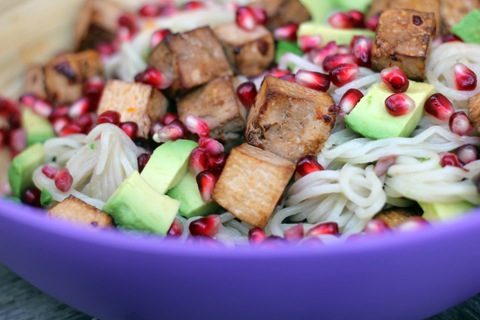 Whisk up a simple dressing of lime juice, chili sauce, and grated ginger for an extra kick.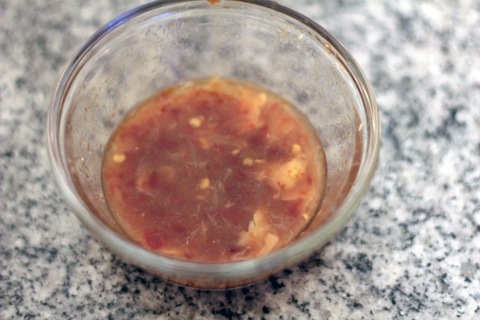 And pour it over the top.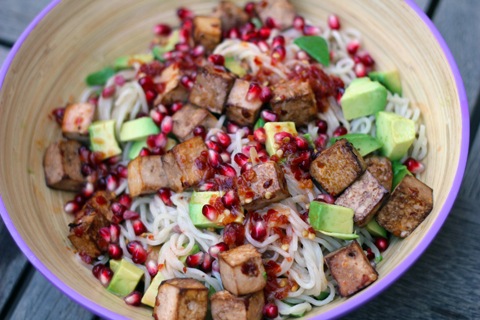 Dig in! And marvel at how delicious antioxidants can be. Seriously, this salad is packed with healthiness and it tastes like heaven in a bowl. I mean, obviously the noodles aren't the healthiest... But with so much other good stuff in the bowl, you won't be overindulging on noodles.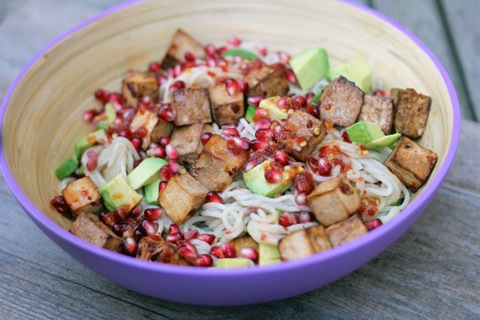 This is the kind of meal that makes me feel like I'm living in some sort of permanent summer. Fresh, healthy, and super colorful. Exactly what I'm going to need to brighten the upcoming winter months up...
Looking for another recipe that features extra-firm tofu? Try this Vegan Tofu "SPAM" Musubi from Veganiac!
What's your favorite colorful food combination?
[Sues]