A little bit spicy and a little bit sweet, this Chili Mango Shrimp Pineapple Fried Rice is packed full of flavor and served in a pineapple for some extra tropical fun.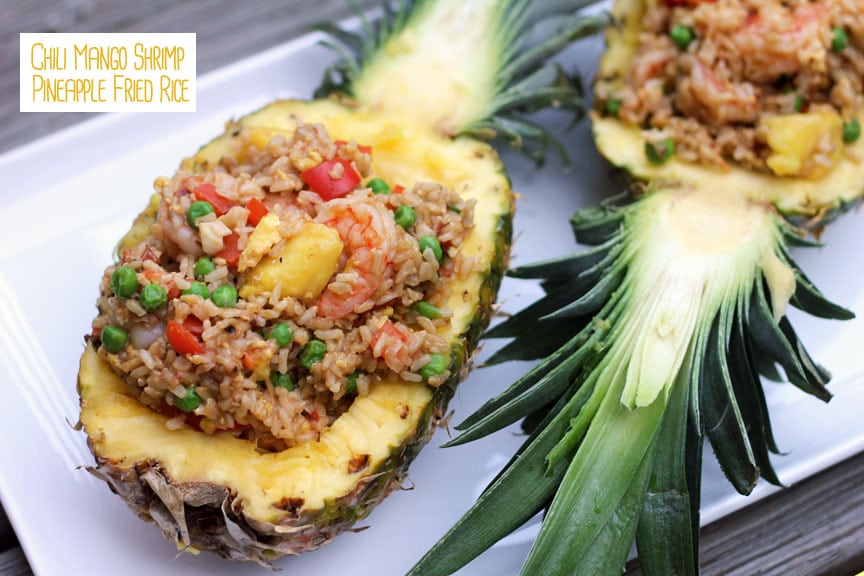 Well, that's a mouthful. And in addition to being a mouthful to say, Chili Mango Shrimp Pineapple Fried Rice is basically a pineapple full. Because, I came to the conclusion that: If you're going to make shrimp pineapple fried rice, you may as well serve it in a pineapple. Right? It would be silly not to. After all, you're chopping up a pineapple anyway; may as well put it to use. I'm all about repurposing.
I could be lying, but I'm pretty sure I've never made fried rice before. But I've always loved it. Especially when pineapple is involved. And shrimp. Because you could put shrimp in my morning cereal and I'd be happy. That might be a lie. But if it were something simple like Cheerios, I'd probably be OK with it. Maybe I'd wait until after 10 a.m. to eat though... Anything earlier doesn't feel quite right for shrimp.
I marinated this shrimp in a chili mango glaze, but you don't have to. Honestly, plain old shrimp would be fabulous in this dish, but I wanted to tie in some more tropical flavors. When I was trying to decide what kind of shrimp to use for this dish, I started thinking I wanted something a little spicy. But with a touch of sweetness. Mango brought just the right amount of tropical sweetness to a bit of chili paste… which is exactly what you need when you're serving a meal in a pineapple. In my own humble opinion.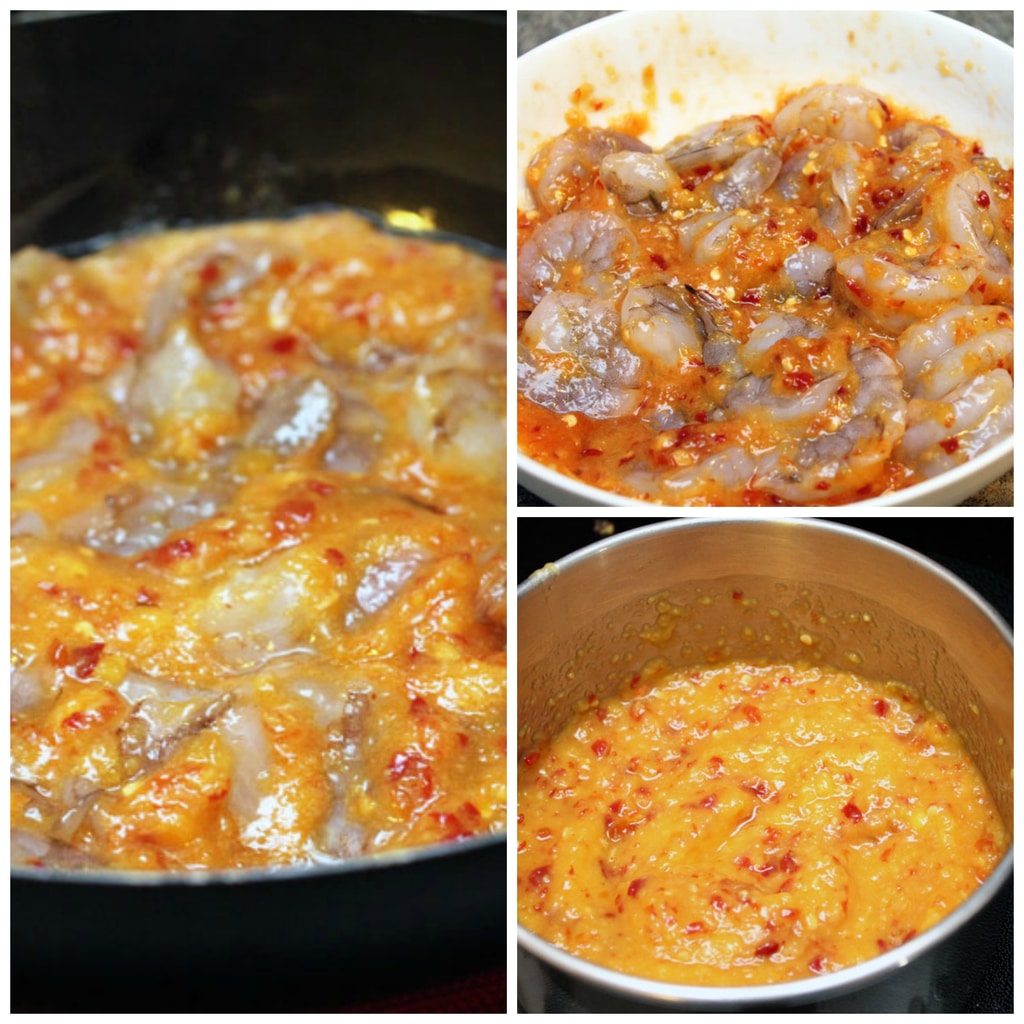 It's always said that it's best to use "leftover" rice when making fried rice. Which is nice, except for the fact that I don't often have a lot of leftover rice lying around my kitchen. I don't eat a lot of rice and when I do, I don't generally have enough leftovers for a batch of fried rice. The key is to use rice that has dried out a bit. So, if you are making fresh rice, try to make it earlier in the day… Or at least make it right away and stick it in the fridge while you complete the rest of this recipe. So, I cooked mine ahead of time. I used brown rice because it's what I always cook, but you can use white if you prefer.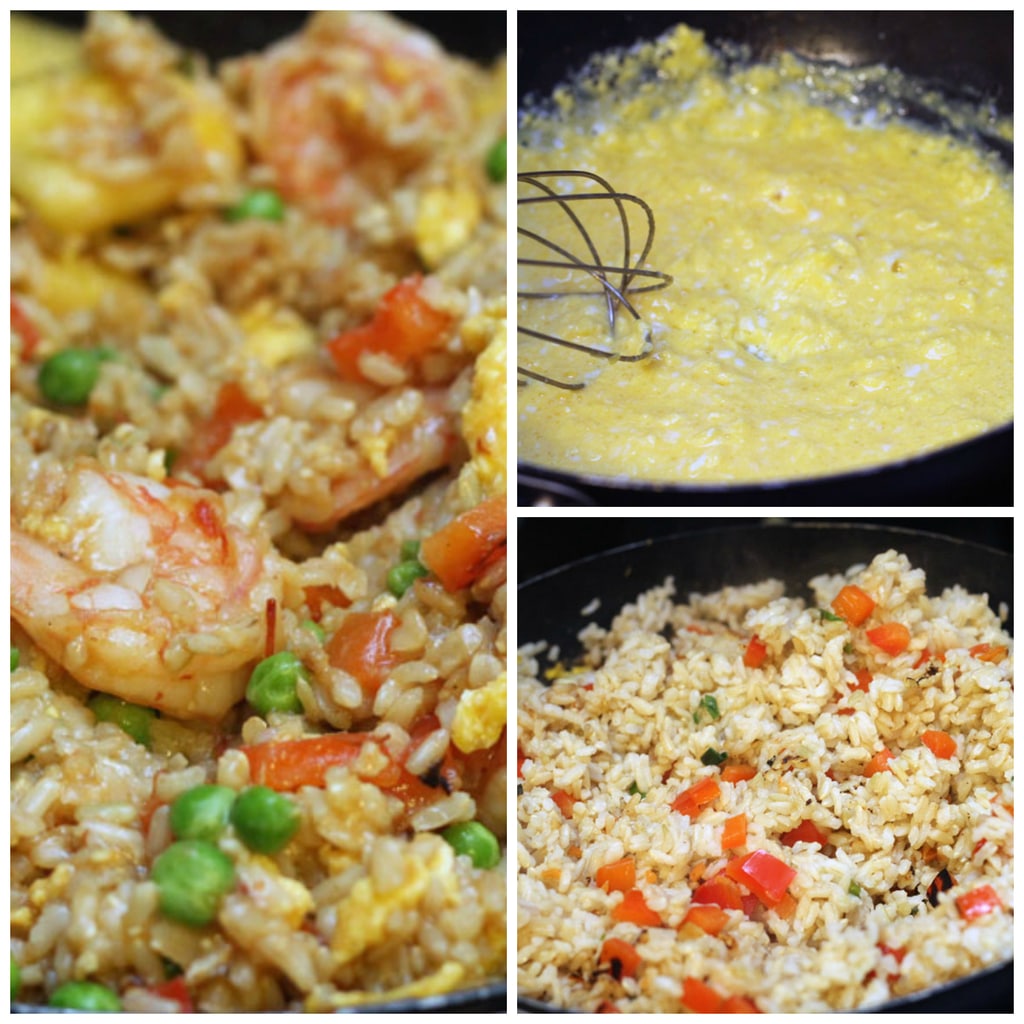 In case you're wondering how to cut the pineapple, I really had no idea what I was doing. So I called Chris to the kitchen and had him go to town on it with the sharpest knife we could find.
Basically, he cut the pineapple in half, cut out the center flesh, and continued cleaning up the pineapple, to make a nice bowl.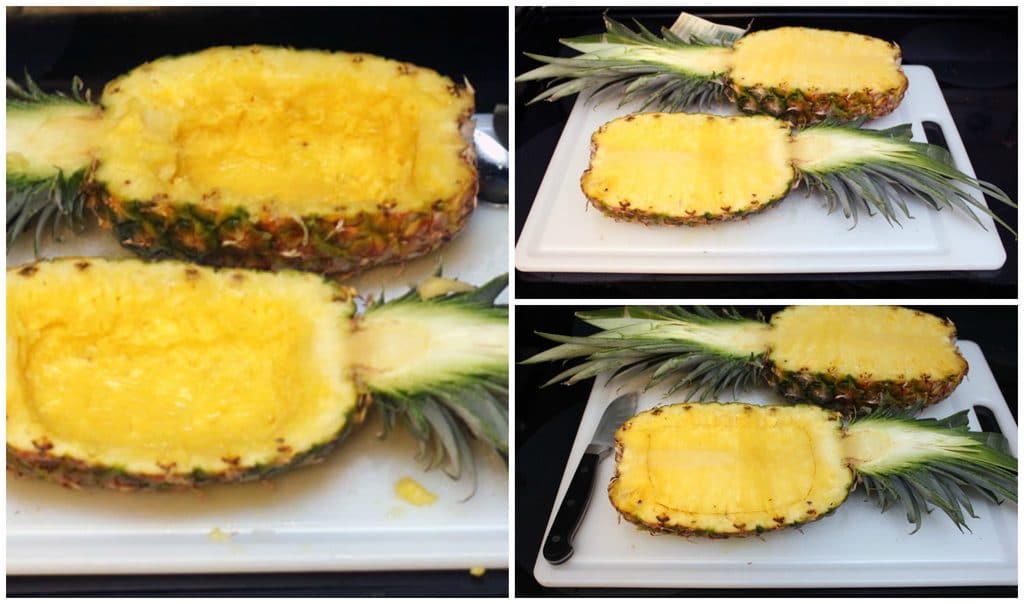 And then we served the rice in the pineapple halves. See? The pineapple acts as a serving dish! Or just your own personal bowl. Because, I'm not going to lie. Chris and I definitely ate right our of our own pineapple halves.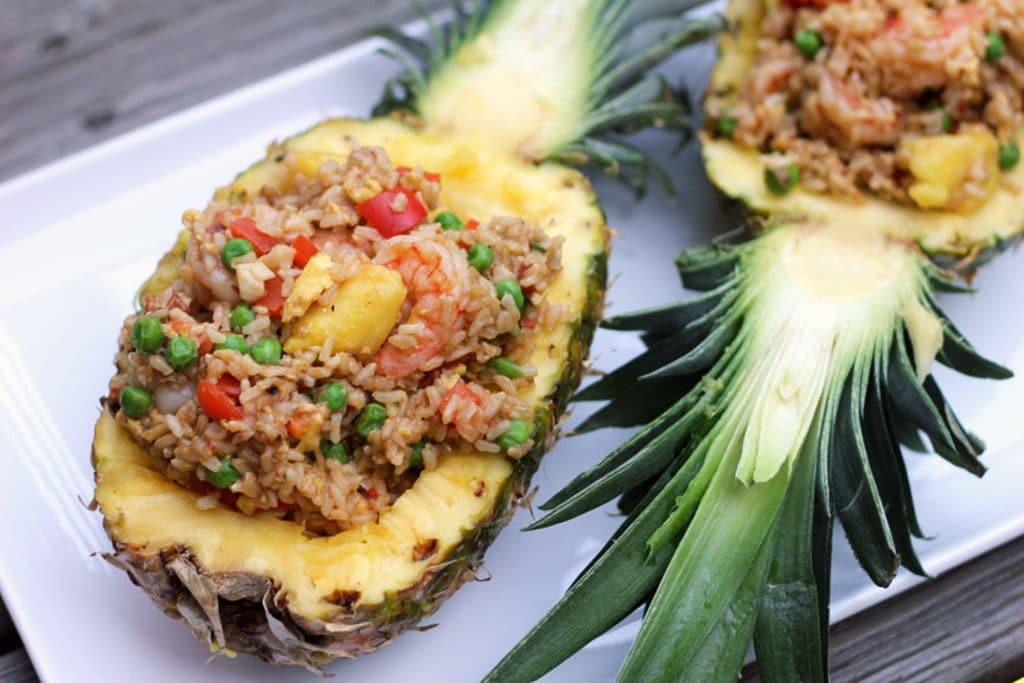 Yes, I know that's a lot of rice. And it's fried. But it's also brown rice. And to be fair, the pineapple wasn't that big and not quite as hollowed out as much as it could have been and all of the rice most definitely did not fit. And furthermore, we were hungry. But I suppose I should warn you that this recipe makes 6 servings of shrimp pineapple fried rice, so if you're eating yours out of a pineapple half, you should know what you're getting into.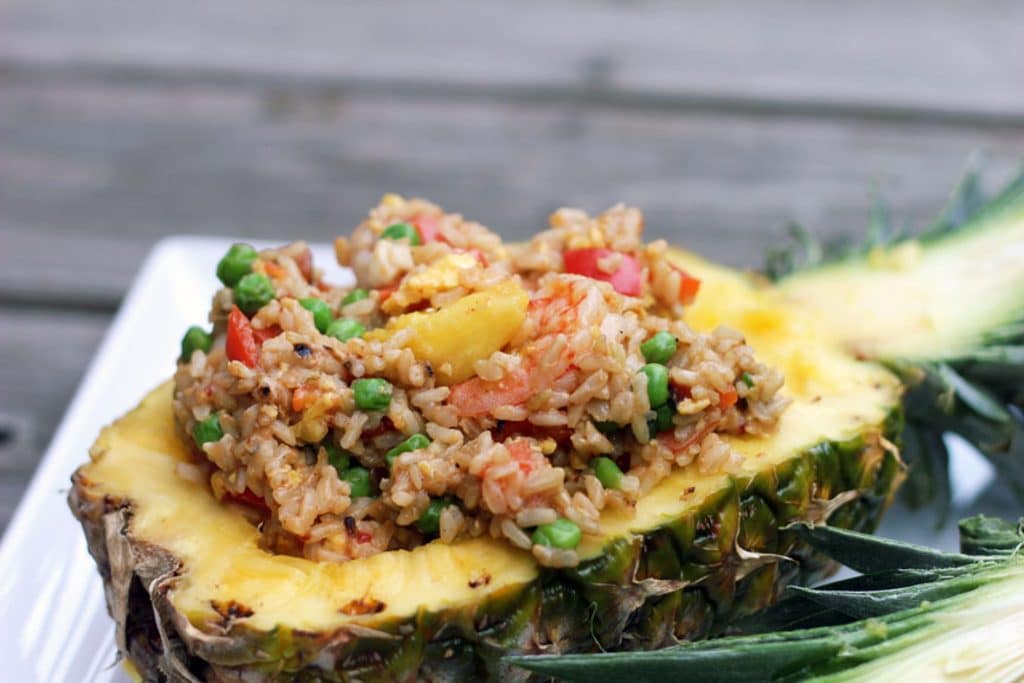 Please. Just stop judging. This was a tropical delight and I guarantee you won't be able to stop eating it once you start either. I will most definitely be making this again and again, but I also love that there are so many ways to simplify it. You don't even have to use shrimp OR pineapple if you just want a quick fried rice.
But come on; that pineapple.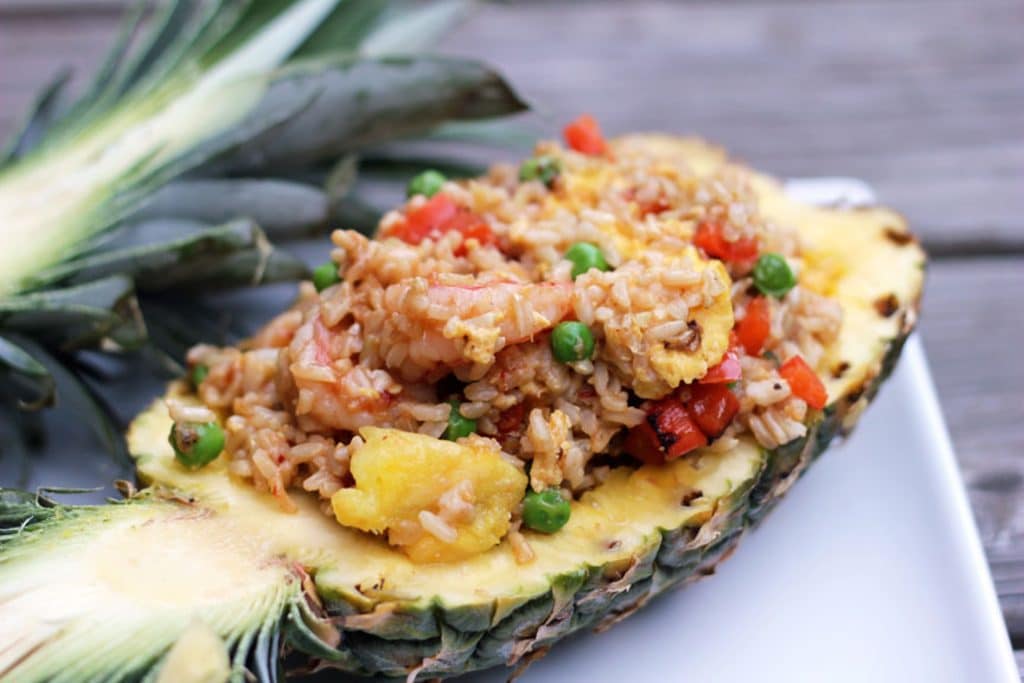 Perhaps I'll shellac the pineapple and use it as a serving dish for years to come.
What are your favorite fried rice ingredients?
📖 Recipe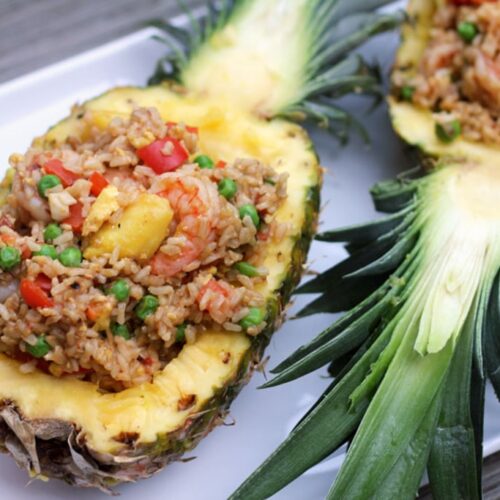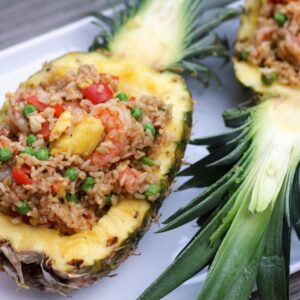 Chili Mango Shrimp Pineapple Fried Rice
A little bit spicy and a little bit sweet, this Chili Mango Shrimp Pineapple Fried Rice is packed full of flavor and served in a pineapple for some extra tropical fun.
Print
Pin
Rate
Ingredients
1

cup

mango,

peeled and cubed

2

Tbsp

chili paste

1

Tbsp

fresh ginger,

minced

2

Tbsp

red wine vinegar

1

lb.

shrimp,

shelled and deveined

3

large eggs

1

Tbsp

olive oil

3

scallions,

chopped

1

habanero pepper,

finely chopped

1

red pepper,

chopped

3

cloves garlic,

minced

4

cups

cooked brown rice

(leftover rice works perfectly)

1

Tbsp

soy sauce

1

cup

peas

(thawed if using frozen)

1

pineapple,

hollowed out with flesh cut into 1-inch chunks

1

tsp

sesame oil
Instructions
In a blender or in the bowl of a food processor, puree cubed mango.

Put mango puree in a small saucepan and add, chili paste, minced ginger, and vinegar. Cook over medium-low heat, for about 15 minutes, until it gets a bit shiny.

Put shrimp and mango chili sauce in a medium bowl and make sure shrimp is well-coated in sauce. Place in fridge to marinate for at least 30 minutes.

Cook the shrimp in the marinate in a wok or sauté pan over medium-high heat for about a minute on each side, until almost cooked through. Remove to a separate plate or bowl.

Wipe down the wok and add eggs. Quickly whisk to scramble a bit, until they're almost cooked through. Move the eggs to the plate/bowl with the shrimp.

Wipe wok down again and then return to high heat. Add olive oil to coat pan. When it's hot, add scallions, habaneros, red peppers, and garlic. Cook for about a minute, until nice and fragrant.

Add rice to the pan and stir well. Let sit for about 1-2 minutes, until rice starts to sizzle. Then stir and repeat.

Drizzle soy sauce over rice and mix well. Add peas, cooked eggs, shrimp, pineapple, and sesame oil. Toss to combine.

Serve rice in hollowed out pineapples (or bowls).
Share a Photo of Your Finished Recipe!
Mention @wearenotmartha and share a photo if you've made the recipe!