This simple Spicy Clam Chowder with Corn is a New England style clam chowder with an extra little kick from jalapeños. A summer classic with a couple twists!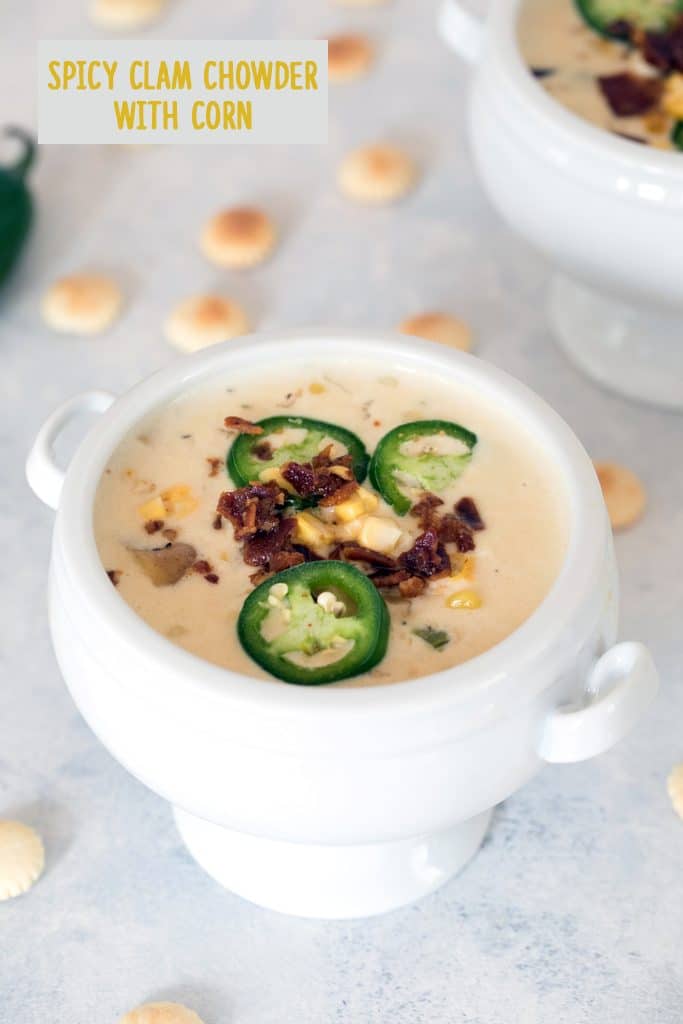 One of my favorite thing in the world is coming up with new recipe ideas and planning them out. But sometimes I get writer's block, but for recipe planning. Is that a thing? Maybe food blogger's block? That sounds weird, but if you're a food blogger, I think you know what I'm saying. Even if you're not a food  blogger, but are just someone who cooks dinner, I think you know what I mean. Everyone gets that "what should I make tonight?!" feeling. When it happens to me, I typically turn to my husband and say, "Help! What should my next recipe be?" About two years ago, he came up with the idea for a spicy clam chowder. And ever since then, every time I ask him what I should make, his response is the same: spicy clam chowder.
It's not that I didn't want to make the spicy clam chowder. It's just that clam chowder has never exactly been my favorite (I'd choose lobster bisque any day) and so, I'd smile and say "OK, honey" every time he told me what to make to the point that it turned into a sort of joke. But finally, I realized that his idea was actually pretty good and that with a little spice, I'd probably be a much bigger fan of clam chowder than I am now (yes, I feel like the worst New Englander ever). So, I gathered up my ingredients, including a hefty dose of jalapeño and dove right in.
As mentioned, I'm a New Englander, so this is a New England-style clam chowder, though I obviously put a few twists on it that some traditionalists may think are sacrilegious. But really, aside from the little twists, this really did taste like a classic New England clam chowder.
And guys, this clam chowder is so easy to make. I feel like clam chowder seems like something so labor-intensive and arduous, but it's not at all. I suppose if you shuck your own clams, it ups the difficulty level, but let's face it, I'm not that New England.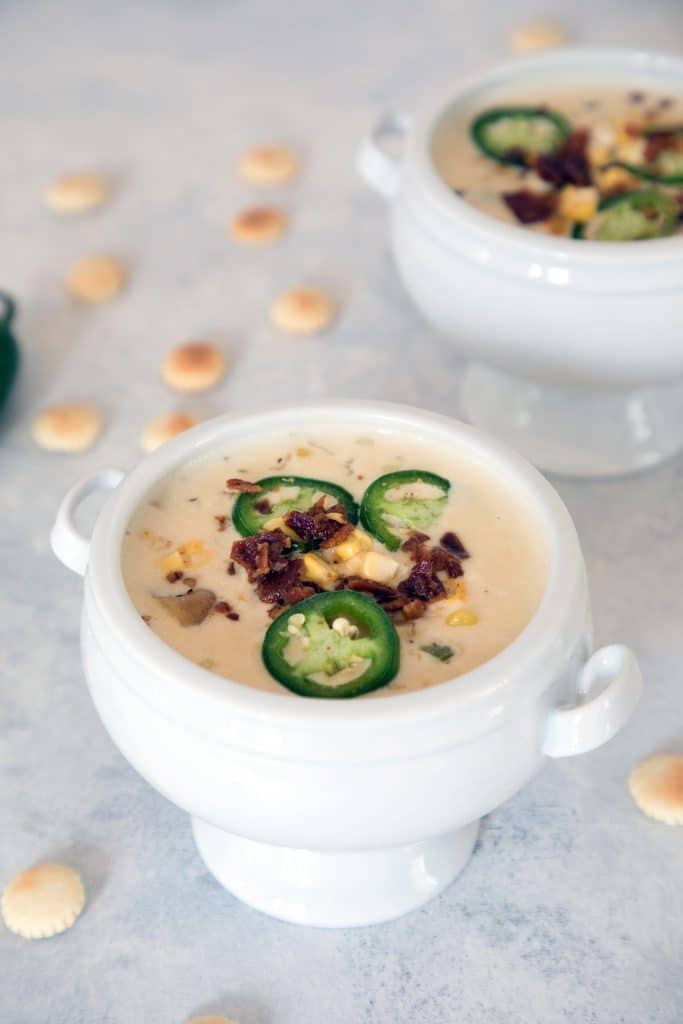 Aside from making it spicy, the other twist I gave the chowder is to add in some fresh corn. I'm just so excited that it's corn season again that I couldn't resist. Do not be mistaken; this is definitely not a corn chowder. Its a spicy clam chowder with corn.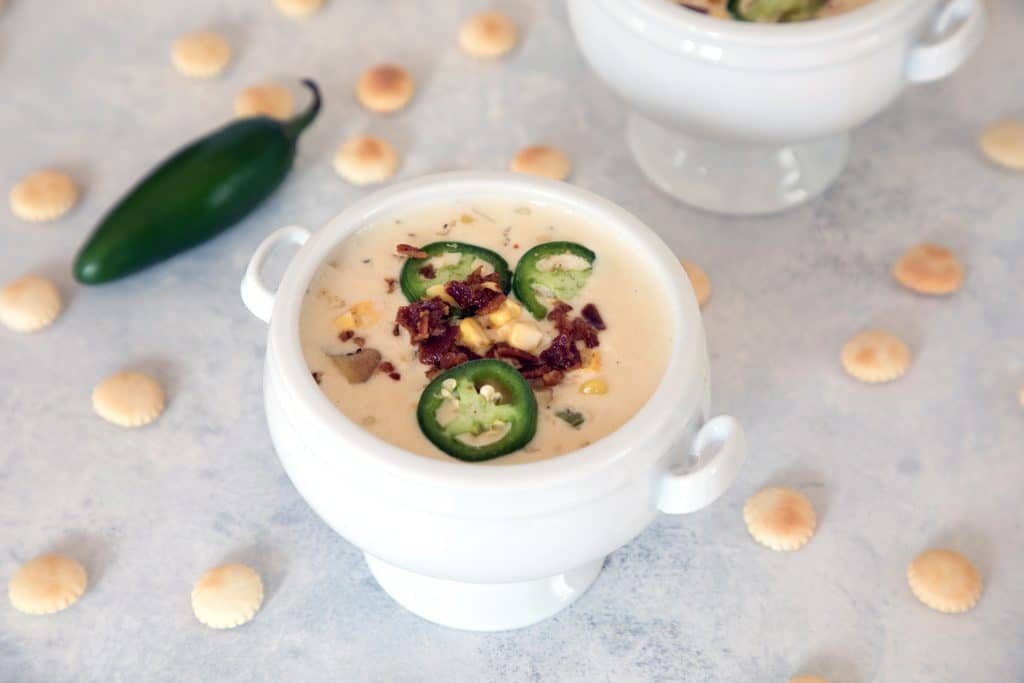 And all other kinds of deliciousness, like plenty of clams. And tri-colored potatoes. And bacon.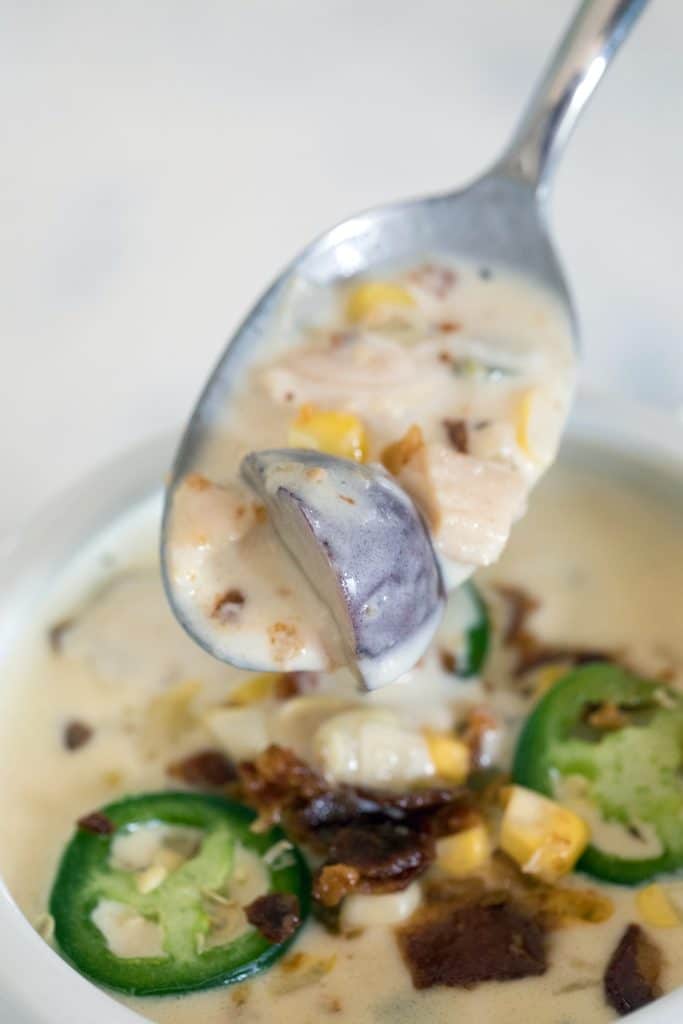 Neither Chris nor I thought this was overly spicy, but we also love spice and it takes a lot for us to feel like it's too much. If you want the jalapeño flavor, but are worried about too much spiciness, just make sure to remove all the seeds from the pepper. Though something tells me you wouldn't be looking at this recipe for spicy clam chowder if you weren't at least a little bit intrigued by some spice.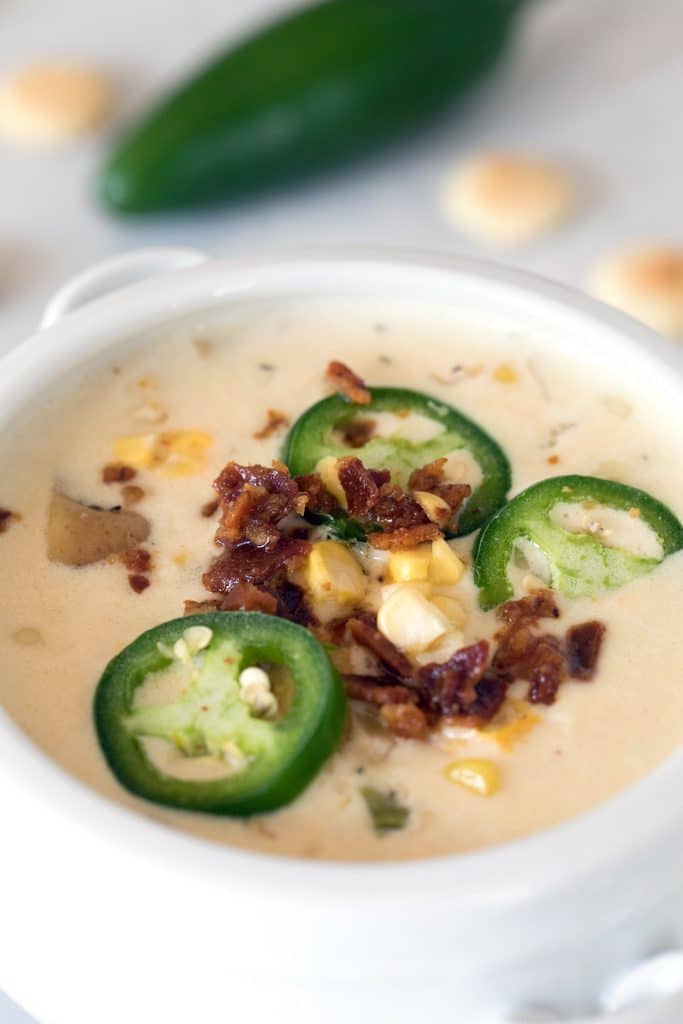 This recipe has made me so excited for summer to really start and to spend some serious time in Maine. The New England weather has been so "meh" lately with so much rain and cold (it's in the 50s today!). But if things improve by the end of the week, I'll soon be enjoying my first lobster roll of the season. And maybe I'll just have to order a bowl of clam chowder, too. Do you think they'd mix in some jalapeños if I asked nicely??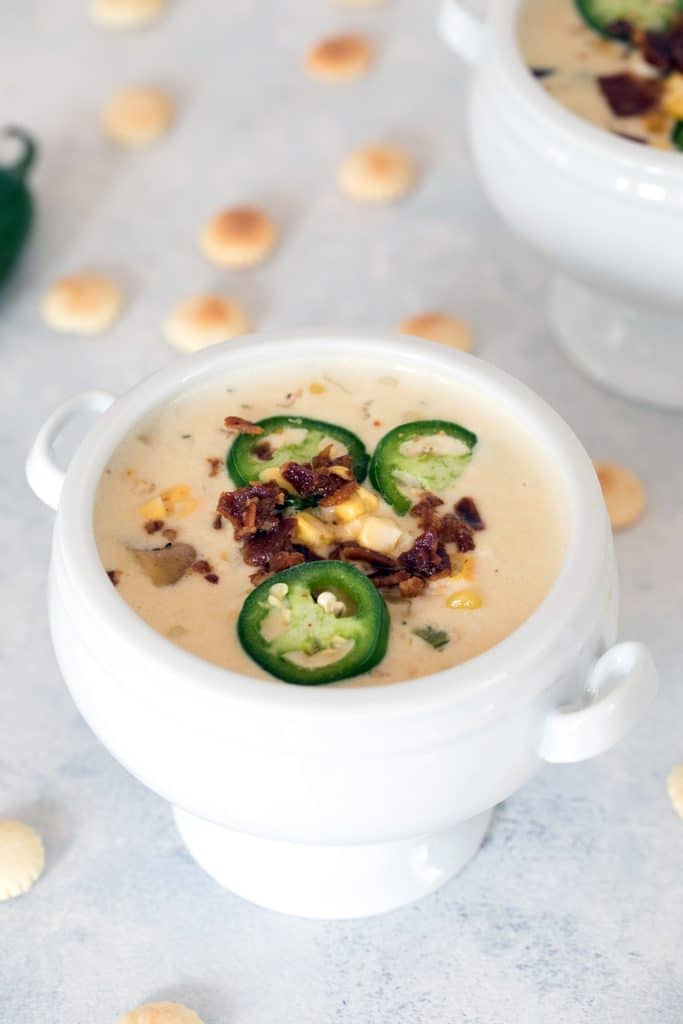 I hope this recipe leaves you feeling nice and summery on this Monday, no matter what weather you may be experiencing where you are!
What's the best clam chowder you've ever had?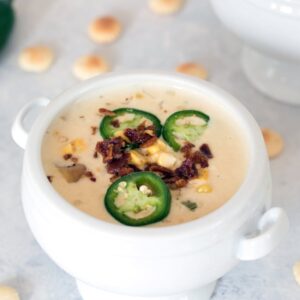 Spicy Clam Chowder with Corn
This simple Spicy Clam Chowder with Corn is a New England style clam chowder with an extra little kick from jalapeños. A summer classic with a couple twists!
Ingredients
5

slices

thick-cut bacon

1

small onion

diced

1/4

cup

finely chopped jalapeño pepper

plus sliced jalapeño for topping chowder, if desired

2

Tbsp

flour

3/4

lb.

potatoes

cut into 1-inch pieces (I used a mixture of red, yellow, and purple)

8

oz.

bottled clam juice

1/2

tsp

black pepper

1/4

tsp

dried thyme

2

cups

cream

1 1/2

tsp

tabasco

3/4

lbs.

fresh chopped clams

1 1/2

cups

fresh corn kernels
Instructions
Cook bacon in a large saucepan or dutch oven over low heat until crispy. Remove with a slotted spoon, leaving bacon grease in pan.

Add onion and jalapeño pepper to pan and sauté for about 6 minutes to soften.

Mix flour in and cook for 1 minute.

Add potatoes, clam juice, pepper, and thyme bring to a light boil. Cook for about 12 minutes to soften potatoes.

Pour cream into saucepan and cook over medium heat until chowder is just about to come to a boil.

Stir in tabasco sauce, clams, and corn.

Serve in bowls and top with crumbled bacon and additional sliced jalapeño and corn, if desired.