This Chipotle Kale Caesar Salad is packed with all the flavor of a Caesar salad, with a little extra nutrition from the kale and a nice spicy kick from chipotle peppers!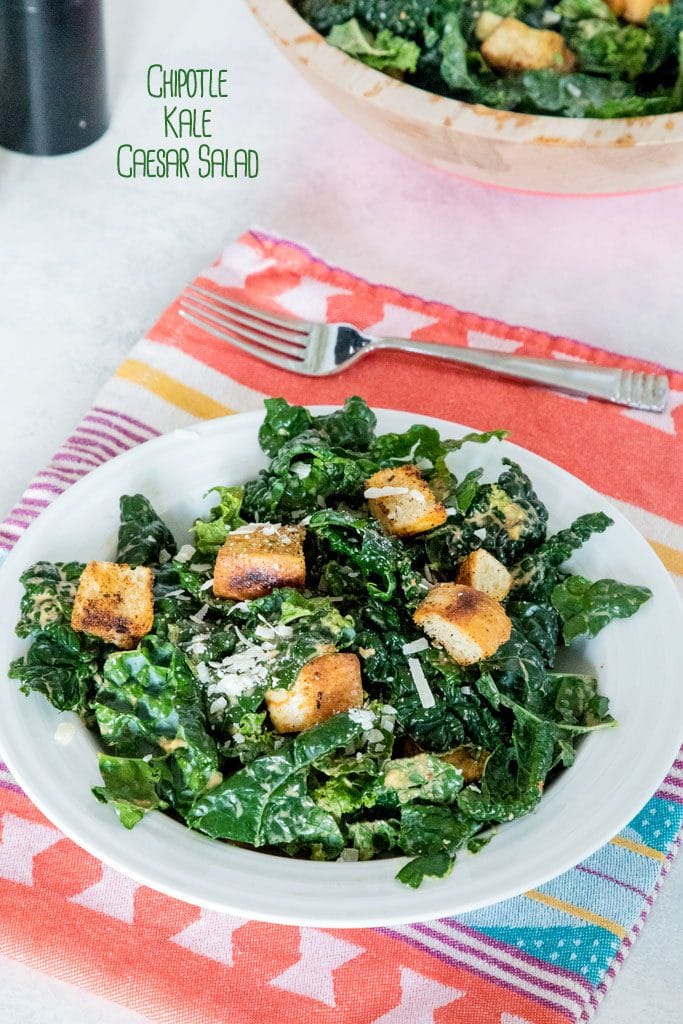 The Caesar salad is an infamous salad. Sure, it's got the word "salad" in it. But it's probably the most unhealthy salad IN THE WORLD. Well, maybe aside from a candy salad. Which I'm not sure exists. But if it doesn't, it totally should and I think I might have to be the person to invent it. Hold the phone. I just Googled it and obviously there's already a candy salad on BuzzFeed. Not only does it have basically every kind of candy awesomeness in it ever, but it also has a chocolate syrup dressing. So, it's been done. And it's been done well. But I could probably do it better. My dressing would obviously be far more complex and involve marshmallow fluff and peanut butter. The details are important, my friends.
Anyway. I think I made my point. That aside from a candy salad, a Caesar salad is the most unhealthy salad. Of course, there are ways of making them healthier. And I love vegetables as much as the next girl, but really, nobody wants a Caesar salad filled with cucumbers and tomatoes and carrots. That's just not a Caesar. The real problem with a Caesar is that NOTHING about it has any nutritional value. The lettuce is usually iceberg and so, the salad is basically water with some creamy dressing and cheese and bread on top. Well, when you put it that way... I figured I could make one simple fix that would make a world of difference. So, I did. I simply switched the lettuce out for kale. And in altering the regular Caesar to a kale Caesar salad, I added tons of fiber, calcium, and vitamins to my dinner. Plus, the dressing isn't a horrible atrocity either. It has one egg in it. And a couple chipotle peppers for the best kick ever. And some extra virgin olive oil. Which I will always stand by as being a healthy addition to any diet.
Yay! Now you can totally have that candy salad for dessert! Seriously, do it. But please bring me some, too.
CHIPOTLE KALE CAESAR SALAD RECIPE
Caesar salad dressing is really easy to make. This one is pretty basic, but with the addition of chipotle peppers in adobo sauce. You can adjust the amount used depending on how much you like heat. You'll want to process all the ingredients in your blender and then slowly pour in the extra virgin olive oil until you get a nice creamy consistency. And try not to drink it right from the blender. OK, that might be kind of gross, so please don't do that.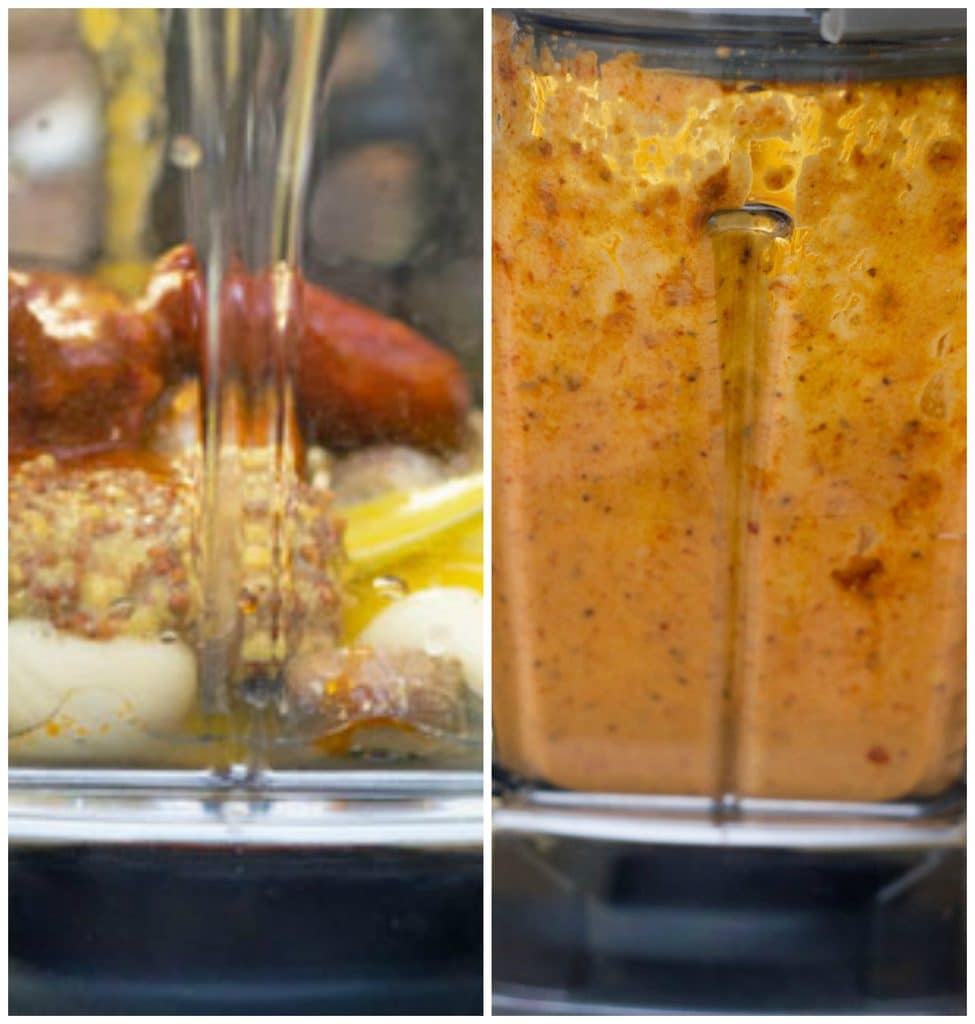 Are raw eggs safe to eat?
Now, here's where you could get into a whole debate about whether or not you should be using a raw egg in your Caesar salad dressing. I've eaten many raw eggs in my day (mainly in Caesar dressing and ice cream) and never worry, but this is a personal decision that should be up to you as there's always a risk. When I'm incorporating raw eggs into my food, I make sure to use organic free-range eggs and I always keep my eggs in the fridge and wash the outside of the eggshell before cracking. These days, the risk of an egg being contaminated with Salmonella is actually quite low (here's an interesting article that dives into this a bit). That said, it's recommended to avoid feeding raw eggs to infants, the elderly, pregnant women, and anyone who is immune-compromised. And if you prefer not to use the raw egg in this recipe, lots of people recommend using a bit of mayonnaise instead.
OK, aside from making the dressing, the only other thing you need for this salad is the croutons! Sometimes I bake my bread for croutons, but this time I decided to pan fry them. Pan frying croutons makes for extra crispy golden little bites.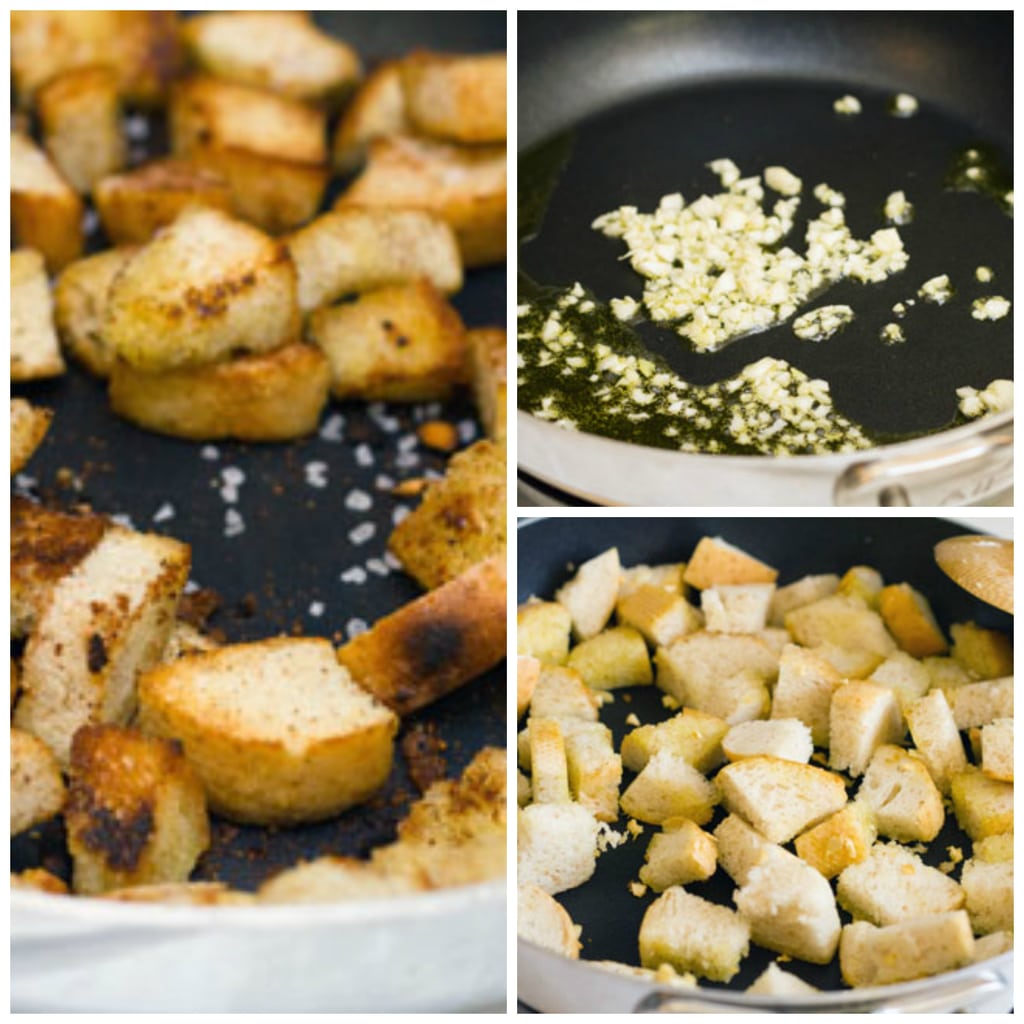 Once the Caesar dressing and croutons are made, drizzle the dressing over the kale, trying to lightly coat as much kale as possible. And top with croutons. Sprinkle on some parmesan cheese, too.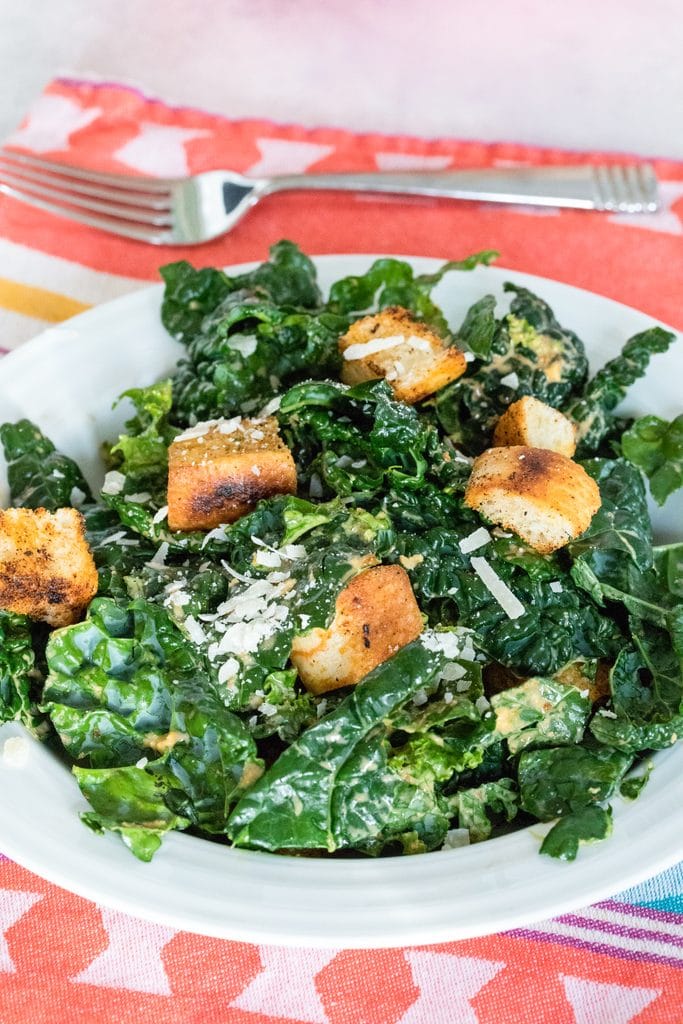 If you already love Caesar salad and tend to enjoy everything better with extra spice, you will love this chipotle kale Caesar salad. Chipotles are the best because they add a super flavorful heat, rather than just burning your mouth. Also, there are only a couple of them in this dressing, so it's not enough to totally blow you away with spiciness.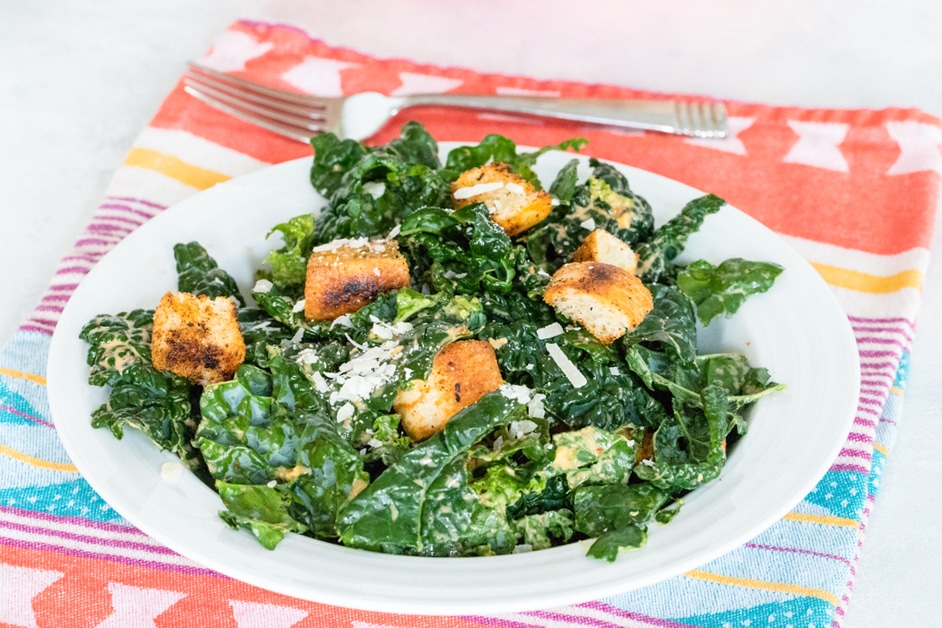 Oh my gosh; the croutons, too. Croutons are one of those things where you put them on a salad and end up eating an entire extra bowl of them after you're done with your salad. Just me? Oops? These ones are super garlic-y and the chili powder gives them a delightful touch.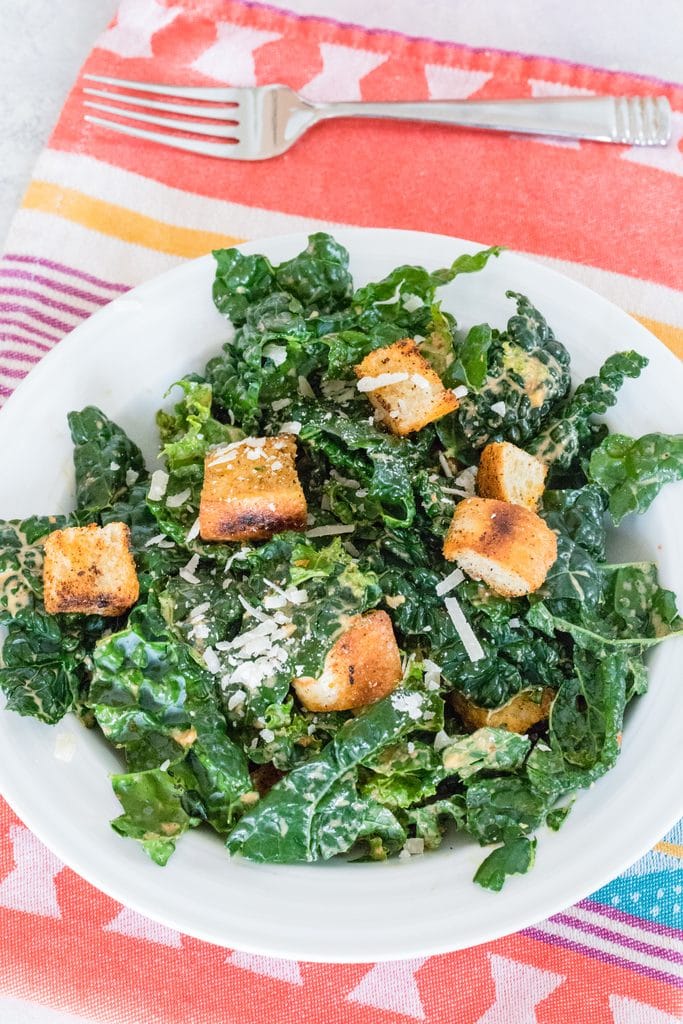 If you're hesitant about this chipotle kale Caesar salad because you're not a huge fan of raw kale, I still think you might love this. The dressing softens the kale a bit and gives it a whole new flavor, especially when you massage it a bit. I actually kind of forgot I was eating kale some of the time... which is both bad and good, depending on who you are and what you like.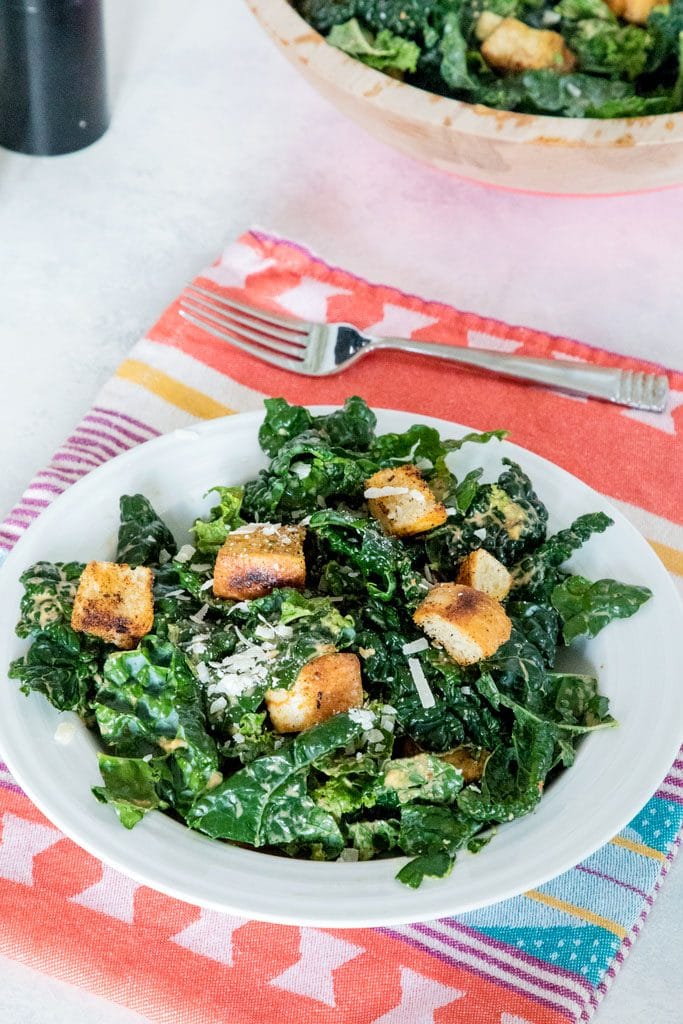 And I like kale. A lot. But I also think I'd like candy salad. So, excuse me while I go whip some up. Considering I just packed in a ton of nutrients with this chipotle kale Caesar salad, I totally deserve one, right?
Have you ever replaced lettuce with kale in a salad?
If you like this Chipotle Kale Caesar Salad recipe, check out my Bacon Cheeseburger Kale Salad and my Brussels Sprouts Bacon Caesar Salad. I also can't wait to try this Grilled Caesar Salad from Never Not Hungry.
📖 Recipe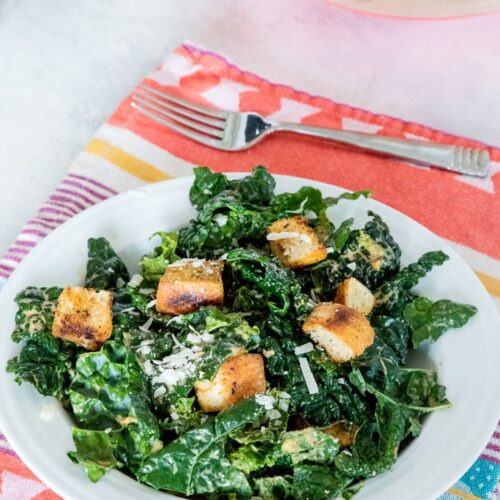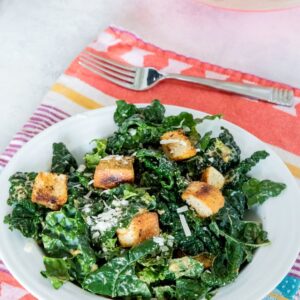 Chipotle Kale Caesar Salad
This Chipotle Kale Caesar Salad is packed with all the flavor of a Caesar salad, with a little extra nutrition from the kale and a nice spicy kick from chipotle peppers!
Print
Pin
Rate
Makes:
6
servings (as a side dish)
Ingredients
3

garlic cloves

4

anchovies

2

chipotle peppers in adobo sauce

1

Tbsp

dijon mustard

1

egg yolk

2

Tbsp

lemon juice

¼

cup

extra virgin olive oil

4

cups

kale,

cleaned, ribs removed, and chopped roughly

1

batch

garlic chili croutons

(recipe below)

¼

cup

shredded parmesan cheese
Garlic Chili Croutons
2

Tbsp

extra virgin olive oil

3

cloves

garlic, minced

3

cups

cubed french bread

1

tsp

chili powder

Coarse salt
Instructions
Put garlic, anchovies, chipotle peppers, dijon mustard, egg yolk, and lemon juice in a blender and puree until smooth.

Slowly pour olive oil into the dressing, while continuing to blend, until you reach desired consistency. You may need a little less than ¼ cup.

Place chopped kale in a large bowl and dr

izzle Caesar dressing over it, trying to lightly coat as much kale as possible. Use your hands to gently massage the dressing into the kale for a more tender kale. Top salad with croutons and shredded parmesan cheese.
Garlic Chili Croutons
In a medium pan over medium-high heat, heat olive oil. Add garlic to pan and cook for about 30 seconds.

Add bread to pan and sprinkle with chili powder and coarse salt. Cook for about 3 minutes, stirring gently with a wooden spoon, until crispy.

Discard garlic and let croutons cool.
Share a Photo of Your Finished Recipe!
Mention @wearenotmartha and share a photo if you've made the recipe!