This Bacon Cheeseburger Salad is essentially a deconstructed bacon cheeseburger set over a bed of baby kale and topped with a "secret sauce" dressing. Totally customizable to your own preferences, this is way more fun than the average kale salad!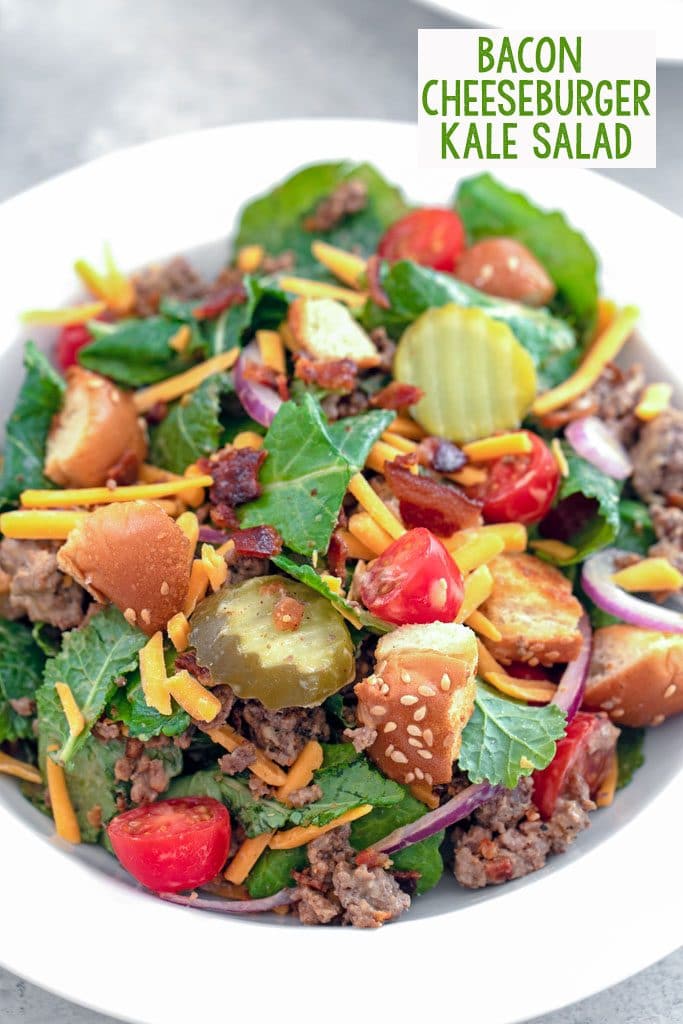 If there's one thing I can say about myself it's that I'm really good at balance when it comes to eating.
I absolutely love to indulge and will almost never turn down a cookie, piece of cake/pie, or a platter of nachos or mozzarella sticks. I fully believe in treating myself and oftentimes probably go a little bit overboard.
BUT! I also genuinely love vegetables and grains and so many healthy foods. I don't just put kale in my salads because I want to be healthy; I eat it because I think kale is so much more flavorful and delicious than boring old romaine lettuce. I choose kale/baby kale or spinach 100% of the time because I want the extra flavor and the extra nutrition. Win win!
I'm sure some of you will look at this bacon cheeseburger salad made with kale and think "no thank you!" I'm pretty sure Chris thought I was crazy when I told him what I was making for dinner.
But it's really just a deconstructed burger put over some healthy greens. And what's not to love about that??
Add in some some veggies, hamburger bun croutons and "secret sauce" dressing and you have an incredibly satisfying meal. And one that I'm pretty sure I'll be making over and over again.
And yes, by the time we were done with dinner, Chris was wondering why cheeseburger salads aren't on menus at restaurants everywhere.
Ingredients in Cheeseburger Salad:
As I outline below, there are a lot of adjustments you can make to this cheeseburger salad, but if you want to make it just like I did, here's what you'll add to your bowl:
Ground Beef (cooked in seasonings)
Baby Kale
Cherry Tomatoes
Red Onion
Crispy Bacon
Shredded Cheddar
Dill Pickle Slices
Hamburger Bun Croutons (recipe included)
Secret Sauce Dressing (recipe included)
How to Adjust Bacon Cheeseburger Salad to Your Dietary Needs:
So, is this bacon cheeseburger salad with kale healthy? I mean, that's totally debatable. It depends on what you consider healthy and if you adhere to any specific diets.
The good news is, there are a ton of adjustments and substitutions you can make so this salad fits into your lifestyle. Here are a few ideas:
If you're on a low-carb or keto diet, you can make this salad without the croutons and with alterations to the dressing.
If you don't eat beef, make the salad with ground turkey instead.
If you want a little less fat and sodium, leave off the bacon and cheese and make this just a hamburger salad.
If you think the pickles are weird (I mean, they kind of are... But they're also delicious!), leave them off.
If you don't like kale, well, I guess you can make this with romaine or another green of your choice... But for me, kale adds just the healthy boost I crave!
Bacon Cheeseburger Salad with Kale Recipe
I knew I wanted to make a cheeseburger into a salad, but I couldn't bear the thought of totally getting rid of the bread.
So, I toasted up some cubed hamburger buns for hamburger bun croutons.
Like I said, if you're trying to eat low-carb, you can leave these out, but I really liked the crunch they gave to the salad.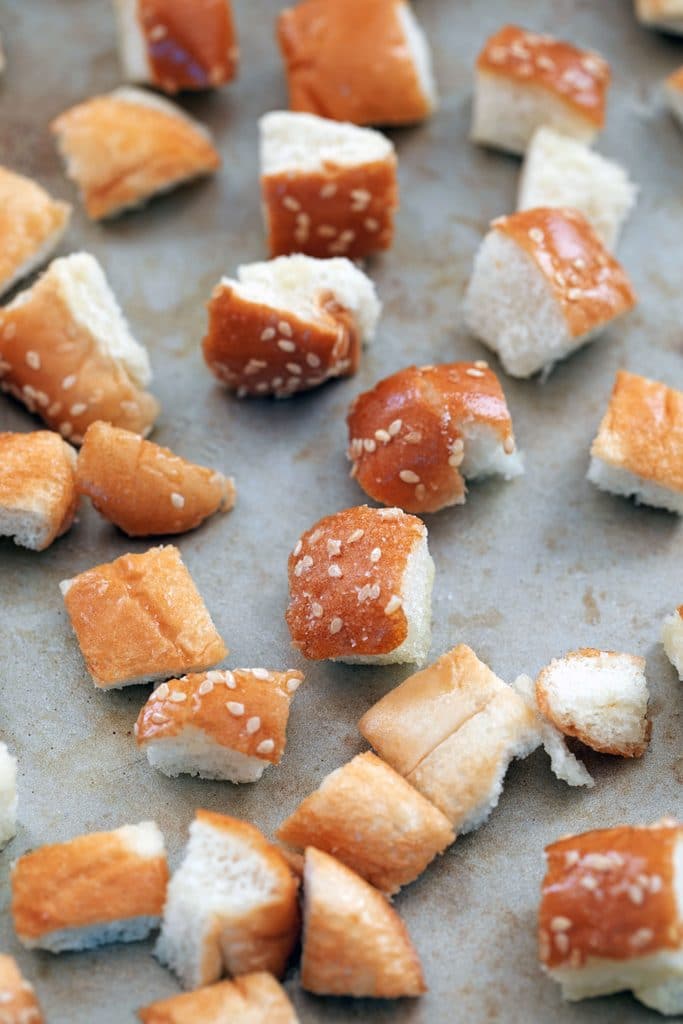 Then I cooked my ground beef and add some seasoning to it (I stuck with salt, pepper, chili powder, and garlic powder, but feel free to use whatever you like).
So simple and easy!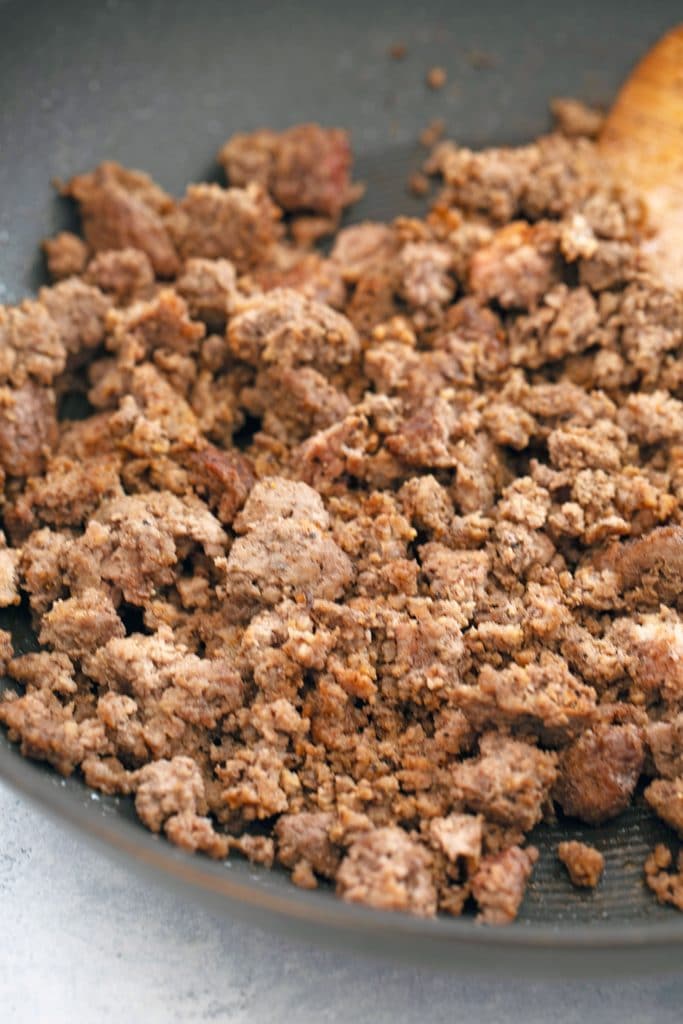 And then I put my baby kale in a bowl, along with everything I would typically get on a bacon cheeseburger, including crumbled bacon, tomatoes, red onion, shredded cheddar cheese, and dill pickles.
I added in the ground beef and hamburger bun croutons.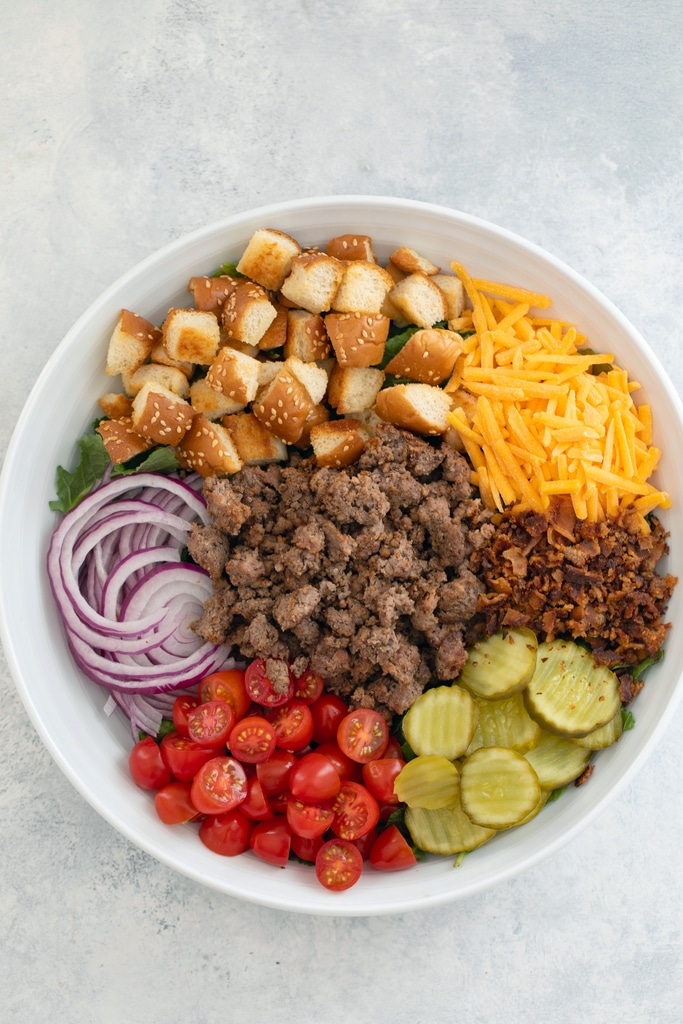 And tossed with a dressing that's basically like the "secret sauce" and/or the condiments that might come on a burger, simply mayonnaise, ketchup, mustard, and a little bit of pickle juice.
Of course, if this isn't up your alley, you can substitute with the dressing of your choice. Just think about what kind of sauce you'd want on a burger and go from there!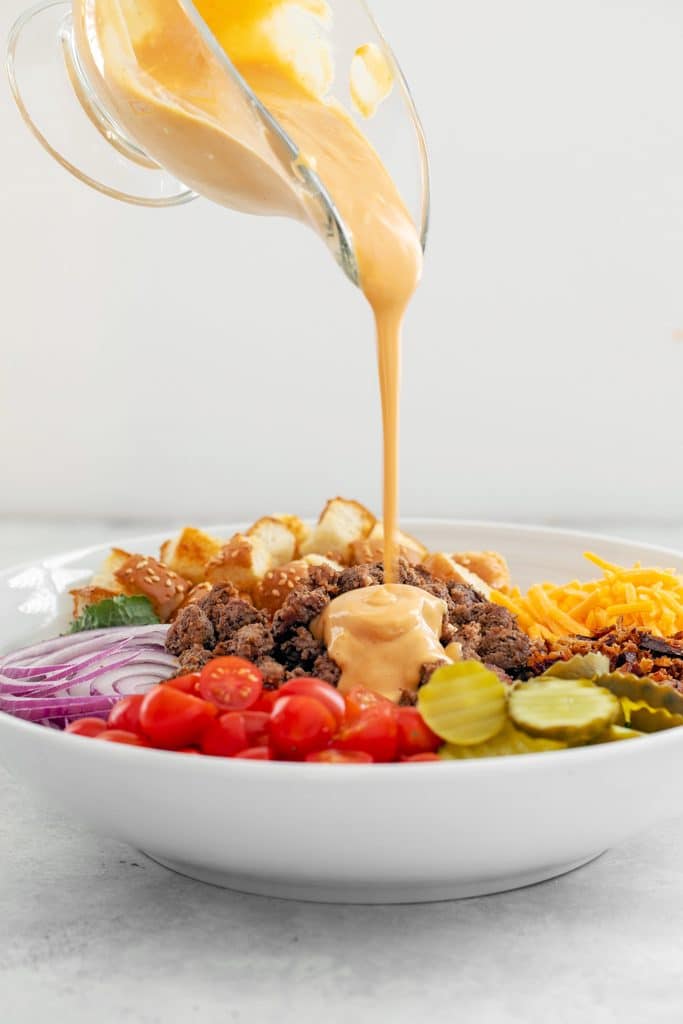 Toss it all together and dig in. And yes, this bacon cheeseburger kale salad is my new favorite salad in the world.
And that's saying a lot because I really, really love Caesar salads (specifically, kale Caesar salads with parmesan crisps).
But how could you not love a salad with so much deliciousness involved?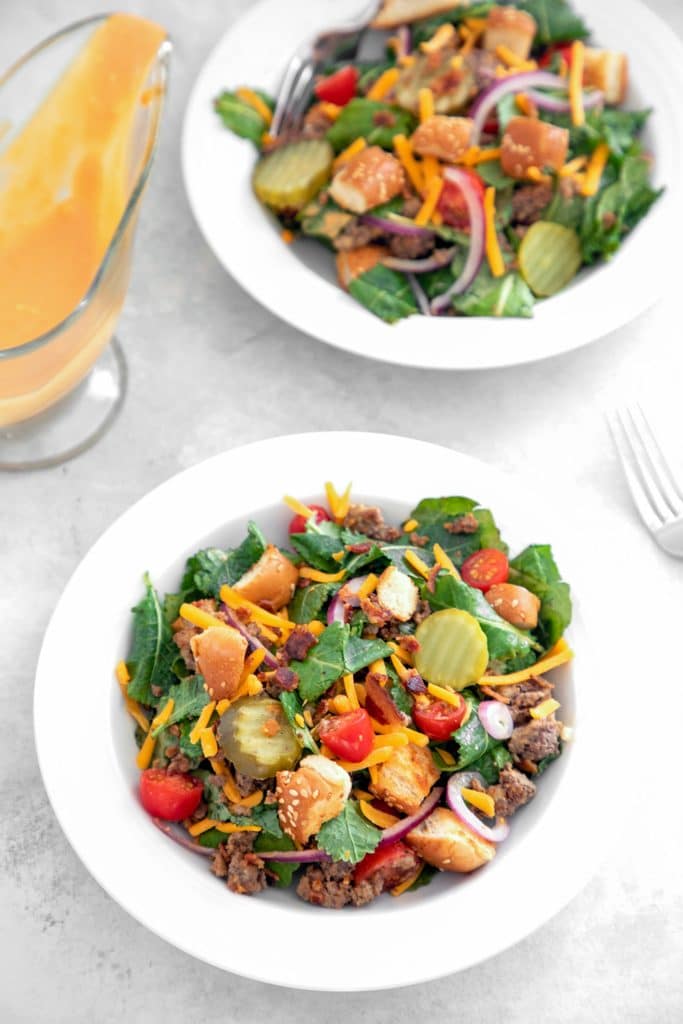 And honestly, I feel a little bit healthier after eating this than I do a giant burger. Must be all that kale! And the fact that it's a lot easier/neater to eat (I'm pretty sure I'm the messiest eater in the world).
But seriously, I love kale to the point where maybe it's a little weird? The other night, Chris and I were telling our friends all about the wonders of Wawa (in case you don't know either, Wawa is the BEST gas station convenience store I think mainly along the East Coast, but not in New England) and I said, "you can even order kale on your salad!"
And my friends just looked at me like like, "OK? Cool?" Yes, that was my biggest selling point. But Wawa also has milkshake machines and $1 coffee and pretty much anything your heart/stomach desires.
But they don't have bacon cheeseburger salads. At least not yet.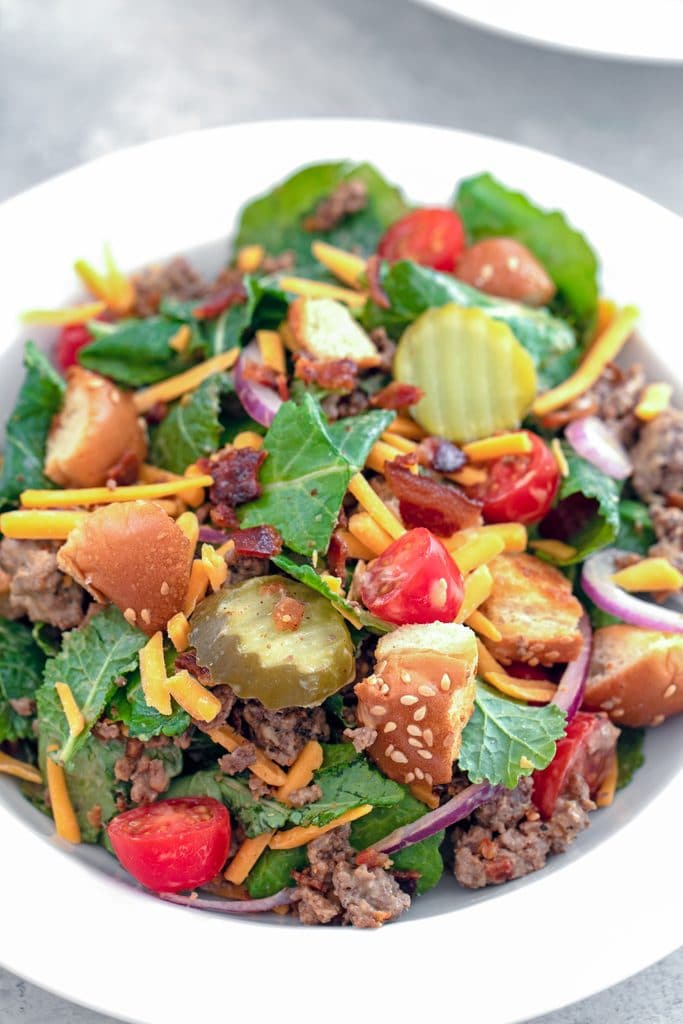 Though I'm pretty sure that before long, you're going to start seeing them everywhere. Okayyy, maybe not with kale... Unless I have anything to do with it muhahaha.
Do you balance healthy eating with major indulging?
More Delicious Salad Recipes
Some people claim not to "like" salads, but considering you can make pretty much anything into a salad, I think those people are wrong! With enough research, anyone can find a salad they love. Here are a few of my favorite more unique salad recipes: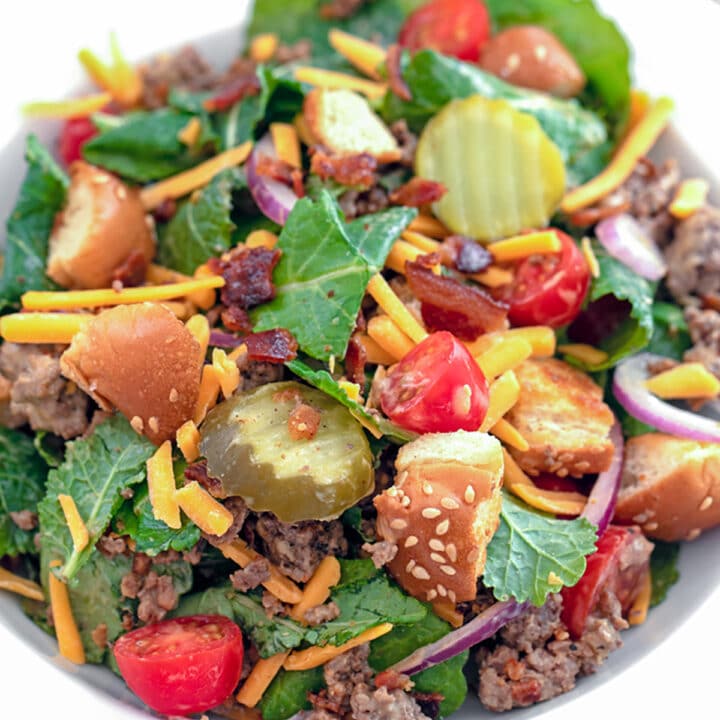 Bacon Cheeseburger Kale Salad
This Bacon Cheeseburger Kale Salad is essentially a deconstructed bacon cheeseburger set over a bed of baby kale and topped with a "secret sauce" dressing. Totally customizable to your own preferences, this is way more fun than the average kale salad!
Print
Pin
Rate
Ingredients
¾

lb.

85% lean ground beef

¼

tsp

salt

¼

tsp

pepper

¼

tsp

chili powder

¼

tsp

garlic powder

8

cups

baby kale

1

cup

cherry tomatoes,

halved

¼

red onion,

thinly sliced

4

slices

crispy cooked bacon,

crumbled

¾

cup

shredded cheddar

⅓

cup

dill pickle slices

Hamburger Bun Croutons

(recipe below)

Secret Sauce Salad Dressing

(recipe below)
Hamburger Bun Croutons
3

hamburger buns,

cut into cubes

2

Tbsp

olive oil

¼

tsp

salt
Secret Sauce Salad Dressing
⅓

cup

mayonnaise

¼

cup

ketchup

2

Tbsp

yellow mustard

2

Tbsp

dill pickle juice
Instructions
Add ground beef to a large skillet over medium heat and cook, breaking up with a wooden spoon or spatula, until no longer pink, 7-10 minutes.

Stir salt, pepper, chili powder, and garlic powder into the ground beef.

Add kale to a large serving bowl. Top with tomatoes, sliced onion, crumbled bacon, shredded cheddar, and dill pickle slices. Using a slotted spoon, remove ground beef from skillet (leaving any extra oil behind) and add to salad. Top with hamburger bun croutons.

Drizzle dressing over the salad, toss, and serve in individual bowls.
Hamburger Bun Croutons
Pre-heat oven to 350 degrees.

In a medium bowl, toss together cubed hamburger buns, olive oil, and salt. Place bread cubes on a baking sheet and bake for 9-11 minutes, until nice and crispy.
Secret Sauce Salad Dressing
In a medium bowl, whisk together mayonnaise, ketchup, yellow mustard, and dill pickle juice until smooth.
Share a Photo of Your Finished Recipe!
Mention @wearenotmartha and share a photo if you've made the recipe!