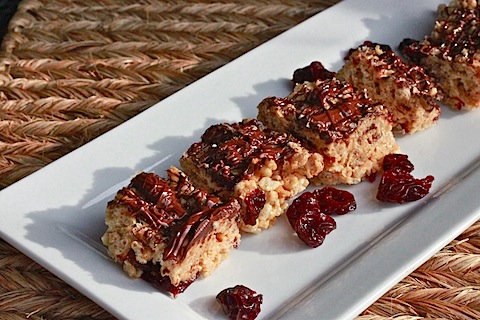 So, it's a new year but that doesn't mean my cereal obsession has ended 😉 When I received a package from America's Test Kitchen a few weeks back containing their holiday cookie magazine I first drooled, then I started bookmarking recipes I wanted to try. The first was their Crispy Chocolate-Cherry Treats. Basically an adult/fancy version of the basic Rice Krispies treats. Cereal, white chocolate, marshmallows, and cherries. I mean, you can't go wrong with this. I think that covers every food group, yeah?
To be 100% honest, I wasn't going to write about this recipe. I made them a couple days before Christmas and I thought they were insanely too hard and crunchy. Not the fluffy treats I was used to. I decided to put a couple in the microwave for a few seconds and was pleasantly surprised by how tasty they were. Although they weren't perfect-looking and were a bit crunchy, I packaged them up in cute little holiday containers anyway and brought them to my parent's house figuring we'd be able to salvage them. Plus, family and friends are the best guinea pigs and usually offer the best feedback. The weekend went by and I ended up forgetting all about them until my mom called me a couple days later gushing over how good they were! She told me she put them in the microwave to soften them up a bit and she loved them. Her favorite part was the dried cherries. Hooray!
Crispy Chocolate-Cherry Treats
America's Test Kitchen
Print this Recipe!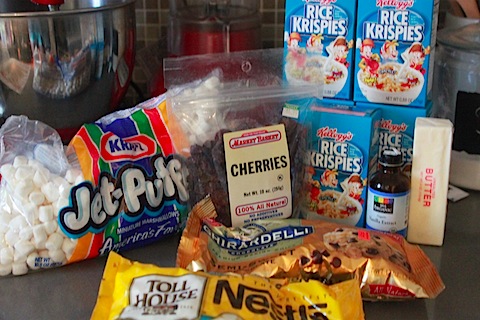 • 3 tablespoons unsalted butter
• 1 (10-ounce) bag of marshmallows
• 1/2 cup white chocolate chips
• 1/2 teaspoon salt
• 1/4 teaspoon vanilla extract
• 5 cups Rice Krispies cereal (each one of the little boxes is a cup. Thankfully, because I wasn't about to buy a family size box of it!)
• 1 cup dried cherries, chopped
• 1/2 cup semisweet chocolate chips, melted
Start off by making a foil sling by folding two long sheets of foil in opposite directions, making sure there's a few inches of foil hanging off the edges of the pan. Press the foil down into the corners of the pan. The photo in the magazine obviously looks 1 million times neater than my hot mess. But hey, it worked. Once the sling is situated, grease the foil.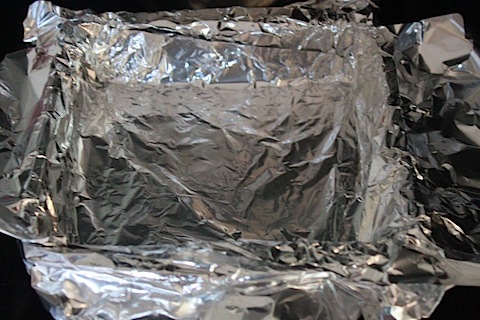 Melt your butter in a large saucepan over low heat.
Add the marshmallows, white chocolate chips, and salt, and cook making sure to consistently stir until everything is melted. I think this is where I made my mistake and why the treats were overly crunchy. The heat on my stove was probably more medium/low than just low so I think the marshmallows melted a lot faster than they were supposed to. They got very sticky and unmanageable pretty fast.
Remove the saucepan from the heat and incorporate the cereal and cherries. I didn't snap a photo of the melted marshmallows because I was trying to rush before they got too hard. Ahhh. Once the cherries and cereal are incorporated, pour/scrape them into your prepared pan.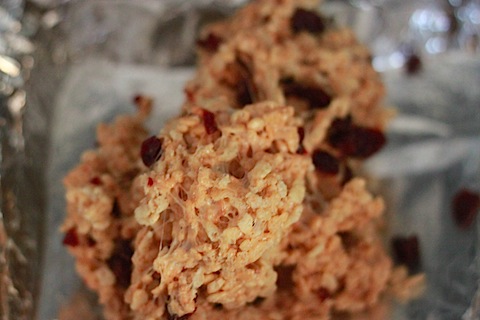 And press the mixture into the sides of the pan using a greased spatula. Let this cool for about 1 hour.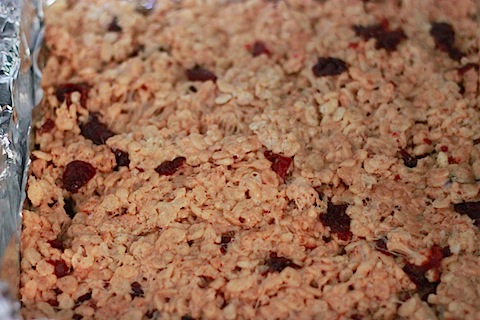 Next, you're going to melt the chocolate chips. I used a ramekin and ATK suggested melting the chips until smooth for about 30 to 60 seconds, making sure to keep an eye on them and stir occasionally.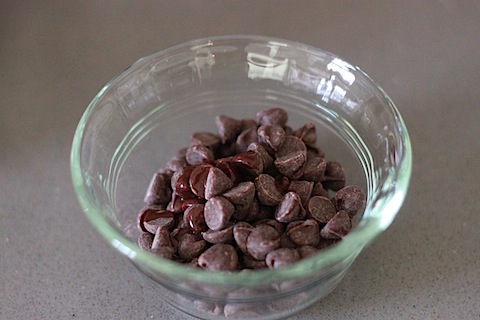 Drizzle the melted chocolate over the treats. Also, feel free to pretend you're a pastry chef and go crazy with the chocolate drizzling. You know I went overboard and tried to get all artsy with it 😉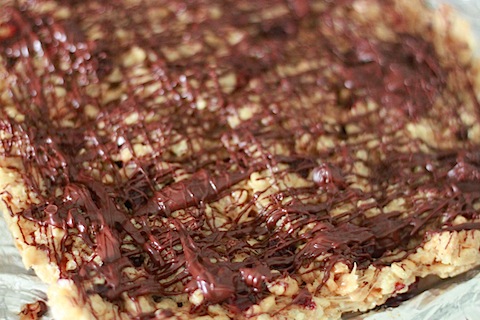 Let the chocolate cool for about 15 minutes then lift the foil sling out of the pan and onto a cutting board. Using a greased knife, cut the treats into squares and serve.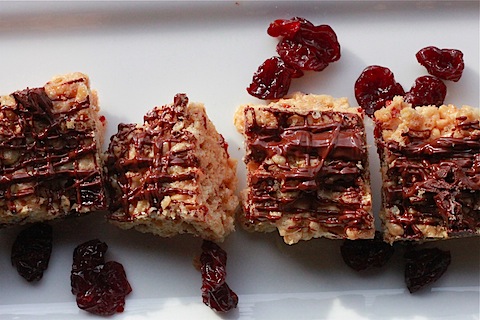 Or in my case, wait two days, store them in containers, let them get rock hard and have your mom bring them back to life by popping them in the microwave. Evidently, it's the same difference. The combination of the plump and sweet cherries with the white chocolate and crunchy cereal sure did win her over. Next time I make these, I'm definitely going to be a bit more aware of the heat level when mixing the marshmallows to see if I can make them just right from the beginning.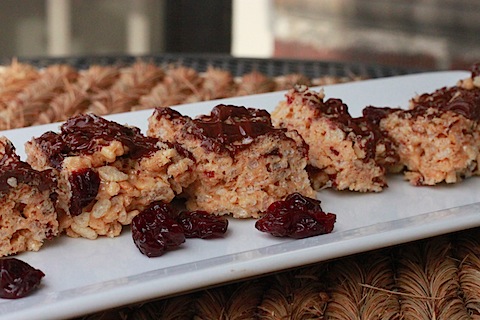 Hope everyone had a fantastic New Year's! I always say it blows me away how quickly time flies by but I have a good feeling about 2012 so hopefully this year doesn't go by too fast! I'm starting the year off with a hefty amount of freelance design jobs under my belt and a few "resolutions" that I actually plan on sticking with:
One is to attempt to sound slightly more intelligent by cutting back on using the word "literally". I want to punch myself in my own face whenever I hear myself saying this for no good reason.
The others are typical:
Go to the gym more often, which shouldn't be an issue since I'm already there twice a week working. Stretch more. I've been having some nasty back pain lately, so I want to make a conscious effort to put my body first! Plus, I'm in two weddings this year so if that's not motivation, I'm not sure what is.
Cut back on the booze. Not that I even drink all that much, but recently I've been far more aware of when I've been grabbing a glass of vino or a cocktail. When I go out to dinner with friends it's always automatic to order a drink but lately I've just been getting water and I actually feel better. So, since that worked at the end of 2011 I'm carrying into the new year.
This one is weird. But in 2011 I learned that saying "no" sometimes is so empowering. I'm always running around all over the place (LITERALLY, ha!) and often put important things that I have to get done for myself/my life/my career on the back-burner in fear that I'll disappoint someone else. I cram waaaay too much in a day sometimes, so I'm aiming to simplify things a bit in order to get tasks done that need to get done. Like writing on this blog! 🙂
I had other ideas for resolutions but I've already forgotten them 😉
[Chels]