Fall is in the air and these Pumpkin Spice Cheerios Treats are an easy-to-make spin on the classic Rice Krispies treats. Pumpkin Spice Cheerios and marshmallows are a match made in heaven.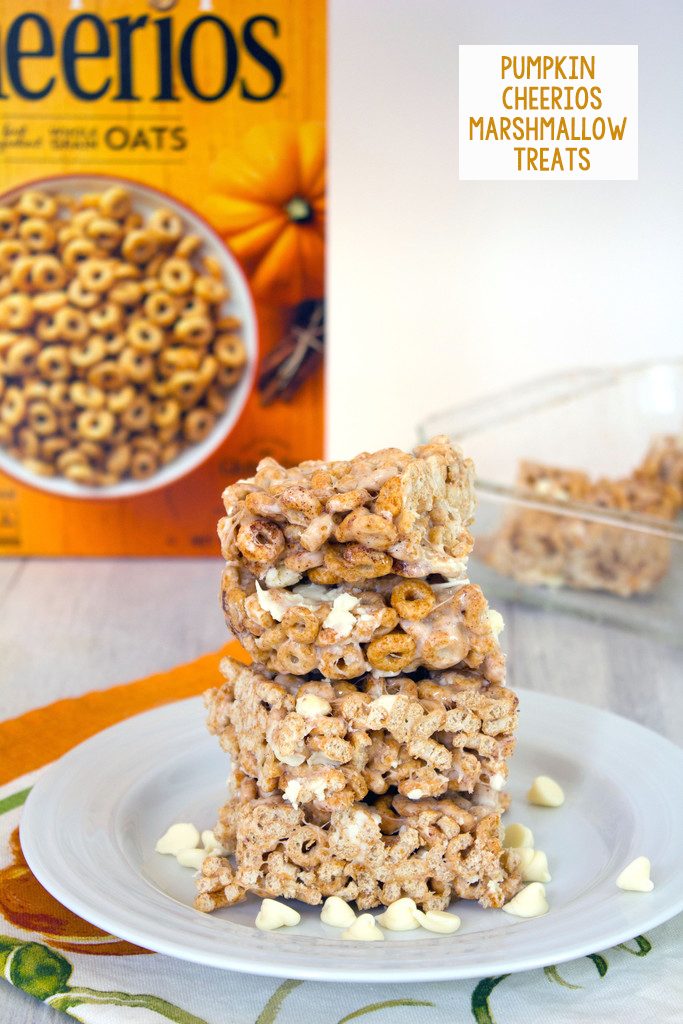 Welp, football season has officially started, so it looks like I'm breaking out the pumpkin. I also drank tea this weekend. And took a bath. These are things I never ever do in the summer.
I also ordered a couple sweater dresses online (which most likely won't fit me) and brought a couple sweaters to the dry cleaners. I did some boot browsing and a little "fall cleaning."
I briefly thought about getting out my Halloween decorations (which consist mainly of glitter pumpkins) and bought my dog a ghost emoji toy at PetSmart. I am no longer in denial that summer is ending and I'm welcoming fall with open arms. My only wish is that the fall season will be kind to us and stick around for a good long while until the snow starts coming.
If you really want to know the truth, I bought these Pumpkin Spice Cheerios the second I heard about them and this box is already completely gone. And if I'm being completely honest, I should probably tell you that since I couldn't find them anywhere, I ended up just ordering them online from Target.
And now that this box is gone and I still can't find them anywhere, I'm considering placing another order. It's the second week of September; why are Pumpkin Spice Cheerios not in my stores?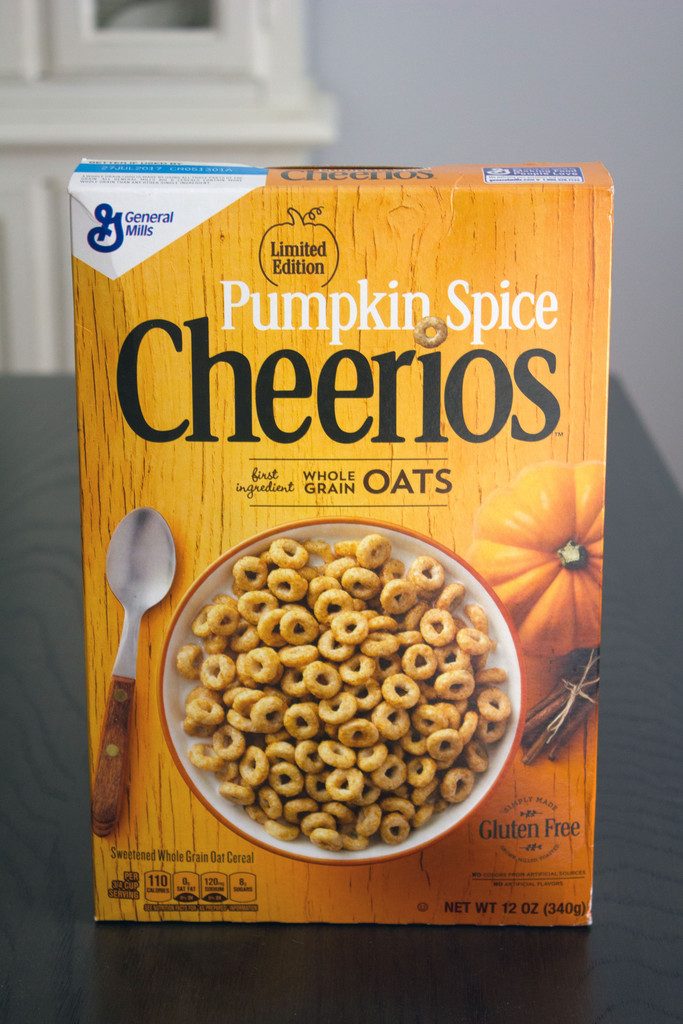 In case you can't tell, I'm a fan. I know it's really not cool to like pumpkin spice anymore, but I don't care. I will probably always love pumpkin and fall spices and I don't know why I feel the need to apologize for it. Why are you trying to make me feel shame??
I especially love it when it's not too try-hard. You know, when it just works. And pumpkin spice really just works in Cheerios. Plus, they're made with real pumpkin puree and don't have a fake taste to them. Perfect in a bowl with milk to start a cool fall morning.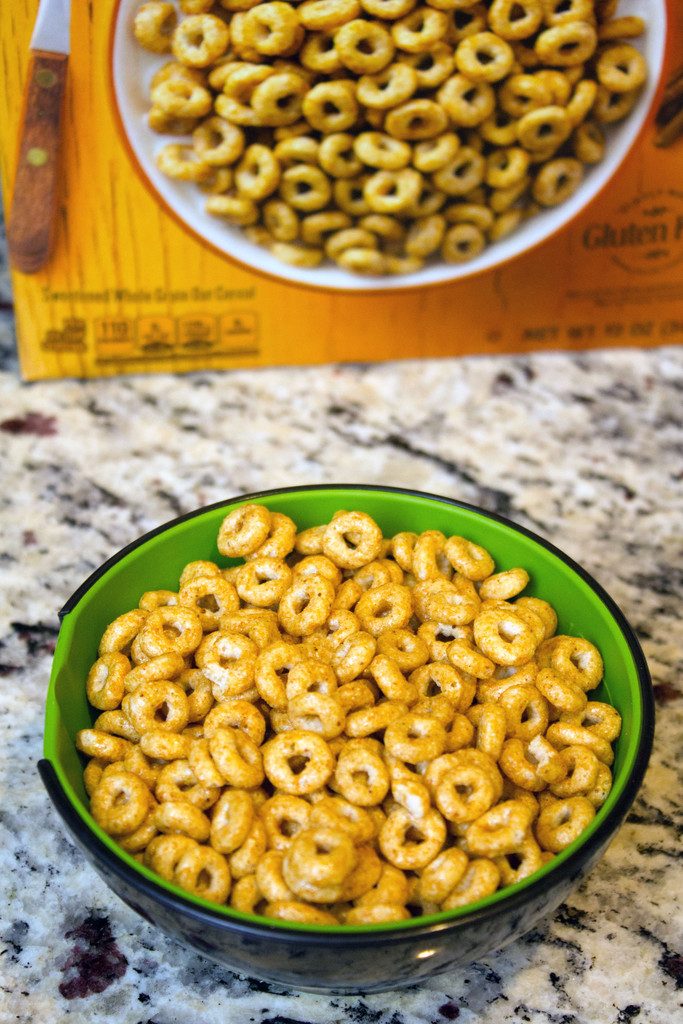 But even better mixed with marshmallows and white chocolate chips and made into Cheerio treats. Am I right?
I wanted to do something fun with the Cheerios (other than mindlessly eating them all in a night) and these pumpkin spice Cheerio bars just felt right to me.
Pumpkin Spice Cheerios Marshmallow Treats Recipe
You may already know how easy rice krispies treats are to make and you'll be happy to hear these pumpkin Cheerio bars are just as easy! All you have to do is melt some butter in a saucepan and stir the marshmallows in until melted.
Add Cheerios, cinnamon, nutmeg, and ginger and stir to coat the cereal in marshmallow. Fold in white chocolate chips.
Spread in a greased 9x13 baking dish, let rest for an hour, slice, and serve!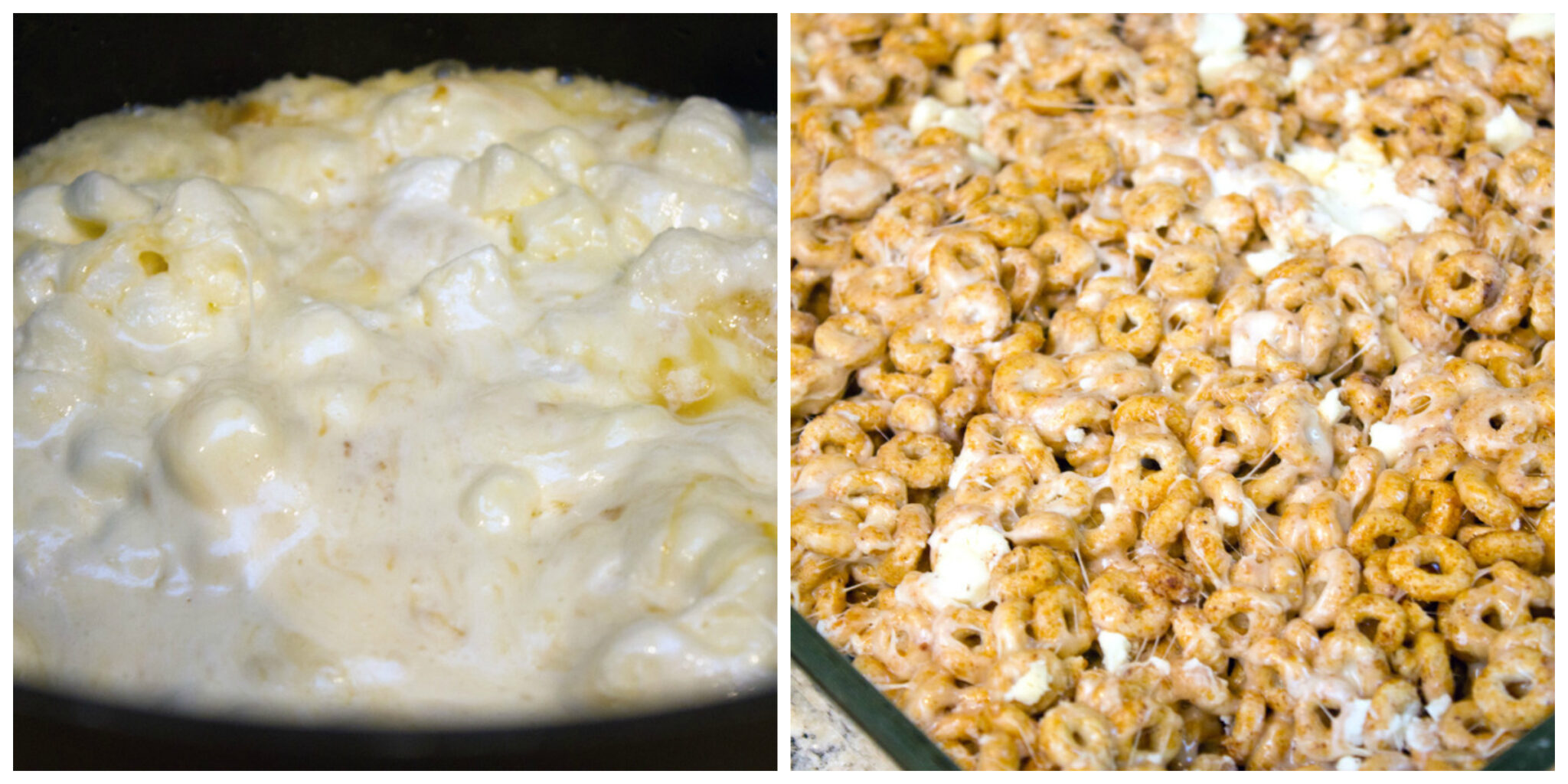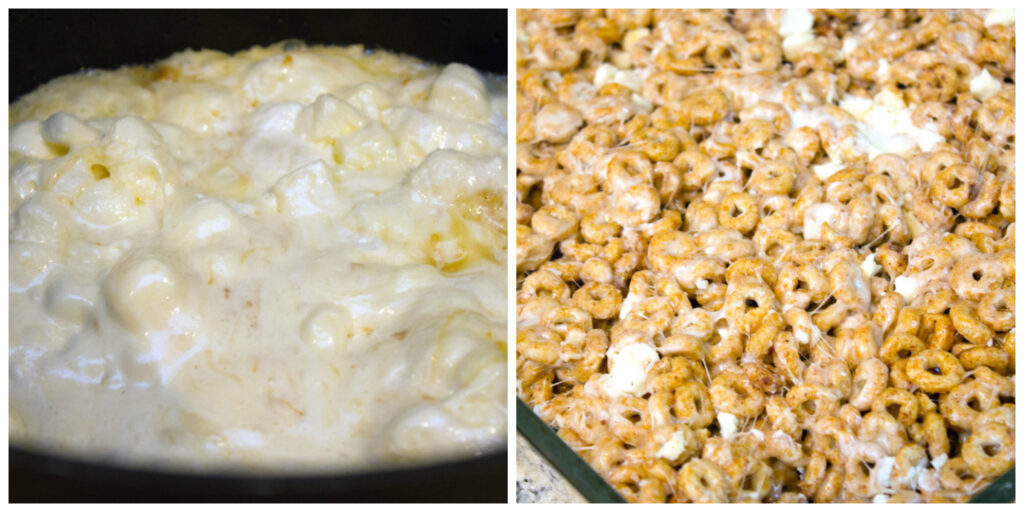 I've actually never been a big Rice Krispies treats person. I really don't know why, considering I love, love marshmallows and don't have any problem whatsoever with Rice Krispies. They've just always tasted sort of empty to me and leave me feeling unsatisfied, like I need something more.
I knew that making marshmallow treats with Pumpkin Spice Cheerios would not leave me unfulfilled.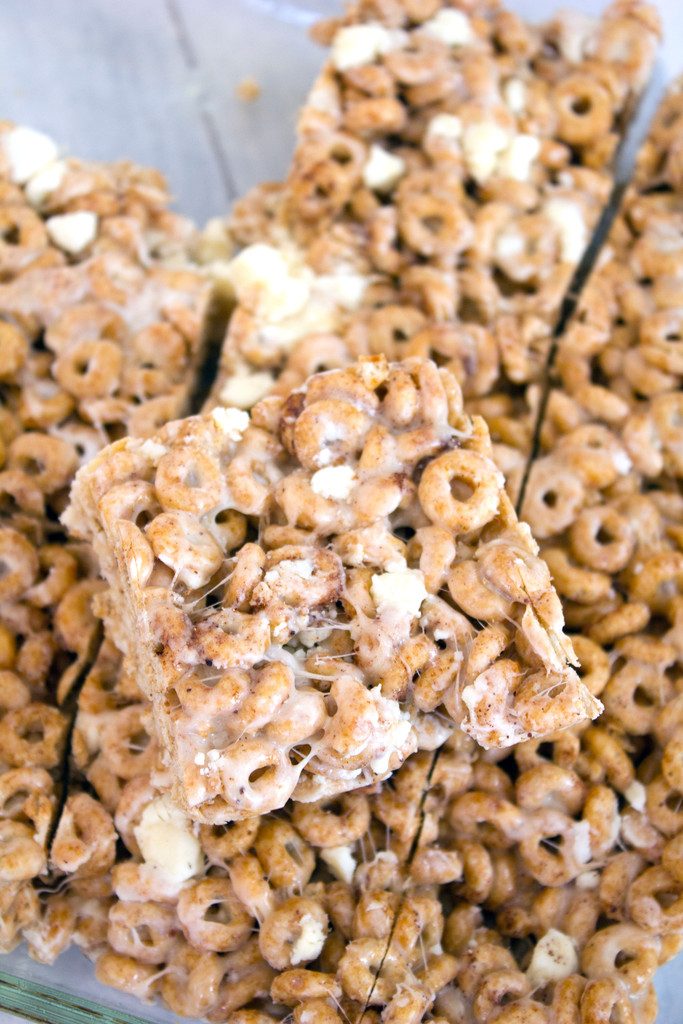 Why use Rice Krispies when you can use the amazingness that is Cheerios to make bars? I have no idea why some people make the choices they make.
To be fair, not only did I mix Pumpkin Spice Cheerios and mini marshmallows together, but I also stirred in some cinnamon, nutmeg, ginger, and white chocolate chips. A dream team combination.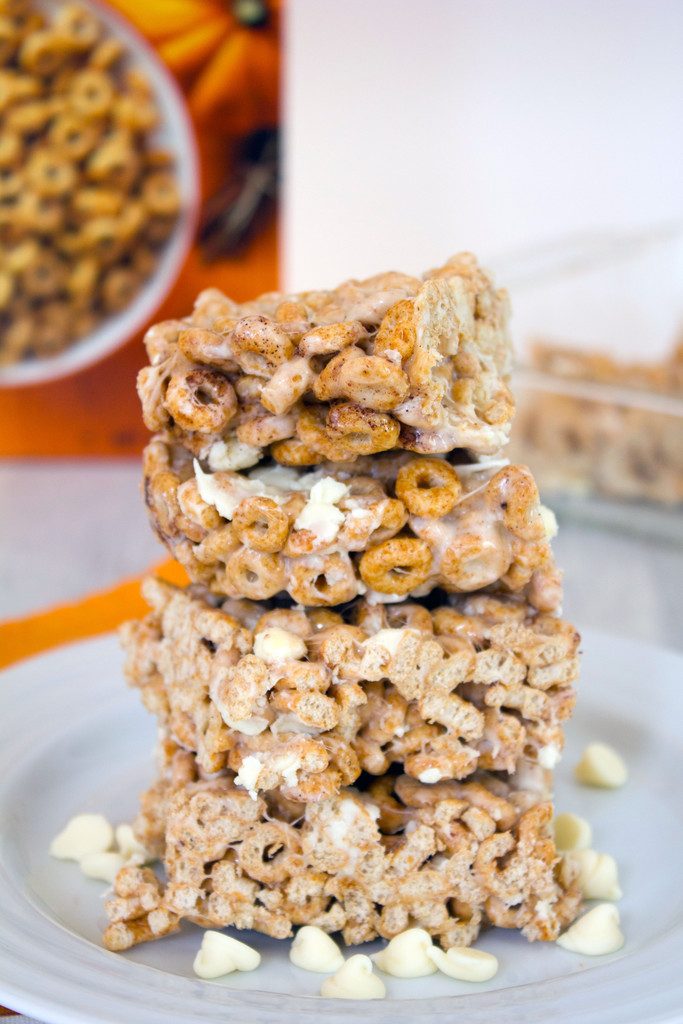 And now these pumpkin spice Cheerio treats are probably going to just live on my kitchen counter forever because I'm planning to keep eating them and making more, eating them and making more. Etc, etc. etc.
I wish marshmallows had maybe a little bit less sugar in them because I kind of want to start eating these for breakfast. Though I guess I'd probably have to leave out the white chocolate chips, too. And that would be a shame.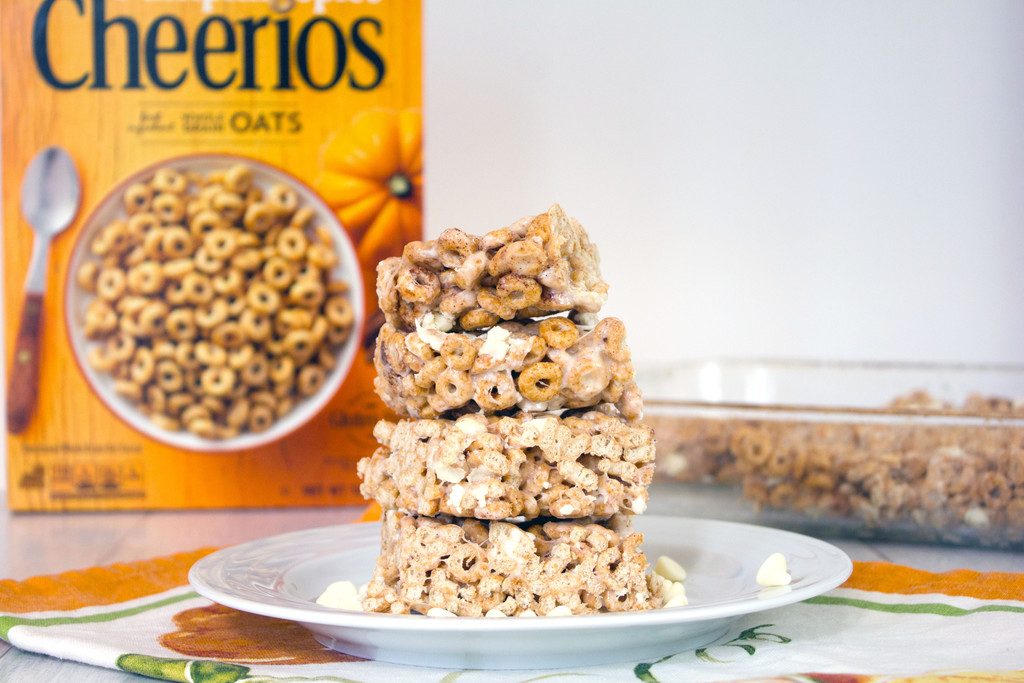 Even if you're feeling down on all things pumpkin spice this year, I still think you should give these Cheerio bars a try. Let's be honest, you probably just think you don't like pumpkin spice because everyone is telling you not to and laughing at you when you pick up a product off the shelf.
But who cares what they say. They just feel like they're too cool to admit that they love the stuff, too.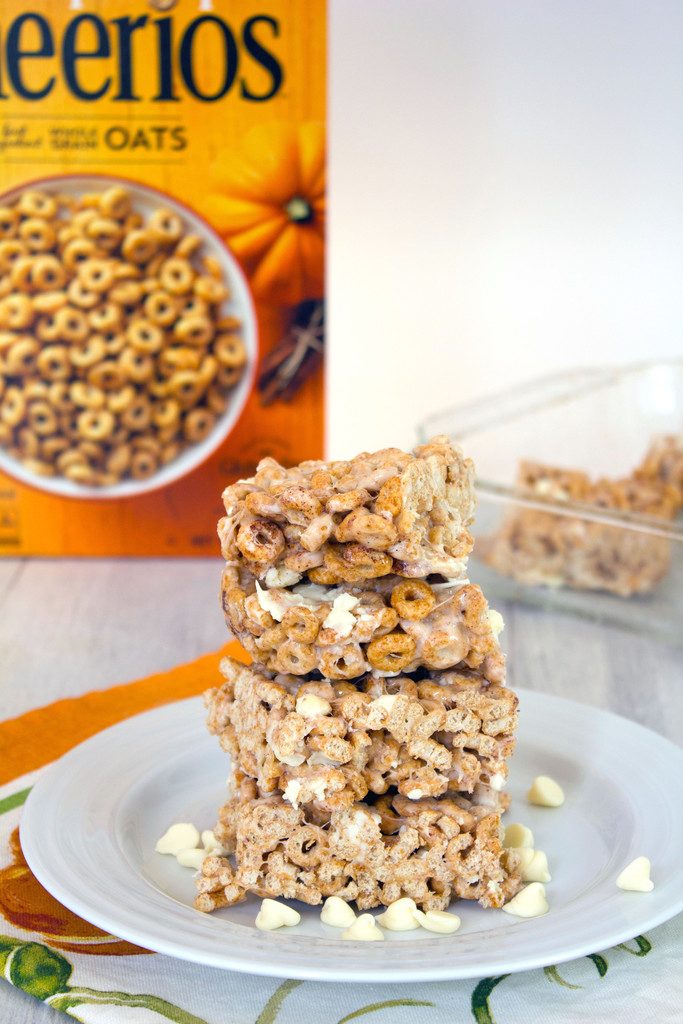 I mean, if I tried to hand you one of these, you wouldn't take it? And you wouldn't get at least a few little warm and fuzzy feelings when you walked into my kitchen and all smelled of pumpkin spice? Really??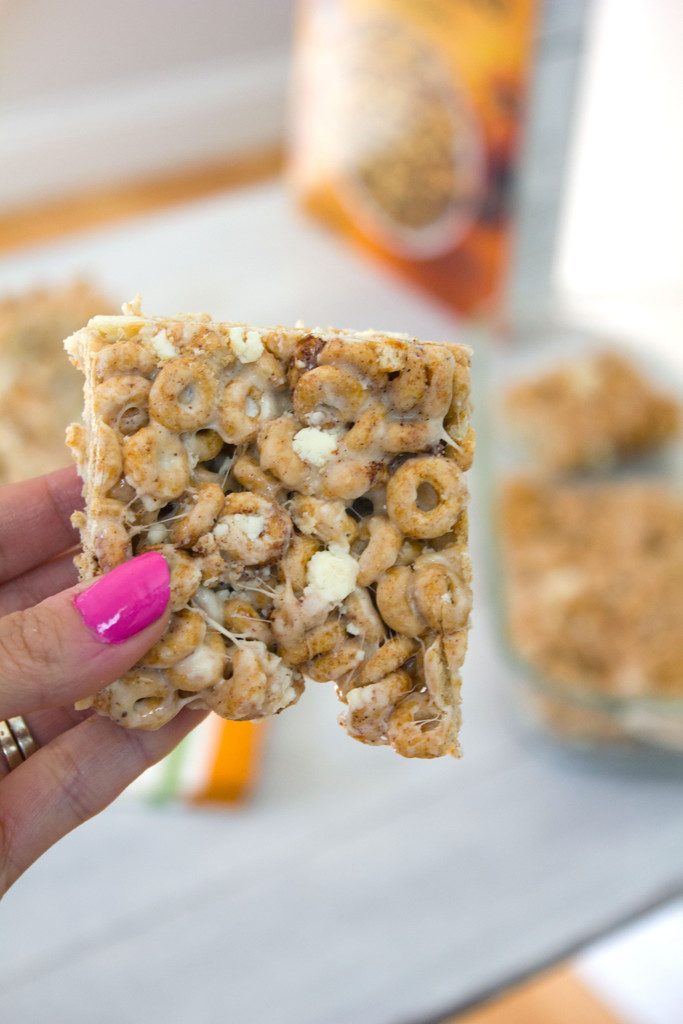 Though I've done a little shopping, I'm resisting actually wearing sweaters and boots until I absolutely have to. But I'm done resisting the pumpkin. You have officially been warned.
But don't worry; I'm not planning on going too overboard this year. After all, squash and apples and cranberries are making their way here, too. Who needs strawberries and corn and cherries, anyway??? (wahhh, I do. Summer, I will miss you dearly).
Are you saying no to pumpkin spice this year or letting a little bit of it into your life?
If you like baking with Cheerios, check out my Chocolate Peanut Butter Cheerios Granola Bars or my Very Berry Cheerios Marshmallow Treat Pops. I also love these Honey Nut Cheerios Cupcakes from Bakerita.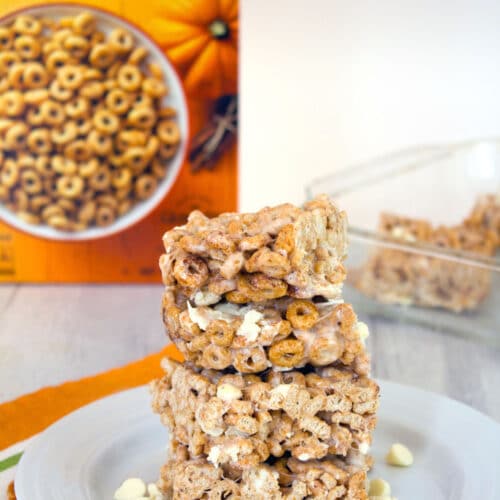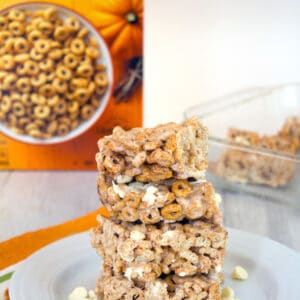 Pumpkin Cheerios Marshmallow Treats
Pumpkin Spice Cheerios Marshmallow Treats -- Fall is in the air and these Pumpkin Spice Cheerios Treats are an easy-to-make spin on the classic Rice Krispies treats. Pumpkin Spice Cheerios and marshmallows are a match made in heaven.
Print
Pin
Rate
Ingredients
½

stick (4 Tbsp)

unsalted butter

11.5

oz.

bag marshmallows

(I used mini marshmallows)

7

cups

Pumpkin Spice Cheerios

¼

tsp

cinnamon

¼

tsp

nutmeg

⅛

tsp

ginger

¾

cup

white chocolate chips
Instructions
Spray 9x13 inch baking dish with cooking spray.

In a large saucepan, melt butter over medium-low heat.

Add marshmallows to saucepan and stir until melted.

Turn off heat and add in Pumpkin Spice Cheerios, cinnamon, nutmeg, and ginger. Stir until Cheerios are completed coated in marshmallow.

Fold in white chocolate chips.

Pour mixture into prepared baking dish and let sit for about an hour to cool and harden.

Cut into squares.
Pin this Recipe for Later!
Mention @wearenotmartha and share a photo if you've made the recipe!