Remember the other day when I toasted some chickpeas (aka garbanzo beans) and said I'd love to really roast them? Well, I found this recipe on Kalyn's Kitchen for Crispy Roasted Chickpeas with Moroccan Spices and got to experimenting this afternoon. I have quite the collection of spices in my pantry so I didn't shy away when I saw the list! Plus, all of the spices listed seemed like the perfect way to add a little pizzaz to these high protein beans.
Speaking of spices, a little side story. For as long as I can remember my mom has had her spices alphabetized in our pantry. And since I'm a total scatter brain I never really thought alphabetizing my spices would be something I'd do. So fast forward, through my entire life, up until a couple months ago. I was on vacation and my roommate sends me a text saying she was cleaning out her shelves in the pantry and asked if it was okay if she alphabetized my spices. I was all "uhhh, sure? I mean, if you really want to?" thinking it would last all of a day once I came home and messed them up. I was also thinking I'd never offer to alphabetize anything for anyone since I still recite the alphabet out loud to figure out which letter comes next. You do it too... don't kid yourself. Let me just say this now, besides organizing your jewelry in a really cool way, alphabetizing spices is probably the best way to make your life easier. It's been months and I can't imagine how I ever cooked with them all scattered about.
Back to the chickpeas...
Here's what you need: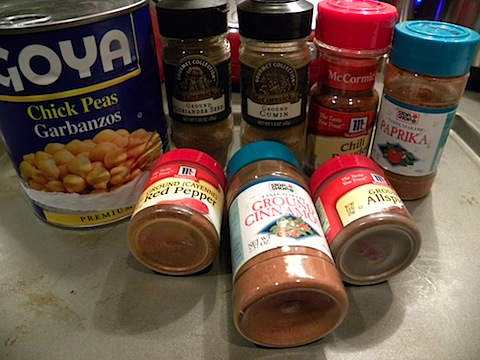 • 1 can of chickpeas
• 1 tablespoon olive oil
• ½ teaspoon Moroccan Spice Mix (to follow)
• salt to taste
Moroccan Spice Mix
• 2 teaspoons ground cumin
• 1 teaspoon ground coriander
• ½ teaspoon chile powder
• ½ teaspoon ground cinnamon
• ¼ teaspoon ground allspice
• ¼ teaspoon ground ginger (which I didn't have)
• ⅛ teaspoon cayenne pepper
Here's what you do:
Preheat oven to 350 degrees.
Drain the beans in a colander and rinse well with cold water. Let the beans drain for about 5-10 minutes then pat dry.
While you're waiting for the beans to dry mix together your spices to create the Moroccan Spice Mix.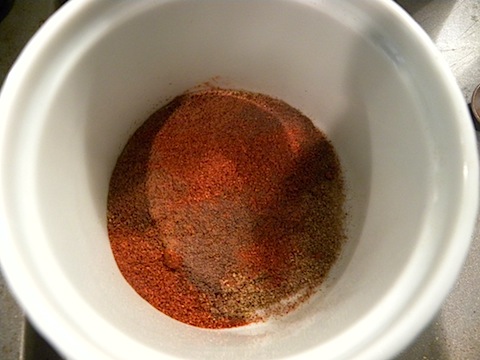 Spread the beans in a single layer on a baking sheet and toss with olive oil, Moroccan Spice Mix, and salt.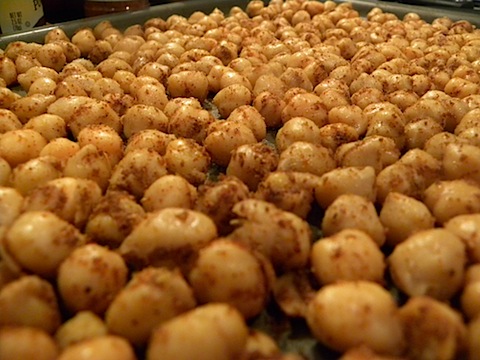 Roast for 30-40 minutes or until slightly browned and as Kayln says "until they make a rattling sound when you shake the baking sheet". Serve fresh out of the oven or let them cool a bit.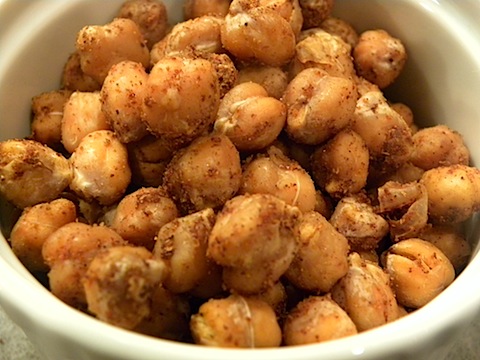 As someone with a nut allergy these are the perfect substitution... The texture and consistency actually reminded me a bit of a roasted peanut. I was also thinking they'd be the perfect little snack to serve at a party. All of the warm flavors from the spices reminded me a bit of Fall too!
For dinner dessert this evening I made a spinach salad with grilled salmon, roasted red peppers, Athenos feta cheese, and I tossed on a handful of the Crispy Roasted Chickpeas with a squirt of lemon juice!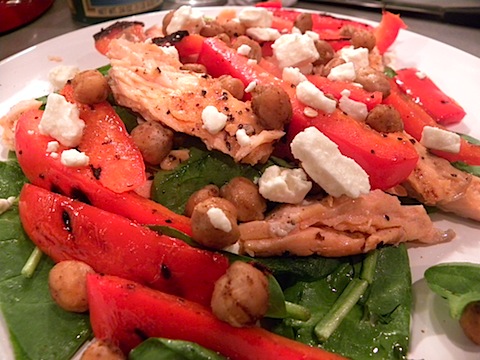 You're probably wondering why a salad was my dessert. It's because my real dinner was this:
Key lime pie frozen yogurt, graham cracker crust topping, and raspberries from Red Mango. Obviously the best dinner known to mankind.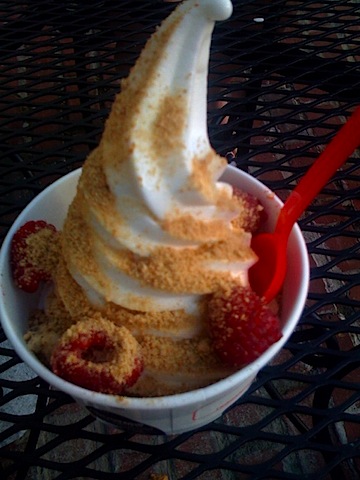 And it's obviously Summer 😉
Do you alphabetize your spices?
Or do you eat dessert for dinner and dinner for dessert? 😉
[Chels]