It feels like I'm always on the hunt for perfect appetizers. Appetizers and desserts, appetizers and desserts. Those are the dishes I'm generally assigned when it comes to attending parties or dinners with my family. I was super happy when my mom asked me to bring an appetizer to dinner with the family this weekend... and then told me exactly what to make! If there's a bigger Ina Garten fan than my mother, I'm not sure who it is and my mom asked if I could make Ina's eggplant caponata. She even gifted me with Ina's newest book, How Easy is That? so, how could I say no? Plus, the eggplant caponata looked pretty amazing, so I had absolutely no problem making this dish.
This is one of those recipes where you look at the ingredient list and say, "Whoa! No thanks." But don't be intimidated. It's a lot of ingredients, but the recipe is seriously simple as pie. Besides roasting the eggplant, it will take you no time at all. And if you really need to leave an ingredient or two out (like the capers), it's probably not the end of the world. Just improvise!
In other fabulous news, I created an account so that we can finally have printable recipes here at We are not Martha! We've had tons of people ask if they could print our recipes out without all our step-by-step photos and endless commentary (I'm sure it's not that you don't like to hear us rambling... But just that printer ink is expensive, right?). So, now you can click Print this recipe! for your own copy to bring into the kitchen. But I still recommend reading our full posts since the step-by-step is where we give helpful hints and tell you more specifics 🙂 Enjoy!!
Eggplant Caponata (serves about 8-10):
Adapted from Ina Garten
Print this Recipe!
• 1 large eggplant
• Olive oil
• 4 oz. jarred roasted red peppers, chopped
• ¾ C large green olives, pitted and chopped
• 1 C chopped yellow onion
• ¼ t crushed red pepper flakes
• 1.5 T garlic (4 cloves), minced
• 3 T parsley, minced
• 2 T pine nuts, toasted
• 2 T freshly squeezed lemon juice
• 2 T capers, drained
• 2 T tomato paste
• 1 T red wine vinegar
• 2 t kosher salt
• 1 ½ t freshly ground black pepper
• Toasted pita triangles for serving
(Pre-heat oven to 400 degrees)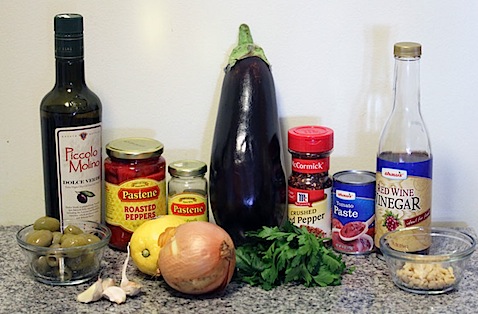 Start by lining a baking sheet with aluminum foil as you pre-heat the oven to 400 degrees. Place the eggplant on the pan and prick it with a fork in several places. Rub it with olive oil.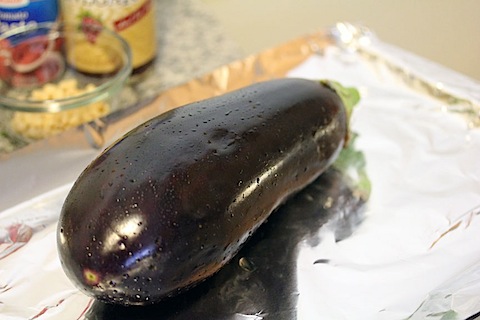 Pop it in the oven for about 45-50 minutes, until the eggplant is very soft when pierced with a knife. This is really the only time-intensive part of the recipe. Once your eggplant is roasted, you're smooth sailing.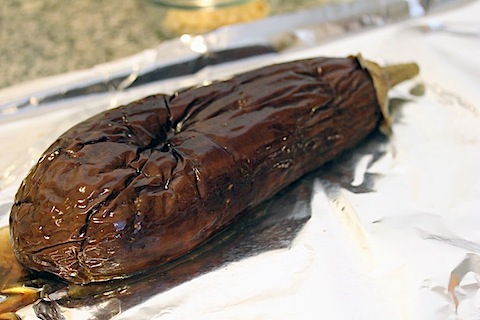 While my eggplant was roasting, I chopped all my other ingredients, like the onions, parsley, and garlic.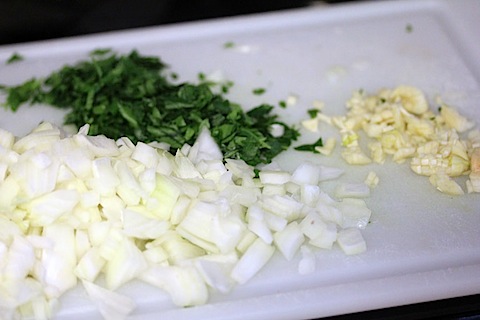 Let the eggplant cool for a bit and then halve it. Peel and discard the skin.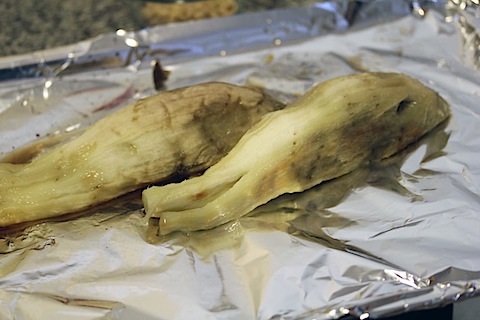 Put the eggplant, roasted red peppers, and olives in the bowl of a food processor and pulse until coarsely chopped.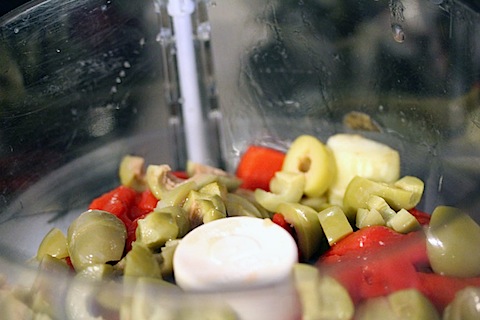 If you don't have a food processor, a blender is probably fine.
Move this mixture to a bowl.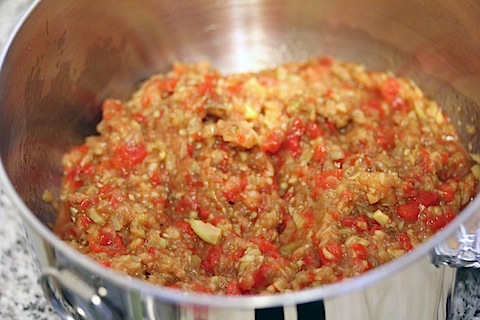 Now, heat 1 T of olive oil in a medium saute pan and add the onion and red pepper flakes.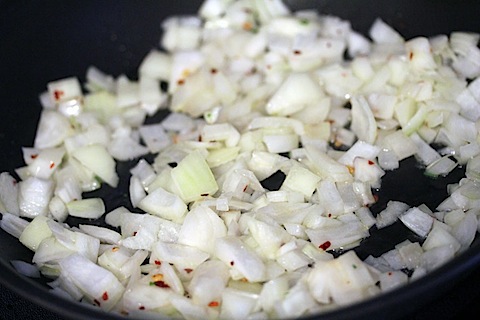 Cook over medium heat for about 5 minutes, until the onion is just a bit brown. Now, add the garlic and cook for another minute.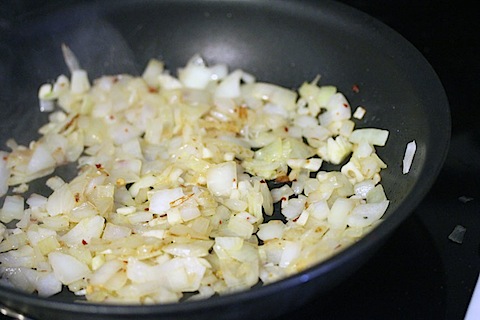 While my onion was cooking, I toasted my pine nuts. A word to the wise when toasting pine nuts- Keep your eye on them! They toast quickly and burning them is the worst. Especially since pine nuts can be a bit pricey.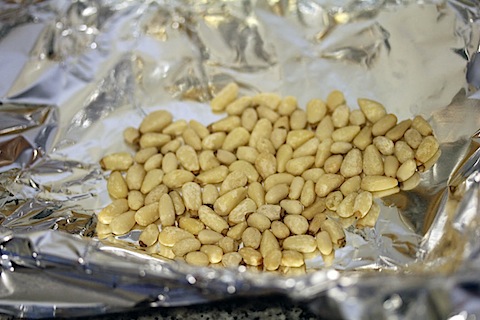 Add the onion and garlic mixture to the eggplant/pepper/olives. Also, add the parsley, pine nuts, lemon juice, capers, tomato paste, vinegar, salt, and pepper. Mix well.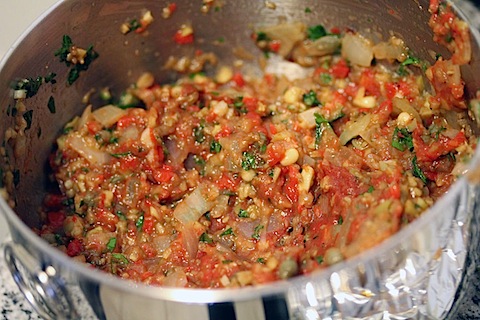 Cover the bowl with plastic wrap and refrigerate for a few hours so the flavors can develop. Serve at room temperature with toasted pita triangles or whatever you want!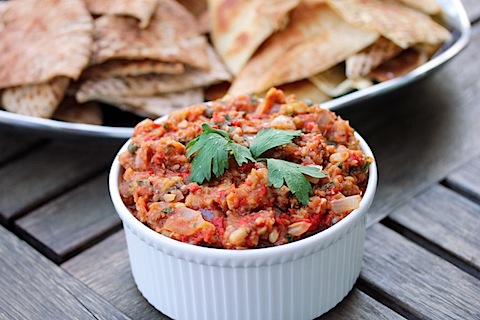 I toasted up both regular and wheat pita bread into chips for a nice little mix.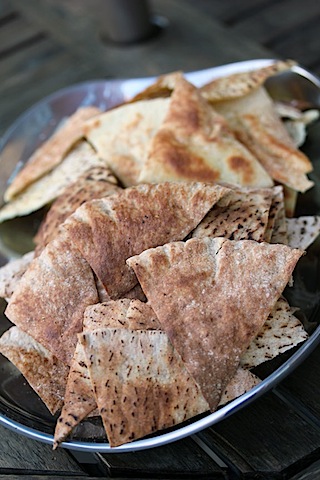 This caponata was the absolute perfect medley of flavors. And I love that as far as dips go, this is pretty darn healthy... No mayo, no cheese (the horror!), just a bunch of veggies and delicious saltiness from olives, capers, etc. Oh, and a little bit of zing from the lemon.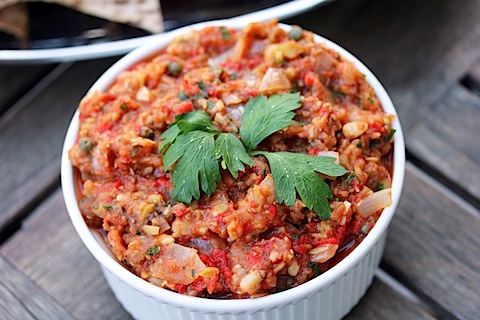 I'm definitely adding this to my appetizer rotation and my mom and I were talking about the fact that it would even be delicious atop some pasta or a chicken dish! Now I can't wait to explore the rest of Ina's new book 🙂 I enjoyed this caponata with my family and my fabulous Aunt Judy who was visiting Boston. We had dinner at my sister and bro-in-law's apartment and also enjoyed my mom's amazing lasagna and my sister's superb roasted veggies. Oh, and a decadent chocolate cake for dessert 🙂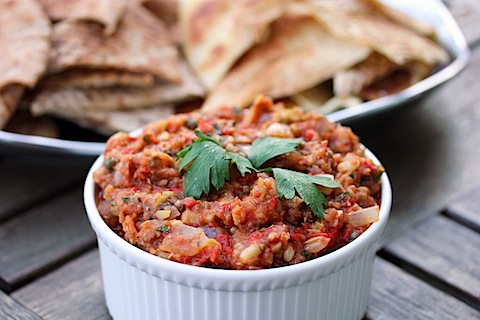 I hope you're all having good weeks. Yesterday was Marathon Monday and Chels and I got to spend a couple hours with one of our favorite people, Jessi. She came in from Chicago to see her friend Gina run the marathon and it was so nice to hang out on the sidelines with her and catch up! As you can see, it was just a little bit windy 🙂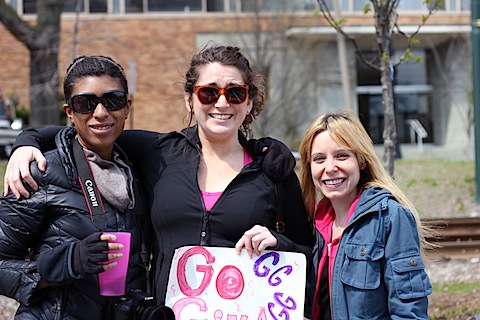 What's your favorite party appetizer?
[Sues]