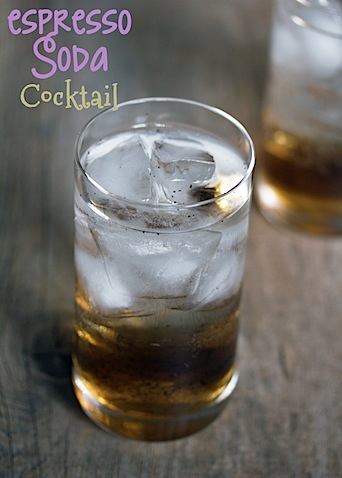 We're making today a Cocktail Monday. Hooray!! Ok, it's mainly because I meant to post this cocktail on Friday and didn't. And there's something kind of cruel about pretending a Monday is a Friday. Because you'll probably go home after work tonight and want to just make this cocktail, sit on the couch, and watch Dateline and Shark Tank for a few hours (wait… is that just me on Friday nights??). Until you suddenly remember it's actually Monday night and not only should you tone it down on the drinking, but the Bachelor isn't even on TV. Le sigh.
And the truth is, I didn't post this on Friday because I took an impromptu little vacation down to Florida. It was a seriously last minute trip, but Chris had to go to Miami for work, so I went along for the trip. To be fair, I spent Friday working and will be working all day Monday, too, but a weekend of sunshine and nothing to do, plus lots of cocktails, good food, and the most fab hotel ever (If I win the lottery, I'm totally moving into The W in Fort Lauderdale… Or maybe just into one of the room's amazing bathrooms) was just what the doctor ordered.
If I wasn't spending downtime in the sun, I most certainly would have been at home sipping on espresso soda cocktails all weekend long. I spotted Bobby Flay making this espresso soda one morning while I was in the kitchen with the Food Network on television. I rarely have the Food Network on anymore and it was the first time I'd seen Bobby Flay's show in years. But right away, I started writing down details of this recipe. The best part is that I talked to my mom on the phone a couple days later and she told me that she just made espresso soda that she saw on Bobby Flay's show. Clearly we're mother and daughter. She said the recipe was a success and gave me a bag of espresso beans, so I didn't waste any more time whipping this one up!
Espresso Soda Cocktail (serves 2, with extra espresso syrup):
Adapted from Bobby Flay
Print this recipe!
2 C granulated sugar
2 C water
¼ C espresso beans, crushed in mortar and pestle
Ice cubes
3 oz. very cold vodka
2 C very cold club soda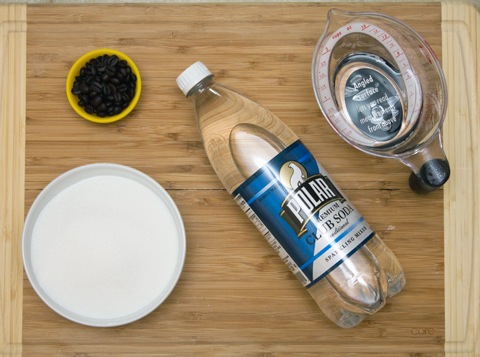 One of the best parts of this recipe? It gave me the opportunity to use my mortar and pestle! Which I'm obsessed with, but rarely ever use. I have a perfectly grand coffee grinder, but since the instructions told me to use a mortar and pestle, I happily obliged.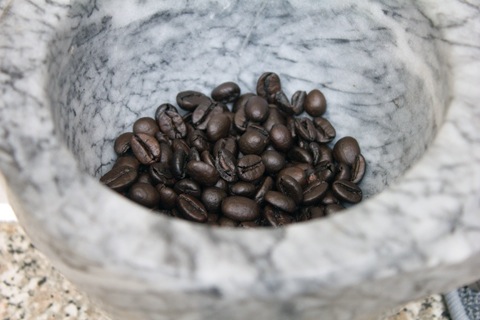 I probably got a little overzealous, but it was hard not to fall into a fantasy that I was living in a little house on the prairie putting in a day of work. Next up: churning butter by hand?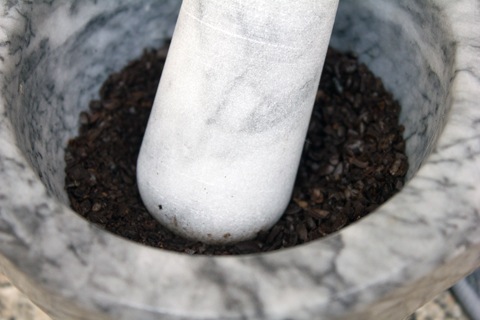 Espresso beans = ground. It was fun, but I'm kind of sort of glad for electricity and the fact that I don't have to do this every morning before I can get a cup of coffee. It would be rough.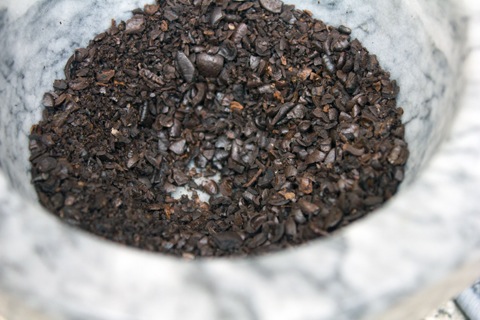 Now I was ready to make the syrup. In a medium saucepan, I combined the sugar and water and brought to a boil over high heat. Once boiling, I lowered the heat and let simmer for about 3-4 minutes, until the sugar was dissolved.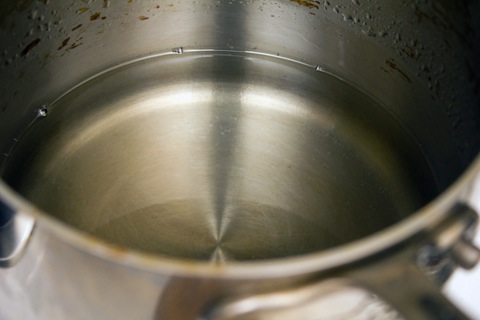 Then I removed the pot from the heat and poured in the espresso beans.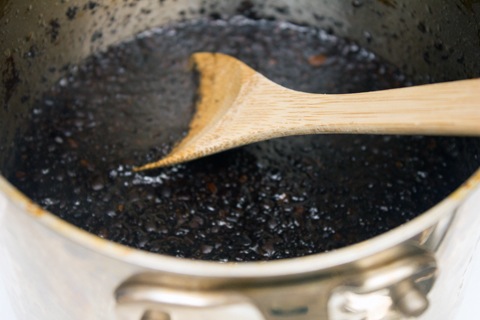 So, it looks a little sludge like, but I promise it's delicious. I let it sit at room temperature for about 30 minutes.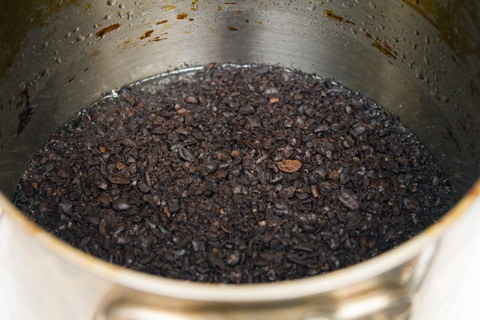 And then I strained it into a mason jar and popped it into the fridge to chill for 2+ hours. I definitely ground my espresso beans a littleeee too much as some of them snuck through the strainer. No big deal though.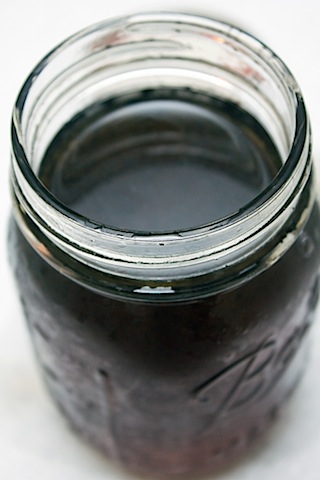 Once the syrup was chilled, I filled my glasses with ice and poured about ¼ cup syrup into each of them. I also added 1.5 ounces of chilled vodka into the glass.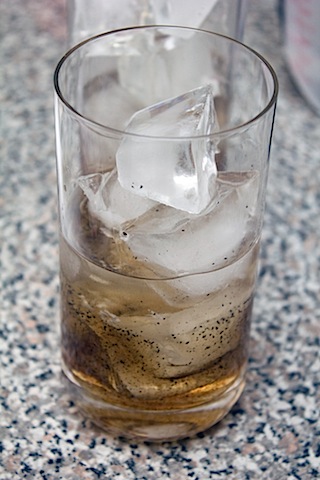 And then filled to the top with club soda.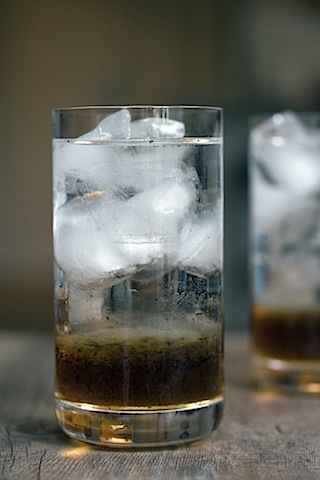 I loved the layered look, though I definitely gave it another stir before serving. Bobby's looked even more layered, because he also added a shot of coffee liquor to his. I decided to refrain since I really wanted the espresso soda's flavor to shine in this. But of course, it you want a super coffee and alcohol jolt, do it!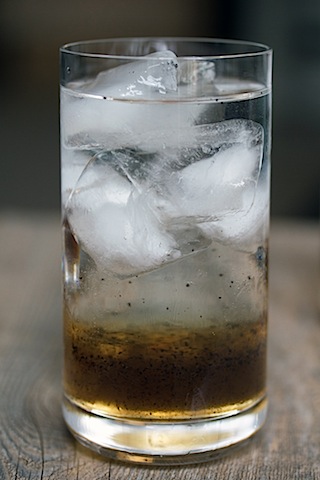 I am a huge, huge coffee lover, so this drink was seriously up my alley. In fact, it might just be my new go-to drink.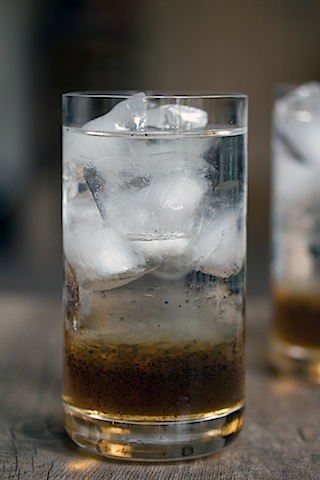 It's the perfect cocktail, but I've also simply been enjoying the espresso syrup with soda water. I love it that much. And in case you don't know, I'm a soda water fiend. I drink a bottle of flavored Polar Seltzer at work every since day… and then I come home and drink a ridiculous amount of soda water from my Soda Stream.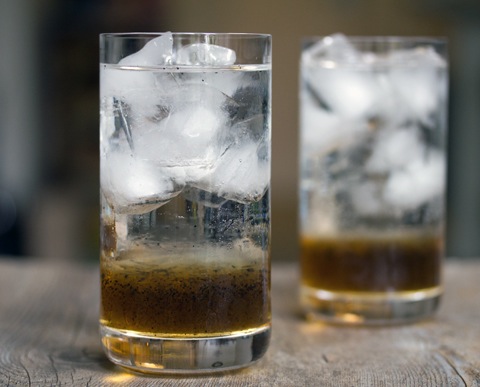 Cocktails with a little bubbly are my favorite. That bubbly can come from champagne, prosecco, or some simple soda water. Speaking of… espresso syrup and champagne? I'd try it.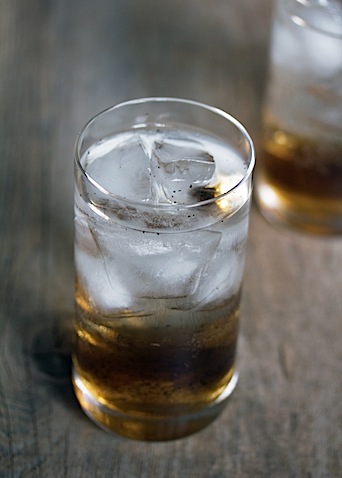 Clearly I'm in cocktail-ing vacation mode. Le sigh. Can I work from a balcony in Florida every day of the week? Please?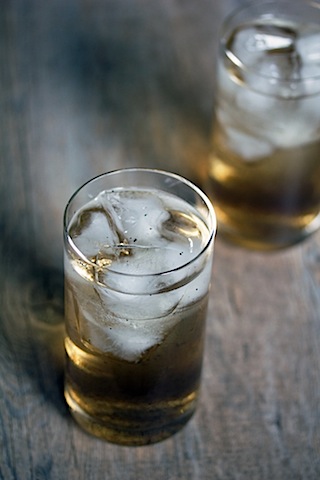 Do you love coffee and espresso, too? Would you try espresso soda?
[Sues]