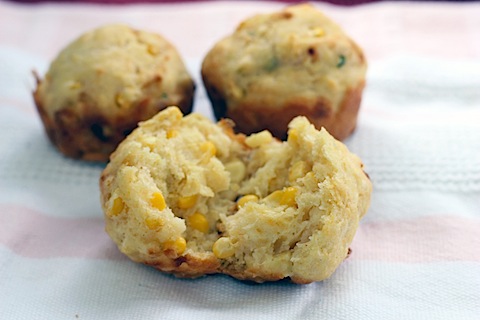 While you're all sipping pumpkin beers and lusting after pumpkin spice lattes, corn season continues for me. I'm actually going to post two corn recipes today. Because let's get realistic: We don't have much time left and you need these recipes now. OK, and I have 8432 posts I need to get out and they're piling up more and more. A good problem to have, I say 🙂
With an obsession with corn and a heartily blooming basil plant (thanks, Dad!), I knew I wanted to combine the two. And when I spotted a recipe in the summer issue of Martha Stewart's Everyday Food, I knew right away I needed these muffins in my life. I love corn muffins/bread anyway, but it's rare to find them made with actual real corn. Sad, right? Plus, if I didn't do something with my basil plant soon, I'm pretty sure it would have taken over our apartment. Now, that would be a pretty awesome (and scary) blog post.
Fresh Corn Muffins with Basil (makes 12 muffins):
Adapted from Everyday Food's Summer Issue
Print this recipe!
1 C corn kernels, from about 2 cobs
2 C flour (plus more for coating tin)
1/4 C cornmeal
1 1/2 t baking powder
1/2 t baking soda
1 t salt
1/4 t red pepper flakes
1 1/4 C buttermilk
1 large egg, lightly beaten
1/4 C unsalted butter, melted (plus more for coating tin)
1/4 C basil, chopped
(pre-heat oven to 375 degrees)
These are incredibly quick and easy to make and the toughest part is cutting the corn off the cob. But it's only two cobs, so don't complain (wait until you see my next recipe… muhahaha).
In a large bowl, combine the flour, cornmeal, baking powder, baking soda, salt, and red pepper flakes.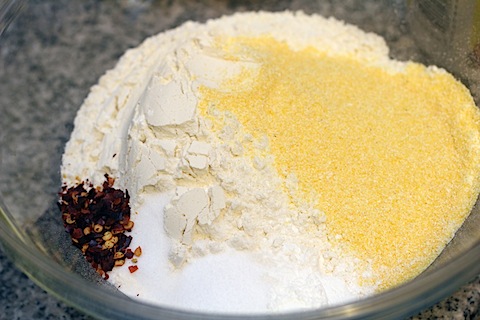 Then, in a separate bowl, whisk together the buttermilk, egg, and melted butter.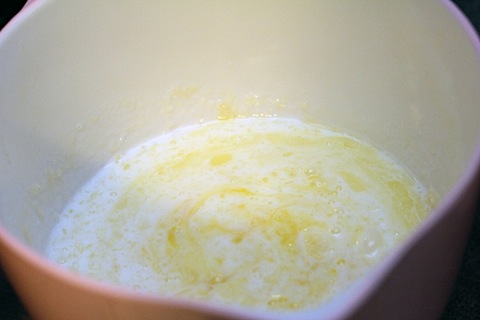 Mix the wet ingredients into the dry ingredients, until just combined. Then fold in the corn and basil, making sure they're spread throughout the batter.
Lightly butter and flour your muffin tin.
Scoop about 1/3 C of batter in prepared tin, filling about 3/4 of the way.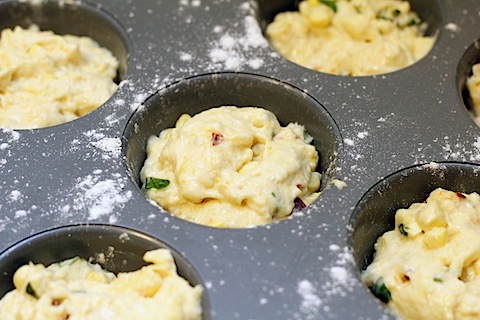 Bake muffins at 375 degrees for about 25-30 minutes, until muffins are lightly golden. Like so: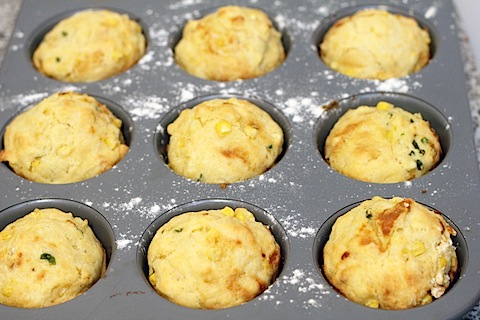 Let them cool a bit before taking out of the pan. But only a little bit because these are SO good warm. Though I'll admit I ate a few cold and those were fantastic, too. I ate a lot of these over the past week. When you live in a household of two and make muffins 12 at a time, trouble can ensue.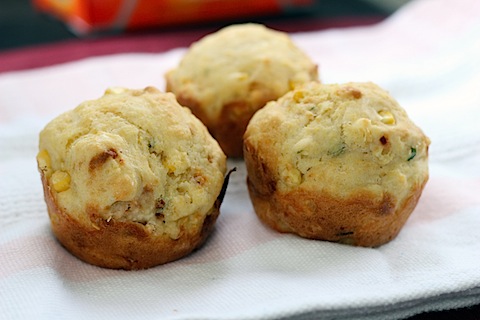 Luckily, these had fresh vegetables in them, minimizing my guilt a bit. Right? I love a corn muffin with actual real-life corn in it. Fresh corn. And fresh basil. The colors are beautiful and the taste incredible.
The original recipe actually called for a bit of sugar, but I left it out because you know what? Fresh corn at this time of year is sweet enough. And I wanted these to be savory muffins that weren't packed with white sugar. The red pepper flakes gave them an awesome kick that wasn't overpowering at all.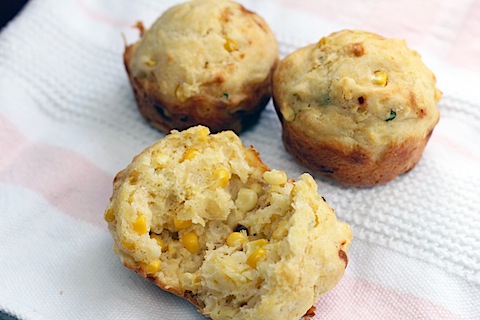 I mean, you could slather these in lots of butter, too, but really it's not necessary. I made a delightful fresh corn soup to eat with the muffins and there was lots of dipping going on. I'll be posting that recipe later today… And then I think I'll take a little corn-cation. Not because I'm sick of it, but because I think I got too much of an arm workout from the next recipe. You'll see.
And I'm pretty sure corn-cation is my new favorite word.
Do you have an ultimate corn muffin recipe? What does it involve?
For some weird reason I'm anti creamed vegetables and "cream of…" soups, but I've heard muffins with creamed corn in them are out of this world amazing.
[Sues]