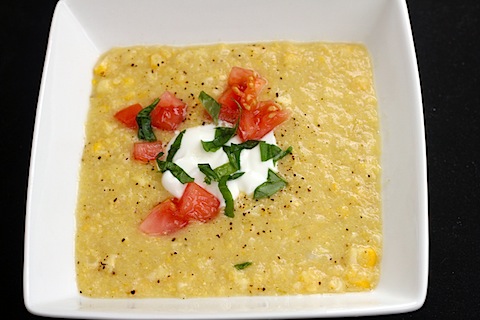 Hi again! Before I leave for corn-cation (I'll be spending the fall in pumpkin land), I wanted to share one last (IF I can contain myself, that is) corn recipe. You need to make this with fresh corn muffins with basil, unless you have a fear of corn overload, in which case, stay far far away. But I say you should indulge while you can. You'll regret it when the corn disappears for the year.
And really, this soup is a beautiful thing. Why, you ask? Well, how often do you see corn soups that aren't packed with cream or milk? This? Has nothing of the sort. Sure you see some sour cream in the photo below, but that's simply for topping the corn soup if you choose (plus, I used fat-free). Other than that, the soup becomes creamy all from the help of the corn. And maybe some of your muscle strength. If you have any.
Fresh Corn Soup (serves about 6):
Adapted from Fine Cooking via Summers & Suppers
5-6 large ears of fresh sweet corn, shucked
Kosher salt
3 T olive oil
½ C- ¾ C cup diced onion
2 cloves garlic, chopped
½ C chopped celery
1 medium red potato, peeled and cut into 1-inch cubes
Fresh black pepper
½ t cayenne
1 small tomato, chopped (optional, for topping)
Sour cream (optional, for topping)
2 T fresh basil, chopped (optional, for topping)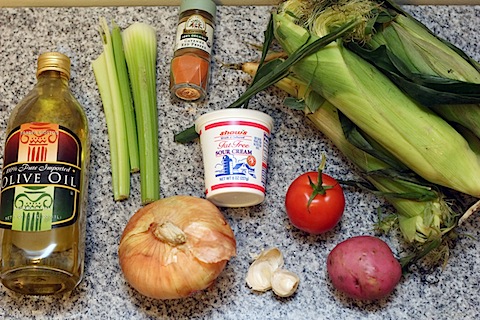 Here we go again, cutting the corn off the cob. Make sure you don't cut too close to the cob. You should have about 3 ½ to 4 C of corn kernels.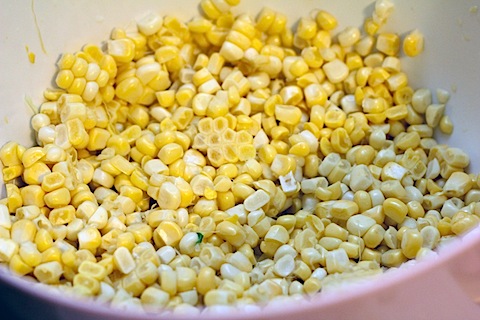 But don't throw away those cobs. In fact, I hope your arms aren't tired. Because you've only just begun. Now, take one of the cobs and stand it on its ends in a shallow dish. Scrape as much off the cob as you can, extracting all the "milk" and solids possible. Repeat with the remaining cobs. This is what mine looked like. It took a lot of arm strength. At least for me. But I'm kinda weak. And I was most definitely using the wrong knife.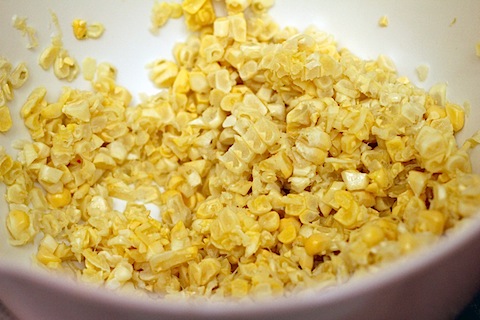 Now, take those totally bare cobs and break them in half. Put them in a 4-quart pot with 6 cups of water and 1 teaspoon salt (and ignore the fact that I left some kernels on my cobs… Ooops. My arms hurt). Bring to a boil over high heat and then reduce to medium low, cover, and simmer for about 30 minutes.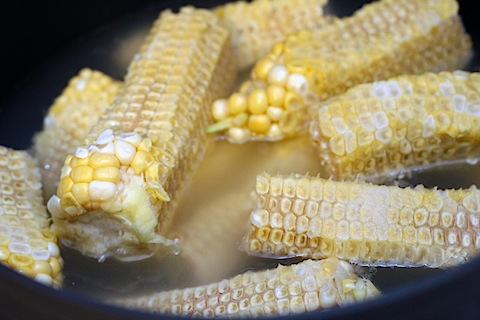 Then you can throw the cobs away, put the liquid in a separate bowl, and set aside.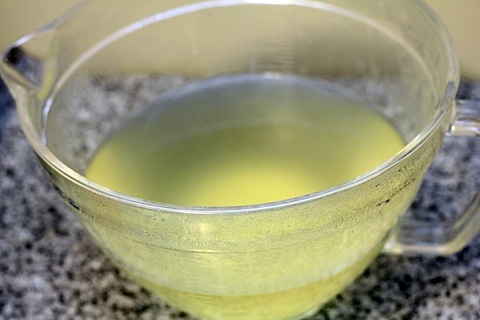 Put the pot back over medium-high heat and add oil. Sauté onion in the oil for about 3 minutes, until translucent.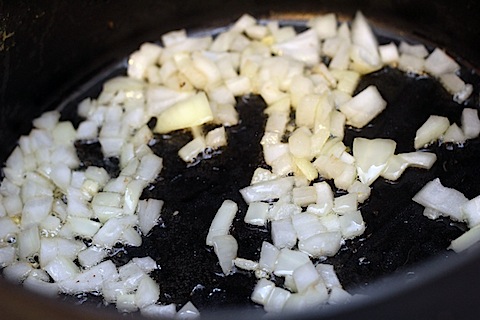 Then add the garlic and cook for another minute.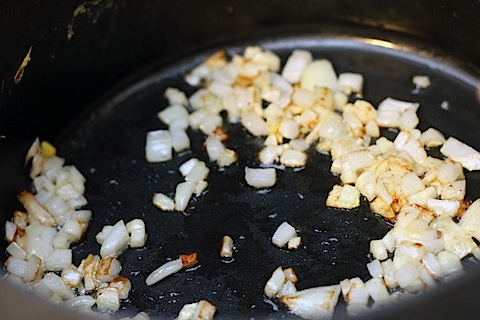 Turn the heat down to medium and add celery. Cover the pot and continue to cook, making sure to stir occasionally for about 5 minutes, until the vegetables soften.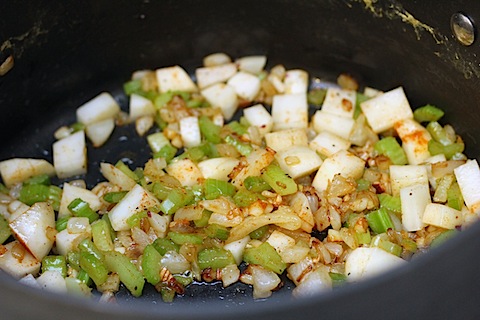 Add the potatoes, pepper, and cayenne. Stir.
Pour in the corn stock. Doesn't that sound lovely? Corn stock. I think I shall cook only with homemade corn stock from now on. In fact, maybe I'll can it and sell it.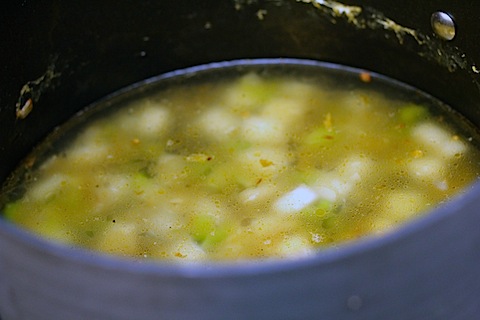 Bring to a boil over medium-high heat, then cover and lower the heat to medium-low. Simmer for about 20-30 minutes, until the vegetables are softened enough to puree.
Add all of the corn kernels, except for 1 cup.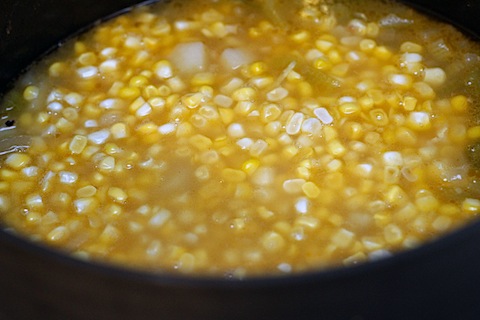 Simmer for another 10 minutes.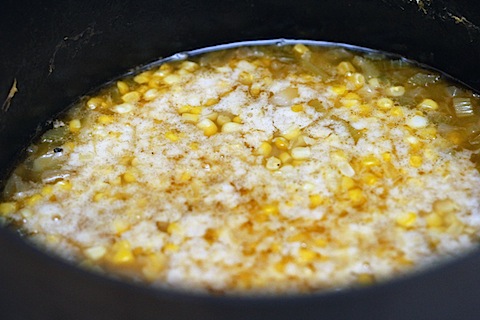 Now you're ready to puree the soup. For this you'll need either an immersion (hand) blender or an actual blender. I recently got an immersion blender but hadn't had any opportunity to use it for quite some time. This soup made me so just why I needed one. It made everything SO easy. I just stuck the immersion blender in the pot and blended away.
If you need to use a regular blender, just puree the soup in batches and pour it back in the pot when it's all pureed.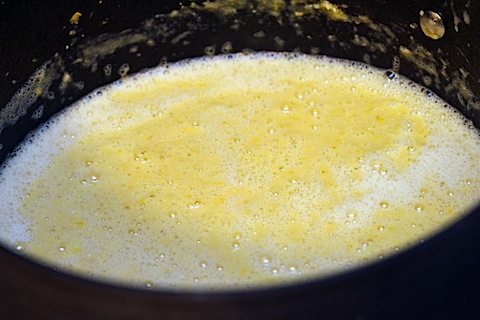 Now for the fun part. Taste it. And add more salt or pepper if needed. Add the rest of your corn and all that beautiful corn milk/solid you worked so hard to get.
Simmer for another 5 minutes.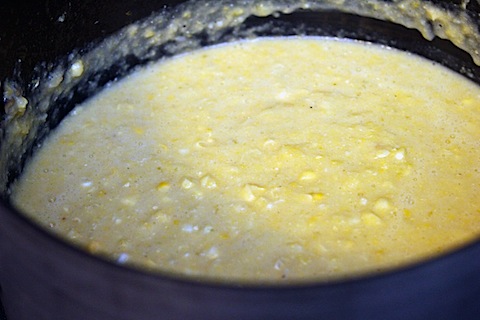 And serve warm or at room temperature, with as many toppings as you choose. I mean, you could even add bacon in there if you so desired. Why not, right?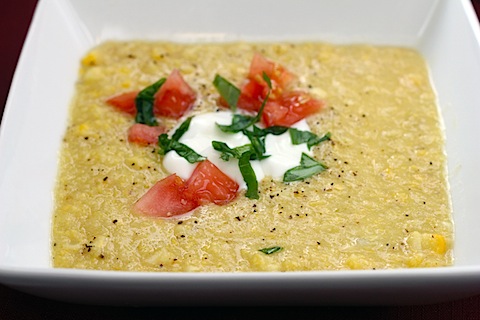 I'm honestly still kind of amazed that I made a soup so thick and creamy with no cream or milk or anything of the sort, whatsoever. This is just plain corn and was truly one of the creamiest soups I've had. One of life's little miracles, I suppose.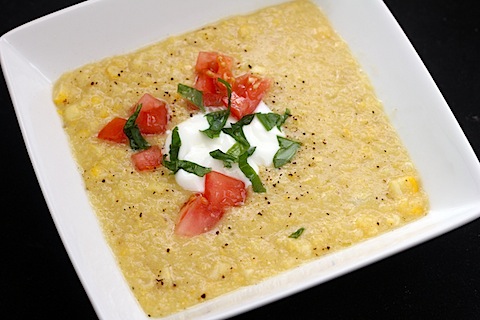 Or maybe it just goes to show what a whole lot of corn and a blender can do.
The color of this soup is just pure happiness. Especially when contrasted with other brightly colored toppings.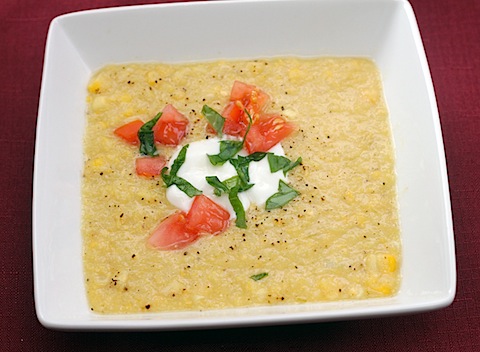 If I were smart, I would have made 10 batches of this and froze it for those long winter months. But my freezer is too small and constantly packed (with what? I don't know). Plus, I generally prefer to enjoy seasonal vegetables in-season. Hence why I don't eat pumpkin when it's not autumn. Otherwise, I wouldn't appreciate it half as much during its very special time of the year.
Enjoy this soup. Enjoy fresh corn. And enjoy the rest of the summer. Also, be safe if you're in an area that could be affected by the hurricane this weekend. It's iffy what will happen in the Boston-area, but I'm thinking it will mostly be lots of rain and wind. I've got an exciting event planned on Saturday (I'm interviewing Giada DeLaurentiis!), so I'm hoping the storms hold off 🙂
Then again, this soup is pretty perfect for an end of summer stormy weekend.
Do you have a favorite summer soup?
[Sues]