These Frosted Animal Cracker Cheesecake Bars consist of funfetti cheesecake with a circus animal cookie crust. Basically, your childhood in cheesecake form!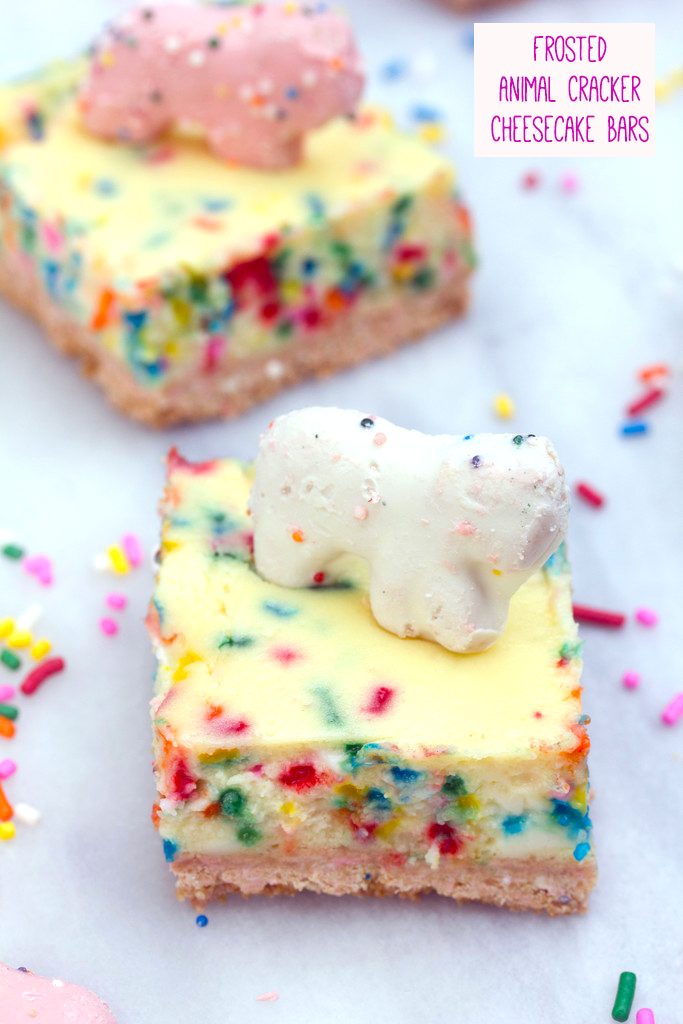 Have I ever told you about that time when I didn't like cheesecake? As in, the first 27 years of my life. Until about six years ago, I thought cheesecake was one of the worst foods in the world and I stayed far, far away from it. I hate to even admit that because I pride myself on the fact that I'm the opposite of a picky eater and there are very few foods that I dislike. But I just couldn't get behind cheesecake... Until I could. I'm not quite sure what changed me, but I think it had something to do with my sister making a cheesecake that involved chocolate. That chocolate cheesecake was like the gateway cheesecake drug. After that, I was hooked.
To be fair, cheese is generally a savory food, you know? So, the idea of cheese in cake just skeeved me out, no matter how much I love cheese. I don't really blame myself, but I do feel a bit of regret for living all of those years with cheesecake in my life. So, I've been majorly making up for it lately. Today I'm even combining it with a childhood favorite to attempt to make up for all the cheesecake I missed out on when I was a kid. These Frosted Animal Cracker Cheesecake Bars make me feel like I'm a kid again. A kid who likes cheesecake.
FROSTED ANIMAL CRACKER CHEESECAKE BARS RECIPE
Are frosted animal crackers not the most indulgent and delicious snack? My only gripe is that these were the most vibrantly colored animal crackers I could find. Apparently, those really bright pink "Circus Animals" are not sold in my part of the country. I'd pretty much be willing to move for them... Or at least to pay a lot of money for them on Amazon.com, so don't be surprised if you see them here in the future. Anyway, you need lots of these crackers for the cheesecake bar crust.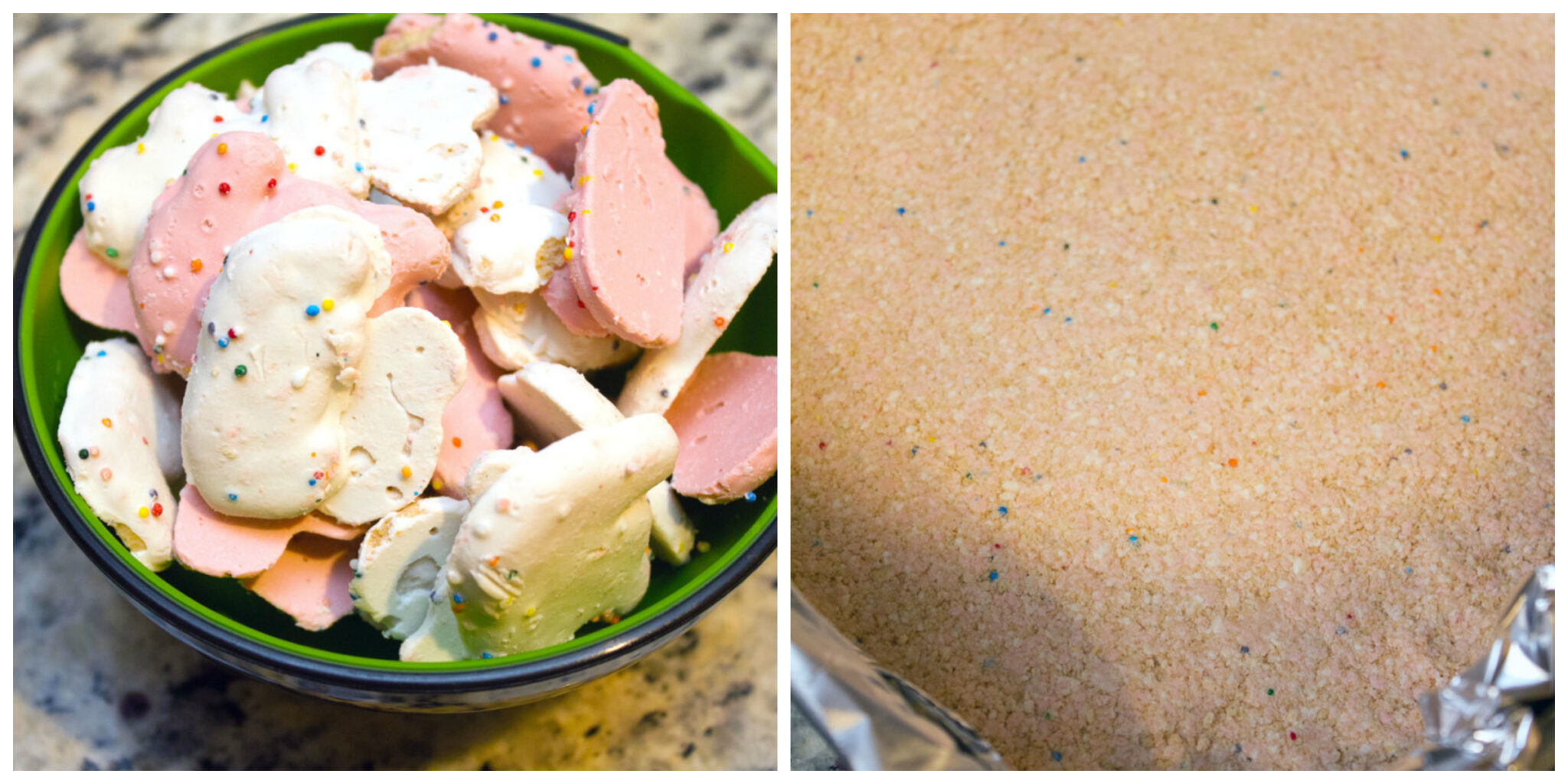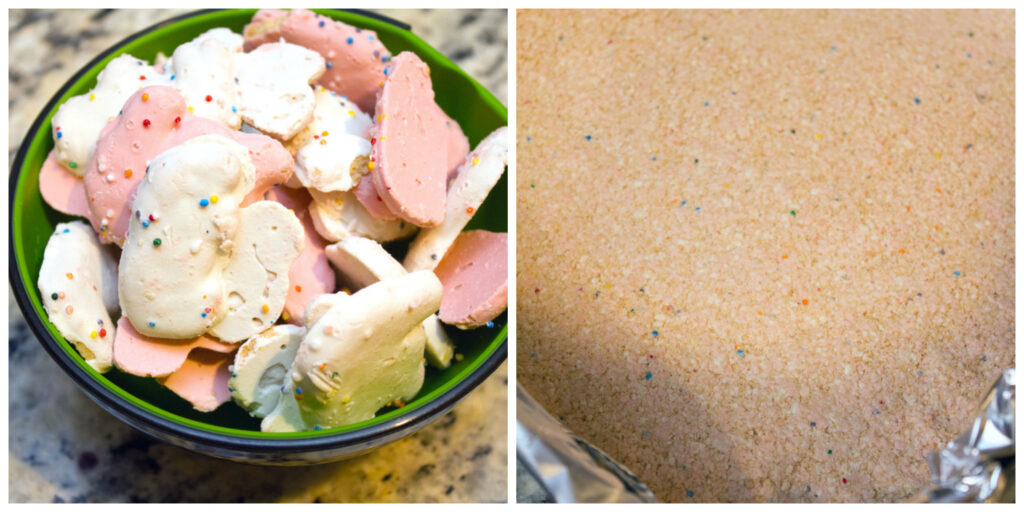 The cheesecake filling is pretty standard, but obviously I funfetti-ized it because I wanted it to match the frosted animal crackers. And also because, if you can make something funfetti, why wouldn't you?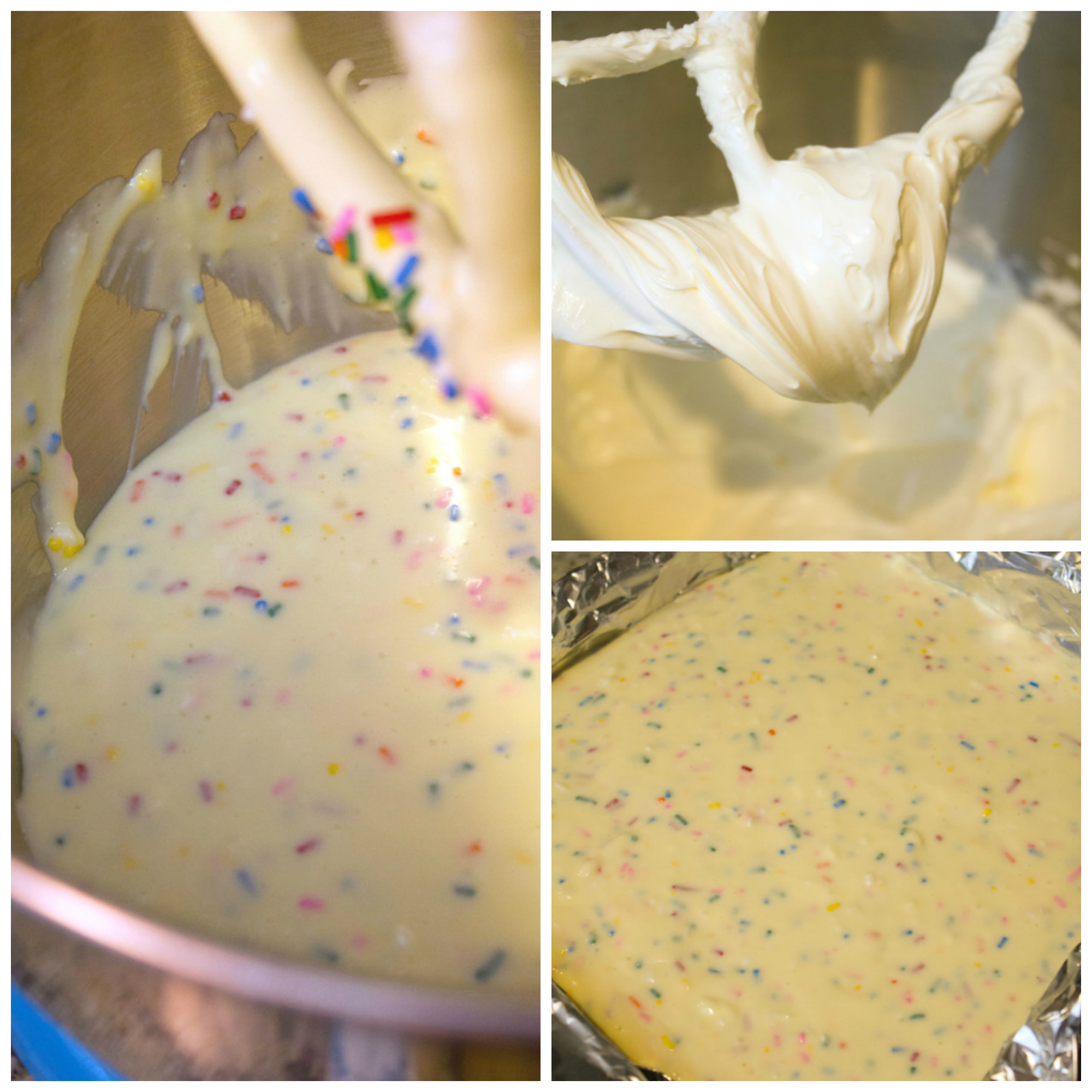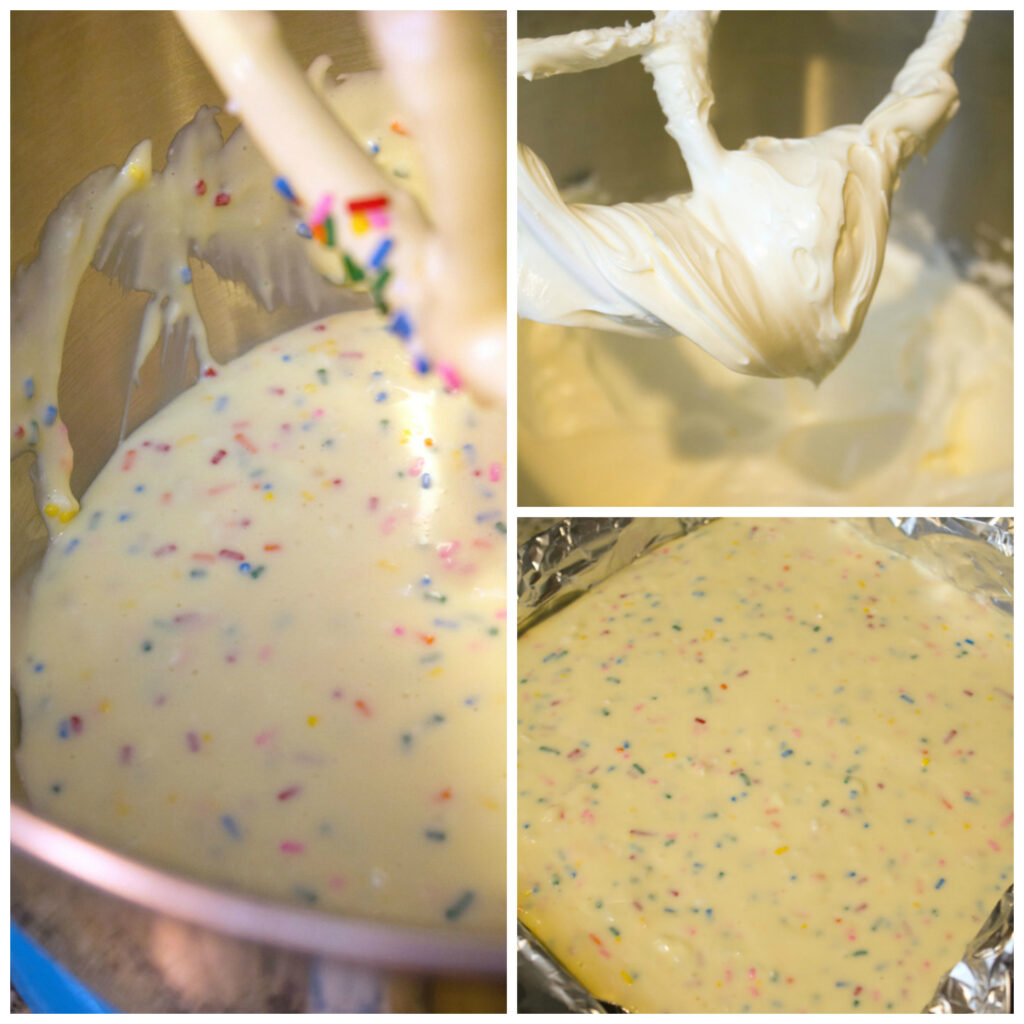 After baking, I cut the cheesecake into squares and topped each with a frosted animal cracker. Do you ever look at animal crackers and wonder what the heck kind of animals they're supposed to be? I'm pretty sure the below looks like a buffalo, but really, it could be anything.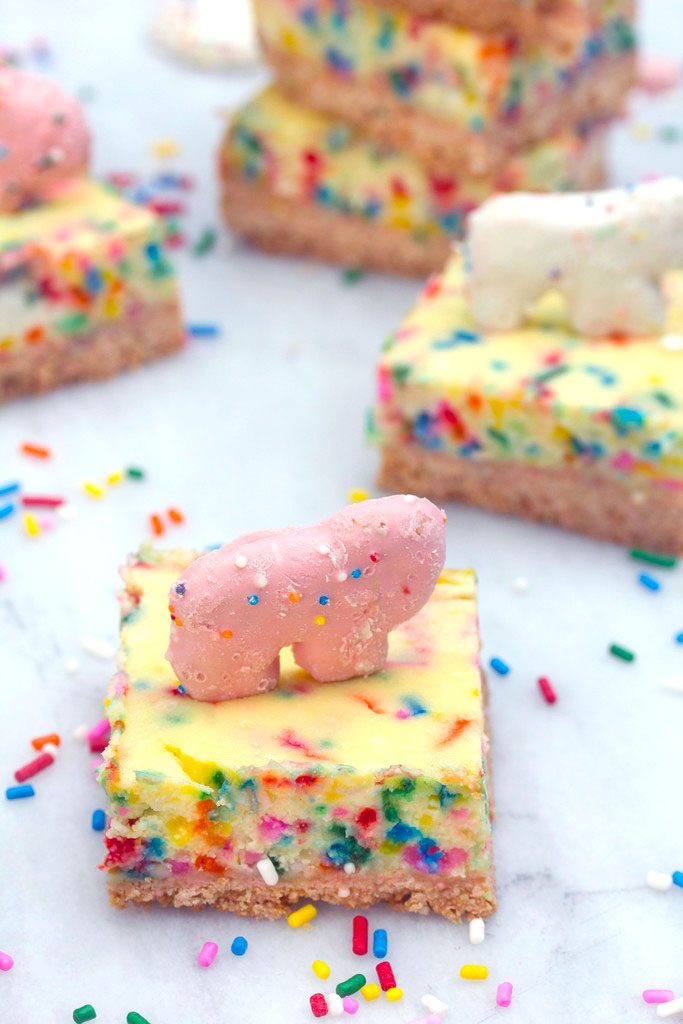 Actually, maybe this is a buffalo... I'm really not sure. I am sure that I absolutely love how vibrantly my rainbow sprinkles showed in the cheesecake.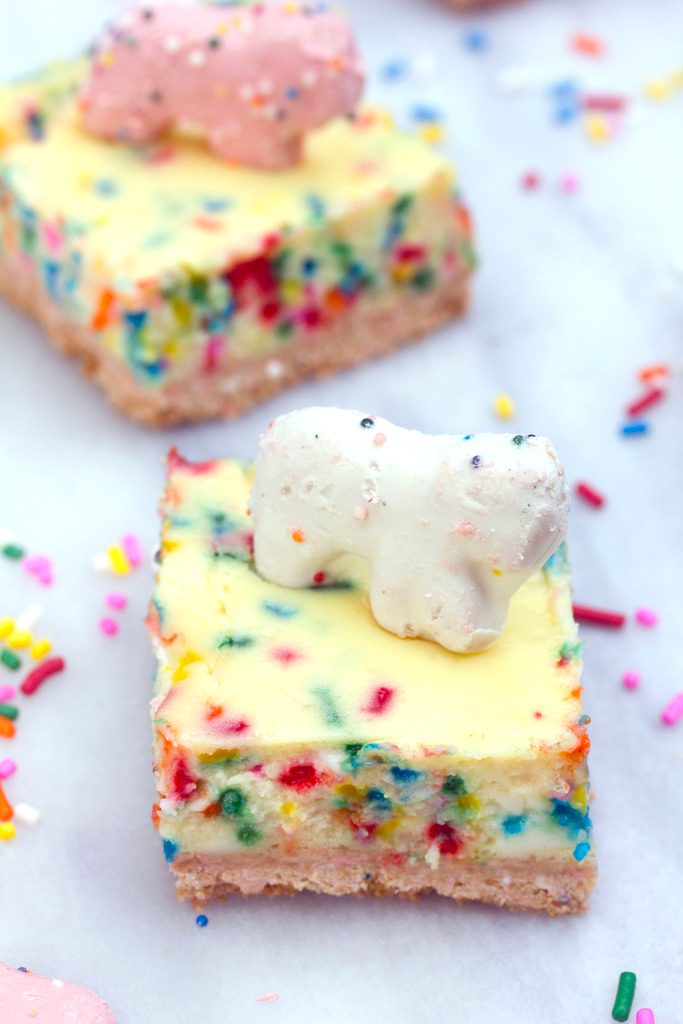 Of course, I also loved the way these bars tasted. Initially, I was going to crush up some of the animal crackers to use in the cheesecake filling, but I'm glad I didn't because the flavor came through perfectly in the cookie crust and the cheesecake shined with its vanilla notes. If you had told 10-year-old me that I'd willingly make a cheesecake with no chocolate or peanut butter involved, I wouldn't have believed you. Then again, I also wouldn't have believed you if you had told me I wouldn't always want to wear Adidas Sambas.
These are obviously totally kid-friendly. But that doesn't mean they're for kids only. In fact, if you haven't had a frosted animal cracker since you were a kid, this is officially my plea for you to try again. I have a feeling once open, that bag won't last very long in your house.
On that note, can we take a second to talk about why animal crackers aren't called animal cookies? Especially when they have frosting on them? Is that supposed to somehow make us feel better about ourselves? Because I think it's working a little bit.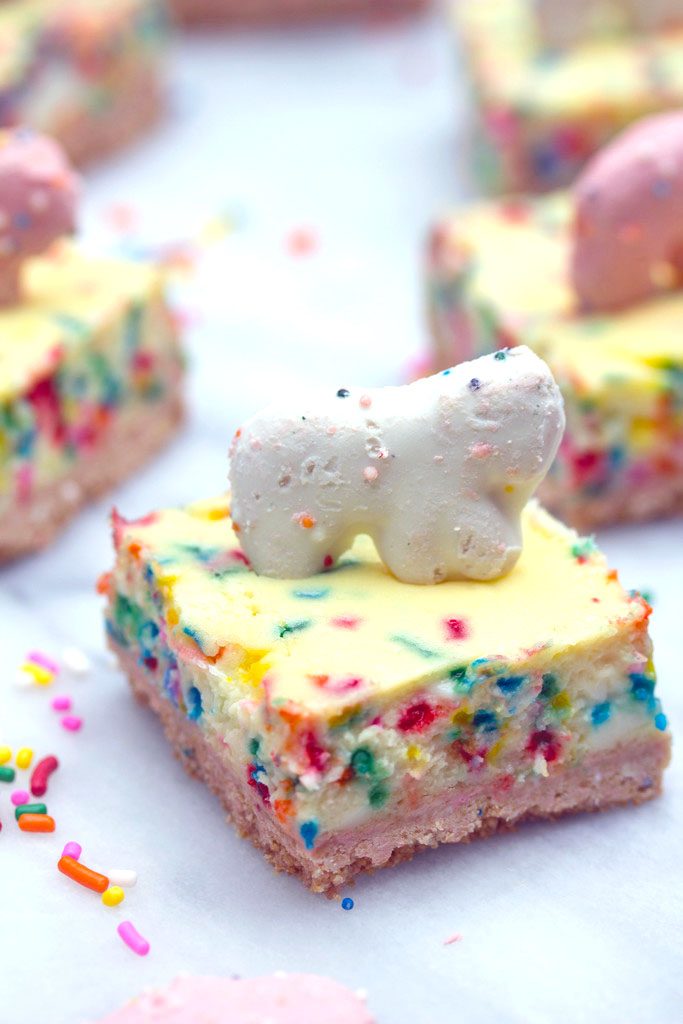 But who am I kidding... Put cheesecake on it and I'll eat it. Put rainbow sprinkles in it and I'll eat even more of it.
I hope these Frosted Animal Cracker Cheesecake Bars brighten up your Monday a little bit! I have a feeling this is going to be a longggg week... But I also have lots of fun stuff planned and also it's still summer and I am determined to enjoy this weather with everything I have in me. Even in all of its nearly 100-degree humid glory.
Have you always been a cheesecake lover?
If you like these frosted animal cracker cheesecake bars, try my Cinnamon Bun Oreo Cheesecake Bars and my Strawberry Shortcake Cheesecake Bars. I also love these Creamy Lemon Bars from Celebrating Sweets!
📖 Recipe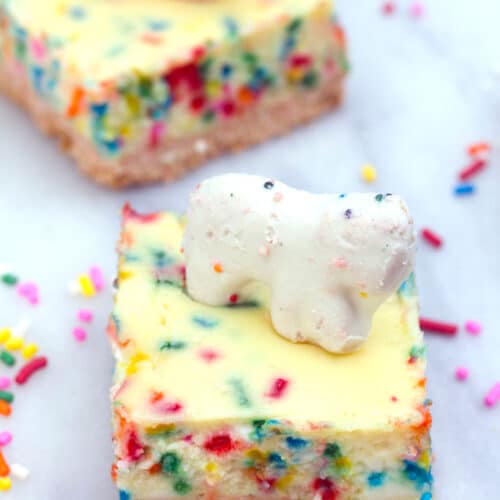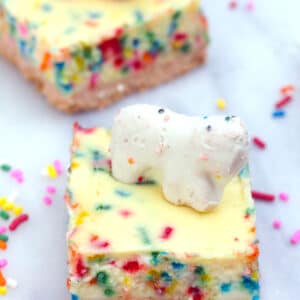 Frosted Animal Cracker Cheesecake Bars
These Frosted Animal Cracker Cheesecake Bars consist of funfetti cheesecake with a circus animal cookie crust. Basically, your childhood in cheesecake form!
Print
Pin
Rate
Ingredients
Frosted Animal Cracker Crust:
1

13oz.bag

Frosted Animal Crackers

2

Tbsp

unsalted butter,

melted
Cheesecake Filling:
16

oz.

cream cheese,

room temperature

¼

cup

sour cream

½

cup

granulated sugar

2

large eggs

1 ½

Tbsp

vanilla extract

¼

tsp

salt

¾

cup

rainbow sprinkles
Instructions
Frosted Animal Cracker Crust
Pre-heat oven to 325 degrees and line a 9-inch square baking pan with aluminum foil so foil is overhanging on two sides.

Lightly coat foil with cooking spray.

Place frosted animal crackers in a food processor and pulse until they're finely ground.

Add melted butter and pulse until well blended.

Put animal cracker crumbs into baking pan and press down into even layer on bottom of pan.

Bake at 325 degrees for 10 minutes and then remove from oven.
Cheesecake Filling
In the bowl of a stand mixer fitted with paddle attachment, beat cream cheese on medium speed for 2-3 minutes, until fluffy.

Add sour cream, sugar, eggs, vanilla, cinnamon, and salt to bowl and beat until mixture is smooth.

Fold in rainbow sprinkles.

Pour batter into pre-baked cookie crust and smooth the top with a spatula.

Place back in oven for 30-35 minutes, until filling is just set.

Remove from oven and let cool for about 30 minutes.

Place cheesecake bars in fridge to chill for at least two hours.

Use foil overhang to take bars out of pan. Remove foil from bottom and set on cutting board.

Slice cheesecake into squares and top with additional frosted animal crackers.
Share a Photo of Your Finished Recipe!
Mention @wearenotmartha and share a photo if you've made the recipe!