There's no better way to start the day than with a large, buttery slice of coffee cake. Unless that coffee cake involves rainbow sprinkles! Funfetti Coffee Cake will make your breakfast or brunch party ridiculously sweet and fun.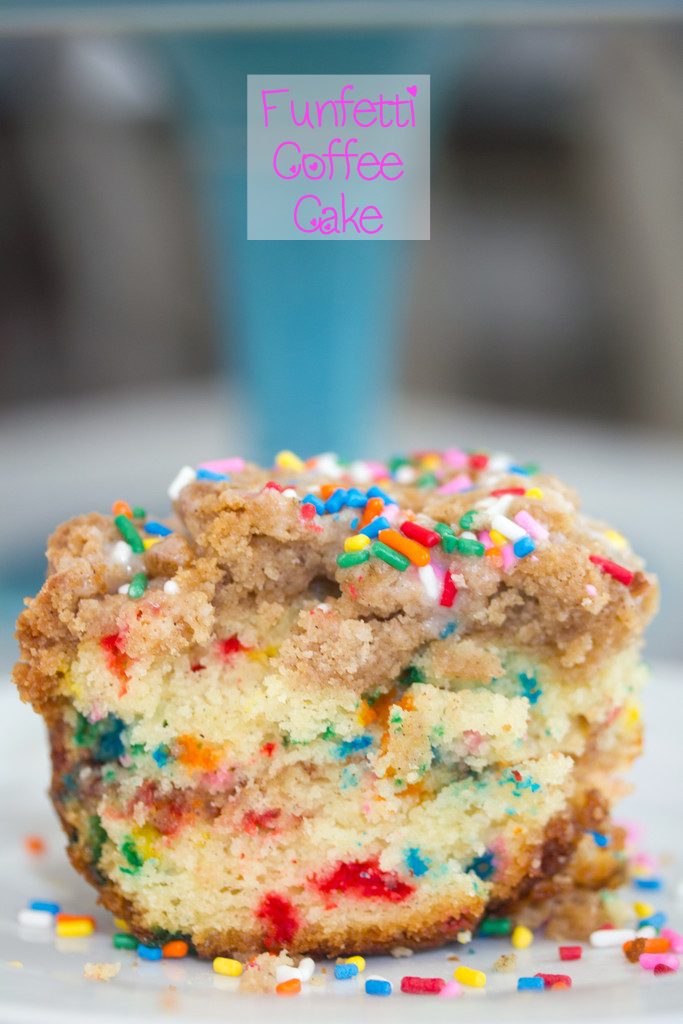 It's May 2 and I had to get my winter coat back out. And my scarf. And boots. Also, the 5-day forecast is looking mighty dismal, with temperatures no higher than 55 degrees and rain, rain, rain. Also, also? It's Monday. I try really hard to always start the week off on a positive note, but today I'm just not having it. Add to the weather, the fact that my calendar is absolutely packed with meetings and projects due, and I'm planning to just shut my eyes, run forward full-speed and wait for Friday to hit. Something tells me the quality of my work will be pretty rough with my eyes closed, but I'm putting my trust into coffee.
And also, sprinkles. You can't possibly have that bad a day if you start it off with sprinkles. You know... the rainbow colored kind. Not the rain kind. Because you can most certainly have a bad day with the rainy kind (but really, isn't "sprinkles" the sweetest, most innocent way of talking about rain possible?). I know it's a little bit ridiculous, but rainbow sprinkles really do take something ordinary and make it awesome. I made a coffee cake, which is delightful on its own gave it a funfetti spin with this Funfetti Coffee Cake.
FUNFETTI COFFEE CAKE RECIPE
It's a simple coffee cake, if by simple you mean seriously buttery crumb topping, extra-large cinnamon sugar middle layer, vanilla glaze, and about a billion sprinkles. OK, admittedly, the instructions for this funfetti coffee cake don't look super simple. But I promise it's really easy! You simply need to mix up a streusel middle and crumb topping. Then whip up a cake batter and layer cake batter, streusel middle, more cake batter, crumb topping.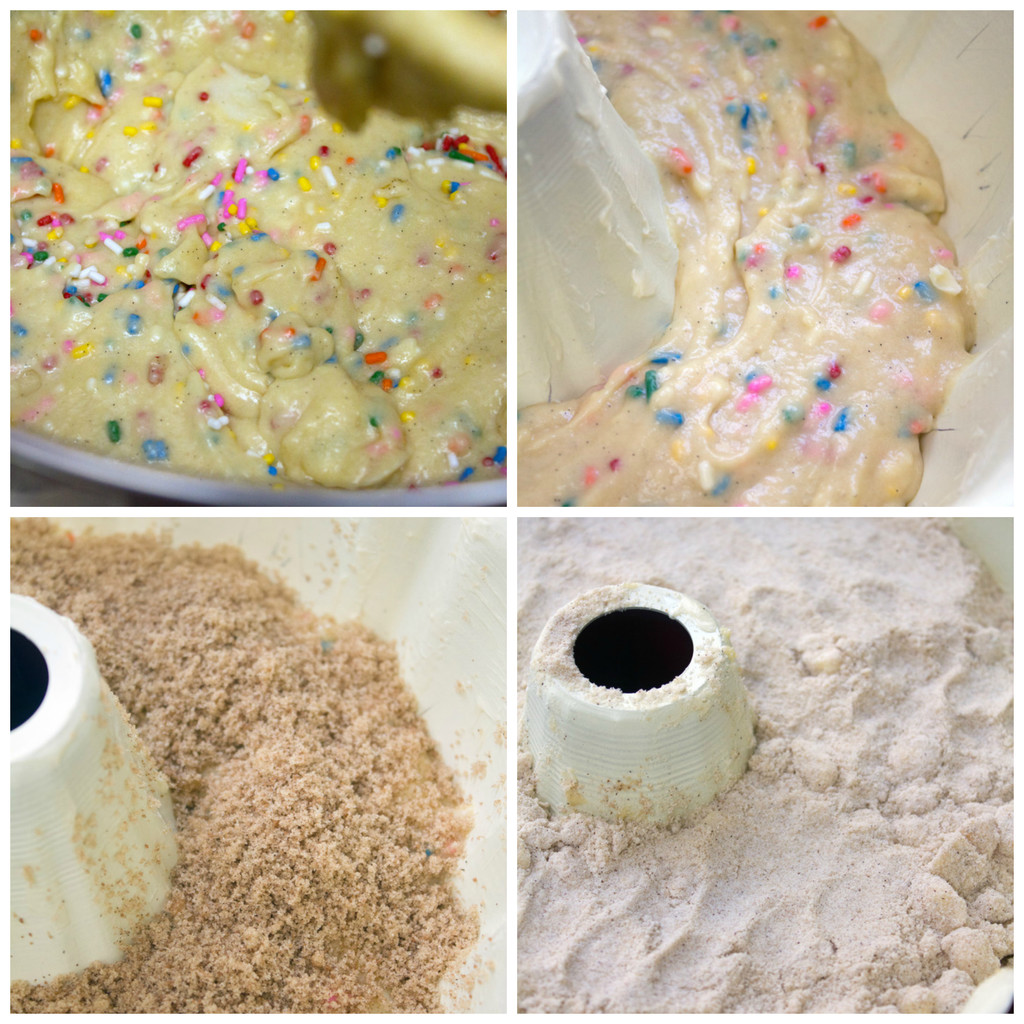 Bake. Remove from bundt pan. And drizzle with icing and rainbow sprinkles.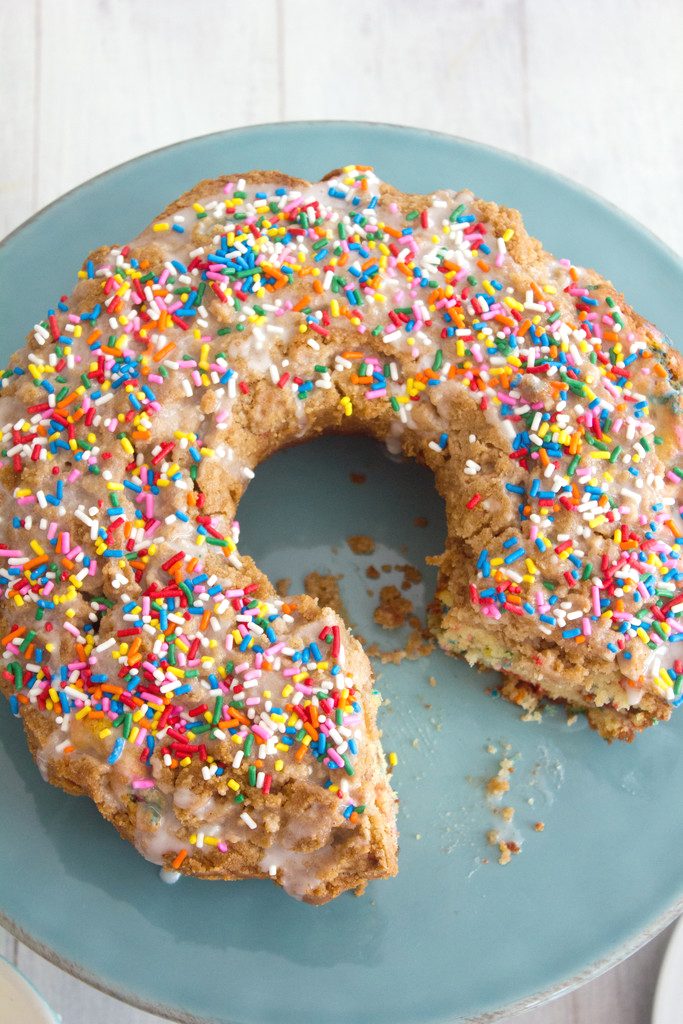 There are a few foods in life that I just randomly get cravings for quite often. One of those things is meatball subs (I told you it was random!) and another is coffee cake. I make these coffee cake cupcakes way too often!
I also get lots of cravings for funfetti cake... It's really the only boxed cake that I care for and oh man, I could eat a lot of funfetti cake (and icing).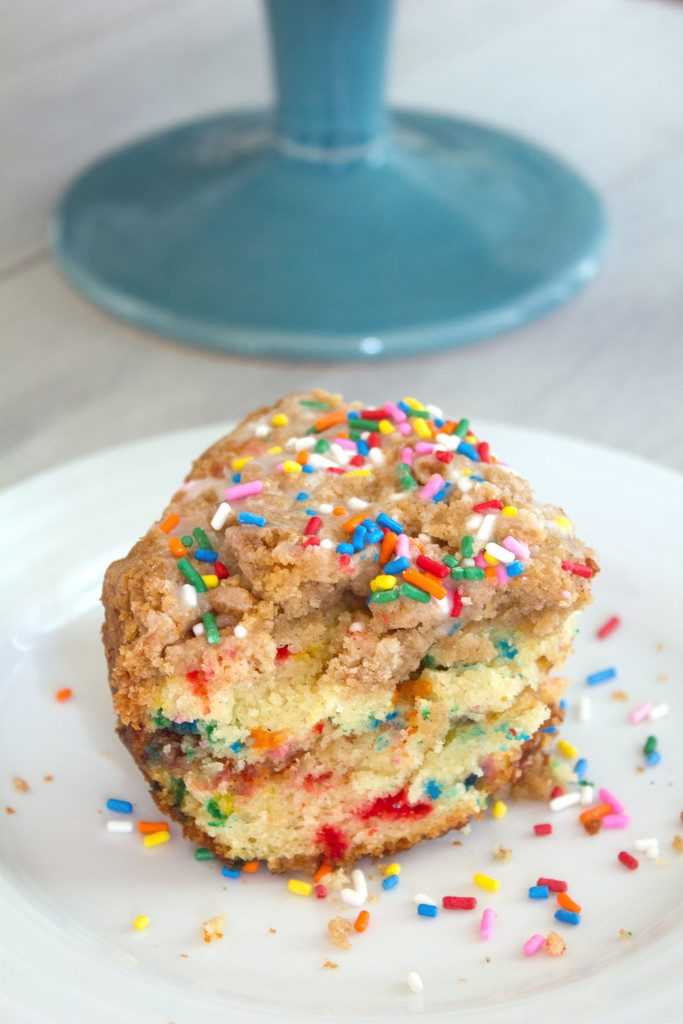 But with a whole lot of vanilla and a healthy amount of sprinkles, it's pretty easy to make your own funfetti cake. Like I said, this funfetti coffee cake has few steps... But it's definitely not a tough cake to make.
It should have been made in a tube pan with a removable bottom. But since I don't own a tube pan (I have no idea how my kitchen is SO entirely packed with stuff and yet, there are still some necessities I do not have), I used a bundt pan instead. Silly me, I didn't even realize how not smart I was to use a bundt pan until I was halfway through filling the pan with the batter. But it turned out not to be a disaster at all; I managed to simply flip the cake out of the pan with no trouble.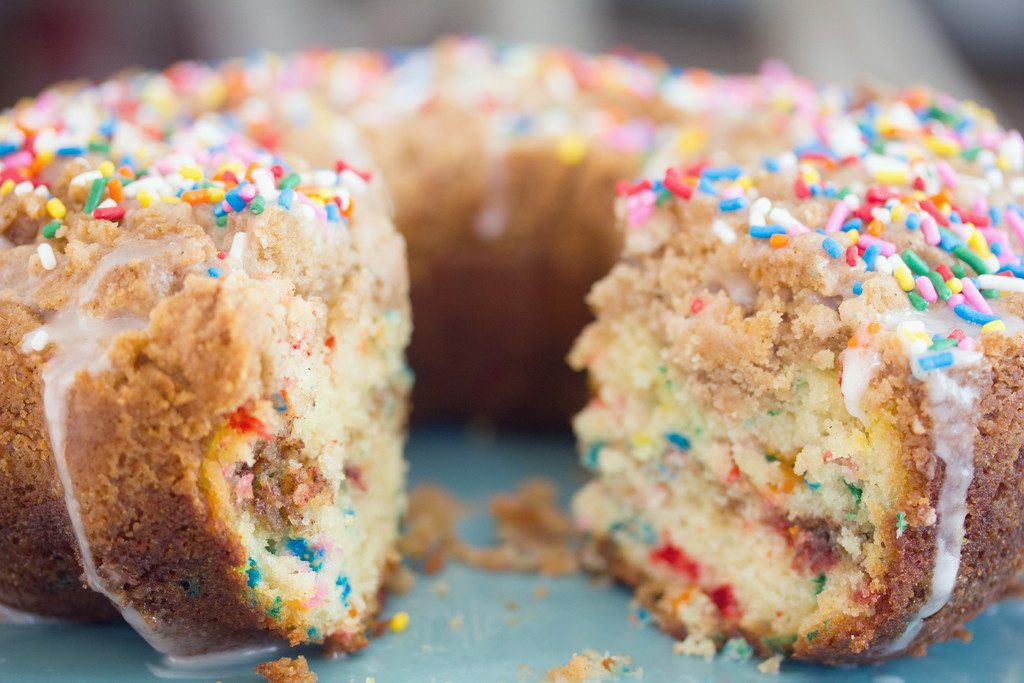 Thank goodness because if that didn't happen, I probably would have just pulled a fork out of the drawer and eaten this funfetti coffee cake right from the pan. With a side cup of vanilla glaze.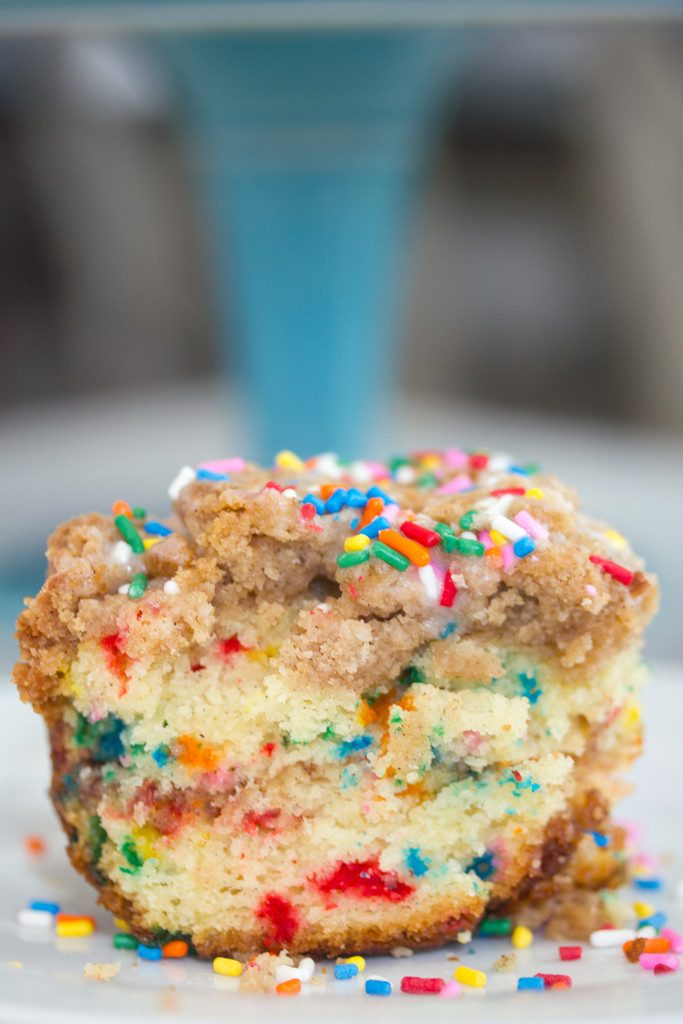 It's probably a dangerous thing to call a coffee cake a breakfast cake. But there's nothing quite like buttery cinnamon sugar cake with a hot cup of coffee to start your day. It may not be the healthiest, but if we're talking about a healthy mind, I think we're good. In the face of rain and gloom, a healthy mind is incredibly important.
Now, can we all plan to take our winter coats and scarves and boots and burn them in a fire? But maybe not an actual real fire since winter gear is ridiculously expensive. A symbolic fire. One that symbolizes the fact that we're done with being cold and ready for sun and warmth and sprinkles. Happy May, friends.
Are you sick of my sprinkles recipe yet? (please say no!!)
If you're looking for another fun breakfast treat, try these Baked Apple Coffee Cake Doughnuts.
I'm also loving this Funfetti Fudge from Sugar Salt Magic!
📖 Recipe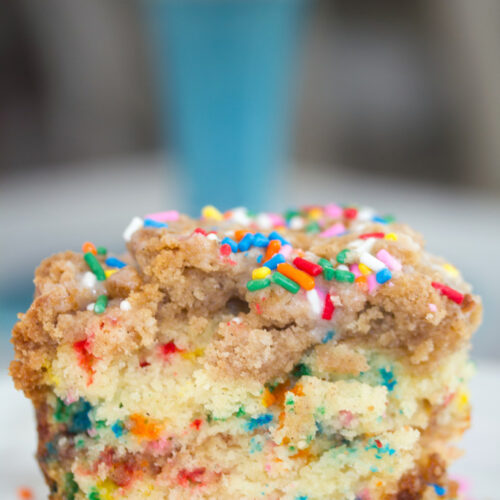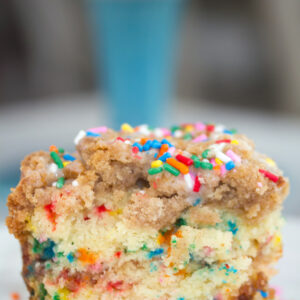 Funfetti Coffee Cake
There's no better way to start the day than with a large, buttery slice of coffee cake. Unless that coffee cake involves rainbow sprinkles! Funfetti Coffee Cake will make your breakfast or brunch party ridiculously sweet and fun.
Print
Pin
Rate
Ingredients
Crumb Topping
1 ¾

cups

all-purpose flour

1

cup

packed brown sugar

1 ¼

tsp

cinnamon

1

tsp

salt

1 ½

sticks (12 Tbsp)

cold unsalted butter,

cut into small pieces
Streusel Middle
½

cup

packed light brown sugar

½

tsp

cinnamon
Vanilla Glaze:
1

cup

confectioners' sugar

2-3

Tbsp

whole milk
Cake
2

cups

flour

1 ½

tsp

baking powder

½

tsp

salt

1

stick (½ cup)

unsalted butter,

room temperature (plus more for pan)

1

cup

granulated sugar

2

large eggs

1

Tbsp

vanilla

1

cup

milk

¾

cup

sprinkles,

divided
Instructions
Crumb Topping
Whisk together flour, packed brown sugar, cinnamon, and salt.

Using a pastry cutter or your fingers, cut butter into dry mixture, until small clumps form.

Keep in fridge until ready to use.
Streusel Middle
In a separate, small bowl, mix together brown sugar and cinnamon.

Set aside until ready to use.
Vanilla Glaze
In a small bowl, whisk together confectioners' sugar and 2 Tbsp milk. If too thick, add additional Tbsp milk. Set aside until ready to use
Cake and Assembly
Preheat oven to 350 degrees.

Butter a 9-inch tube pan with a removable bottom or a bundt pan.

In a medium-sized bowl whisk together flour, baking powder, and salt.

In the bowl of a stand mixer or in a large bowl with a hand mixer, beat butter and granulated sugar on medium speed until pale and fluffy, about 2 minutes.

Beat in eggs, 1 at a time, until well blended. Mix in vanilla.

Mix in flour mixture in 3 additions, alternating with milk.

Stir in ½ cup sprinkles.

Spoon half of the batter into the prepared pan. Sprinkle the streusel middle mixture over the batter. Top with remaining cake batter, making sure to spread evenly.

Sprinkle streusel topping mixture evenly over batter.

Bake until cake is golden brown, about 50-55 minutes, until a toothpick inserted into the center comes out clean.

Move pan to a wire rack to let cool completely before removing from pan.

If using a bundt pan, carefully place sheet pan or cutting board on top of cake and flip until cake comes lose from pan. Now flip cake back onto cake server.

Drizzle glaze evenly over the top of the cake and top with remaining ¼ cup sprinkles.
Share a Photo of Your Finished Recipe!
Mention @wearenotmartha and share a photo if you've made the recipe!