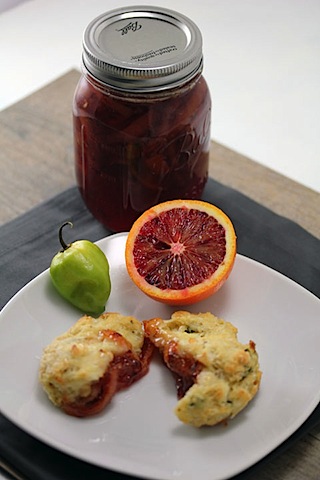 Like I've mentioned about a million times before, if there was ever a year for learning new recipes and techniques, this is it. Biscuits are not new to me. They're one of my obsessions. But marmalade is. By the way, I really don't know the difference between marmalade, jam, jelly and preserves, but I like the word "marmalade" the best, so we're going with that. Maybe next week, I'll learn the difference (are there different types of marmalades or only orange?). My head already hurts enough from learning how to actually make it. Really, it's not so tough- it's just a lot of steps for so few ingredients. But the results? Totally worth it.
I'll also be learning a whole lot more this year. Why? Because I won a scholarship to the America's Test Kitchen Cooking School! What, might you ask, is that? Well, it's what it sounds like. Cooking school, taught by the amazing people at America's Test Kitchen, and all online. I'm going to learn all kinds of techniques, skills, and new recipes through following their direction, watching their videos, and asking them questions. I even already had the opportunity to chat with Bridget Lancaster on the phone! Not only that, but I'll also be writing a blog post for ATK's blog, The Feed, in April. It's going to be all about making pasta and, trust me, you'll want to see it. Because I'm sure it will be quite the adventure. Me + flour + not enough counter space= messes and hilarity. That's why you don't usually see my photo in cooking posts.
This will likely be my final blood orange recipe for the season. Especially considering it's officially spring and set to be 70-something degrees in Boston today. It's a bittersweet farewell to blood oranges.
Goat Cheese Chive Biscuits:
Print this recipe!
2 1/3 C all-purpose flour
1 t freshly ground black pepper
1 T sugar
1 1/2 T baking powder
1 t cream of tartar
1 t salt
1/2 C (1 stick) unsalted butter, chilled
3 oz. goat cheese
1/4 C chopped chives
1 1/4 C buttermilk
1 large egg
Recipe for Blood Orange Habanero Marmalade below
(pre-heat oven to 400 degrees)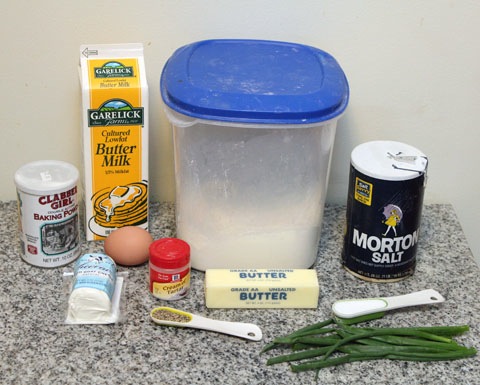 In a large bowl, whisk together the flour, black pepper, sugar, baking powder, cream of tartar, and salt.
For the pepper, I used more freshly ground tellicherry pepper. Because I'm obsessed!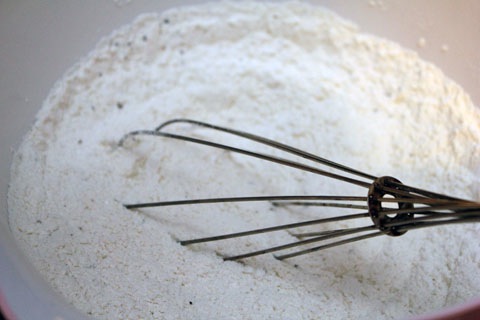 Chop the chilled butter into 1-inch pieces.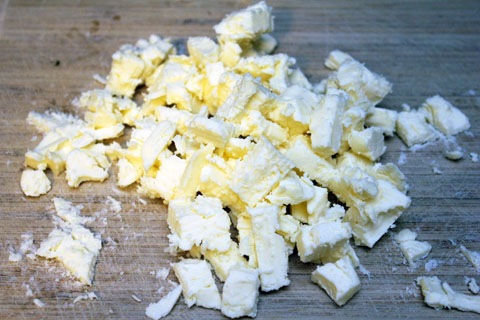 Work the butter into the flour using your hands or a pastry blender, until it resembles coarse meal. Then blend the goat cheese and the chives in, too.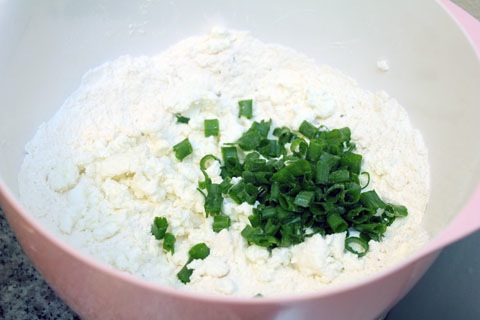 In a separate bowl, whisk together the buttermilk and the egg.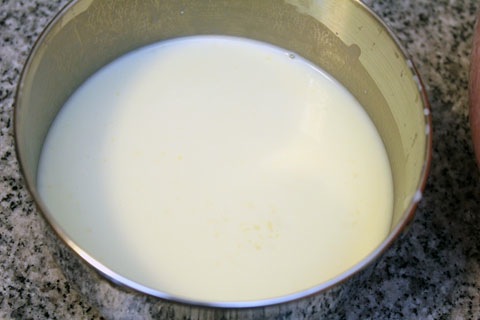 Add the wet ingredients to the dry ingredients and stir until just combined. Don't over-mix.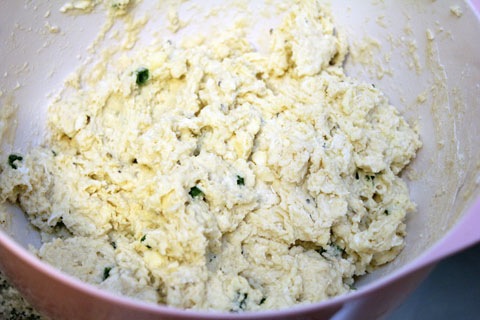 Scoop about 1/4 C of the dough onto a parchment-lined baking sheet. You can use a biscuit cutter to get a nice biscuit-y shape if you want. Continue forming biscuits, placing them about 2 inches apart.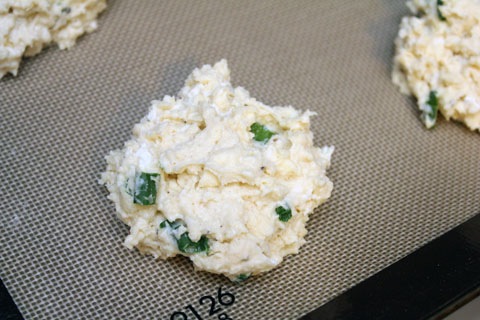 Bake biscuits for 18-21 minutes at 400 degrees, until they're just browning.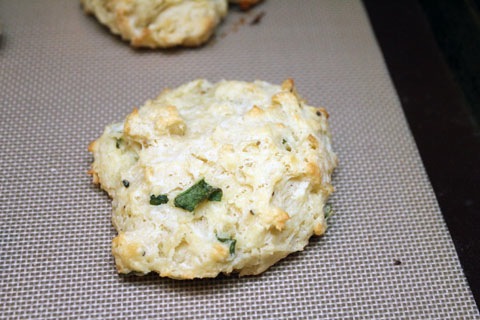 Cool on baking racks.
The biscuits are done! And now onto to the more complicated part… The marmalade. Well, at least the ingredient list is simple. It legitimately baffles me how so small an ingredient list can create such a project.
Blood Orange Habanero Marmalade (makes about 3 cups):
Print this recipe!
4 blood oranges
3 C granulated sugar
4 habanero peppers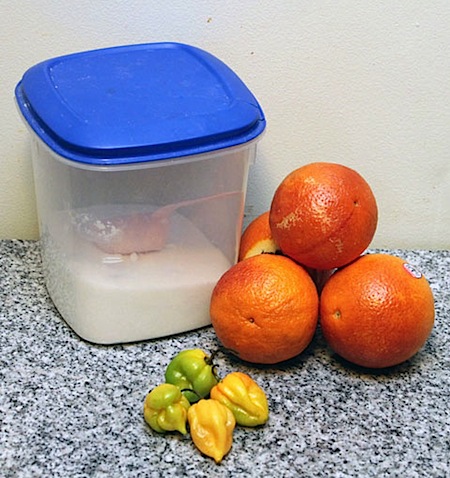 3 ingredients! I loosely followed a recipe from Sugarcrafter, who got her recipe from the Ball Complete Book of Home Preserving.
Chop the tops and bottoms off the oranges, so they can stand on their own.
Then cut into quarters and peel. Try to peel away as much of the membrane as possible. I didn't do a very good job of this.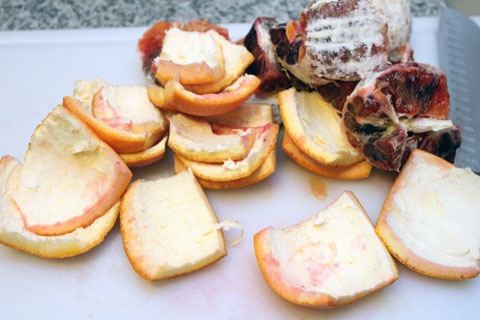 Put peels in a large pot of cold water and bring to a boil over medium-high heat. Boil for 10 minutes, Drain and cover with cold water again and boil for another 10 minutes. The peels will begin to soften!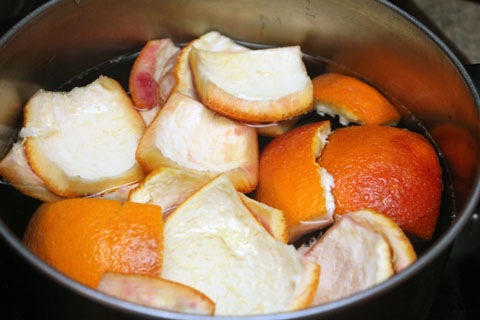 Drain and run the peels under cold water, so they can be handled. Using a spoon, scrape all that white pith out from the inside of the peel. I enjoyed this part. It was actually kind of satisfying.
Now, chop the peel into thin strips.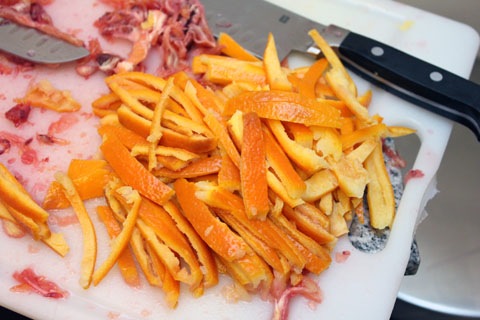 And peel all the remaining membrane off the oranges. This was my least favorite part. And definitely the part that made this process take way longer than it should have. Snooze. It also got blood orange juice all over my kitchen wall.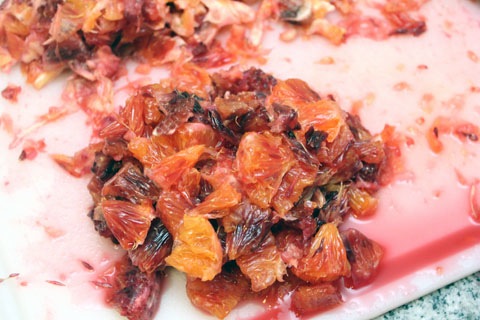 Now you can put all that fruit in a large pot. And squeeze the juice out of the membrane into the pot, too, before you discard it.
Add the chopped peel and 2 cups of water. Bring to a boil over medium-high heat and then reduce heat and boil gently for about 30 mins. Peel should be very, very soft. Remove the pot from the heat and scoop out 3 C of the fruit mixture (you can add more water if you need to).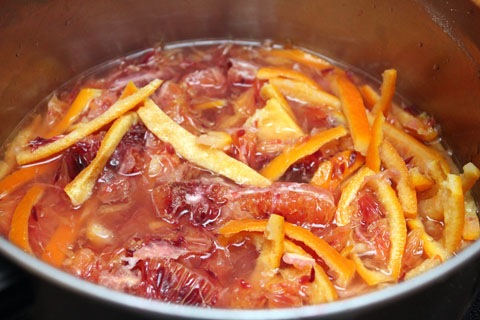 Put this mixture into another pot (or simply drain the pot you were just using). And here's where we get to the good part. Bring the mixture to a boil over medium-high heat and stir in the 3 cups of sugar.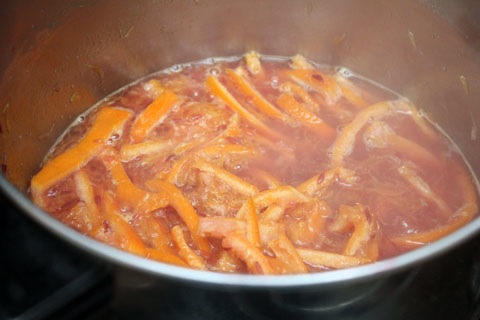 You can add the chopped habaneros here, too.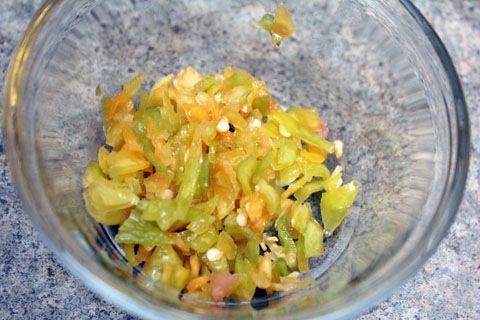 Continue to boil, stirring constantly, until the mixture reaches the "gel stage," which should take about 30 minutes. You'll notice the mixture will be gelly-ish, but not totally solid. It will firm up once you put it in the fridge.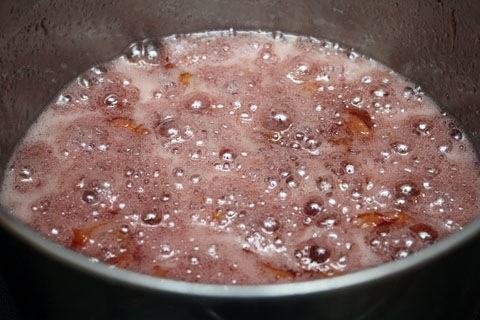 You can either can your marmalade (using proper canning technique) or you can simply put your marmalade in a clean jar.
And refrigerate right away. My recipe made about 1.5 jars of marmalade.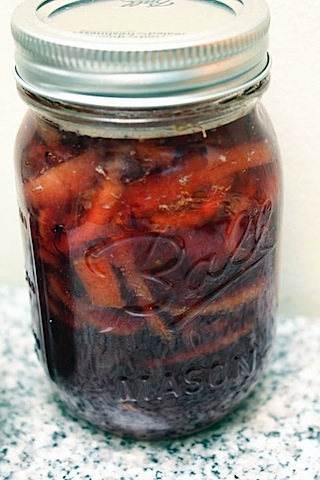 Phew. That was fun. But it's also likely the last time I'll make marmalade/jelly/jam/preserves for a little while. I needed a major nap after that one. But now that I know the technique, I think my next time will be a breeze. Especially if I use something other than citrus fruit.
But, um? It was worth it. Especially when spread on the goat cheese chive biscuits. Which I almost forgot about in the writing of that marmalade recipe.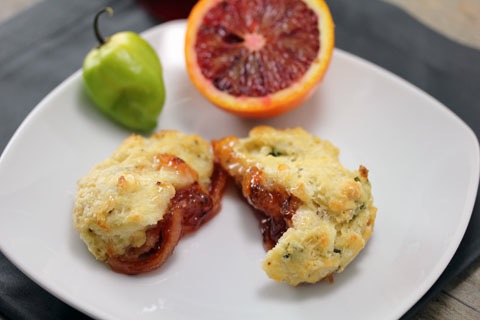 Seriously though, I don't even know where to start with this one. The biscuit was certainly a treat on its own. The goat cheese and buttermilk added a tangy kick that's always welcome in biscuits. In my mind, there's nothing worse than a bland biscuit. Hello, what's the point? This biscuit had a definite point.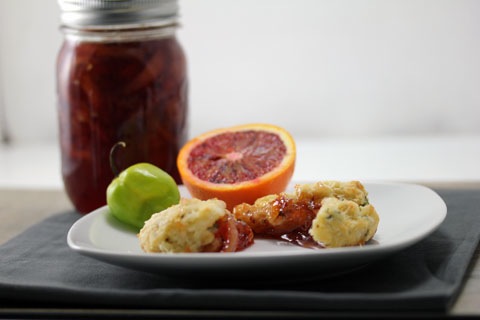 But when you slather the biscuit (yes, I love the world SLATHER) with a little blood orange habanero marmalade, you're taken to a whole different world. It's the sweetness of the orange, mixed with the slight bitterness from the peel and the spicy kick from the peppers that would turn even the blandest biscuit into a delight.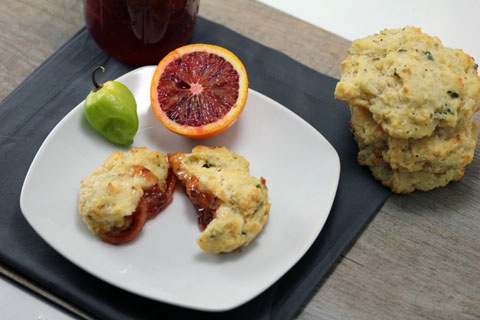 So, make one or both. It doesn't matter because you'll be happy either way. But you might want to get on this whole blood orange thing ASAP. I don't know what the weather is like in your neck of the woods, but it's just about time to transition to strawberries, blueberries, and cherries.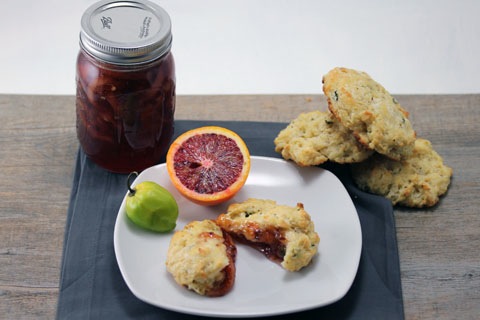 Yup, it's a very bittersweet goodbye to blood oranges. But if all the other Bostonians would stop buying out all the Blood Orange Chobani at the grocery store, I might be able to enjoy the flavor all year round. So please, stop. I want some, too.
Happy Spring! What's the temperature like where you are?
[Sues]