This Blood Orange Habanero Cocktail is a vodka-based drink that's packed with pretty winter citrus and the perfect spicy kick from habanero simple syrup.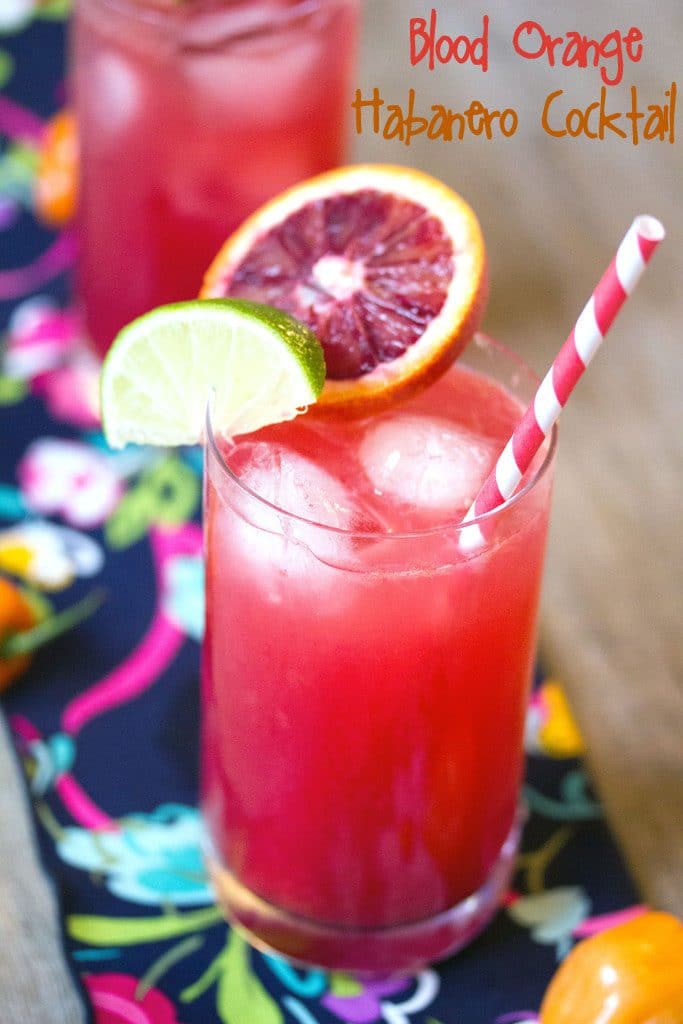 This has been a week. A week. That I am so, so thankful has come to an end. If I ever needed a cocktail on a Friday, it would be now. An extra-large giant glass filled with basically everything in my liquor closet. Yes, I have a liquor closet. It has some coats and kitchen appliances in it, too, but mostly a ton of liquor. I'd take a picture to show you, but I'm actually kind of embarrassed about it. It's really a bit out of control and you might actually think I have some sort of problem if you see it. Let's just say I like variety in my cocktails and I hate running out to the store at the last minute. And really, when you start to build up a proper bar, you start to realize just how many bottles you need. And if you don't have a "bar," then you need a closet.
But back to my week. I won't bore you with details on how Chris got ridiculously sick while we were in Virginia last week and how seeing that I'm married to him, it was inevitable that I would get ridiculously sick part-way through this week, too. I've been barely making my way through each day in some weird sort of haze and passing out in bed at 8:00 p.m. each night (if you know me, this is the opposite of normal). Finally on Friday night, I'm starting to feel somewhat close to normal again. But I don't want to push my luck, so I'm thinking this evening calls for a cocktail and bed.
My blood orange obsession is still going strong and will give me that extra boost of vitamin C I probably need. Plus, I think this habanero simple syrup is just the thing my sinuses are craving. See what I just did? So yes, this Blood Orange Habanero Cocktail is purely medicinal, friends. You're welcome.
First comes the simple syrup. I've mentioned this a bunch of times before, but I hate chopping peppers because I obviously don't like getting the oils on my fingers (hello, contacts). That's one reason I'm obsessed with my Chef'n VeggiChop (affiliate link). It minces my habanero right up for me.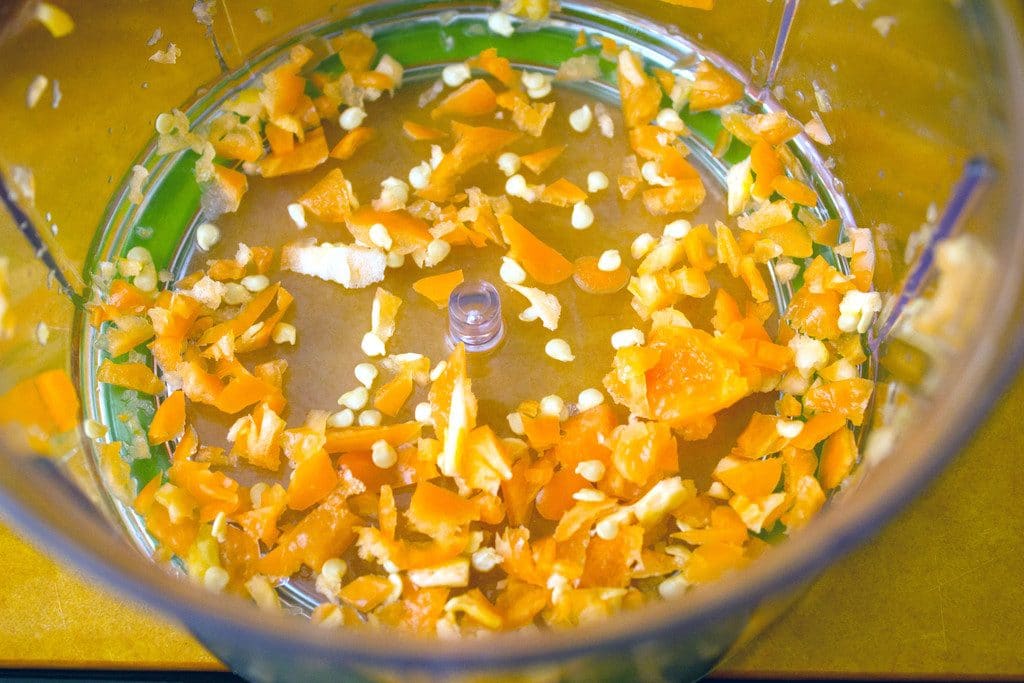 You'll use the habaneros to make a quick and easy simple syrup with a nice kick! While the cocktail recipe below makes one drink, you'll be able to get quite a few cocktails out of this simple syrup and it should stay good in your fridge for about a month.
Blood oranges are generally quite juicy, so you shouldn't have a problem getting a lot of good juice out of them. You may, however, have some trouble not getting your outfit covered in red juice. I highly recommend an apron here... I also highly recommend that I take my own advice next time.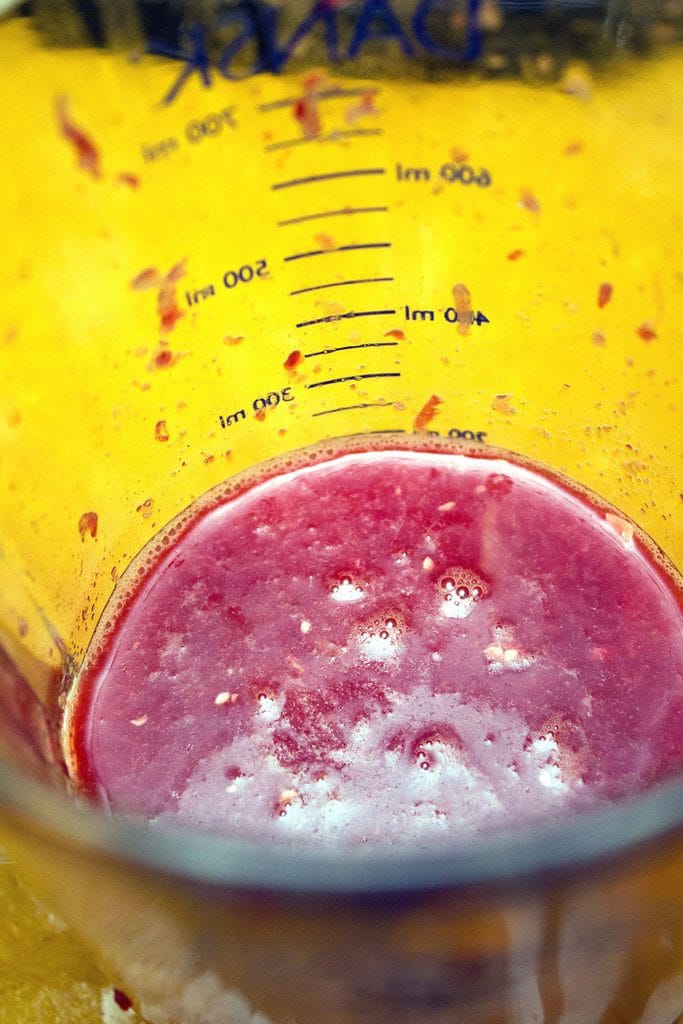 All that's left to do is to put all the cocktail ingredients in a shaker with ice and shake away.
And garnish the blood orange habanero cocktail glass with a pretty blood orange slice and lime… And even a habanero if you can figure out a way to get it on there and aren't worried about burning anyone's lips off.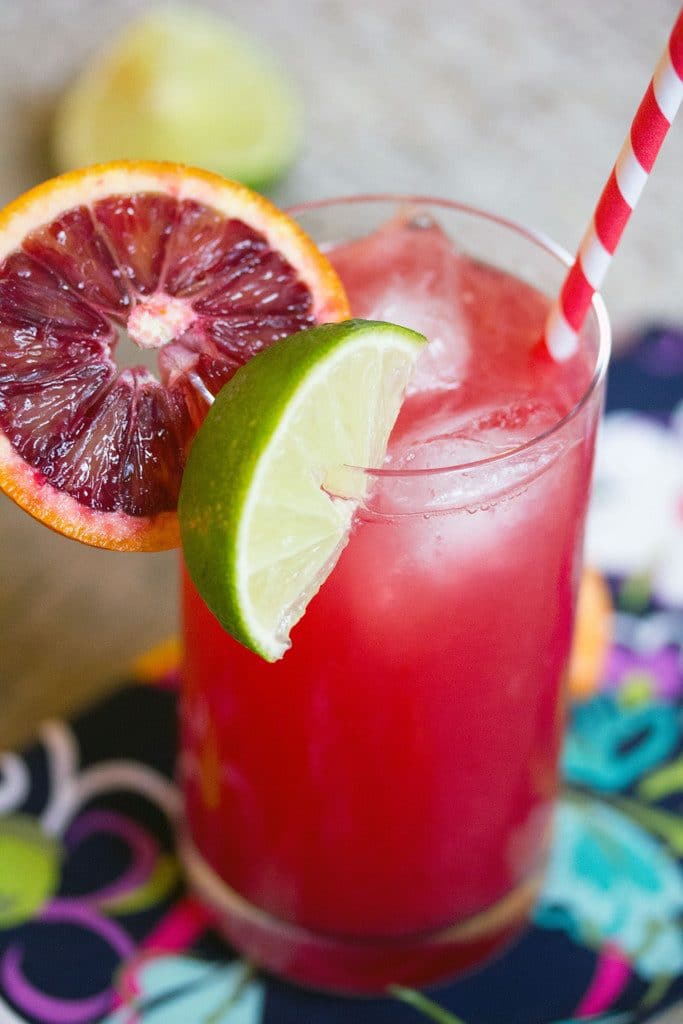 You can use that leftover habanero syrup all week long. To clear those sinuses.
Chris actually called this the best cocktail I've ever made. And I've made a lot. And he's drank a lot. So, I'll certainly consider that a compliment. I do know that the way to his heart is spice. And blood oranges. Just a couple of his favorite things.
But I agree that this does have many of the elements of the perfect cocktail. It's naturally sweet from the blood oranges and the habanero syrup has this super discrete spicy undertone. It kind of creeps up on you and goes just perfectly with the citrus.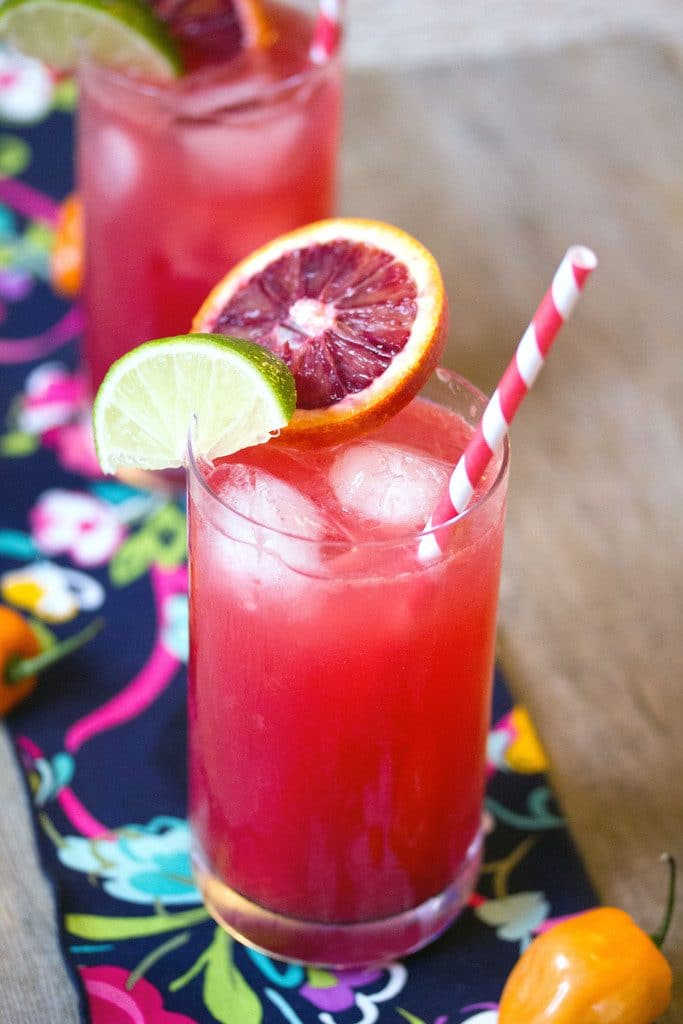 It also made me feel a little bit like I was on an island. But a super classy, strawberry daiquiri, piña colada-free island. Don't get me wrong, I love a Miami Vice while poolside on a vacation. But I'd so much prefer something like this. Especially if it were an all-inclusive resort. Actually, that could get a tad bit dangerous. But seriously, tropical resorts... Please start making blood orange habanero cocktails immediately! Think about it... a blood orange cocktail in a tropical location is basically mocking all your silly friends at home in the cold winter. And a habanero cocktail brings the perfect spicy kick to the tropics!
On that note, I'm pretty sure I need a vacation now. But hey, tomorrow's March! And that means we're one step closer to spring in Boston. Kind of hard to believe after the last few days of frozen-ness... but it's definitely giving me faith to go on. Kind of like how Cocktail Friday works for me on a weekly basis. We can do it together, friends. One step closer to spring… And the next Cocktail Friday.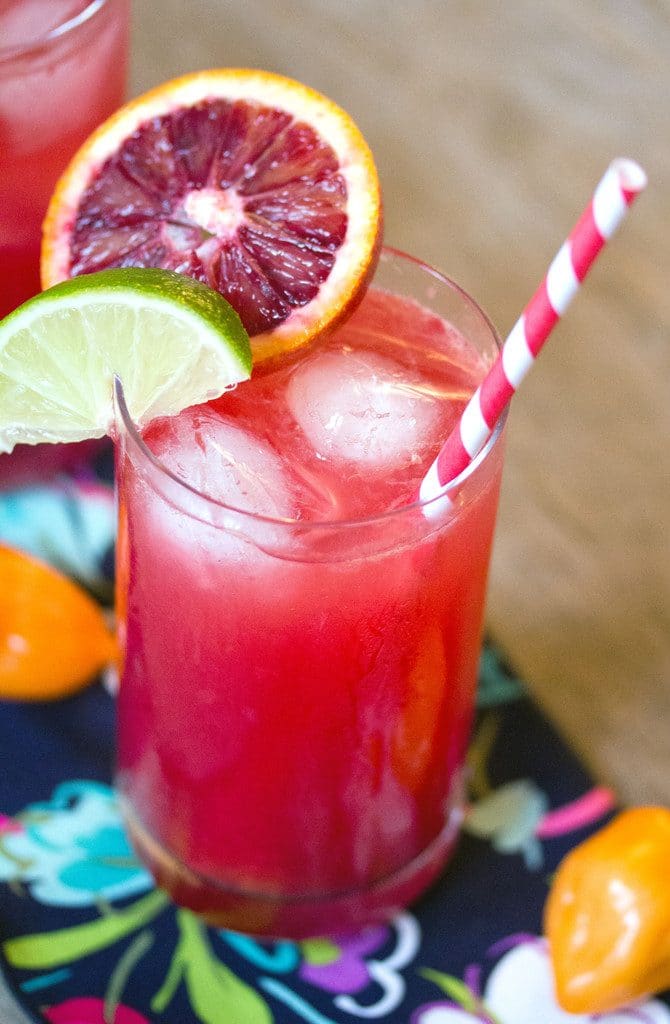 OK, I'm off to crash in my bed and hope I feel a bazillion times better in the morning. Happy weekend!
What's your normal bedtime? I'm crazy and never go to sleep before midnight… Except for this week.
If you love blood orange cocktails as much as I do, be sure to check out my Grapefruit Blood Orange Cocktail!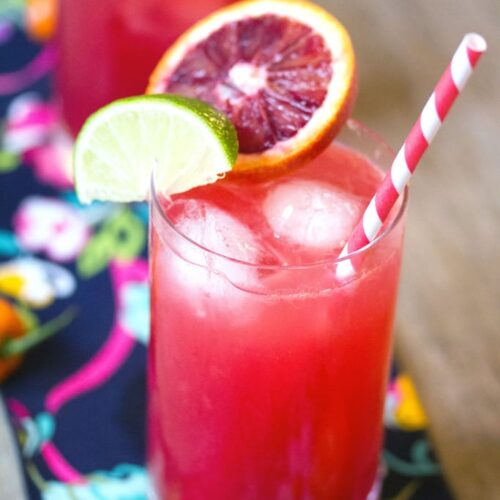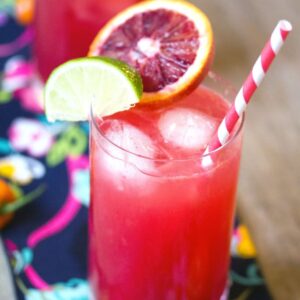 Blood Orange Habanero Cocktail
This Blood Orange Habanero Cocktail is a vodka-based drink packed with pretty winter citrus and the perfect spicy kick from habanero simple syrup.
Print
Pin
Rate
Ingredients
½

cup

freshly squeezed blood orange juice

(from about 6 blood oranges)

1

oz.

freshly squeezed lime juice

1

oz.

habanero simple syrup

(recipe below)

1 ½

oz.

vodka

Blood orange slices and lime wedges,

for garnish (optional)
Habanero Simple Syrup
1

cup

granulated sugar

2

cups

water

1

habanero pepper, minced
Instructions
Put blood orange juice, lime juice, habanero simple syrup, and vodka in a cocktail shaker filled with ice and shake well.

Pour into an ice-filled glass.

Garnish the glass with a blood orange slices and lime wedges.
Habanero Simple Syrup
In a medium saucepan, bring sugar and water to a boil over high heat. Once the water is boiling, add in minced habanero and lower to a simmer.

Let mixture simmer for about 5-7 minutes. Then, Strain mixture into a bowl or mason jar, leaving peppers behind, and put in fridge to cool completely.
Notes
Note that recipe cook time doesn't include cooling time for simple syrup.
Simple syrup can be made ahead and can kept in fridge for about a month.
Share a Photo of Your Finished Recipe!
Mention @wearenotmartha and share a photo if you've made the recipe!