We have a super fun post coming up all about our Oscar party shin-dig sponsored by Orville Redenbacher. But while I'm working on editing those tons of photos (I accidentally uploaded all 597 of them to my computer, though most were of Chels and I throwing popcorn in the air and catching it. Oops), I thought I'd share with you an incredibly quick, super delicious appetizer. I brought these crostini to my friend Libby's wine tasting a couple weekends ago and everyone seemed to really enjoy them. I'm in love with this flavor combination and will definitely be bringing these little delights with me to more parties in the future. But really, they're absolutely perfect for a wine tasting with the tangy goat cheese and grapes.
I spotted the recipe on Food Network, but changed it up a bit to make it easier to assemble and eat. Next, I think I'll have to make this in sandwich form. Eating 8 crostini or one sandwich… What's the difference, right?
I always read recipe reviews before cooking and have to say, I was a little taken aback that someone commented on this recipe on the FN website, "I think the use of provolone or asiago cheese instead of the goat would make this a thousand times better. Goat cheese is still considered both exotic and not great tasting by some." Goat cheese lovers, stand with me!! It's amazing. And really, I don't think parmesan or asiago would work on these crostini nearly as well. But if you don't like goat cheese, maybe try a brie or a Boursin cheese.
Grape and Proscuitto Crostini with Goat Cheese (makes about 18):
• 1 baguette, cut into 1/4-inch slices
• 4 T olive oil
• 24 red grapes
• 1 T balsamic vinegar
• Freshly ground black pepper
• 1 bunch fresh basil
• 4 oz. soft goat cheese
• 1/4 lb. prosciutto
(Pre-heat oven to 350 degrees).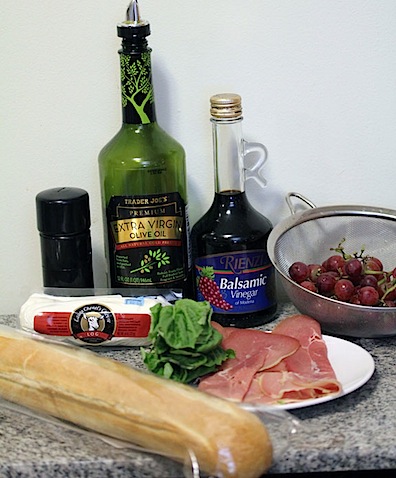 Cut your baguette into little crostini slices. The original recipe I followed made 12, but I improvised and made 18.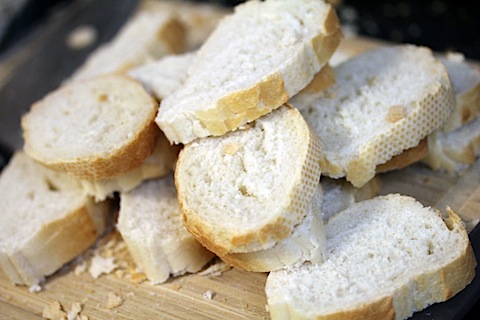 Lightly brush one side of baguette slices with about half the olive oil.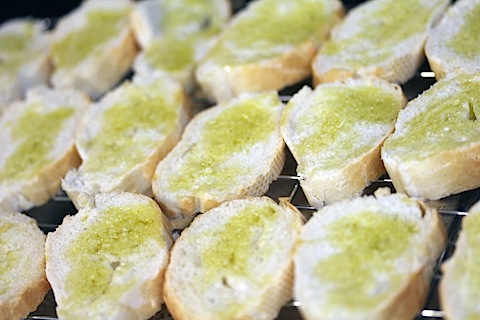 Lay them directly on the middle rack of the oven. I hate laying food right in my oven, so I put mine on a metal rack first. Just as long as your bread can "breathe" on the bottom.
Toast for about 5 minutes, or until lightly golden.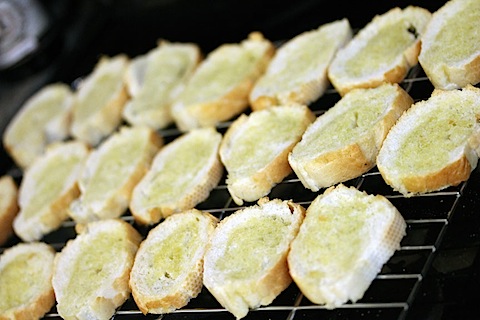 Put remaining olive oil in a small saute pan and warm over medium-high. Add grapes to the pan and saute for 2-3 minutes, until grapes are soft and warmed through.
Remove from heat and sprinkle balsamic over the grapes, along with some freshly ground pepper.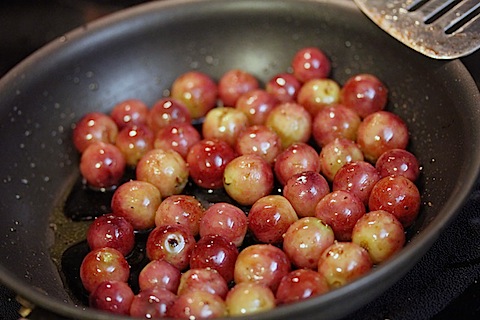 Now you're ready to construct your crostini. I spread a little goat cheese on each piece of bread. Then topped it with a small leaf of basil and a little slice of prosciutto. The original recipe said to put grapes on top, but I decided to cut mine in half first, so they wouldn't roll right off. And would be a little bit easier to eat. I topped the crostini with 2 or 3 grape halves.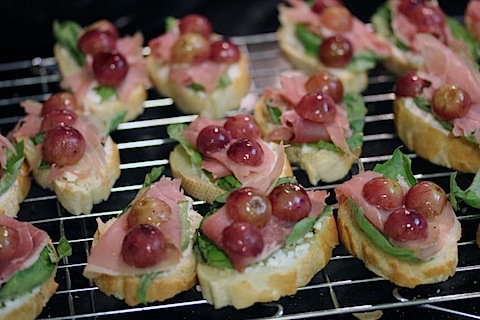 I absolutely LOVED this combination. I don't know why I was so surprised by it because if I came across a flatbread like this, I'd think it was totally normal (and awesome!). But I haven't seen an appetizer quite like this one and was really excited to come across it.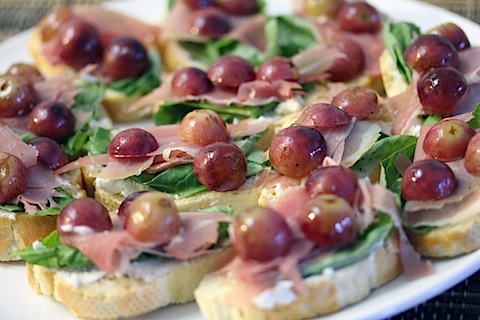 If you're anything like me, you're always looking for new appetizer ideas. And preferably ideas that are quick and easy and can be transported with no problem. I mean, you saw how easy that was to make, right?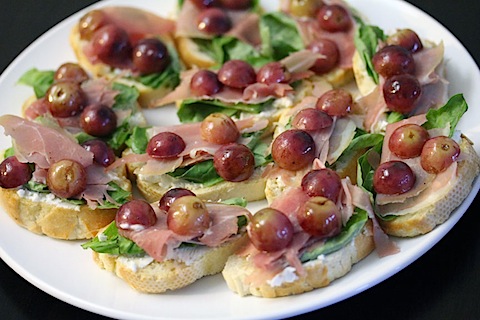 Yup, I'll definitely be making this in sandwich form ASAP.
OK, it's quite definitely my bed time! I was up super late for the Oscars last night (totally worth it!) and am feeling a serious lack of sleep. Every night I say I'm going to go to bed early and then I never do. Does anyone else have this problem? In addition to work, I recently downloaded Angry Birds (really, Chris downloaded it for me, so I blame him) and it is the most addicting game ever.
Stay tuned tomorrow for our Orville Redenbacher Oscar party recap… And a really, really FUN giveaway!
In the meantime, I'll announce the winner of our Naked Pizza giveaway 🙂 I'm loving all the WANM giveaways we've had lately! Anyway, the winner of the $15 gift card to Naked Pizza is Betsy from Straight Up with Olives! Congrats, Betsy; we'll e-mail you to get your contact info 🙂
What's your favorite quick appetizer?
[Sues]