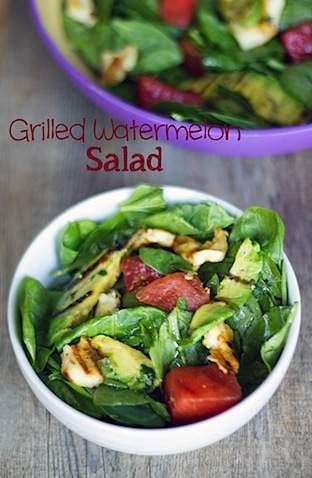 Everything in this salad is grilled. Except for the spinach. And the dressing. When I figure out how to grill an olive oil-based salad dressing, I will let you know. And when I say grilled, I mean in my grill pan since I live in an apartment complex and don't own a grill. To be fair, my complex has several grills available for common use, but my grill pan? Doesn't require me to gather all my ingredients, walk downstairs, and across the lawn to one of the grills. #laziness.
But I do love grilled foods. And while burgers, steaks, and fish are delightful, fruits and cheeses can be made even more delicious when placed on the grill for a few minutes. Or the Le Creuset grill pan, as the case may be. Bottom line: you don't need to own a grill to enjoy grilled deliciousness. Any time of year.
Grilled Watermelon Salad (serves 4 as an entrée):
Print this recipe!
1 bag baby spinach
¼ C olive oil
½ small watermelon, cut into slices
4 oz. halloumi cheese
1-2 avocados, halved, peeled, and pitted
3 T extra virgin olive oil
Juice of 1 lime
1 t finely chopped mint
Freshly ground salt and pepper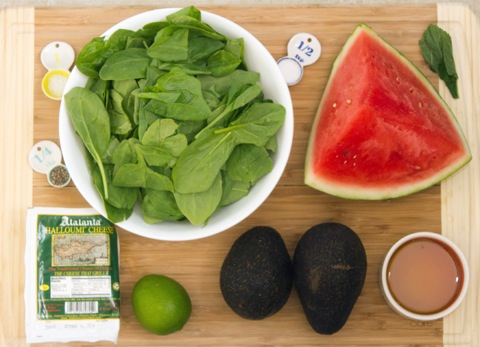 I chopped my watermelon before grilling, but if you're grilling on a real actual grill, you probably shouldn't do this. I recommend cutting the watermelon into slices and grilling it that way. Once it's grilled, you can cut it into chunks.
How every you do it, make sure you lightly brush the watermelon with olive oil on both sides.
Grill watermelon over medium heat for about 5 minutes on each side. Obviously you want to have those super fabulous grill marks showing up.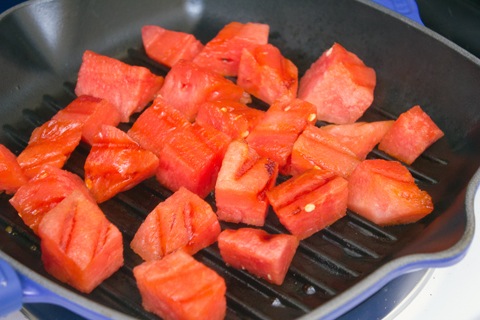 Same thing goes for the avocados. You probably want to halve, peel, and pit them if you're planning to grill them on an outdoor grill. Since my avocados were in no danger of falling through the grates, I sliced them ahead of time, brushed them with a bit of olive oil, and placed them in my grill pan. Grill for about 2-3 minutes on each side, until you get pretty grill marks.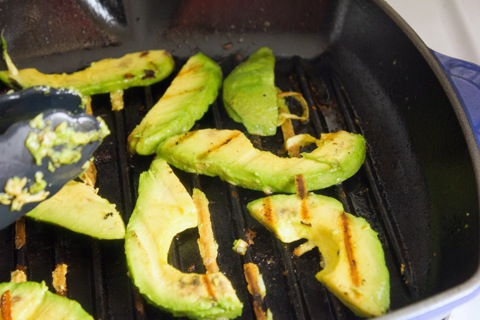 Gotta grill the cheese, too! Halloumi is one of my favorite summertime cheeses because it's made for grilling and is a great addition to any cookout spread. Or salad. I sliced the cheese, brushed it with some olive oil, grilled it for about 2-3 minutes on each side, and then cut it into bite-sized pieces.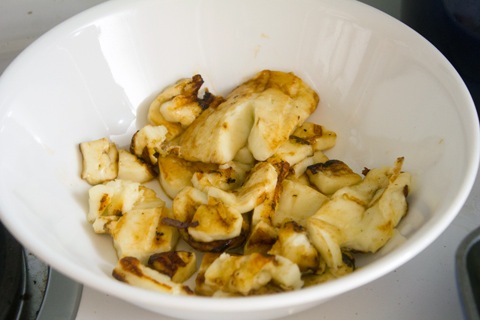 The dressing was also super simple. I whisked together olive oil, freshly squeezed lime juice, mint, and salt, and pepper.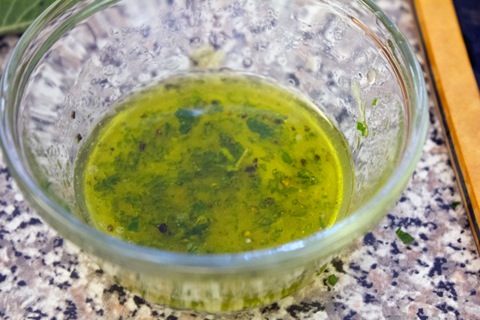 In a large bowl, toss together watermelon, avocado, and cheese and drizzle dressing over the top. And you have a fully grilled meal… that doesn't even involve any meat! Serve in individual bowls. This can be a fabulous side salad, an appetizer, or even an entrée if you're craving a lighter summer meal.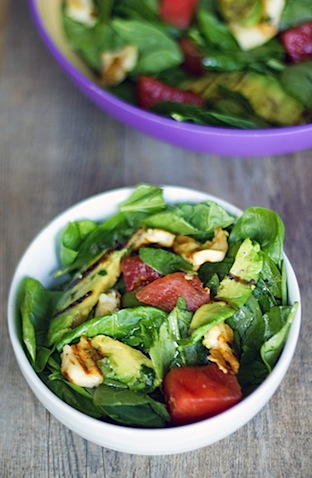 Have you ever grilled watermelon before? It's crazy! Grilling sucks some of the liquid out, brightens the fruit in a major way, and gives it this deep flavor-packed taste. I'm in love. Doesn't the watermelon almost look like tomatoes?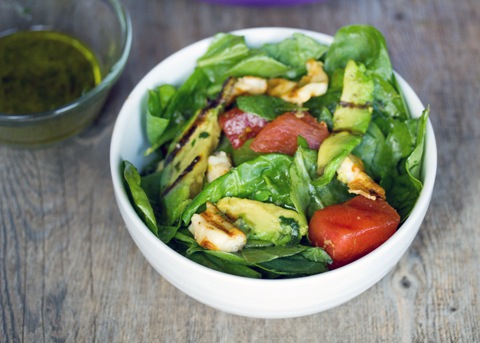 Obviously I'm already avocado-obsessed and would eat them in any way, shape, or form, but grilling them makes them even better. Next up? I totally want to make a grilled avocado guacamole. Seriously. Coming soon!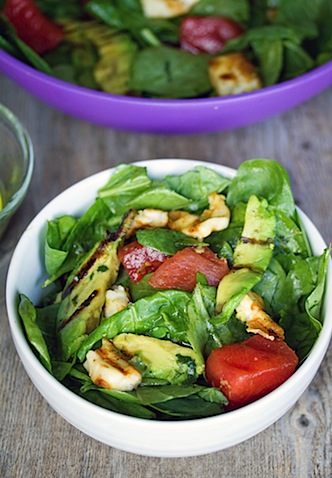 This is the kind of salad I could eat all summer long and be perfectly happy eating. I ate it for dinner and then brought it to work for lunch the next day. I feel like I need to have grilled watermelon and grilled avocado in my fridge all summer long. Just waiting to be devoured or made into salads.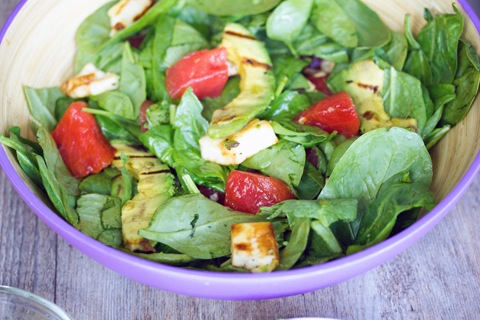 Some day I shall have a house with a grill off the porch. And I will grill everything around. For now, I'm pretty satisfied with my fabulous Le Creuset grill pan and my little apartment kitchen. Sooo, what are we grilling next??
Do you like to grill? What's your favorite grilled food?
[Sues]