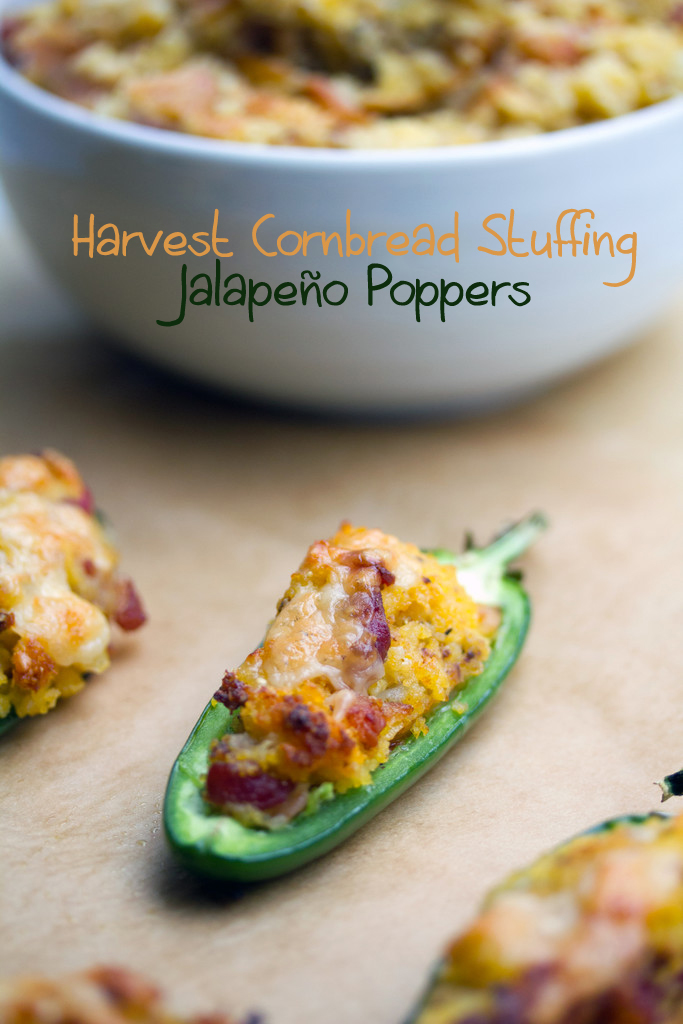 I know you're probably going to try to get all argumentative on me, but I can tell you with 100% certainty that my mom makes the world's best stuffing. End of story. Seriously, stop trying to tell me otherwise or else I'm going to have to ship some to every one of you so you can experience it for yourselves. I basically dream about the stuff and have to force myself not to eat it too far past Thanksgiving for fear of overdoing it (she gives me a frozen batch after every Thanksgiving so I can savor it for as long as I want). I don't generally get very creative with the stuffing. I eat it out of a bowl with lots of gravy... And that's it. Well, sometimes a spoon.
But if I did find myself with a plethora of leftover stuffing that I didn't know what to do with, I'd surely make these jalapeño poppers. In fact, they were so good that I'd even whip up a batch of stuffing just to make them. Like in the middle of summer. I made these right before the holiday and whipped up a harvest cornbread just for them, but you could really use any leftover stuffing you have after the holiday. Or you can whip up this harvest cornbread, too, and serve these delightful little appetizers at your next holiday gathering. Please invite me.
Harvest Cornbread Stuffing Jalapeño Poppers (makes about 24 poppers):
Print this recipe!
1 batch cornbread (recipe below)
6 strips bacon
1 onion, diced (cook onion in bacon grease)
1 C fresh cranberries
¾ C shredded cheddar cheese, plus ¼ C shredded cheddar cheese
1 t chopped thyme
2 C chicken broth
2 eggs, lightly beaten
12 jalapeño peppers, halved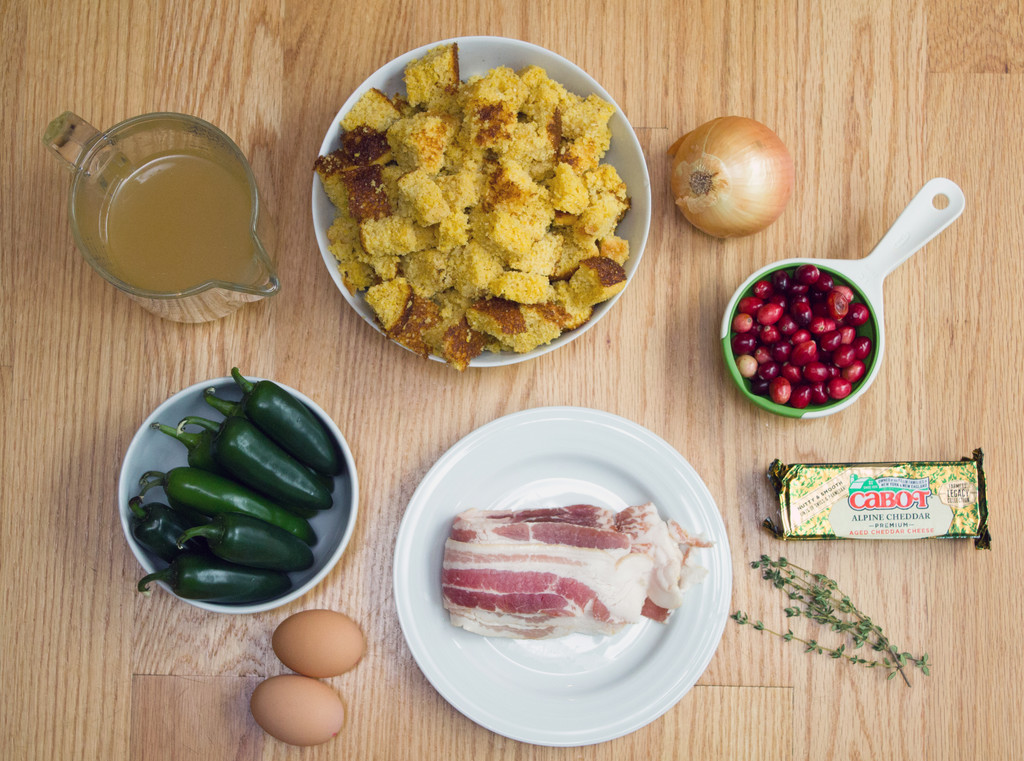 First things first, you've gotta make the cornbread. I know, I know, it's just one more thing to do. You can totally feel free to just buy some cornbread at your grocery store bakery. I won't judge. Or even use a boxed mix. Nobody will know. But if you do choose to make your own, here's what i do:
Cornbread:
Print recipe!
2 C cornmeal
1 t baking powder
½ t baking soda
½ t chipotle powder
½ t salt
2 C buttermilk
2 eggs
2 T canola oil
2 T honey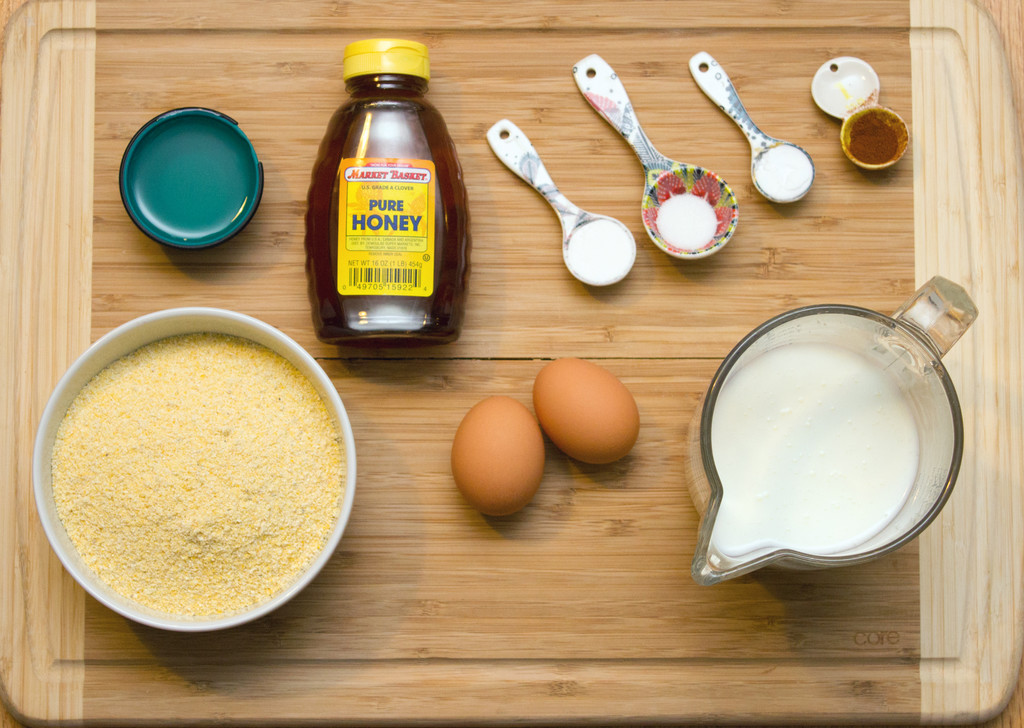 Pre-heat oven to 400 degrees. If you're making the cornbread in a skillet, I recommend popping the skillet in the oven as it's pre-heating so it can get nice and hot.
In a large bowl, whisk together cornmeal, baking powder, baking soda, chipotle powder, and salt.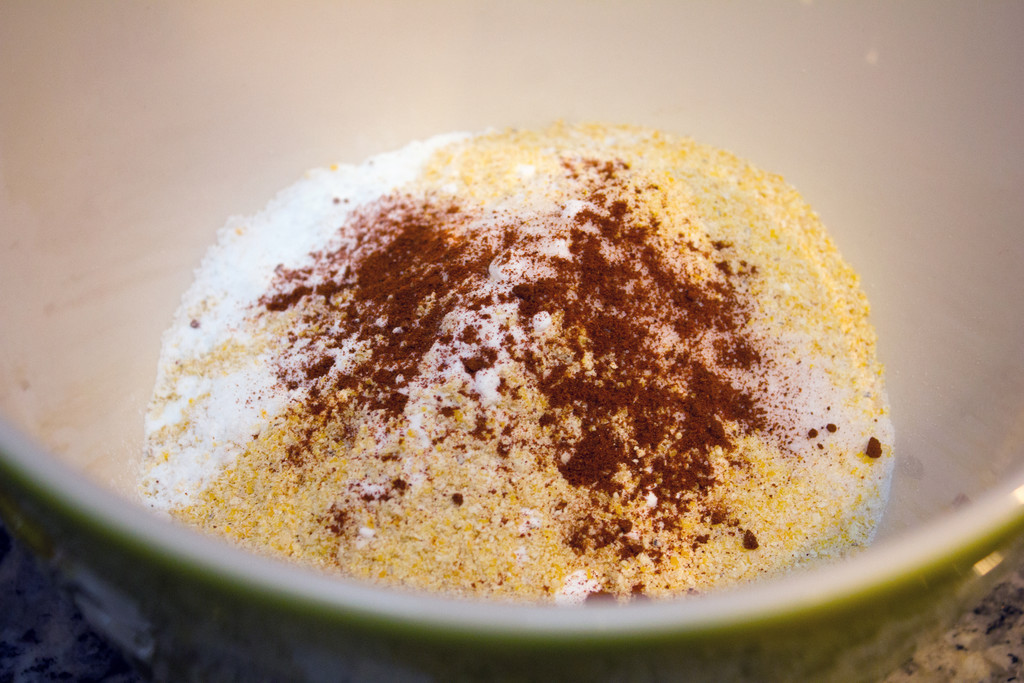 Then in a medium bowl, whisk together the wet ingredients: the buttermilk, eggs, canola oil, and honey.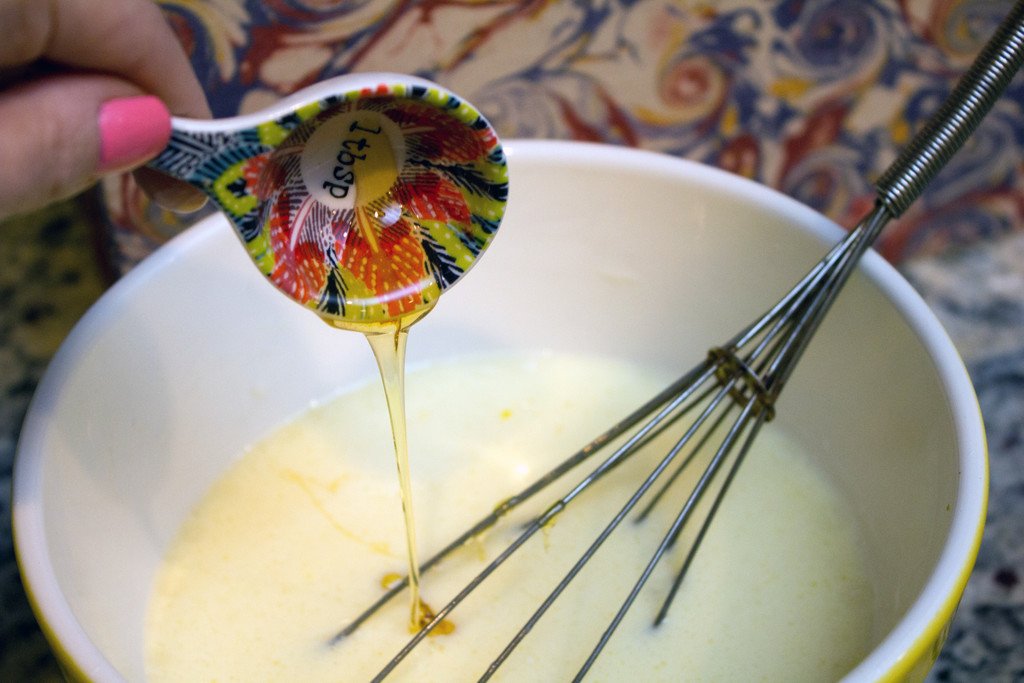 Slowly pour the wet mixture into the dry mixture and whisk together until just combined.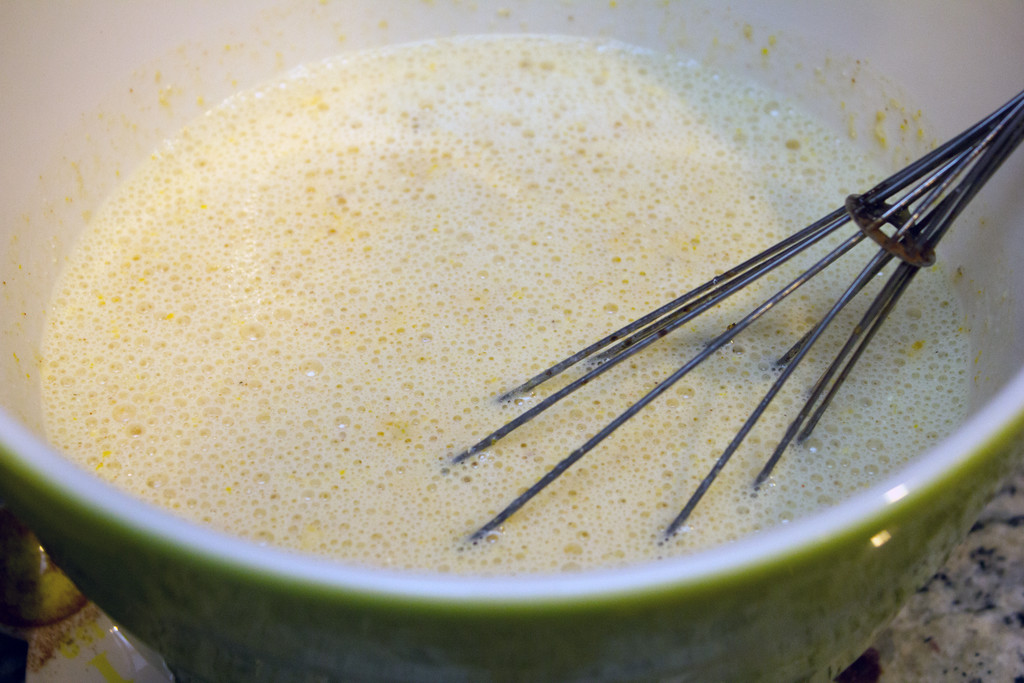 Now, take the cast iron skillet out of the oven and spray it with oil (or rub it with butter). Bertolli just sent me these cooking sprays and I'm in LOVE. I was explaining to Chris what they're all about and read off the ridiculous amount of ingredients that are on the Pam bottle. Then I looked at these ingredients and there is literally one thing: olive oil. The way it should be, right??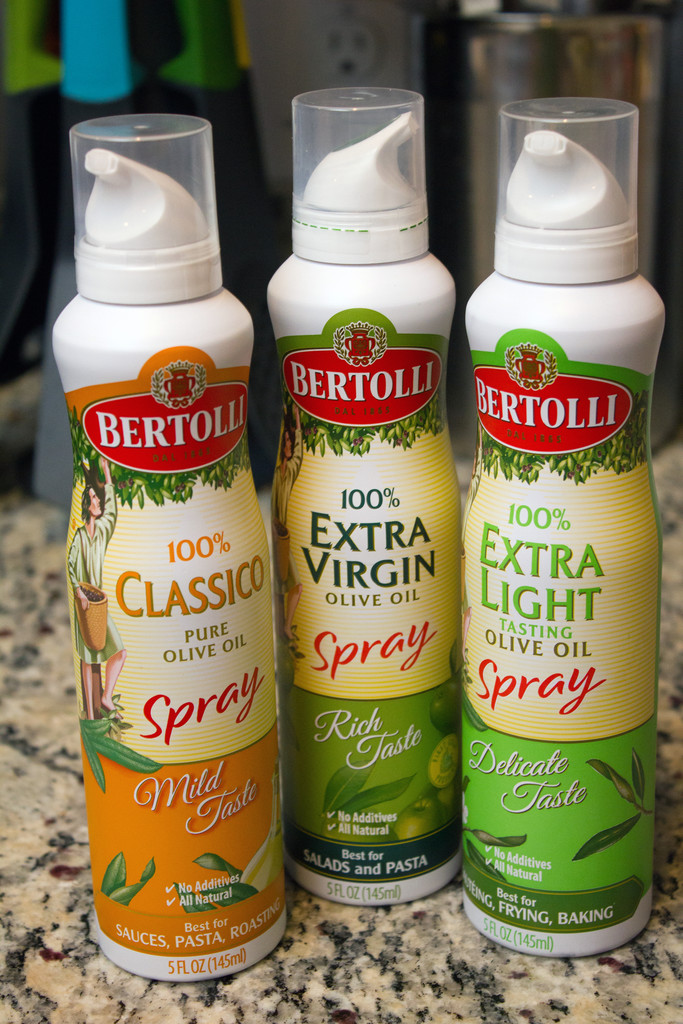 I took my cast iron skillet out of the oven and sprayed it really well with the extra light spray.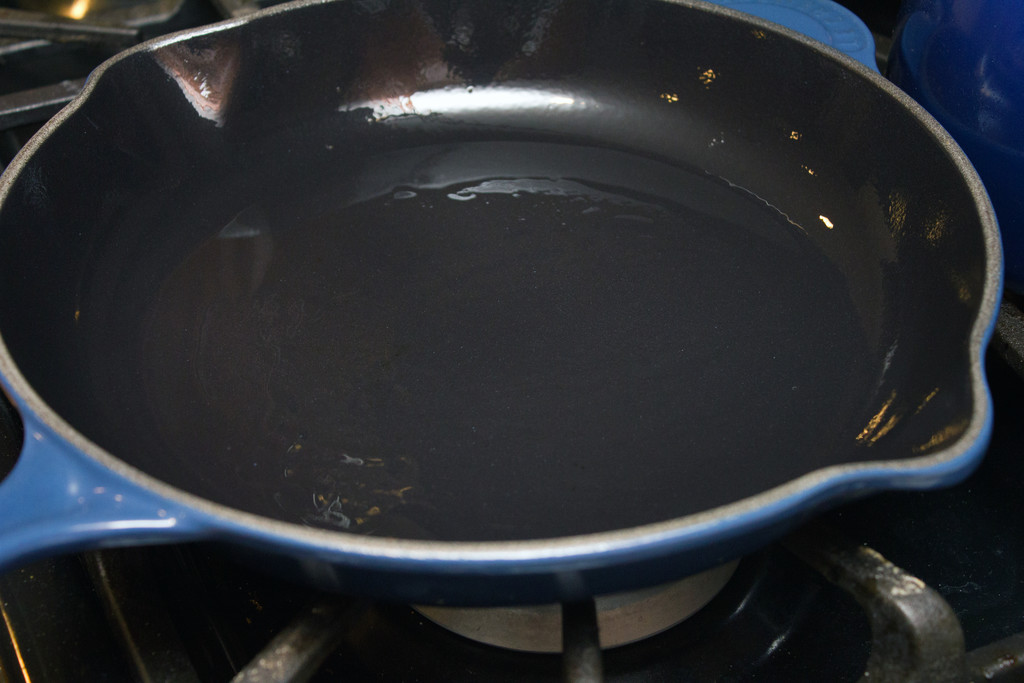 And poured the batter into it. It's already starting to cook!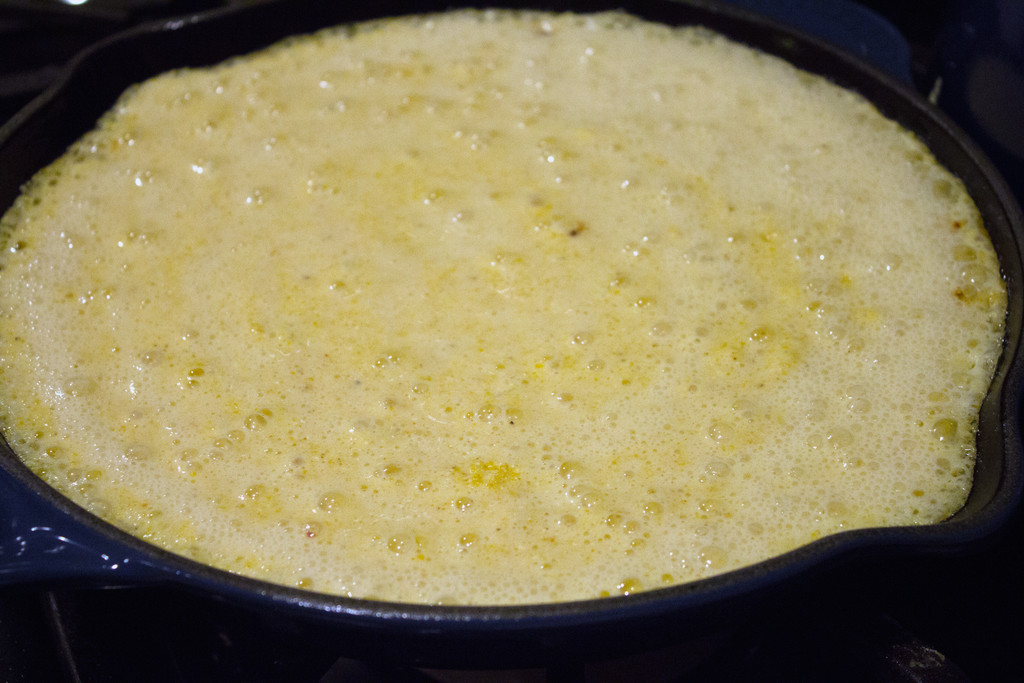 Bake at 400 degrees for about 18 minutes, until it's starting to turn golden. Then remove from oven and let cool.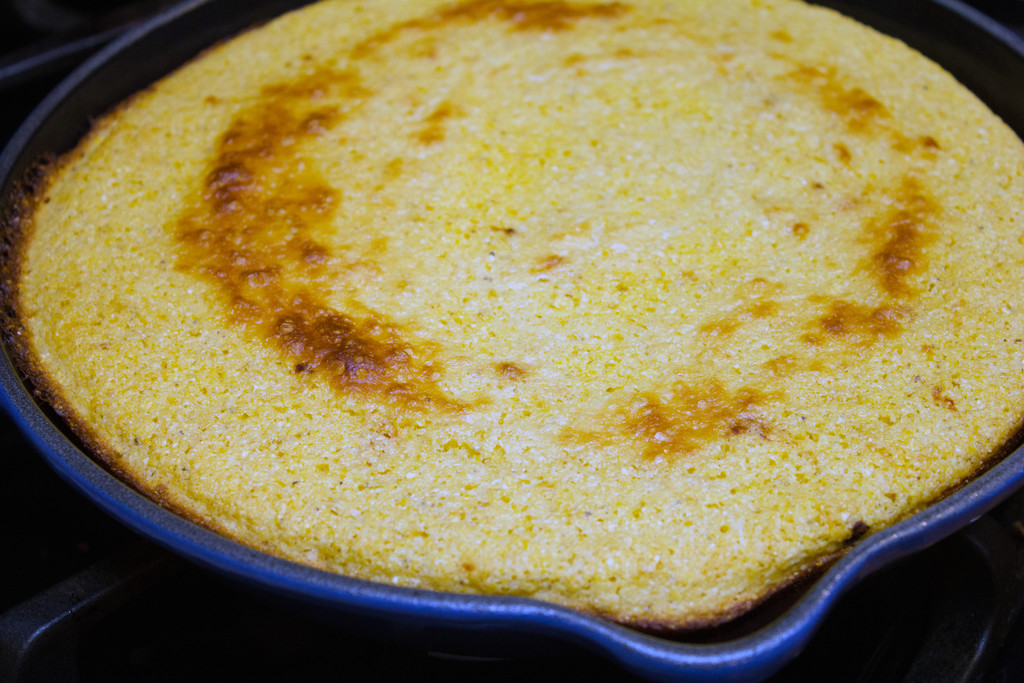 While the cornbread was cooling, I got started on the rest of the stuffing ingredients. I fried up the bacon.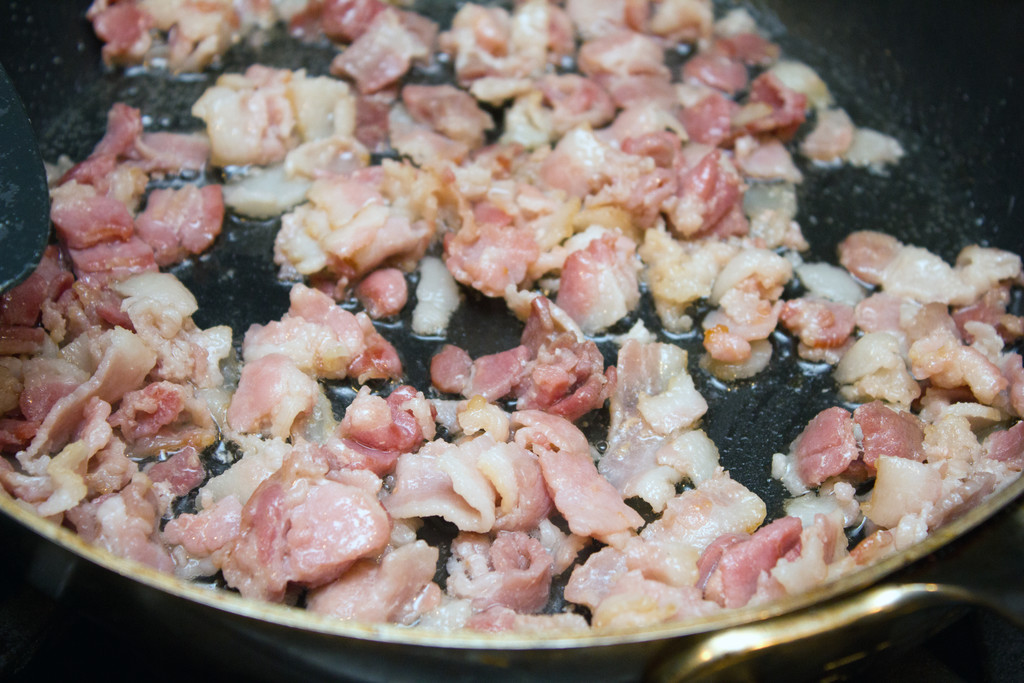 Until it was nice and crispy.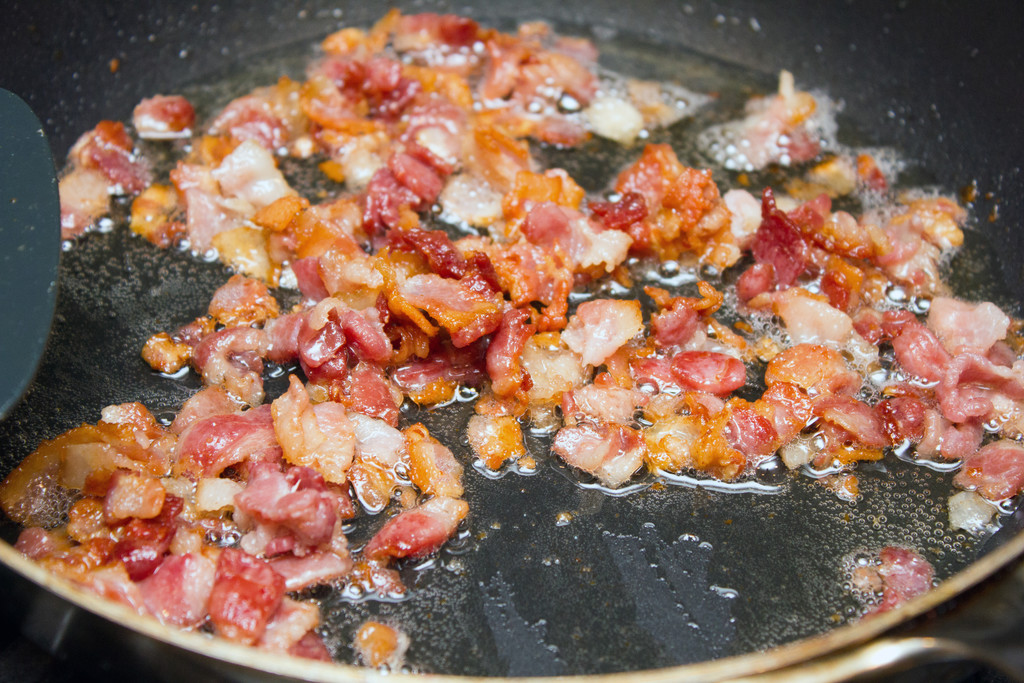 And sautéed my onion until it was tender and translucent.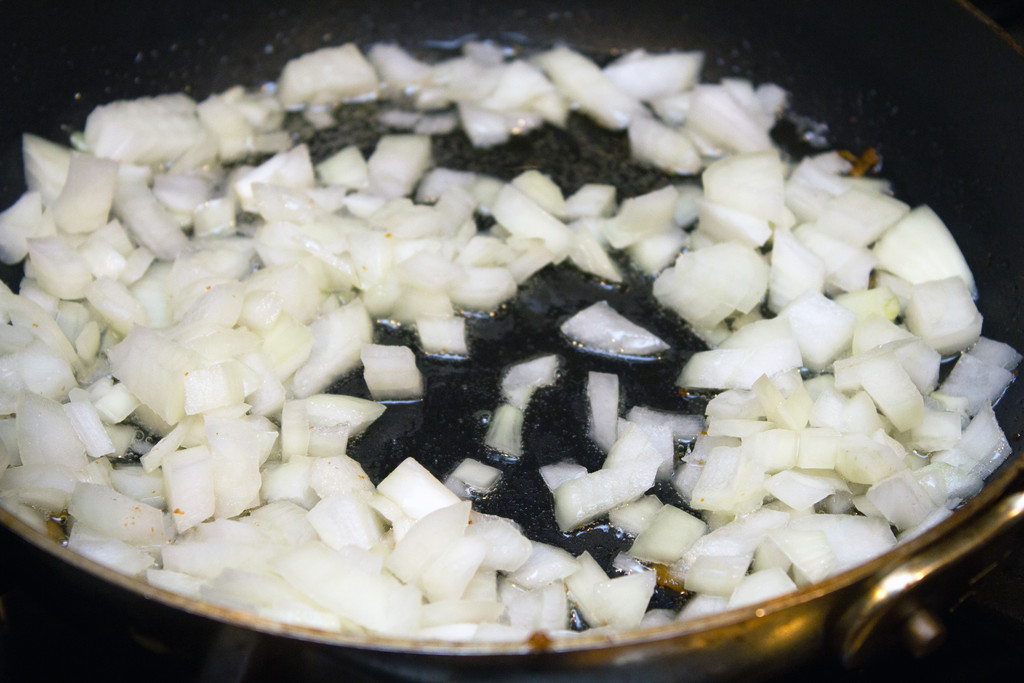 When the cornbread cooled, I ripped it into small cubes and put it in a big bowl with the crispy bacon, onion, fresh cranberries, ¾ C cheddar cheese, and thyme. Then I stirred in the chicken broth and lightly beaten eggs.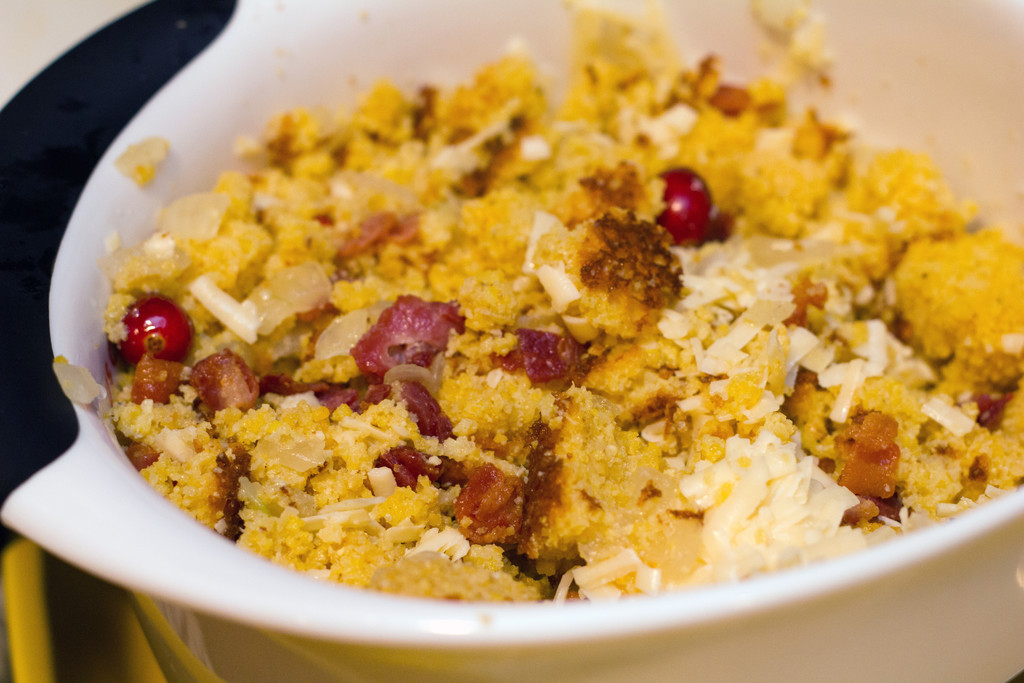 I put the stuffing mixture into a buttered 9x13 baking dish.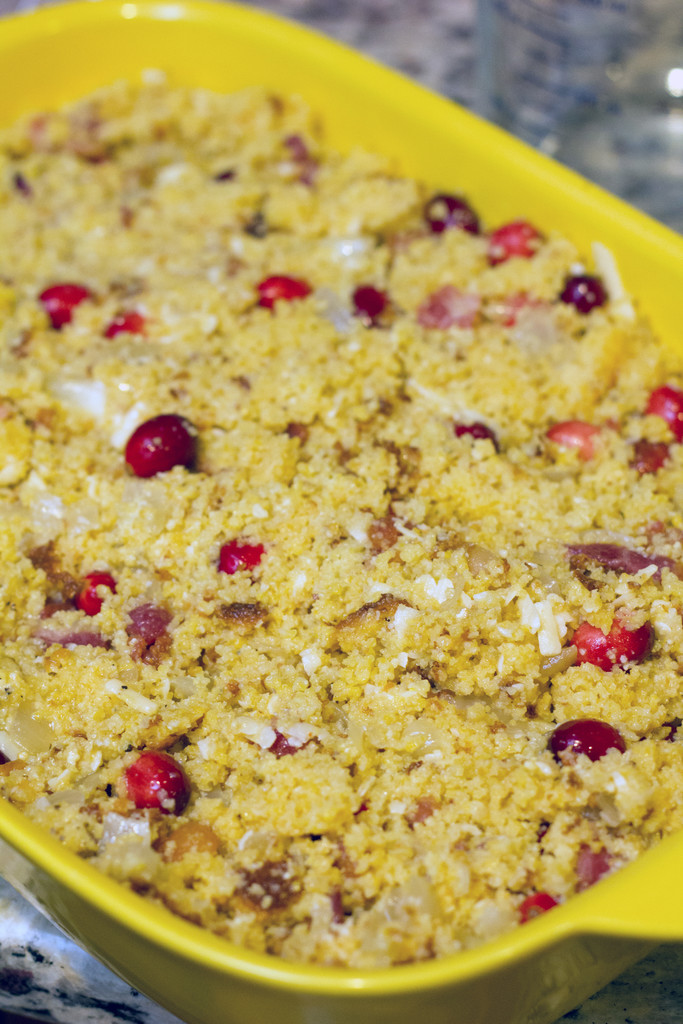 And put in the oven at 350 degrees for about 37-40 minutes, until it was starting to brown on top. Let cool for a few minutes.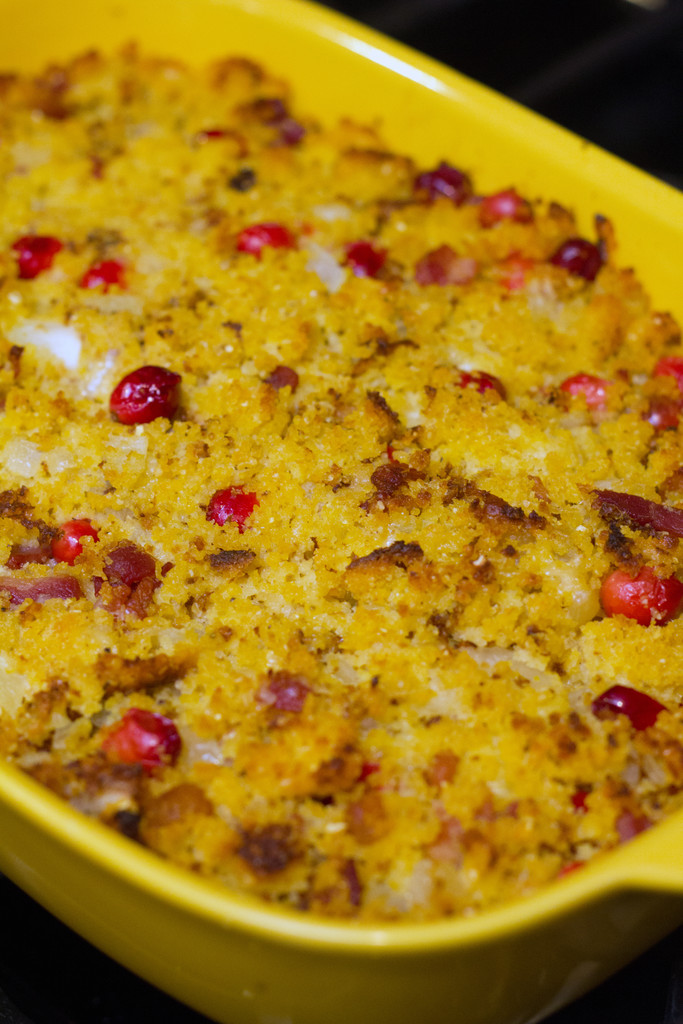 Finally, ready for the fun part! Stuff a little bit of that stuffing into each jalapeño half.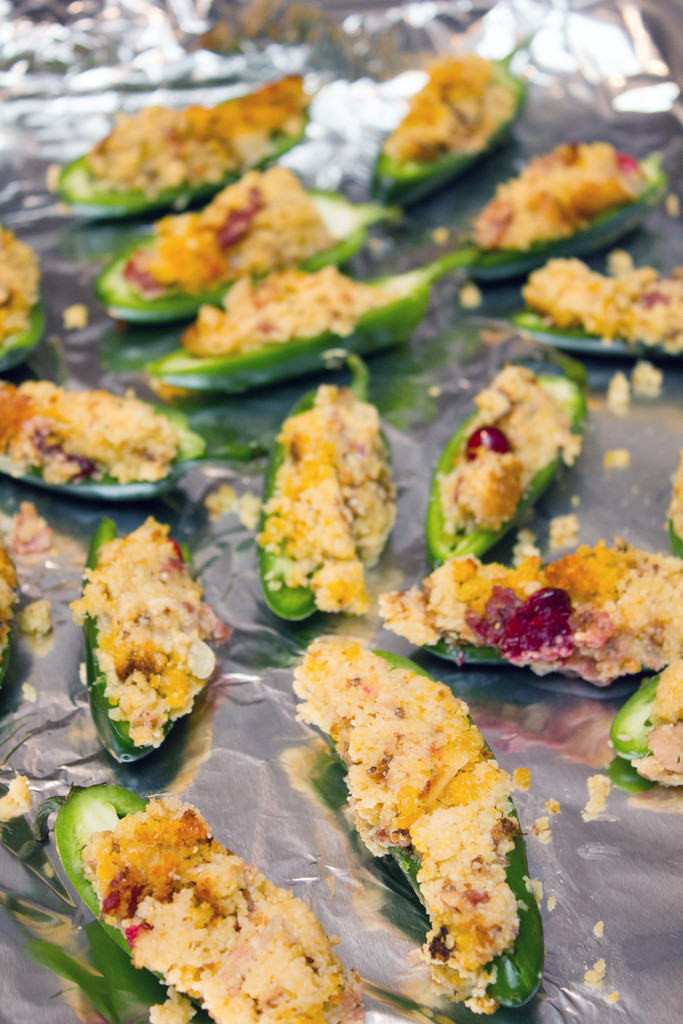 And then sprinkle a little cheese over the top.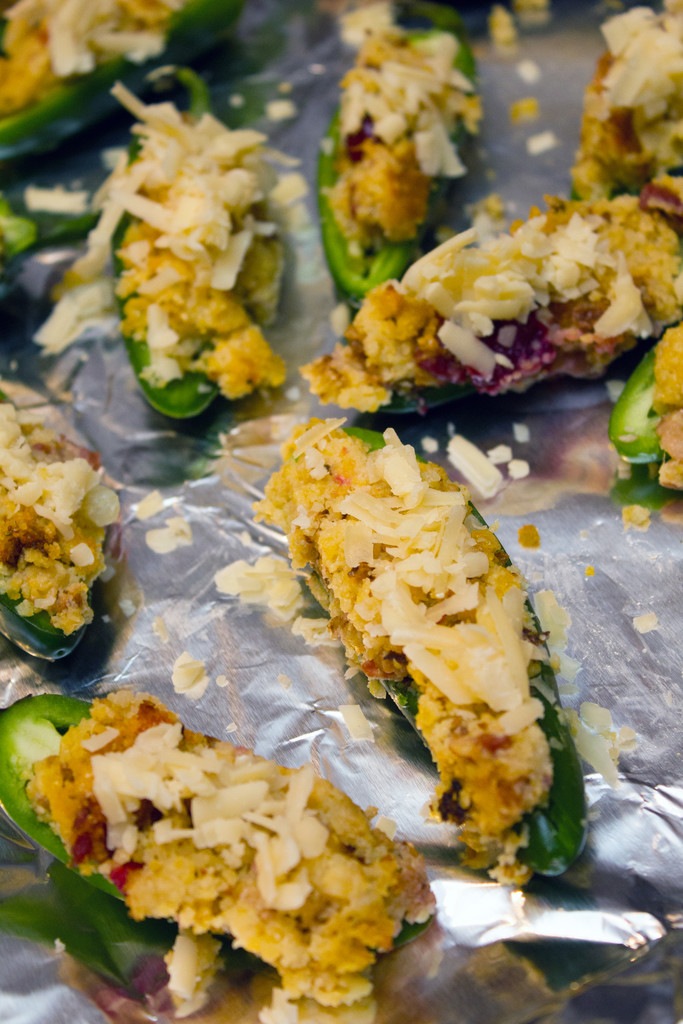 And bake at 400 degrees for 12-15 minutes, until cheese starts to melt and stuffing is starting to brown on top.
And go.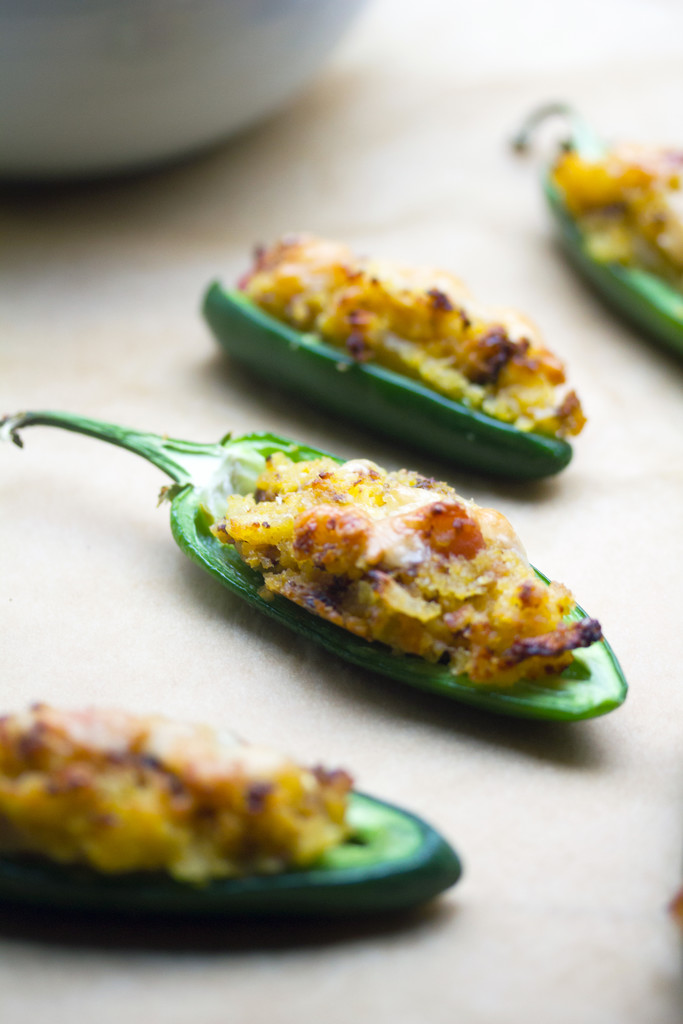 The last thing I need in life is more ways to enjoy stuffing, but that's OK.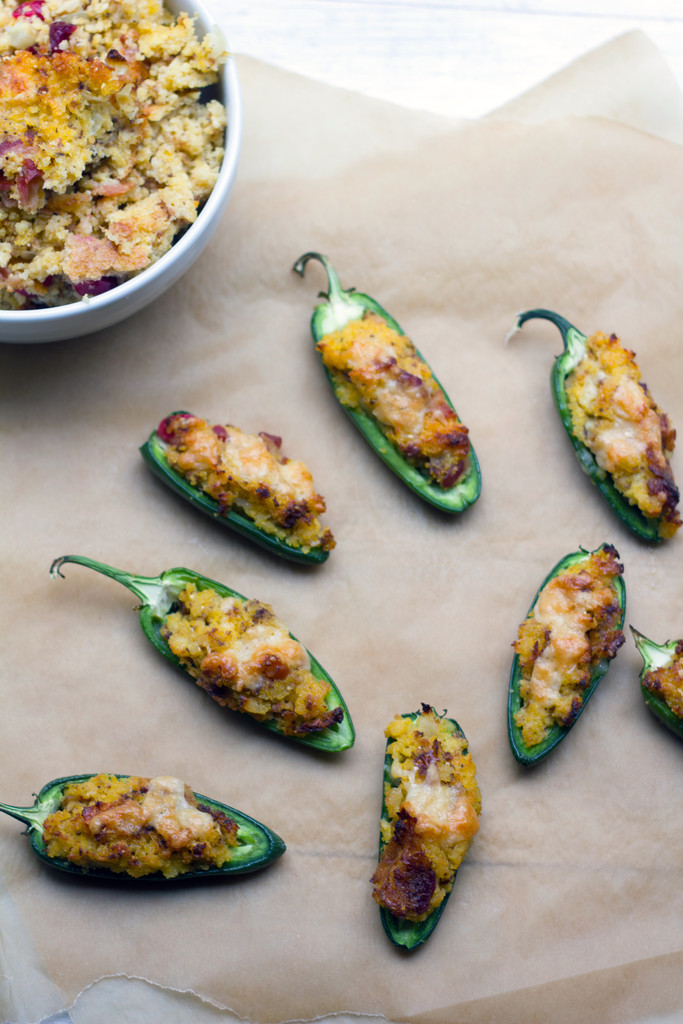 I've only ever made jalapeño poppers when they're wrapped in bacon, but incorporating the bacon INTO the jalapeño popper was an even better idea.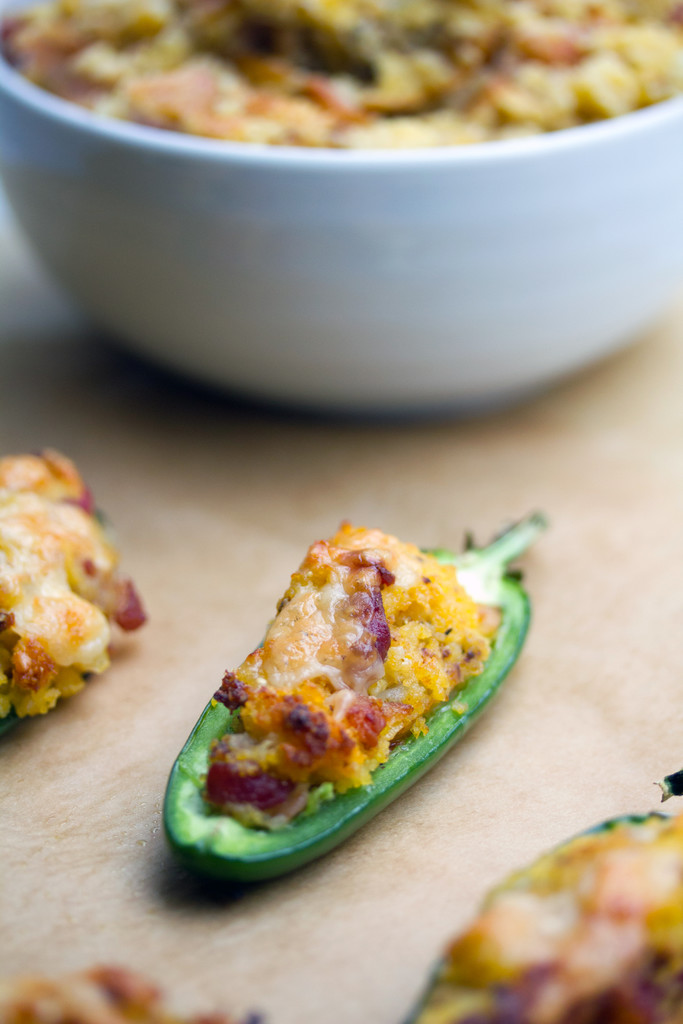 I also used to be a believer that jalapeños must be soaked before being turned into poppers, but this is absolutely not true. While these had a nice little kick, I didn't find them overwhelmingly spicy by any means. Once they cooked a little bit, they had the most perfect flavor!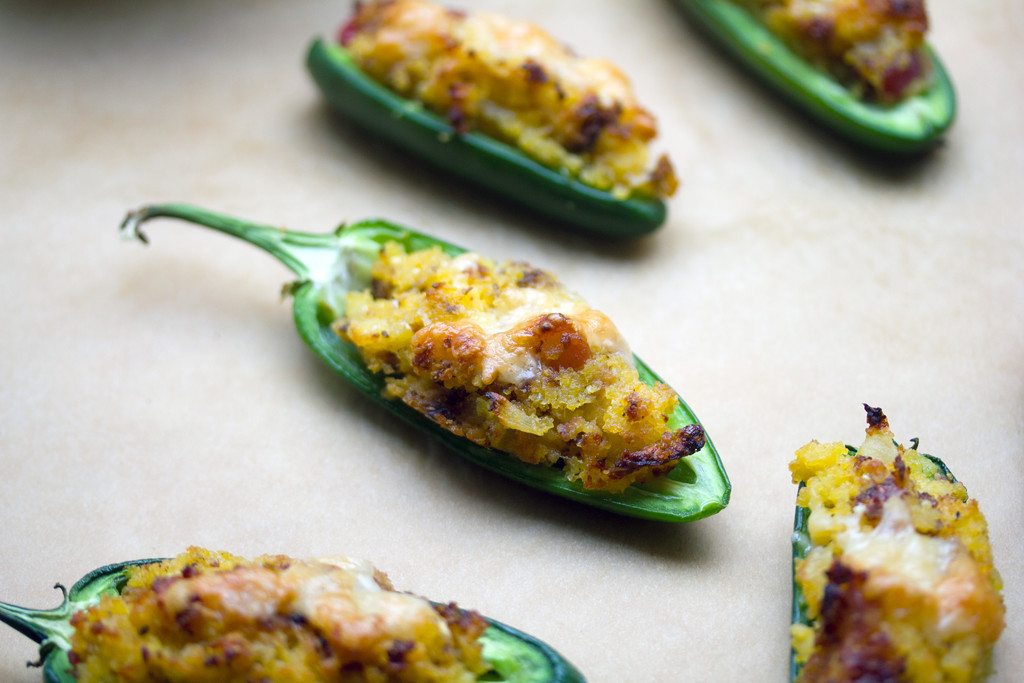 Would these poppers be even better with my mom's stuffing in them? Well, probably. But I'm also pretty psyched that I have a new stuffing recipe in my reservoir, that it involves bacon and cranberries and that it is a pretty contrasting color to the green of the jalapeños.
Sometimes I think that all I do on this blog is figure out how to combine my favorite foods together into new recipes. Luckily, I have a lot of favorite foods.
Like I mentioned earlier, I think these would make such a fun party appetizer. Not only are the colors super fun, but they're easy to pick up and nibble on. And I'm pretty sure your guests will like them, too. Also, if you invite me to your party, you'll always know where to find me: next to the table of these. You'll also know when I'll be leaving the party: when I've consumed all of these jalapeño poppers. Just kidding; I'll stick around and make some small talk for a little while after. Hopefully you'll serve wine.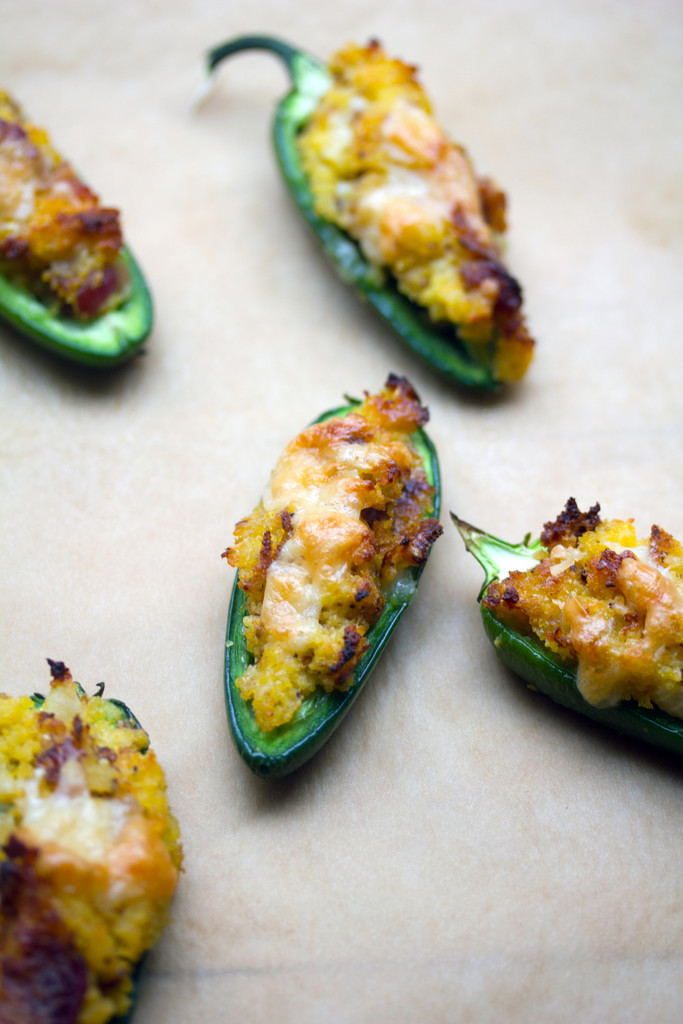 Are you still enjoying Thanksgiving leftovers or are you simply in full-on holiday party planning mode?
[Sues]