First comes love, then comes marriage...
Or in this case, first comes the most delicious chip from Trader Joe's, then comes the idea to pair it with an even more delicious dip.
One of my Paper Source co-workers recently had a bag of Trader Joe's Rice and Bean Chips with Adzuki Beans. She offered me a couple. Then I just about ate her entire bag. Part of me felt like a huge pig and the other part, well, just didn't care at all. (Never offer me food if you don't really want to share). Random story; a customer came in one day with a loaf of warm bread from When Pigs Fly and I commented on how great it smelled. She offered me a chunk of it, I said "yes" (duh), and she and I talked for a good 5-minutes about how amazing bread is while everyone starred at me in disbelief that I accepted bread from a stranger. Don't act like you wouldn't have done the same. 😉
Back to the subject at hand. After I tried these chips, I immediately went to TJ's to buy two bags. I devoured one bag in no time at all but promised myself to save the other bag so I could try them with a homemade bean dip. These chips are perfectly perfect on their own in every way imaginable. They're light, crispy, have a touch of spiciness to them, I could eat them for dinner, and I could continue going on. But I wanted to just see how they'd taste with a good bean dip.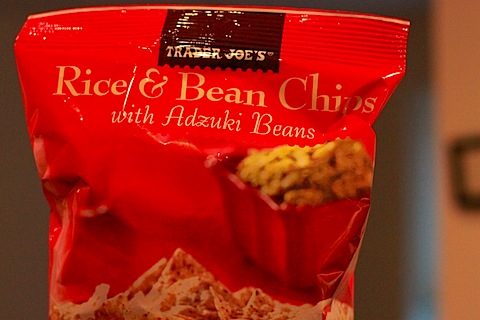 I found a black bean dip recipe in the Healthy and Delicious section on Serious Eats which I thought would work well with the chips. The dip calls for cayenne pepper and green chilies so I knew between that and the little kick the chips provided this would be a spicy little snack. Feelin' hot, hot, hot.
Here's what you need: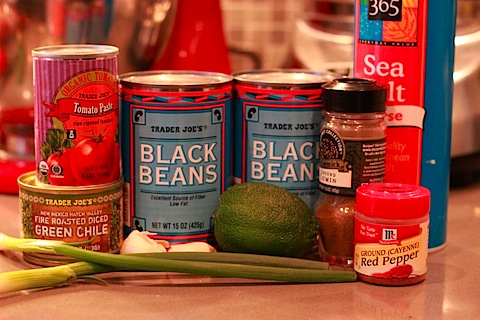 • 2 cups canned black beans, drained and rinsed
• 4 teaspoons tomato paste
• 3 tablespoons water
• 2 garlic cloves, minced
• 1 tablespoon lime juice
• ½ teaspoon cumin
• ½ teaspoon salt
• ⅛ teaspoon cayenne pepper (or more if you want to turn the heat up a bit!... oww oww!)
• 2 scallions, chopped
• 2 tablespoons canned green chilies, chopped (if they're not already)
Here's what you do: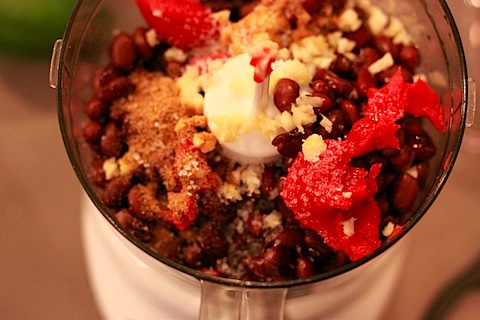 In the bowl of a food processor add the beans, tomato paste, water, garlic, lime juice, cumin, salt, and cayenne. Puree until it everything is well-blended and it reaches a comfortable dip-like consistency.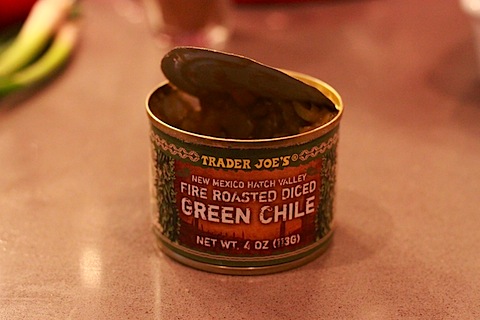 Mix in the green chilies and about half of the chopped scallions; stir.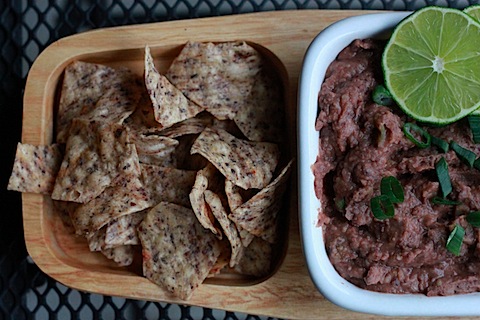 Place the dip in a serving bowl and add the other half of the chopped scallions; serve with lime slices.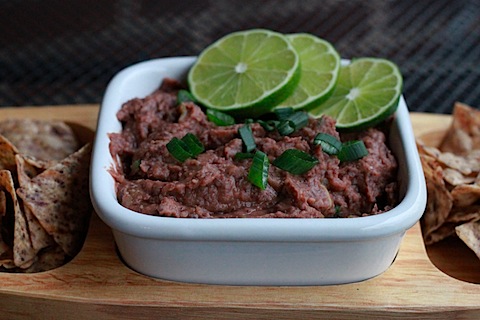 And, of course, my newest favorite chips 😉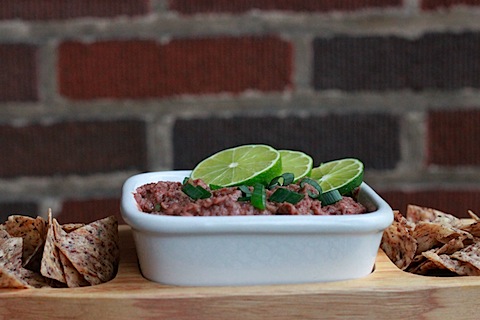 I always like to have a go-to appetizer or snack in the back of my mind only because you never know who's going to pop over or when you'll have to quickly make something to bring somewhere. With only a few (very inexpensive!) ingredients that are most likely in your pantry right now, this is definitely an ideal recipe to toss together on a whim. Or if you're just craving a little somethin' somthin' for yourself!
-----------------------------------------
Also, can we quickly discuss how excited I am about Daylight Savings? Check out the picture below that I took inside my kitchen (which has a good source of light) compared to the photos above that I took outside. Being able to take food photos on my deck again at, ooooh say, 5:30pm and still having it be light out is HEAVENLY! Spring is in the air, kids 🙂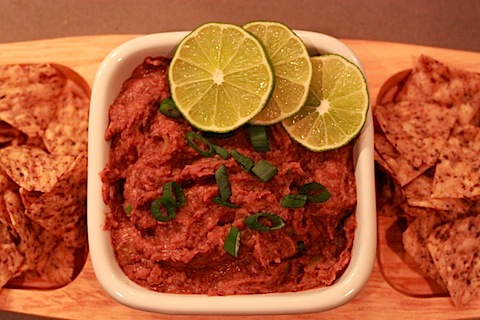 -----------------------------------------
What's your favorite brand of chips? Besides the TJ's Rice and Bean chips, I'm been loving the new Tias chips by Kettle! Think Doritos but better for you!
[Chels]