Get in the mood for fall with this Iced Pumpkin Green Tea Cocktail. You can leave the vodka out if you desire, but it brings a little bit of extra warming power!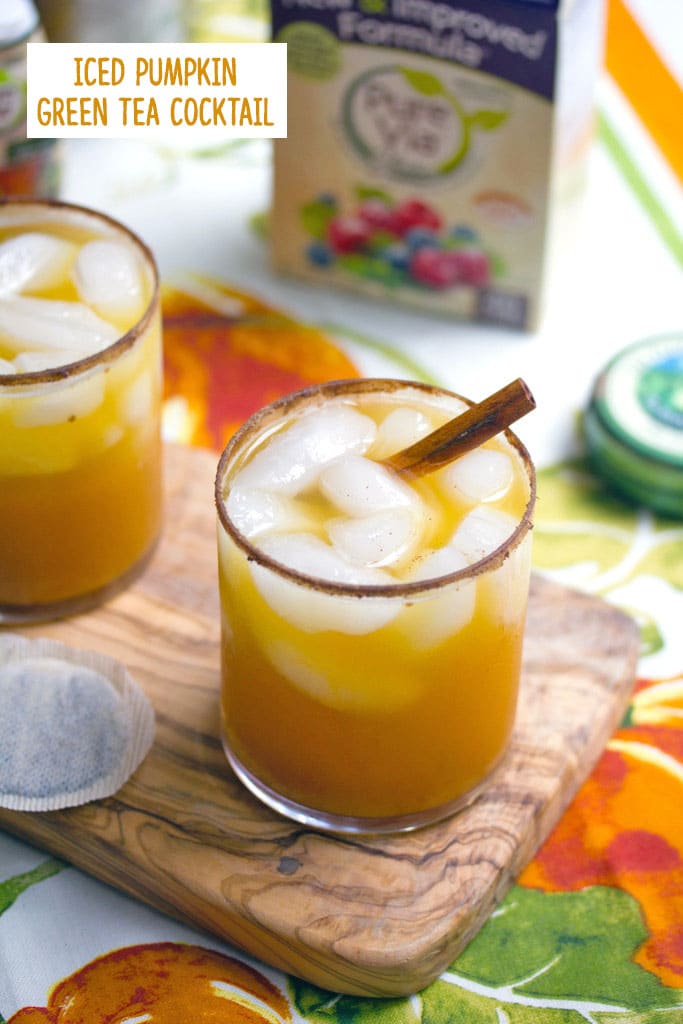 One more way I know I'm getting old? I love tea. In fact, I'm actually kind of looking forward to the upcoming cold weather because there's nothing I enjoy more than getting in my sweatpants and sipping on some hot tea at the end of a long day. Actually, that's a lie… There is something I enjoy more. Vodka (and let's be honest, wine).
But considering I try not to drink alcohol every night of the week (wouldn't know it from this blog, huh?), tea is a fine substitute. If you ask my husband, I have way too much tea in our cabinets. I argue that it's allowed since I drink it so much. Also because it's my house, too, and I am basically in charge of the kitchen, so back off what I keep in the cabinets. Ahem.
In working with Pure Via, I tried to think of a delicious fall-themed beverage to make that was different from anything I've done before. They sent me a fabulous gift pack, filled with sweet fall fun, including some green tea. I've made a couple of tea drinks in the past, but never with green tea. And never with pumpkin. I ended up with this delicious Iced Pumpkin Green Tea Cocktail. Which you could make a non-cocktail if you wanted to. Just leave out the vodka and I promise it will still be really delicious!
ICED PUMPKIN GREEN TEA COCKTAIL RECIPE
I used two forms of Pure Via in this green tea cocktail. Granulated on the rim of the glasses and the liquid sweetener in the actual drink. In case you haven't heard of it yet, Pure Via is an all-natural zero calorie sweetener made with a sweet extract of the stevia plant. It's a natural alternative to sugar and artificial sweeteners. I don't use a lot of zero calorie sweeteners because I'm really not a big fan of the taste… This is most definitely the best one yet.
As with any fall drink, you really must rim your glass in cinnamon and sugar! Oh, and you may think it's a bit strange to add pumpkin puree to a cocktail, but I'm begging you to try it and see that it's not.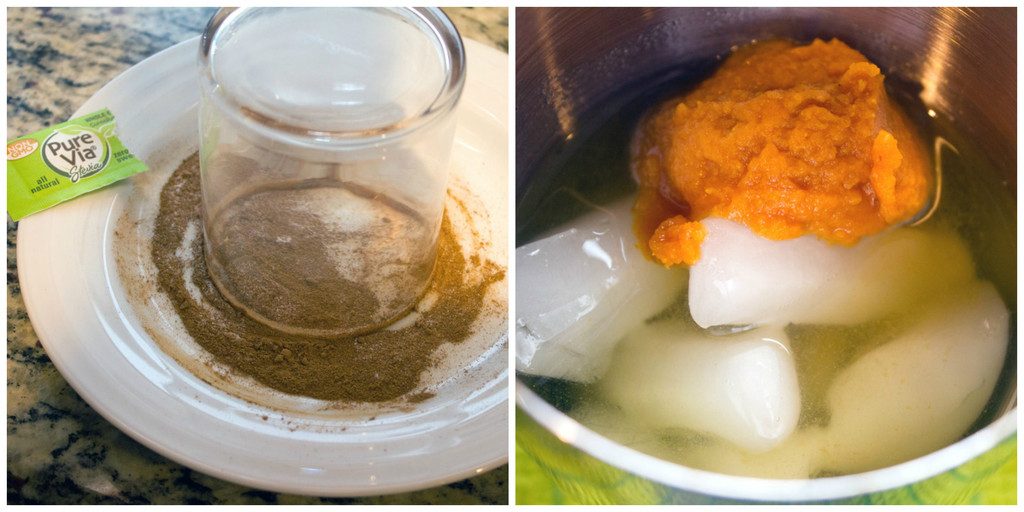 Green tea, pumpkin puree, Pure Via, and vodka are the only ingredients you need for this cocktail. And plenty of ice.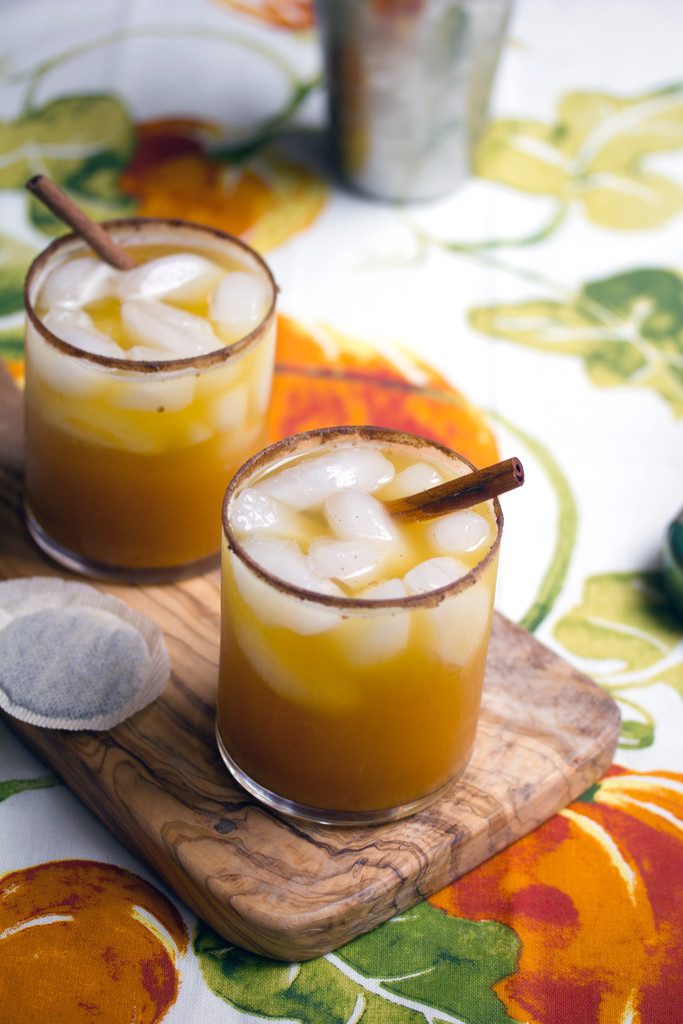 Fall is often a weird time of year when you never really know what the weather will bring. Last week it was in the 40s when I woke up… Today was in the mid-70s. Basically, it's kind of tea weather... But maybe not.
So, I recommend just putting it on ice and calling it a cocktail. And even though it's not hot, it will warm you. That's what the vodka is for.
I was going to say that it's tougher to make a hot tea cocktail, but duh, it's really not. I actually just looked back and saw that I've made two before. One with vodka and one with bourbon.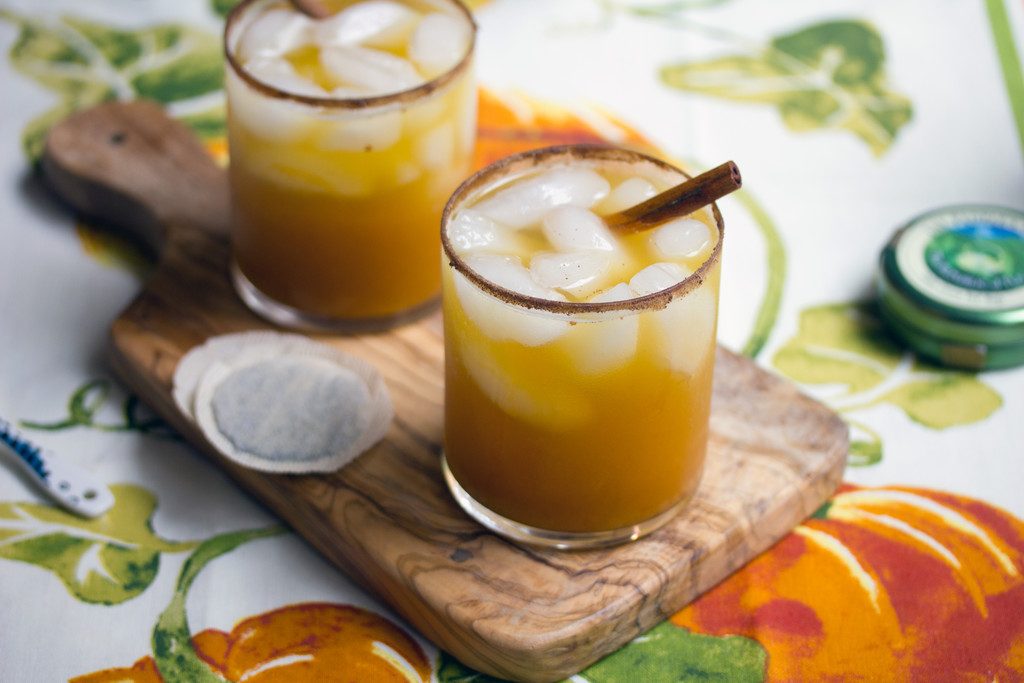 Guess I know what I'll be doing the second the weather falls back into the 30s. Hey, I truly believe in focusing on the small happy things in life; it's the only way I get through some days.
Each of these drinks has just 1 tablespoon of pumpkin puree in them and I was thrilled by how orange they were. I know from previous experience that when mixing pumpkin into drinks, you really don't need a lot.
There's also just a tiny splash of the Pure Via in each cocktail, but it was enough to add the perfect sweetness. That cinnamon sugar rim didn't hurt either.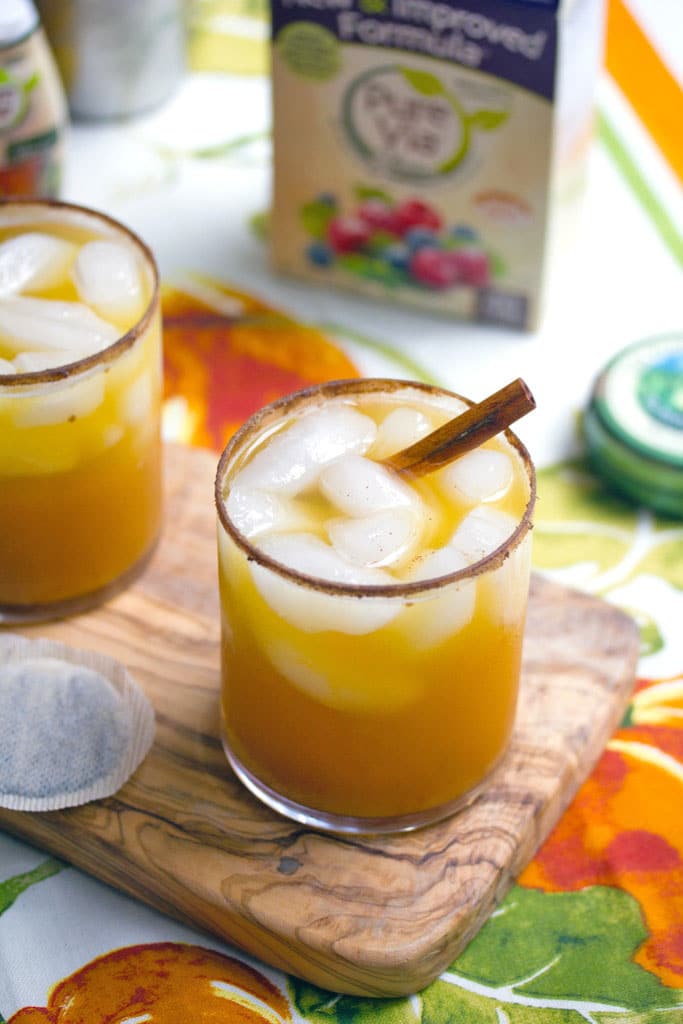 Please also allow me to weep over the fact that I've never actually made iced green tea before. I drink hot green tea so much, I don't know why I've never thought to put it on ice.
What's your favorite way to drink tea (hot, iced, sweetened, with pumpkin?).
Next up, I want to make these Sweet Tea Prosecco Cocktails from Vanilla and Bean!
📖 Recipe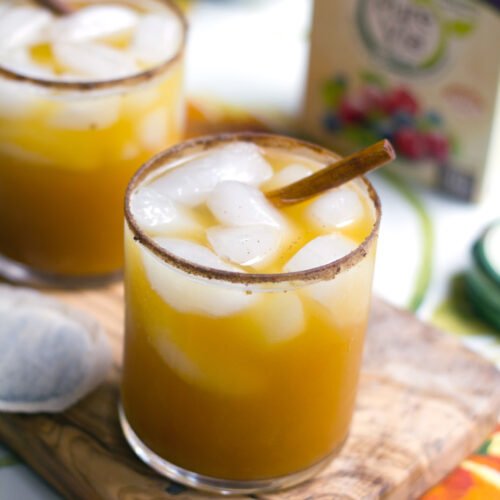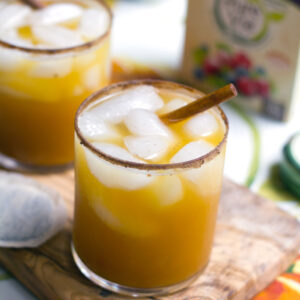 Iced Pumpkin Green Tea Cocktail
Get in the mood for fall with this Iced Pumpkin Green Tea Cocktail. You can leave the vodka out if you desire, but it brings a little bit of extra warming power!
Print
Pin
Rate
Ingredients
1

Tbsp

cinnamon

1

packet granulated Pure Via

2

cups

green tea,

chilled

2

Tbsp

pumpkin puree

½

tsp

Pure Via liquid sweetener

3

oz.

vodka

Cinnamon sticks for garnish,

optional
Instructions
Place cinnamon and granulated Pure Via on a small plate.

Brush the rims of two glasses with water (or simple syrup if you have it) and turn glasses upside down on plate to coat rims in cinnamon Pure Via mixture.

In a shaker filled with ice add, 1 cup green tea, 1 Tbsp pumpkin puree, ¼ tsp Pure Via, and 1 ½ oz. vodka. Shake well.

Strain into rimmed glass filled with ice. Garnish with a cinnamon stick if desired.

Repeat with remaining tea, pumpkin puree, Pure Via liquid, and vodka for second cocktail.
Share a Photo of Your Finished Recipe!
Mention @wearenotmartha and share a photo if you've made the recipe!
Thank you to Pure Via for sponsoring this post! As always, all opinions are 100% my own.