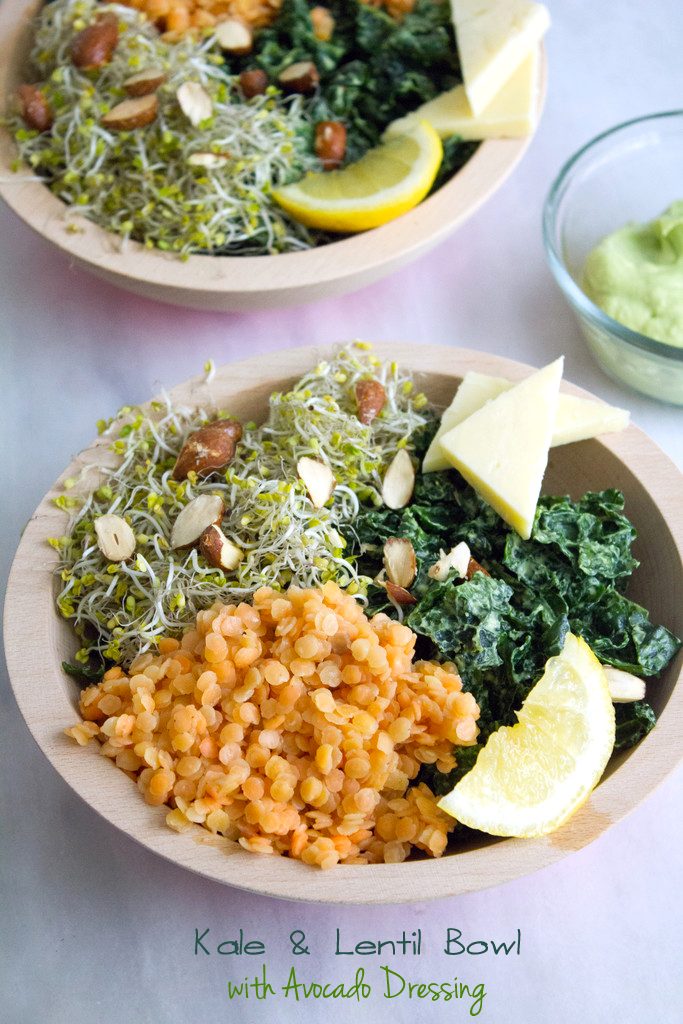 The other day, I heard someone say "Ready for September? Things are going to start to get crazy again!" And I almost had a panic attack. Because crazy?? Haven't things been crazy all summer?? Aren't things going to get quiet again in September?? No?? SOS. Help. I had to take a few deep breaths and try to remind myself that it probably all depends on where you are in life. If you have kids and/or lots of time off in the summer, then yes, September brings craziness. But if you don't have kids and your job is crazy busy in the summer, then maybe, just maybe, September will bring some peace. Fingers crossed?
I think part of it is that the summer brings with it lots of pressure to get outside and enjoy the weather. At least here in New England it does. Last winter, we spent a whole lotta time indoors and things slowed down in a major way. Summer is when I try to pack it all in. But considering the weather is still glorious here (yes, I love 90+ degree temps!) and will likely get even more so as the fall temperatures arrive, I have a feeling things won't really slow down for me until… maybe the first Boston blizzard? Then I will be forced into a major slow down!
Whenever I go grocery shopping at Wegman's, I pick up laminato kale (otherwise known as dinosaur kale or Tuscan kale), but if I don't have a plan for it, I sometimes let it go bad. The thing is, I eat a TON of kale, mostly in smoothie form. But lacinato kale is too good for smoothies. When I saw this recipe on Martha Stewart's website, I immediately knew what I was going to do with the lacinato kale in my fridge. Kale, avocados, and cheese? Just three of my favorite things in life!
The dressing is easy to make and pretty much all avocado.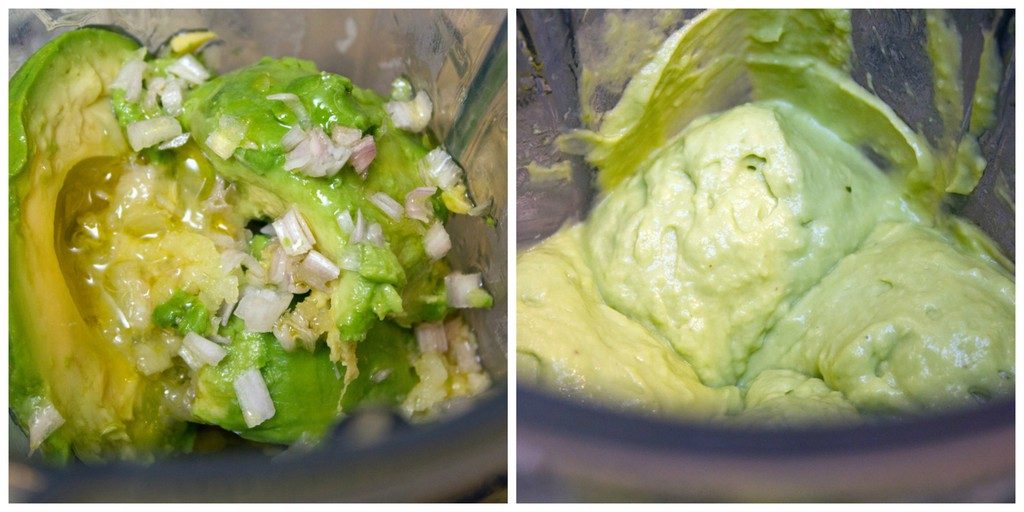 Have you had lacinato kale yet? It's greener and more tender than your average kale. Plus, I find that it has a sort of naturally salty flavor.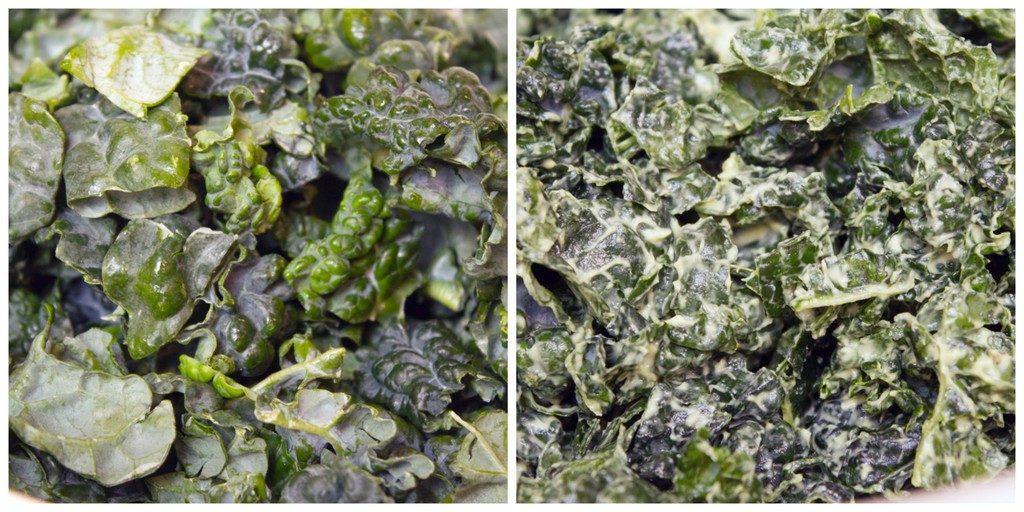 And have you even ever heard of kale sprouts? I hadn't! But when I went to grab sprouts at my grocery store, I came across these and knew I had to use them. They tasted pretty much like regular sprouts, but with a little bit of added kale bitterness (which I love!).
So, what else goes into this "bowl"? (Which is really essentially a kale salad with a way more fun name). A healthy portion of lentils (I used red), along with the sprouts, some chopped almonds, aged cheddar wedges, and lemon slices for garnish.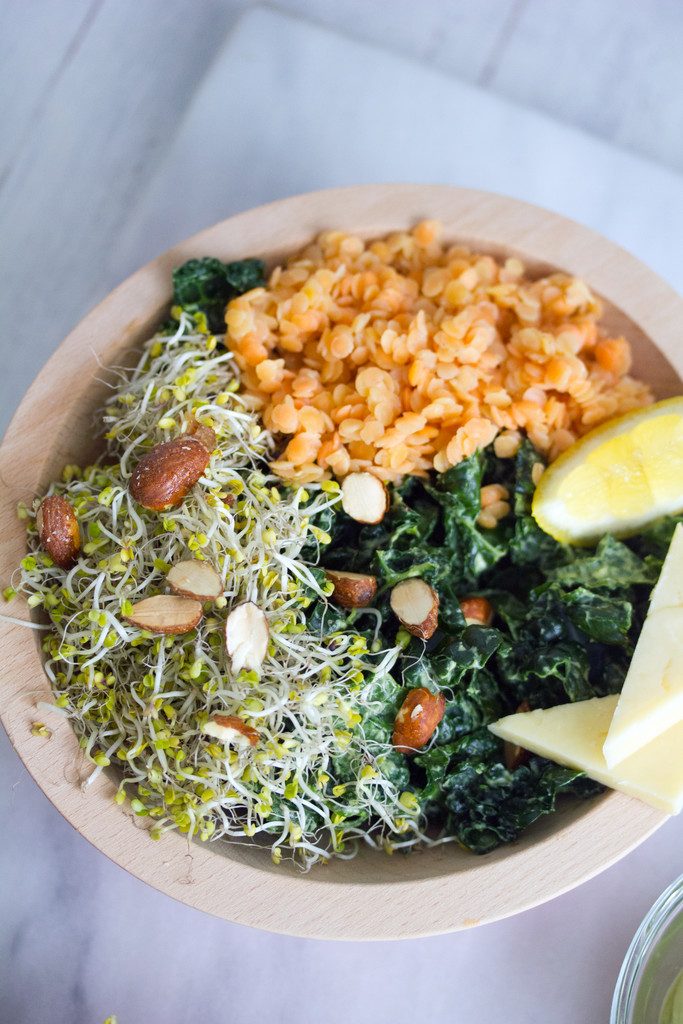 I call it a serious power salad. The kind of salad you bring to work for lunch because it gives you an extra surge of energy for the second half of the day. Plus, can you think of any spots near your office that make a salad quite like this?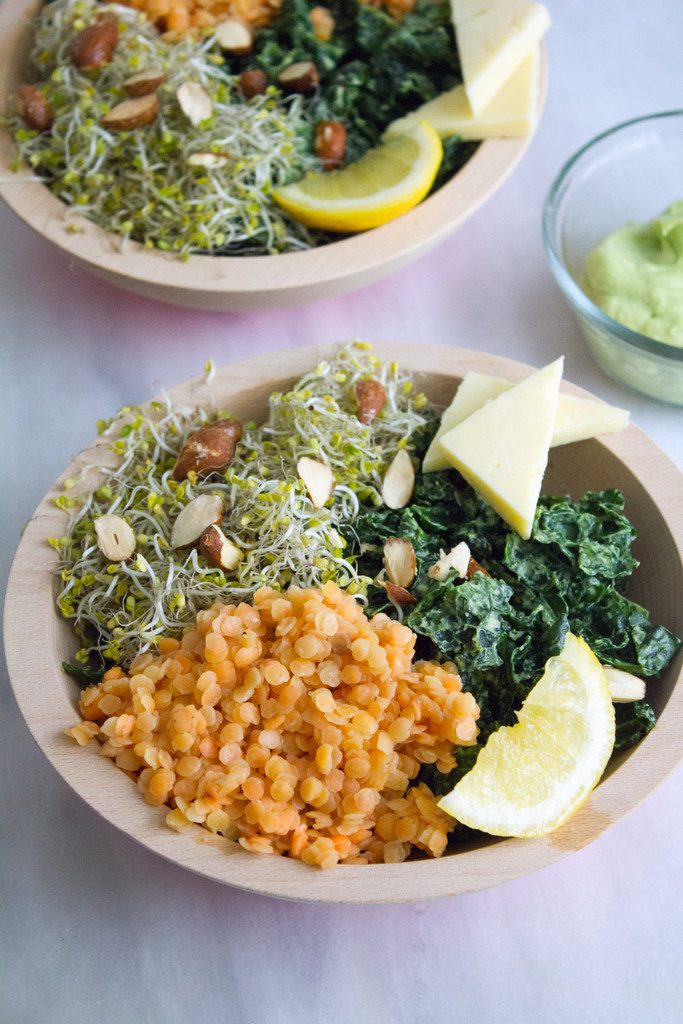 There is legit nothing bad about this kale salad. But it's also not boring or plain, either. This is one of those things that makes healthy eating actually bearable.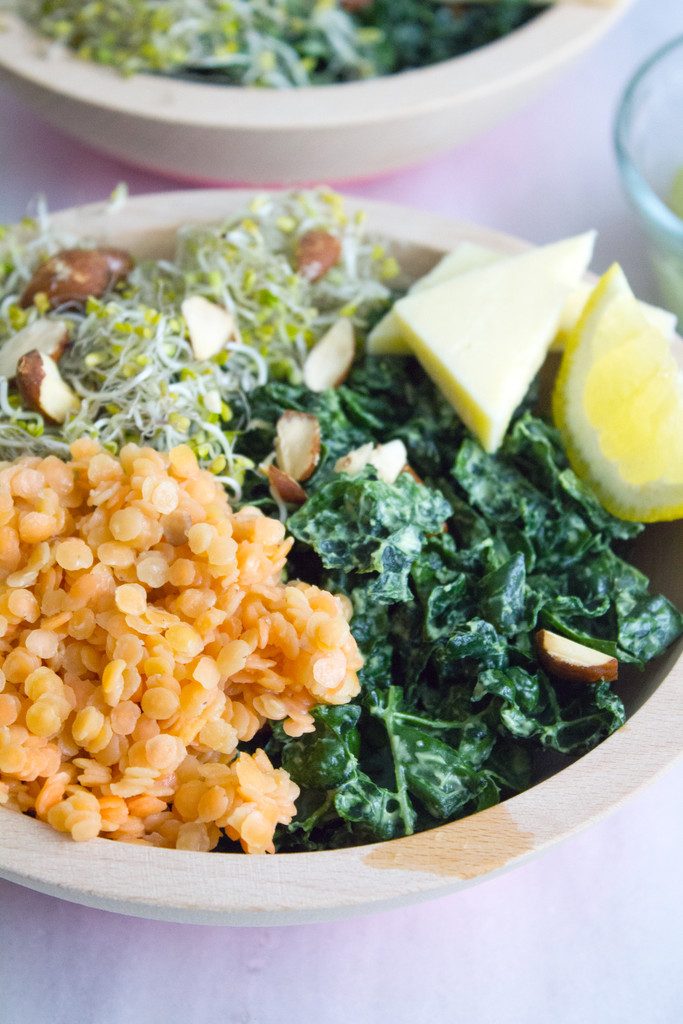 And there's still cheese! Cheese makes salads so much better.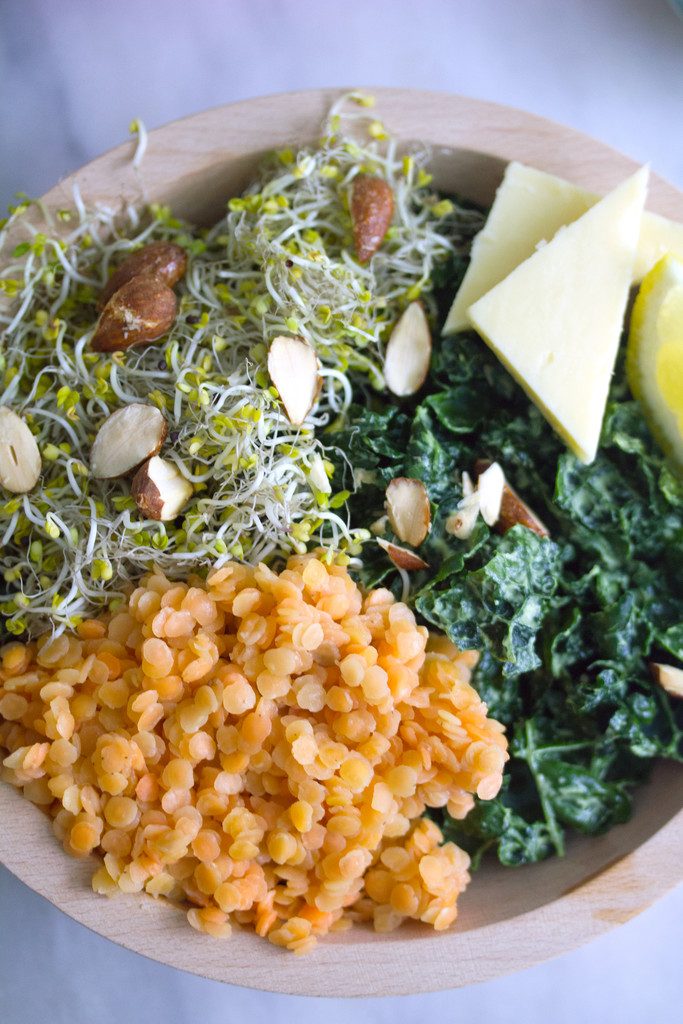 Whether your September is going to be super busy or slowing down a bit, this is the kind of meal you can make quickly and feel super duper awesome about. And then pack up the leftovers for a couple day's worth of lunches. I'm obviously going to be making it until I get sick of it. Duh.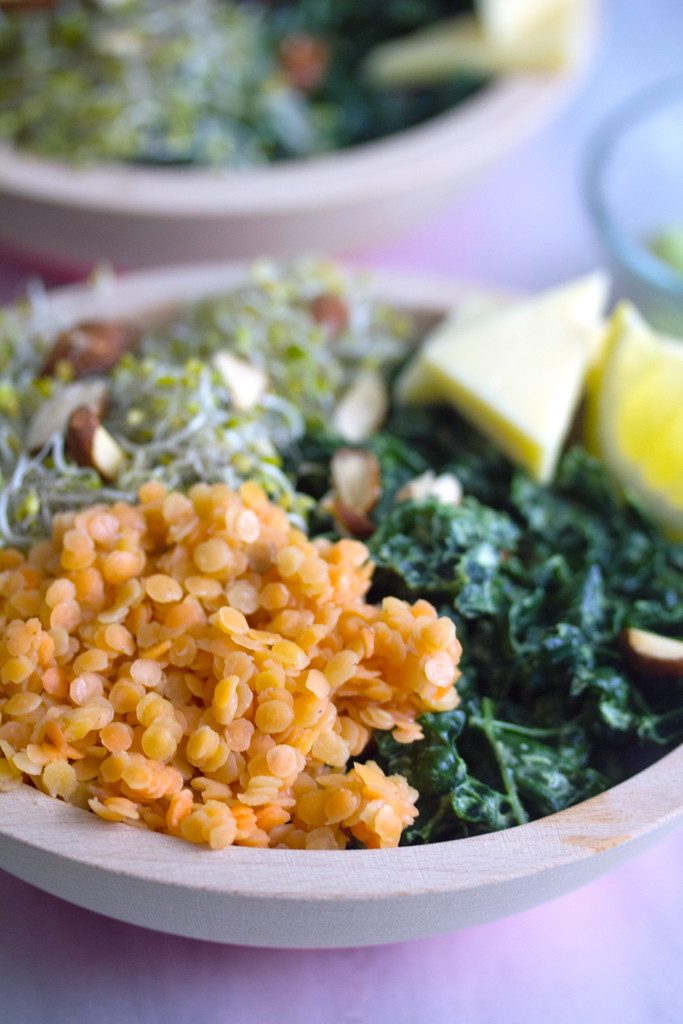 And I will never let another bunch of lacinato kale go bad again.
Do things slow down for you in the fall or do they pick up even more?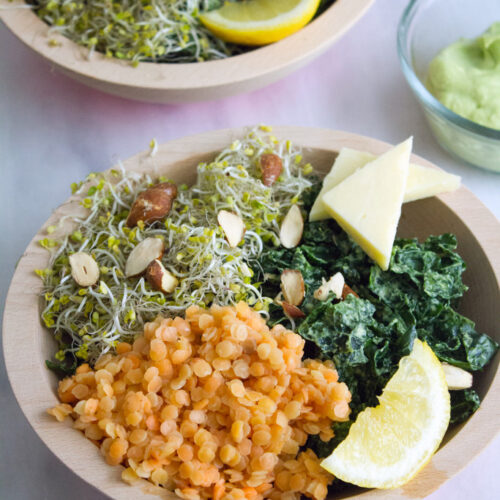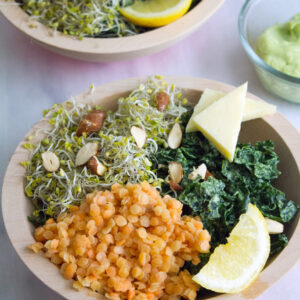 Kale and Lentil Bowl with Avocado Dressing
Salads don't have to be boring. This kale salad is topped with an array of delightful and healthy ingredients and generously covered in a tangy avocado dressing.
Print
Pin
Rate
Ingredients
1

avocado

halved, pitted, and peeled

1

tsp

minced garlic

2

Tbs

minced shallot

¼

cup

fresh lemon juice

plus wedges for serving

¼

cup

extra-virgin olive oil

Coarse salt

10

oz

lacinato

AKA dinosaur or Tuscan kale, stems and center ribs removed, sliced thinly

2 ⅔

cups

cooked lentils

3

oz

sliced extra-sharp aged cheddar cheese

¼

cup

chopped roasted salted almonds

1

cup

sprouts

I used kale sprouts, cleaned
Instructions
Make dressing: In a blender or food processor, pulse together avocado, minced garlic, minced shallot, lemon juice, extra-virgin olive oil, and 1 tsp salt until smooth.

Assemble salad: In a large bowl toss together two-thirds of the avocado dressing with kale. Divide kale among 4 serving bowls. Top with lentils, cheddar cheese, almonds, sprouts, and lemon wedges.

Top with additional dressing.
Share a Photo of Your Finished Recipe!
Mention @wearenotmartha and share a photo if you've made the recipe!