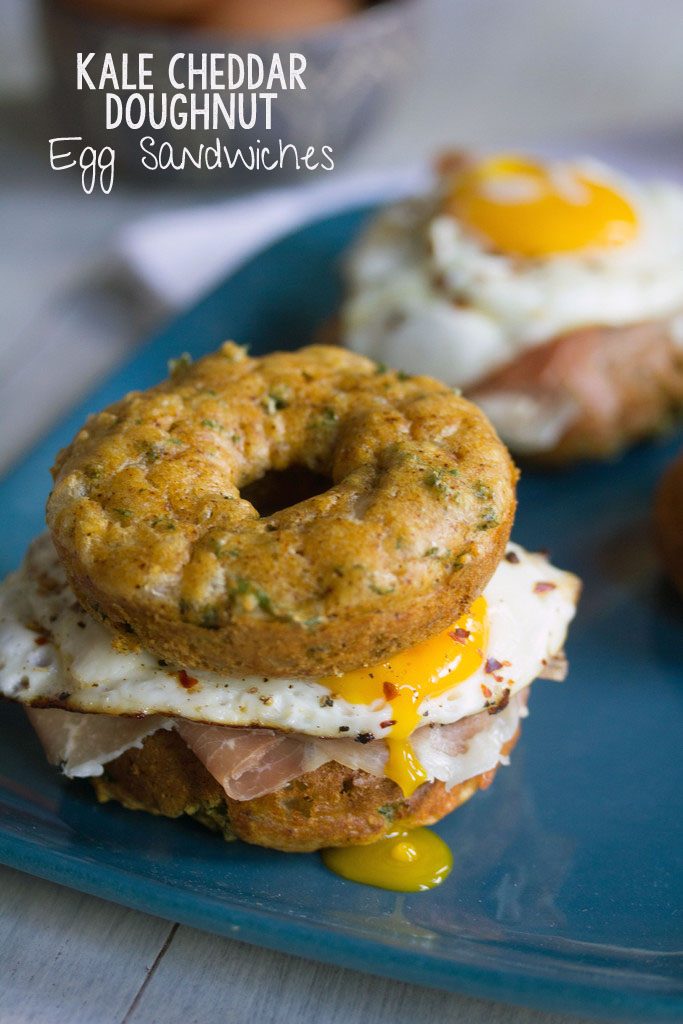 I am that person who orders the burger on a doughnut. I mean, when I'm at the state fair and all. Though if I saw a doughnut burger on the menu of a restaurant, I'd have a really, really hard time not ordering it, too. You wonder why those things exist… Well, I guess I'm the reason why.
I would try to pretend I feel some kind of shame about this, but I really just don't. Why wouldn't I want to put two delicious things together like burgers and doughnuts? How could that not be the best thing ever in life? But fineeee, I guess I kind of understand that doughnuts have a bad enough stigma (sugar!) and adding a burger (fat!) to it can be seen as a bit gluttonous. So, you can just consider this recipe my perfect solution. Savory doughnut egg sandwiches.
You really can't argue with a savory doughnut. It's almost like a bagel, but made in a doughnut pan. Plus, I added kale. And everyone knows that kale is healthy and OK at any time of day. And eggs? Protein-packed and the perfect way to start the morning. This doughnut combination shouldn't be causing too much controversy.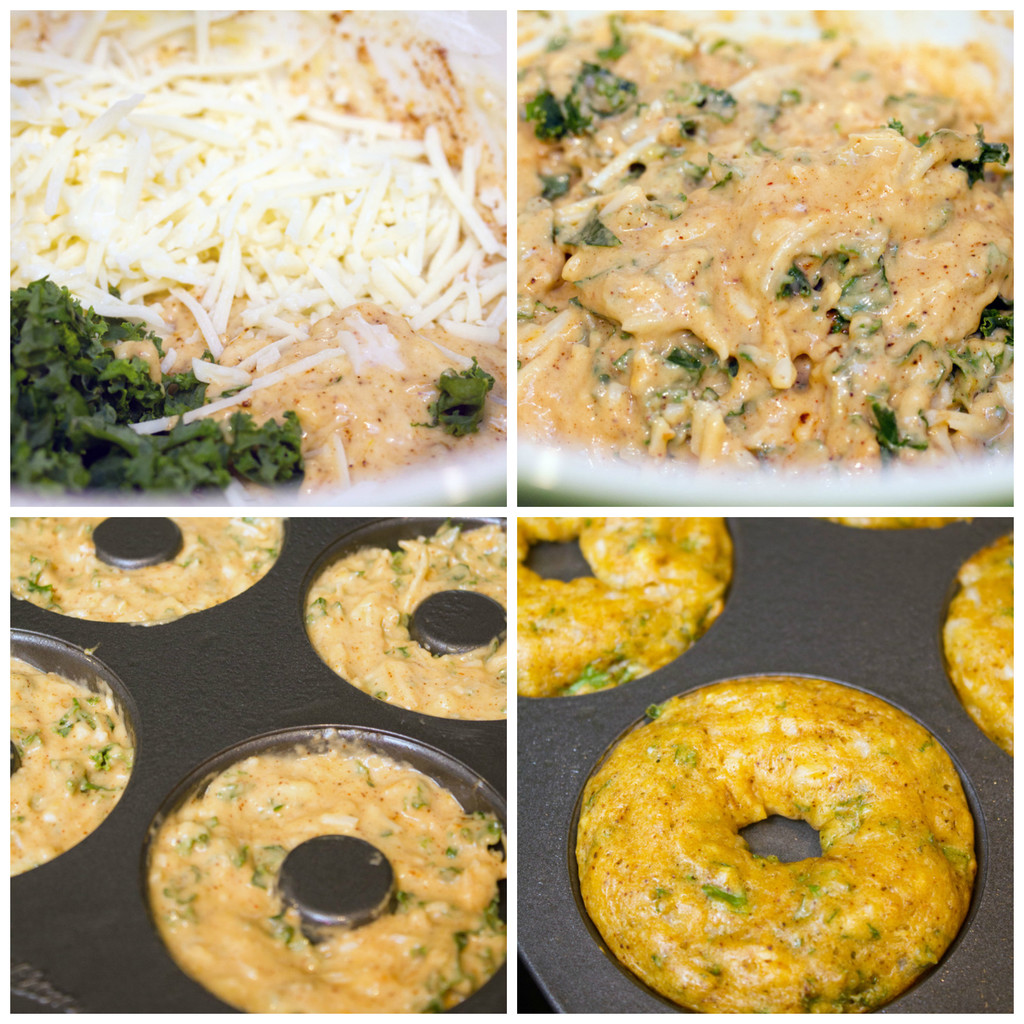 I told you I was obsessed with breakfasts lately and this is further proof of it. Today is only Wednesday, which means I still have to get through a couple more work days before I can enjoy a homemade breakfast again.
Really, I'm tempted to whip up a batch of savory doughnuts every Sunday and make egg sandwiches for the week. But then I laugh to myself and wonder about the possibilities of me waking up early enough to make an egg in the morning. The good news is that these savory doughnuts can be enjoyed on their own, too.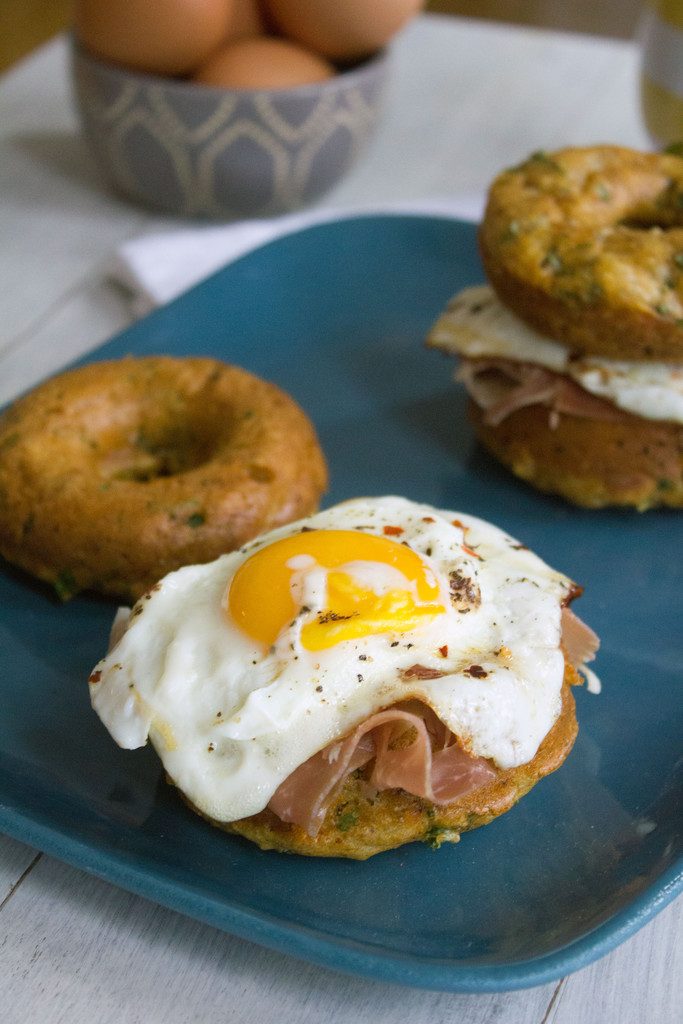 Or with a thick slathering of butter.
They're light and fluffy and full of flavor. I added chili powder to mine for a little kick, but you can use any spices you want. In fact, you can really use any mix-ins you feel like. I really wanted to put habaneros in mine, but my grocery store hasn't been carrying them lately and I couldn't justify driving further to another store just for hot peppers. But I loved that the chili powder gave them more of a deep, smoky flavor.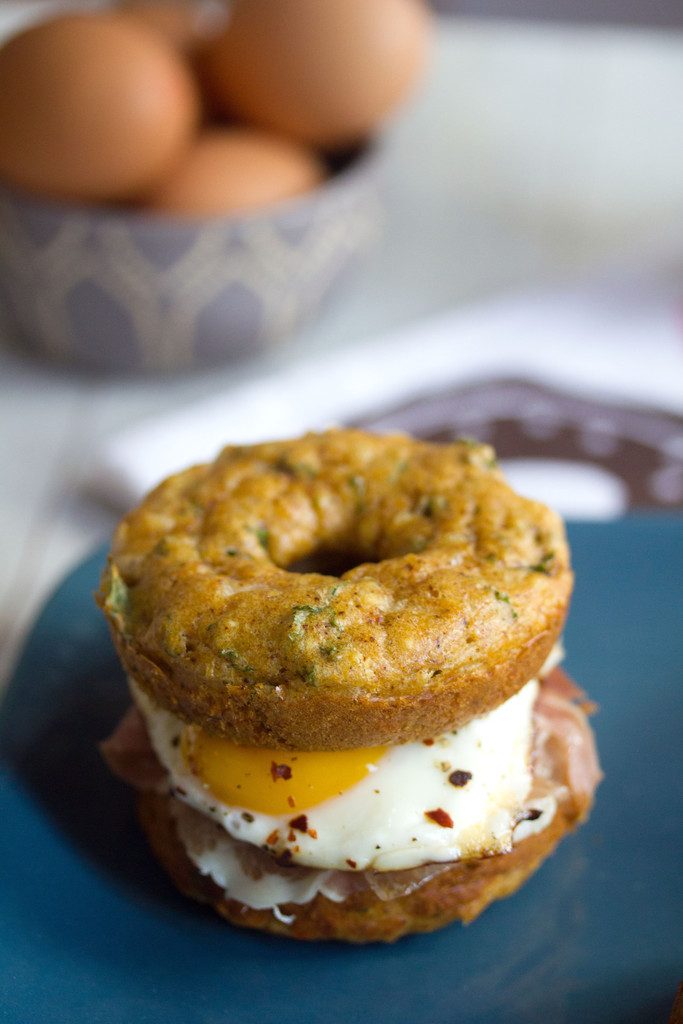 I don't know about you, but I will take pretty much any opportunity possible to eat an egg sandwich. I think they're highly underrated almost to the point where I'm considering conducting an egg sandwich crawl. I guess it would have to be an extended one since you can't really handle too many egg sandwiches in one day (then again, I've never really tried!), but I think it could be counted as highly valuable research.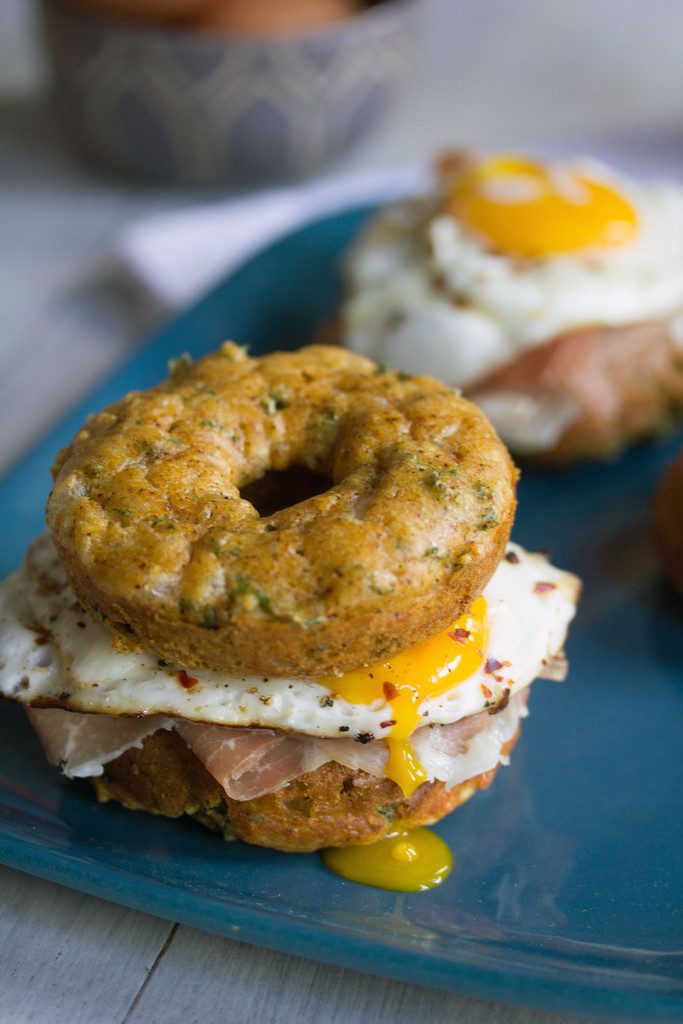 Let's be honest, I take pretty much every opportunity to eat doughnuts, too. Probably one of the first things I do whenever I travel somewhere new is to hunt down any nearby doughnut spots. I guess now I'm adding egg sandwiches to that list! My vacations just got a whole lot more exciting... And potentially more annoying for my husband.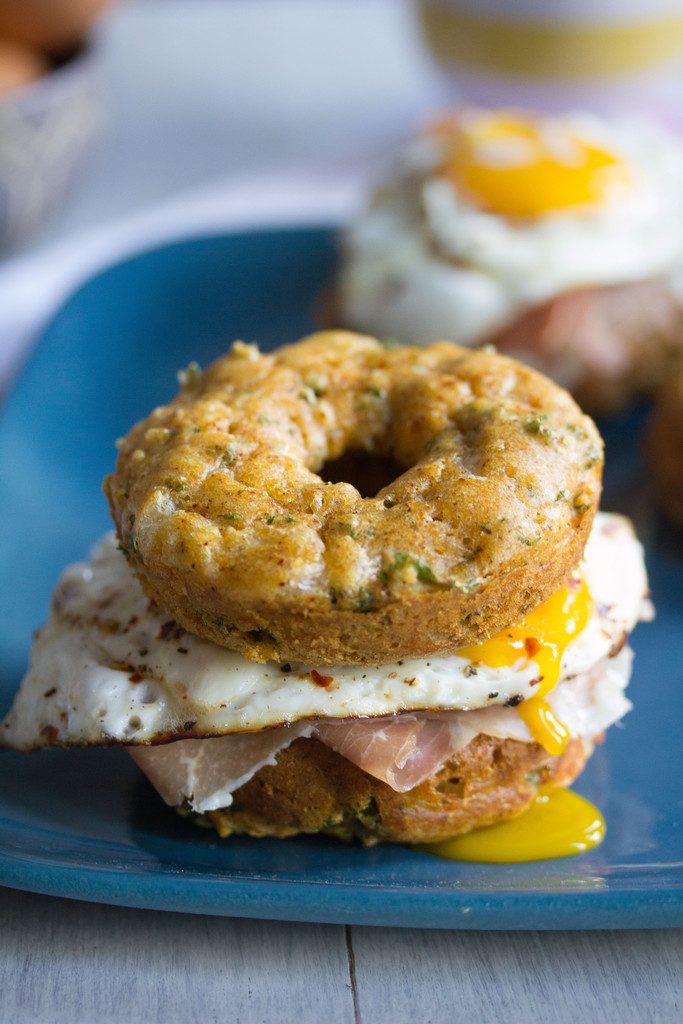 But can you really complain about someone forcing you to eat doughnuts and egg sandwiches? I don't think so.
How do you feel about the doughnut burger? Is a savory doughnut egg sandwich more your speed?
📖 Recipe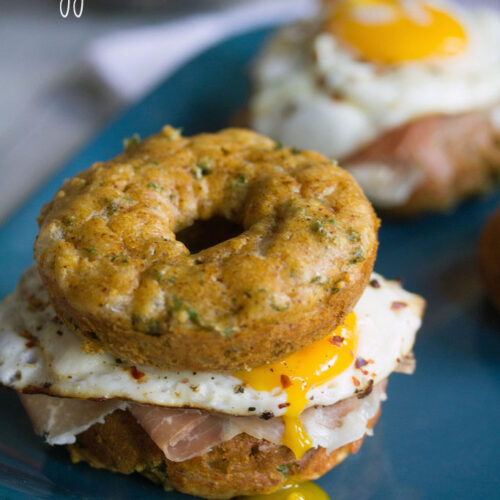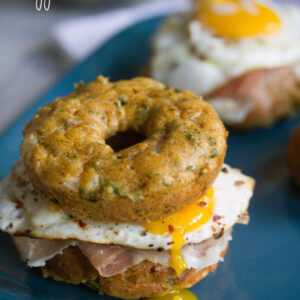 Ingredients
1

cup

all-purpose flour

1½

tsp

baking soda

1

tsp

chili powder

¼

tsp

salt

3

Tbsp

butter

melted

2

large eggs

½

cup

buttermilk

1

cup

finely chopped kale

½

cup

shredded cheddar cheese

4

eggs

4

slices

prosciutto
Instructions
Pre-heat oven to 350 degrees.

In a large bowl, whisk together flour, baking soda, chili powder, and salt.

Gently stir in melted butter, eggs, and buttermilk.

Fold kale and cheddar cheese into mixture until combined.

Lightly spray a doughnut pan with cooking oil. Evenly distribute batter into pan, filling cavities almost all the way.

Bake the doughnuts at 350 degrees for about 11-13 minutes, until doughnuts are starting to turn golden around edges and lightly spring back when touched.

Let cool in pan for 5 minutes before removing to a wire rack to cool completely.

In small skillet sprayed with cooking oil, cook eggs sunny-side up.

Put slice of prosciutto and one egg on a doughnut and top with another.
Share a Photo of Your Finished Recipe!
Mention @wearenotmartha and share a photo if you've made the recipe!