Whenever I'm looking for a no-fail pasta dish I typically turn to Food and Wine first. I find their recipes to call for such basic ingredients that all compliment each other perfectly and bring out the best each other has to offer. Like these two recipes I've made before! For dinner tonight, I was definitely in the mood for something very satisfying and comforting yet not heavy, and since Kate and Sues came over I wanted to make something that was easy to serve to guests on a weeknight without a lot of fuss. After looking at a few dishes I decided on the Meyer's Lemony Broccoli and Chickpea Rigatoni. I had most of the ingredients already (always a plus!) so I just had to head to the grocery store for a few things.
Here's what you need: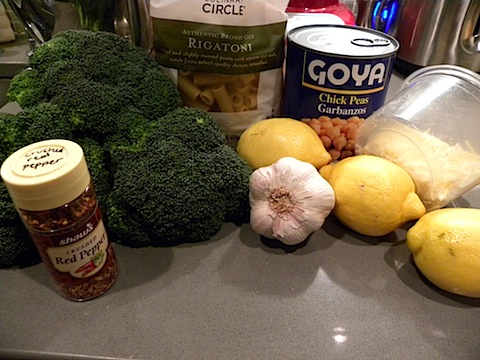 • One 19-ounce can of chickpeas, drained and rinsed
• 1/3 cup fresh lemon juice, about 3 lemons
• 3/4 cup extra-virgin olive oil
• salt and freshly ground pepper
• 1 1/2 pounds broccoli, cut into florets
• 1 pound rigatoni
• 5 large garlic clovers, thinly sliced
• 1/2 teaspoon crushed red pepper
• 1 cup freshly grated Parmesan cheese
Here's what you do:
• In a medium bowl, toss chickpeas with lemon juice and 1/2 cup of olive oil. Season with salt and pepper.
• In a large pot of boiling salter water (clearly I don't know how to plan ahead and used the smallest pot in America… nothing like a tight squeeze), cook the broccoli until crisp, about 4 minutes. With a slotted spoon, transfer broccoli to colander and rinse under cold water until cool. Add rigatoni to the boiling water and cook until al dente.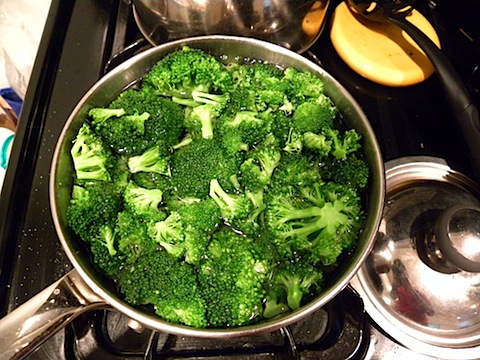 • In a large skillet, heat the remaining olive oil, add garlic and crushed red pepper and cook over moderate heat until garlic is golden, about 3 minutes.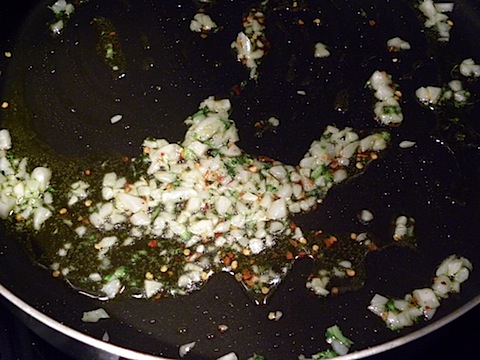 • Add broccoli and cook until tender, about 5 minutes.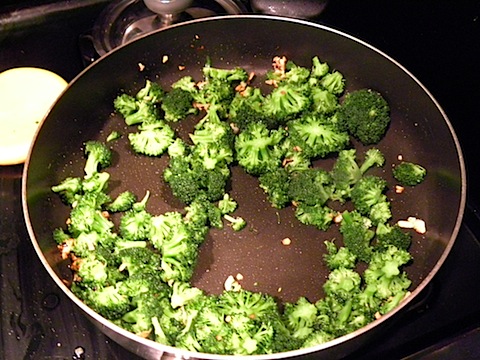 • Add the chickpea mix and cook until warmed through, about 1 minute.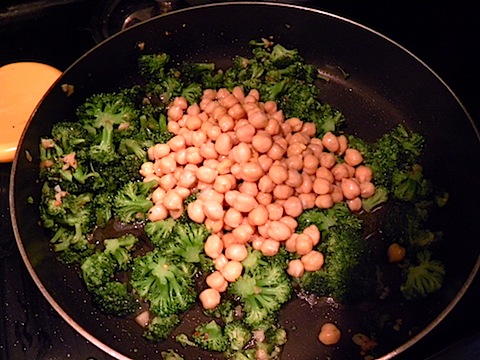 • Drain the pasta and reserve about 1/4 cup of the cooking water. Add pasta to broccoli and chickpeas along with the reserved water and season with salt and pepper. Cook over moderate heat, making sure to stir until the rigatoni is evenly coated with sauce. Remove the pan from heat and stir in 1/2 cup of the Parmesan cheese.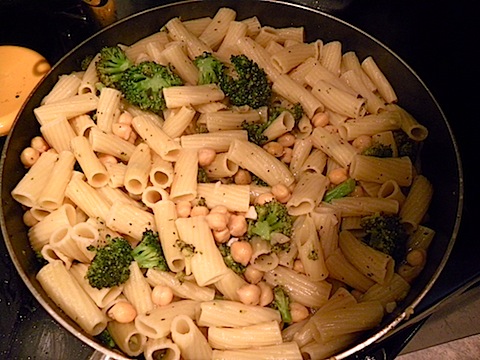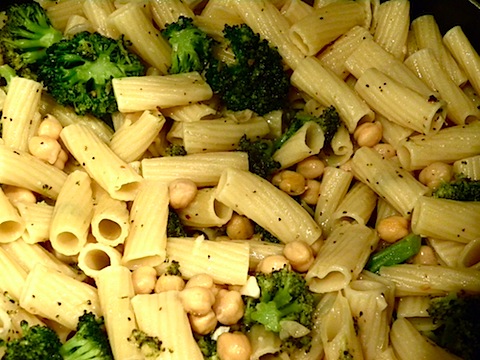 • Transfer the pasta to plates and serve, sprinkle with the remaining Parmesan.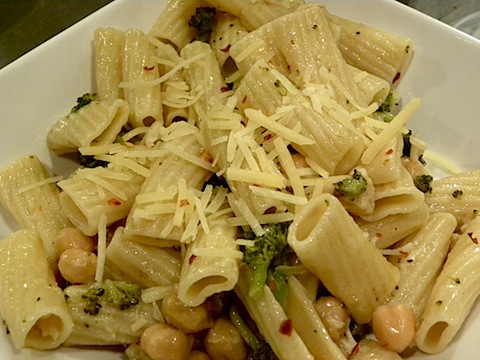 Mmmm, lemon and garlic overload in a light cheesy sauce 🙂 The base of this dish is so versatile which makes it easy to customize it to your taste and add other ingredients. If you wanted to bulk it up some more you could add some thinly sliced chicken. Tonight, we ate the pasta on it's own but it would also work well as a great side dish if you're entertaining! Divine for Summer.
[Chels]