Ohhh, St. Patrick's Day. If you know me, you know it ranks right up there with one of my least favorite holidays on Earth. I mean, I'm sure at its core it's a fabulous holiday; but for most people these days, it's really just an excuse for getting wasted. Especially in Boston where Irish wannabes on St. Patrick's Day are pretty much the worst. And the drunkest. Relax, people. Seriously. I don't know about you, but I never need an excuse for a martini. Holiday or no holiday, I'll have a martini (or three) when I want one. I don't need a parade to accompany my drinking. Thankyouverymuch.
However, this St. Patrick's Day is extra special because it's also someone's birthday. Someone kind of adorable. But man, he's getting old. Lucky the Leprechaun from the Lucky Charms box is celebrating his 50th birthday this March 17. And birthdays always deserve martinis, especially big milestone 50th birthdays. They also deserve special boxes of cereal. So, to celebrate Lucky's big day, General Mills issued a box of Lucky Charms with all green marshmallows.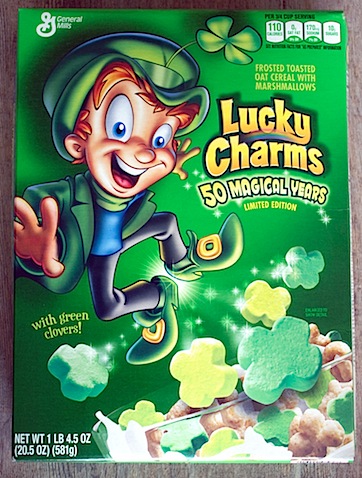 I received a box of the special edition Lucky Charms cereal from my friends at General Mills and though I love the rainbow of marshmallows in the normal boxes, I thought the all green was pretty stunning. They sent me a martini recipe, too, and I tweaked it a bit and whipped it up. For absolutely no reason at all.
Lucky Charms Martini (makes 1):
Print this recipe!
1/4 C Lucky Charms cereal, crushed
1/4 C water/sugar mixture
10 marshmallows from Lucky Charms (all one color)
1 1/2 oz. vodka or vanilla vodka
5 oz. soda water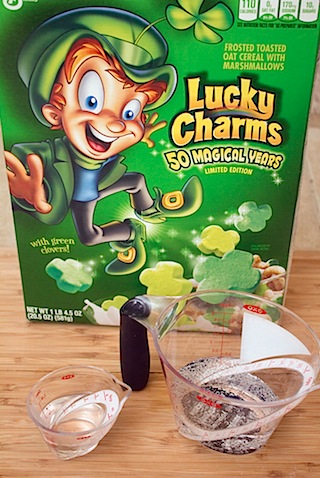 Put 1/4 cup crushed cereal on a plate. Brush water/sugar mixture on the rim of a martini glass and place glass upside-down on cereal plate to completely coat rim.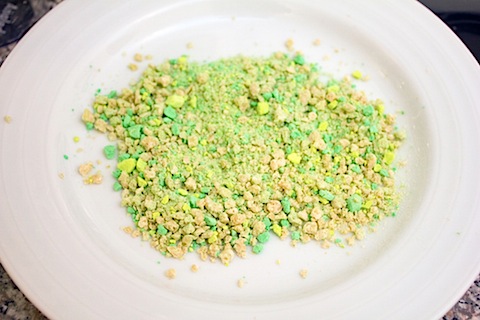 Put 10 marshmallows in the martini glass.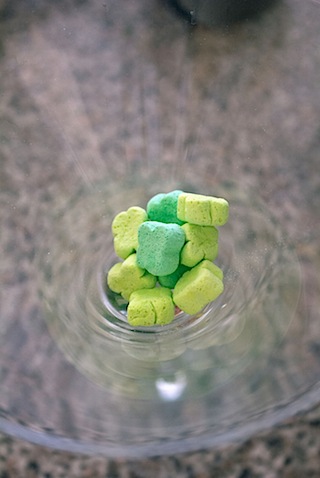 Pour the vodka and soda water into the martini glass and watch it turn a beautiful shade of green. Or whatever color your marshmallows are.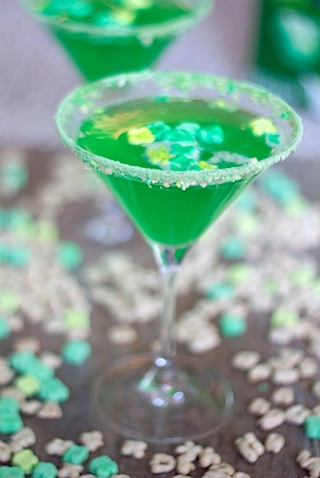 I normally stay far, far away from bright green drinks. But this? This was different. This was green from Lucky Charms and that makes it OK.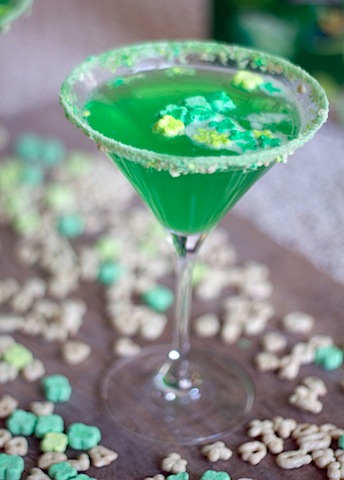 And super, super fun. Lucky Charms just make life better. Whether it's in your cereal bowl or in a martini glass. Or in the ice cream I made a few years ago.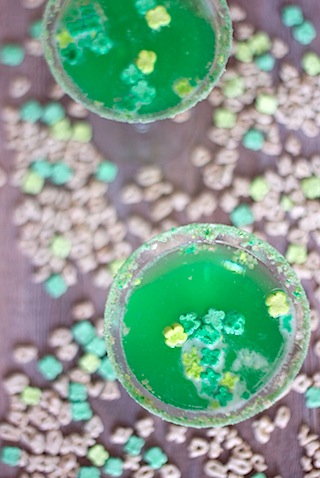 There's just something about marshmallows. When is Lucky Charms going to come out with a cereal that's all marshmallows? I'm ready.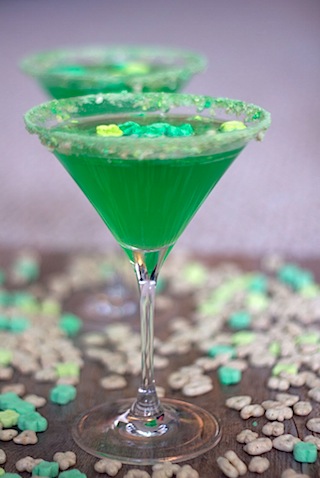 I mean, drinking this martini is kind of like when you're done eating your cereal and you slurp up all the milk. Except instead of slurping marshmallow-tinged milk, you're slurping vodka, here. Vodka > Milk, yes?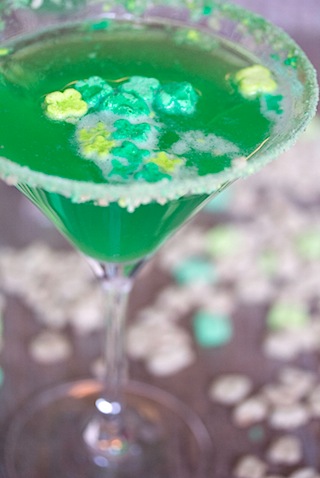 If you're interested, check out this fabulous little infographic showing the evolution of Lucky Charms over the past 50 years: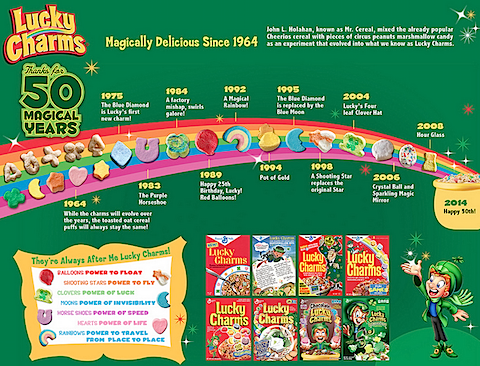 And now, go enjoy your St. Patrick's Day weekend. What are you doing to celebrate? Aside from drinking more Lucky Charms martinis, I'll just be eating corned beef and cabbage. And for those reasons alone, I'll admit that I don't reallyyyy hate St. Patrick's Day.
[Sues]