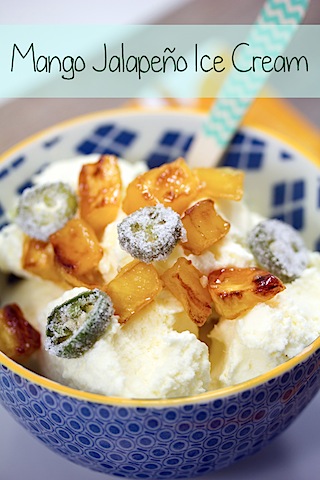 Doesn't today feel just like a Monday? Also known as, welcome back to reality. For many (if you were lucky enough to get some time off), it's back to work... without another holiday in sight. Not to mention, cold, dark days with no sun in sight. The bright side? Though it feels entirely like a Monday, it's actually Wednesday… Which means this week is going to fly by. If all goes as planned, that is. Sooo, let's start the year off with a little spice, shall we? Or to be more precise, sugar and spice. In fact, maybe I'll just go ahead and plan to make this ice cream a metaphor for my 2013. Sugar, spice, and all things nice. But let's not make the "cold" part of the ice cream a metaphor for anything. Except the fact that it's 16 degrees in Boston on this lovely January morning. Like I said, welcome back to reality. Thank goodness for huge winter coats, furry earmuffs, long underwear, and eating big bowls of ice cream under blankets in your heated apartment.
Yes, ice cream. My mom's friend, Kathy, requested a recipe for mango jalapeño ice cream, which I thought was the most fantastic idea ever. I had never even considered such a concoction, but the second my mom mentioned it, I knew I'd be making it. Kathy didn't want jalapeño bits in the ice cream (apparently most people have no desire to bite into jalapeños; who knew!), so I decided to make a jalapeño simple syrup instead. Because I wanted the jalapeños to shine in some way, I candied a couple to put on top, along with some caramelized mangos. This is the first ice cream I've made in a long time that doesn't involve eggs or custard. And I think it was actually creamier and smoother than any ice cream I've made! And so much easier.
Mango Jalapeño Ice Cream (makes about 1 quart):
Print this recipe!
½ C jalapeño simple syrup (recipe below)
2 mangos, peeled and chopped, plus 1 peeled and chopped for caramelizing
1 T freshly squeezed lime juice
¼ C sugar, plus ¼ C for caramelizing mango and extra for candied jalapeño
¼ t salt
2 C heavy cream
Jalapeño Simple Syrup (can make up to 2 days ahead):
½ C sugar
½ C water
2 jalapeños, sliced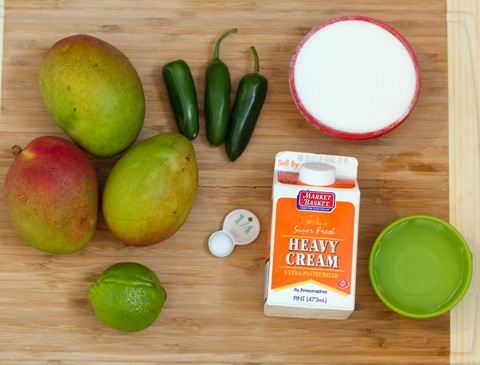 Start by making the jalapeño simple syrup. I make half of this recipe but with some more jalapeño mixed in. Bring ½ C sugar and ½ C water to a boil over high heat.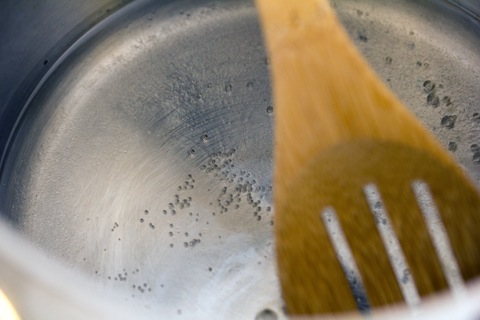 Once mixture comes to a boil, lower heat, add jalapeño slices, and let simmer for about 8 minutes.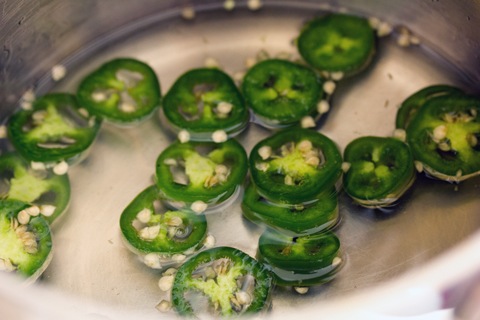 Strain jalapeños from syrup (making sure to save them if you want to sugar them for the top of your ice cream) and put syrup in a bowl or jar to cool in the fridge.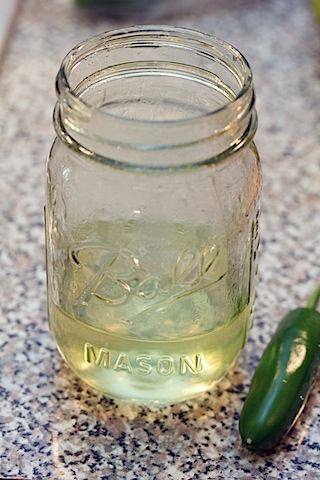 Once jalapeño syrup is cooled, place chopped mango (2 of them… reserving the rest for caramelizing), lime juice, and ½ C syrup in a blender and puree until completely smooth. Love my Vitamix for jobs like this!
Add salt and another ¼ C of sugar to sweeten things up. If you want to make a healthier ice cream, you don't have to add any more sugar. I recommend trying the puree before deciding as a lot depends on the sweetness of your mango, too.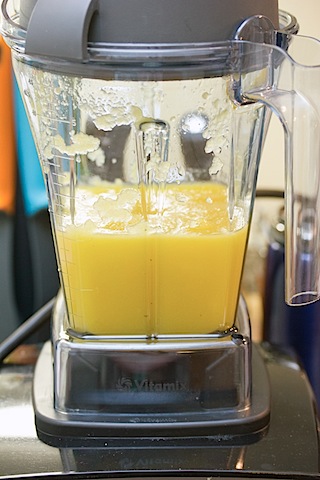 In a large bowl, stir together mango puree and heavy cream until well combined. Cover bowl with plastic wrap and chill for 4 hours-overnight.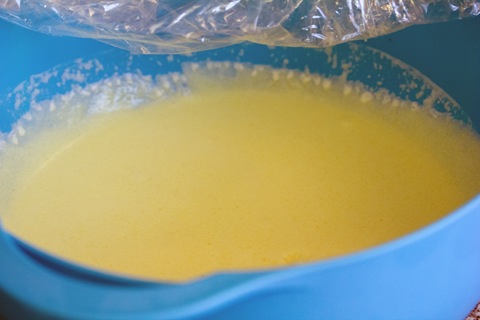 When your mixture is chilled, you're ready to process it in your ice cream maker, according to directions. I ran my machine for about 15 minutes.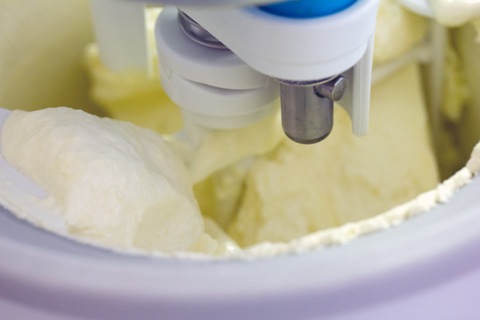 Then I put the ice cream in containers (love my Zak tubs) and popped back in the freezer for 6+ more hours so it could harden.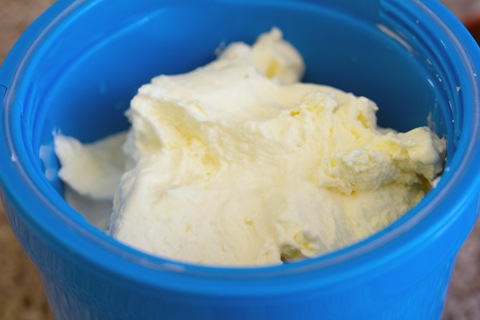 While the ice cream was freezing more, I decided to caramelize some mango and sugar some jalapeños.
I put ¼ C of sugar in a heavy skillet and heated it over medium heat until it turned a nice caramel color. Then I added the chopped mango in and let it caramelize. I stirred it for about 10 minutes, until the sugar began dissolving and then transferred to a bowl and popped in the fridge to cool.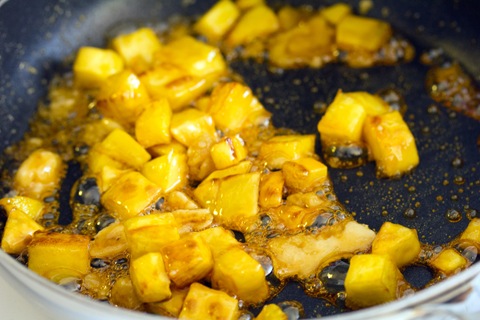 I also took the jalapeños I saved from the syrup and tossed them in sugar.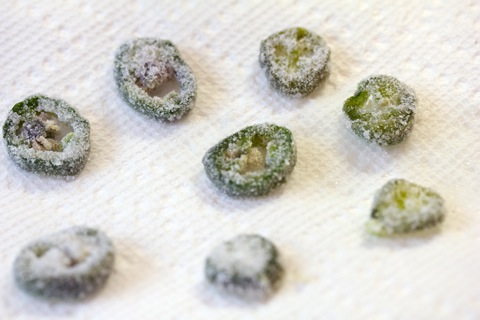 Everything came together with my scooping the ice cream into a bowl and topping with caramelized mango and sugared jalapeño.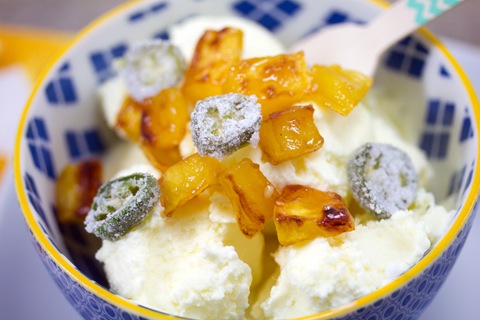 The ice cream was simple, smooth, and packed with flavor. It was the ultimate in creamy.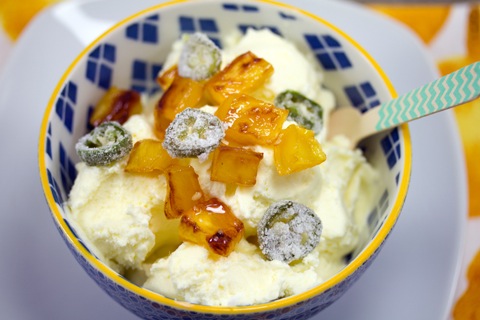 I appreciated the fact that the flavor of the jalapeño was there, with just a hint of spice. But the spice was perfectly balanced by the coolness of the ice cream, meaning it was a very pleasant spiciness. I think that even non-spicy lovers would be a fan of this.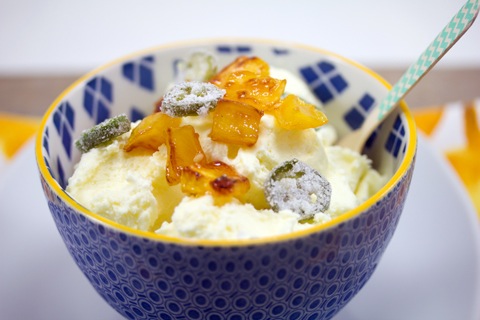 I didn't actually bite into any of the sugared jalapeños on top of the ice cream; they were more for presentation. However, I have a feeling the boiling in sugar water probably took some of the heat out, as did drenching them in sugar.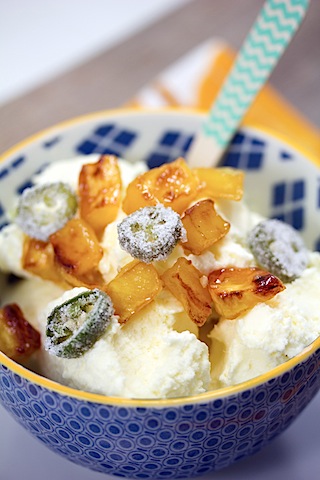 The mango, however, I did chow down on. Caramelized mango is a delicacy I don't get to experience nearly enough. And it adds a certain warmness to the ice cream, which is much welcomed in the winter. Is a warm ice cream an oxymoron?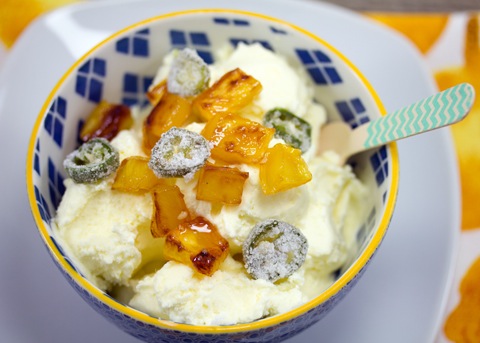 I was definitely excited with how this ice cream turned out and am thrilled Kathy inquired about it. Sometimes I feel like I lack creativity with coming up with new recipe ideas and it's so nice to get input from someone else.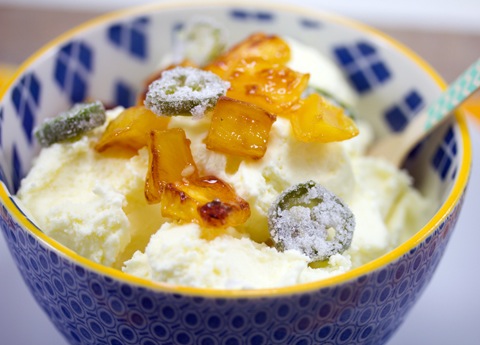 So basically, if there's anything you're dreaming up in my head that you want me to create a recipe for, by all means, let me know! It can be as out there and crazy as your heart desires and I'll try my best to take on the challenge!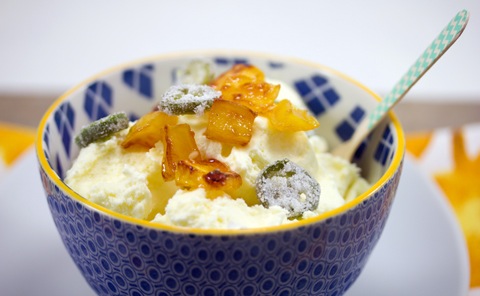 But for now, I'm deeming this winter's new favorite ice cream. Icy cold just like the weather outside... But with the jalapeños acting like my amazing fuzzy earmuffs. Except with less fur. Because ew. You get what I mean. Right? Just trust me on this one.
Where do you get your recipe inspiration?
[Sues]