Looking for a fun way to add a little spice to your cocktails and mocktails? This homemade Jalapeño Simple Syrup requires just 3 ingredients and is so easy to make. I recommend keeping a jar in your fridge at all times!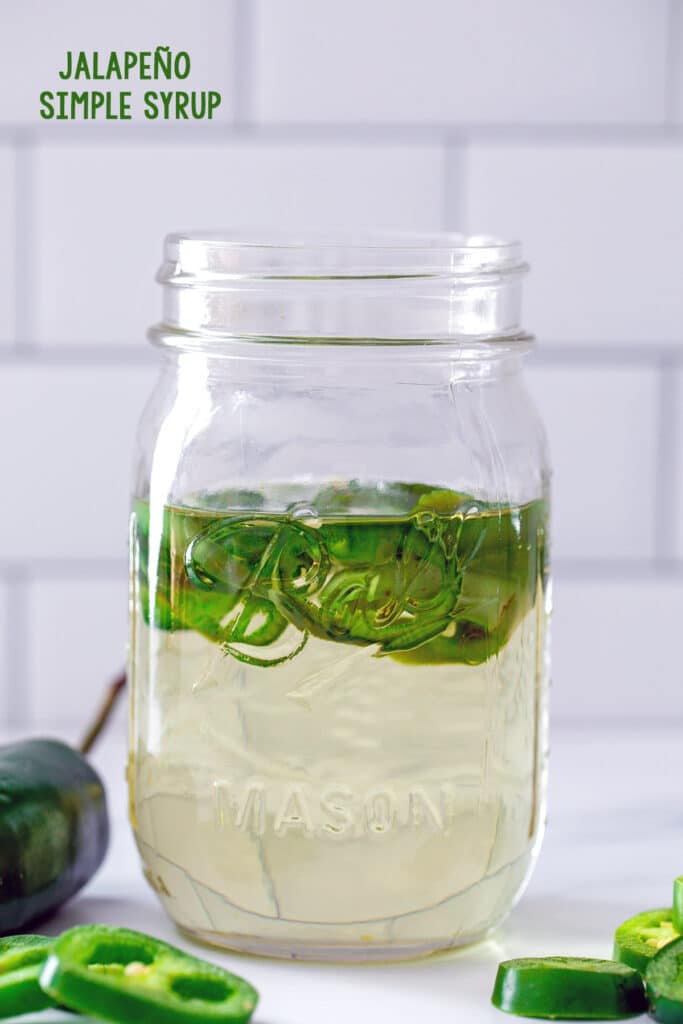 If you were to come to my house and open my fridge, you'd probably ask me why I have so many mason jars in there. And I'd tell you it's because I have a simple syrup problem.
Not only do I always have a jar of plain simple syrup in my fridge, but I also have at least two flavors... And sometimes up to five. Having homemade simple syrup made and ready to go means I can make delicious craft cocktails any time I want.
Jalapeño simple syrup is the flavor I make most... Mainly because it is so delicious in margaritas!
What is Simple Syrup?
Simple syrup is essentially just equal parts sugar and and water that's boiled until the sugar dissolves and the mixture thickens. Once it's chilled, it can be used in all kinds of ways.
It's an essential ingredient for so many cocktails and though you can purchase bottles of it, it's so simple to make at home (ahem, they don't call it "simple" syrup for nothing!).
Not only does simple syrup allow you to add a little sweetness to drinks, but it's easy to infuse with different flavorings to make your cocktails and mocktails even more dynamic.
With everything from lavender to blueberry to mint to totally unique flavors like bubblegum, simple syrup flavor options are endless, but in this post, I'll be showing you how to make a slightly spicy, totally yummy jalapeño simple syrup.
Ingredients
This jalapeño simple syrup requires just 3 ingredients. It doesn't get any easier than that! You'll need:
1 cup water
1 cup granulated Sugar
⅓ cup sliced Jalapeño Peppers
How to Make Jalapeño Simple Syrup
Once you have your 3 ingredients ready, the simple syrup is incredibly easy to make. Use the step-by-step instructions I have below and be sure to check out my video for this recipe!
Just add the water and sugar to a saucepan and bring to a boil. Then add sliced jalapeños in.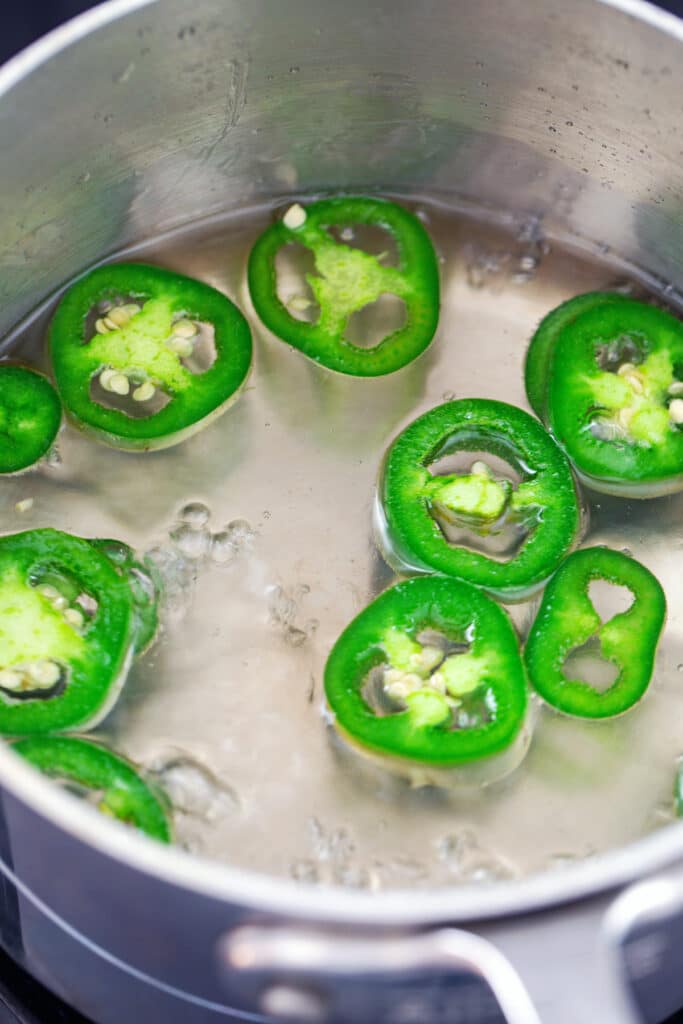 Lower the heat and let the mixture simmer for about 10 minutes until the sugar has completely dissolved and the mixture has thickened into a syrup.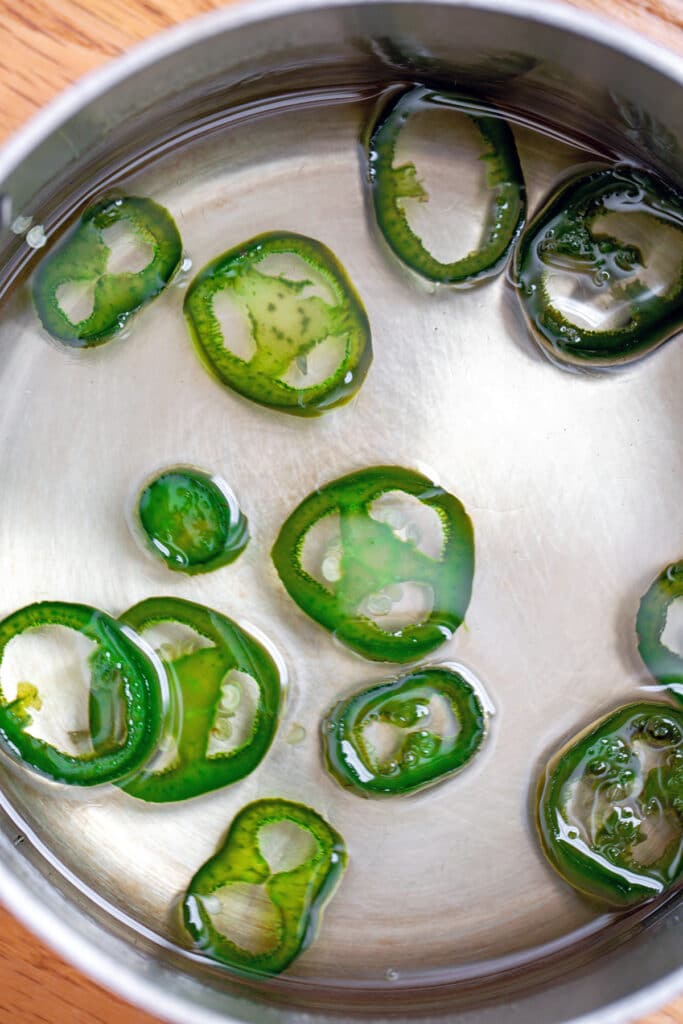 Now, pour the syrup into a heatproof bowl or mason jar and place in the fridge to cool completely.
I like to keep the peppers in the jar, but you can strain them out if you want. Keeping them in will allow the spice to keep infusing into the syrup making it a bit spicier. Remove the peppers if you want a more mild syrup.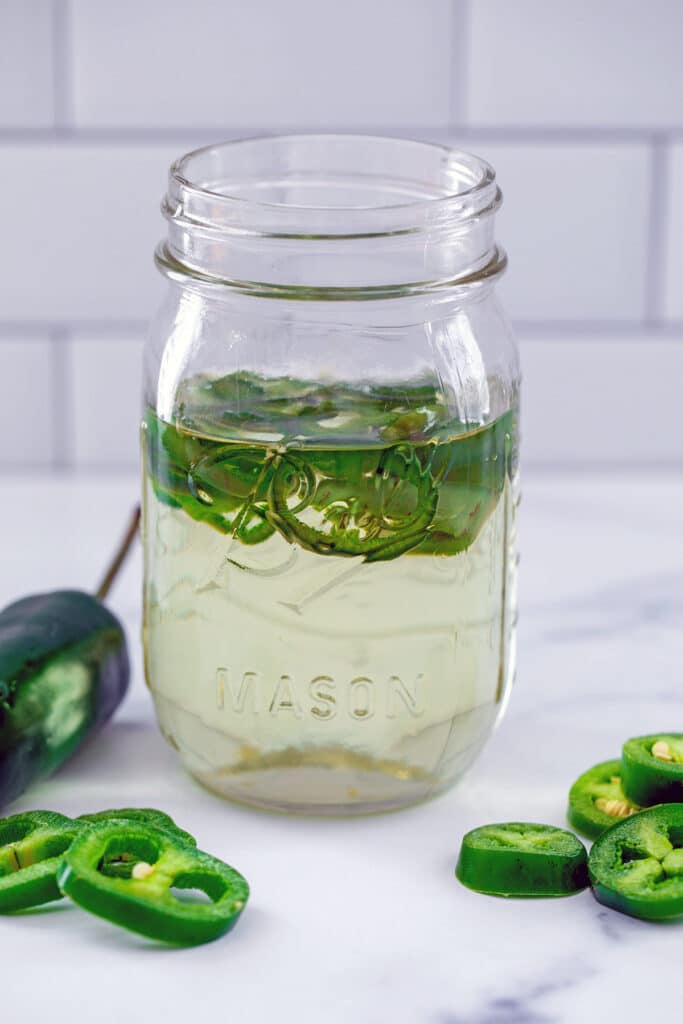 This recipe will make about 1 ¼ cups of simple syrup. Most drinks I make call for about 1 oz. of the syrup in each of them, so I can get quite a few drinks out of one batch!
The syrup is the BEST combination of sweet and spicy and adds so much flavor to whatever you add it to.
How to Make Bigger Batch
It's really easy to double or triple (or even quadruple!) the amount of simple syrup you make. Since the syrup uses a 1:1 water and sugar ratio, you can increase as you see fit.
If you want to double this recipe, use 2 cups of water and 2 cups of sugar, along with ⅔ cup of sliced jalapeños.
If you want to triple this recipe, use 3 cups of water and 3 cups of sugar, along with 1 cup of sliced jalapeños.
How to Store
You should always store your simple syrups in the fridge in an airtight container. When stored properly, it should stay fresh for at least a month.
When left too long, it can form mold, so I always check it before I use it to make sure it still looks and smells fresh.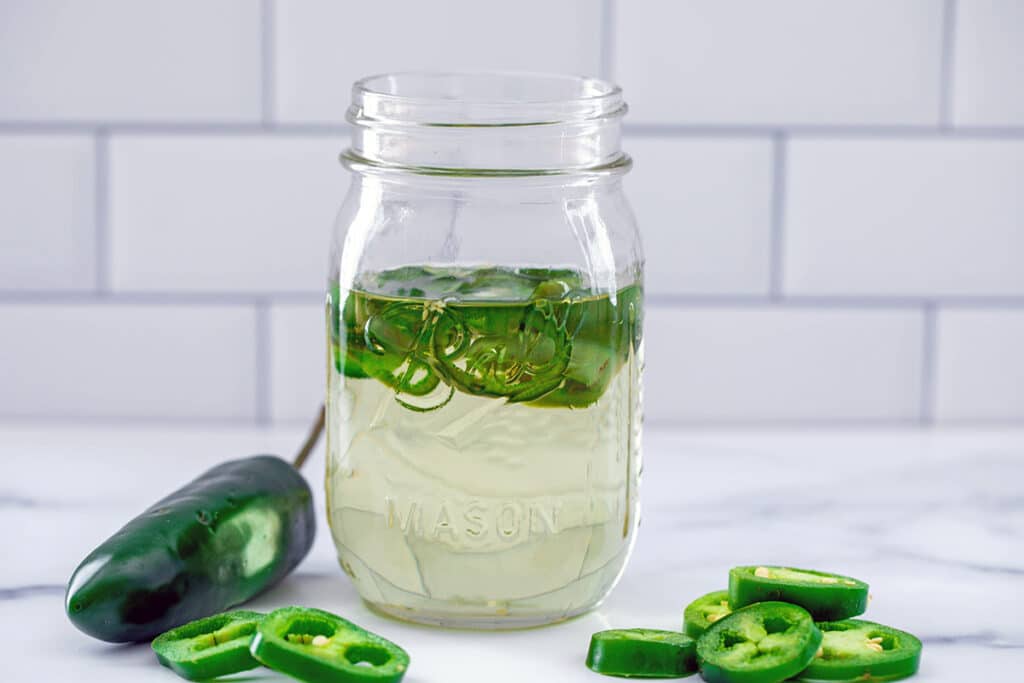 How to Use
Like I've mentioned, cocktails are probably the most common use for simple syrup, but this jalapeño simple syrup has so many uses!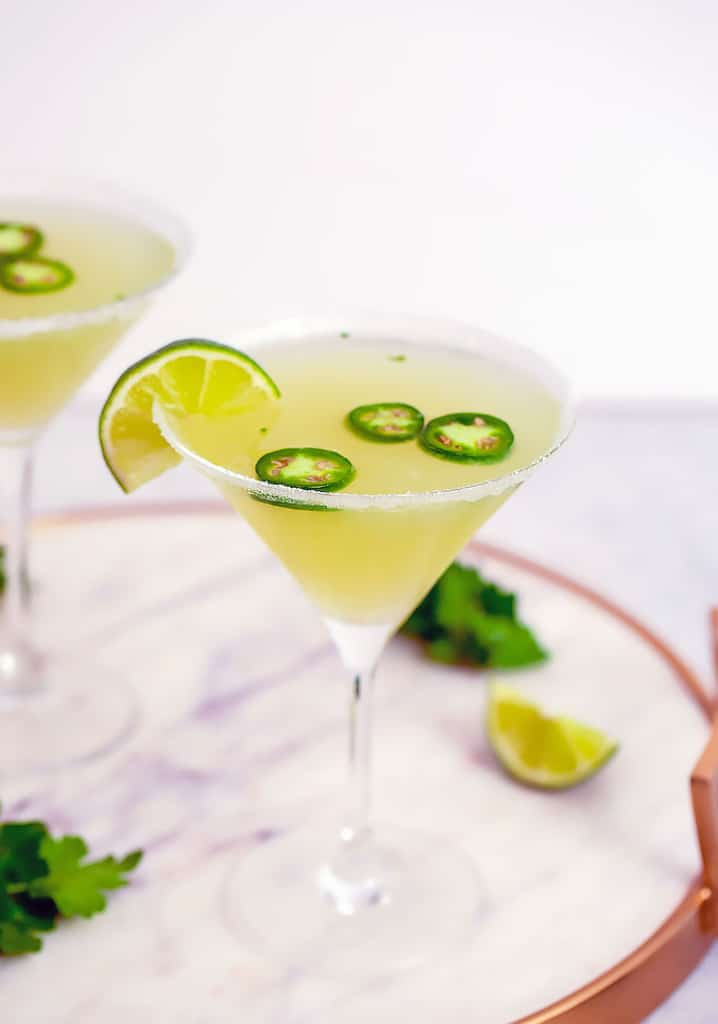 Mocktails: Use the syrup to jazz up any alcohol-free drink. Or even just add it to a little bit of sparkling water for your own homemade flavored seltzer!
Cocktail rim bonder: I love brushing a little simple syrup on the rims of my glasses so I coarse salt and/or sugar easily sticks to them. Only use this jalapeño simple syrup if you really love spice as you'll get a little kick with every sip!
Add to a marinade: Add a little bit of this simple syrup to a marinade you want to give a sweet kick to, whether it's for shrimp, steak, or chicken.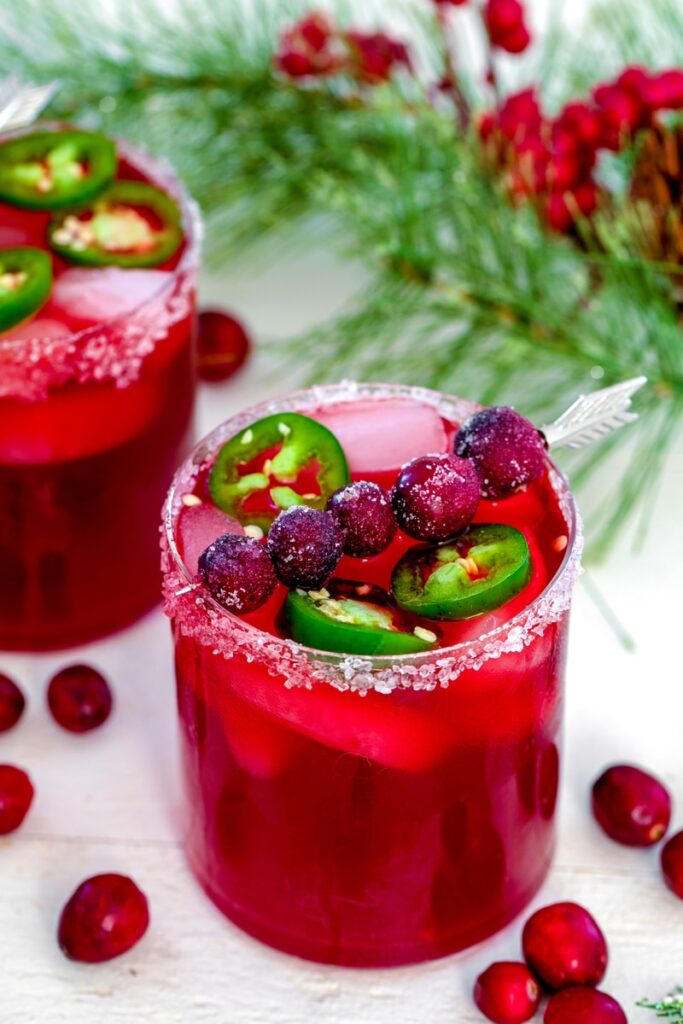 Where to Buy
If you don't feel like making your own, there are lots of options for purchasing jalapeño simple syrup. But it's definitely pricey and much more economical to make it yourself!
Store-bought simple syrup will have a longer shelf life than homemade. Here are the best options for purchasing (but seriously, try making it yourself first!):
Gris Gris Jalapeño Hex
Muddle and Wilde Lime Jalapeño Syrup
More Simple Syrup Flavors
As part of a series on simple syrups, I'll be sharing many more flavored simple syrup recipes with you over the next several months. I'll update this space and add links as recipes are available.
In the meantime, here are some other simple syrup flavors I love making and the recipes they go best in: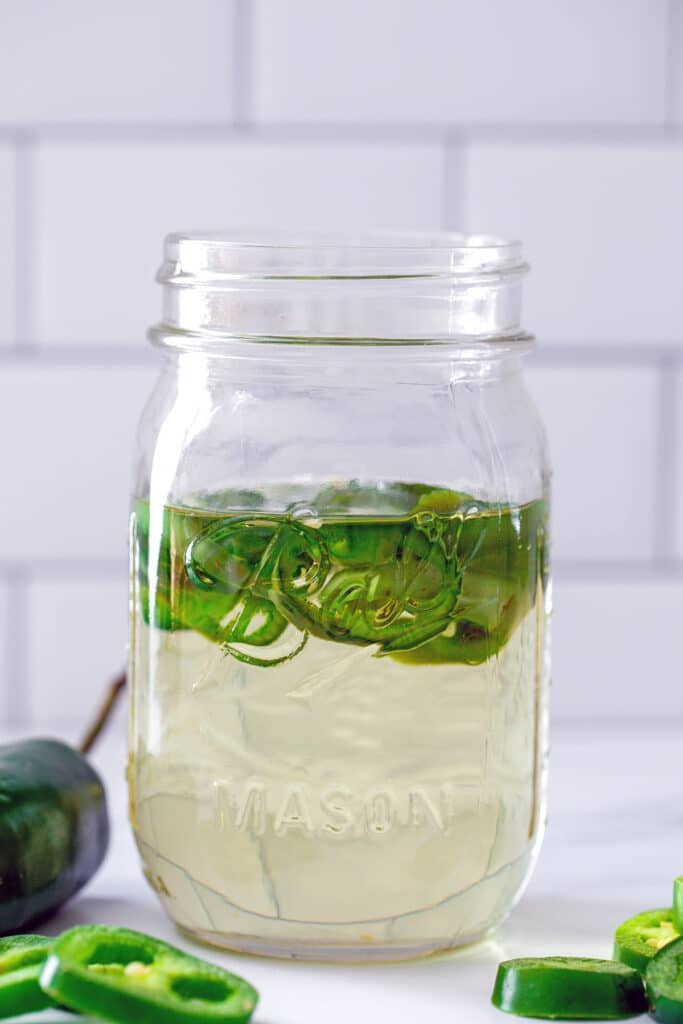 Once you make this easy recipe just once, you'll always want to have a jar of it in your fridge, too!
And your cocktails and sparkling water will never be boring again.
What would you add jalapeño simple syrup to?
📖 Recipe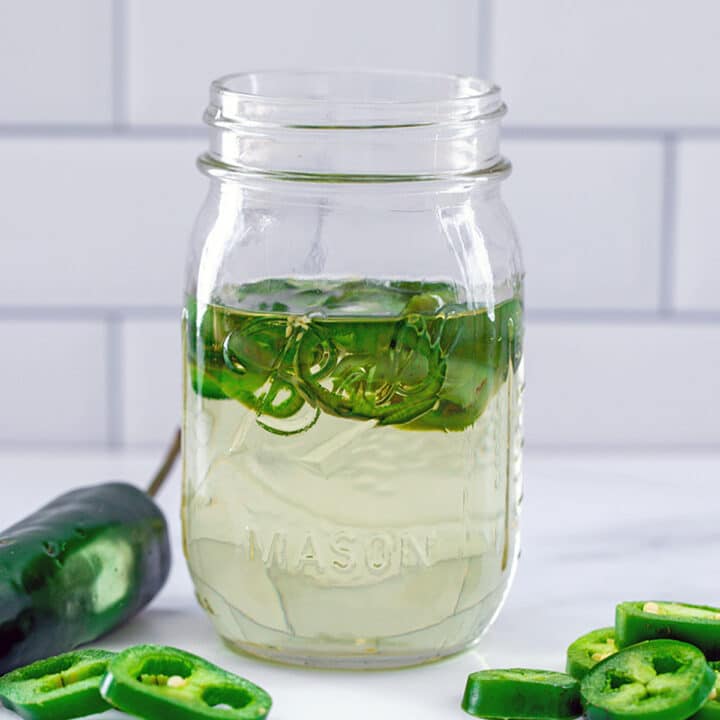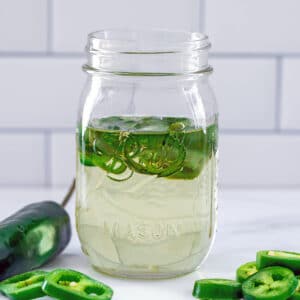 Ingredients
1

cup

water

1

cup

granulated sugar

⅓

cup

sliced jalapeño

(from 1-2 jalapeño peppers)
Instructions
Put water and sugar in a medium saucepan and bring to a boil. Add sliced jalapeños.

Lower heat and let simmer for about 10 minutes, until syrup has thickened. 

Pour mixture into a heat-proof bowl or mason jar (strain peppers out if you want to keep the spiciness level down). Place bowl or jar in fridge to cool completely before using.
Notes
Simple syrup should last for about a month when stored in an airtight container in the fridge.
Share a Photo of Your Finished Recipe!
Mention @wearenotmartha and share a photo if you've made the recipe!
View Web Story for this recipe.